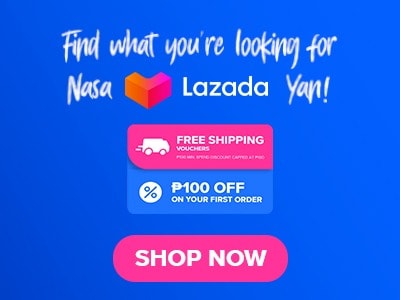 The Las Flores menu offers a truly authentic Spanish dining experience with a contemporary twist. The restaurant's name, which means "The Flowers" in Spanish, perfectly embodies the lightness, color, and happiness that guests feel upon entering. Friends and family can get together at Las Flores to enjoy delectable meals and excellent companionship. The menu is filled with various Spanish and Mediterranean dishes, ensuring there's something to suit everyone's taste buds. Las Flores promises not just good food but also a memorable experience, which is precisely what sets it apart from other restaurants.
Below, you'll find the updated list of Las Flores menu prices.
Menu Items
Price (PHP)

Tapas

Tres Tapas
1195
Fiesta
1795
Cuatro Tapas
1495
Dos Tapas
695

Prime Sets

1 Starter + 1 Main Course
795

Para Dos Combos

Platter B
1795
Platter A
1395

Charcuteria

Mixto Platter
1295 / 2495
Quesos - Manchego
540
Tabla de Quesos
995 / 1850
Quesos - Parmesan
595
Quesos - Idiazabal
540
Jamon Bellota
1995
Quesos - Brie
520
Jamon Iberico
1095
Embutidos - Chorizo Iberico
560
Tabla de Embutidos
1195 / 2295
Embutidos - Fuet
535
Embutidos - Salchichon Iberico
595
Pan con Tomate
235

Pintxos - 1 pc

Conos de Tartar de Salmon
180
Butifarra & Brie
225
Foie Explosion
295
Tuna TNT
195
Mini Hamburguesas de Wagyu
210
Bocadito con Anchoas
145
Jamon & Salmorejo Air Baguette
225
Salmon & Salmon
210
Steak Tartar Tacos
195
Pork Belly Mini Mollete
180
Angus & Foie Minis
395

Pintxos - 4 pcs

Pork Belly Mini Mollete
705
Angus & Foie Minis
1420
Conos de Tartar de Salmon
705
Tuna TNT
695
Steak Tartar Tacos
695
Foie Explosion
1095
Salmon & Salmon
835
Butifarra & Brie
895
Jamon & Salmorejo Air Baguette
895
Bocadito con Anchoas
495
Mini Hamburguesas de Wagyu
830

Tapas

Chipirones Andaluza
660
Croquetas de Jamon Iberico
345
Chorizo Frito
815
Carpaccio de Ternera
995
Croquetas de Chorizo
240
Tartar de Atun
645
Gambas al Ajillo
455 / 815
Bikini Sandwich
620
Bombas de la Barceloneta
385
Tortilla Trampo
495
Empanadilla de Foie Y Piña
210/625
Pulpo a la Gallega
1195
Patatas Bravas
425
Callos con Garbanzos
895

Sopas

Crema de Calabaza
345
Salmorejo
380

Ensaladas

Ensalada Las Flores
605
Parrillada de Verduras
895
Ensalada de Salmon & Aguacate
895
Ensalada Caesar
645

Pastas

Canelones
520
Pasta con Mariscos
625

Paellas

Paella Negra
1295
Paella Mariscos
1495
Paella Verduras
835
Paella Pulpo
1495
Paella Pollo y Cerdo
1395
Paella Chonchinillo
1995
Paella Setas
1495

Pescados

Salmon a la Bilbaina
995
Lapu Lapu al Horno
3955
Pargo
2695

Carnes

Conchinillo Segoviano (1.5 kg)
4395
Pollito con Verduras
940
Conchinillo Segoviano (3 kg)
7495
Solomillo de Ternera
1975
Butifara
695
600 g USDA Prime Ribeye
7950

Postres

Ice Cream Selections - Salted Caramel
190
Bread Pudding
310
Tarta Chocolate
385
Dessert Platter
635
Ice Cream Selections - Vanilla
175
Ice Cream Selections - Mango Ice Cream
200
Chocolatissimo
310
Crem Catalana
205
Ice Cream Selections - Passion Fruit Ice Cream
195
Tarta de Queso
385
Churros con Chocolate
290

Bedibas

Hand Squeezed Fresh Orange Juice
225
San Pelegrino Sparkling
250
Sodas
85
Cabreiroa - 1 L
275
Te
85
Cappuccino
130
Ripe Mango Shake / Watermelon Shake
195
Gazing into the Sunset
295
Wilkins
65
Espresso/Americano/Decaf
105
Rosy Cheeks
220
Pepino Lemon
325
Homemade Iced Tea
195
Pepper & Basil
275
Cafe Latte
140
Cabreiroa - 500 mL
135
Calamansi Iced Tea
85

Cervezas

San Miguel Light
105
San Miguel Pale
105
Sapporo Draft
290
1906 Reserva Especial
170
San Miguel Premium
170
Estrella Galicia
170

Gin & Tonic

La Vida Rosa
360
Atlantico
505

Make your own Gin & Tonic

450
Brooklyn
150
Gin Mare
150
Monkey 47
450
Botanist
150
William Elegant
150
Gin Sul
450
Farmers
150
Haymans
150
Columbian
150

Cocteles

Negroni
430
Vodka Sake Cucumber Collins
505
Fancy Cava
405
Yuzu Brandy Smash
505
Te Quierro Verde
405
Italian Margarita
410
Aged Negroni
560
La Nostra Sangria
360
Aperol Spritz
460
Bellini
510
Las Flores Mule
385
Vanilla Peach Martini
405
Gin Basil Smash
460
Sour Party
460
Sangria Blanca
360
Old Fashioned
430

Tiki Culture

Tropic Culture
450
Kopi Jungle
550
Hula Hula
425
About Las Flores
Las Flores has established itself as one of the top Spanish restaurants in Manila, and its latest location in the 1920s Art Deco heritage building in Filinvest Alabang East Wing has further elevated Spanish dining standards in the southern part of the city. The Alabang branch boasts a more family-friendly ambiance, redefining celebration dining that appeals to Gen X and Z demographics. Undoubtedly, Las Flores' newest opening is one of the most noteworthy restaurants launches of 2022 in Alabang amidst the post-pandemic era. For those interested in visiting Las Flores, the restaurant is open from 11 AM to 10 PM on Sundays to Thursdays and 11 AM to 11 PM on Fridays and Saturdays. You may contact them on 0916 619 3365. Las Flores' address is One McKinley Place, 25th St, Taguig, 1634 Metro Manila.
Las Flores Menu Best Seller
Las Flores, one of the top Spanish restaurants in Manila, is well-known for its authentic Spanish dishes with a contemporary twist. Among the vast array of dishes offered, there are several dishes that stand out as bestsellers, delighting diners and keeping them coming back for more.
Salmon and Salmon – The marinated Salmon and Salmon, infused with truffle cream, honey, and dill, and served with salmon roe and air baguette, is an exquisite dish that tantalizes the taste buds.
Angus and Foie Minis – A rich and flavorful combination of caramelized apple, tender beef tenderloin, and foie gras from the Las Flores menu, is served with pandesal, and is a melt-in-your-mouth experience.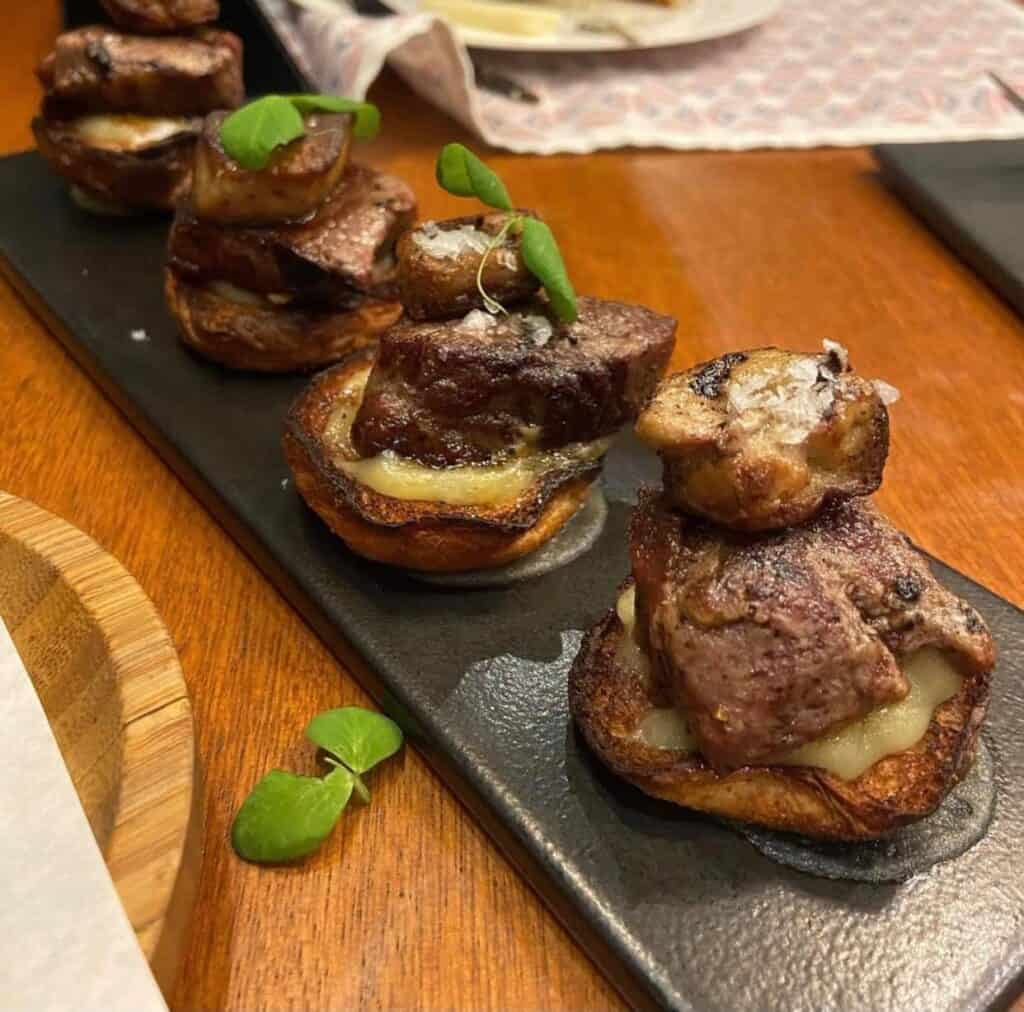 Paella Pulpo – The Paella Pulpo is another must-try dish, featuring a tender octopus with saffron aioli.
Paella Negra – Paella Negra presents a unique and flavorful blend of squid, black rice, and aioli.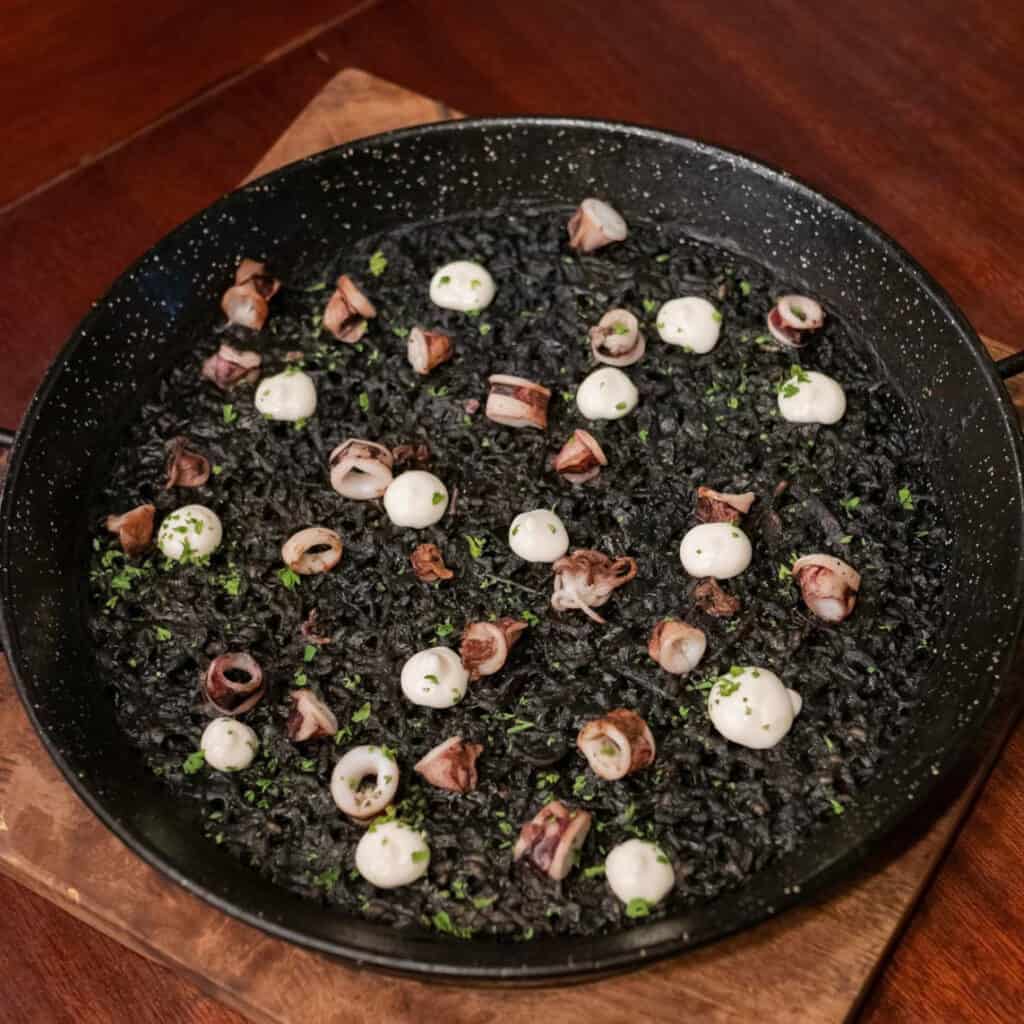 Gambas Al Ajillo – For an authentic taste of Spain, the Gambas Al Ajillo is a popular dish, consisting of shrimp, garlic, and olive oil, and served in tapas bars throughout Spain as an appetizer.
These bestsellers reflect the wide range of tastes and flavors available at Las Flores, each dish showcasing the restaurant's dedication to providing an unparalleled dining experience.
Las Flores Starters Menu
Starters are the soul of a meal, setting the tone for the rest of the dining experience. At Las Flores, their starters are more than just appetizers; they have carefully crafted dishes that showcase the high-quality ingredients and culinary skills of the kitchen.
Tuna Tartar – The Tuna Tartar is a standout starter, featuring delicate cubes of fresh tuna paired with avocado and tomato tartare, topped with black sesame seeds for a burst of flavor and texture.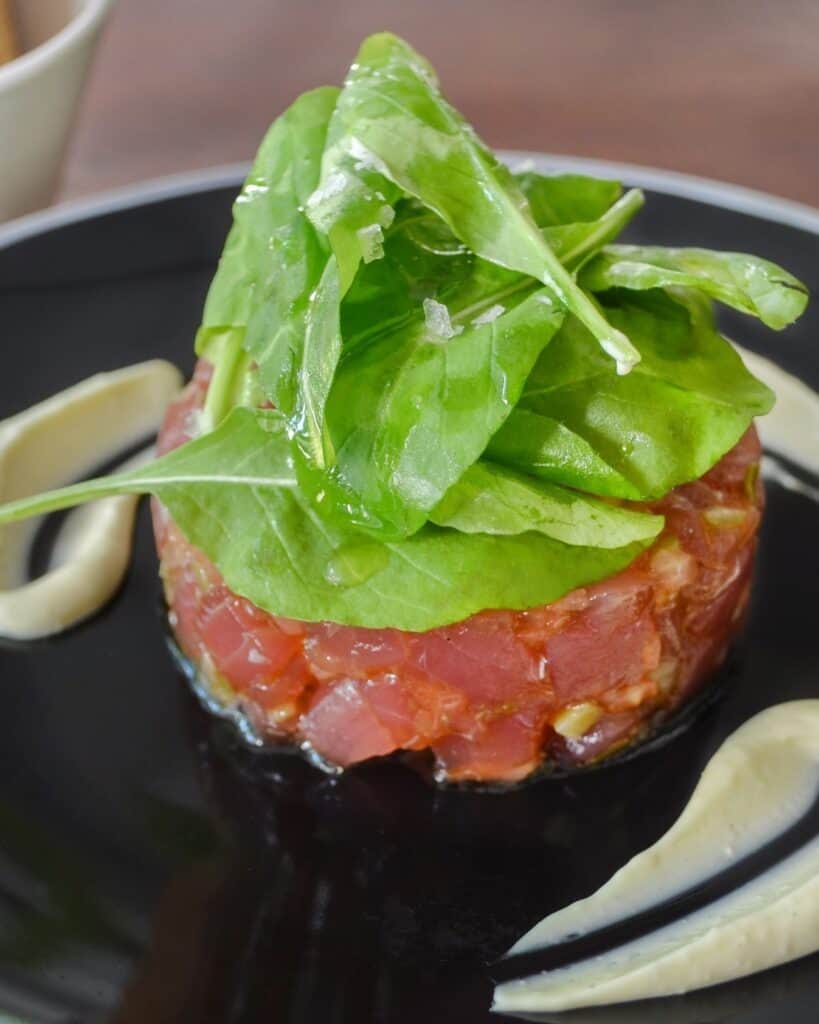 Grilled Vegetables – For those looking for a lighter option, this Las Flores menu is a colorful array of grilled zucchini, eggplant, bell peppers, and onions, drizzled with a tangy vinaigrette;
Salmorejo – The Salmorejo, a chilled Spanish soup made with ripe tomatoes, bread, and olive oil, is another refreshing and flavorful option.
Pumpkin Soup – Pumpkin Soup, a comforting and hearty soup made with roasted pumpkin, nutmeg, and cream, is a perfect dish to warm up on a cool evening.
Beef Carpaccio – The Beef Carpaccio, another beloved dish, features thinly sliced beef tenderloin served with arugula, parmesan cheese, and truffle oil, a perfect balance of flavors.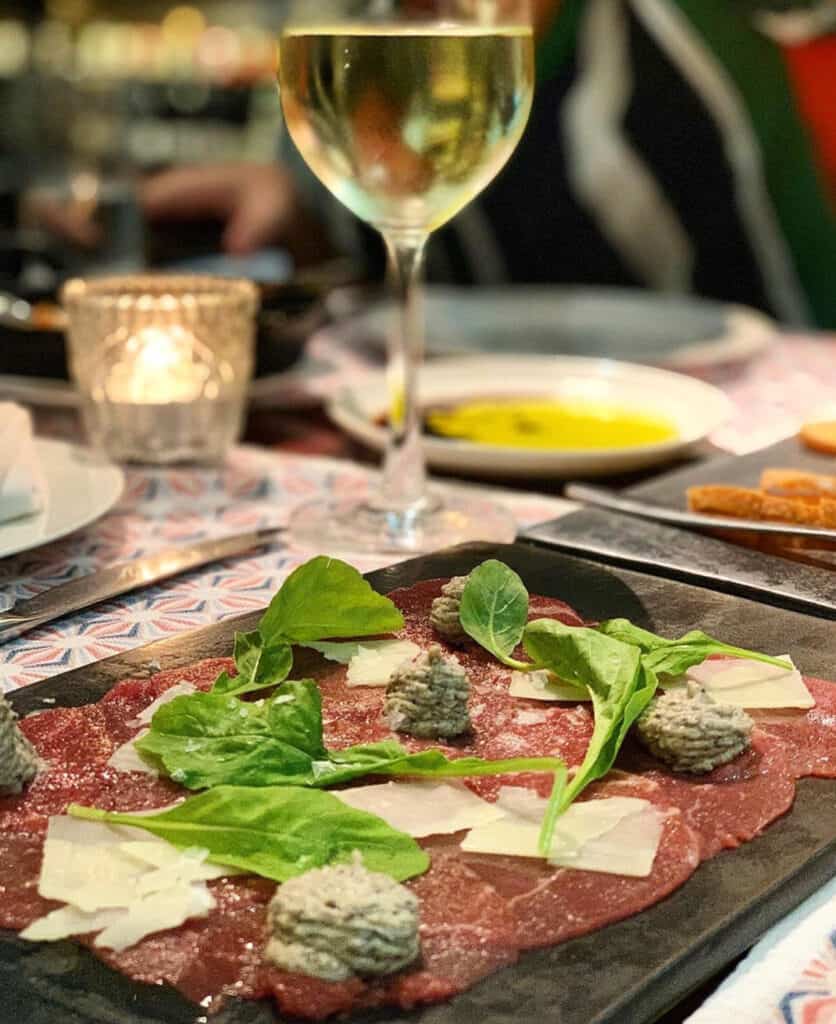 In addition to the impressive selection of starters, Las Flores also offers prime sets that are available from Monday to Sunday. These prime sets allow diners to enjoy a complete meal that showcases the restaurant's high-quality dishes at great value. For just 795 Pesos, guests can select one of the delectable starters and pair it with two other dishes that will be announced later on. This is an excellent opportunity for those who want to try a little bit of everything and experience the best of what Las Flores has to offer. The prime sets at Las Flores will satisfy any need, whether you're desiring something light or something hearty.
At Las Flores, every dish on the menu is crafted with care and attention to detail, ensuring that every bite is a celebration of the flavors and textures of Spanish cuisine.
Main Course
The main course menu at Las Flores is the main attraction for anyone looking for an authentic and delicious Spanish meal. Each dish is carefully crafted by the chefs using only the finest and freshest ingredients to ensure a really unique dining experience. From the rich and savory Spanish Omelette with Chorizo, to the delicate and flavorful Grilled Salmon with Vegetables, every dish on the menu is carefully designed to tantalize the taste buds and satisfy even the most discerning palate.
Spanish Omelette with Chorizo – A traditional Spanish dish made from eggs, potatoes, and onions cooked together and typically served as a large slice or wedge. The dish is often combined with chorizo, a spicy Spanish sausage, for added flavor.
Canelones – A dish originating from Italy, but very popular in Spain, which consists of large pasta tubes filled with meat, usually beef, and topped with a creamy sauce.
Seafood Spaghetti – A pasta dish made with spaghetti noodles and a sauce made from seafood, such as shrimp, squid, or clams. It is a well-liked Italian dish that is frequently found in Spanish eateries.
Butifarra – A traditional Catalan sausage menu from Las Flores that is made from ground pork, seasoned with garlic, salt, and pepper. It can be served grilled, fried, or baked and is often accompanied by beans, cabbage, or other vegetables.
Grilled Salmon with Vegetables – A dish featuring fresh salmon that is grilled or baked and served with a side of vegetables, such as asparagus, zucchini, or broccoli. It is a healthy and popular choice for those looking for a lighter main course.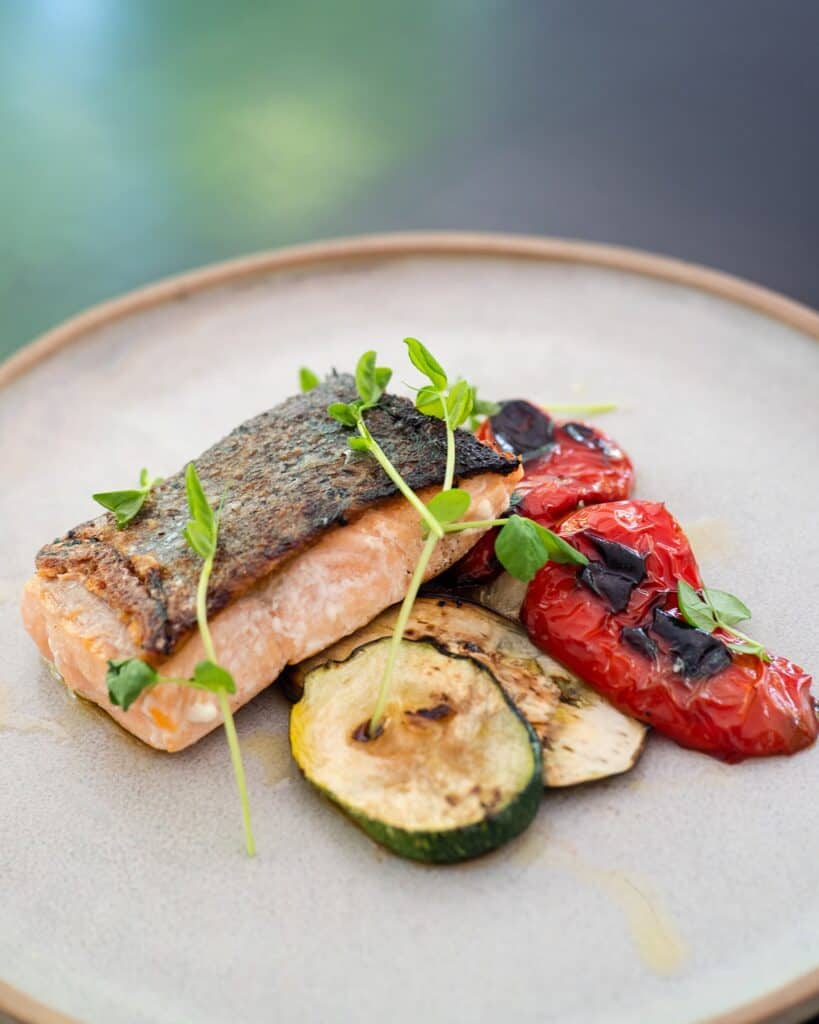 For those looking to sample a variety of dishes, Las Flores offers a prime set that allows diners to choose one of the delectable starters on the menu and pair it with one of the main courses. In addition, the prime set also includes a refreshing glass of Calamansi Iced Tea, the perfect complement to any Spanish meal.
Tapas
Tapas, which are small plates of food typically served with drinks in Spanish cuisine, are also a specialty at Las Flores. These delightful bites are perfect for sharing among friends and loved ones, allowing diners to taste a variety of dishes in one sitting. The prices of tapas vary depending on the meal, and each dish is presented in different variations, adding a touch of creativity to the dining experience.
Tartar de Atun – One of the tapas highlights is the Tartar de Atun, a tantalizing Las Flores menu that is made with fresh tuna tartar, mixed with calamansi mayo, and served with a side of vegetables. Each bite of the Tartar de Atun delivers a burst of flavors that will delight your senses and leave you craving for more.
Bombas de la Barceloneta – The Bombas de la Barceloneta is a fiery tapa that packs a punch of flavor. Each piece of wagyu beef is generously coated with aioli and salsa brava, giving it a spicy kick that will leave you feeling invigorated. For those who can't get enough of this delicious tapa, additional pieces can be ordered for just 95 pesos each.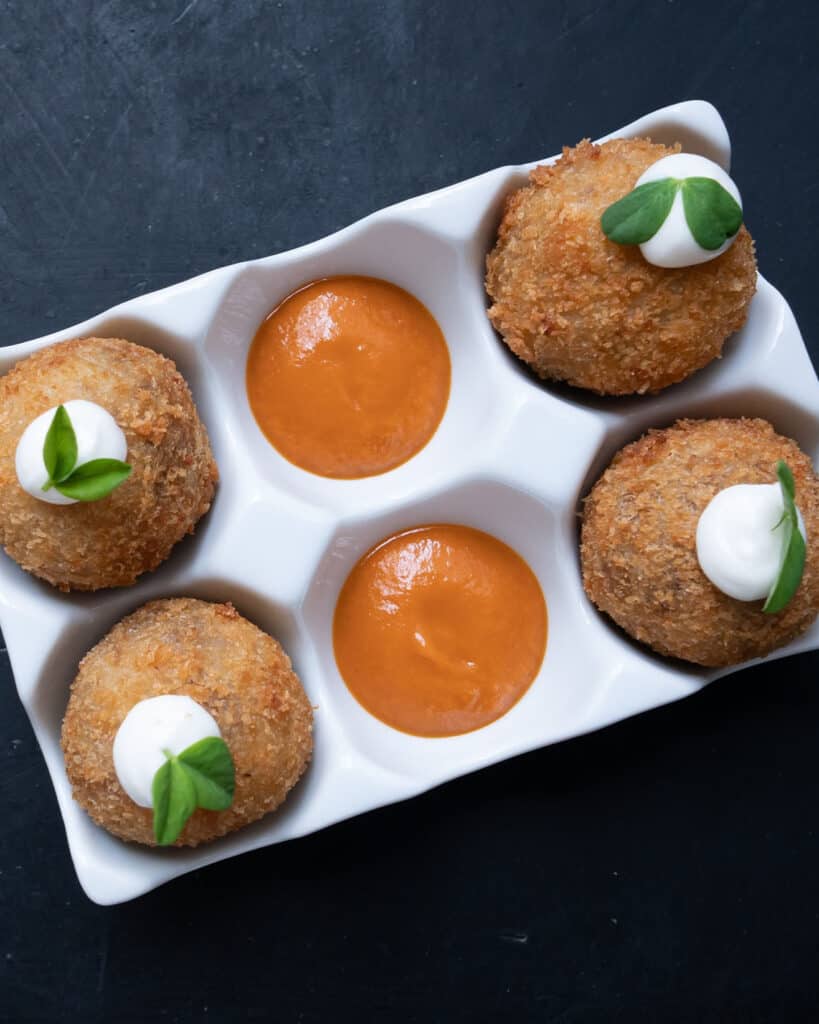 Chorizo Frito – If you're a fan of chorizo, then the Chorizo Frito is a must-try. Made with white wine, olive oil, and assorted chorizos, this dish is a true flavor bomb that will tantalize your taste buds with every bite.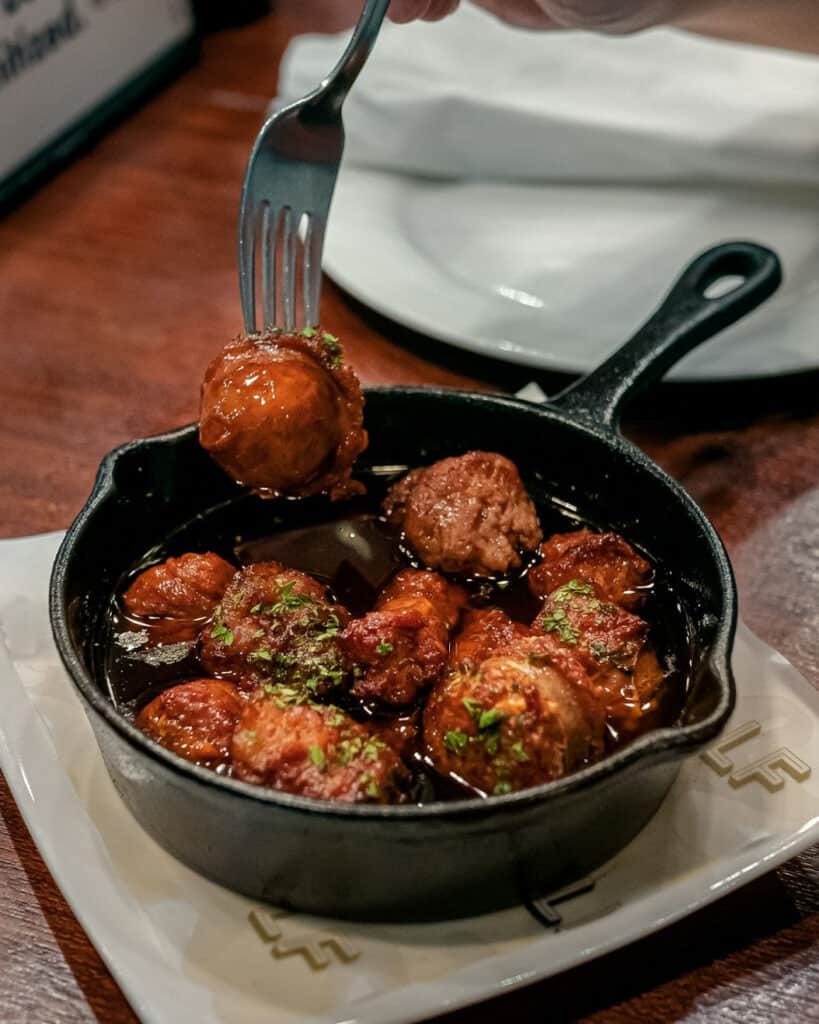 Chipirones Andaluza – The Chipirones Andaluza, another popular tapa, is made with fried baby squids and served with a side of aioli. This dish is crispy, flavorful, and perfectly seasoned, making it a favorite among seafood lovers.
Tortilla Trampo – Finally, the Tortilla Trampo is a classic Spanish dish that is often enjoyed as a tapa. This potato omelette is served with a side of brave sauce, aioli, and Spanish chorizo, delivering a hearty and satisfying flavor that will leave you feeling full and content.
Pintxos
In addition to tapas, Las Flores also offers pintxos menu, a type of appetizer that originated in Spain's northern Basque Country. Pintxos are similar to tapas but are typically served on top of bread and with a skewer or toothpick. These bite-sized delights are perfect for sharing and trying different flavors. The price of pintxos at Las Flores depends on the quantity, with options for 1 piece or 4 pieces per order.
Steak Tartar Tacos – Among the pintxos offered at Las Flores are the Steak Tartar Tacos, which feature succulent beef topped with mustard, quail egg, and pickles.
Foie Explosion – Another popular option is the Foie Explosion, featuring seared foie and onion jam on an air baguette.
Pork Belly Mini Mollete – For something more filling, the Pork Belly Mini Mollete is a great choice, with piquillo peppers, sriracha mayo, and a savory pork belly.
Bocadito con Anchoas – The Bocadito con Anchoas is another must-try, with its Manchego cream, green chili, olive oil, air baguette, and anchovies.
Conos de Tartar de Salmon – Lastly, the Conos de Tartar de Salmon is a flavorful pintxo option with salmon tartar cones, wasabi mayo, kimchi mayo, and white truffle oil.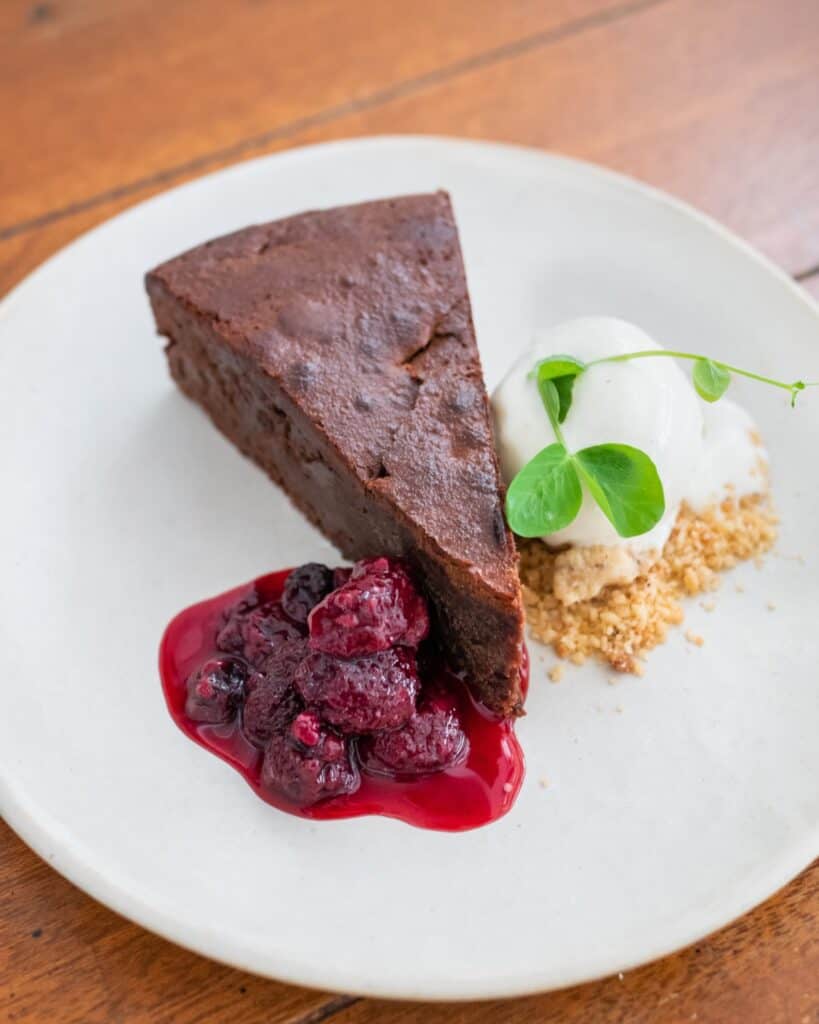 With a variety of flavors and textures, the pintxos at Las Flores are a great way to start a meal or enjoy a light snack.
Charcuteria
Charcutería is the art of preparing and preserving meat products, such as sausages, hams, and cold cuts. At Las Flores, charcutería menu is taken to the next level with the inclusion of pan con tomate, a quintessential Spanish dish that perfectly complements the cured meats.
Embutidos – Embutidos such as fuet, chorizo ibérico, and salchichón ibérico are showcased, each with its unique flavor profile and texture.
For those who crave the ultimate ham experience, the Jamón Bellota and Jamón Ibérico are highly recommended. These hand-cut hams are a testament to the centuries-old tradition of Spanish ham-making, and their nutty, rich flavor will leave you craving for more.
Quesos – To complement the meats, Las Flores also offers an extensive selection of cheeses, including the rich and creamy Brie, the nutty Idiazabal, the sharp Parmesan, and the classic Manchego. The cheeses can be enjoyed on their own or as part of a sharing platter, such as the Tabla de Quesos or the Mixto Platter, which combines both quesos, and embutidos.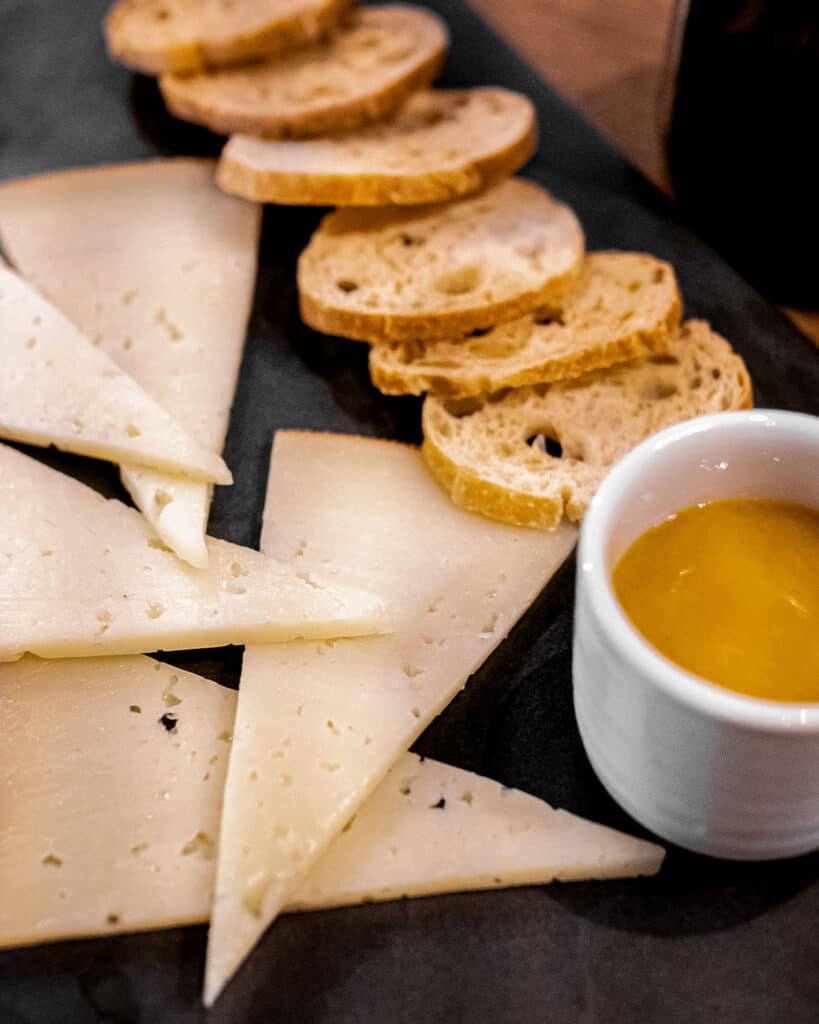 Lastly, the simple yet satisfying Pan con Tomate is a must-try. The combination of fresh tomato, extra virgin olive oil, and crispy coca bread is a classic Spanish dish that highlights the flavors of the Mediterranean. And for those who prefer a meat-centric platter, the Tabla de Embutidos is the perfect choice, featuring a delectable selection of jamón ibérico, salchichón ibérico, fuet, and chorizo ibérico.
Prices for the charcutería vary depending on the quantity and presentation, making it a flexible and customizable option for any diner.
Para dos Combos
Para dos combos, or "for two" combos, are specially curated platters designed for sharing between two people. Las Flores offers two different platters, Platter A and Platter B, each with its own selection of dishes at a discounted price compared to ordering them separately.
Platter A – In this Las Flores menu, they include Pasta con Mariscos, Chipirones Andaluza, and Croquetas de Jamon Iberico, which can be enjoyed by two people for 1,395 pesos, saving 235 pesos. The platter offers a variety of flavors, from the rich seafood pasta to the crispy and tender fried baby squids, and the savory ham croquettes.
Platter B – Platter B, on the other hand, is a more substantial meal that includes Gambas al Ajillo, Croquetas de Chorizo, and Paella Negra in the grande size. Priced at 1,795 pesos, this platter offers a discount of 555 pesos and is perfect for a satisfying meal for two. The Gambas al Ajillo, or garlic prawns, are flavorful and aromatic, while the Croquetas de Chorizo adds a spicy and smoky kick. Finally, the Paella Negra is a classic Spanish dish with a twist, featuring black squid ink and seafood that adds a unique depth of flavor to the dish.
Las Flores Ensaladas Menu
Ensaladas are indeed salads, and they are a very important part of Spanish cuisine. They are typically made with fresh, seasonal vegetables, and are often served as a side dish or a light meal. Ensaladas can be made with a variety of ingredients, including greens, vegetables, fruits, meats, cheese, and nuts.
Ensalada Caesar – One popular ensalada in Spanish cuisine is the Ensalada Caesar, which is made with Romaine Lettuce, parmesan cheese, chicken, and crispy bacon.
Ensalada Las Flores – Another delicious option is the Ensalada Las Flores, which features caramelized apples, homemade potato chips, cherry tomatoes, fried brie, and organic baby mesclun.
Ensalada de Salmon & Aguacate – This Las Flores menu is another tasty choice, with parmesan cheese, avocado, cherry tomato, and salmon gravlax.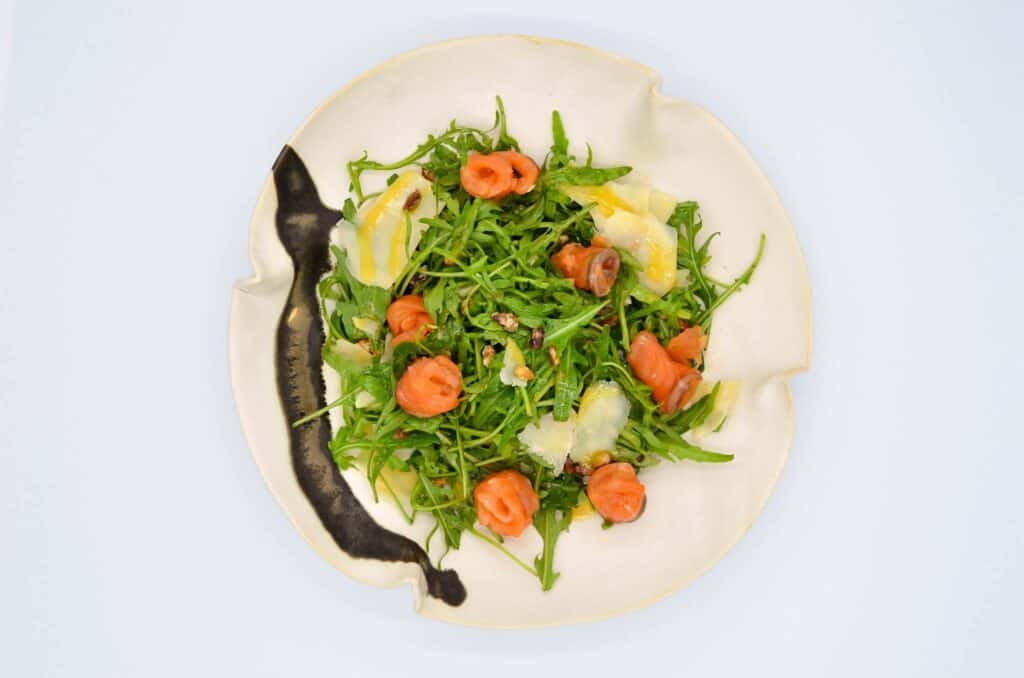 Parrllada de Verduras – If you're looking for a salad to share, the Parrllada de Verduras is a great option. This salad is composed of many different vegetables, including onions, marbled potatoes, cherry tomatoes, zucchini, red bell pepper, shiitake mushrooms, eggplants, and green asparagus. It's perfect for a group or as a side dish for a larger meal.
Overall, ensaladas are an important part of Spanish cuisine, and they offer a delicious and healthy way to enjoy fresh, seasonal ingredients.
Las Flores Menu Delivery
In addition to their delicious salads, Las Flores also offers a convenient delivery service so that you can enjoy their tasty dishes from the comfort of your own home. They partner with popular food delivery apps like Grab Food, Food Panda, and Bistro Delivers to ensure that their salads are easily accessible to customers. Whether you're in the mood for the Ensalada Caesar, Ensalada Las Flores, Ensalada de Salmon & Aguacate, or Parrllada de Verduras, Las Flores' delivery service makes it easy to enjoy their amazing array of different offers without leaving your home.
Las Flores Social Media Pages
If you want to know about the food menu, latest promos, and discounts at Las Flores, be sure to follow their social media accounts. By doing so, you can stay informed about their latest offerings and show your support for their restaurant. Simply follow the links provided to connect with them today!
Facebook: https://www.facebook.com/lasflores.ph
Instagram: https://www.instagram.com/lasfloresph
Twitter: https://twitter.com/lasfloresph
LinkedIn: https://www.linkedin.com/company/bistronomia-ph
FAQs
Who owns Las Flores?
The owners of Las Flores have an impressive background in the restaurant industry. They are the previous owners of Barcino, a Spanish restaurant in the Philippines, as well as the owners of the Andilana Group of Restaurants in Barcelona, Spain. With this wealth of experience and expertise, they have brought their passion for Spanish cuisine to Las Flores, creating a dining experience that is both authentic and innovative. Customers can expect to savor the flavors of Spain in every dish and to enjoy the warm and welcoming ambiance that the owners are known for.
How much Conchinillo in Las Flores?
Las Flores offers a delectable rendition of the Spanish classic, Conchinillo, which features crispy skin, succulent meat, and a tender texture that is easy to savor. The dish is a wonderful choice for any celebratory occasion, and its price can range from around 2000 Pesos, depending on the serving size and style.
Does Las Flores Restaurant take reservations?
Reservations are an important part of dining out, as they allow restaurants to better manage their tables and ensure that customers have a great experience. By making a reservation, customers can guarantee that they will have a table waiting for them when they arrive, and they can avoid the disappointment of finding that the restaurant is fully booked. Additionally, making a reservation can also help to reduce wait times and ensure that the restaurant can provide prompt and efficient service.
At Las Flores, they understand the importance of reservations and offer a variety of ways for customers to book a table. Customers can make a reservation by contacting them directly through their phone number at 09156545231 or by sending an email to them. By making a reservation at Las Flores, customers can ensure that they will have a great dining experience and enjoy their delicious salads in a timely and hassle-free manner.
Does Las Flores have a dress code?
Las Flores is a casual dining establishment that does not have any strict attire restrictions. While there is no dress code, it is generally recommended to dress casually when visiting the restaurant. This means that customers can wear clothing that is comfortable, practical, and suited for everyday use. This could include items like jeans, t-shirts, shorts, and comfortable shoes.
The relaxed dress code at Las Flores is in keeping with the restaurant's laid-back and welcoming atmosphere. Whether you're coming in for a quick lunch or a leisurely dinner, you can feel comfortable wearing whatever clothes make you feel at ease. So whether you're dressed up or dressed down, Las Flores is the perfect place to enjoy a delicious meal and a relaxing dining experience.
Conclusion
The Las Flores Menu offers an authentic Spanish cuisine experience in the heart of Manila. From their delicious salads and succulent suckling pig to their signature paellas, there's something for everyone to enjoy. Las Flores has a relaxed, welcoming atmosphere, making it the perfect spot for a casual lunch or a romantic dinner. They offer a great delivery service through various apps, and reservations can be made via their number or email. Owned by the experienced restaurateurs behind Barcino and Andilana Group of Restaurants in Barcelona, Las Flores is a must-visit for anyone looking for an exceptional Spanish culinary experience.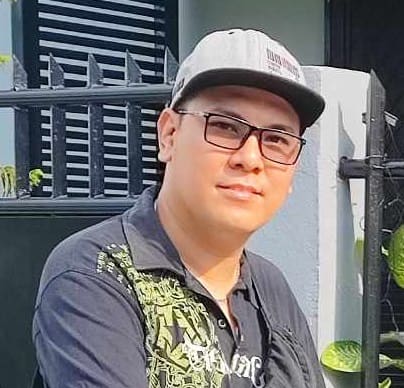 Hi! I'm Nivek Strife, the person who made MenuPH. I'm the one who added most of the popular menus you see on this website, and I really hope you enjoy them! Feel free to check them all out.
Growing up, I was surrounded by lots of tasty foods, like the classic Adobo and the sweet Leche Flan. That love for the many flavors of the Philippines is what got me excited about adding to MenuPH. When I learned how to make websites, I saw the need for a place to show off all the amazing Filipino dishes, and that's how MenuPH started.
MenuPH isn't just a website; it's like a fun journey into food. I've teamed up with famous chefs and found great places all over the Philippines to bring you a bunch of menus that show off the best of Filipino cuisine. Whether you're into the usual dishes or new twists, MenuPH is here to guide you through the rich world of Filipino flavors.
With MenuPH, my aim is to help local businesses, talk about good food choices, and make a group of friends who love food. No matter if you like fancy restaurants or street food, MenuPH has something for you. Come join me on this food adventure as we find great places, taste real flavors, and enjoy the unique food traditions that make the Philippines awesome.