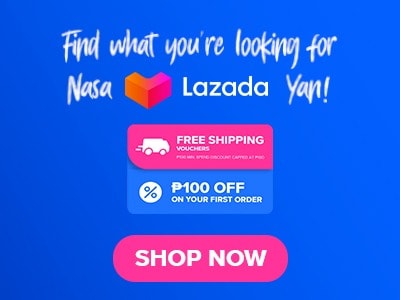 Have you ever tried a revolving restaurant that nestles at one of the peak spots of the city? Well, you might have come across this restaurant as it was once televised on national TV and trended on various social media platforms. This is Seoul Sky, a restaurant that takes your dining to new heights and literally the heights above the bustling city of Metro Manila. This is a very promising restaurant that will allow you to transport yourself to breathtaking views and great cuisine. So let us start this new adventure and enjoy the Seoul-Sky Restaurant menu collections and their prices provided below.
Menu Items
Price (PHP)

Beef BBQ

Kkot-Deung-Sim
1,500
Kkot-Sal
1,400
Saeng-Galbi
1,200
Yang-Nyeom-Galbi
1,200
LA Yang-Nyeom-Galbi
950
Yang-Nyeom-Galbisal
700
Galbi-Sal
650
Chadolbagi
550
Wu-Samgyup
450
Yuk-Hoe
800
Bulgogi Stew in Pot
450
Grilled Bulgogi
700
Bulgogi Jeongol (Beef Stew with Assorted Vegetables)
950
Bulgogi Jeongol (With wrapless dumpling)
1,200
Galbi Jjim
620

Noodles

Jjajang-Myeon
350
Jjampong
400
Haemul-Kalguksu
400
Dongchimi-Kimchi Cold Noodle
380
Korean Ramen
250
Korean Udong
360
Japchae
450

Chicken BBQ

Fried Chicken with Honey Butter Sauce
900
Chicken BBQ with Soy Sauce
400
Chicken BBQ with Spicy Sauce & Cheese
500
Kkanpung-ki
800
Spicy Dakgalbi
600
Spicy Dakgalbi (Large)
900
Samgyetang
750

Pork BBQ

Samgyupsal
400
Aged Premium Samgyupsal
450
Pork Shoulder
400
Doeji-Galbi
480
Doeji-Bulgogi
450
Jeyuk Bokeum
450

Soup & Stew

Samgye-tang (Korean Ginseng Chicken Soup)
750
Galbi-Tang (Beef Rib Soup)
490
Yukgyejang (Spicy Beef Brisket Soup)
430
Sundubu Jjigae (Spicy Soft Tofu Stew with Seafood)
380
Kimchi Jjigae with Pork
380
Kimchi Jjigae with Tuna
450
Doenjang-jjigae with Pork
380
Doenjang-jjigae with Seafood
450
Budae-jjigae (Spicy Sausage, Ham Stew with Noodle)
900
Kkong-Chi-Kimchi-jjigae (Spicy kimchi stew with mackerel pike)
1,200

Rice Dishes

Bulgogi-deopbap (Beef bulgogi served on rice with soup)
490
Ojing-eo-deopbap (Spicy stir fried squid served on rice with soup)
490
Japchae-deopbap (Beef bulgogi served on rice with soup)
490

Seafood

Prawn Tempura
500
Butter Garlic Chilli Shrimp
900
Kkanpung Saeu (Fried Shrimp with Sweet-Spicy Sauce)
900
Tangsu Saeu (Fried Shrimp with Sweet-Sour Sauce)
900
Grilled Mackerel (Half)
300
Grilled Mackerel (Whole)
500
Okdom Gui (Grilled Red Tilefish)
900
Spicy Stir-Fried Squid
450
Hwang-Tae-Gui (Grilled Dried Pollack with Sweet & Spicy Sauce)
480
Spicy Seafood Stew (Assorted Seafoods with Crab. Requires 20-30min cooking time)
1,700
Spicy Pollack Soup (Requires 20-30mins cooking time)
1,700

Special Set Menu

Seoul Sky First Class Set Menu
6,300
Seoul Sky Set Menu - A
5,200
Seoul Sky Set Menu - B
4,500
Seoul Sky Set Menu - C
3,800
Seoul Sky Set Menu - D
3,200

Pancake & Others

Haemul Pajeon (Korean Style Pancake with Seafood)
550
Kimchi Pancake (Korean Style Pancake with Kimchi)
400
Mandu (Handmade Dumpling)
300
Tteok Mandu Kuk (Dumpling Soup with Rice Cake)
450
Tteok Mandu Kuk (Dumpling Soup without Rice Cake)
420
Tteok-bokki (Spicy rice cake with fish cake)
350
Egg Roll
300

Waffle

Banana
300
Mango
350
Strawberry
380
Chocolate
300

Bing-Su

Sweet Red Bean
300
Mango
350
Strawberry
380
Chocolate
300

Beverages

Espresso
120
Espresso Macchiato
120
Espresso Con Panna
120
Flat White
160
Cafe Latte
150
Spanish Latte
180
Cappuccino
150
Cafe Mocha
160
Americano
140
Caramel Macchiato
160
Hot Chocolate
150

Tea

Camomile
180
English Breakfast
180
Earl Grey
180
Green Tea
180
Mango & Strawberry
180
Korean Tea
180

Frappe

Chocolate
160
Caramel
160
Vanilla
160
Espresso
160
Mocha
160
Oreo
160

Smoothies

Peach
180
Mango
180
Banana
180
Passion Fruit
180
Strawberry
16

Fresh Juices

Orange
180
Apple
180
Grapes
180
Pineapple
180

Soda in Can

Coke
90
Coke Zero
90
Sprite
90
Royal
90

Bottled Water

Mineral Water (500ml)
80

Alcohol Beverage

Korean Soju
300
SMB Pale Pilsen
95
SMB Light
95
SMB Light Apple
95
SMB Premium
130
Korean Rice Wine
280
Korean Raspberry Wine
950

Wine

Red Wine - Campo Azafran Tempranillo Syrah 2017 (Glass)
350
Red Wine - Campo Azafran Tempranillo Syrah 2017 (Bottle)
1,420
Red Wine - Obscured Red Blend 2017 (Glass)
560
Red Wine - Obscured Red Blend 2017 (Bottle)
2,450
Red Wine - Protos Reserva 2012 (Bottle)
7,700
White Wine - Aloe Tree Chenin Blanc 2017 (Glass)
380
White Wine - Aloe Tree Chenin Blanc 2017 (Bottle)
1,550
Sparkling Wine Valdivieso Sparkling Brut NV (Bottle)
2,420
About Seoul-Sky
Seoul-Sky firmly believes that great experience starts with great dining. This is the start of their creative idea of a revolving restaurant in literally great heights. It features and celebrates Korean and international cuisine from the finest and well-sourced quality ingredients. They boast of their iconic Korean cuisines and dishes that take your traditional meal to modern dining. They cater to diverse plates making it a very promising restaurant for everyone.
Seoul-Sky Restaurant Menu Best Sellers
Enjoy the panoramic view which is the centerpiece of the restaurant and sit back while enjoying these best-selling dishes from their collections.
Grilled Bulgogi – Experience the flavor you never had before with the tender and thinly sliced beef that is delightfully marinated in a delectable blend of spices featuring soy sauce, sugar, garlic, and savory dishes. You can grill it and enjoy the aroma it brings to the table.
Samgyupsal – Indulge in the mouthwatering sizzling delight this Samgyupsal brings to your table. It features succulent slices of pork belly that are grilled to utmost perfection.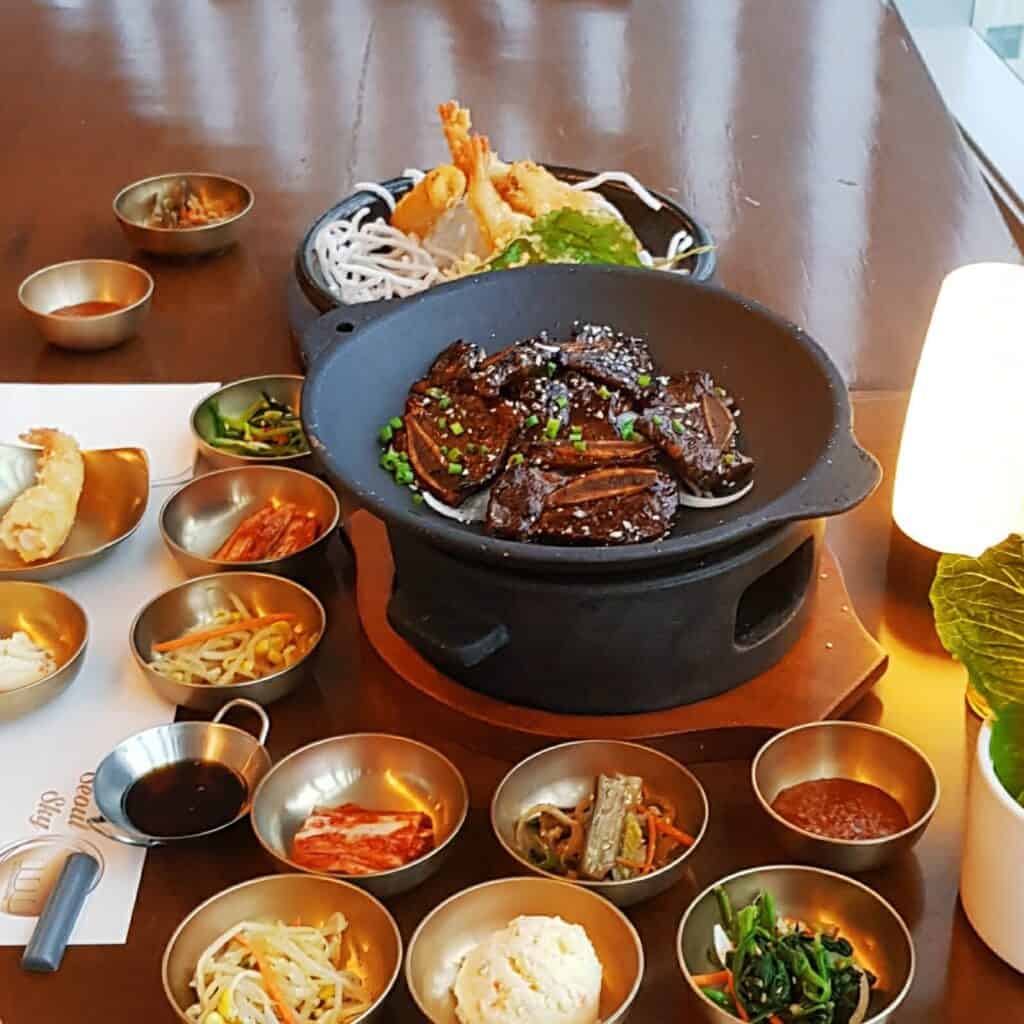 Kkot-Deung-Sim – Next on the spot is this iconic Kkot-Deung-Sim it features a premium Wagyu beef striploin that is boating in the marbling textures and tenderness for a burst in the mouth flavorfl experience.
Butter Garlic Chili Shrimp – This butter garlic menu from Seoul-Sky Restaurant will surely satisfy your seafood craving with the plump and succulent shrimp it allows you to indulge in the fragrant blend of butter, chili, and garlic that results in amazing aroma and flavors.
Samgyetang – Never miss the savory sensation this Samgyetang offers. It is a Korean ginseng soup that features garlic, ginseng, and other aromatic spices making it a hearty soup perfect for everyone who is looking for a comforting soup.
Special Set Menus
Looking for fun dining with your friend or family, well I got you! These sets allow you to enjoy an incredible dining experience with great food while creating great memories and fun conversations.
Seoul Sky First Class Set Menu – Indulge in the ultimate dining experience with our First Class Set Menu, featuring a trio of Wagyu Beef Boneless Ribeye, Wagyu Beef Striploin, and Thin Sliced Marinated Beef Short Rib. Complemented by Stir Fried Spicy Prawn, Aged Premium Pork Belly, Seafood Pancake, and Beef Short Rib Soup, it's a feast for the senses. Japchae, 4 Rice servings, and your choice of Coffee or Korean Bingsu for dessert complete this exquisite journey.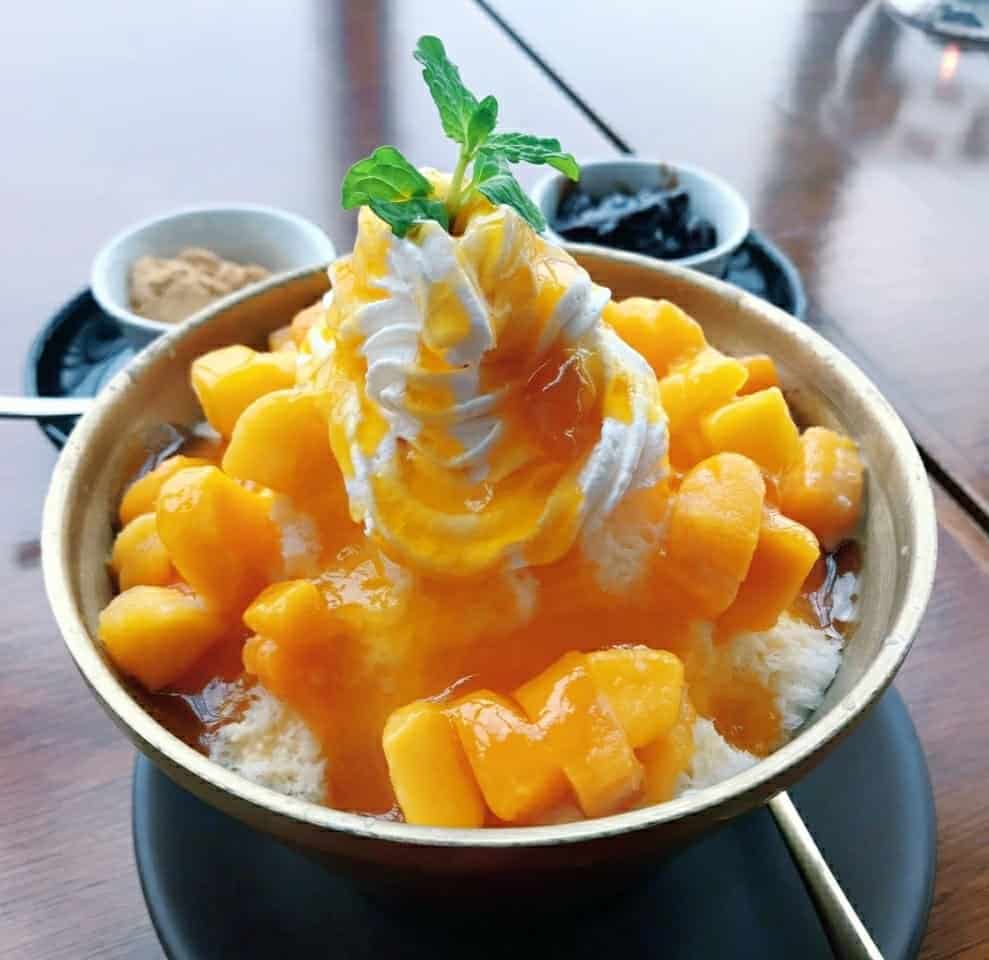 Seoul Sky Set Menu – A – Elevate your dining experience with Set Menu A, featuring a medley of flavors that include Marinated Beef Rib, Wagyu Beef Boneless Rib Eye, Thin Sliced Beef Brisket, Braised Beef Short Rib, Marinated Chicken BBQ, Seafood Pancake, and Beef Bulgogi Stew. With 4 servings of rice.
Seoul Sky Set Menu – C – Set Menu C offers a delightful selection of Marinated Thin Sliced Beef Belly, Marinated Beef Rib Finger, Marinated Chicken BBQ, Marinated Pork Sparerib, Spicy Soft Tofu Stew with Seafood, and Fluffy Steamed Egg. It includes 4 servings of rice for a truly exciting experience.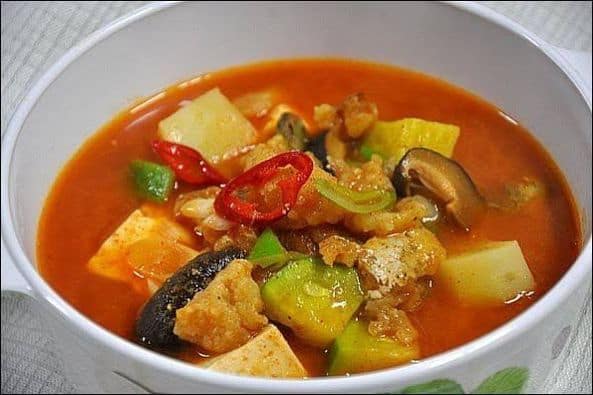 Beef & Pork – A La Carte
Still in the mood for more? I got you covered! try this menu collection of Beef and Pork Ala Carte to indulge in a fulfilling plate with exciting and new flavors that you definitely need to try.
Yuk-Hoe – Starting with the exquisite plate of Yuk Hoe. This Seoul-Sky Restaurant menu is a Korean-style Fresh Beef Tartar that features artfully blended fresh beef with an array of seasonings and well-defined textures for a savory moment.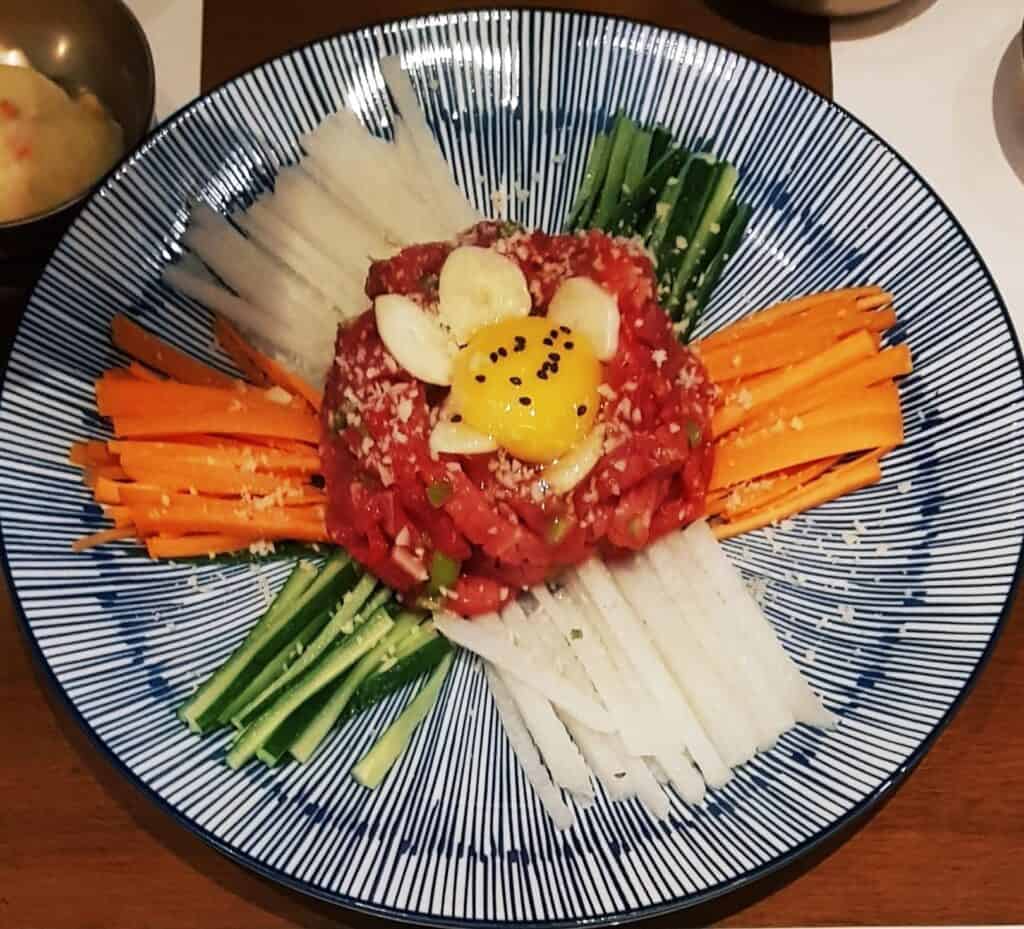 Bulgogi Stew in Pot – Next on our list is this bowl that will bring comfort to your bowl. It features Bulgogi Stew in the pot that features marinated beef stewed to perfection.
Galbi Jjim – This Galbi Jjim, is a favor filled with rich and enticing textures. It is a stewed beef of short ribs that highlights succulent and tender pieces that are delightfully infused with rich and aromatic broth.
Bulgogi Jeongol – Never miss the opportunity to try this Beef stew with a medley of vegetables. It allows you to enjoy the uniting flavors of marinated beef with a colorful vegetable that elevates the plate to new heights.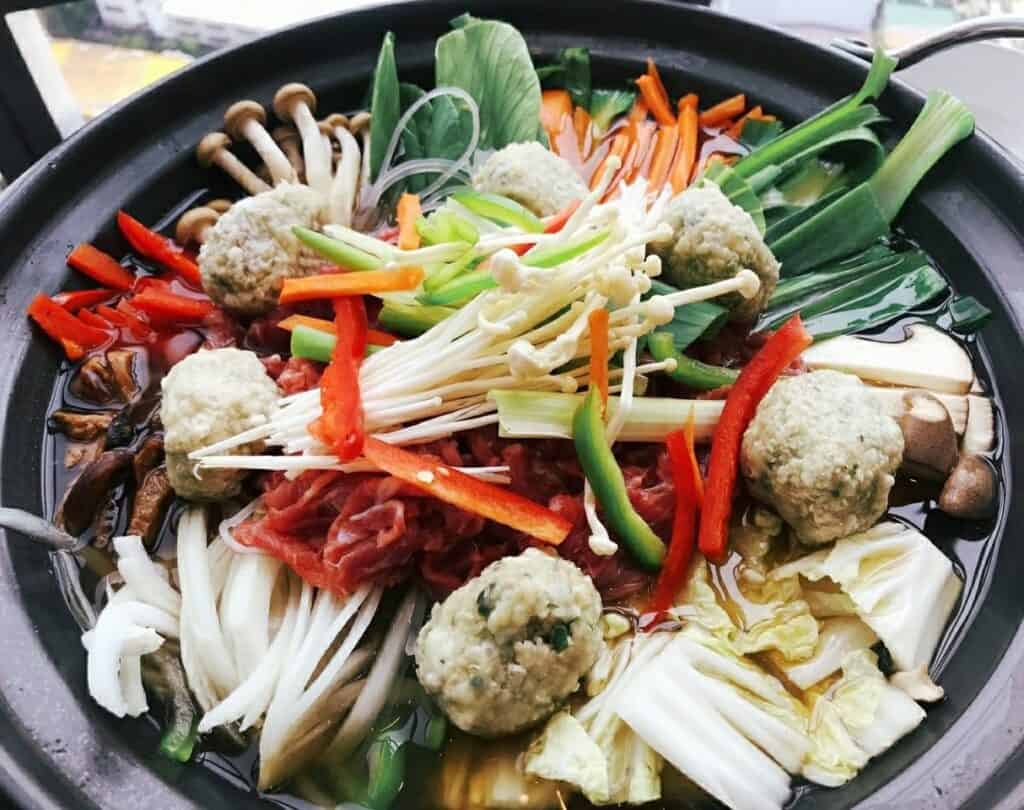 Seoul-Sky Restaurant Menu Delivery
Unfortunately, they don't offer any food delivery service but with the fact that their main highlight is their revolving restaurant in one of the peak areas of the city. So let us take the opportunity to visit this restaurant and experience this exciting journey of flavorful dining in person. I am certain that you will never regret your visit starting from the panoramic view to the excellent dining they offer.
Social Media Pages
Embark on a culinary adventure without leaving your home! Follow Seoul-Sky's social media pages for a tantalizing sneak peek into their world of authentic Korean cuisine and mesmerizing 360-degree city views.
Facebook: https://www.facebook.com/SeoulSkyRestaurant
Instagram: https://www.instagram.com/seoulskyrestaurant
Frequently Asked Questions in The Seoul-Sky
What type of cuisine does Seoul-Sky offer?
Seoul-Sky offers a delightful assortment of Korean cuisine from their delightful collections of BBQ, Noodles, Soup, ala carte, and special sets perfect for family dining.
What is Seoul-Sky known for?
Seoul-Sky is known for its iconic set which is a revolving restaurant that circles out to the entire floor while enjoying the great heights and panoramic view of the bustling city below.
What are the operating hours of Seoul-Sky?
Seoul-Sky is operating from 11 AM until 8 PM from Monday to Sunday.
Where is Seoul-Sky located in the Philippines?
If you are now planning to visit Seoul-Sky, they are located at 33/F, Eastwood Ave, MDC 100 Bldg., Bagumbayan, Quezon City, Metro Manila.
How can I reach out to Seoul-Sky staff?
You can contact Seoul-Sky at (0917) 622-3968. Hop a call or send an SMS message for your inquiry.
Conclusion
In conclusion, Seoul-Sky Restaurant is perching high above the city from its expeditionary dining experience and breathtaking panoramic views. I love how they offer a diverse collection of menus featuring Korean cuisines. They are committed to providing memorable moments with your friends and family and I am sure that every visit is a visit of pleasurable experience and great conversation. Although they don't offer food delivery service, the opportunity to dine in with Cloud is already a reason for you to never miss savoring everything this restaurant has to offer to your sophisticated palate.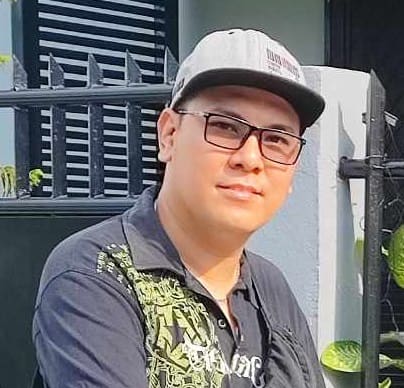 Hi! I'm Nivek Strife, the person who made MenuPH. I'm the one who added most of the popular menus you see on this website, and I really hope you enjoy them! Feel free to check them all out.
Growing up, I was surrounded by lots of tasty foods, like the classic Adobo and the sweet Leche Flan. That love for the many flavors of the Philippines is what got me excited about adding to MenuPH. When I learned how to make websites, I saw the need for a place to show off all the amazing Filipino dishes, and that's how MenuPH started.
MenuPH isn't just a website; it's like a fun journey into food. I've teamed up with famous chefs and found great places all over the Philippines to bring you a bunch of menus that show off the best of Filipino cuisine. Whether you're into the usual dishes or new twists, MenuPH is here to guide you through the rich world of Filipino flavors.
With MenuPH, my aim is to help local businesses, talk about good food choices, and make a group of friends who love food. No matter if you like fancy restaurants or street food, MenuPH has something for you. Come join me on this food adventure as we find great places, taste real flavors, and enjoy the unique food traditions that make the Philippines awesome.