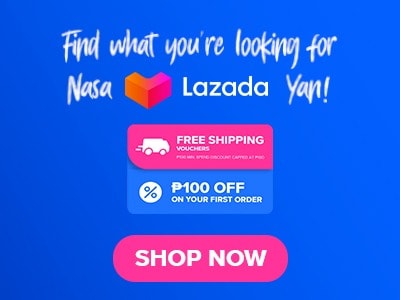 Who wouldn't want a great ambiance and a fantastic meal right? Nowadays different cuisine is being enjoyed in our country and Cyma menu offers delicious and mouth watering Greek cuisine that anyone will enjoy. This restaurant is a great place to go if you are craving Greek cuisine and a great ambiance. Let's get to know this restaurant better let's see their menu and best sellers and who knows maybe next time you're going outside with family and friends to eat outs you'll consider going to them let's not delay things here people. Let's start! 
Menu Items
Prices (PHP)

Specialties

Salmon filet
450
Mahi-mahi fillet
340
Char grilled whole sea bass
750
Kotopoulo lemonato
620
Moussaka
500
Cyma lamb shoulder chops
745
Paidakia
840
Hirini brizola (1chop/2chops)
525/750
Ribeye steak 500g
1950

Sides

Crispy fries
180
Yemista
180
Briam
180
Parsley salad
180
Greek roasted potatoes
180

Dessert

Baklava
190

Drinks

Bottled still (domestic/imported)
60/170
Bottled sparkling
170
Cyma's ultimate iced tea
90
Canned coca cola products
90

Makaronia

Greek clams
415
Solomos
510
Greek meatballs
360
Garides me feta
650
Roka pasta
380
Leonidas pasta
390
Pastisado
405

Yiouvetsi (Greek Paella)

Chicken and seafood yiouvetsi
890
Mavros yiouvetsi
920
Vegetable yiouvetsi
650
Lamb yiouvetsi
920

Salates

Roka salata
400
Marouli salata
400
Horiatiki salata
390
Watermelon and lamb salad
415

Soupa

Aegean kakavia
435
Kotosoupa avgolemono
270

Gyro

Chicken
350
Pork
360
Steak
410
Lamb
420

Souvlaki

Chicken
410
Pork tenderloin
410
Beef tenderloin
670
Lamb kebab
495
Mahi-mahi
470
Vegetarian
350

Cold Mezedes

Classic tzatziki
275
Kalamata hummus
275
Melitzanosalata
235
Htipiti
275
Watermelon and pita
120
Vegetable crudités
150

Hot Mezedes

Spanakopita
145
Garides saganaki
420
Spinach and artichoke fondue
410
Lamb keptedes
390
Beef rib ringer kalamaki
330
Steamed bowl of mussels
330
Broiled baby scallops
280
Grilled calamari
270
Garides psites
280
Steamed clams
200
Kalamarakia
450
Flaming cheese saganaki
230
Saganaki with figs
490
About Cyma
Chef Robby Goco gives his best to ensure that Filipinos get the best Greek cuisine by giving his best to offer great food in his restaurant. Goco who came from a simple family use his knowledge to earn extra when he was younger, he knows that he has to study culinary arts so he flew to the United States, he studied culinary arts for two years and had part-time jobs to support himself.
After graduating he tried to work in different restaurants in the US before going back to our country. His training in California made him adapt to different situations and circumstances that are related to his job. A friend told him that maybe he should own cuisine in our country, Goco listen to his friend and flew and stay in Greece for two and a half months learning their cuisine.
After returning he opened his first Cyma restaurant in Boracay, it's a safe choice actually since there are a lot of foreigners having a vacation on the island so if ever Filipino don't accept his cuisine he knew that foreigners will. For Goco he prefers slow growth for his restaurant but surely, he doesn't want to franchise for now because he is protecting his standards which is a great thing because customers will be sure that everything that they will order would be a masterpiece of Goco. 
Cyma Menu Best Seller
We listed Cyma bet selling items that everyone enjoys these items are based on their websites and other customers that already visited their restaurant and their actual crews. On the list are their top-selling items that we should try if we are going to visit their restaurant.
Spinach Artichoke Fondue – Made with melted cheese, feta and anchovies, and sun dried tomatoes. This is also served with EVOO bread and homemade pita for a more appealing and appetizing experience.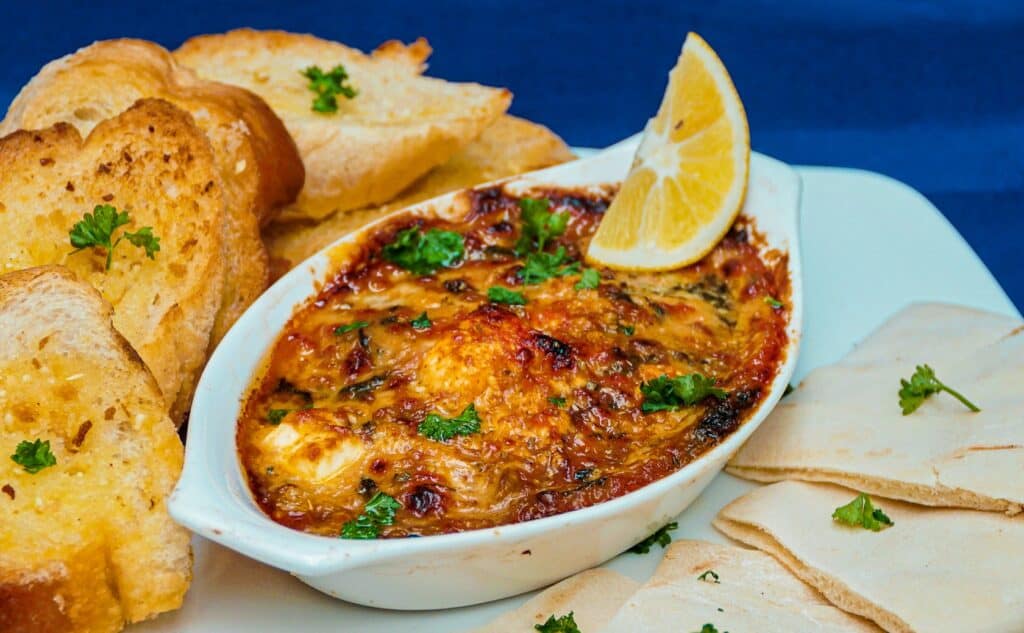 Grilled Octopus – This simple dish is a bomb and popular among foreign customers that visited their restaurant. Made with fresh octopus, garlic, herbed EVOO, greek oregano, and lemon. Their grilled octopus is truly delicious.
Loukanika – This is actually a Greek Lamb sausage with greek feta, some oregano, and their sauteed sweet peppers they also serve this with EVOO toast. This is one of their top recommended food from the Cyma menu because it is really good. 
Flaming Cheese Saganaki – I can recommend their flaming cheese saganaki for those customers who loves cheese. Made with mozzarella, parmigiano reggiano, and served with EVVO toast.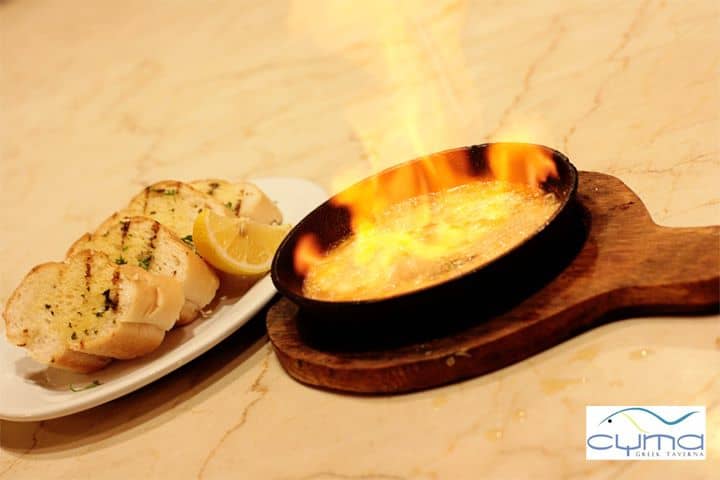 Chopped Salad – This is their house salad so for sure this is really good. Made with argula, walnuts, mixed greens, crumbled blue cheese, caramelized pears, grated parmigiano reggiano, and tomato with Cyma summer herb vinaigrette.
Cyma Menu Mezedes
Cyma offers two kinds of mezedes. They have cold mezedes and hot mezedes. On their cold mezedes they have classic tzatziki, pine nut melitzanosalata, htipiti, tarosalata and kalamata hummus. On their hot mezedes they have spinach artichoke fondue, a steamed bowl of mussels, tsigarides, greek chicken chops, and beef rib finger kalamaki. They also have fried mezedes, they have crispy smelts, kalamarakia and zucchini, and eggplant.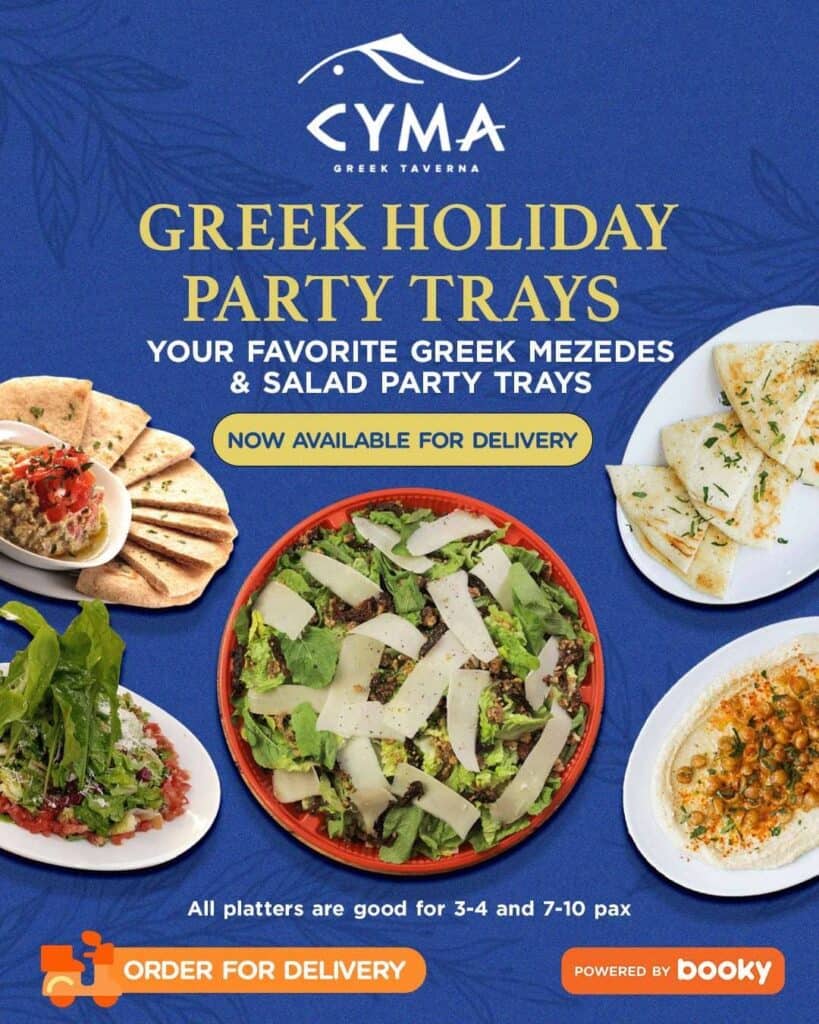 Salates
Cyma has a variety of salates which means salad in english. They have Cyma caesar, roka salata, marouli salata which is a greek spring salad in English, watercress salad, horiatiki salata, american style greek salad, chopped salad which is their in house salad and highly recommended, spinach salad, tonnos salata, fattoush with souviaki and lastly their grilled lamb and watermelon salad. You can order their salad in solo size, share and family size. 
Makaronia
On Cyma Makaronia menu, you have 12 dishes to choose from, they have roka pasta which is made with sauteed aragula, EVOO, pine nuts, cherry tomato confit, and parmigiano reggiano spaghetti. Next is their leonidas pasta which is made with roasted vegetables, pine nuts, tomatoes, garlic, basil, aglio olio, crumbled fita, and linguini pasta.
They also have watercress pasta made with parmigiano reggiano, garlic, cherry tomatoes goat cheese, and pasta spaghetti. Other choices are Pastisado, acropolis, pastitsio, solomos, greek meatballs which are made with lamb keftedes, brown tomato sauce, mizitra cheese, and rigatoni pasta.
Another one is the makaronia tis-popis, greek clams, seafood makaronia, and lastly garides ma feta. Everything on their makaronia menu is really good plus their presentation of the food that they prepare is appetizing. If you don't have any idea about their products it's safe to choose from their makaronia menu, you can never be wrong on pasta right?
Cyma Menu Delivery
Upon checking their website unfortunately they don't offer delivery service for now maybe soon. But nothing to worry about if ever you're craving Cyma food items you can go on FoodPanda, GrabFoods, or Booky websites and then search for this restaurant. However, the delivery service may be only available in selected areas.
Talk to Cyma Philippines Staff
If you have concerns and you want to talk with the Cyma Philippines Staff, you can do that easily. They have multiple social media pages and they are very active. With that being said, they can see your message from the Facebook, or Instagram page if you send them. While you're browsing their page, I suggest that you also start to follow them. In this way, their latest posts will pop into your timeline and you'll not miss any important ones. To start browsing their social media pages, refer to the following links:
Facebook: https://www.facebook.com/cymarestaurant/
Instagram: https://www.instagram.com/cymarestaurants/
Twitter: https://twitter.com/cymarestaurants
Another way to reach them is by checking their website and going to the contact page. They also posted their contact number, and email if you prefer to call them. To check their website, just go and open this link.
Conclusion
The Cyma menu meets all of our expectations when it comes to greek cuisine. They have great service with great food, and good customer service as well the serving size of their products is big enough to fill one's hunger, if the Mediterranean experience is what you're looking for Cyma is the best option for you. A comfortable place I may say, cozy and clean. In terms of the price I can't say that their prices are affordable, there are some that are not all but when it comes to food quality their price is reasonable. Highly recommend it to those who want to try greek cuisine at its best while enjoying a great atmosphere inside the restaurant.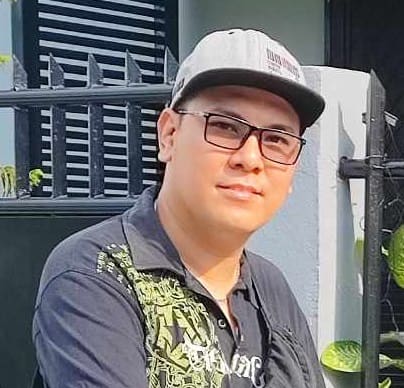 Hi! I'm Nivek Strife, the person who made MenuPH. I'm the one who added most of the popular menus you see on this website, and I really hope you enjoy them! Feel free to check them all out.
Growing up, I was surrounded by lots of tasty foods, like the classic Adobo and the sweet Leche Flan. That love for the many flavors of the Philippines is what got me excited about adding to MenuPH. When I learned how to make websites, I saw the need for a place to show off all the amazing Filipino dishes, and that's how MenuPH started.
MenuPH isn't just a website; it's like a fun journey into food. I've teamed up with famous chefs and found great places all over the Philippines to bring you a bunch of menus that show off the best of Filipino cuisine. Whether you're into the usual dishes or new twists, MenuPH is here to guide you through the rich world of Filipino flavors.
With MenuPH, my aim is to help local businesses, talk about good food choices, and make a group of friends who love food. No matter if you like fancy restaurants or street food, MenuPH has something for you. Come join me on this food adventure as we find great places, taste real flavors, and enjoy the unique food traditions that make the Philippines awesome.