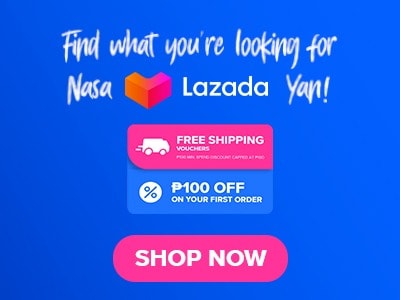 Casa Roces' menu takes pride in serving dishes that celebrate the richness of Filipino and Spanish cuisine. Their signature dishes are a must-try for those who want to experience authentic Filipino flavors. Their menu also has a wide range of appetizers, soups, salads, and main courses that suit a wide range of preferences and palates. Every dish that Casa Roces offers showcases a mix of classic and modern Filipino dishes that are sure to satisfy any palate.
Below, you'll find the updated list of Casa Roces menu prices.
Menu Items
Price (PHP)

Breakfast Menu

#coldpan#
Longganisa Tuguegarao
220
Tinapang Bangus
210
Pancakes
110
Casa Roces Omelette -Savory
255
Casa Roces Omelette - Vegetable
210
Steak and Eggs
410
Spanish Eggs Benedict
350
Beef Tapa
210

Pasta

#coldpan#
Fettuccine with Blue Cheese and Roasted Mushrooms
205
Fideos with Spanish Chorizo
290
Prawns Thermidor Linguine
430

Paellas

#coldpan#
Paella con Setas
510
Paella Valenciana
565
Paella Negra
545
Paella Morcilla
500

Sandwiches

#coldpan#
Casa Roces Club
260
Croque Madame
285
Philly a la Casa
320
Spanish Bocadillo
310
Quezo y Jamon Bocadillo
310

Ensaimadas de Casa Roces

#coldpan#
Choco Bacon Ensaimada
235
French Onion Ensaimada
235
Ratatouille Vegan Ensaimada
245
Apple Blue Cheese Burger
385
Ensaimada Bacon Cheese Burger
385
Tres Amigos Burgers
385

Appetizers

#coldpan#
Choritos en Balsamico
390
Oysters Mushroom Frittura
200
Baked Laing Dip with Lavash
185
Cheese Board
515
Charcuterie Plate
565
Chef's Sampler
800
Bacalao Caviar
445
Salmon Mousse
305
Paté de Pescado Duo
380

Salad

#coldpan#
Crispy Lengua Caesar Salad
175
Ensalada Melon con Jamon
315
Marinated Artichoke Salad
200
Beets and Goat Cheese Salad
195
Ensalada de Mamita
335

Soup

#coldpan#
Sopa Molo Castiliana
115
Onion Soup Gratinée
140
Truffle Mushroom Purée
230
Roasted Tomato Soup
125

Entrees

#coldpan#
Lengua in Mushroom-Sauce
450
Callos a la Abuelita
315
Ox Tail Kare-Kare
380
Pescado en Salsa Verde
370
Grilled Pork Ribs
280
Pork Stew Binagoongan
310
Lechon Paksiw Cochinillo
350
Pinakbet with Vigan Bagnet
210
Sopa de Marisco a la Casa Roces
395
Oven-Baked Salmon Wellington
460
Lenguado Meuniere a la Beurre Noisette
240
Pollo Iberico
520
Berenjana Casada
300
Steak Chuleton
878
New York Striploin Steak
765
Bistec Encebollado
595
Bulalo Steak a la Pobre
385
Roasted Chicken Inasal
295
Classic Chicken Adobo
295

Merienda Fare

#coldpan#
Tokwa't Baboy
175
Dinuguan at Puto
145
Arroz Caldo
95
Pansit Palabok
245

Desserts

Leche Flan Brulée
145
Chocolate Mousse
435
Malacañan Frozen Soufflé
415
Turon a la Mode
165
Maiz con Hielo a la Casa
235

Cakes

Chocolate Caramel Cake
850
Dulce de Leche
650
White Chocolate Sansrival
710
About Casa Roces
Casa Roces is a Filipino-Spanish heritage restaurant located in the heart of Manila, Philippines. The restaurant is housed in a beautifully restored ancestral home, providing a charming and elegant dining experience. Aside from the food, Casa Roces is also known for its stylish and cozy ambiance. The restaurant has both indoor and outdoor seating areas, allowing diners to enjoy the beauty of the historic architecture and lush greenery surrounding the property.
Casa Roces Menu Best Seller
This menu offers the most popular dishes at Casa Roces. Each dish has already been proven to be delicious and budget-friendly.
Grilled Pork Ribs – This dish is made up of tender and juicy meat coated with a savory BBQ sauce that perfectly balances the smoky flavor of the meat. The ribs are also cooked to perfection, resulting in a delicious and filling option on their entree menu.
Roasted Chicken Inasal – It is a popular Filipino grilled chicken dish that is marinated in a mixture of lime, vinegar, soy sauce, garlic, ginger, and annatto oil. Casa Roces' Roasted Chicken Inasal is well-seasoned, juicy, and tender. The chicken is perfectly cooked, with the skin slightly charred and the meat moist and flavorful.
Tokwa't Baboy – This popular Filipino dish consists of crispy fried tofu and boiled pork belly served with tangy vinegar and soy sauce dressing. The flavorful dressing, combined with the savory pork belly and crispy tofu, results in a delicious and satisfying dish that Casa Roces' regular customers love.
Beef Tapa – The beef tapa at Casa Roces is flavorful and tender, with just the right amount of sweetness from the marinade. The dish is ideal for those who enjoy savory breakfast options and is a delicious way to start the day.
Breakfast Menu
This menu features delectable breakfast dishes that will undoubtedly get your day started!
Pancakes – Casa Roces' pancakes menu is made with rice flour that is filled with sweet and savory fillings like honey or red bean paste. It is one of the comfort foods that are very popular among locals.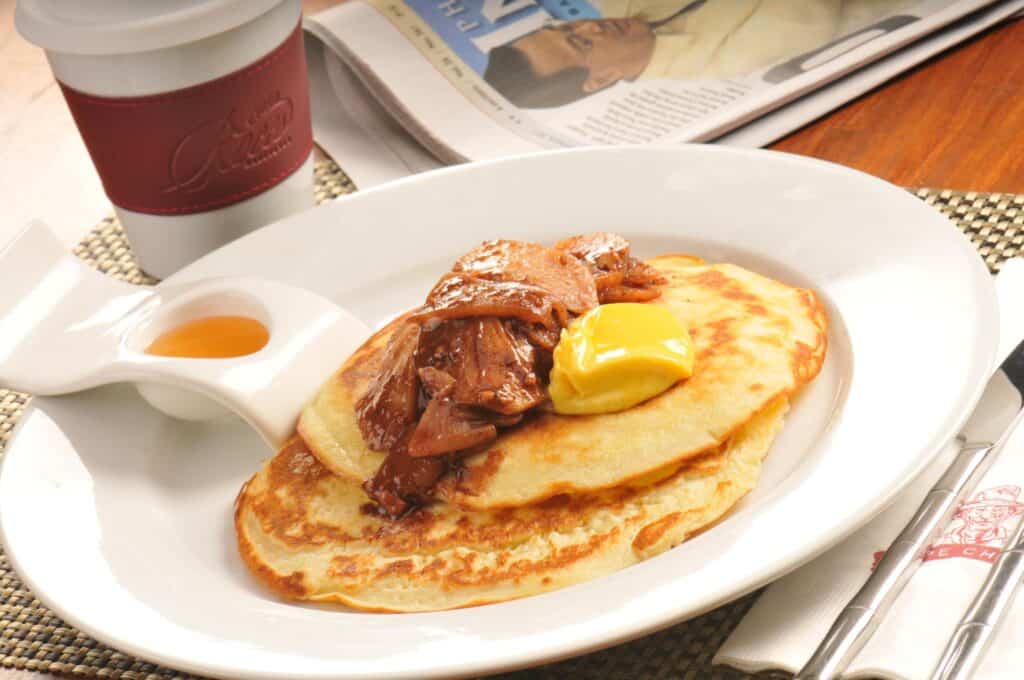 Casa Roces Omelette – Vegetable – The Casa Roces Vegetable Omelette is a vegetarian dish that features a fluffy omelette filled with different varieties of sautéed vegetables. This omelette is an excellent option for those looking for a healthy and flavorful breakfast or brunch dish.
Steak and Eggs – Steak and Eggs is a traditional breakfast dish that consists of a grilled or pan-fried steak accompanied by fried or scrambled eggs. It's a hearty and filling breakfast option that's popular among meat eaters.
Spanish Eggs Benedict – Casa Roces' Spanish Eggs Benedict is a variation of the classic Eggs Benedict dish that uses a slice of pan de sal, a Filipino bread roll, as the base. It's a delicious and filling dish that's ideal for breakfast or brunch.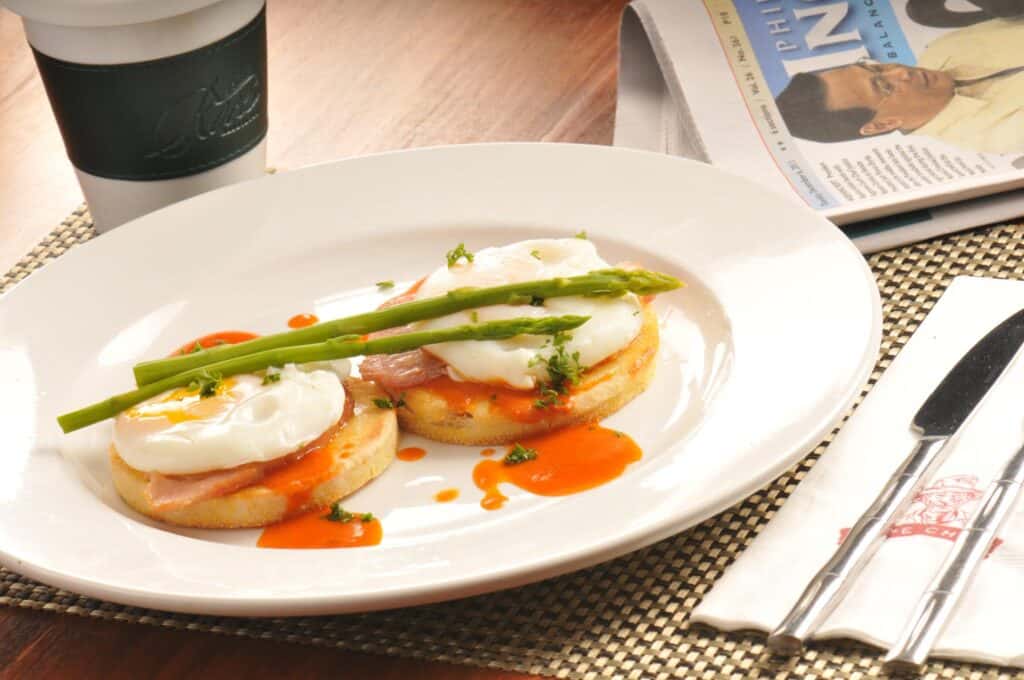 Pasta
This menu features a variety of pasta dishes that have a very familiar taste due to the added Filipino twist.
Fettuccine with Blue Cheese and Roasted Mushrooms – Casa Roces' Fettuccine with Blue Cheese and Roasted Mushrooms is ideal for those who enjoy creamy pasta dishes with an earthy flavor. The portion size is generous and can be shared by two people or served as a main course by one person.
Fideos with Spanish Chorizo – This is a delicious menu of Casa Roces that combines the flavors of Spain with the unique texture of thin noodles. It has a hearty and satisfying flavor that is not too overwhelming, making it an excellent choice for lunch and dinner.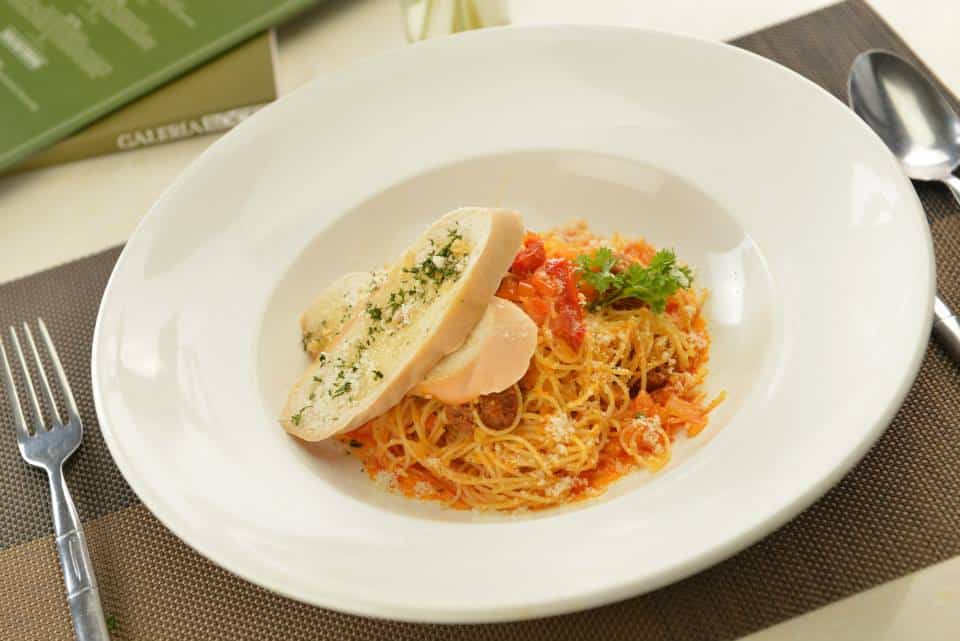 Prawns Thermidor Linguine – Prawns Thermidor Linguine is a mouthwatering dish with a Casa Roces' own twist. It's a must-try for seafood fans who also like creamy pasta dishes. The pairing of succulent prawns and creamy Thermidor sauce is a match made in heaven.
Paella
This menu consists of Spanish sticky rice dishes that have been given a Filipino twist by Casa Roces.
Paella con Setas – Casa Roces' variation of this classic Spanish dish Paella con Setas features a medley of mushrooms, saffron-infused rice, and other traditional ingredients. The earthy flavor of the mushrooms is perfectly complemented by the aromatic saffron and the savory rice.
Paella Valenciana – It's a traditional Spanish dish made with saffron-infused rice, chicken, chorizo, and vegetables, but with a Casa Roces twist! Anyone who enjoys Spanish cuisine should try this dish. The taste and textures of this dish are well-balanced and are sure to please anyone.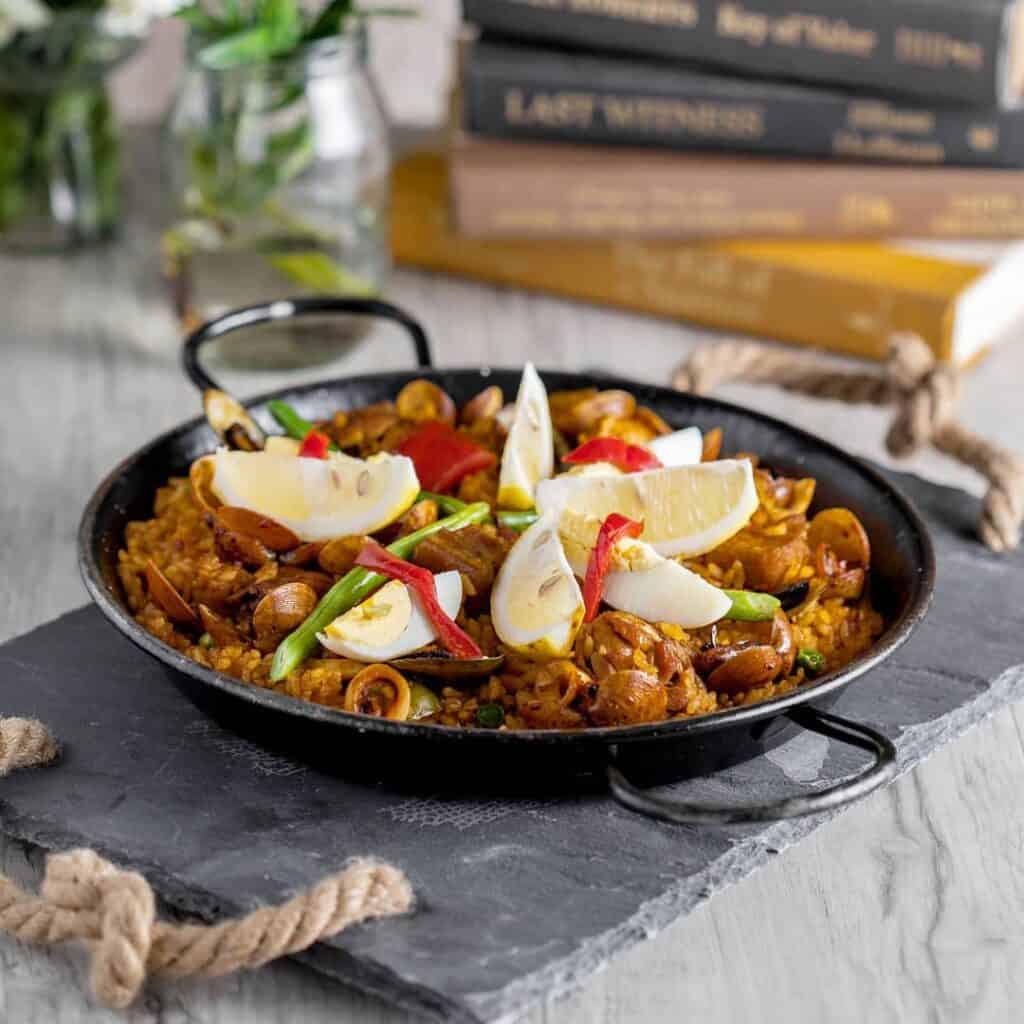 Paella Negra – This Paella Negra from Casa Roces is a visually appealing and flavorful dish that features squid ink-infused rice cooked with squid, shrimp, and mussels, resulting in a deep black color. A unique and satisfying culinary experience is created by the combination of fresh seafood, perfectly cooked rice, and squid ink.
Sandwiches
Casa Roces has a small but impressive sandwich menu that is ideal for a light lunch or a quick snack. One standout sandwich is the Grilled Cheese Sandwich, which is a simple yet satisfying dish made with cheddar cheese, caramelized onions, and arugula on sourdough bread. Another popular sandwich is the Bagnet Sandwich, which features a crispy fried pork belly, tomatoes, lettuce, and garlic aioli on a ciabatta bun.
The Grilled Vegetable Sandwich is a great option for those looking for a healthier option. It features grilled zucchini, eggplant, bell peppers, and mushrooms on whole wheat bread with basil pesto and feta cheese. The Tuna Melt Sandwich is also a must-order. It's loaded with tuna salad, melted cheddar cheese, and tomatoes on sourdough bread. The tuna salad is creamy and delicious, and the melted cheese adds a nice, gooey touch.
Overall, Casa Roces' Sandwiches offers a good mix of classic and unique sandwich options that are sure to satisfy different palates. Each of these sandwiches is made with high-quality ingredients and is served elegantly.
Casa Roces Menu Delivery
Casa Roces' dishes can be ordered online through many affiliate websites and mobile applications. The easiest way to order one of their dishes is to download the GrabFood or FoodPanda applications on your mobile device. Once the installation of the app is finished, open the app, search for Casa Roces' online store, browse their menu, add items to the cart, and checkout.
Social Media Pages
Planning to have an event with historic feels? Then, try to check Casa Roces' social media pages to add in to your options. They are available for reservations, walk-ins, and more. Make sure to like and follow their pages to show your support. The links are provided below for your convenience.
Facebook: https://www.facebook.com/casarocesph
Instagram: https://www.instagram.com/casarocesph/
Twitter: https://twitter.com/casa_roces
Conclusion
Casa Roces' menu offers a unique and delicious dining experience that showcases the best of Spanish and Filipino cuisine. The restaurant's cozy ambiance and elegant interiors create a relaxing and inviting atmosphere that complements the flavorful dishes on its menu. It is a must-visit for those looking to experience a blend of Filipino and Spanish cuisine in a stunning heritage setting.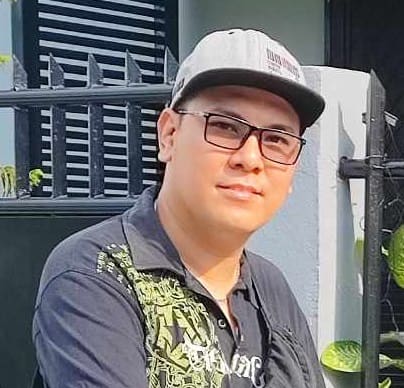 Hi! I'm Nivek Strife, the person who made MenuPH. I'm the one who added most of the popular menus you see on this website, and I really hope you enjoy them! Feel free to check them all out.
Growing up, I was surrounded by lots of tasty foods, like the classic Adobo and the sweet Leche Flan. That love for the many flavors of the Philippines is what got me excited about adding to MenuPH. When I learned how to make websites, I saw the need for a place to show off all the amazing Filipino dishes, and that's how MenuPH started.
MenuPH isn't just a website; it's like a fun journey into food. I've teamed up with famous chefs and found great places all over the Philippines to bring you a bunch of menus that show off the best of Filipino cuisine. Whether you're into the usual dishes or new twists, MenuPH is here to guide you through the rich world of Filipino flavors.
With MenuPH, my aim is to help local businesses, talk about good food choices, and make a group of friends who love food. No matter if you like fancy restaurants or street food, MenuPH has something for you. Come join me on this food adventure as we find great places, taste real flavors, and enjoy the unique food traditions that make the Philippines awesome.