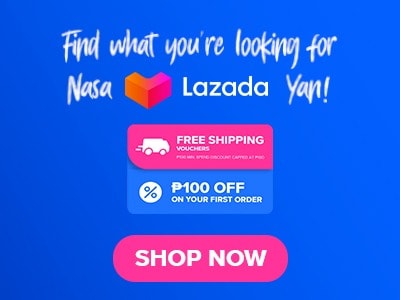 The Tres menu consists of traditional Filipino and Spanish cuisines with a delightful twist. It is known for its special, unique, and succulent Kare-Kare dish that is available in different variations. There are also appetizers, soups, ensalada, pancit, pasta, vegetables, rice, sizzling plates, set meals, desserts, and all-time favorite Filipino dishes. The special twist of these classic dishes makes them unique giving the diners a one-of-a-kind experience. 
Menu Items
Price (PHP)

Pampagana

Lumpiang Shanghai
273
Callos
363
Gambas Al Ajillo
373
Gambas Aligue
383
Baby Pusit Al Ajillo
223
Tres Cazuelas Sampler
983
Classic Beef Salpicao
463
Roast Beef Belly Salpicao
473

Sopas

Sinigang na Salmon sa Miso
483
Beef Bulalo
483
Sinigang na Spare Ribs
403
Sinigang na Bangus
353
Sinigang na Hipon
423
Sinigang na Lechon
683
Chai Pancit Lomi
323

Ensalada

Ampalaya Ensalada
223
Ensaladang Talong
223

Kare-Kare-Kare

Kare-Kare-Kare Platter
813
Classic Kare Kare Kare
553
Roast Beef Belly Kare Kare Kare
633
Crispy Kare Kare Kare
613
Crispy Pata Kare Kare Kare
833
Crispy Beef Tadyang Kare Kare Kare
583
Seafood Kare Kare Kare
573
Grilled Sugpo Kare-Kare-Kare
533

Pancit/Pasta

Pancit Luglog
323
Pancit Canton
363
Seafood Kare-Kare-Kare Pasta
203

Gulay

Mongo
253
Gising-Gising
283
Pinakbet with Bagnet
303
Laing
273

Kanin

Paella Valenciana (Good for 3 people)
853
Pandan Rice (Good for 3 people)
143
Lechon Rice (Good for 3 people)
323
Kalkag Rice (Good for 3 people)
293
Paella Tinola (Good for 3 people)
333
Paella Pinakbet (Good for 3 people)
393
Garlic Rice (Good for 3 people)
163
Garlic Rice (Solo)
63
Plain Rice (kada tasa)
53

All-Time Favorites

Hickory Baby Back Ribs
383
Lamb Adobo
463
Lengua Con Setas
443
Beef Tapa
293
Dinuguang Lechon Kawali
293
Crispy Sisig
303
Binagoongang Lechon Kawali
323
Crispy Pata
833
Nilunod na Chicken Inasal
383
Fried Chicken Tanglad
373
Roast Iberian Chicken
403
Anton's Fried Chicken
273
Pork Humba
323
Tres Bagnet Sampler
363
Classic Bagnet
293
Bagnet Kare-Kare-Kare
323
Bagnet Mantecado
323
Sugpo at Aligue
533
Bangus a la Pobre
323
Crispy Tilapia
323
Calamares
313
Crispy Ginataang Hito
423

Sizzling Plates

Sizzling Adobo Beef Belly
393
Sizzling Grilled Pusit
403
Sizzling Crispy Beef Tadyang
423

Set Meals

Set Meal 1 (Good for 20-30 people)
10901
Set Meal 2 (Good for 20-30 people)
12098
Set Meal 3 (Good for 20-30 people)
12122
Set Meal 4 (Good for 20-30 people)
13926
Set Meal 5 (Good for 20-30 people)
12854
Set Meal 6 (Good for 20-30 people)
14578

Panghimagas

Ube Mamon (1 pcs)
53
Ube Mamon (3 pcs)
133
Halo-Halo
143
Biko
93
Fruit Salad
103
Banana-Ube Turon
173
Ube Macapuno Royale Cake (per slice)
123
Ube Macapuno Royale Cake (whole)
503
Choco Fiesta (per slice)
183
Choco Fiesta (whole)
723
Birthday Mangoes (per slice)
183
Birthday Mangoes (whole)
1013
Leche Flan (per slice)
113
Tres-ramisu Cake (per slice)
183
Tres-ramisu Cake (whole)
723
Choco Lava
203

inumin

Sago't Gulaman
83
Sofdrinks in Can (Coke)
83
Sofdrinks in Can (Coke Zero)
83
Sofdrinks in Can (Sprite)
83
Sofdrinks in Can (Royal Tru-Orange)
83
Sofdrinks in Can (Pineapple in Can )
93

Fruit Drinks

Fresh Buko Lychee
113
Fresh Buko Juice
113
Fresh Mango Juice
113
Calamansi Juice
113
Dalandan Shake
113
Fresh Ripe Mango Shake
133
Fresh Green Mango Shake
133
Fresh Watermelon Shake
133
Dalandan Juice
113

Other Drinks

Tres Brewed Iced Tea
103
Hot Tea
63
Brewed Coffee
63
Bottled Water
43
About Tres
Tres is a Filipino restaurant that serves authentic and extraordinary dishes. Kare Kare is the signature dish of this restaurant loved for its distinctive and savory flavors. The dishes that it offers are inspired by Filipino and Spanish cuisine. The food and ambiance will make you feel like you are at home with your loved ones.
Tres Menu Best Seller
These are the best-selling dishes of Tres that are loved for their classic and distinctive taste.
Classic Kare Kare Kare – It is the specialty Filipino dish of Tres. It is the best choice if you want to try both Kare-Kare and Crispy Pata. The special house created by this restaurant is the secret ingredient that makes it special.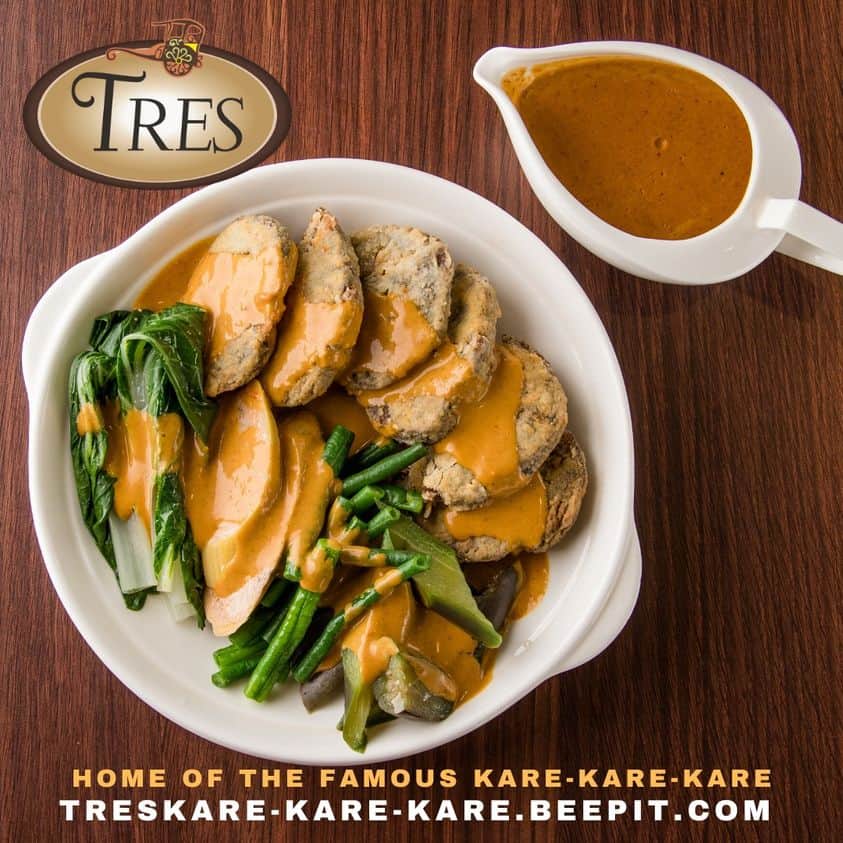 Lamb Adobo – This is a special adobo where lamb is cooked in a special mixture of sauces until it becomes tender. It is a must-try adobo variant as you will enjoy its irresistible taste.
Crispy Pata – The pork leg has been soaked in a special blend of ingredients and deep-fried twice. The double crispy goodness and the delectable taste of this dish will make you crave more.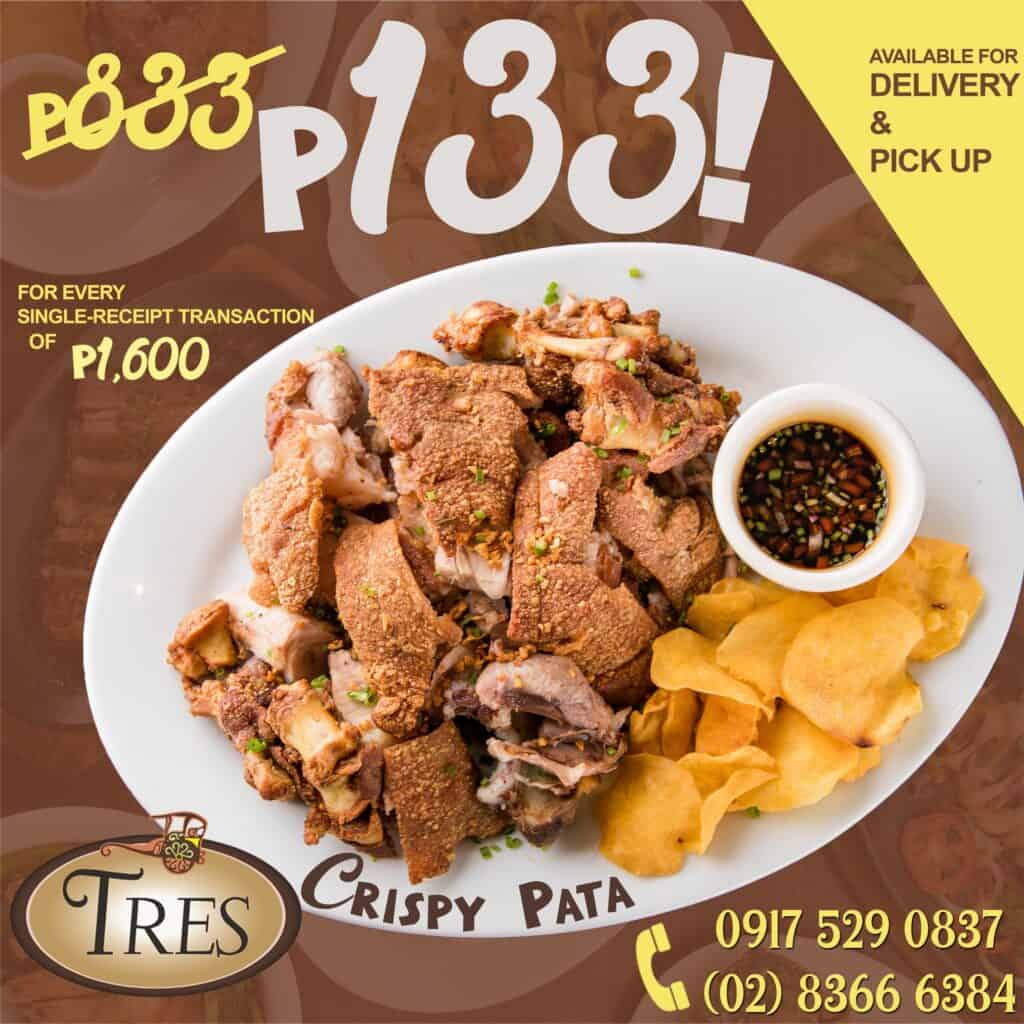 Anton's Fried Chicken – A fried chicken dish with a delicious twist. This dish is loved by people of all ages as it has an extraordinary taste that set it apart from other fried chicken. The satisfying combination of its crispy texture and tender meat makes this dish pleasurable.
Beef Tapa – It is a well-known breakfast dish that can be enjoyed at any time of the day made with marinated beef sirloin. The special marinade mixture of this restaurant makes it tender, juicy, and flavorful.
Pampagana Menu
These are the appetizers menu from the Tres restaurant that will tantalize your taste buds and boost your appetite to make your meal exciting. 
Lumpiang Shanghai – It is a delightful dish where minced pork, carrots, onion, and kinchay are wrapped in a lumpia wrapper and deep-fried until crispy. A sweet and sour vinegar with garlic dipping sauce comes with it.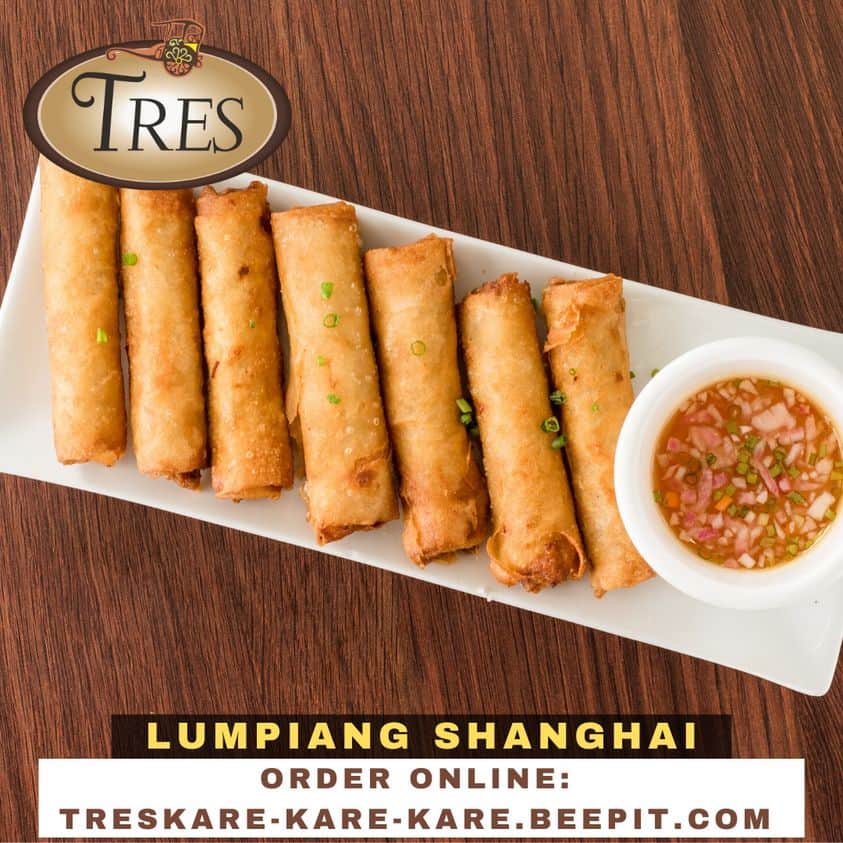 Callos – This is a mesmerizing dish where beef tripe is cooked slowly in a tomato-based sauce made of special ingredients until it becomes tender. The hearty goodness of this classic Filipino food makes it flavorsome.
Gambas Aligue – A flavorful dish where fresh shrimp is sauteed in a delicious sauce made with aligue, garlic, and chili. The color of this dish enhances its presentation making it enticing.
Roast Beef Belly Salpicao – Slices of beef are fried slowly and sauteed in olive oil with chili and garlic. This simple dish has a garlicky and rich taste that can satisfy meaty cravings.
Tres Cazuelas Sampler – This is a great choice if you are dining in groups and want to try different appetizers as it consists of different kinds of appetizers such as Gambas Aligue, Roast Beef Salpicao, and Baby Pusit.
Tres Sopas Menu
The soup dishes offered by Tres consist of bulalo and different kinds of sinigang that will give you warmth and comfort.
Sinigang na Salmon sa Miso – A mouthwatering dish made with salmon belly and other special ingredients. The savory taste of miso, the comforting warm soup, and the tasty fish make it dish enjoyable.
Beef Bulalo – This dish is carefully boiled and slowly cooked until it becomes tender to make its taste delightful. It is one of the well-known and all-time favorite soups that is loved for its tender meat, delicious broth, and rich taste.
Sinigang na Spare Ribs – It is a soup where spare ribs are cooked with other special ingredients until it becomes tender. The sour taste and the perfectly combined ingredients of this hearty dish always tantalize the taste buds.
Sinigang na Hipon – A comforting dish where fresh shrimp and other vegetables are cooked in a special sour soup. Its sour and savory flavor arouses the senses making it enjoyable.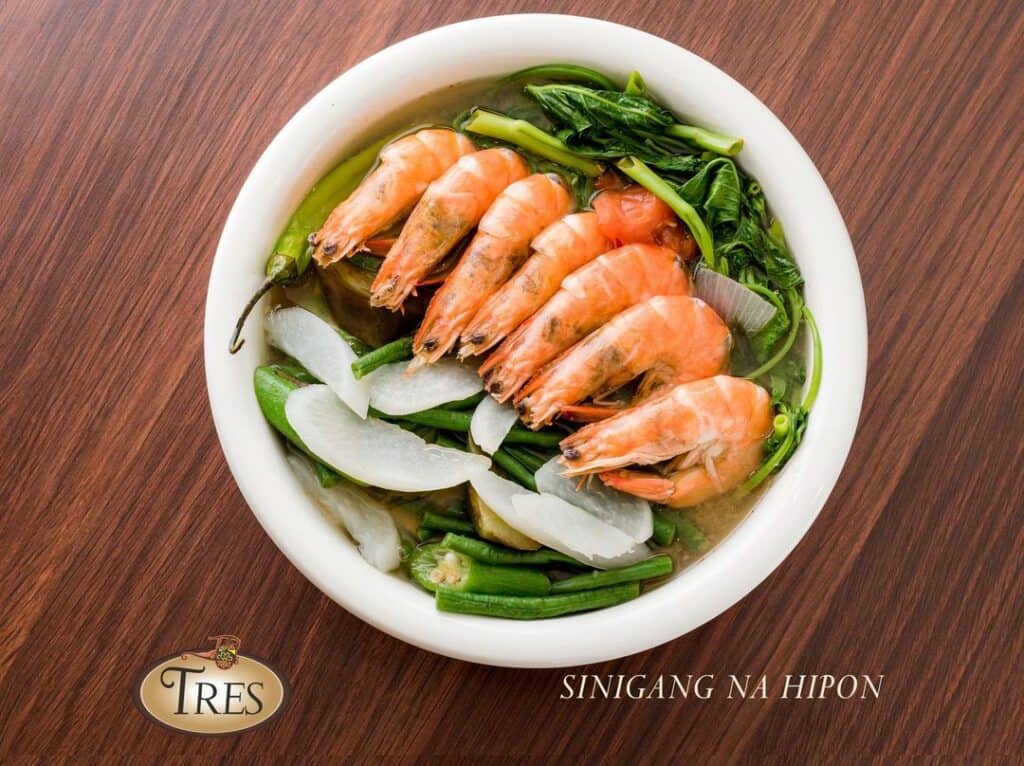 Sinigang na Lechon – It is made with crispy lechon cooked in a special sinigang soup at the restaurant. The delectable combination of the crispy texture of lechon and the sour goodness of this soup make it delightful.
Tres Set Meals Menu
Tres restaurant offers five sets of meals that are good for 20-30 people. Each set consists of traditional Filipino dishes that are loved for their delightful flavors. These dishes are perfect for any celebration as it includes a variety of dishes that will tickle the taste buds of your loved ones.
Kare-Kare-Kare
Tres is known as the best restaurant that serves special Kare-Kare-Kare. The name of this dish is inspired by the combination of three special condiments. These three ingredients include extra sauce, which makes this dish flavorful; diced peanuts, which adds a nutty texture; and bagoong or shrimp paste, which acts as a dipping sauce. The different versions of Kare-Kare-Kare are Seafood, Crispy Kare Kare, Crispy Beef Tadyang, Grilled Sugpo, Crispy Pata, Classic Beef, and Roast Beef Belly. It also offers a Kare-Kare-Kare platter that comes with Tadyang ng Baka, Sugpo, Pata, and Fresh vegetables. The extraordinary flavors of these special Kare-Kare-Kare dishes will delight your taste buds making you crave more.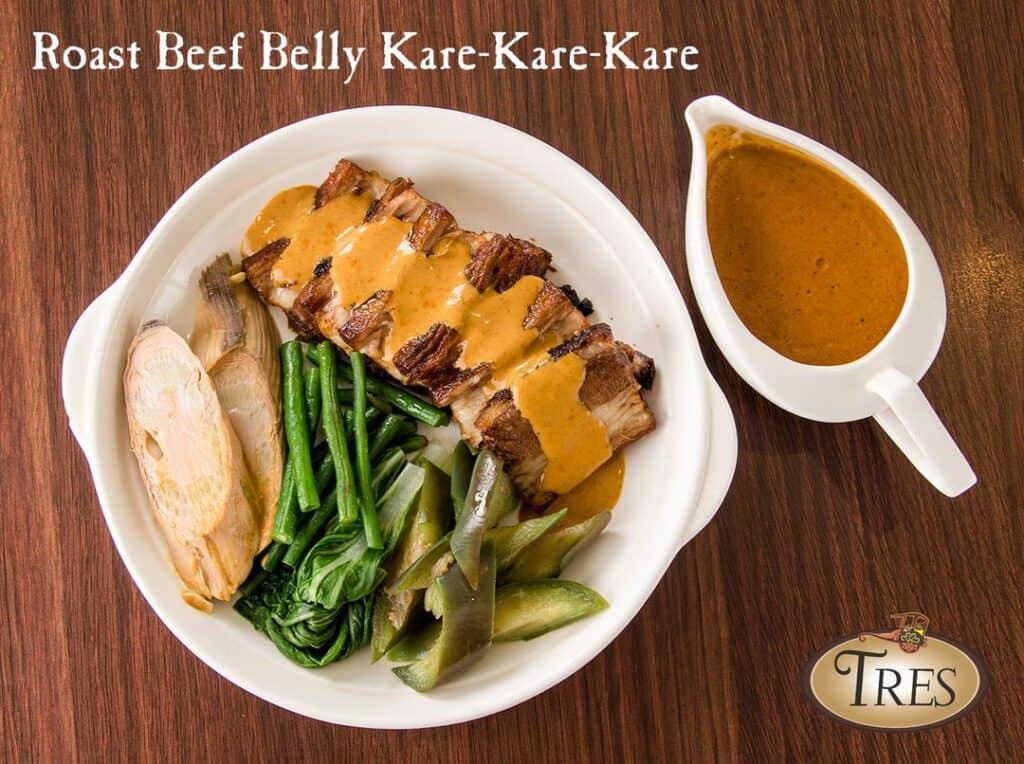 Pancit/Pasta
The pancit dishes of Tres restaurant are Pancit Luglog, made with shrimp and secret ingredients cooked in delightful sauce; and Pancit Canton, which consists of shrimp, pork, chicken, kikiam, and vegetables. It also offers seafood kare kare pasta where its famous kare-kare is mixed with pasta. These pancit and pasta dishes will turn your simple dining experience with your loved ones into an unforgettable celebration.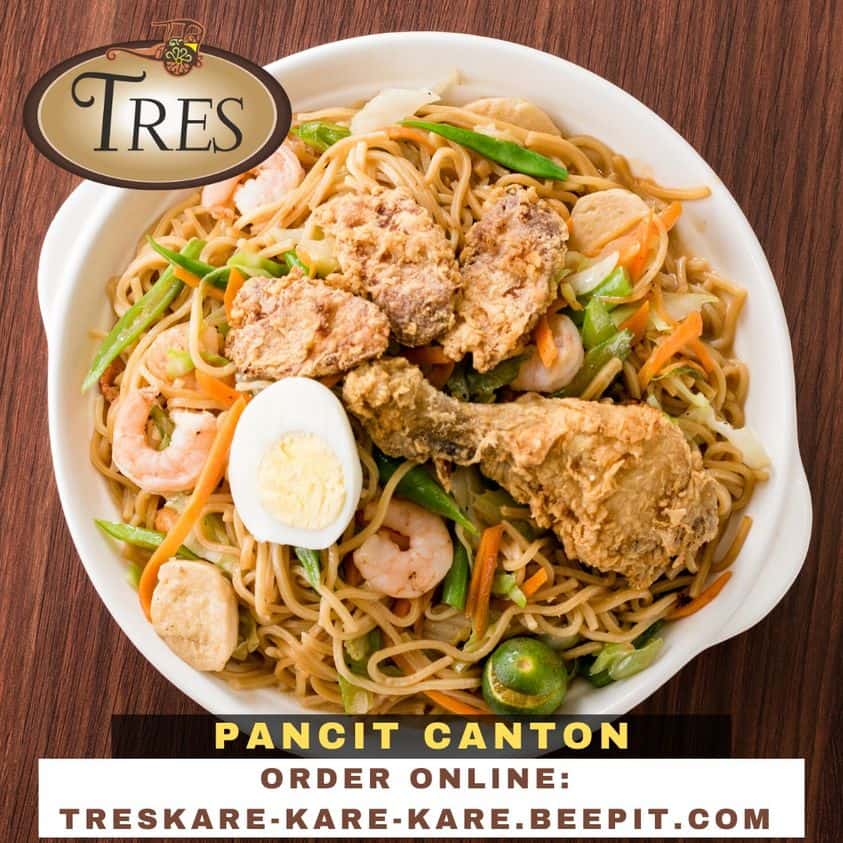 Tres Menu Delivery
The delightful and traditional dishes of Tres menu are available for dine-in, takeout, and delivery. For delivery, you can contact the restaurant at 0917-529-0837 or (02) 8366 6384 and send your name, address, as well as the date and time of your orders.
Social Media Pages
Stay informed and never miss out on Tres' latest menu offerings and promotions by following them on their social media pages. As soon as new items are added or a promotion is launched, Tres will update their social media pages, so make sure to follow them to be the first to know. Not only will you stay up-to-date on all their latest offerings, but by following Tres, you'll also be showing your support for their business. So, don't wait any longer, visit them and hit that "follow" button now!
Facebook: https://facebook.com/TresFilipinoTwists/
Conclusion
The Tres menu is well-loved for its delicious dishes that are worth the price. The customers commend the fabulous service and vibrant personality of its staff treating them like they are family. Its comfortable atmosphere will make you feel like you are at home. Its cuisines never fail to arouse the senses making diners anticipate their next visit.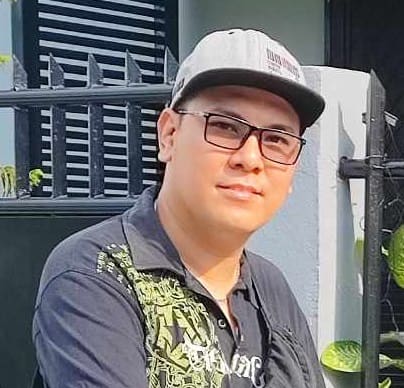 Hi! I'm Nivek Strife, the person who made MenuPH. I'm the one who added most of the popular menus you see on this website, and I really hope you enjoy them! Feel free to check them all out.
Growing up, I was surrounded by lots of tasty foods, like the classic Adobo and the sweet Leche Flan. That love for the many flavors of the Philippines is what got me excited about adding to MenuPH. When I learned how to make websites, I saw the need for a place to show off all the amazing Filipino dishes, and that's how MenuPH started.
MenuPH isn't just a website; it's like a fun journey into food. I've teamed up with famous chefs and found great places all over the Philippines to bring you a bunch of menus that show off the best of Filipino cuisine. Whether you're into the usual dishes or new twists, MenuPH is here to guide you through the rich world of Filipino flavors.
With MenuPH, my aim is to help local businesses, talk about good food choices, and make a group of friends who love food. No matter if you like fancy restaurants or street food, MenuPH has something for you. Come join me on this food adventure as we find great places, taste real flavors, and enjoy the unique food traditions that make the Philippines awesome.