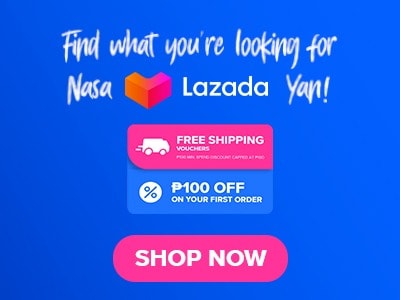 Mandarin Sky is a respected and admired Chinese restaurant due to its diverse menu of dishes from various regions of China. Dim sum, soup, seafood, noodles, and rice dishes are just a few of the many options on this menu. Mandarin Sky provides a delicious and authentic Chinese dining experience that is sure to satisfy every customer's craving for classic and traditional Chinese cuisine.
Below, you'll find the updated list of Mandarin Sky menu prices.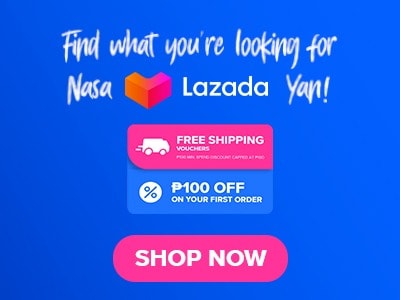 Menu Items
Price (PHP)

SHARK'S FIN • BIRD'S NEST SOUP

Stewed Shark's Fin Soup
930
Shark's Fin Soup with Crab Meat
700
Shark's Fin Soup with Chicken
690
Shark's Fin Soup with Crab Roe
720
Braised Shark's Fin Soup
960
Buddha Jump Over the Wall Soup
Advance Order

Sea Cucumber & Abalone

Braised Sea Cucumber with Vegetables
580/870/1160
Black Mushroom with Sea Cucumber
630/950/1260
Sliced Abalone with Seasonal Vegetables
580/870/1160
Sliced Abalone with Black Mushroom
630/950/1260
Sliced Abalone with Sea Cucumber
690/1040/1380

Live Seafood

Lobster
Advance Order
Tiger Lobster
Advance Order
Steamed Blue Dotted
Advance Order
Garoupa
King Fish
Silver Pomfret
Eel
Red Spotted Crab
Advance Order
Jumbo Size Cold Red Spotted Crab
Advance Order
Female Crab
Steamed Live Shrimp
Peppercorn Sea Mantis
Advance Order
Baby Geo Duck
Advance Order
Sea Clam

Roasting

Peking Duck
1390
Roasted Duck
1280
Suckling Pig
3220
Suckling Pig Cold Cuts
790/1190/1580
Cold Cuts
440/660/880
Asado
330/500/660
Roasted Pork Brisket
340/510/680
White Chicken
370/740
Cold Seaweeds
280/420/560
Sliced Pig Knuckle
320/480/640
Roasted Duck
630/950/1260
Roasted Duck
640/950/1280
Century Egg
70

SOUP

Sweet Corn with Crab Meat Soup
390
Sweet Corn with Minced Chicken Soup
390
Dried Scallop with Mashed Wintermelon Soup
400
Hot and Sour Soup
390
Minced Seafood with Spinach Soup
390
Bamboo Pith with Seafood Soup
410
Seafood with Bean Curd Soup
390
Minced Beef with Eggflower Soup
410
Assorted Meat Soup
390
Chicken Asparagus Soup
390
Sea Clam with Mustard Green Soup
390
Fish Lips with Mixed Meat soup
410
Seafood with Pumpkin Soup
390
Wintermelon with Assorted Meat Soup
390
Four Treasure Balls with Mustard Green Soup
390
Black Seamos Seafood Thick Soup
430
Fish Fillet with Watercress Soup
390
Sliced Pork with Bamboo Pith
390
& Century Egg Soup
390

Appetizer

Peppercorn Squid
480
Squid with Sweet and Chili Sauce
480
Deep Fried Shrimp Balls
470
Camaron Rebusado
510
Deep Fried Stuffed Seafood Roll
390
Deep Fried Shanghai Spring Roll
340
Deep Fried Chicken Roll with Mango
380
Stuffed Crispy Egg Plant
510
Deep Fried Bean Curd
340
Deep Fried Bean Curd with Lemon Sauce
350
Dragon Ball
470
Hot or Cold Prawn Salad
1110
Deep Fried Frog Legs Salt & Pepper
690

Sizzling dishes

Sizzling Beef Tenderloin with Black Pepper Sauce
490
Sizzling Beef Tenderloin
490
Sizzling Squid with Tausi
480
Sizzling Satay Beef
490
Sizzling Oyster with Tausi
460
Sizzling Chicken Fillet with Satay Sauce
430
Sizzling Fish Fillet with Tausi
440

Singaporean menu

Malaysian Squid
480
Sotong Squid
480
Fish Head Curry
1410
Cereal Prawn (4pcs
220/piece
Singaporean Crab
per gram
Fried Crab Salted Egg
per gram
Fried Crab Fei Fung Style
per gram
Crab Rice
per gram
Steam Crab Eggwhite
per gram

Hot Casserole

Seafood Home Made Bean Curd
510
Prawns with Sotanghon
590
Special Hot Pot
610
Fish Fillet with Home Made Bean Curd
440
Spicy Seafood with Eggplant
470
Curry Beef with Sotanghon
470
Curry Beef Brisket
470
Beef Brisket
470
Chicken and Pork Liver
430
Diced Chicken, Salted Fish and Bean Curd
440
Satay Boneless Chicken
430
Braised Chicken with Taro
430
Spare Ribs with Taro
460
Spicy Home Made Beancurd with Pork Brisket
430
Spicy Minced Pork and Home Made Beancurd
440
Minced Pork with Eggplant and Salted Fish
440
Four Treasure Meat Balls with Curry Sauce
430

HOFAN & NOODLES

Fried Noodles with Seafood
390
Fried Noodles with Assorted Meat
370
Fried Noodles with Sliced Beef
390
Fried Noodles with Shredded Chicken
360
Beef Brisket Fried Noodles
390
Fried Noodles with Lohon Vegetables
360
Dry Fried Hofan with Seafood
390
Dry Fried Hofan with Beef
390
Fried Beef Hofan with Black Bean Sauce
390
Fried Taiwan Noodles with Assorted Meat
370
Satay Beef Brisket Hofan
390
Hofan Asado with Scrambled Egg
390
Hofan with Shredded Duck Meat
450
Braised Efu Noodles with Diced Seafood
390
Braised Efu Noodles
360
Pancit Canton
360
Singaporean Bihon Guisado
360
Birthday Noodles or Misua
400
About Mandarin Sky
Mandarin Sky is a popular Chinese restaurant that offers a wide range of dishes from different regions of China and is located in Quezon City, Philippines. The interior of their restaurant is decorated in a traditional Chinese style, with red lanterns hanging from the ceilings, gold accents, and elegant wooden furniture. In addition to their delicious food and excellent ambiance, they are also well-known for their friendly and attentive staff. Overall, Mandarin Sky is best known for its food, ambiance, and service.
Mandarin Sky Menu Best Seller
This menu is made up of the best-selling dishes at Mandarin Sky, each of which is a must-have on your table to completely enjoy Mandarin Sky's dining experience.
Malaysian Squid – This squid is a standout dish at Mandarin Sky because it is packed with bold flavors and unique textures. The main ingredient, which is the squid, is cooked to perfection before being infused with a variety of aromatic spices, such as curry powder and turmeric, that give it its distinct Malaysian flavor.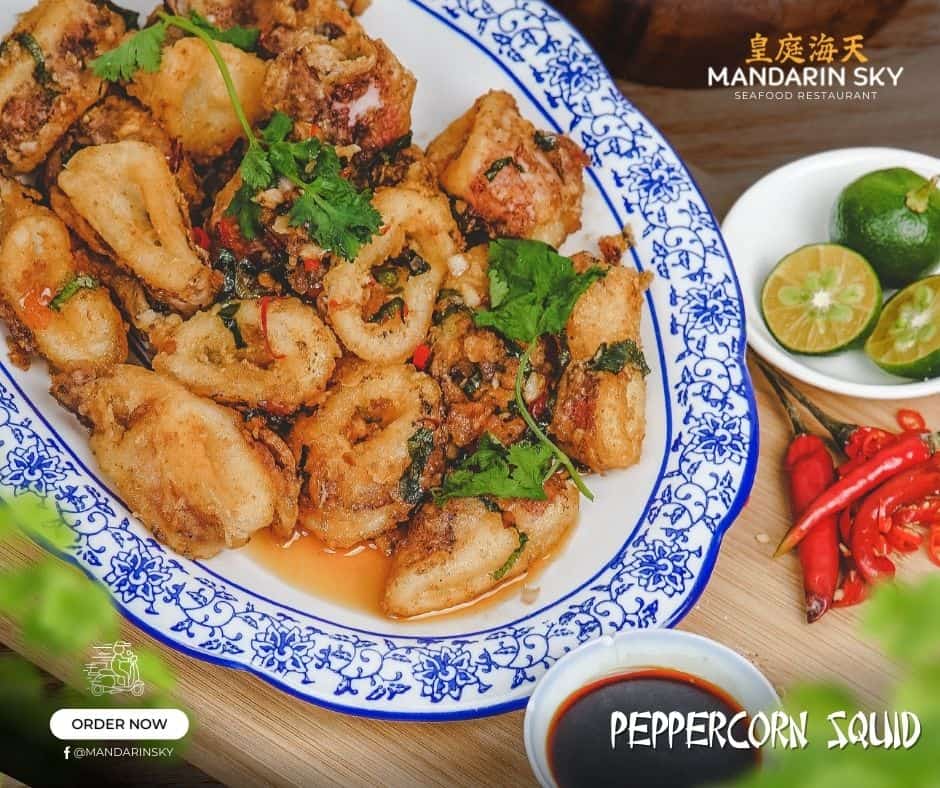 Special Hot Pot – One of Mandarin Sky's specialty dishes. It features a hot pot that is both hearty and satisfying, perfect for cold seasons. The ingredients are made up of seafood, vegetables, and noodles, which are cooked in a savory broth. Overall, it is a delicious and comforting dish at Mandarin Sky that you shouldn't miss!
Beef Brisket – It is one of the classic dishes at Mandarin Sky that is sure to satisfy any meat lover out there! This dish practically melts in your mouth due to its tender and juicy texture. It is cooked with different spices, which give this dish its Chinese flavor.
Shark's fin Bird's Nest Soup Menu
This menu from Mandarin Sky is made up of dishes that perfectly take advantage of the great flavors that come out by combining shark fins and a bird's nest in a soup.
Stewed Shark's Fin Soup – This is a luxurious dish that will surely impress any seafood lover who visits Mandarin Sky. The soup has a rich flavor from tender shark fin that is slowly cooked. In addition to the shark's fin, the soup is also packed with a variety of delicious ingredients which include mushrooms, bamboo shoots, and more!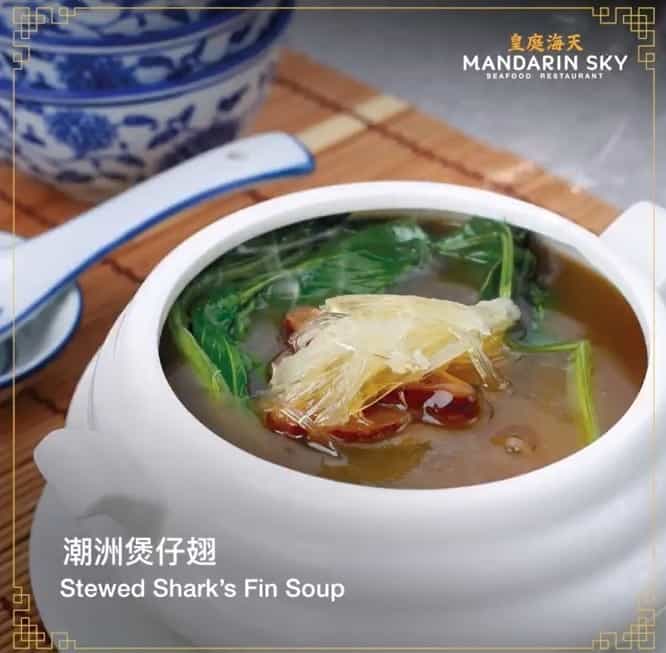 Shark's Fin Soup with Chicken – It is a more luxurious version of the stewed shark's fin soup, because of the added chicken on it. This soup dish is perfect for those guests who prefer a milder flavor because this dish's soup is light but savory with pieces of chicken and shark fin that are both tenders. It also comes with a different variety of ingredients which includes mushrooms, bamboo shoots, and more!
Braised Shark's Fin Soup – This dish's soup is rich and flavorful with tender chunks of braised shark fin in a flavorful broth. This soup dish also comes with a different variety of ingredients, which include mushrooms, bamboo shoots, and abalone to add texture and depth to it.
Sea Cucumber and Abalone Menu
This features a variety of seafood dishes that feature sea cucumbers and abalone as their main ingredients.
Braised Sea Cucumber with Vegetables – This menu of Mandarin Sky is a must-order for seafood lovers because of the perfectly braised sea cucumber, which is both tender and chewy. The vegetables served with it add a nice contrast to the sea cucumber, resulting in a delicious overall taste, savory sauce, and unique textures.
Black Mushroom with Sea Cucumber – This dish takes advantage of the delicious combination of sea cucumbers and black mushrooms. Both ingredients are cooked to perfection, resulting in the dish's unique texture because of the sea cucumber, while its rich and earthy flavors are due to the black mushrooms.
Sliced Abalone with Seasonal Vegetables – The abalone in this dish is sliced and served with different seasonal vegetables. This dish also comes with a savory sauce that perfectly enhances the flavors of these two ingredients.
Mandarin Sky Roasting Menu
This menu consists of a selection of delicious roasted dishes that are excellently prepared and cooked to perfection.
Peking Duck – This dish uses Peking duck as its main ingredient and is a must-try for guests who came to Mandarin Sky to experience authentic Chinese dishes The Peking duck is roasted perfectly, resulting in a crispy skin that is bursting with flavors!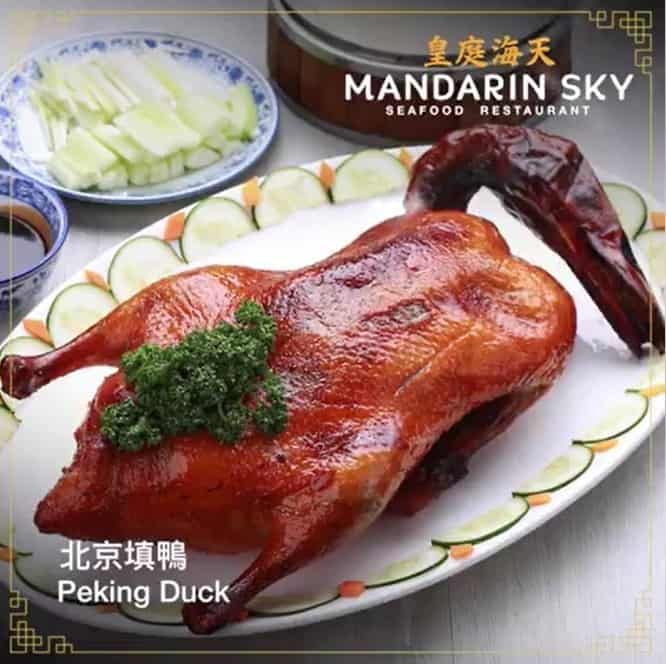 Roasted Duck – This is another dish at Mandarin Sky that is well worth trying. The same as the first one, the duck in this dish is roasted to perfection resulting in a crispy skin and tender duck meat.
Suckling Pig – It is a unique dish that features a roasted pig that is very tender and has a rich, smoky flavor. The suckling pig is the perfect dish to order for special occasions or celebratory meals for its impressive presentation and unique flavors.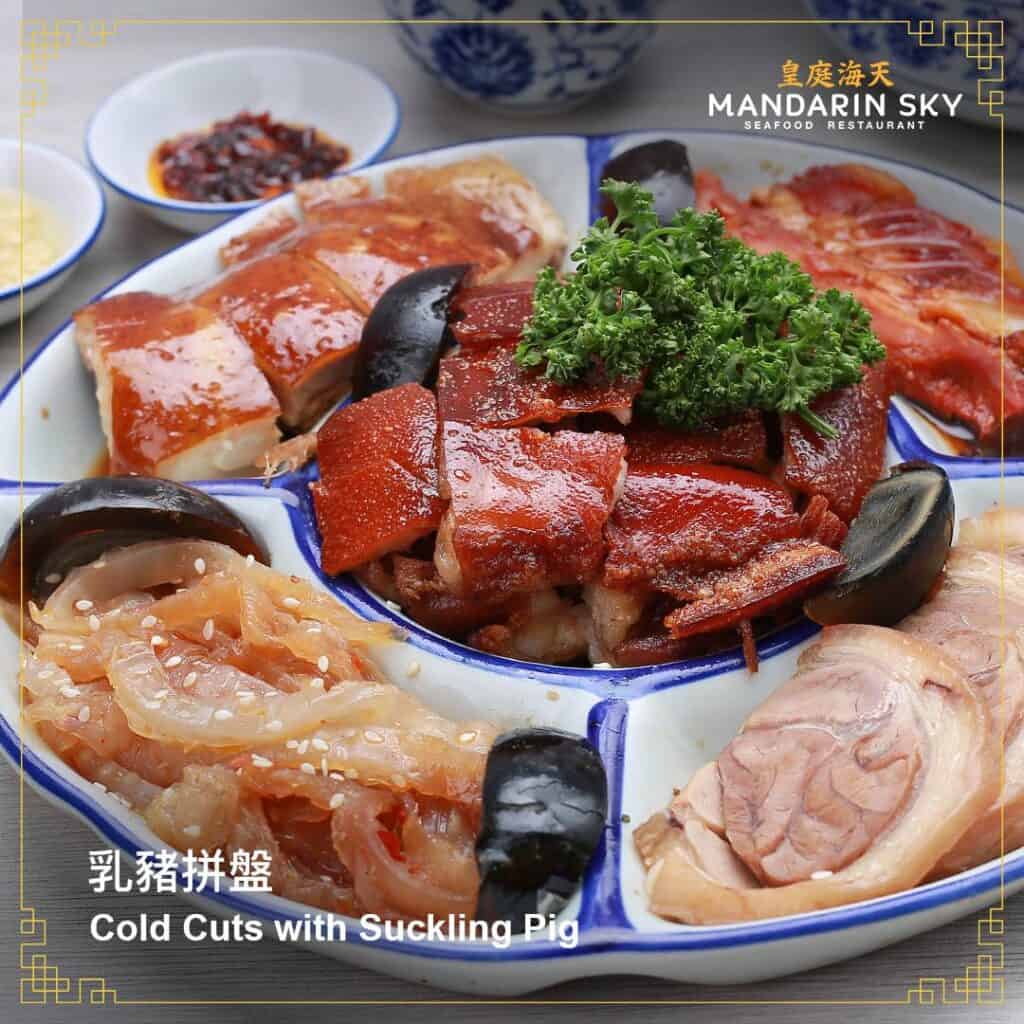 Live Seafood
This menu is made up of different varieties of fresh seafood dishes that guests can choose from. Their live fish tank showcases a variety of fish and shellfish that customers can choose from and have prepared according to their preferences. This ensures that the ingredients they use are always fresh, resulting in dishes that are packed with flavor.
Sizzling Dishes
This Mandarin Sky menu features sizzling plates of meats and seafood that are expertly prepared and cooked to perfection. Each dish is served hot, making it visually impressive and providing an exciting dining experience. The sizzling menu offers a range of options and is a great choice for anyone looking for a delicious meal.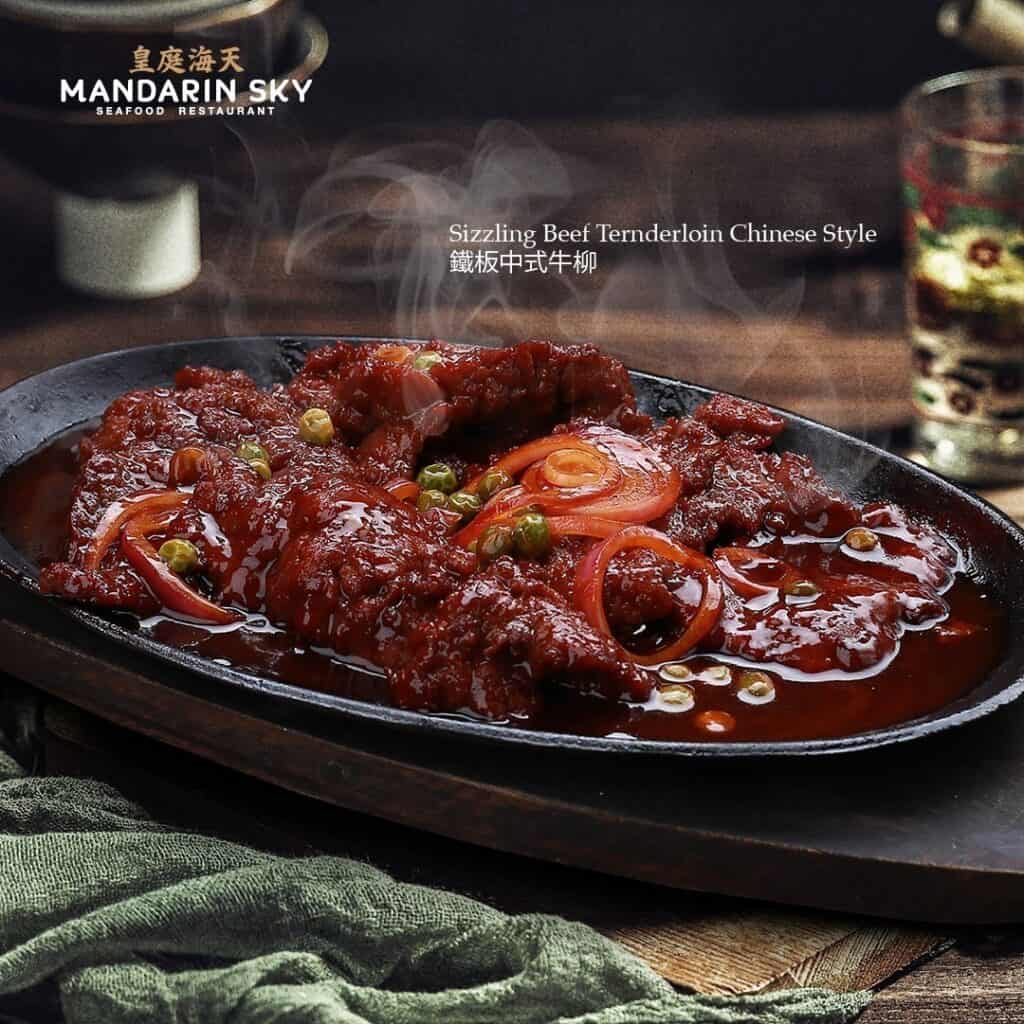 Singaporean Menu
For those seeking authentic Singaporean dishes in the Philippines, the popular menu is a must-try. It features a selection of the best Singaporean dishes, including Hainanese Chicken Rice and Laksa Curry Noodles. This menu offers a chance to savor the unique and delicious flavors of Singaporean cuisine.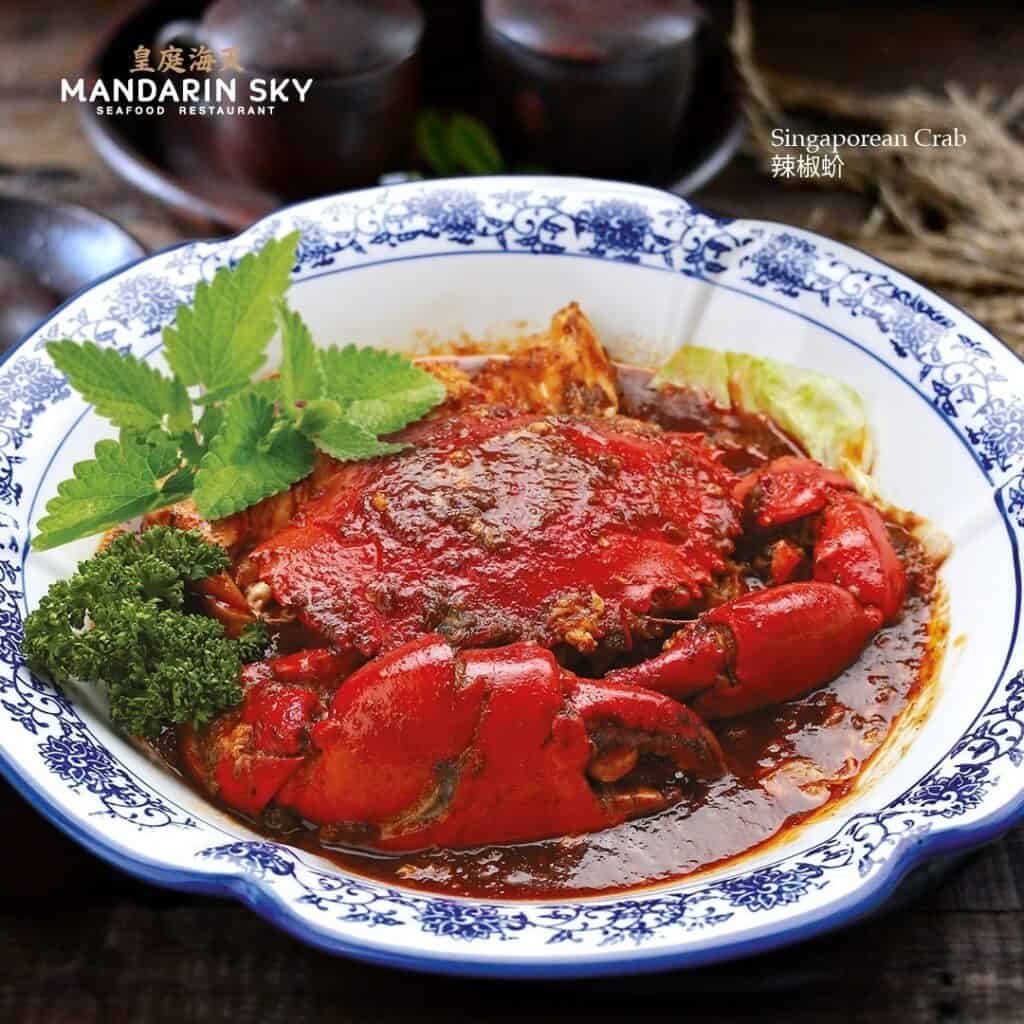 Mandarin Sky Menu Delivery
Mandarin Sky's menu delivery is a convenient and much more accessible way for customers to enjoy their delicious food from the comfort of their own homes. This menu offers a variety of options for dishes that are always prepared fresh and delivered promptly, ensuring that customers can enjoy their meal at its best! To order, you can download the GrabFood or FoodPanda apps and place an order from within, or simply visit Mandarin Sky's website to browse their delivery menu.
Social Media Pages
To stay up-to-date with Mandarin Sky's menu items and promotions, you can visit and follow their social media pages. They regularly post updates about their latest dishes and promotions. Here are the links to their social media pages:
Facebook: https://facebook.com/MandarinSky/
Instagram Pages:
Conclusion
Mandarin Sky's menu offers a wide variety of traditional and authentic Chinese dishes, making it one of the many highly recommended Chinese restaurants in the Philippines. The restaurant's elegant interior and excellent service create a vibrant and comfortable atmosphere that is perfect for special occasions and even just a casual dining experience. Overall, Mandarin Sky provides a delicious and authentic Chinese dining experience that will surely please and satisfy anyone who is looking for classic Chinese cuisine in the Philippines.