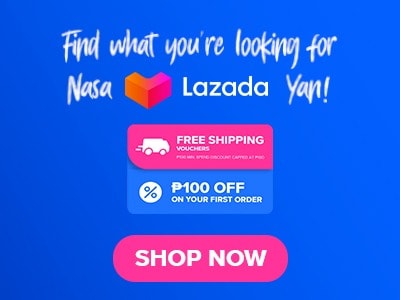 Looking for a nice place to go and enjoy the food while enjoying the music as well? I found a place and I want to recommend it to all of you especially those who are living in the metro along Jupiter Street or nearby places. Have you heard of or maybe just passed by a place named Pardon My French? If not and you're interested then this is the right article for you. Pardon My French menu offers a wide selection of French and Asian dishes that will surely captivate your tastebuds. They also have liquors to match with their delicious dishes and a nice place with a live band playing. Here we are going to talk about this place, their best sellers, and of course their price. Not going to delay anymore, let's go!
Below, you'll find the updated list of this French restaurant's menu prices.
Menu Items
Price (PHP)

Appetizers

Escargot
700
The Chef's Signature Mussels
750
Shrimp Cocktail In Sweet Chili Sauce
700
Chicken Liver Pate
550
Classic Steak Tartare
900
Baked Artichoke And Chorizo Cheese Dip
750
Baked Aged Camembert
850
Fondue Savoie
1900
Charcuterie Grazing Platter
2100

Salads

Salade Nicoise
490
Salade De Maison
490
Caesar Salad
460

Soups

Cream Of Mushroom Soup
420
Prawn Bisque
480
French Onion
490

Seafood

Pan-Seared Salmon Ocean Trout
1950
Pondicherry Prawn Curry Indienne
990
Barramundi
1250
Lemon Sole Meuniere
990
Bouillabaisse
1100
Shrimp Linguine
880

Viande Et Volaille

Roast Duck Breast And Duck Cassoulet
1860
Lamb Shank Curry
2800
Herb-Crusted Rack Of Lamb
3100
Beef Ragu Papardelle
890
Pork Tomahawk
1680
Lamb Loin
1750

The Steak Experience

Grilled Skirt Steak
1890
Pepper Steak
2600
The Chef's Signature Steak
2700
Entrecote Rib Eye
6200
Chateaubriand
3900

Small Bites

Crumbed Potato
350
Chicken Satay
495
Deep Fried Ravioli
350
Beef Shawarma
370
Cuapito
390
Croquette
420
Lamb Samosas
390
French Fries With Truffle Dip
420
Chicharon Crusted Mushrooms
490
Quatre Fromage Pissaladierre
380
Cheese Platter
1400

Desserts

Dark Chocolate Delice
350
Lemon And Mascarpone Cheesecake
420
Passionfruit Panna Cotta
290
Ice Cream And Sorbet
190

Soda And Sparkling

Sodas
120
Tonic Water
120
Soda Water
120
Ginger Ale Canada Dry
160
Perrier
290

Coffee

Cafe Latte
280
Cappuccino
240
Mocha
230
Cafe Au Lait
280
Affogato
320
Machiato
220
Irish Coffee
320
Flat White
220
Regular Brewed Coffee
150
Decaf Brewed Coffee
150

Iced Drinks

House Blend Iced Tea
240
Fresh Lemonade With Basil
220
Strawberry Lemon Basil
280
Fresh Orange Juice
260

Tea

Twinnings
120
Tsaa Laya
130

Beers & Carbonated Drinks

San Miguel Light
180
San Miguel Pale Pilsen
180
San Miguel Super Dry
180
Budweiser
190
Monkey Eagle Psychedelic Blonde
250
Monkey Eagle Philippine Ale
250
Monkey Eagle Saison
250
Hoegaarden White
280
Hoegaarden Rose
280
Paulaner Original Lager
280
Stella Artois
320

Signature Cocktails

French Perennial
420
Vipes De Fleur
420
Chef's Palate
420
110 Jupiter Street
480
The Singleton Orchard
480
Pardon My Sour
620

Classic Cocktails

Dark & Stormy
350
Mojito
350
Whiskey Sour
380
Old Fashioned
380
Tom Collins
410
Negroni
410
French 75
420
Boulevardier
420
Aperol Spritz
480
About Pardon My French
Pardon My French was established by PYC Foods Corporation the concept comes from the love of food and music of their president Jun Sy. One time as he was passing by Jupiter Street he noticed that the iconic music bar was already closed for good due to the pandemic. So, he got the idea of bringing his music to the place for the customers to enjoy great food and music at the same time.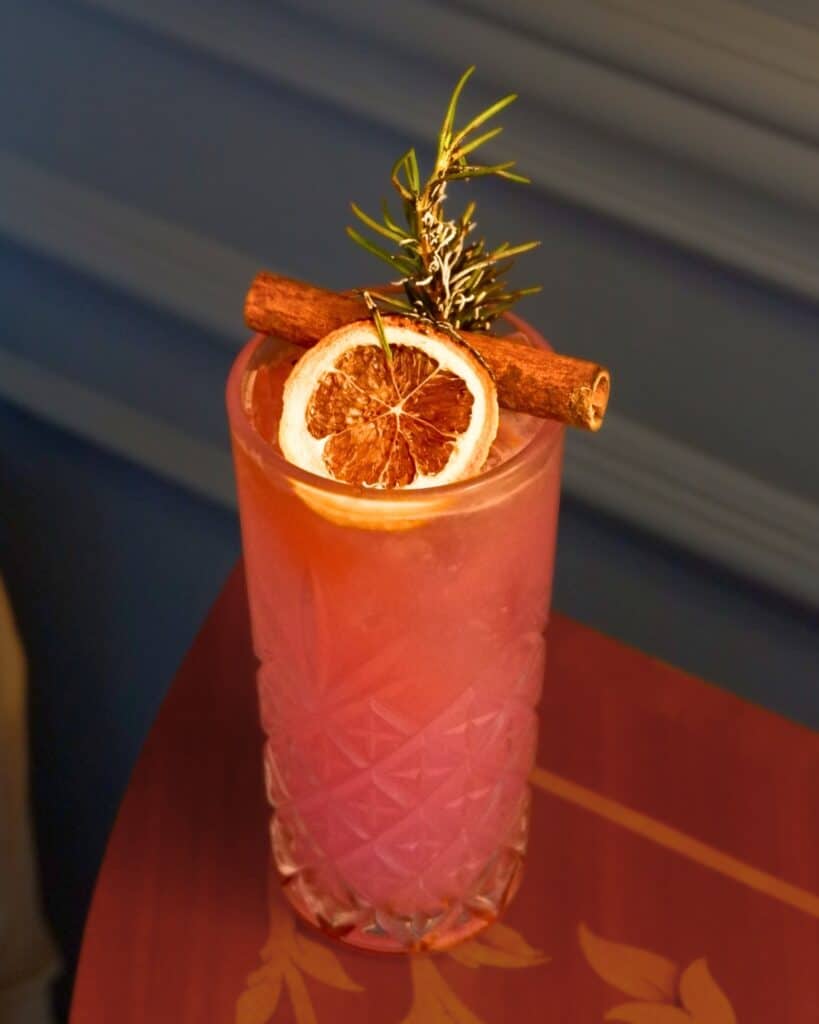 Pardon My French serves Asian and French dishes starting from appetizers to desserts. They also offer a selection of seafood dishes that are great with their wines. Meat dishes are also well presented and really good, they have a great selection of quality meats, and that's for sure. Other than that a wide selection of wines and other spirits are also present on their menu, so it's also great to stay at night after dinner with their music, small bites, and choice of drinks.
Pardon My French Menu Best Sellers 
Listed below are some sample best sellers of Pardon My French.
Salade De Maison – Salade de Maison's version of Pardon My French is a salmon that is smoked in mango wood, this has arugula, sun-dried tomatoes, mixed romaine, cherry tomatoes, and some fresh mango then served with their mustard dressing. It has a lot of flavor combinations like sweetness, tanginess, and smoked flavor from the salmon, the fresh vegetables are crispy and really fresh. This one is a great option if you're looking for a good salad.
The Chef's Signature Steak – The chef's signature steak version of Pardon My French is basically a tenderloin that is stuffed with some blue cheese. They also serve this with tomato salsa and Dauphinoise potatoes. Meat is really tender and very flavorful not overcooked and juicy on the inside. Tomato salsa and potatoes are really perfect with the tenderloin, this one is a great choice as well for your mains.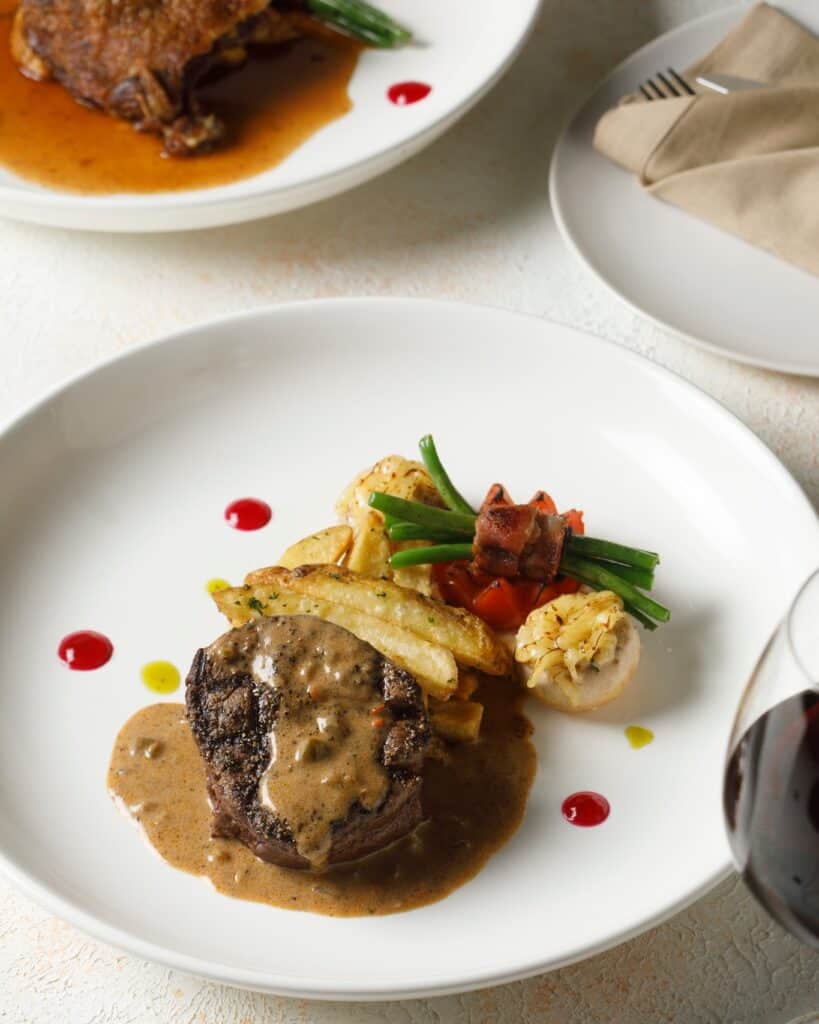 Beef Shawarma – The beef shawarma menu version of Pardon My French tastes really good and unlike the shawarma that other places offer their version of beef shawarma tastes more authentic. This one is made from roasted beef that already has spices then assembled into mini pita pockets and mixed with condiments and other ingredients. The beef is really good and I think thats the reason why their beef shawarma is so delicious. I like this with hot sauce I don't know I'm just weird I guess. 
Pepper Steak – Pardon My French version of pepper steak is made with tenderloin steak that they serve with mushrooms, roasted pickles and peppers, and some duck-fat French fries. This really simple dish is one of their best steak items, the meat is properly cooked and not dry plus it is flavorful too. The other items that are served along with the steak like mushrooms, peppers, and pickles compliment the taste of the beef. This one is a must-have if you're planning to visit them anytime soon.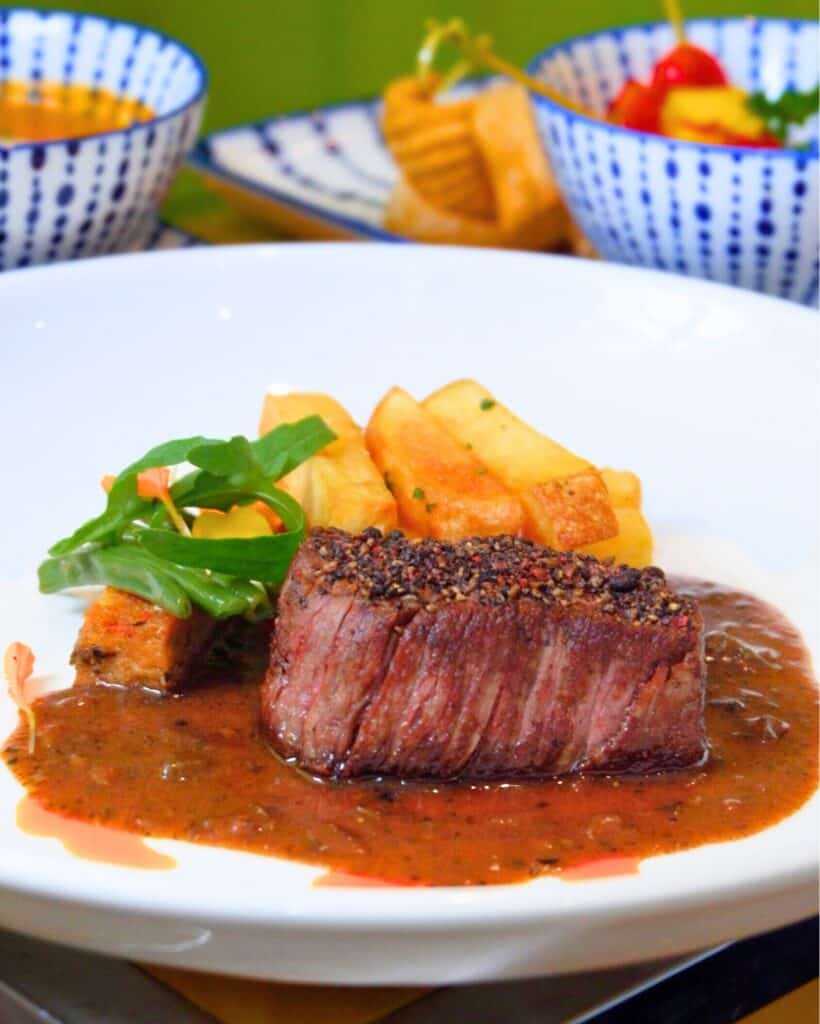 Desserts
Pardon My French's Desserts menu offers 4 options. The first one is their Dark Chocolate Delice, this one is served with coconut whipped ganache and some kaffir lime for extra flavor. They also have Lemon and Mascarpone Cheesecake, this one tastes really good and is served with some lemon curd macaroons and ginger streusel.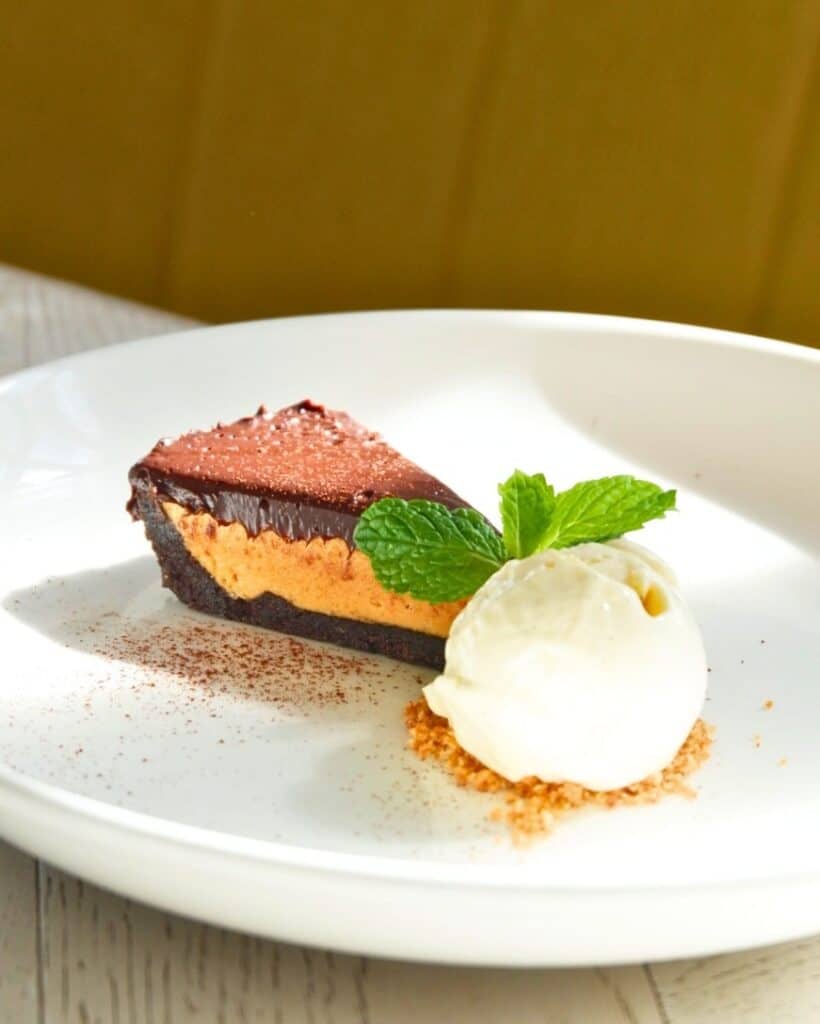 Another option is their Passionfruit Panna Cotta, this delicious treat is served with mango foam and saffron-poached pineapple. Last but definitely not least is their ice cream and sorbet, they have 3 flavors to choose from, Rum Raisin Ice Cream, pineapple sorbet, and Bourbon Vanilla Ice Cream.
Salads
Pardon My French salad menu has 3 options, the first one is their Salade Nicoise. This one is made from mixed mesclun greens, sun-dried tomatoes, smoked tuna, grapes, olives, and sliced egg with their special sesame miso dressing. They also have Salade De Maison, this one is made with salmon that is smoked in mango wood for a distinctive taste, arugula, sun-dried tomatoes, mixed romaine lettuce, cherry tomatoes, and fresh mangoes that they served with mustard dressing, this one is my favorite. And lastly, their Caesar Salad, this one is served with some cheese, bacon, and anchovy dressing.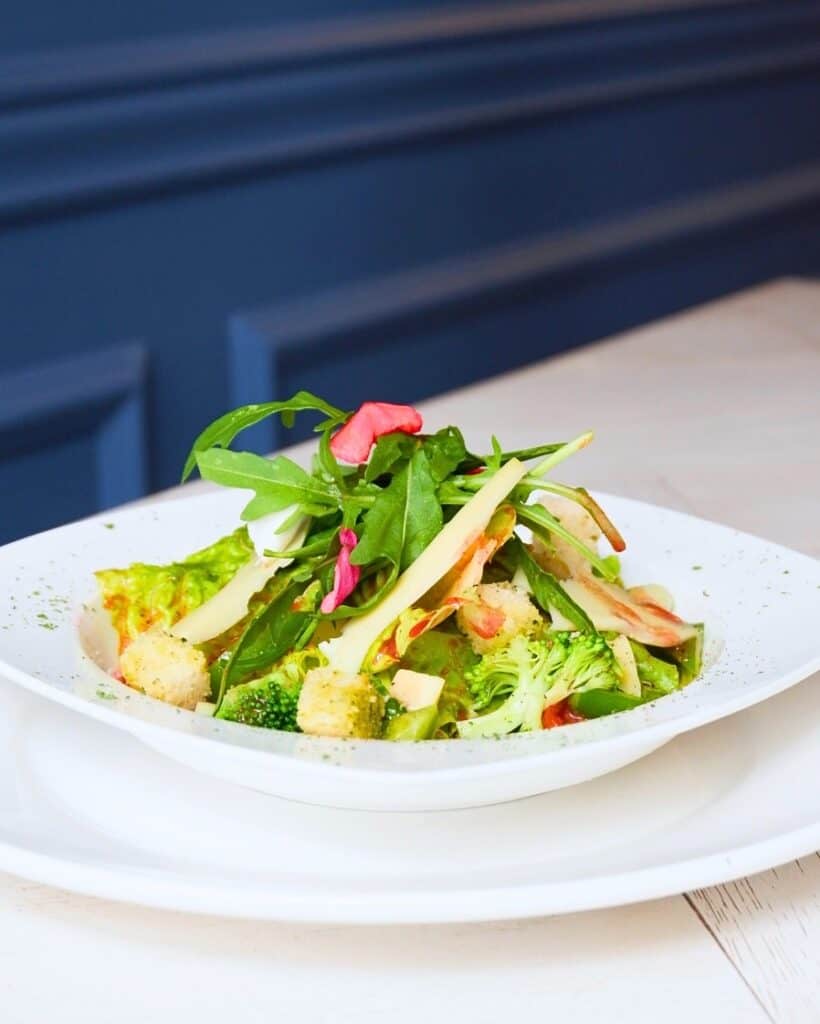 Pardon My French Delivery 
If you're craving your favorite Pardon My French food items no worries you can order simply by messaging them on their Facebook page or you can also use other platforms such as food delivery services that are available in your location. Just please take note that delivery services might charge delivery fees depending upon your area.
Social Media Pages
Immerse yourself in the charm of France through our captivating visuals. Their social media is a portal to a world of mouthwatering dishes, fine wines, and the romantic ambiance of a Parisian bistro. Follow them for a daily dose of French elegance!
Facebook: https://www.facebook.com/pardonmyfrenchmanila
Instagram: https://www.instagram.com/pardonmyfrenchmanila
FAQs
Where is Pardon My French located?
Pardon My French is located at 110 Jupiter Street Bel Air Makati City.
What is Pardon My French business hours?
Pardon My French is open from 11:00 a.m. until 2:00 p.m. for lunch 5:00 p.m. to 12:00 a.m. for dinner from Tuesday until Thursday and 5:00 p.m. to 1:00 a.m. on Fridays to Sundays. This restaurant is closed on Mondays.
Do we need reservations if we're going to visit Pardon My French?
Yes, reservations are recommended. For reservations, you may contact 09178230091.
Does Pardon my French have halal certification?
No. Pardon My French is a non-halal-certified restaurant that offers alcoholic beverages.
What dishes does Pardon My French offer?
Pardon My French offers French and Asian dishes starting from appetizers to desserts.
Conclusion
Great place to go especially if you want to experience French cuisine, Great selections of dishes as well, and a really nice place. Pardon My French menu offers a variety of mouthwatering meals that will surely satisfy your hunger and tastebuds. The servings are quite huge as well which is great for sharing with your family or friends. The ambiance of their place is cozy and very inviting plus they have really nice tables and chairs to make you feel comfortable while feasting on their delicious foods. Drinks are nice as well, there are a lot of great selections, especially red wines. Their crews are polite and easy to approach too. Overall experience with Pardon My French is good, highly recommended.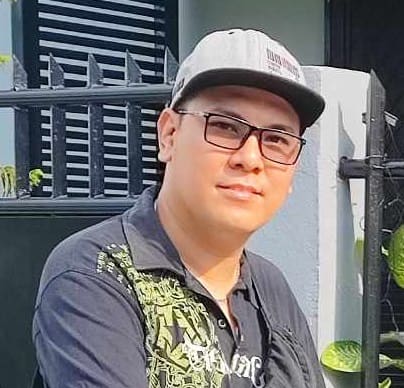 Hi! I'm Nivek Strife, the person who made MenuPH. I'm the one who added most of the popular menus you see on this website, and I really hope you enjoy them! Feel free to check them all out.
Growing up, I was surrounded by lots of tasty foods, like the classic Adobo and the sweet Leche Flan. That love for the many flavors of the Philippines is what got me excited about adding to MenuPH. When I learned how to make websites, I saw the need for a place to show off all the amazing Filipino dishes, and that's how MenuPH started.
MenuPH isn't just a website; it's like a fun journey into food. I've teamed up with famous chefs and found great places all over the Philippines to bring you a bunch of menus that show off the best of Filipino cuisine. Whether you're into the usual dishes or new twists, MenuPH is here to guide you through the rich world of Filipino flavors.
With MenuPH, my aim is to help local businesses, talk about good food choices, and make a group of friends who love food. No matter if you like fancy restaurants or street food, MenuPH has something for you. Come join me on this food adventure as we find great places, taste real flavors, and enjoy the unique food traditions that make the Philippines awesome.