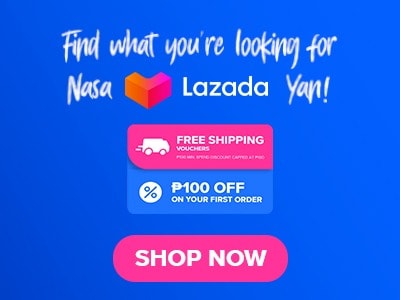 All of the dishes on Antonio's Restaurant menu are created from recipes that leave diners feeling satisfied and amazed by using only the freshest and finest ingredients. While the focus should be on what is served on the plate, Antonio's Restaurant is aware that the experiences that the diners get encompass more than just the food that they ordered and ate. Each and every aspect, no matter how small, is crucial, from the beautifully designed interiors and vistas to the kind and accommodating staff.
Below, you'll find the updated list of Antonio's Restaurant menu prices.
Menu Items
Price (PHP)

Red Wine by the Glass

Pinot Noir
95
Bordeux bend
850
Merlot
1025

Shiraz

White wine by the Glass
Chardonnay
1175
Sauvignon Blanc
625
Cotes du Rhone
525

Champagne

Dom Perignon
30000
Champagne
8700
Champagne Anecdote Blanc de Blancs
9300
Champange, Femme de Champange Brut Grand Cru
5500
Champange, Brut Reserve
15500

Sparkling

Cava
2300
Prosecco
2200

Rose

Syrah Grenache
2200
Rosado
2100

White Wines

Moscato
1300
Sauvignon Blanc
2500
Chardonnay
2000
Chardonnay Bourgogne
2700
Chateauneuf du pape blanc
6500
Chenin Blanc
1800

France

Guwertzaminer
3700
Pouilly Fume
3800
Sauivgnon Blanc Semillon
1850
Sancerre Blanc
5600

Germany

Grauburgunder
2400

Italy

Pinot Grigio
1900
Sauvignon Blanc
2500

New Zealand

Chardonnay
5100
Sauvignon Blanc
3300

South Africa

Chenin Blanc
3000

Spain

DGodello
2500

USA

Chardonnay Bread and Butter
3100
Sauvignon Blanc Ferrari Carano
2500

Red Wines Argentina

Cabarnet Sauvignon
2700
Malbec
5200
Malbec Cabernet Sauvignon
3900
Malbec Aruma
2800

Australia

Cabernet Sauvignon Merlot
6100
Grenache
5000
Shiraz
3900
Shiraz Kings Wood
7800
Shiraz Cabernet Sauvignon
3080

Red Wine Chile

Cabernet Sauvignon Blend
4400
Cabernet Sauvignon
2500
Carmenere
3100
Cabernet Sauvignon
1800
Pinot Noir
3100

France

Bordeux Blend
4800
Bordeaux Blend
2600
Malbec
3950

Red Wines France

Pinot Noir
6200
Syrah
2400

Italy

Amarone Classico
9400
Brunello Di Montalcino
12000
Barbera
2300
Barolo
7700
Merlot
3500
Nebbilo
3800
Valpolicella
4200

New Zealand

Merlot Cabernet Sauvignon
6600
Pinot
5100

Red Wines South Africa

Cabernet Sauvignon Cabernet Franc
3900
Cerbernet Sauvignon
2200
Pinotage
1700

Spain

Rioja
4900
Tempranillo
400
Tempranillo Cabernet SAuvignon Syrah
2300
Tempranillo Merlot
4100
Tempranillo Tinta Del Toro
2250

Signature Cocktails

Antonios Arugula Lemon Drop
550
Life of the Party
450
Hot Pot Pong
550
Fear the Kaffir
520
A Star is Born
550
Cloud 9
580
TB's Martini
580

Fogotten Classics

Last Word
550
Ramos Gin Fizz
550
Bees Knees
580

Spritz

Aperol and Orange
580
Apricot and Tarragon
580
Chartreuse and Celery
580
Averna and Rosemary
580
Ginger and Mint
580
Blueberry and Dill
580
Maraschino and Cilantro
580

Gin and Tonics

Tarragon
450
Rose
450
Cilantro
450
Pink Peppercorn
450
Thyme
450
Kaffir Lime Leaf
450

Imported Beer

Stella Artois
270
Hoegaarden
270
Heineken
270

Vodka Stolichnaya Gold

Grey Goose
380
Ketel One
390
Ciroc
380
Belvedere Unfiltered
480
Titos Vodka
420
Belvedere
380

Gin

Bombay Sapphire
360
Tanqueray
240
Tanqueray 10
390
Hendricks
420
Beefeater
240
Aria
520
No. 3London Dry Gin
520
Hayman Old Tom
480
Ungava
390
Gvine Floraison
480
Botanist
420

Rum

Havana Club 3 Anos
260
Mount Gay Eclipse
450
Don Papa
360
Sagatiba Cachaca
390
Kraken Rum
350

Tequila

1800 Silver
260
1800 Anejo
450
Patron Silver
450
Patron Reposado
450
Jose Cuervo Platino
480
Jose Cuerva Extra Aneja
860
Don Julio Blanco
450
Don Julio Reposado
480
Casa Noble Anejo
520

American Whiskey

Maker's Mark
360
Jack Daniels
240
Bookers
650
Gentle JAck
420
Crown Royal
320
Rittenhouse Rye
420
Wild Turkey Ruseels
650

Irish Whiskey

Jameson
320
Bushmills
320

Blended Scotch

Chivas Regal
320
Johnie Walker Double Black
450
Johnie Walker Black Label
350
Johnie Walker Blue Label
1050

Single Malt Scotch

Talisker
580
Caol Ila
700
Ardberg
480
Glenlivet
480
Glenfiddich 12 years
320
Glenfiddich 15 years
450
Glenfiddich 18 years
600
Glenmorangie
450
Glenmorangie Nectar
550
Glenmorangie Lasanta
520
Bruiladdich Port Charlotte
650
Laphhraoig
850
Lagavvulin
700
Macallan
850
Belvenie
450
Balvenie
930
Dalmore Cigar Malt
1145

Japanese Whisky

Suntory Hibiki Harmony
850
Nikka Gold and Gold Samurai
1900
Suntory Hakushu
1300
Suntory Yamazki
1550

Appetizer

Truffle Baked Oysters
2600
Gratinated Oysters
3200
Akoroa Salmon Gravlax
590
Raclette
750
Potted Shrimp
510
Portobello Mushroom
480
Roasted Veal Bone Marrow
920
Gruyere and Portobelle Souffle
470
Torched Aged Sirloin
530
Salted Cod Al Pil Pil
600
Dry Aged Steak Tartare
990
Pate De Foie Gras
1220
Escargots de Bourgogne
350
Pork Ear Salpicao
480
Pckled Ox Tongue
440

Salad

Truffled Foie Gras Potato Tempura
880
Freshly Picked Herbs
210
Baked Burrata in Phyllo
570
Warm Burrata
470
Fresh Burrata Salad
570

Our Steaks

Mayura Tomahwak Steak
19000
40 Days Dry Aged Charcoal Grilled Angus Rib Eye Steak
8900
<2>Specials
Rost Barbecue Suckling Lamb
24700
Suckling Pig Confit
6800
Angus Prime Roast Beef
21800
<2>Entrees
Steak Au Poivre
3200
Cola Spice Glazed Rack of Lamb
3200
Tournedos Rossini
4200
15 days Dry Aged English Dingley Dell Pork Striploin
2900
Roasted duck Breast
3000
<2>Desserts
Dark Chocolate Torte
Creme Caramel
Ile Flottante
Apple and Lemon Mille Feuille
Panna Affogato
Cardamom Panna Cotta
Tartufo Blanco
Tarufo Nero
Mixed Berries Pavlova
Assorted Cheese Plate
<2>Souffle
Dark Chocolate
White Chocolate
Lemon
About Antonio's Restaurant
Antonio's Restaurant is a Spanish colonial-style resto located in Tagaytay that exudes a quiet and comfortable feeling for the guests to just enjoy their dining experience. Antonio's Restaurant started from the realization that the founder had from his travels and visits to other restaurants. This made him think that the finer restaurants aren't those from the cities but from the rural areas. In addition to providing a stunning backdrop for any meal, these lovely settings provided inspiration for his culinary fantasies. This made him want to recreate that vision at his place, and thus, Antonio's Restaurant was born.
Antonio's Restaurant Menu Best Seller
All of the dishes that are part of this group are the most popular and commonly ordered by guests that visit Anotonio's Restaurant.
Beluga Imperial – It is a very fine membrane whose taste bursts easily in the diner's mouth. It is made up of Iranian caviar that contains a buttery but very delicate taste with incredible length in the mouth.
Oscietra Prestige – This Antonio's Restaurant menu has an amber-to-gold color and also has a subtle marine flavor. This is a truly luxurious dish because of the stunning length of the hazelnuts that have been arranged with the utmost finesse.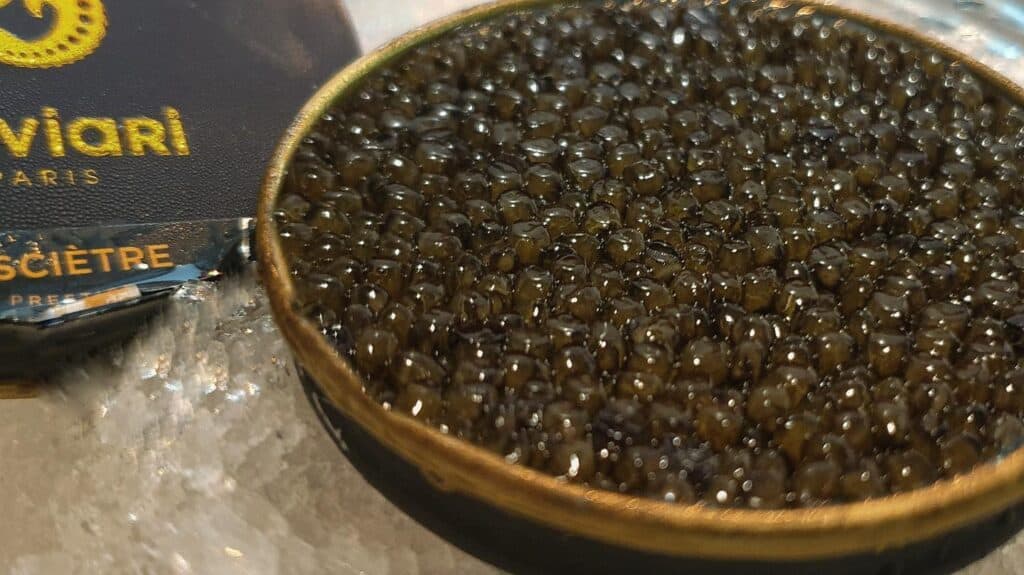 Truffle Baked Oysters – Oysters are traditional seafood dishes that can be served in a variety of ways. In this case, Antonio's Restaurant bakes them in truffle cream for a wonderful flavor and creamy texture that their regular customers love!
Appetizers
These menus from Antonio's Restaurant can be ordered and consumed while the diners are waiting for their main course to arrive, be it to pass time or to get their palates ready for the next course.
Gratinated Oysters – One of the best ways to enjoy oysters is to have these Gratinated Oysters from Antonio's Restaurant. It is made up of oysters that are covered with grated cheese until they become a bit crispy, and it is served with foie gras.
Potted Shrimp – Potted shrimps are a traditional British dish created from brown shrimp and nutmeg. The brown shrimp is cooked in a nutmeg-flavored butter that has congealed in a tiny pot. The potted shrimp is served with toast.
Portobello Mushroom – Although almost similar to button mushrooms, these mushrooms are much larger and have a much better flavor. Foie gras was gratinated over portobello mushrooms at Antonio's Restaurant and served with balsamic vinegar and garlic.
Entrees
The dishes on this Antonio's Restaurant menu are served in advance while the diner waits for the main entree. They are often consumed after the appetizers and before the diners' desserts.
Steak Au Poivre – This dish is made of steak that is pounded with coarsely ground black pepper, given a pepper cognac sauce, and frequently flambéed with cognac before cooking. And served with duck-fat french fries.
Tournedos Rossini – Made with a medallion of beef with foie gras, blueberry, and red wine thyme jus. It is a perfect dish for a luxurious dinner. A single order comes with a Charcoal Baked Gratin Potato served on the side.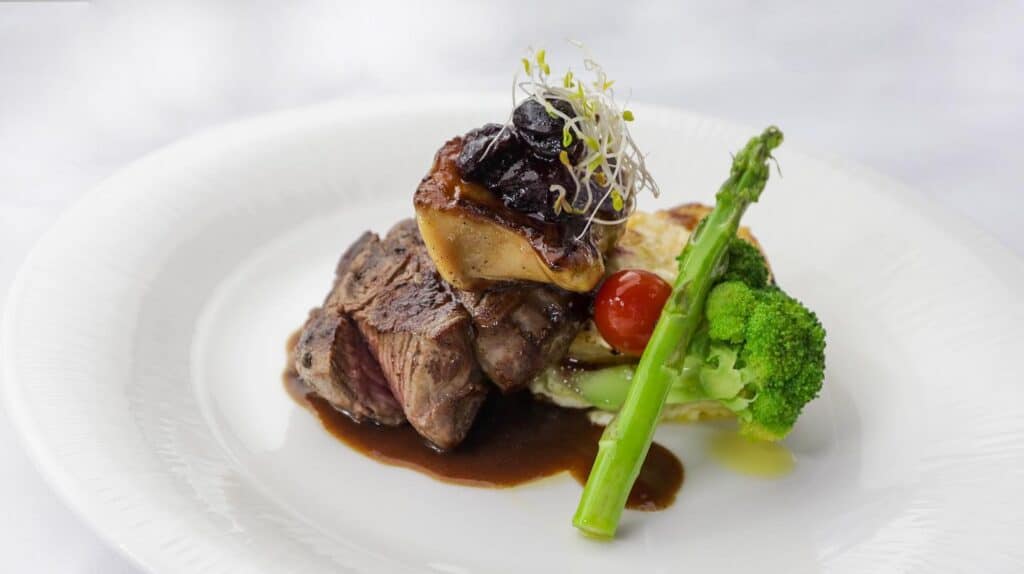 Dry-Aged English Dingley Dell Pork Striploin – It is made of a Dingley dell pork striploin that has been dry-aged for 15 days. The process makes this dish more lush and coveted. The dish is served with a grainy mustard cream sauce, caramelized onion, fondant potato, and portobello mushrooms on the side.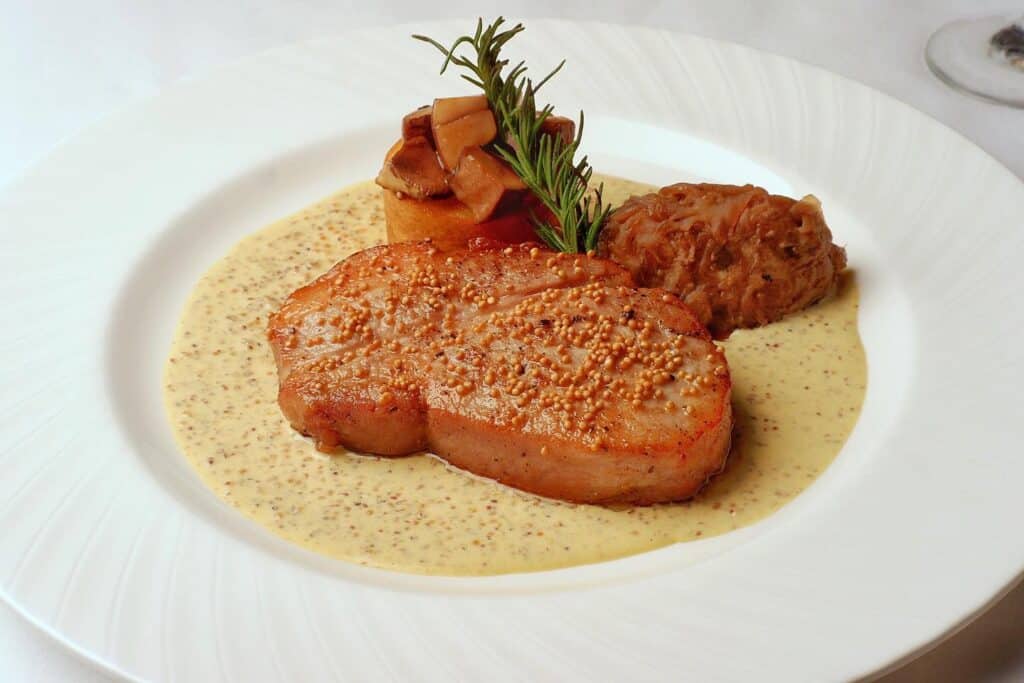 Roasted Duck Breast – Antonio's Restaurant serves a stylish and lush roasted duck breast with seared foie gras, braised red cabbage, charcoal-baked gratin potatoes, mixed berries, and Cabernet Sauvignon Jus.
Salads
This menu consists of dishes that were made out of a variety of largely organic ingredients. Antonio's salads are typically served at room temperature, unlike the other varieties that are served warm. These dishes are improved by adding condiments and salad dressings which come in a range of different flavors.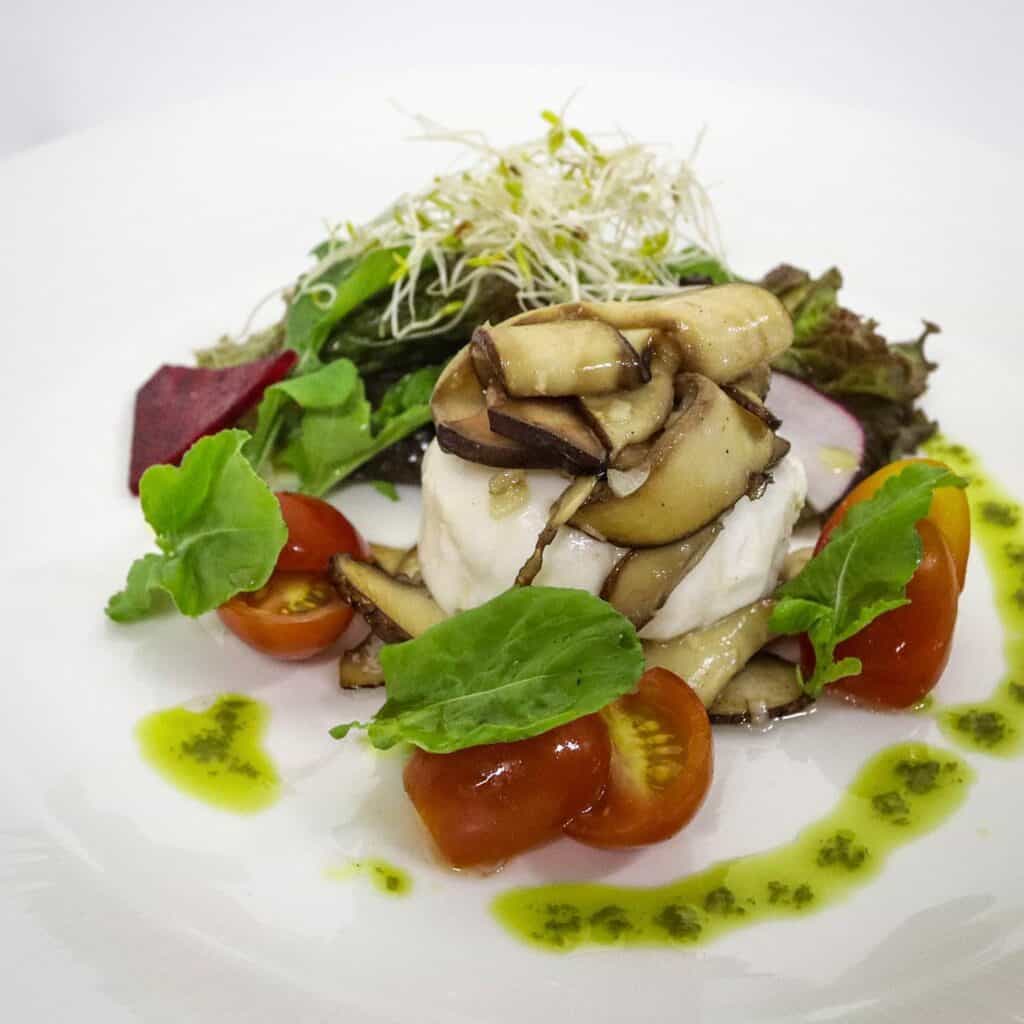 Antonio's Restaurant Menu Specials
There are two dishes that are served on this menu, Roast Barbecue Suckling Lamb and Suckling Pig Confit. While the Suckling Pig Confit only has a serving that is good for two or four people, the Roast Barbecue Suckling Lamb can be served to up to four to eight people.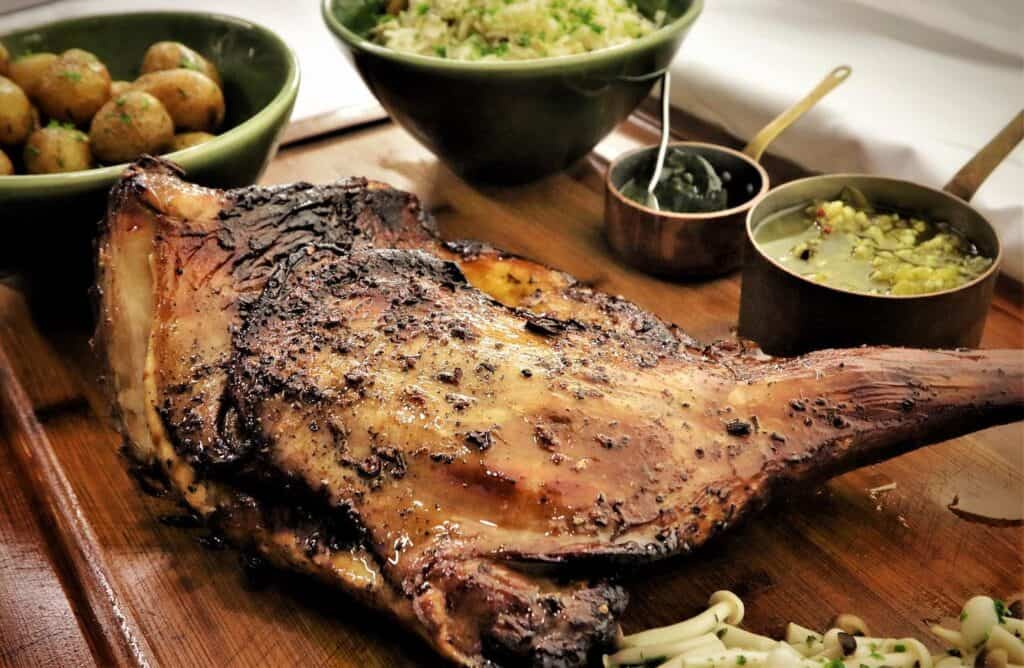 Steaks
Antonio's Restaurant serves a different variety of luxurious steaks that diners love! Their steak is made from a thick piece of beef with a bone intact that is cut across from the muscle fibers. The steak is then grilled or fried to perfection, depending on the dish that the customer wants.
Dessert
There are a lot of different desserts that Antonio's Restaurant serves, all of which have the same variety and balance when it comes to their textures, flavors, colors, and shapes, making them not only delectable but also great presentation-wise.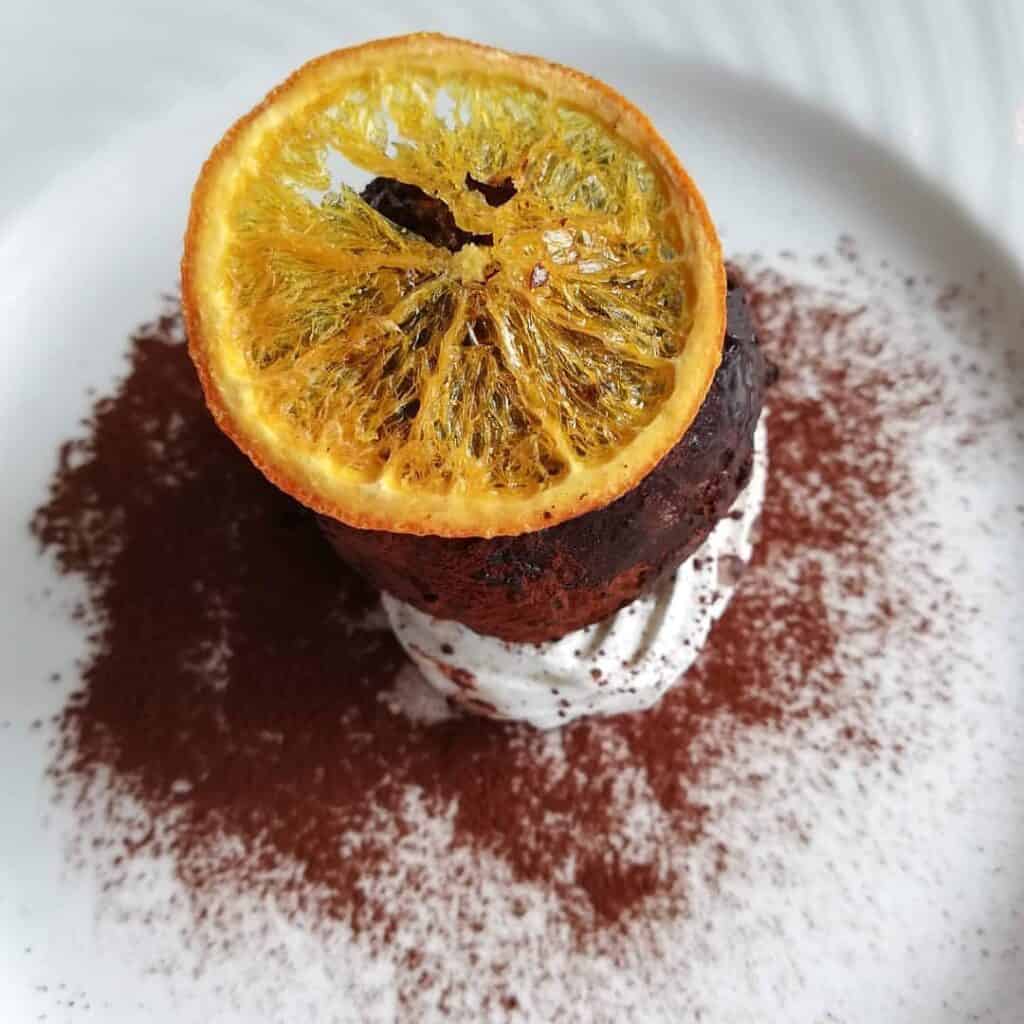 Antonio's Restaurant Menu Delivery
Antonio's Restaurant now offers a delivery menu for their regular customers. This makes it easier and more convenient for them to order their favorite dishes at Antonio's Restaurant anytime and anywhere they are. The simplest way to order is to download one of these applications, FoodPanda or GrabFood, and search for Antonio's Restaurant's online shops in the app to browse their delivery menu.
Talk to Antonios Restaurant PH Staff
Customers can go to Antonio's Restaurant's website or visit their social media accounts to send a message for inquiries and more details about their menu, reservations, or delivery services. Links are provided below.
Facebook: https://www.facebook.com/antoniostagaytay
Instagram: https://www.instagram.com/antoniostagaytay
Website: https://www.antoniosrestaurant.ph/antonios-restaurant
Conclusion
The dishes that are part of Antonio's Restaurant's menu really separate themselves from the other restaurants in the Philippines in terms of taste and presentation. Aside from their food, the setting and ambiance of their resto are "beautiful and Instagrammable." The food presentation and flavors are outstanding, meaning that their staff is doing their job really well. While Antonio's Restaurant is a little expensive by Philippine standards, it is a great place to experience high-quality food and elite customer service whenever you visit Tagaytay.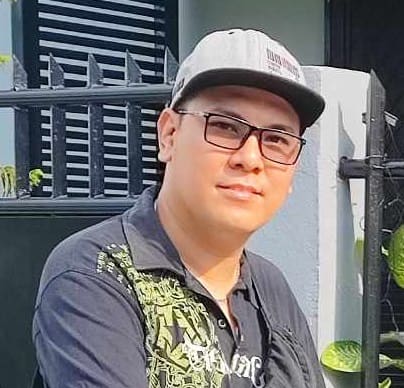 Hi! I'm Nivek Strife, the person who made MenuPH. I'm the one who added most of the popular menus you see on this website, and I really hope you enjoy them! Feel free to check them all out.
Growing up, I was surrounded by lots of tasty foods, like the classic Adobo and the sweet Leche Flan. That love for the many flavors of the Philippines is what got me excited about adding to MenuPH. When I learned how to make websites, I saw the need for a place to show off all the amazing Filipino dishes, and that's how MenuPH started.
MenuPH isn't just a website; it's like a fun journey into food. I've teamed up with famous chefs and found great places all over the Philippines to bring you a bunch of menus that show off the best of Filipino cuisine. Whether you're into the usual dishes or new twists, MenuPH is here to guide you through the rich world of Filipino flavors.
With MenuPH, my aim is to help local businesses, talk about good food choices, and make a group of friends who love food. No matter if you like fancy restaurants or street food, MenuPH has something for you. Come join me on this food adventure as we find great places, taste real flavors, and enjoy the unique food traditions that make the Philippines awesome.