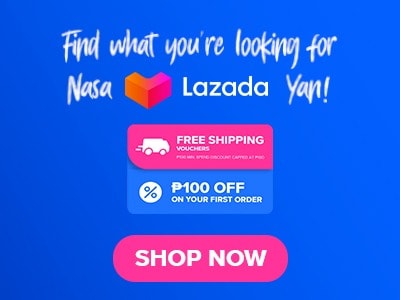 The KKK menu is popular for serving traditional fare, with a great emphasis on home-cooked comfort food. The menu includes dishes from various regions of the Philippines, as well as some modern takes on traditional Filipino dishes.
KKK restaurant's most popular dishes include kare-kare and sisig, a sizzling dish made with chopped pig's ear and liver seasoned with spicy onions and calamansi. Grilled or fried seafood such as tilapia, squid, and shrimp are popular on their menu. Last but not the least, KKK also serves appetizers such as lumpia and tokwa't baboy.
Below, you'll find the updated list of KKK menu prices.
Menu Items
Price (PHP)

Starter

210
Sisig Pampanga
210
Sisig vegetarian
155
Sisig Bangus
240
Sinuglaw
190
Maquezong Lumpiang Shanghai
210
Baked Tahong
210
Maquezong Scallops
240
Krispy Okoy
190
Krispy Chicken skin
195

Soups

Lechon Sinigang
390
Salmon Sinigang
310
Bangus Sinigang
310
Tiyan ng Tuna Sinigang
350
Pla Pla Sinigang
310
Hipon Sinigang
400
Suwam na Halaan at Kabute
310
Nilagang Bulalo
450
Mixed Seafoods
400
Salmon
310
Bangus
310

Seafood

Garlic Pusit
390
Hipon Ala KKK
450
Tiyan ng Tuna
300
Hito na may Buro
280
Catfish fillet
280
Paru-parong pla-pla
350
Piniritong rellenong pusit
450
Pla-pla sa Gata
370
Krispy Boneless Bangos
350
Tilapia Medley
370
Tawilis ala Sardinas
220

Chicken

Chicken BBQ
295
Fried chicken ng KKK
295
Pinitpit na Manok
295
Mga Pancit
300
Pancit Luglog
195
Pancit Lucban
195
Pancit Bihon Guisado
195
Pancit Tinapa
195
Ginataang Pancit
195

Beef

Kare Kareng Baka
480
Sizzling Bulalo
450
Lengua
390
Kaldereta ni San Miguel
400

Pork

Inihaw na Liempo
270
Ilokanong Bagnet
350
Krispy Pata
695
Adobo ni Jake Espesyal
350
Binagoongang Lechon Kawali
370
Pork BBQ Ribs
320
Spicy Pork BBQ
195

Dessert

Banana Split
178
Fruits Galore
178
Keso Keso Keso
159
Choco Overload
128
Banana Fritters
125
Koko Loko
128
kaka Loka
178
Halo-Halo
128
Arce Dairy Ice Cream
100
Leche Flan Gatas ng Kalabaw
100

Vegetables

Laing sa Gata
220
Gising Gising
180
Kangkong na May K
150
Ginataang Sigarilyas at Kalabasa
140
Pinakbet ng KKK
250
About KKK
KKK is a well-known Filipino restaurant chain that was established in 1997. It has branches throughout the Philippines, including Metro Manila, Cebu, and Davao. KKK is an abbreviation for Kainan sa Kalye Kanluran, which directly translates to "West Avenue Eatery" in English.
With rustic wooden furniture, woven baskets, and colorful paintings and murals adorning the walls, the restaurant's interior design is inspired by Filipino culture and tradition. It is a popular choice for families and friends due to its cozy and casual atmosphere.
KKK Menu Best Seller
The menu at KKK features many delicious dishes, but these dishes stand out from the rest and are some of their best sellers.
Sisig Pampanga – It is a sizzling dish that is bursting with flavor and is made of chopped pig's head and liver that has been seasoned with onions, chili peppers, and calamansi. It is a traditional Filipino dish that never fails to please locals and tourists alike, and KKK's version is no exception.
Maquezong Scallops – Another popular dish at KKK uses large scallops as its main ingredient. The scallops are baked with cheese and garlic butter, which makes them rich, creamy, and delectable. The cheese and garlic butter toppings add a flavor layer that perfectly complements the sweetness of the scallops.
Krispy Chicken – Customers at the KKK restaurant also enjoy their Krispy Chicken. The chicken is marinated in a special spice blend for a delicious flavor and it also comes with a side gravy that was specially made for dipping.
KKK Starter Menu
KKK offers a tempting selection of starter dishes, and some of the most popular options are these three.
Sisig Bangus – This dish is a spin on the classic sisig dish that uses bangus instead of pork insides. The sisig bangus is an excellent choice for those who prefer seafood or want a healthier alternative to traditional pork sisig.
Sinuglaw – It's a traditional Cebuano dish made up of grilled pork belly and raw fish ceviche. The combination of smoky pork belly and tangy ceviche creates a flavor explosion in the mouth. KKK's version of sinuglaw is a delectable appetizer that highlights the dish's various flavors and textures.
Krispy Okoy – This dish is crispy on the outside and chewy on the inside, like a Filipino-style shrimp fritter. It's deep-fried until golden brown with a batter of grated cassava, shrimp, and vegetables. KKK's Krispy Okoy is cooked to perfection with a crispy exterior and savory filling.
Soup
KKK Restaurant's soup menu offers a delicious variety of soups that showcase the rich flavors and variety of Filipino cuisine.
Sinigang na Salmon – Sinigang na salmon is a soup made with salmon fish cooked in a tangy and savory tamarind broth. The salmon is cooked to perfection with loads of vegetables that adds another variety of flavor to the soup.
Sinigang na Bangus – Sinigang na bangus, on the other hand, is a soup dish made with milkfish or bangus that is also cooked in a tangy and savory tamarind broth. The fish is tender and flavorful, and the vegetables, such as okra and eggplant, gives this dish a nice crunch.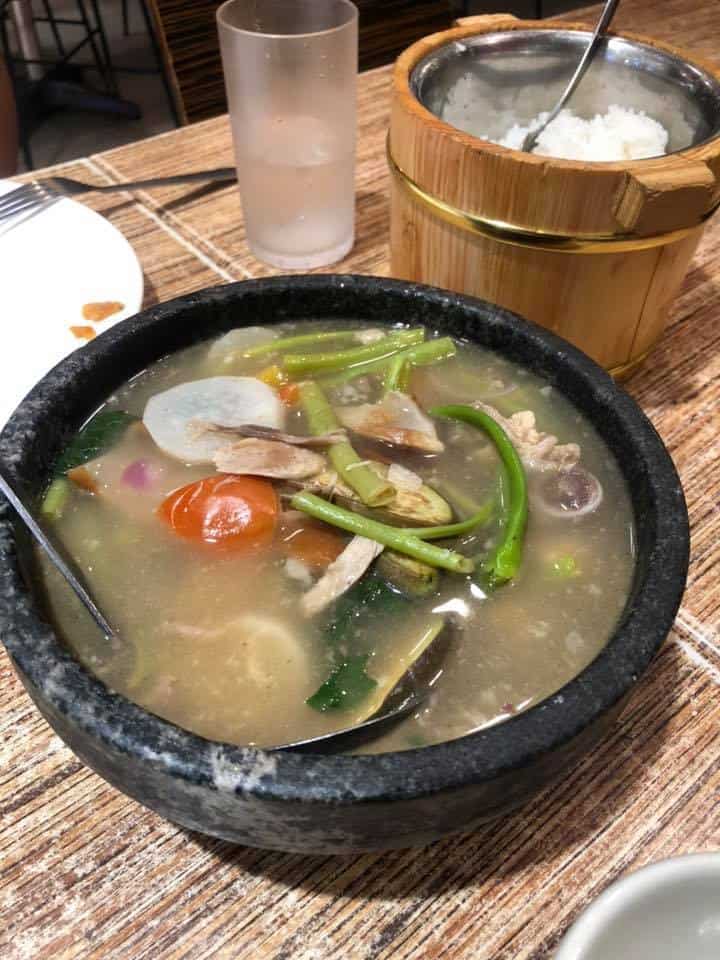 Nilagang Bulalo – Bulalo is a traditional Filipino soup made with beef shank and bone marrow, vegetables such as corn, cabbage, onions, and garlic. It is a hearty and filling soup that is ideal for a rainy day.
Vegetables
This vegetable menu of KKK features a variety of flavorful and healthy dishes that are sure to satisfy vegetarians and meat lovers alike.
Laing sa Gata – This dish is a popular vegetable dish from the Philippines' Bicol region, consisting of taro leaves cooked in a creamy coconut milk sauce with spicy chilies, ginger, and shrimp paste. It is rich and flavorful, with just the perfect creaminess and spice!
Ginataang Sigarilyas at Kalabasa – It is another vegetable dish that is cooked in a coconut milk sauce with winged beans and squash. The dish has a deliciously creamy and savory flavor and is seasoned with garlic, onion, and shrimp paste.
Pinakbet ng KKK – This is a traditional Filipino vegetable dish made of mixed vegetables such as eggplant, bitter melon, and okra cooked in a savory and slightly sweet shrimp paste sauce. KKK's Pinakbet is perfectly cooked, with tender and flavorful vegetables and a delicious sauce that goes great with steamed rice.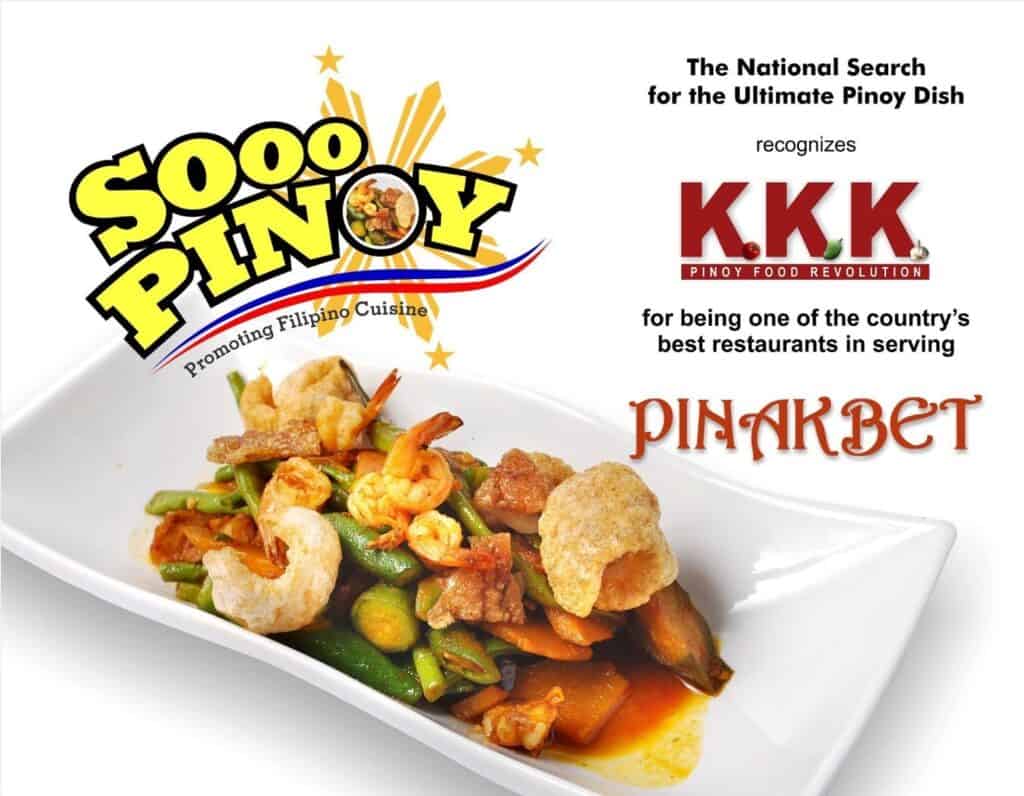 Seafood
Filipino cuisine is very diverse and provides an exciting culinary experience that offers diners a wide range of flavors and textures to choose from. Each dish on KKK's seafood menu has its own unique characteristics and flavor profiles that make them popular choices among locals and tourists alike.
Dessert
The desserts that KKK offers have a diverse range of flavors, textures, and experiences. Filipino desserts have something for everyone, whether they want something sweet, savory, or just a plain, refreshing dessert. KKK has plenty of delicious desserts to satisfy its customers' cravings.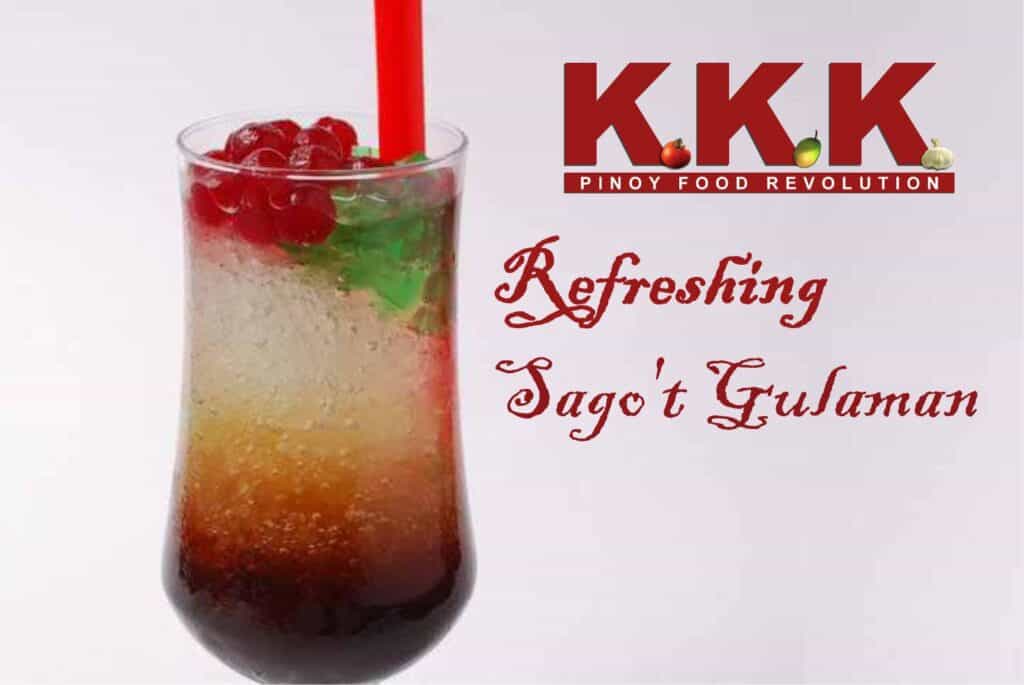 KKK Menu Delivery
KKK now provides delivery service for their regular customers and those who want a taste of delicious Filipino dishes. There are many ways apps and sites where you can order some of KKK's foods. You can either visit these websites: GrabFood, Eatigo, or Booky. Or download their apps on your mobile phones and place your order from there.
Social Media Pages
If you're looking to satisfy your cravings for delicious Filipino cuisine, look no further than this restaurant. Their menu is filled with an array of delectable Filipino dishes that are sure to satisfy your taste buds. In addition to offering a diverse selection of dishes, the restaurant also provides excellent service to ensure that you have an enjoyable dining experience.
To stay up to date on the restaurant's schedule, promotions, delivery options, and menu changes, be sure to follow their social media pages. Plus, you can show your support for the restaurant by sharing their posts or leaving positive reviews. Check out the links provided to get redirected to their social media pages and start following them today.
Instagram: https://www.instagram.com/kkkpinoyfood
Facebook: https://www.facebook.com/profile.php
Conclusion
KKK Restaurant is a well-known Filipino restaurant chain in the Philippines whose menu serves traditional Filipino cuisine with a focus on home-cooked meals. Overall, KKK Restaurant is a fantastic place to sample the cuisine in a relaxed and welcoming atmosphere, accompanied by their very friendly and fast-serving staff.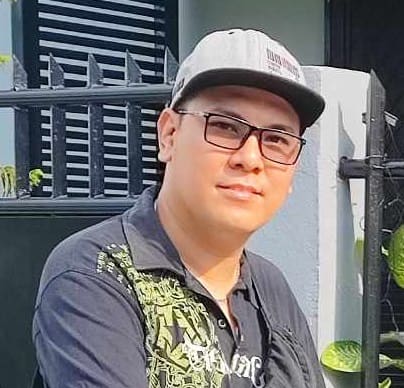 Hi! I'm Nivek Strife, the person who made MenuPH. I'm the one who added most of the popular menus you see on this website, and I really hope you enjoy them! Feel free to check them all out.
Growing up, I was surrounded by lots of tasty foods, like the classic Adobo and the sweet Leche Flan. That love for the many flavors of the Philippines is what got me excited about adding to MenuPH. When I learned how to make websites, I saw the need for a place to show off all the amazing Filipino dishes, and that's how MenuPH started.
MenuPH isn't just a website; it's like a fun journey into food. I've teamed up with famous chefs and found great places all over the Philippines to bring you a bunch of menus that show off the best of Filipino cuisine. Whether you're into the usual dishes or new twists, MenuPH is here to guide you through the rich world of Filipino flavors.
With MenuPH, my aim is to help local businesses, talk about good food choices, and make a group of friends who love food. No matter if you like fancy restaurants or street food, MenuPH has something for you. Come join me on this food adventure as we find great places, taste real flavors, and enjoy the unique food traditions that make the Philippines awesome.