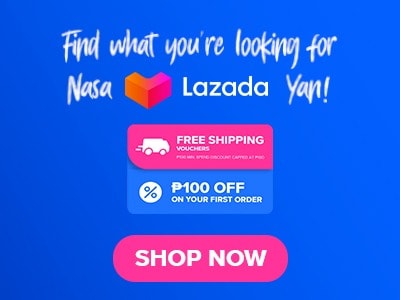 The Wyndell's Al Fresco menu serves a wide range of all-time Filipino favorites and international dishes. It consists of Grilled Seafood, Specials, Sizzling Steaks, Pastas, Salads, Fried Chicken, Sandwiches & Burgers, Pizza, All Day Breakfast, Desserts, Coffee, Unlimited Meals, Holiday Specials, and Drinks. Aside from these hearty dishes, it is also a great place that has a spectacular view, genuine service, and cool weather. 
Below, you'll find the updated list of Wyndell's Al Fresco menu prices.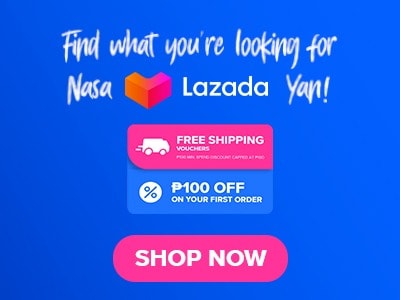 Menu Items
Price (PHP)

Grilled Seafood

Grilled Oysters (Full)
500
Grilled Oysters (Half)
280
Grilled Scallops in Shell
400
Grileed Squid (200 g)
500
Grilled Salmon Top Loin (200 g)
580
Grilled Boneless Bangus (800 g)
650
Grilled Tanigue (200 g)
500
Grilled Prawn (200 g)
500
Grilled Tuna Top Loin (200 g)
500

Sizzling Steaks

Sizzling Australian T-Bone (12.5 -13 oz)
850
Sizzling Brazilian Ribeye (9 - 9.5 oz)
500
Sizzling Pork Chops (7 - 7.5 oz)
450

Premium Steaks

USDA Angus Ribeye (6.5 oz)
1500
USDA T-Bone (11 oz)
1200
USDA Porterhouse (11 oz)
1200
Japanese Wagyu (Grade A5) (12 oz)
5500
Plain Rice
50
Garlic Rice
50

Specials

Whole Chicken Inasal
880
Wyndell's Drunken Baby Back Ribs
1350
Kansi - Bulalo Soup (All Beef Shank) (Regular 2 - 3 pax)
600
Kansi - Bulalo Soup (All Beef Shank) (Family 5 - 6 pax)
1100
Kansi - Bulalo Soup (With Bone Marrow) (Regular 2 - 3 pax)
650
Kansi - Bulalo Soup (With Bone Marrow) (Regular 5 -6 pax)
1200
Pinoy Pork Barbecue & Street Food Platter
500
Shrimp Poppers
380
Calamares
350
Sizzling Kansi With Tuwalya
650
Sizzling Sisig
500
Sizzling Mixed Seafoods
600
Sizzling Kangkong
300
Kilawin Tuna
450
Inihaw Na Sari-Saring Gulay
250
Kilawin Salmon
450
Kilawin Tanigue
450
Kilawin Tuna
450
Baked Callos Casserole
500

Pastas

Gamberi Aglio Olio Pappardelle
650
Seafood Marinara
650
Pesto Pasta With Chicken
450
Tagliatelle Bolognese
450
Carbonara
450
Quatro Formaggi Tortellini
450
Sweet Style Spaghetti
350

Basket of Fried Chicken

4 pcs Chicken
500
6 pcs Chicken
680
8 pcs Chicken
750

Salads

Garden Salad
220
Arugula Salad
250
Caesar Salad
220

Sandwiches & Burgers

The W Clubhouse Sandwich
450
Wyndell's BBQ Burger
450
Grilled Cheese
280
Philly Cheesesteak
350
Classic Cheeseburger
330
Chicken Sandwich
330
Hungarian Sausage Sandwich
350
Fish and Chips
500
Spiced Fries
150

Pizza

Pizza Margherita
500
Hawaiian Pizza
590
Basil Honey Pepperoni Pizza
590
Frutti Di Mare
750

All Day Breakfast

Wyndell's Ribeye Tapasteak
450
Hungarian Sausilog
350
Porksilog
350
Fried Bangsilog
350
Cornsilog
300
Bacsilog
350
Dangsilog
300
Garlic Style Grilled Longsilog
350
Chicksilog
300
Bagnetsilog
350

Beers

Hoeggarden
180
Stella Artois
180
Engkanto Craft Beer Double IPA (8% ALC)
300
Engkanto Larger (4.8% ALC)
200
Engkanto Honey Ale (5.1% ALC)
250
Engkanto Hazy IPA (5.1% ALC)
250
Crazy Carabao IPA (6.5% ALC)
250
Crazy Carabao Golden Ale (4.5% ALC)
250

House Wines

Sweet Red Wine (glass)
200
Sweet Red Wine (bottle )
1080
Cabernet Merlot (glass)
200
Cabernet Merlot (bottle)
1080
Sauvignon Blanc (glass)
200
Sauvignon Blanc (bottle)
1080
White Moscato (glass)
200
White Moscato (bottle)
1080

Softdrinks

Canned Soft Drinks
100
Dr. Pepper
100
Canada Dry Ginger Ale
150
A&W Rootbeer
150

Wyndell's Café

Americano (Hot)
110
Americano (Iced)
130
Café Latte (Hot)
130
Café Latte (Iced)
150
Cappucino (Hot)
130
Cappucino (Iced)
150
Vanilla Latte (Hot)
140
Vanilla Latte (Iced)
160
Caramel Macchiato (Hot)
140
Caramel Macchiato (Iced)
160
Café Mocha (Hot)
140
Café Mocha (Iced)
160
Hazelnut Cappucino (Hot)
140
Hazelnut Cappucino (Iced)
160
Flat White (Hot)
140
Flat White (Iced)
160
Espresso Shot (Iced)
70
Double Espresso Shot (Iced)
110
Brewed Coffee (Hot)
100
Chocolate (Hot)
150
Chocolate (Iced)
170
Tea (Hot)
100
Ice Blended Drinks
170
Mango Milkshake
170
Banana Milkshake
170
Watermelon Shake
170
Melon Shake
170
Grape Shake
170
Papaya Shake
170
Dragonfruit Shake
170
Avocado Shake
170

Desserts

Halo-Halo Special
220
Caramia Mango Magnifico (slice)
200
Caramia Mango Magnifico (whole)
2000
Caramia Ube Cake (slice)
200
Caramia Ube Cake (whole)
2000
Caramia Midnight Dream (slice)
200
Caramia Midnight Dream (whole)
2000

Suupppgyupsal

All Unlimited
645
About Wyndell's Al Fresco
Wyndell's Al Fresco is an overlooking restaurant in Tanay, Rizal that has a main dining area, café, and hotel. This place will you an adventurous and memorable experience as it has a farm where you can enjoy camping and other nature adventure and a boutique hotel that provides staycation and bed and breakfast service. It is a great place where you can enjoy a fun-filled and relaxing stay.
Wyndell's Al Fresco Menu Best Seller
These are blockbuster dishes of Wyndell's Al Fresco that will make your dining experience and adventure more fun and memorable.
Kansi Bulalo – Western Visayas is the place of origin of this hearty dish. The Batuan Fruit creates a fresh and tangy flavor profile that makes it unique. Bone marrow and beef shanks are simmered until they become gelatinous and tender. This dish is like a combination of sinigang and bulalo, two of the most popular Filipino comfort food.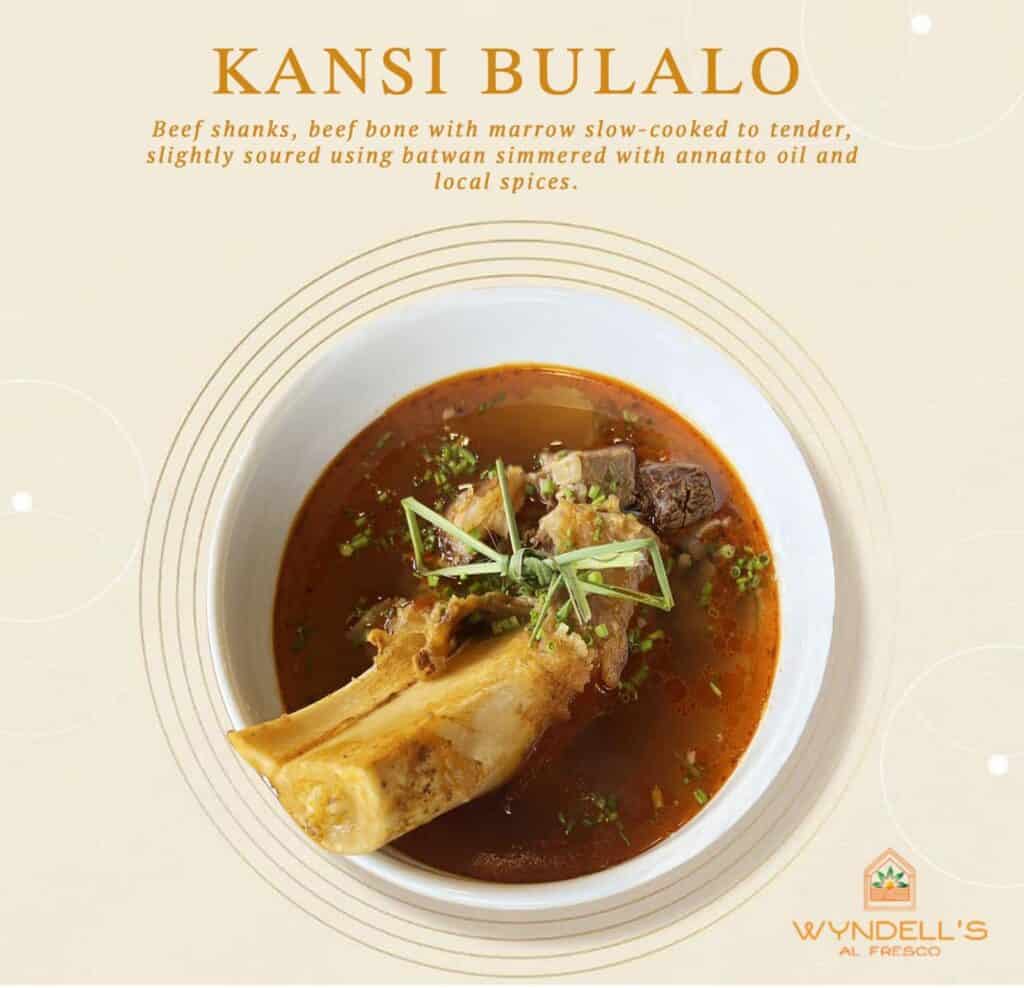 Whole Chicken Inasal – This Wyndell's Al Fresco menu is one of the best-sellers because of its delectable taste that is perfect for all ages. It comes with a special dipping sauce and atchara that enhances its flavor. 
Baby Back Ribs – Baby back ribs are grilled and brushed with the restaurant's special barbecue sauce until it becomes tender and delicious. It is served with bell peppers and grilled corn on the side.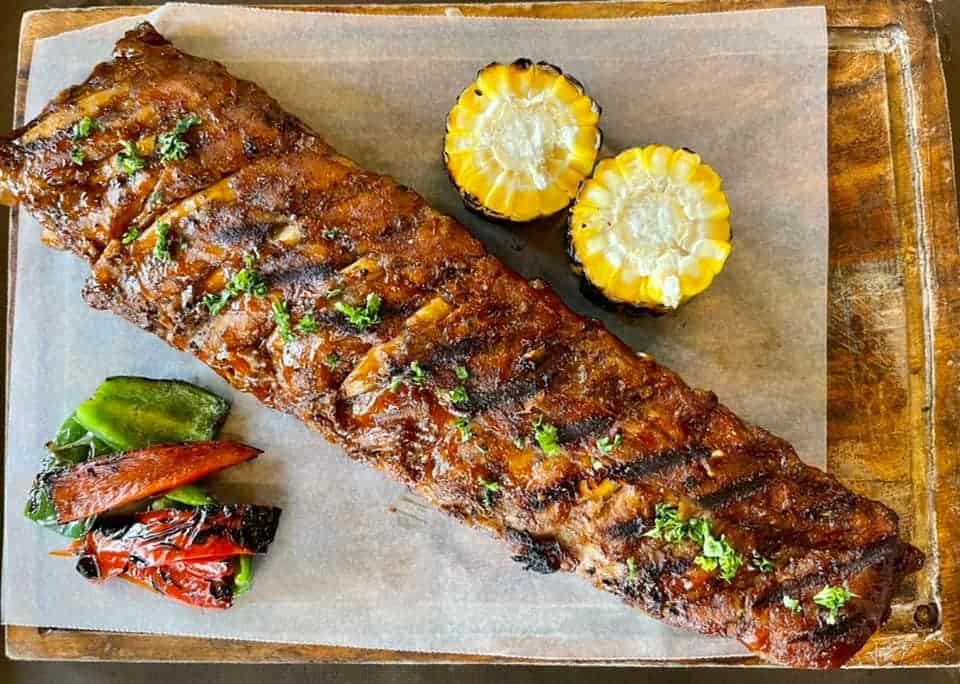 Rib-Eye Tapa Steak – Ribe-eye steak is sliced thinly and marinated in special spices. Rice, sunny-side-up egg, and chopped onions and tomatoes.
BBQ Burger. It is a special burger from Wyndell's Café where the brioche bun is stuffed with caramelized bacon with homemade barbecue sauce, double quarter pounder patties, and vegetables.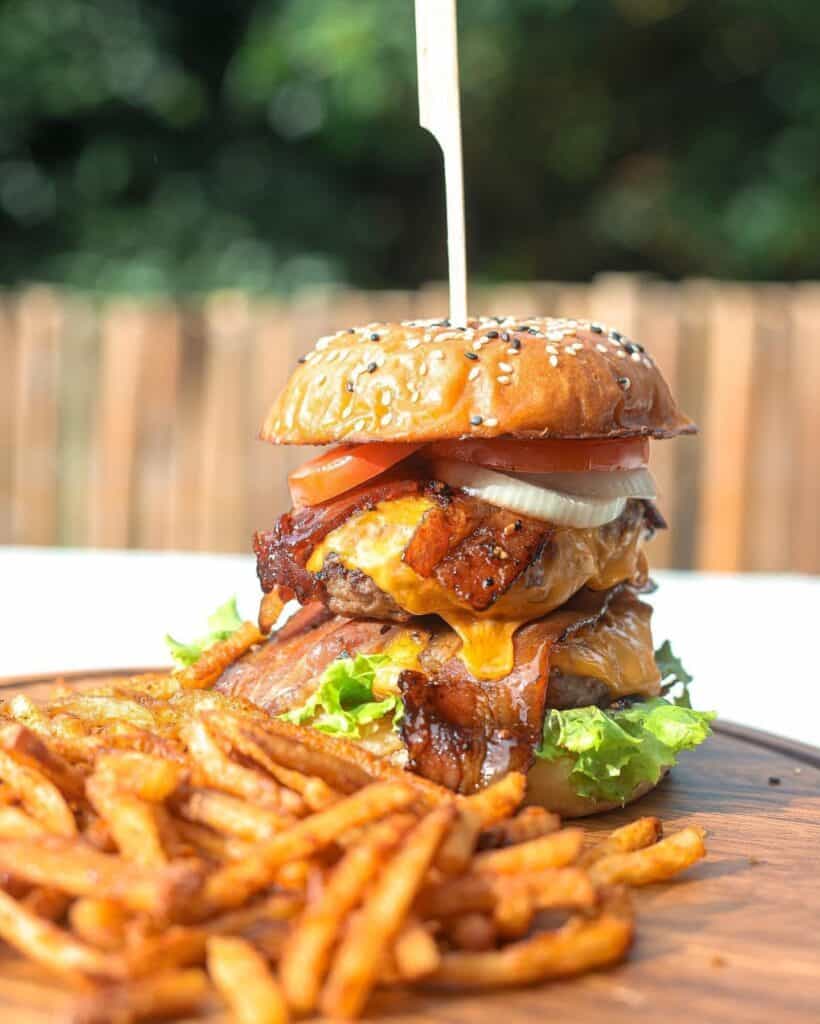 Wyndell's Al Fresco Special Menu
The special menu that it offers is ideal for sharing that will surely be loved by the whole family.
Pinoy Pork Barbecue & Street Food Platter – An ultimate good for sharing snack composed of barbecue and all-time favorite street foods such as "tusok-tusok" and isaw.
Sizzling Sisig – It is a combination of pork, meat, onions, and chilis served on a sizzling plate. This is a famous meal prepared as a "pulutan" and paired with beer. It can also be eaten as a main course with rice.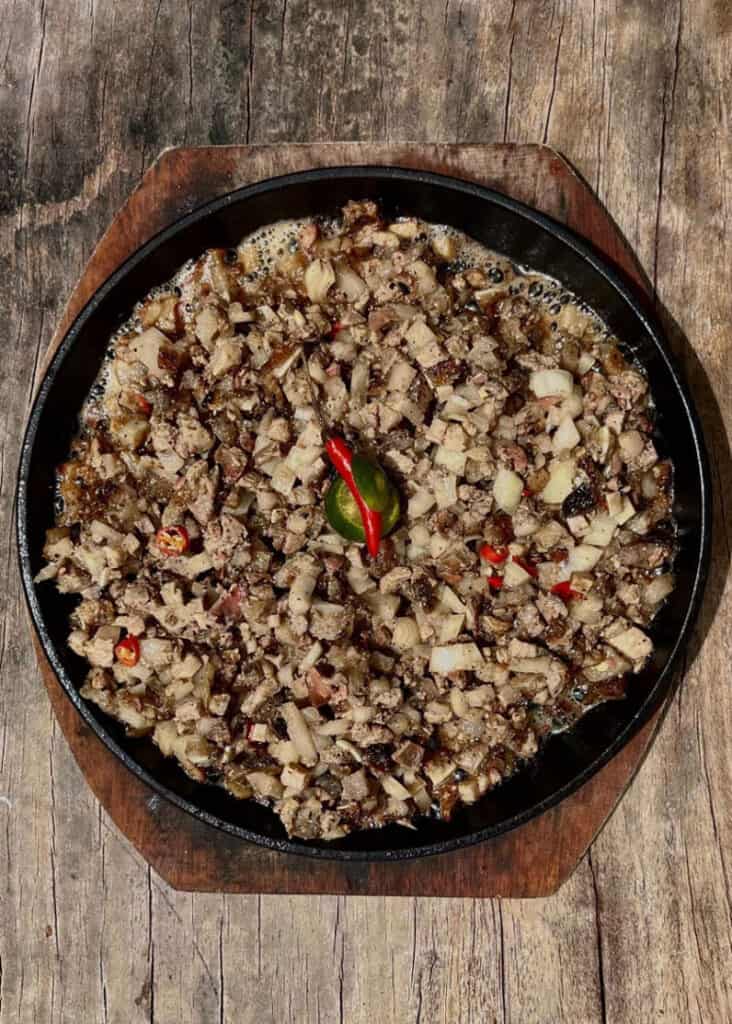 Sizzling Mixed Seafood – This dish is ideal for seafood lovers as it consists of various seafood such as prawns, squid, tuna, salmon, and tanigue in one sizzling plate.
Sizzling Kangkong – Kangkong is cooked with garlic and olive oil and served on a buttered hot plate. Adobo, Sambal Olek, and Garlic Butter are the three side dishes that complete this meal.
Baked Callos Casserole – Tender ox tripe and beef with bell peppers, special chorizo bilbao, and garbanzos are baked to perfection. It is a must-try dish that will boost your appetite as it is full of flavor and truly delightful.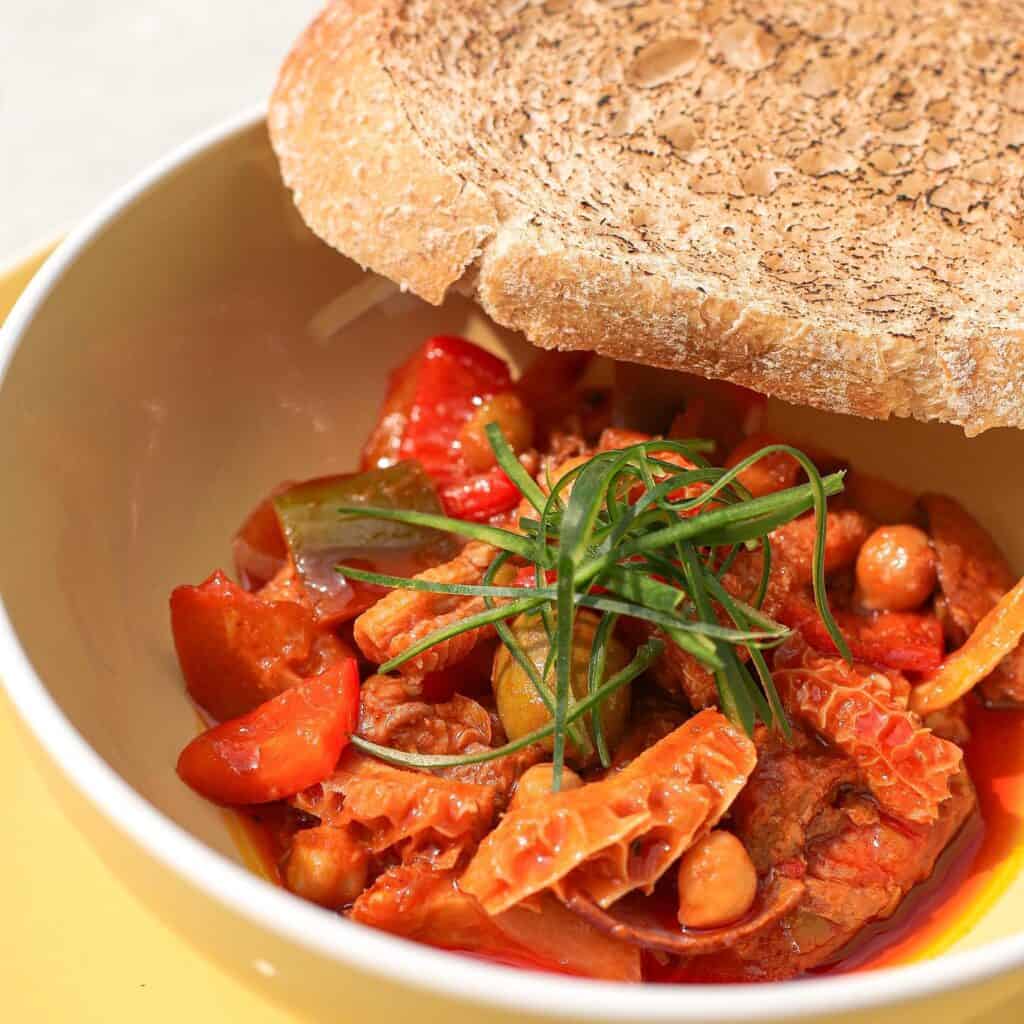 All Day Breakfast
The All Day Breakfast at this restaurant is composed of classic Filipino "silog meals" prepared to wake up the senses.
Porksilog – A simple yet delicious meal that consists of deep-fried breaded pork chop served with garlic rice and sunny-side-up eggs.
Dangsilog – Danggit is one of the favorite dishes of Filipinos because of its distinctive taste. Its crunchiness and saltiness complement well with the flavor of salsa, sunny side up egg, and garlic rice served with it. For people seeking classic Filipino food, this menu from Wyndell's Al Fresco is a perfect choice.
Garlic Style Grilled Longsilog – Longganisa has a garlicky and smoky taste paired with a double sunny-side-up egg and savory garlic rice.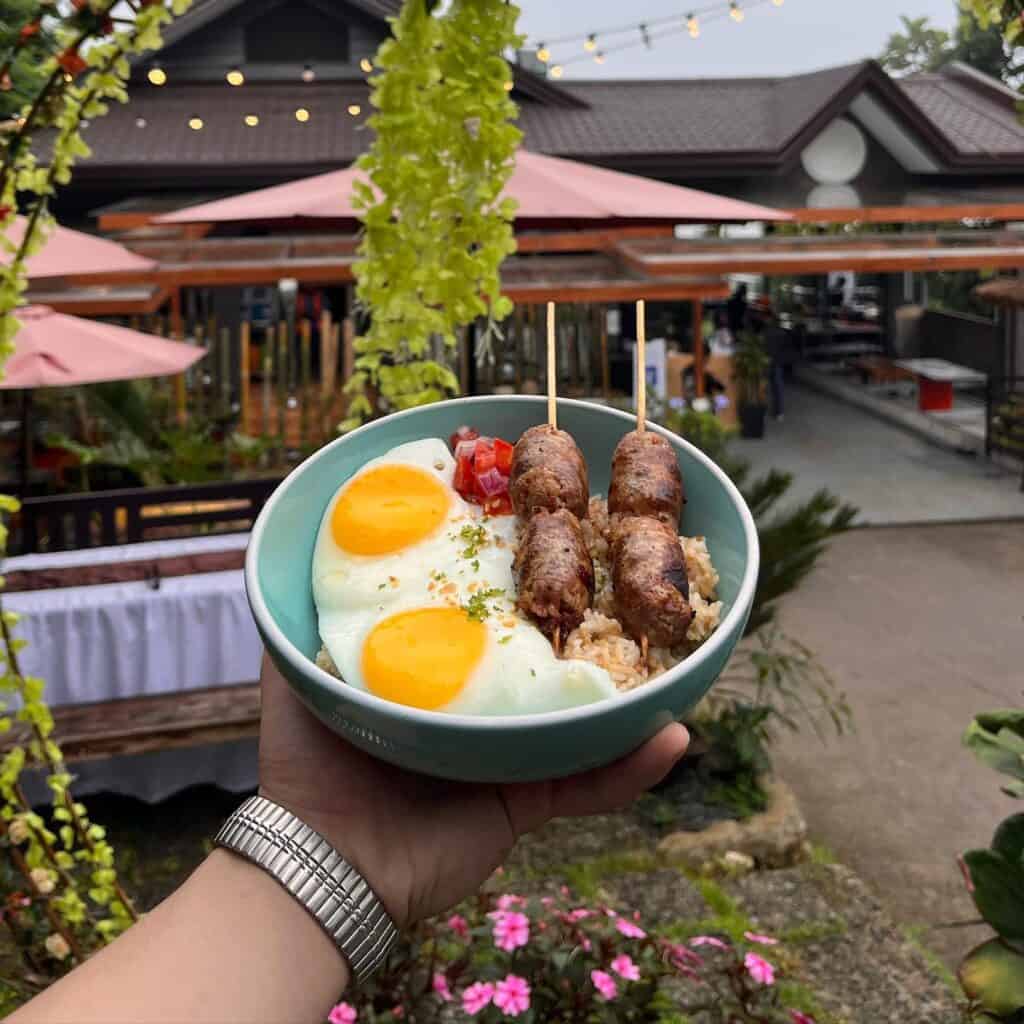 Chicksilog – It is a classic silog meal made up of crispy and tender fried chicken, a side of salsa vegetables, garlic rice, and two eggs.
Bagnetsilog – Bagnet is a popular dish that originates from Ilocos Region. Pork is sliced thinly and people love its tender, crunchy, and tasty flavor.
Coffees
Wyndell's Café offers coffee drinks that are available in hot and iced making them versatile for any weather condition.
Americano – The simplicity of this drink makes it a popular drink. It is a go-to coffee drink that is well-loved by people from different cultures. I highly recommend this Wyndell's Al Fresco menu for all coffee lovers out there.
Café Latte – It is one of the iconic variants of coffee as it has a visually appealing presentation and a perfect balance of flavor and texture.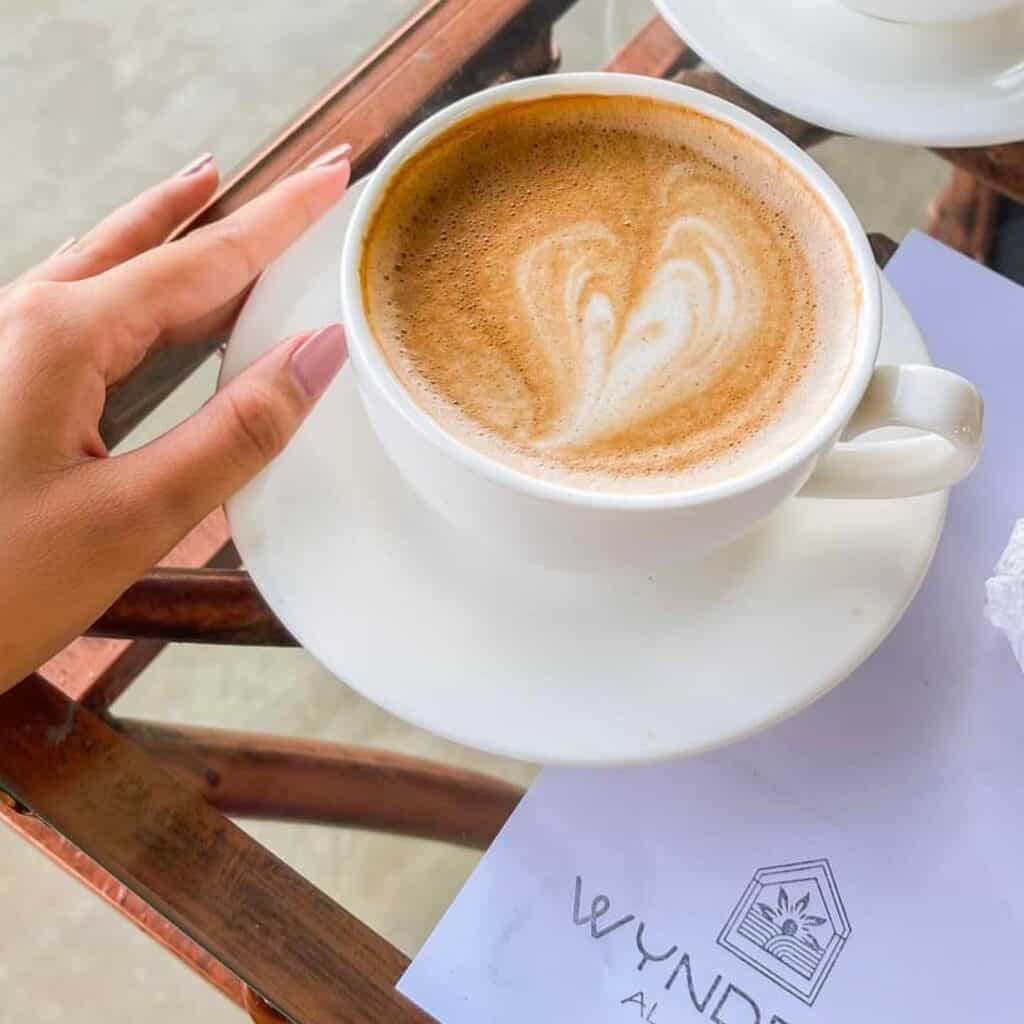 Cappuccino – A crowd-favorite coffee drink that will level up your coffee experience. Its creamy texture and rich coffee flavor will brighten up your day. The delicious foam on its top makes it satisfying.
Vanilla Latte – Many people love this vanilla latte because the combination of milk, coffee, and vanilla creates a great coffee.
Caramel Macchiato – This drink is unique and has a great taste that makes it special. It never fails to impress people from generation to generation.
Sandwiches and Burgers Menu
Savor a mouth-watering feast of burgers and sandwiches, accompanied by a side of perfectly seasoned, spicy fries that enhance every bite. It is a satisfying snack menu that you can eat while you're having a good time with your loved ones. It consists of The W Clubhouse Sandwich, Wyndell's BBQ Burger, Grilled Cheese, Philly Cheesesteak, Classic Cheeseburger, Chicken Sandwich, Hungarian Sausage Sandwich, and Fish and Chips.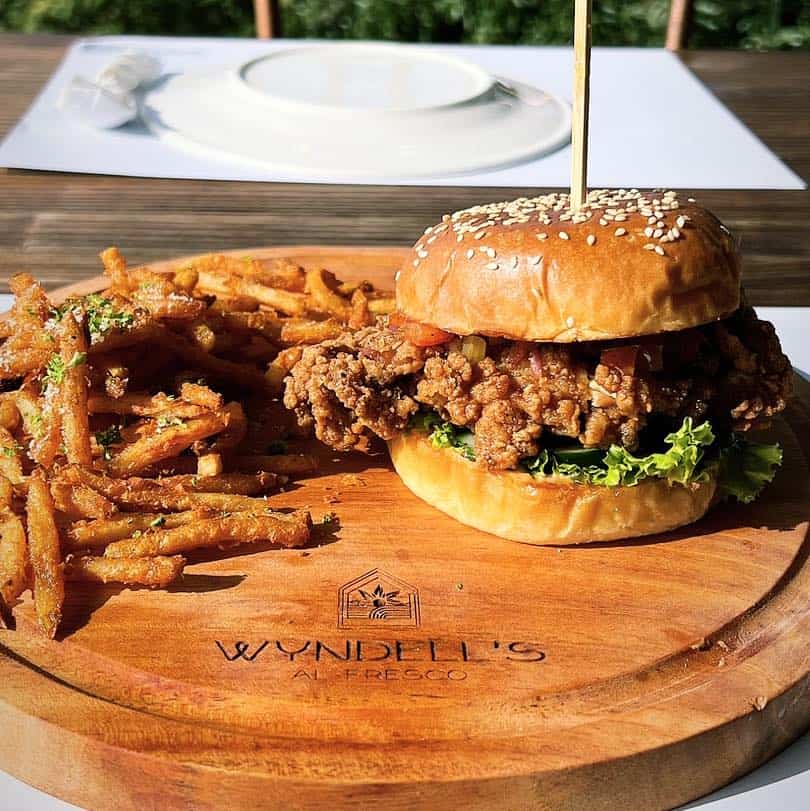 All Unlimited
All unlimited is a set of dish ideal for samgyupsal fanatics. It includes unlimited USDA Beef, Pork, Chicken, Side Dishes, Soup, Rice, and Drinks. The drinks that you can choose from are bottomless house blend iced tea or cucumber lemonade.
There are dine-in conditions that must be followed such as a maximum time of 2 hours and 15 minutes, no take-outs, and no leftovers. If there are leftovers, there is a Php 100 charge per 100 grams. The price also varies depending on age. It offers free dine-in for toddlers (0-4 years old), a 50% discount for kids (5-7 years old), and regular rates apply for 8 years old and above.
Wyndell's Al Fresco Menu Delivery
Wyndell's Al Fresco offers in-store delivery service available from 6:00 AM to 9:00 PM Monday to Sunday. The scope of its delivery area is within 15 kilometers. You can call them at 0960-294-4843 to arrange your orders.
Social Media Pages
Planning to go glamping or just dining while being with nature? You might consider Wyndell's Al Fresco as your option. Get in touch with them to know more about the details of their services and menu. The links provided below will redirect you to their official social media pages.
Facebook: https://www.facebook.com/wyndellsalfresco
Instagram: https://www.instagram.com/wyndellsalfresco/
Conclusion
Wyndell's Al Fresco menu is known for its delicious dishes that complement well with the restaurant's breathtaking view. This place will give you an exciting food and nature adventure. In this place, you will also be able to get closer to nature with your family and friends. They are committed to providing quality service through heartfelt service and food upgrades. It is also pet-friendly as it allows you to bring your beloved fur babies.