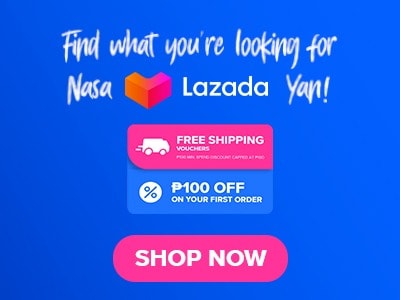 Razon's menu highlights its halo-halo and authentic Kapampangan dishes such as Pancit Luglug, and Bistig Kapampangan. It also provides other classic Filipino dishes and desserts such as silog meal and desserts. Its promotions such as dine-in and bundle promos are budget-friendly and good for sharing meals. There are also family bundles and Pancit Luglug in bilao ideal for various gatherings or celebrations.
Below, you'll find the updated list of Razon's menu prices.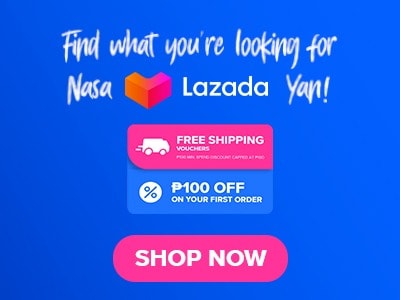 Menu Items
Price (PHP)

Dine-in Promos

Halo-Halo (Classic)
118
Halo-Halo (Junior)
88
The Perfect Pair (Halo-Halo and Pancit Luglug)
238

Best Seller

Bistig Kapampangan
170
Beef Caldereta (Solo)
189
Beef Caldereta (Sharing)
365
Sizzling Bulalo
398
Sizzling Sisig
298
Dinuguan
175
Dinuguan with Puto
225

All-Time Favorites

Lechon Kawali
278
Chicken and Pork Asado
278
Pork Adobo with Egg
175
Arroz Caldo
138

Nasilog Series

Longsilog
208
Tapsilog
228
Sisilog
250
Bangsilog
188
Tocilog
212

Pancit Luglug

Pancit Luglug
145

Pancit Bilao

Small
665
Medium
905
Large
1270

Bundle Promo

Bundle A
1040
Bundle B
1200
Family Bundle
1700

Additional

Plain Rice
35
Garlic Rice
45
Lumpiang Prito
48
Puto
65
Mineral Water
40
Softdrinks in Can
55

Dessert

Classic Halo-Halo
145
KLM (Keso, Langka & Mais)
145
Halo-Halo Jr.
105

Extra Ingredients

2 Scoops Banana
60
1 Scoop Macapuno
70
2 Slices Leche Plan
55
1 Cup Milk
40
1/8 Scoop Langka
50
1/4 Scoop Mais
50
1 Scoop Keso
50
5 Grams Cornflakes
40
Gravy
35
1 Egg
30
Chicharon
30
Atchara
30
About Razon's
Razon's of Guagua started as a stall selling its special Halo-Halo. The three main ingredients that make it delectable are macapuno, saging na saba, and leche flan. In 1996, they started selling other Kapampangan dishes and expand to different locations. In 2003, they established Razon's Food Corporation to bring these delightful dishes to Metro Manila.
Razon's Menu Best Seller
The best sellers of Razon's of Guagua consist of classic and popular Filipino dishes that always impress customers.
Halo-Halo – It is an all-time Filipino dessert made up of Razon's special three main ingredients. Macapuno, ripened bananas, Razon's milk mixture, shaved ice, and leche flan are layered on this delectable dessert. These main ingredients are manually prepared to achieve their unique taste. This dessert will remind you of your childhood and summer days.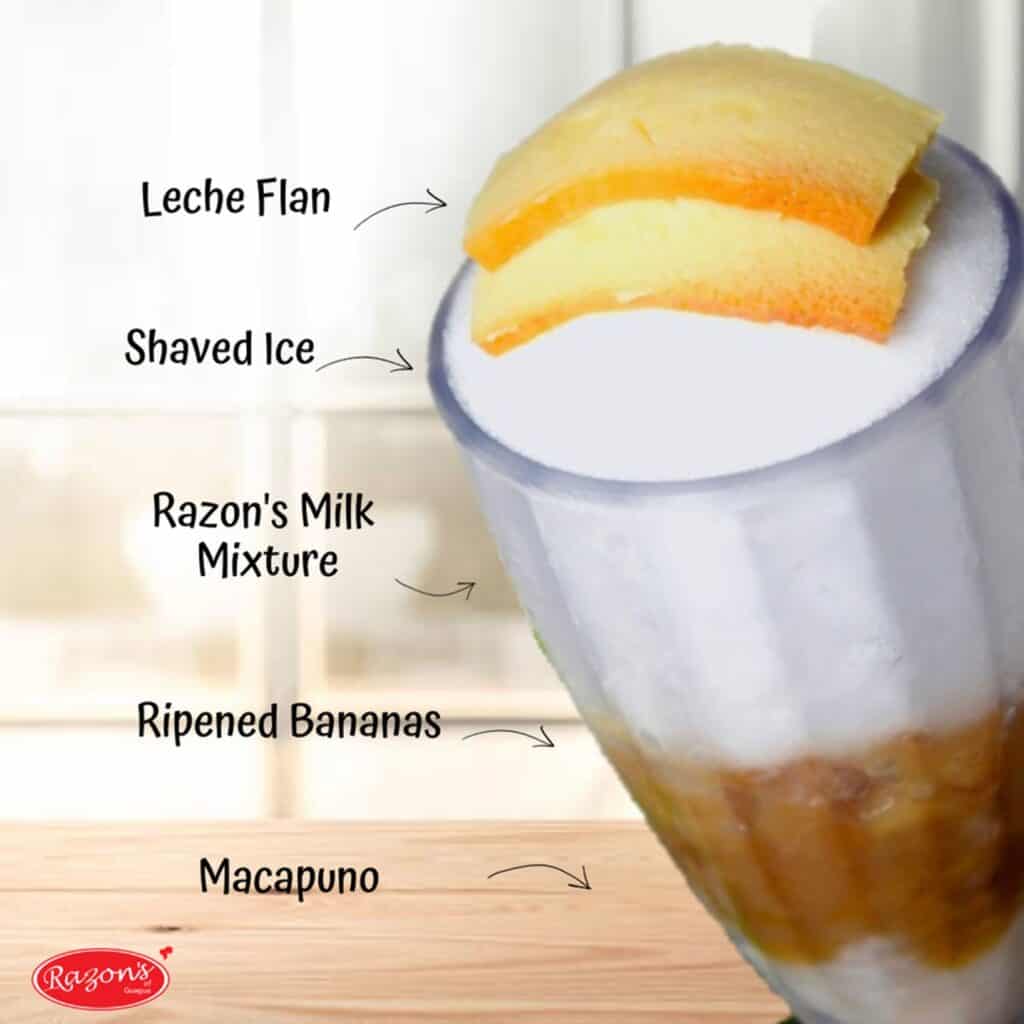 Pancit Luglug – This best-selling menu from Razon's is made up of classic Filipino noodles topped with shrimp sauce, chicharon bits, and boiled egg slices and served with a calamansi. It has a similarity with Pancit Palabok as it uses the same type of noodles and its presentation is also quite similar.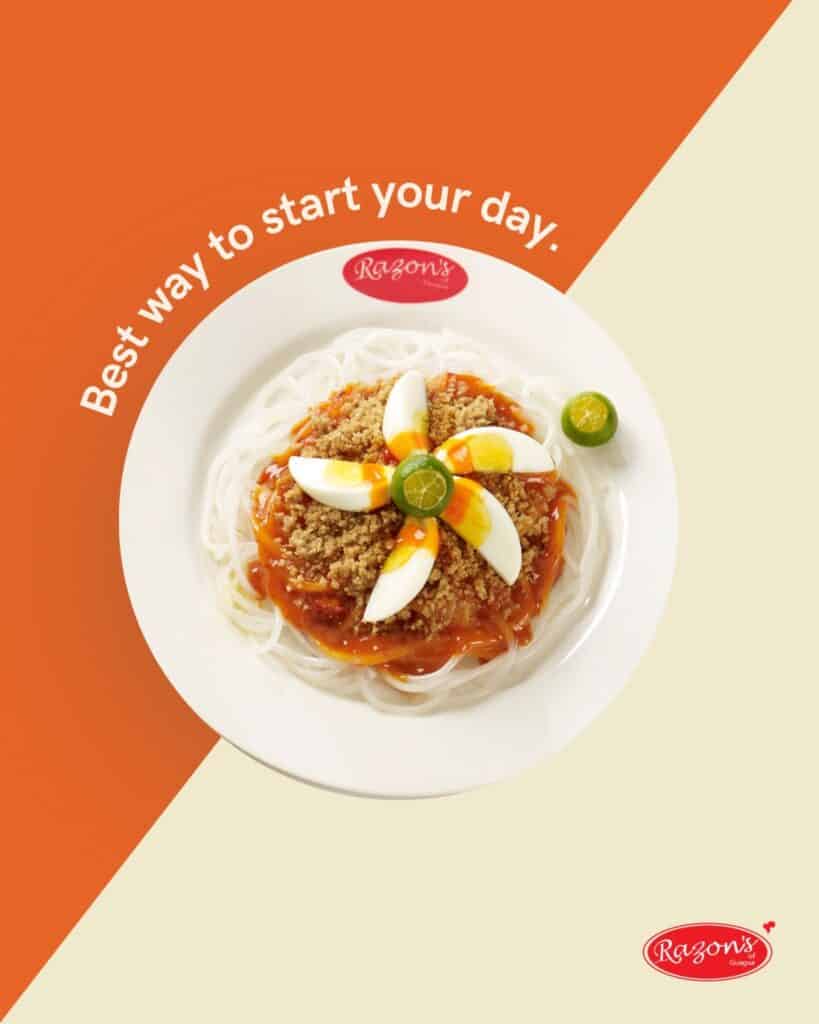 Sizzling Bulalo – Beef chunks are stewed with sweet and spicy tomato sauce and other special ingredients until they achieved a tender texture. Its sizzling sound and aroma when it is served will make you excited about this dish.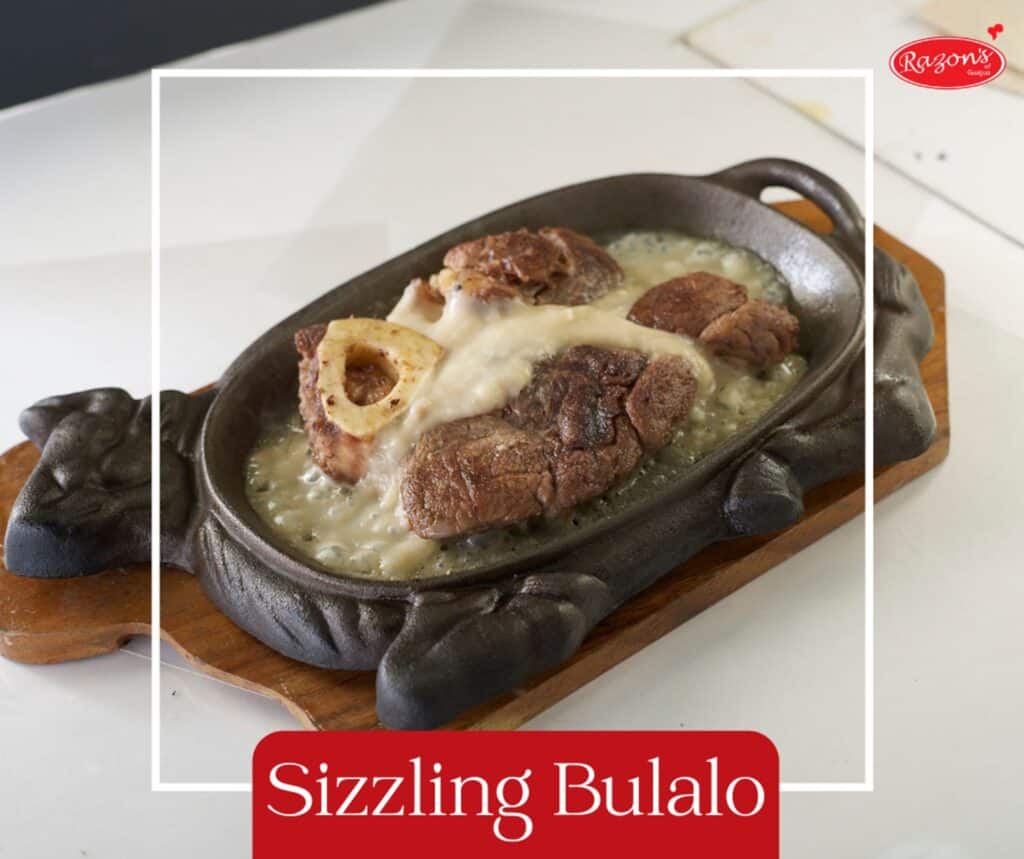 Sizzling Sisig – A popular and all-time favorite Kapampangan cuisine that is served on a hot sizzling plate. This appealing menu of Razon's is one of the authentic dishes from Pampanga that you should not miss out on. 
Dinuguan – Dinuguan is made up of pig's blood, pork intestines, vinegar, and other special spices and ingredients. Puto is the common dish that is combined with this dish. Aside from puto, it can also be paired with Lumpiang Sariwa.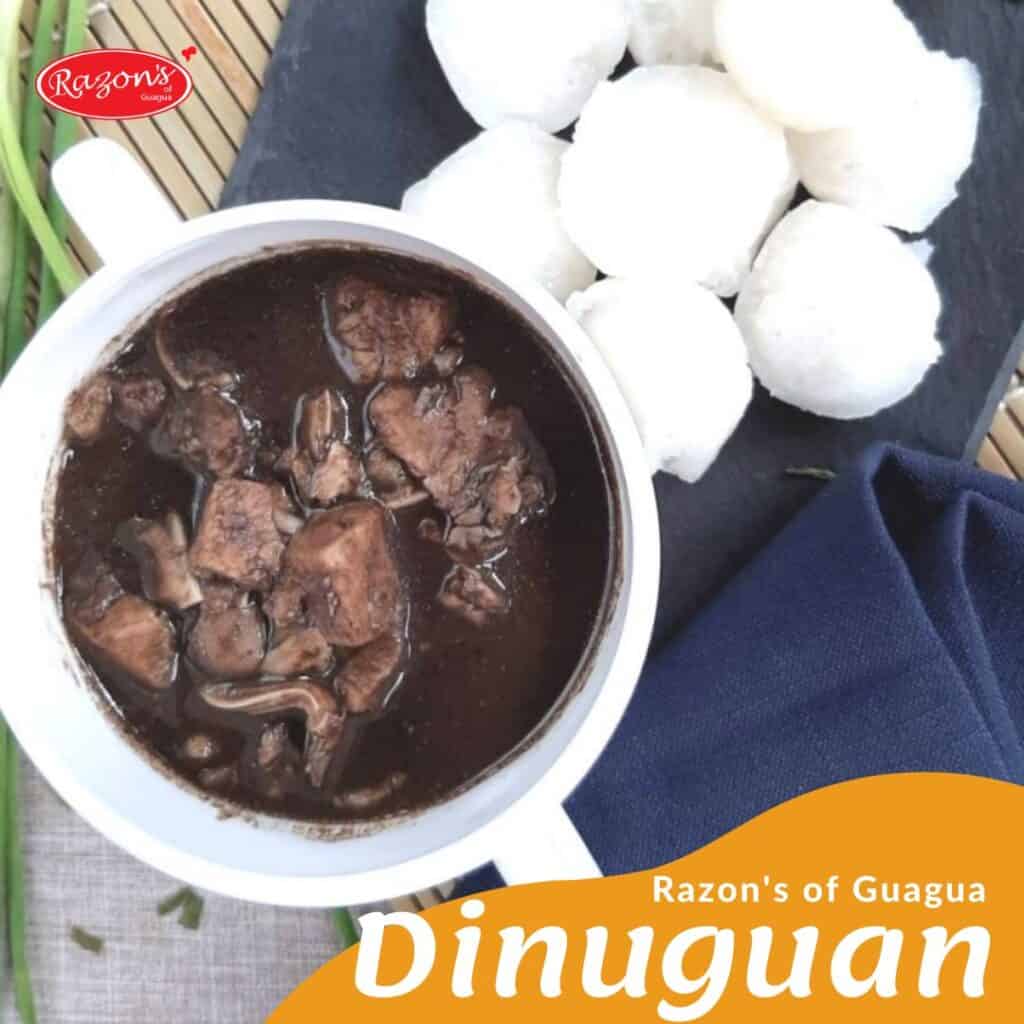 Razon's All Time Favorite Menu
These are the traditional Filipino dishes that never fail to delight customers from then until today.
Lechon Kawali – This dish is one of the common dishes that you'll see at different celebrations. It has a crunchy and tender texture making it an irresistible dish. It is served with atchara, greens, and rice.
Chicken and Pork Asado – Chicken and pork are cooked in Kapampangan style. They are marinated in soy sauce and citrus juice and cooked in tomato sauce until they become tangy and tender. Rice and atchara are also served with it.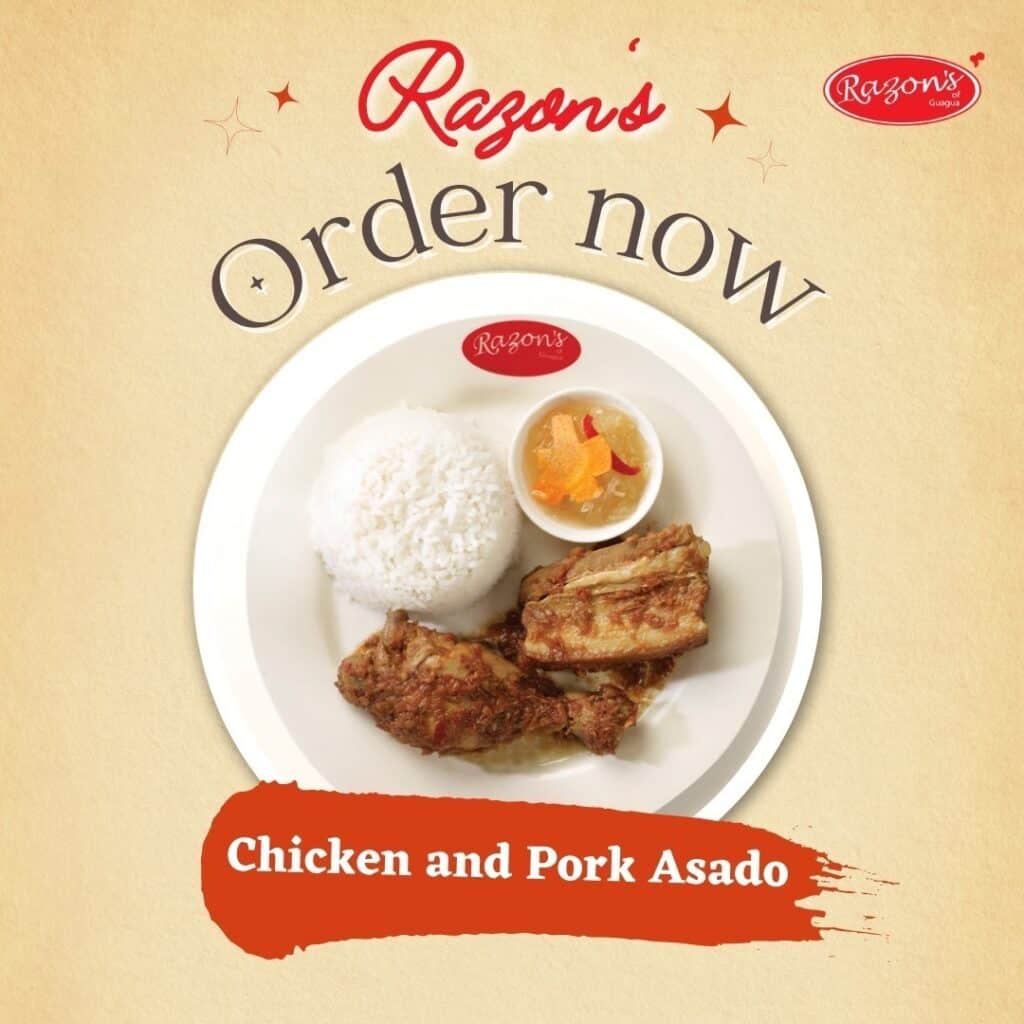 Bistig Kapampangan – Beef sirloin is slow-cooked to ideal tenderness. This meaty and delectable menu of Razon's is topped with a bowl of rice. It is garnished with white onion rings to enhance its taste and visual presentation. 
Pork Adobo with Egg – An adobo dish cooked in Kapampangan style which is also known as a White Adobo. It is marinated only in garlic and vinegar and it doesn't include soy sauce just like the traditional Filipino adobo.
Arroz Caldo – This is a popular comfort food that is well-loved by Filipinos. It is a rice porridge made up of real chicken broth, diced chicken breast, fried garlic bits, and boiled egg slices.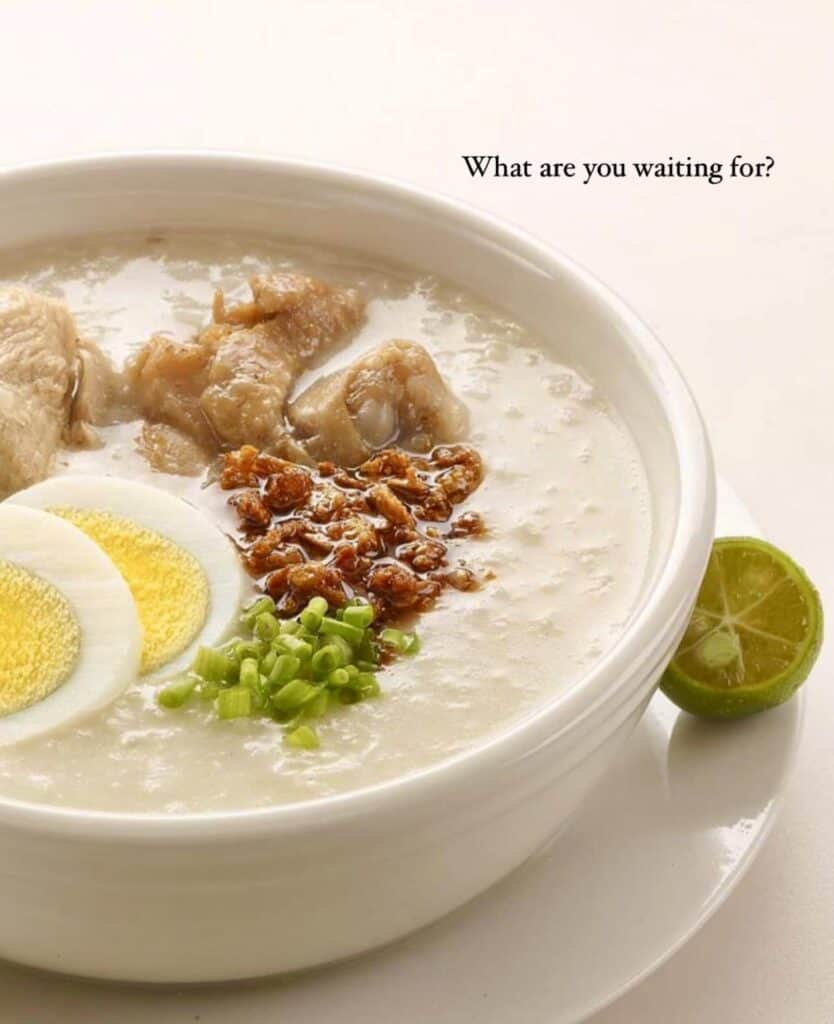 Bundle Promo
Razon's of Guagua offers bundle promos that are ideal for 4 persons. Bundle A consists of 1 small Pancit Luglug bilao and 4 Halo-Halo Jr. Bundle B consists of 1 Sizzling Bulalo, 1 Sizzling Sisig, 4 Rice, and 4 Halo-Halo Jr.
It also offers a family bundle that is good for 5 people. It consists of Sizzling Sisig, Caldereta, Sizzling Bulalo, 5 Rice, and 5 Halo-Halo Jr.
These budget-friendly bundles will let you enjoy their best-selling dishes at a lower price. Bundle promos are perfect if you will eat here at Razon's with your family and friends. With these bundles, you will be able to easily decide on what you should eat. You can also add additional food items or extra ingredients to level up your dining experience.
Caldereta
Beef Caldereta is one of Razon's of Guagua best-seller menu. It is a Filipino beef stew that is cooked in sweet and spicy tomato sauce. It is available in solo and shared serving sizes. Its sharing size is good for 2 to 3 people.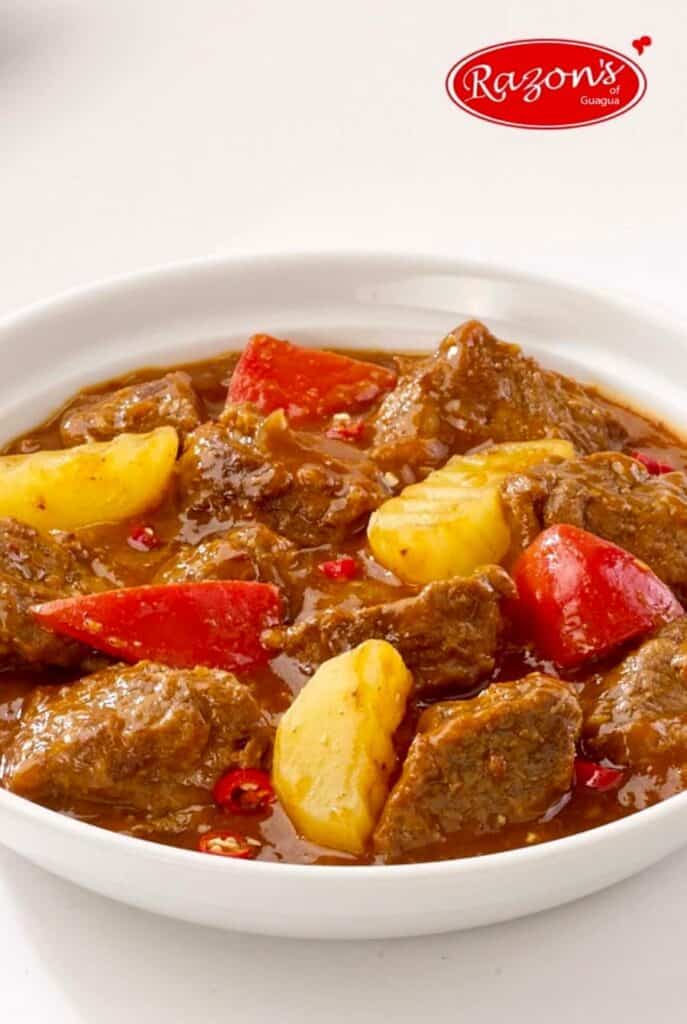 Its tender and juicy beef chunks and savory sauce will make you come back again and again to this restaurant. Boost your appetite and satisfy your cravings with this delicious dish paired with plain or garlic rice. 
Pancit Bilao
Pancit Bilao is an ideal dish for different gatherings or celebrations. It is one of the common and popular dishes prepared for different occasions especially on birthdays as it symbolizes long life.
It is served in small, medium, and large bilao sizes. Small bilao is good for 3 to 4 people, Medium bilao is good for 5 to 8 people, and Large bilao is good for 9 to 10 people.
This Bilao of pancit luglog is a perfect dish if you want to prepare a new pancit variety for your friends and family. Pancit Bihon is the usual type of pancit that is provided on various occasions. So, if you want to delight them with something new and flavorful, then pancit luglug is a great choice.
Razon's Menu Delivery
Bring the taste of Pampanga into the comfort of your house and enjoy it with your family and friends through delivery. The dishes of Razon's are available on online delivery platforms such as Grabfood and Foodpanda.
Social Media Pages
The photos, videos, menu, and events of this restaurant are posted on its Facebook and Instagram pages. The details of the restaurant such as the addresses and contact numbers of its branches, email addresses, and website links can also be accessed here. You will also see tagged photos and videos, reviews, and mentions of its customers so you will know more about its product and service.
Facebook: https://www.facebook.com/RazonsofGuagua
Instagram: https://www.instagram.com/razonsofguagua.ph/
Conclusion
Razon's menu is known for its Kapampangan dishes and delectable Halo-Halo. This restaurant is called "Home of the famous Halo-Halo" because its choice of ingredients creates a unique and delicious taste. It has multiple branches in the Philippines so you can conveniently experience classic and famous Kapampangan cuisines to satisfy your cravings. This is a must-try restaurant if you want to explore authentic dishes from Pampanga.