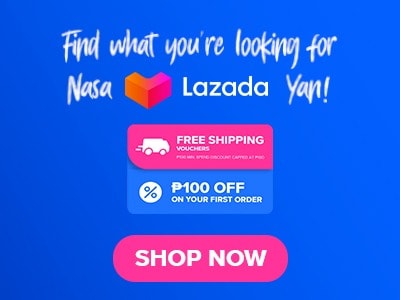 The menu of Pub Express is composed of dishes that are American-inspired. They serve flavored wings, sausages, breakfast meals, and sides that, even if they are inspired by foreign cuisine, are not that far off the Filipino palate. Filipinos will surely enjoy each dish that Pub Express serves because of the familiar flavor that it brings. Aside from being tasty, every dish on their menu is also very affordable.
Below, you'll find the updated list of Pub Express menu prices.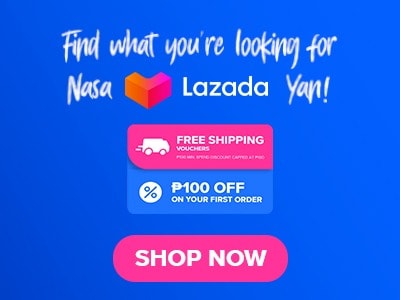 Menu Items
Price (PHP)

Sausages

German Cheese
160
Hungarian
160
Bocks
160
Schublig
160

Flavored Wings

Buffalo Hot Wings
319
Garlic Parmesan
319
Smokey BBQ
319
Cheese Bacon
319
Sesame Teriyaki
319
Asian Zing
319
Kare-Kare Wings
319
Chili Bagoong
319
Hoisin Peanut
319
Inasal
319
Creamy Pesto
319
Thai Chili Garlic
319
Salted egg
319

Saver Meals

Creamy Kawali
145
Bourbon chicken
145
Spicy Sisig
145
Garlic Chops
145
Adobo Flakes
145

Sides

Rice
200
Chicken Crisp
200
Rangoons
200
Fat Fries
200
Onion Rings
200
Nachos
200

Breakfast

Bacon
129
Spam Tap
129
Longganisa
129
About Pub Express
Pub Express is an American-style pub that is located in the Block, SM City North EDSA, Bago Bantay, Quezon City. It is very famous for its flavored wing dishes like the Buffalo Hot Wings. It is a very popular pub because of its prompt and fast service, good food, and the wonderful dining experience that it provides. Aside from all these, they also serve very affordable dishes that you will surely enjoy!
Pub Express Menu Best Seller
Pub Express' most popular dishes! These are the dishes that diners often order from the menu at Pub Express whenever they visit.
Buffalo Hot Wings – Wings are a well-liked pub dish and starter that can be ordered mild, spicy, or boneless. The dish was invented in Buffalo, New York, hence its name. An authentic buffalo chicken is deep-fried until it becomes crispy, then dumped into a pan of spicy sauce and stirred until it is coated. Diners can alter the taste to be mild, medium, or hot according to their preferences.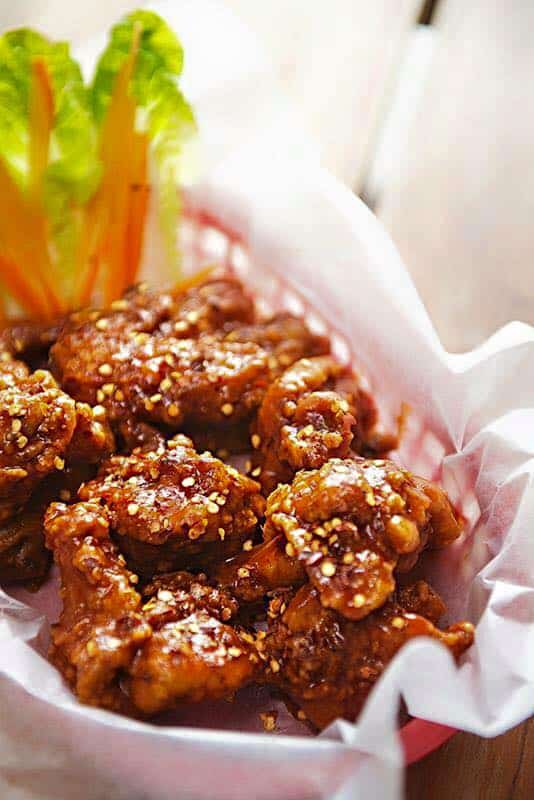 Kare Kare Wing – Since chicken wings have been popular for a while now, Pub Express found a way to add to this trend! A surefire strategy is to give this classic dish a Pinoy twist! The recipe revolves around replacing the oxtail in the traditional Kare Kare, which is made of oxtail in a peanut sauce, with chicken wings instead!
Bourbon Chicken – This Pub Express menu consists of juicy, succulent chicken thighs chopped into pieces and cooked in a delicious, melt-in-your-mouth brown sugar sauce. This dish is flavorful and filling, and it is served with rice for a full meal. The sauce is made of garlic, ginger, chicken stock, soy sauce, and brown sugar.
Adobo Flakes – We all know that Filipinos love their adobos! This is the reason why Pub Express has put a twist on the typical adobo recipe. It is made with shredded meat and dried flakes that are used as a topping. It is very popular, especially in the Mindanao region. Wrapped nicely in a banana leaf, with steamed rice, it would make a very delicious breakfast.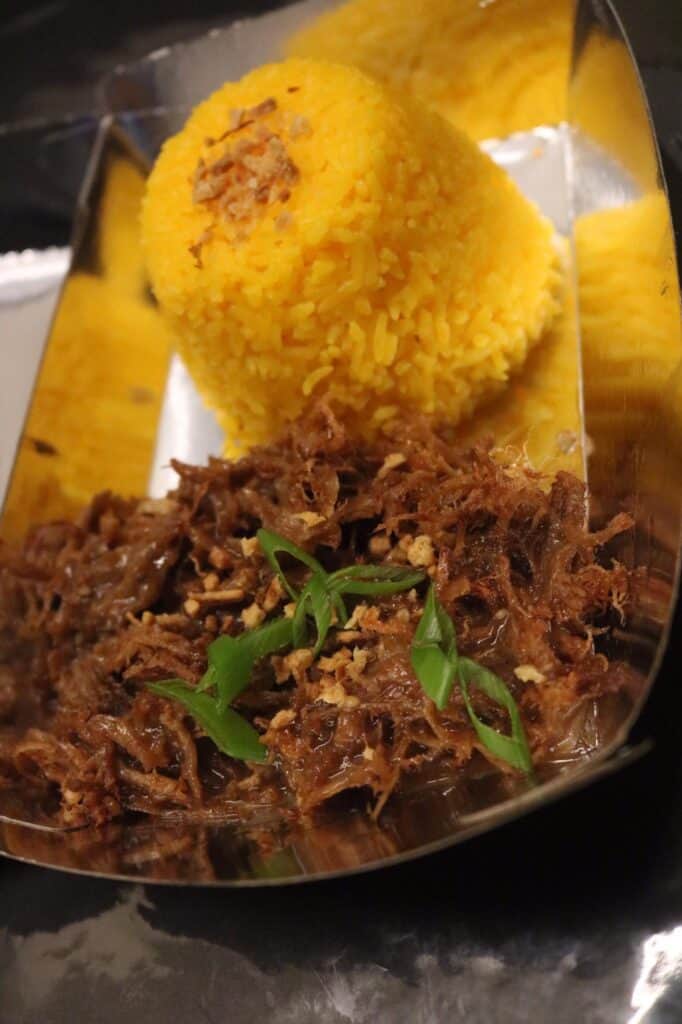 Garlic Rice – Steamed rice that has been cooked with a lot of garlic is known as sinangag. Because rice has always been a staple in the diets of Filipinos, as well as most of Asia, it is one of the most popular side dishes at Pub Express.
Flavored Wings
Chicken wings are already delicious. What if you add some extra flavor to them? Well, don't just imagine! Pub Express now offers chicken wings menu in a variety of flavors.
Smokey BBQ – The chicken wings are cooked low and slow while letting the smoke produced by the barbecue cook the meat. This gives a crunchy burned exterior and a sweet and a little bit bitter taste.
Creamy Pesto – Simple ingredients like basil pesto, heavy cream, and balsamic vinegar are used in this dish to transform an ordinary chicken breast into a wonderful dish for their diners to enjoy. It is best served with side dishes for a complete meal.
Chicken Wing Inasal – The chicken wings used in Chicken Wings Inasal are cooked to perfection after being marinated in a vinegar mixture. Although the preparation of this mouthwatering chicken wing dish requires time and patience, the result is worth the diner's wait.
Cheesy Bacon – This menu from Pub Express is made from delicious wings coated with two of the best things in the world, which are cheese and bacon. The chicken wing is simply coated with bacon and cheese and deep-fried to have a crispy texture. This menu is so simple and addictive that it ought to be prohibited!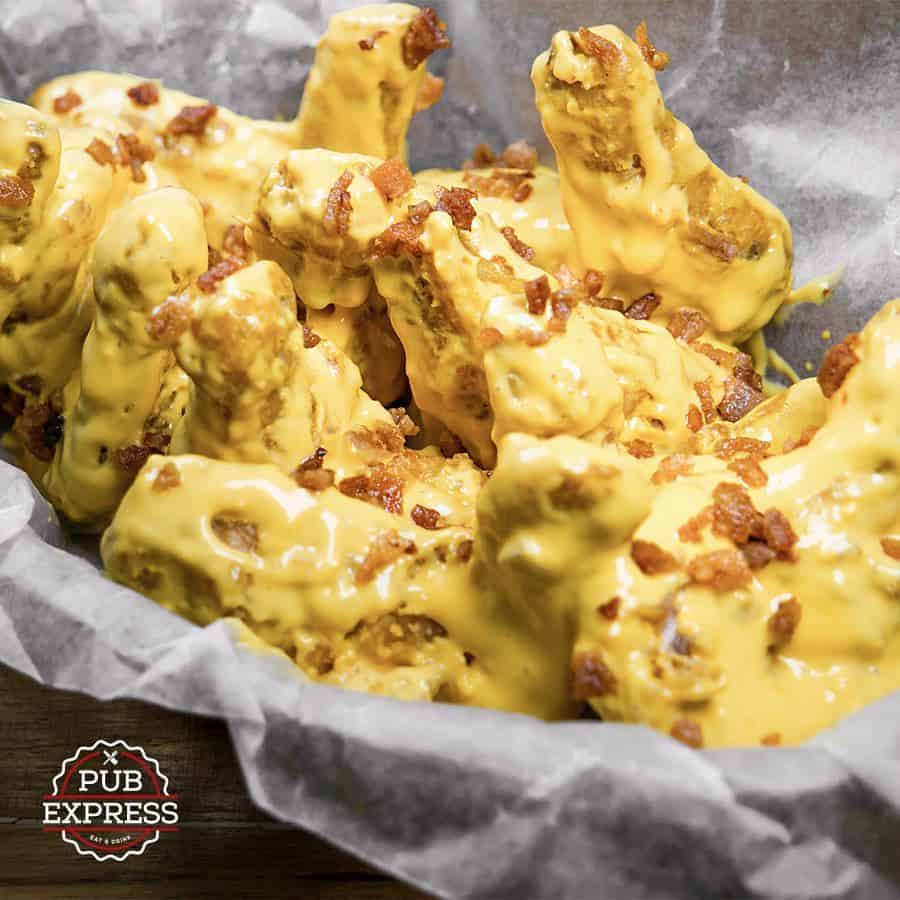 Baby Back Ribs and Sausages
This menu consists of different varieties of Italian sausage-spiced baby back ribs. These ribs have a wonderful flavor that is even more heightened because of the spicy, sweet, and tangy orange glaze. The items on this menu consist of German cheese, Hungarian cheese, Bocks, and Schublig.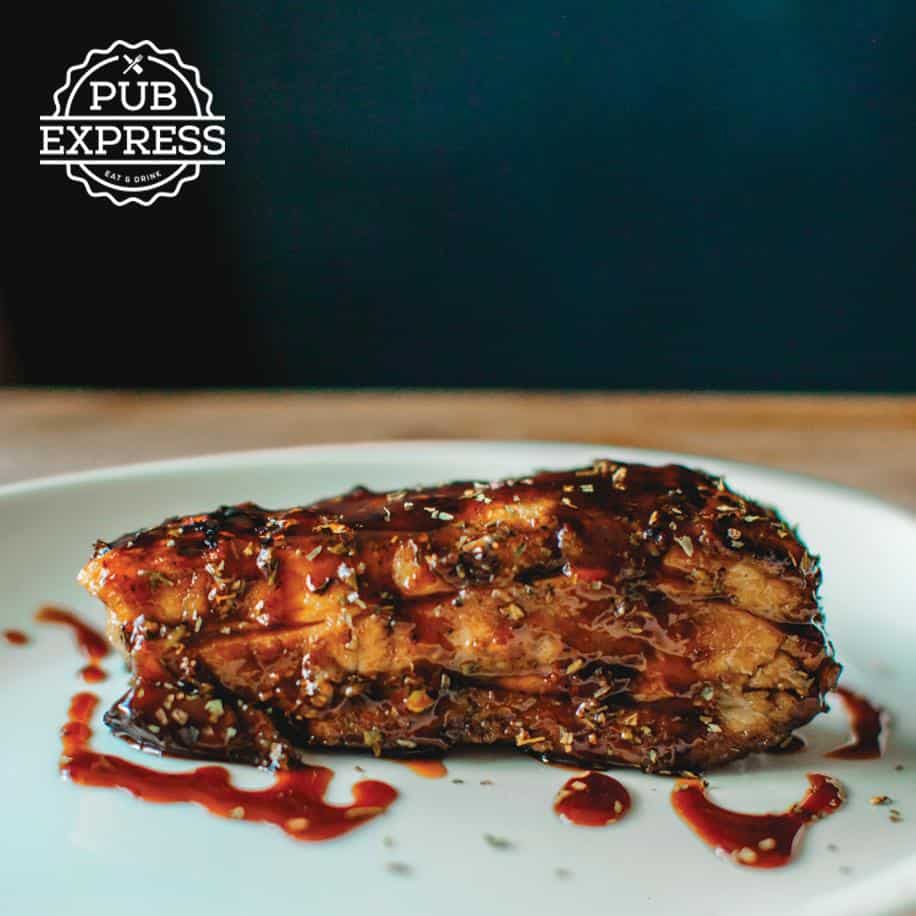 Saver Meal
Pub Express' saver meal menu will totally give you your money's worth! This menu consists of hearty and tasty dishes that will surely make any diner full. The dishes on this menu include Creamy Kawali, Bourbon Chicken, Spicy sisig, Garlic Chops, and Adobo Flakes. Rice and atchara are included in every dish.
Breakfast Meals
You can start your day right by helping yourself to one of Pub Express' breakfast meals. The items on this menu will help you gain the energy you need to jump-start your day! The dishes on this menu include Bacon, Rice, and Egg; Spam, Rice, and Egg; Tapa, Rice, and Egg; and Longganisa, Rice, and Egg.
Sides
Pub Express offers uncommon but tasty sides that complement well with the main dishes that they serve. This menu consists of Chicken crisps, Rangoons, Fat Fries, Onion Rings, and Nachos.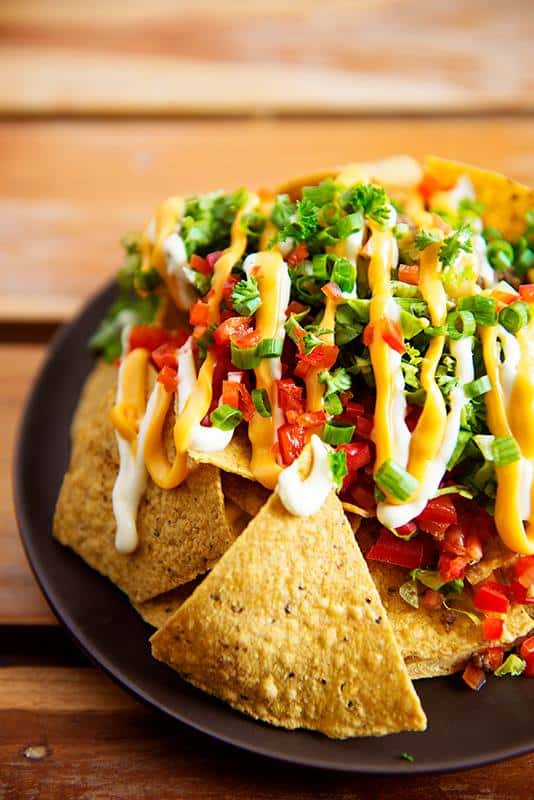 Pub Express Menu Delivery
Pub Express now accepts orders from home as they now offer delivery services. You can quickly order through the use of the GrabFood and FoodPanda applications on your mobile devices. For more information about their delivery menu or tracking orders. Visit their official Facebook page.
Social Media Pages
Pub Express is active in posting through their social media pages so I highly recommend you follow them so that you can also support their restaurant. You might get discounts or promos by browsing through their pages. The links are provided below.
Facebook: https://www.facebook.com/pubexpress/
Instagram: https://www.instagram.com/pubexpress.ph/
Twitter: https://twitter.com/pubexpress
Conclusion
Every dish on the Pub Express menu is affordable and tasty! Everything that they serve is worth your money. The ribs they serve are very soft and juicy, and the bacon is just so cheesy that it literally melts! The interior design is very neat and provides a comfortable and relaxing feeling. The staff is accommodating and very quick to respond. This is definitely a pub you must go to and come back to!