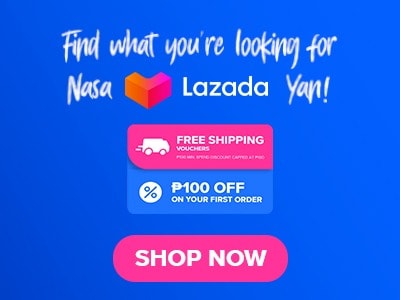 The Filling Station Menu is inspired by American and Filipino comfort foods. It consists of Filling station specialties, starters, breakfast, soup, salad, burgers, sandwiches, pizza, pasta, Filipino favorites, ice creams, cakes, malt, milkshakes, and various beverages. Its concept is derived from bar and diner. The menu is family-friendly as they offer foods that are ideal for all ages. They added local twists to their menu to make it more delectable.
Menu Items
Price (PHP)

Fresh Juices

Mango
198
Orange
298
Pineapple
198
Watermelon
198
Lemonade
198
Buko
95

Smoothies

Strawberry
185
Banana
185
Pineapple
185
Mango
185
Iced Tea
185

Cold Drinks

Soda
110
Coke or Sprite in Bottle
85
A&W/DAD's
145
Bottled Water
80
Tonic/Soda Water
125
Ginger Ale
125
Station's Iced Tea
135
Four Seasons
185
Cranberry Juice
140
Pineapple Juice
140
Calamansi Juice (Hot or Cold)
140
Mango
140
Orange
145
Red Bull (Bottle)
140
Red Bull (In Can)
210
Float (Coke/A&W/Dad's)
260
Drink of the Month (w/ souvenier plush toy)
510

Malts and Milkshakes

Classic Malt
315
Premium Malt
340
Classic Milkshake
295
Premium Milkshake
325
All Day Warmers
Irish Coffee
235
Brewed Coffee
110
Café Americano
110
Espresso
110
Espresso Macchiato
115
Cappuccino
140
Café Latte
190
Café Mocha
190
Chocolate Milk
180
Fresh Milk (Hot ot Cold)
140
Hot Tea
90

Iced Coffee

Iced Café Americano
150
Iced Cappucino
180
Iced Café Latte
180
Iced Café Mocha
180
Espresso Ice Cream
295

Breakfast

Filling Station Breakfast
665
Power Breakfast
665
Chop and Eggs
520
Steak and Eggs
680
American Breakfast
440
Continental Breakfast
220
Grandslam
495
Chicken N' Waffles
380
Omelette (Spanish)
430
Omelette (Plain)
235
Omelette Make your own (One)
80
Omelette Make your own (Two)
90
Omelette Make your own (Three)
115
Omelette Make your own (Four)
145
Burrito
410

Filipino Breakfast

Beef Tapa
470
Daing na Bangus
390

Sunny Specials

Wake Up, Little Susie
560
Uncle Sam's Panwich
398
Eggs Over My Hammy
385
Richie's Potato and Eggs
255
Peggy Sue
438

Platter

Fruit Platter
370
The Farmer
485
The Fisherman
495
The Classic
485

Pancakes and Waffles

Classic Pancake
260
Blueberry Pancake
370
Banana Pancake
270
Classic Waffle
225
Blueberry Waffle
345
Banana Waffle
245
Belgian Waffle
295
French Toast
265
*Add on 2 eggs & 2 strips of bacon
90
*Add on 2 eggs & 2 sausage links
120

Starters

Onion Rings
195
Buffalo Wings
440
Fried Calamari
355
Cajun Chicken Fingers
298
Loaded Potato Skins
260
All-Star Nachos
418
Shanghai Rolls
290
Garlic Shrimp Diablo
380
Cheese Sticks
245
French Fries
240
Chili Poppers
310
Laurel
580
Hardy
580

Soup

Chicken
130
French Onion
230
French Onion with sour bread bowl
330
Seafood Chowder
370

Salad

Esso (Green Salad)
365
Shell (Taco Salad)
363
Caltex (Shrimp or Tuna Mango Salad)
435
Texaco (Caesar's Salad)
398
Spiced Seafood Salad
365

TexMex

Chicken Quesadillas
395
5 Layer Dip
290
Burritos
395
Tacos
240
Fajitas Combo
695

Burgers

Filling Station Super Burger
550
All American Burger
550
Aussie "Angus" Burger
560
Tony's Double Double
560
Midget Burgers
440
Old Timer Burger
540
Fish Burger
410
Eggs Benedict Burger
540
Texan Burger
550
Crispy Chicken Burger
440

Sandwiches

Clubhouse Sandwich
445
Grilled Chicken Pesto Sandwich
395
Tuna Cheese Melt
395
*Add on
Cheese
36
Bacon
85
Egg
30
Mushroom
30
Ham
85
Sloppy Joe's Meatball Sandwich
490
Shrimp Po'Boy
650

Baked Pies

Beef Pie
320
Chicken Pie
650
*Add: Mashed Potato & Gravy
95
DiMaggio's Early Riser
390
The Alcatraz
390
The Ricardo
390

Pizza

Filling Station Pizza
575
Calzone
445
Polka Dots
515
Cheese
435
Hawaiian
515
Margherita
515
Chicken BBQ
575
Vegetarian
575
Four Cheese
575
California Bacon
515
Meat Lovers
575
Pizza di Sardine
540
Cheese Burger Pizza
550

Pasta

Pasta Alioli
280
Presley's Pasta
575
Chorizo Pasta
415
Some Like It Hot
460
Sinatra's Chicken Pesto
460
Dean's Carbonara
420
Godfather's Bolognese
398
Seafood Holiday
520
Don Vito's Sardines
395
Three Cheese Lasagna
450

Station Specialties

Coupe De Ville (Grilled Prawn)
798
Jaguar (Fillet Mgnon)
980
De Soto (Tenderloin Steak)
880
John Wayne's Rib Eye
1995
Edsel (Fried Porkchop)
590
Camaro (Baby Back Ribs)
680
Crown Royale (Grilled Chicken)
560
Ford (Fish and Chips)
460
T-Bird (Country Fried Chicken)
650
El Dorado (Seafood Platter)
520
Chevrolet (Grilled Salmon)
790
Shelby (Tenderloin Tips)
450

Filipino Favorites

Fried Tilapia
395
Sweet and Sour Tilapia
395
Bulalo
495
Sinigang na Baka
465
Sinigang na Baboy
430
Sinigang na Hipon
465
Adobo (Baboy)
330
Adobo (Manok)
320
Adobo (Mixed Pork and Chicken)
330
Crispy Pata
720
Kare-Kare
515
Bagnet
350
Fresh Lumpia (1 pc.)
180
Chopseuy
405
Tokwa't Baboy
335
Laing (Shrimp or Bagnet)
285
Pork Barbecue (5pcs.)
280

Rice & Noodles

Filling Station Rice
320
Yang Chow Rice
310
Steamed Rice
45
Garlic Rice
60
Pancit Mixed
250
Pancit Bihon
250
Pancit Canton
250
Pancit Palabok
290

Curry

Chicken Curry
410
Shrimp Curry
510

Sizzlers

Sizzling Squid
405
Sizzling Bulalo
480
Pork Sisig
305
Squid Sisig
280
Bangus Sisig
380

Ice Cream

Lucille's Hot Fudge Bowl
395
Trio's Los Panchos
395
The Three Stooges Mini
295
Mr. Bean's Dirty Mess (Solo)
210
Mr. Bean'S Dirty Mess (To Share)
390
The 1945 Kiss
320
S'more Double Dutch, Please
350
The King Kong
325
The Three Stooges Giant
505
Scoops (Classic)
120
Scoops (Premium)
150
Fiesta Pinoy
395

Cake

Chocolate Trio (Slice/solo)
135
Chocolate Trio (mini)
510
Chocolate Trio (whole)
1115
Double Choco Tower (slice/solo)
165
Double Choco Tower (mini)
565
Double Choco Tower (whole)
1315
Blueberry Cheesecake (slice/solo)
265
Blueberry Cheesecake (whole)
2120
Choco Caramel (slice/solo)
165
Choco Caramel (mini)
510
Choco Caramel (whole)
1315
Yema Cake (slice/solo)
135
Yema Cake (mini)
510
Yema Cake (whole)
1115
Frozen Brazo De Mercedes (slice/solo)
130
Frozen Brazo De Mercedes (whole)
1120
Mango Freeze (slice/solo)
135
Mango Freeze (whole)
1110
Choco Dome (slice/solo)
135
Choco Dome (mini)
620
Carrot Cake (slice/solo)
150
Carrot Cake (whole)
1215
Apple Pie (slice/solo)
135
Apple Pie A La Mode (slice/solo)
175
Walnut Brownies
85
Blueberry Muffin
150
Oatmeal Cookies
85
Leche Flan
98
Caramel Chiffon (slice)
135
Caramel Chiffon (whole)
135
Rainbow Cake (slice)
145
Rainbow Cake (whole)
520
About Filling Station
Filling Station is a place in Makati, Philippines where you can play, drain, and refill. It is founded in 1989 by a former US navy cook to introduce US history in the Philippines.
Today, this bar and café have several rooms that are decorated with American memorabilia from the 1950s. It is open around the clock and it is usually busy and crowded from 8:00 PM onwards.
Filling Station Menu Best Seller
Power Breakfast – It consists of two eggs in any style, bacon, ham, sausage, baked beans, mushroom, hash browns, and toasted assorted bread with butter and jam.
Continental Breakfast – This Filling Station menu comes with two slices of toasted assorted bread with butter and jam and is served with sliced fruits.
Buffalo Wings – Deep-fried chicken wings are glazed with special spices and coated in cayenne butter sauce. It comes with celery sticks and blue cheese dip.
All-Star Nachos – Cheese, sour cream, ground beef, corn, black olives, and jalapeno are spread over the colored nacho chips.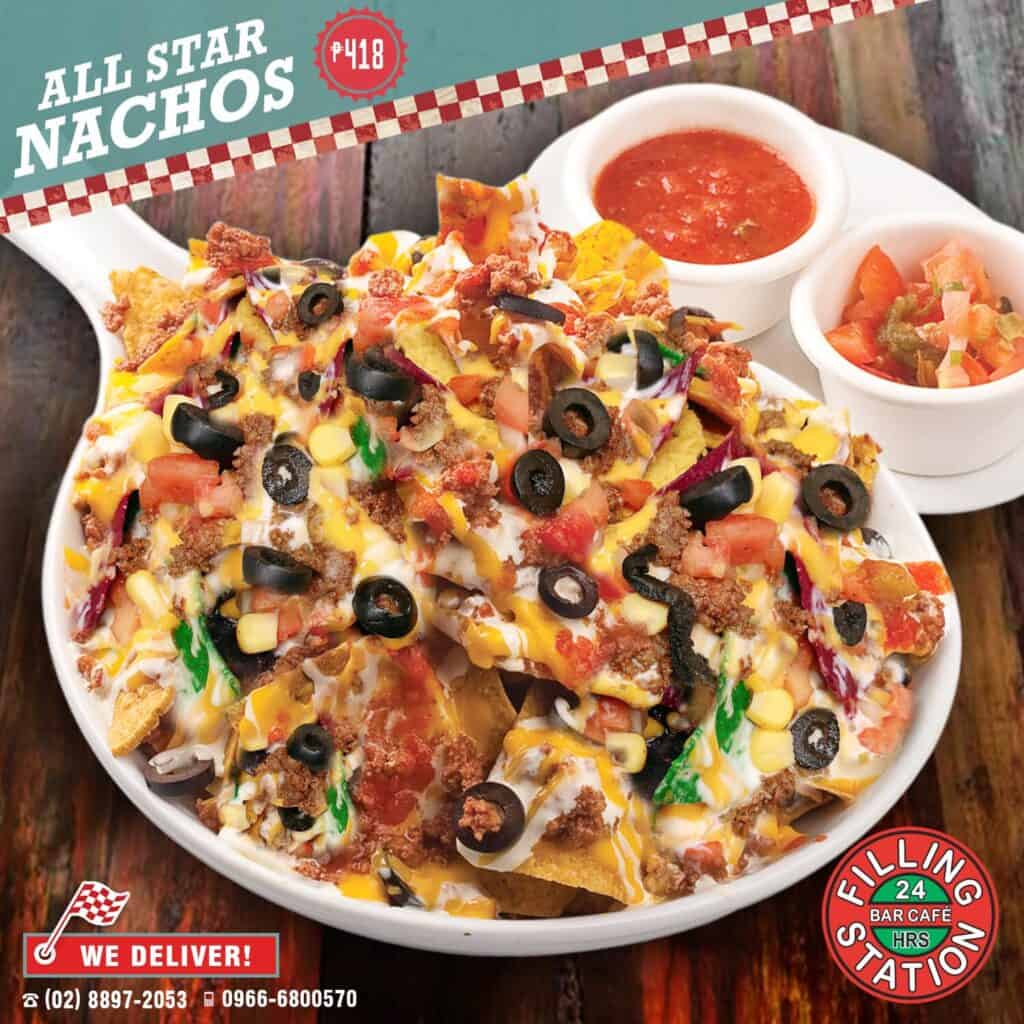 Garlic Shrimp Diablo – Shrimp are sauteed in extra olive virgin oil with paprika, green olives, and fresh garlic. This starter is served with garlic bread.
Seafood Chowder – Various kinds of seafood are mixed in this menu of Filling Station. It is flambeed with white wine and served in a homemade sour bread bowl.
Esso – It is a green salad that consists of red and green bell pepper, lettuce, onion, tomato, and cucumber. You can choose from Italian and Thousand Island dressing.
Midget Burgers – It consists of 3 midget burgers with mushroom gravy.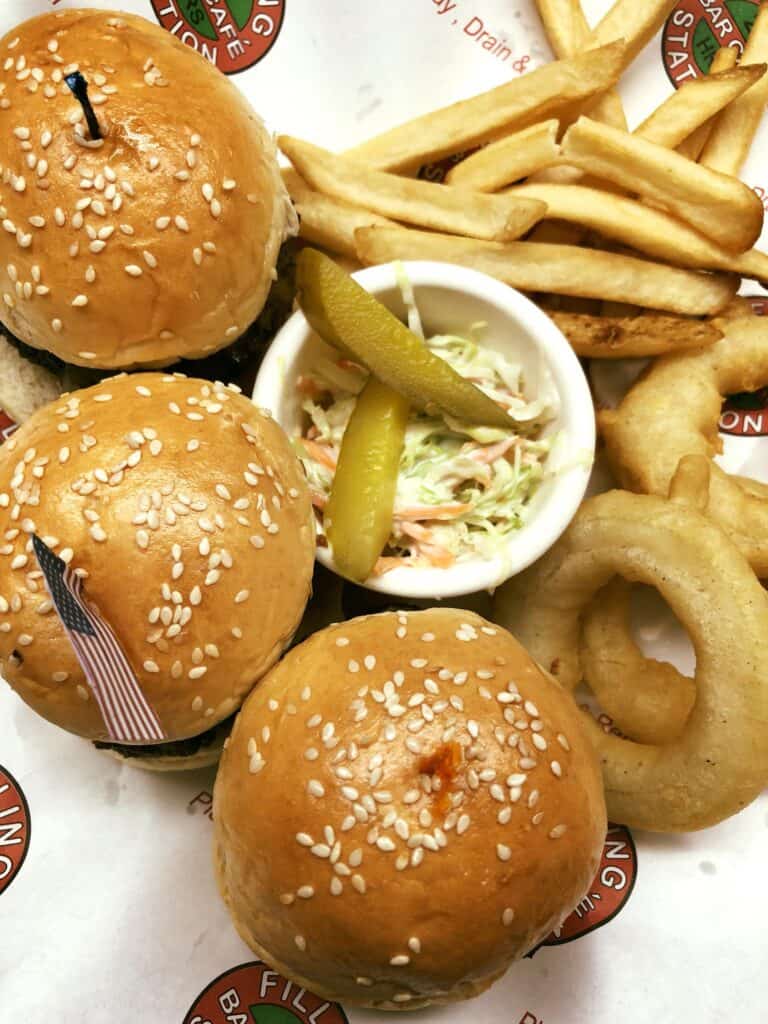 Clubhouse Sandwich – Chicken salad, bacon, egg, cheese, ham, and lettuce are sandwiched in three layers of bread.
Beef Pie – Beef and vegetables are stewed and come with gravy on the side to enhance their flavor. You can also add mashed potato and gravy to satisfy your cravings.
Chicken BBQ – Its thick crust is topped with grilled chicken fillet in barbecue sauce, tomatoes, and onions.
California Bacon – This pizza is made up of bacon, pineapple, mushroom, and onions.
Presley's Pasta – The shell pasta in bechamel sauce is sauteed in onion, mushroom, celery, tomato, and parmesan cheese. It comes with grilled beef tenderloin and slices of pizza crust.
Dean's Carbonara – It is made up of spaghetti pasta that is cooked with creamy white sauce, bacon, ham, mushroom, and parmesan cheese.
Seafood Holiday – Linguine is sauteed in marinara sauce with squid, mussels, shrimp, and parmesan cheese.
De Soto – This Filling Station menu is a beef tenderloin steak that is grilled to perfection. It is served with mushroom gravy, mashed potato, and buttered vegetables.
Camaro – It is a baby back pork rib that is served with French fries and corn kernels.
Filling Station Breakfast Menu
Filling Station Breakfast – This special breakfast consists of harsh brown and toasted bread with jam and butter, sausage links, two eggs, and bacon.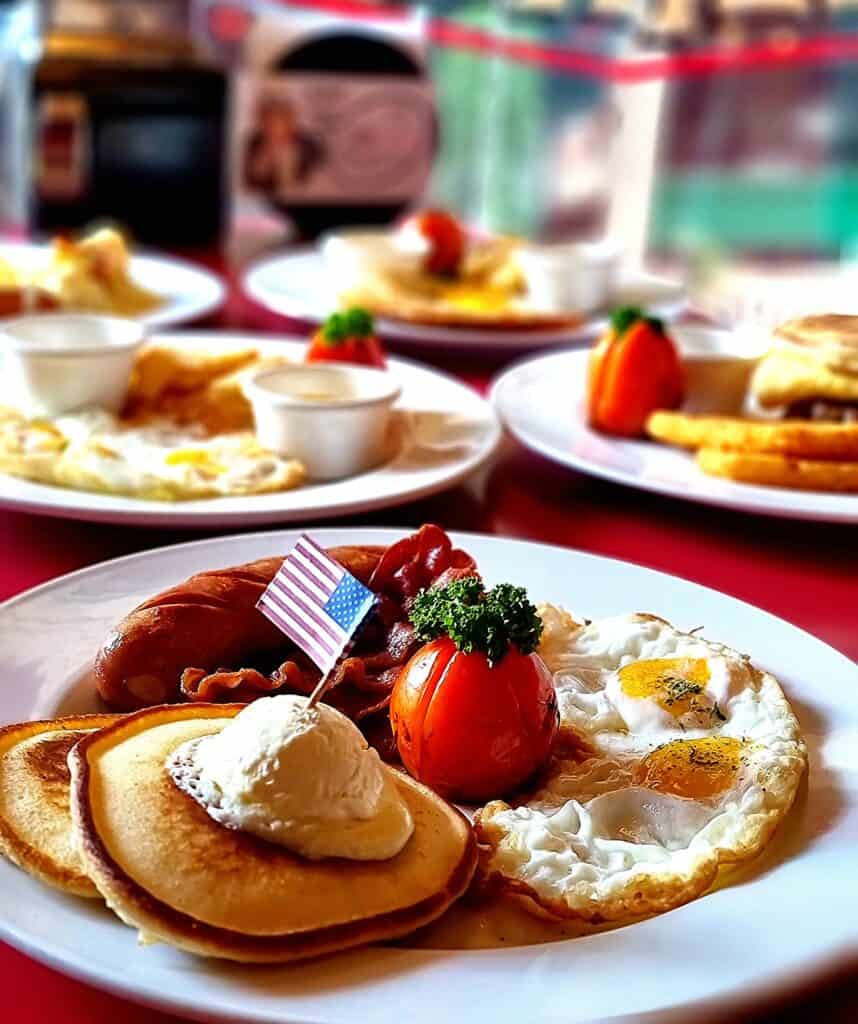 Chop and Eggs – It comes with grilled tenderloin steak, French fries or toasted bread, two eggs, and your choice of roasted sliced potato.
Steak and Eggs – Ground hanger steak is cooked with green olives, chorizo, and raisins. It is served with egg over garlic rice and fried plantains.
American Breakfast – This American-inspired breakfast is served with hash brown and toasted butter and jam, two eggs, your choice of ham, and bacon or sausage.
Lunch Menu
Coupe De Ville – King prawns are grilled and drizzled with lemon butter sauce and served with baked potato and vegetables.
Jaguar (Fillet Mignon) – Homemade bearnaise sauce is spread over grilled beef tenderloin and wrapped in smoked bacon and served with mashed potato and vegetables. A highly recommended menu that you should try at Filling Station if you love eating beef.
John Wayne's Rib Eye – A tender, juicy, and delectable rib eye is served with garlic or plain rice, French fries, baked potato, garlic confit, buttered vegetables, corn on a cob, and a choice of roasted sliced potato.
Edsel – Porkchop is fried and crusted with parmesan and comes with buttered vegetables, garlic confit mashed potatoes topped with gravy, and a side of applesauce.
Filipino Favorites
Tilapia – Fried Tilapia and Sweet and Sour Tilapia are the two Tilapia dishes that Filling Station offered.
Bulalo – It is a beef shank soup that is rich in taste and is cooked with various vegetables and special ingredients.
Sinigang – It is a popular Filipino stew that is well-known for its sour and savory taste. Beef, pork, and shrimp sinigang are the three sinigang varieties that Filling Station offered.
Adobo – A famous Filipino Cuisine that is available on the Filling Station menu where pork, beef, or chicken is marinated in vinegar, soy sauce, garlic, black peppercorns, and bay leaves. The adobo variants that Filling Station offers are mixed pork and chicken, beef, and chicken.
Fresh Lumpia – It consists of 1 piece of fresh lumpia where vegetables are wrapped in flour wrapper. It comes with a savory and sweet sauce that makes it more delectable.
Rice – Rice is always a part of the Filipino food menu. Filling Station offers rice varieties that Filipinos loved such as garlic rice, steamed rice, yang chow rice, and filling station rice in pork adobo flakes.
Pancit – Pancit is a common food that is part of Philippine culture. It is easier to cook and it comes in different varieties. The most loved Filipino pancit varieties that are offered by Filling Station are Pancit Mixed, Pancit Bihon, Pancit Canton, and Pancit Palabok.
Sizzling Foods – It is served on a hot sizzling plate. The foods that are offered by Filling Station are Sizzling Squid, Sizzling Buffalo, Pork Sisig, Squid Sisig, Sizzling Bulalo, and Bangus Sisig. Among these sizzling foods, Pork Sisig, which is made up of pig head is the Filipinos' favorite.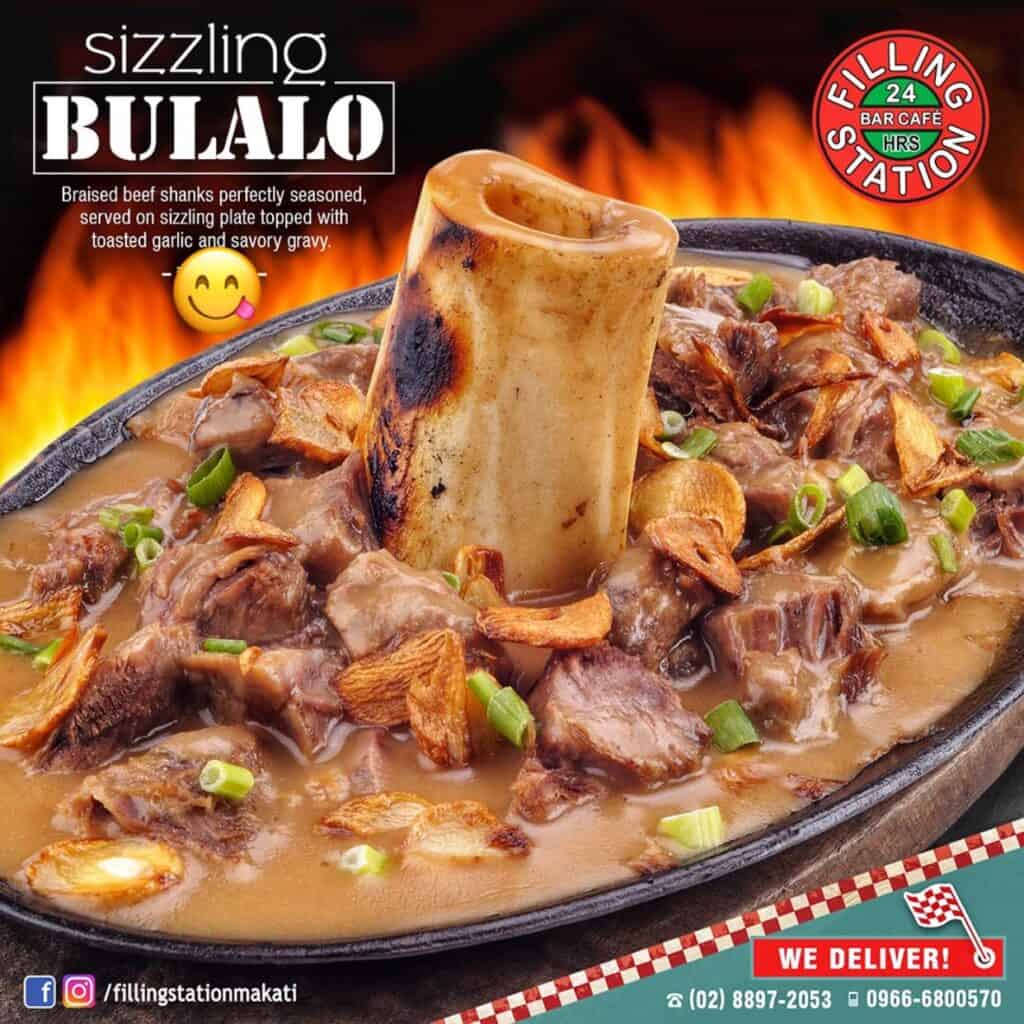 Burgers and Sandwiches
Eggs Benedict Burger – Poached egg and hollandaise sauce are spread over a half-pound burger. French fries or roasted sliced potatoes are offered as a side dish.
Texan Burger – The flamed grilled burger patty is layered with bacon, cheese, tomato, and lettuce. It comes with roasted sliced potato and Filling Station's BBQ sauce.
Crispy Chicken Burger – Chicken's crispy texture and spicy buffalo sauce make it a delectable burger
Grilled Chicken Pesto Sandwich – Grilled chicken breast, fresh pesto sauce, lettuce, cheese, and tomato are stuffed in freshly baked Tuscan bread and served with pesto dressing.
Sloppy Joe's Meatball Sandwich – Hearty and thick meatballs and gooey mozzarella is covered with freshly made marinara sauce with hidden pesto inside. Roast potato chips are served as its side dish.
Filling Station Menu Delivery
Filling Station delivery is available via Foodpanda. They also deliver in areas within 1 kilometer and there is a delivery fee of Php 50.00. It is also available for dine-in and customer pickup. You can also message their social media pages for your orders. Complete details must be provided so that they will be able to assist you better.
Social Media Pages
Filling Station menu, announcements, schedules, events, and offers are posted on their social media pages. Their landline number and email address can be accessed on their Instagram account. Location, hours, menu, packages, photoshoot & party packages, restaurant entry guidelines, and reservations can be accessed on their Facebook Messenger. Visiting their social media pages before you get there will help you to know what you should expect from this restaurant.
Facebook: https://www.facebook.com/fillingstationmakati/
Tiktok: https://www.tiktok.com/@fillingstationbarcafe00
Instagram: https://www.instagram.com/fillingstationbarcafe/
Conclusion
The menu of Filling Station is extensive so you'll surely find something that will satisfy your cravings. It is a great place that will give you a glimpse of American history. You can take wonderful pictures that you can proudly share on your social media accounts. This restaurant is family-friendly, but it is not ideal for kids in the evenings because it is the time when it gets crowded and noisy.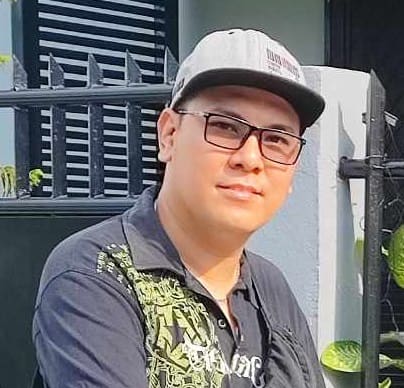 Hi! I'm Nivek Strife, the person who made MenuPH. I'm the one who added most of the popular menus you see on this website, and I really hope you enjoy them! Feel free to check them all out.
Growing up, I was surrounded by lots of tasty foods, like the classic Adobo and the sweet Leche Flan. That love for the many flavors of the Philippines is what got me excited about adding to MenuPH. When I learned how to make websites, I saw the need for a place to show off all the amazing Filipino dishes, and that's how MenuPH started.
MenuPH isn't just a website; it's like a fun journey into food. I've teamed up with famous chefs and found great places all over the Philippines to bring you a bunch of menus that show off the best of Filipino cuisine. Whether you're into the usual dishes or new twists, MenuPH is here to guide you through the rich world of Filipino flavors.
With MenuPH, my aim is to help local businesses, talk about good food choices, and make a group of friends who love food. No matter if you like fancy restaurants or street food, MenuPH has something for you. Come join me on this food adventure as we find great places, taste real flavors, and enjoy the unique food traditions that make the Philippines awesome.