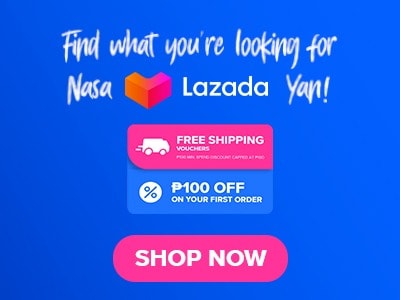 The Aunties Bakery menu offers a wide range of Filipino bread and dishes. The menu of its bakery consists of Filipino bread, Pastries, Savory Breads, House Staples, and Ensaimada. The restaurant items that it offers are All-Day Breakfast, Pancit Malabon, Beef, Pork, Chicken, Seafood, Rice, Healthy Options, Merienda, Party Packs, and Homemade Desserts. It has also an events place where you can hold a meeting, parties, or any kind of event.
Below, you'll find the updated list of Aunties Bakery menu prices.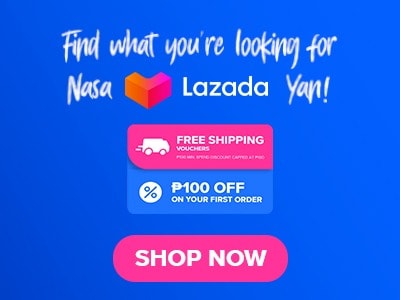 Menu Items
Price (PHP)

All Day Breakfast

Cabanatuan Lngganisa
275
Beef Tapa
275
Champorado
180
Lugaw Tokwa Lechon
195

Rosa's Favorites

Spicy Chicken Wings
250
Daing na Bangus
250
Lechon Kawali
280
Lumpiang Shanghai
250
Binagoongang Baboy
280
Barbecue on Stick
250

Beef

Oxtail Kare-Kare
350
Mechado
350

Pork

Binagoongang Baboy
300
Lechon Kawali
320
Barbecue (5 Sticks)
275
Lumpiang Shanghai
200
Sinigang na Baboy
320
Chicharon Bulaklak
360
Pork Belly with Honey Sampaloc
400

Chicken

Chicken Barbecue
230
Garlic Adobo
260
Cheesy Chicken Lollipop
180

Seafood

Sotanghon Pusit
380
Baked Bangus
350
Lumpiang Tinapa
200
Daing na Bangus
220
Tinapang Bangus
380
Sinigang na Hipon
300
Sinigang na miso sa Maya Maya
520

Rice

Seafood Rice
450
Garlic Rice
145
Bagoong Rice
140
Tinapa Rice
160
Plain Rice
35

Rita's Pancit Malabon (Classic)

Pancit Solo (Single)
120
Bilao Small (Serves 5) (1000g)
440
Bilao Medium (Serves 8) (1500g)
650
Bilao Large (Serves 12) (2250g)
900
Bilao XL (Serves 18) (3250g)
1220
Bilao Super Big (Serves 24) (4500g)
1500

Rita's Pancit Malabon (Sisig)

Pancit Solo (Single)
150
Bilao Small (Serves 5) (1000g)
525
Bilao Medium (Serves 8) (1500g)
765
Bilao Large (Serves 12) (2250g)
1190
Bilao XL (Serves 18) (3250g)
1530
Bilao Super Big (Serves 24) (4500g)
1920

Healthy Options

Kalabasa Okoy (5 pcs)
250
Pinakbet
270
Laing
160
Tofu Sisig
280

Merienda

1984 Cheeseburger
110
Meaty Spaghetti
168
Tokwa't Baboy
150
Tofu Sisig
280

Best for Parties

Party Noodles w/ Lumpiang Shanghai
2160
Fiesta Mix (6 pax)
1200
Barbecue (15 Sticks)
850
Barbecue (30 Sticks)
1660
Barbecue (50 Sticks)
2770
Seafood Rice (10 pax)
1200
Sotanghon Pusit (6 pax)
750
Lumpiang Shanghai (36 pcs)
600
Pinoy Meaty Spaghetti (4 pax)
590
Kalabasa Okoy (10 pcs)
500
Lechon Kawali
1300
Kut-Chi Bilao
420

Homemade Desserts

Rita's Homemade Halo-Halo
95
Real Cassava Pichi (15 pcs)
120
Real Cassava Pichi (60 pcs)
525
Black Kutsinta
145

Bundles

Bundle A (Good for 6-8)
1740
Bundle B (Good for 10-12)
2735
Bundle C (Good for 16-18)
3855
Bundle D (Good for 23-25)
4120
BAKERY MENU

Bestsellers

Softroll
92
Asado Roll
212
Spanish Bread
113
Soft Cheesy Loaf
110
Raisin Loaf
190
Cinnamon Rolls
166

Filipino Breads

Pan de Coco
80
Kababayan
92
Kalihim
126
Ube Macapuno Loaf
185
Monggo Swirl
92
Ube Cheese Pandesal
138
Camachile
120

Pastrie's by Auntie's

Prune Cake Square
650
Prune Cake Round
380
Chewy Crinkles
165
Best Brownies
189
Caramel Bars
170
Banana Bread
142
Halfmoon Cookies
160

Savory Breads

Ham & Cheese
138
Sausage Rolls
200
Tuna Pan
200

Ensaimadas

Queso de Bola
320
Ube Queso Ensaimada
320
Cheddar Cheese Roll
220

House Staples

Artisan Bread
150
Dinner Roll
80
Pullman Loaf
80
Loaf Bread
80
Pandesal
60
Egg Pandesal
85
Malunggay Pandesal
72
Raisin Cups
138
Garlic Sticks
58
Hamburger Buns
85
Bread Pudding
150
About Aunties Bakery
Auntie's Bakery Restaurant and More is the brainchild of Auntie Rosa Cruz. Pancit Malabon is the first dish that she offered to her customers. She took a baking class and applied the knowledge and skills that she gained to create delectable bread and pastries. Today, they offer different kinds of bread and classic Filipino cuisines that are freshly baked and cooked every day.
Aunties Bakery Menu Best Seller
These are some of the restaurant's best-selling items that you should try as these will surely satisfy your cravings.
Soft Roll. This is Aunties Bakery best-selling menu bread since 1984. It is recognized as the best soft roll in town. You can pair this bread with the Kapeng Barako, which is made from original and popular Kapeng Barako beans from Batangas.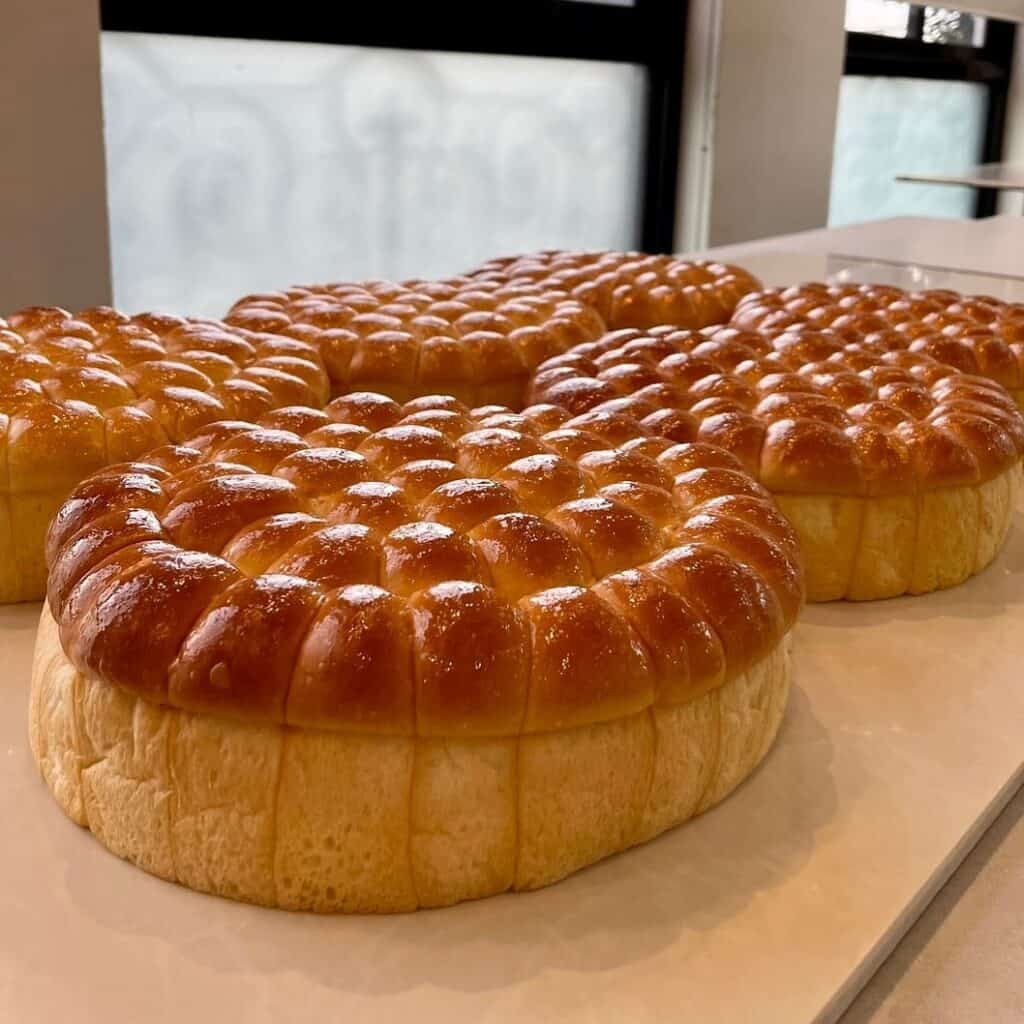 Asado Roll – It is a soft bread roll stuffed with special Homemade Pork Asado filling. Each pack contains nine pieces of rolls. It is a perfect "pasalubong" that your family will love. 
1984 Cheeseburger – It is one of the best-selling merienda dishes that uses the same recipe since 1984. This cheeseburger is made up of homemade burger buns, patty, and sauce. 
Oxtail Kare-Kare – A well-loved signature Kare-Kare since 1984. Oxtail is cooked with peanut-based stew, special spices, and vegetables such as string beans, cabbage, and eggplant. Its savory and rich peanut sauce makes this dish flavorful.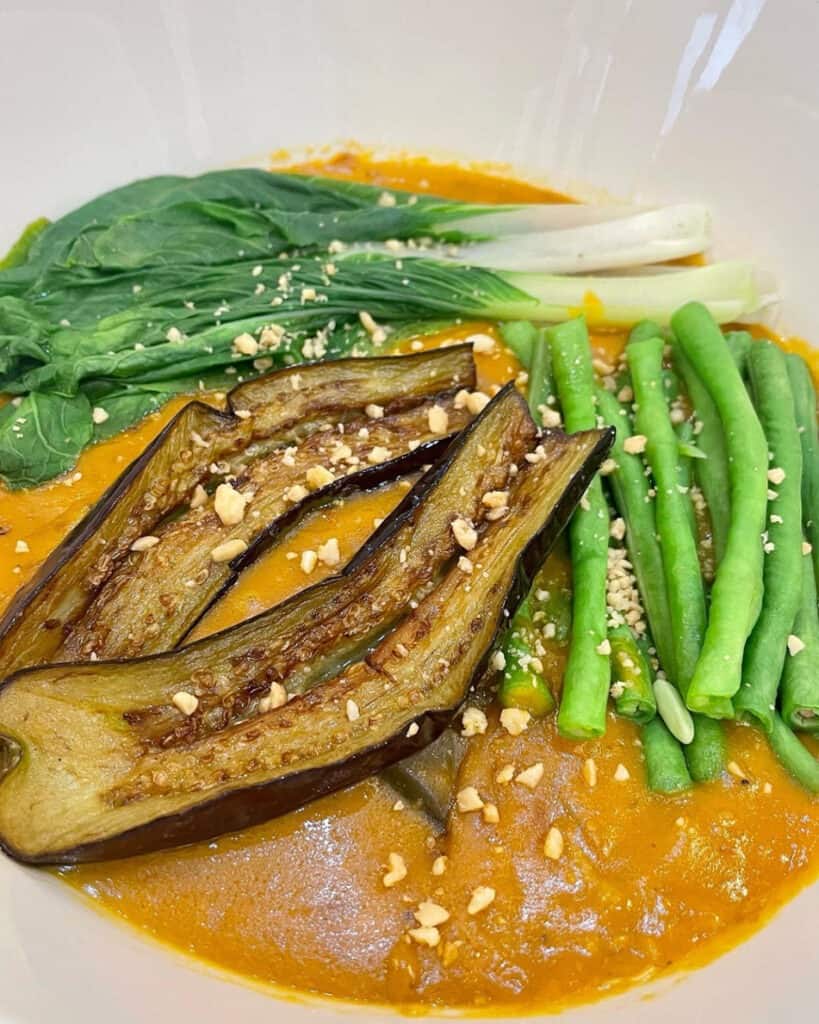 Rita's Homemade Halo-Halo – A homemade dessert that is ideal for hot weather. It is made up of various ingredients such as Homemade Milky Ice, Puff Rice, Nata de Coco, Homemade Monggo Halaya, Saba, Sago, Corn Kernel, Kaong, and Macapuno. 
Aunties Bakery All-day Breakfast Menu
All-day breakfast meals consist of comforting dishes that are available throughout the day. It allows customers to enjoy these meals at any time of their choice.
Cabanatuan Longganisa – A set of breakfast menu from the Aunties Bakery that is popularly known as "Longsilog" as it consists of longganisa, sinangag (garlic rice), and itlog (egg). The longganisa that it offers originates from Cabanatuan which is made of beef. 
Beef Tapa w/ Egg & Rice Garlic – This is another traditional Filipino breakfast commonly known as "Tapsilog". It is made up of thinly sliced beef, rice garlic, and egg. 
Champorado w/ Crispy Dulong & Salted Egg – It is a classic champorado dish cooked in rich peanut flavor with dulong and egg. The sweetness of champorado and the saltiness of dulong and egg complement well and create a delectable dish. 
Lugaw Tokwa't Lechon – It is the restaurant's signature dish that is flavored and colored with atsuete topped with egg, tofu, and lechon kawali.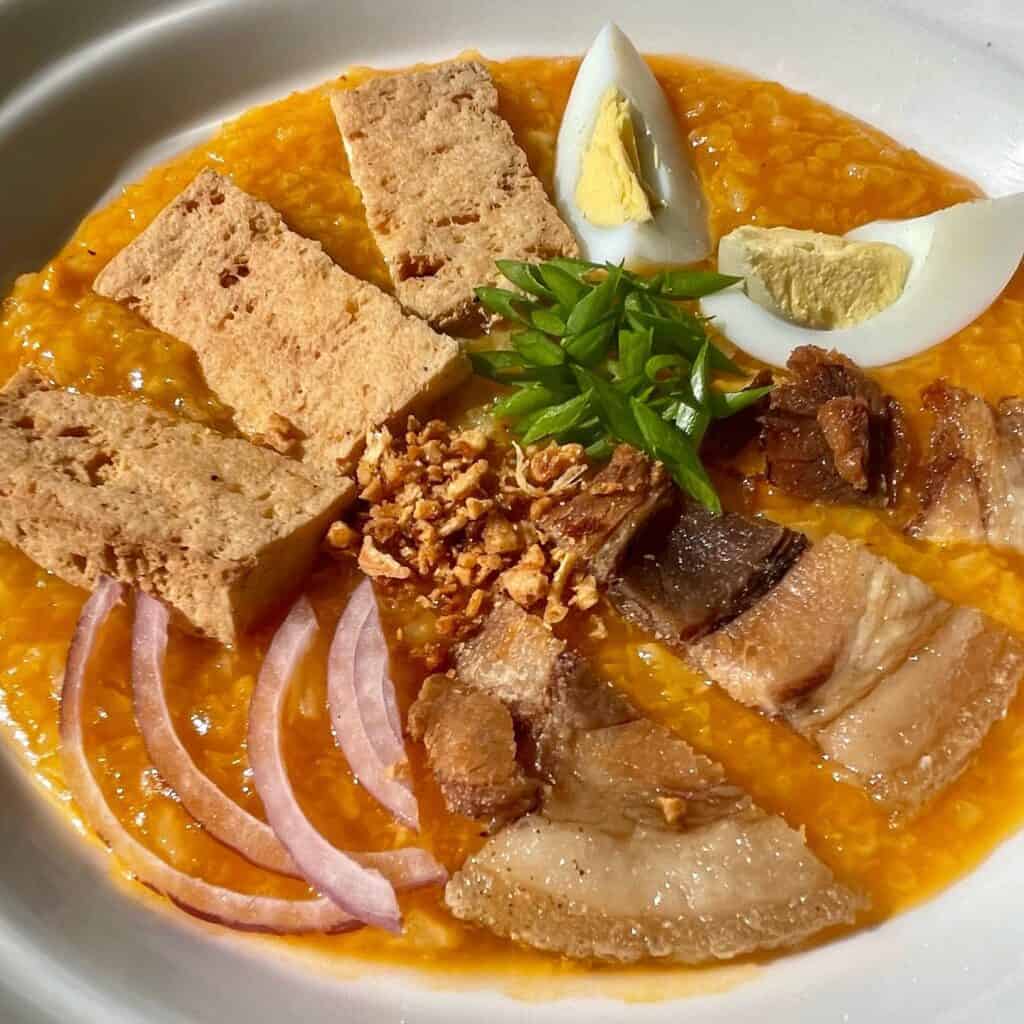 Rosa's Favorite
These are the signature and favorite dishes of Auntie Rosa Cruz. All of these dishes come with garlic rice, Pancit Malabon, and 2 pieces of Real Cassava Pitchi.
Spicy Chicken Wings – It is a perfect meal for those who love spicy-flavored chicken wings. Its flavor profile will surely boost your appetite and satisfy your cravings. 
Daing na Bangus – Milkfish is marinated in a special mixture and deep-fried to perfection. It is served with eggplant and a special dipping sauce. 
Lechon Kawali – The pork belly is deep-fried until it becomes crispy. Atchara and a special dipping sauce also come with this dish. 
Lumpiang Shanghai – Lumpiang Shanghai is one of the well-loved snacks and viand because of its crunchiness and delectable taste. It is served with a sweet chili sauce that goes well with the texture and flavor of Lumpia. 
Binagoongan Baboy – A classic Filipino menu from Aunties Bakery where tender pork chunks are cooked with the restaurant's special bagoong on a bed of grilled eggplant.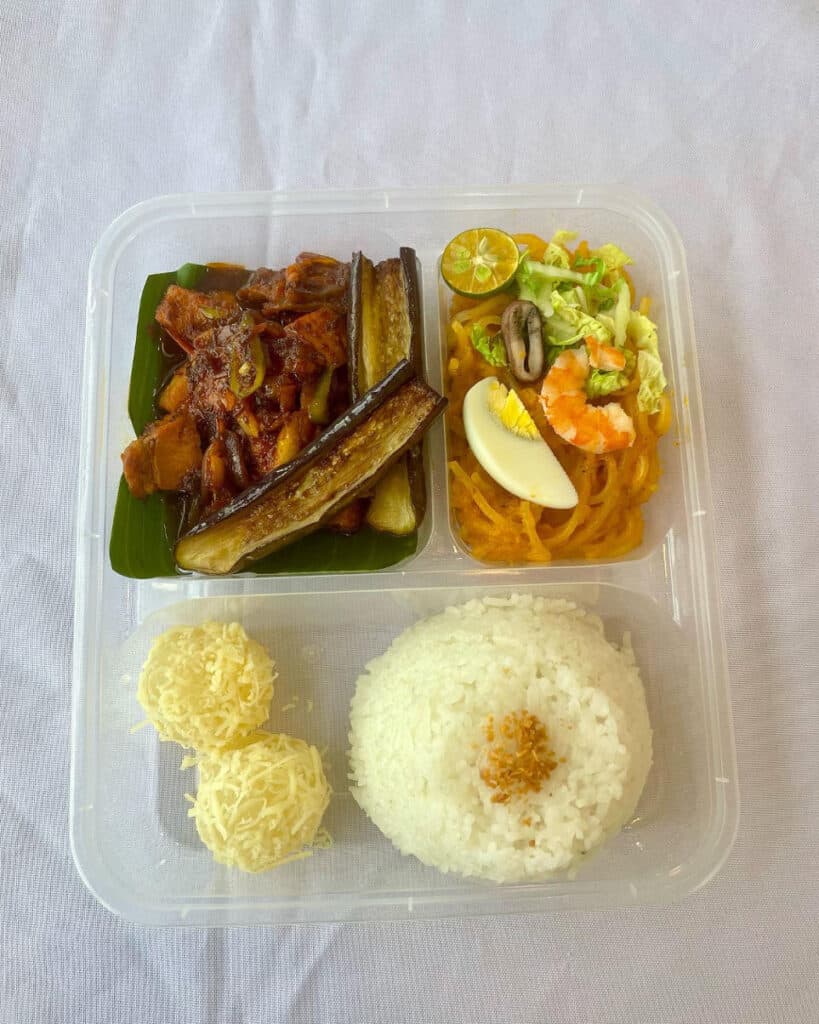 Pork
The pork menu of Aunties Bakery offers classic and innovative Filipino cuisines that will tease your taste buds. 
Pork Belly w/ Honey Sampaloc Sauce – It is made up of tender pork belly glazed with Honey Sampaloc Sauce. The taste of honey and tamarind makes this dish unique and flavorful. 
Sinigang na Baboy – Sinigang na Baboy is a Filipino soup that contains a souring agent and various vegetables. It is a comfort food that is ideal in cold weather. 
Chicharon Bulaklak – It is a famous Filipino appetizer that can also be eaten as a viand. Ruffle fat is deep-fried until it becomes crispy, flavorful, and fatty. 
Barbecue – Barbecue is one of the most-sought dishes in every restaurant and event. It is a grilled pork barbecue on a stick served with spiced vinegar. It also offers three barbecue sets that are ideal for parties.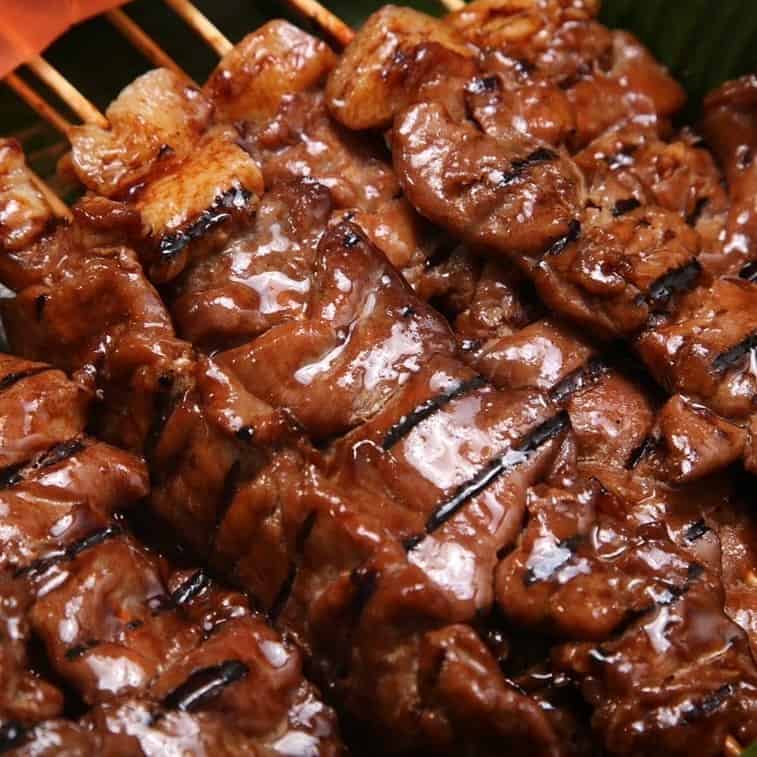 Lechon Kawali. Deep-fried pork belly is served with the restaurant's special lechon sauce. It is also available in party packs which makes it perfect for any occasion.
Chicken
Chicken dishes consist of Chicken Barbecue, Garlic Adobo, and Cheesy Chicken Lollipops. These dishes are considered as one of the table-pleasers ideal for all ages. Its Cheesy Chicken Lollipops will surely be loved by everyone, especially the kids. The types of rice dishes that you can pair with it are garlic, bagoong, tinapa, and plain rice.
Seafood Rice
Seafood Rice is fried rice that is flavored with aligue and topped with shrimp, squids, and eggs. The seafood ingredients from the Aunties Bakery menu look colorful and festive. This is an ideal rice meal for seafood fanatics. It is good for 3 people. This is the best-selling rice meal as it is visually appealing and bursting with flavors.
Aside from seafood rice, it also offers seafood dishes such as Sotanghon Pusit, Baked Bangus, Lumpiang Tinapa, Daing na Bangus, Tinapang Bangus, Sinigang na Hipon, Sinigang sa miso na Maya Maya.
Aunties Bakery Menu Delivery
Auntie's offers delivery services through store delivery and GrabFood. You can also message them on Facebook messenger and Instagram or their official numbers 0933-8298295 and 027369-000. Its delivery time is from 10:00 AM to 6:30 PM.
Aunties Bakery Social Media Pages
You can visit Aunties Bakery's social media pages to get the latest news about their food menu, promos, and discounts. You can also message them for more inquiries. The links are provided below to redirect you to their official pages and website.
Facebook: https://www.facebook.com/auntiesbakery1984/
Instagram: https://www.instagram.com/auntiesbakery.1984/
Website: https://www.aunties1984.com/
Conclusion
Aunties Bakery's menu is ideal for those who are looking for a convenient place where they can enjoy classic and popular Filipino pastries and cuisines. It is a three-in-one place as it has a bakery, restaurant, and events place. They serve products that are freshly made every day to make them more delightful. They also use the same recipe since 1984 to make sure that their customers will be able to experience the original and classic taste of their famous products. This classic recipe is the one that makes their product unique and authentic.