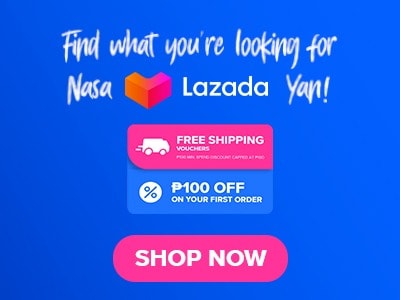 The La Fiesta menu is known to be one of the largest Filipino buffet restaurants in the country! This Buffet is a self-service, dine-in style, where you can feast on meals such as Filipino food, Japanese Food, and more, with live music accompanying you. They have been serving great food that shall pair well with birthdays and other significant events. Authenticity and quality are words to put a huge, huge check mark on when saying they are excellent, and that is a fact. With promos and amazing reviews, aesthetically pleasing venues, and great service, what more reason can one need to try them?
Below, you'll find the updated list of La Fiesta menu prices.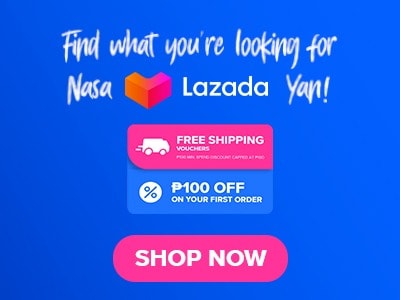 Menu Items
Price (PHP)

Pinoy Street Food

Kwek Kwek
Tenga ng Baboy
Isaw
Hot Dog
Salted Peanuts
Grilled Large Intestine
Balut
Squid Balls
Fiesta BBQ
Balun Balunan
Fish Balls
Kikiam
Quail Egg
Tokwa
Chicken Wings
1-Day Old Chicken
Pork BBQ
Chicken Balls

Filipino Main Dishes

Lechon Paksiw
Bicol Express
Chicken Curry
Tahong
Pangat sa Gata na Tilapia
Grilled Liempo
Chopsuey
Adobo
Lechon Kawali
Pangga
Crispy Shrimp
Spare Ribs
Menudo
Pork Chop
Chicken Steak
Pork Loin
Crispy Tilapia
Bopis
Togue with Tofu
Pinakbet
Kangkong with Bagoong
Kalderetang Kambing
Sotanghon with Patola
Papaitan
Lon Hun Chay
Buttered Vegetables
Kuhol sa Gata
Seafood Paella
Pesang Hito
Sweet and Sour Fish Fillet
Crispy Kangkong
Roast chicken
Lechon de Leche
Pork Michado
Laing
Bagoong
Kare-kare
Fried Mixed Vegetables
Pan Fried Chicken Breast w/ Mushroom in White Sauce
Kangkong kawale
Gusado Sotanghon
Plain Rice
Penne All'arrabbiata Chicken
Fried Wanton

Cakes

Cheese Cake
Fruit Cake
Mango Cake
Red Velvet
Coffee Jelly
Lemon Bars
Brownie Cakes
Cheesecake
Fruitcake
Mango Cake
Puto

Japanese Station

Takuan Sashimi
La Fiesta Black Maki
California Maki
Norwegian Maki
Salmon Roasted Maki
Green Rose Maki
Mango Crab Hako
Kani Sushi
Tamago Sushi
Kani Warship
Sweet Corn Warship
Tempura
Crunchy Salmon
Tuna Dynamite

Pizza Station

Hawaiian Pizza
Onion Rings
Sausage Puff Wrap
Cheese Stick
French Fries
Nachos

Bbq Back Ribs

Slow Cook Bbq Back Ribs

Salads

Thousand Dressing
Ceasar Dressing
Mix Green Salad
Seaweeds Salad

Soups

Bulalo
Sinigang na Salmon

Shawarma

Shawarma

Seafood

Buttered Garlic Shrimp
Grilled Tuna Belly
Grilled Salmon Head

Chinese Dimsum Station

Homemade Fried Special Siopao
Fried Mantho
Pork Siomai
Pork Spareribs
Wansoy Beef Ball
Chicken Feet w/ Black Pepper
Onion Cake
Won Kam Kho Brown Sugar Cake
Garlic Chili Cucumber w/ Black Vinegar
Atchara Papaya
Kimchi
Salted Peanut
Beans Sprout
Pork Ears w/ Chili Sauce
Yangzhou Fried Rice
Stir Fried Noodles w/ Beef (Hofan)
Gold and Silver Spinach
Braised Tofu
Teriyaki Chicken
Crispy Squid
Sweet and Sour Chicken
Spicy Fish Fillet
Salt and Pepper Pork Ribs
Stewed Beef Brisket in Chu Hou Sauce
Tomato and Potato Pork Soup

Drinks

Water
Iced cream
Mango Juice
Orange Juice
Pineapple Juice
Cucumber Juice
San miguel beer
Pepsi
Mountain dew
7up
Mug root beer
Buko Juice
Black Gulaman
Halo Halo
Buko Pandan
About La Fiesta
La Fiesta, located on Seaside Blvd Pasay City, Philippines. This is an eat-and-drink-all-you-can place where they offer dine-in services, as well as Delivery services, and offer nothing but exotic, exquisite food. You can book your reservations with numbers their contact numbers. They elevate foods that we'd normally see on the streets and sides, they prepare meals as they've never been before, and they are ready to cater to your needs.
Guests are given over 200 food varieties that include main dishes, side dishes, and appetizers. There are numerous numbers of desserts from which they could be chosen and 20 choices of drinks that could be enjoyed more than once. La Fiesta has different stations that show how great La Fiesta is. These include drinks and desserts, Pinoy Street Foods, the Sisig Station, Pizza Station, Goto, La Paz Batchoy and Mami Station, Grilled Seafood, Soups, The Filipino Main Dishes Station, American Station, Chinese Station, the Japanese Station, and finally, the Salad Station.
Their operating hours depend on the meals that shall be commenced. Dinners begin at 5:30 PM to 11 PM, and Lunches could begin at 11 AM and end at 3 PM. In terms of prices, children below 3.5 ft do not have charges, but above 3.5 ft are priced at Php 380. Lunches that go from Monday to Friday are Php 599. Saturday lunches, however, are priced at Php 699. Dinners from Monday to Thursday are priced at Php 799, and Friday to Saturday dinners are priced the same as Sunday Lunches and Dinners, along with the same for Holidays, with an amount of Php 839. Finally, leftover prices are paid for Php 950 each, so, beware of leftovers! And be sure to know how to get the full experience out of Buffets as delicious as La Fiesta.
Filipino Main Dishes
The main dishes are the stars of each meal's show, especially when they are from Filipino Cuisine. Being a country that is composed of over 7,000 islands, it is sure that there is diversity and variation present. Filipino Cuisine represents the efforts, hospitality, kindness, and abilities of Filipinos to do what they could do even amidst problems. These meals represent how we persevere throughout our history of battles and being colonized by other countries. Filipino dishes show how we are influenced by those countries, and it shows, that even with the hardships of that time, there are still good things that could come out. Here are some of the delicious Filipino Main Dishes menu that La Fiesta has to offer.
Menudo – This is a great stew that is also known in the Cebuano language as 'Ginamay' which means chopped into smaller pieces. It has pork and livers amongst a tasty tomato sauce with bits and pieces of potatoes and carrots.
Bicol Express – It is a great Filipino dish that is inspired by the Bicol Express Train from Tutuban, Manila to Legazpi, Albay, which is the center of the Bicol Region. It is a spicy dish that consists of chilies, shrimp paste, onions, tomatoes, and garlic, along with pieces of pork. Fatty pork like pork shoulder and belly are used.
Chopsuey – Chopsuey is a vegetable dish made with oyster and soy sauce, sesame oil, and more. It is prepared with stir-fry methods, made with meat, eggs, and vegetables, plenty of them. Pork is often used as the meat, but tofu and beef could be used, too. This La Fiesta menu is a great source of fiber and protein, energy, and taste. Perfect for veggie lovers.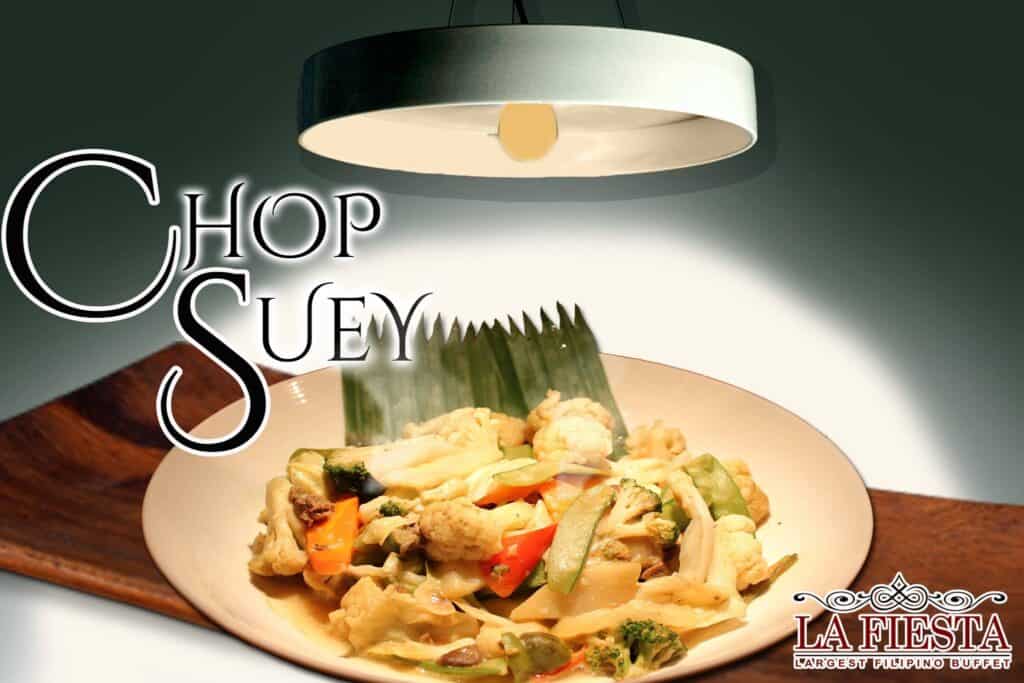 Adobo – Adobo is a dish that includes a diverse amount of meat marinated in soy sauce, vinegar, and garlic. It includes preparations that are dear to the Philippines and is a staple in one Filipino house. Why? Because of its versatile characteristic, because it is easy to prepare, and because it is iconic. No matter what meat, it could be used, and adding vegetables adds up to its great facts, it could be healthy!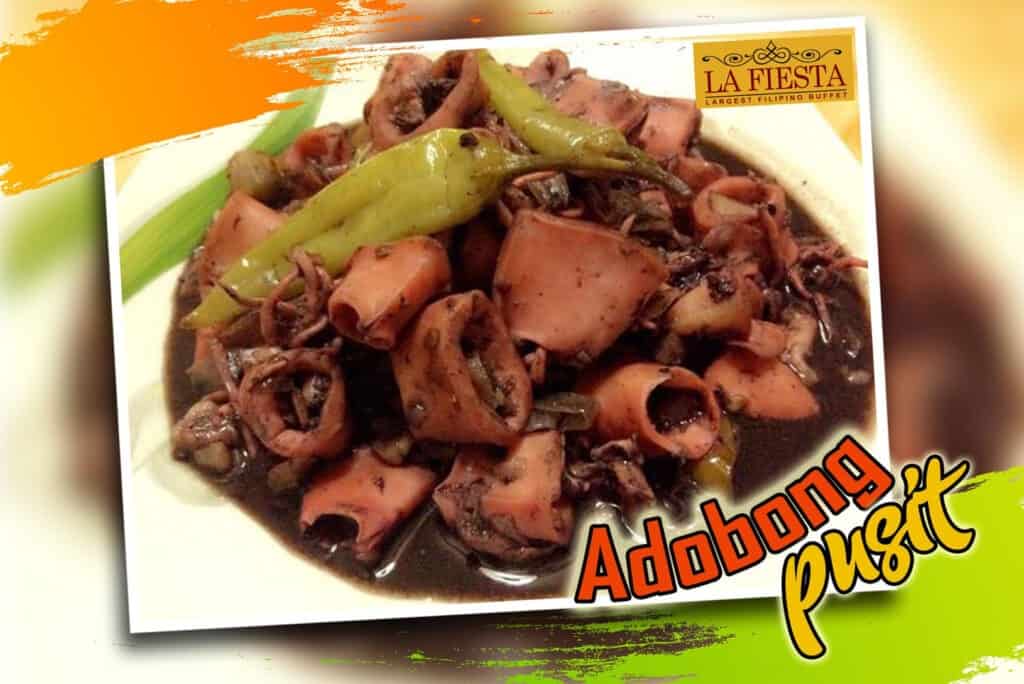 Plain Rice – Plain Rice is always the constant in Filipino food, and a Filipino Meal can never be complete without it. It is an excellent source of carbohydrates and energy that will fuel you up for the day. A common mistake in this food is that it turns too watery, or too hard, and La Fiesta knows that, but never commits that mistake, as they prepare the rice to perfection, only for their customers to reach the plates nicely.
Salads
Salads are an excellent food to munch on. They are healthy, and delicious, and could be changed the way one likes! Other than their lightness in the stomach, this menu from La Fiesta is also a great starter as they give one a peak at the whole experience. Great quality veggies, and great quality dressings, both of these add up for a great quality salad. Two of the dressings involve the thousand and caesar. 
Mix Green Salad – Mixed Green salads are fresh veggies that are a mix of baby lettuce, chards, arugula, chicory, mustards, and other green vegetables, they are fresh and delicious. These include cucumbers, onions, and tomatoes. With oil, salt, pepper, and vinegar, they form to be an excellent salad.
Seaweeds Salad – Seaweeds Salads have wakame as the main ingredient, but sesame seeds, ginger, radish, carrots, and more, are incorporated into this dish. Nutrition-filled and delicious. They boost one's immune system because of their nutrients, and more.
Japanese Station
The Japanese Station honors Japanese Cuisine with authenticity, respect, and delicate processes. It composes of Sashimi, Maki, and Sushis that are to die for, with different types and different aspects. This gives the beautiful restaurants of La Fiesta a taste of another honorable country, its history, and everything they have to offer.
Takuan Sashimi – This La Fiesta menu is a pickled daikon radish which is one of the most known pickled vegetables in Japanese Cuisine with a bright yellowish color, slightly sweet, with crunch and hints of tang. Because of its taste, it is incorporated in many dishes, including Sashimi – with thin slices of meat or fish.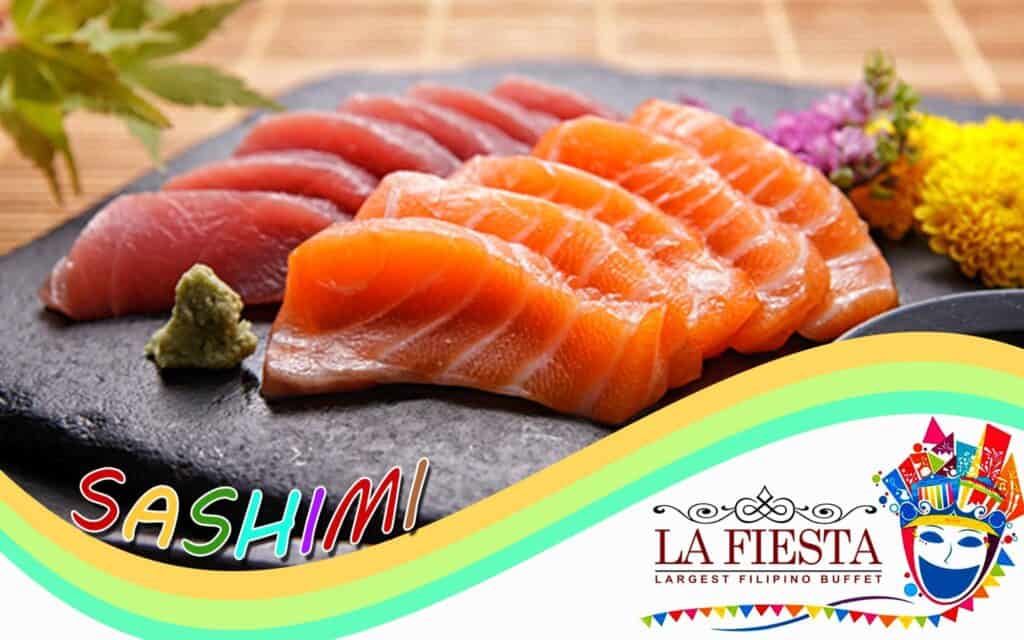 California Maki – The California Maki is an inside-out makizushi roll with crab, cucumbers, and slices of avocado. It doesn't include raw fish, but, it has delicious, quality seasoned sushi rice.
Kani Sushi – Kani means crab in Japanese, and sometimes it is an imitation, and in turn, creates delicious sushi.
Seafood
Seafood is a delicious form of food that is made from sealife, any, and all types of it, even shellfish. Making seafood involves different techniques, not just frying and baking. They add flavor to different dishes and nutrition to humans.
Baked Mussels W/ Cheese and Garlic Butter – This La Fiesta menu is a beloved seafood dish made from mussels that are freshly harvested every day and transported to their kitchen, and to be plated on your tables. These are baked and seasoned with cheese and garlic butter for moisture and taste, and even more for texture.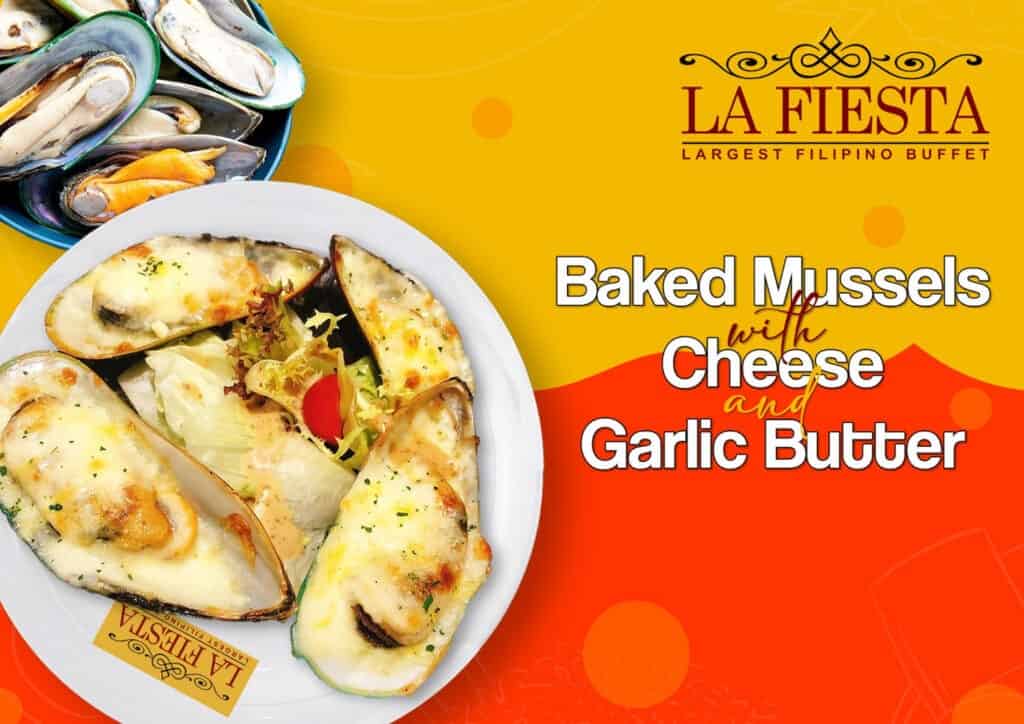 Grilled Tuna Belly – Tuna Belly has plenty of nutritional properties, with phosphorus, vitamin D and B, and many, many more. Furthermore, the tuna belly in this dish is grilled to perfection, and seasoned with herbs and spices made in the kitchen of La Fiesta.
Grilled Salmon Head – Grilled Salmon Head has many nutritional benefits, as well as being deliciously prepared. Prepared with salt, pepper, olive oil, lemon, and garlic, it has a buttery flavor with a rich, smoky texture.
Cakes
Cakes are a delicious form of dessert. With different textures and different flavors, different crumbles, and different icings. Creativity is a huge factor that comes into making cakes, as looks are an incredible part of them. La Fiesta serves varieties of cake slices menu for everyone to try, however, whenever, and how much they might desire. 
Cheese Cake – Cheese Cake is a classic cake that has more than one layer, with a thick layer. It is made with eggs, sugar, cheese, and more. This cake has a crust that is made with graham, cookies, or even pastries. Because of all of these components, it results in a cake with a slightly sour flavor, but with a delicious amount of sweetness.
Fruit Cake – Fruit Cakes are cakes made with spices, dried nuts, and of course – fruits. Liquor could be added to this cake, spices, and more. This has a great, fruity taste, with hints of spices that are enveloped with the moistness inside of the cake.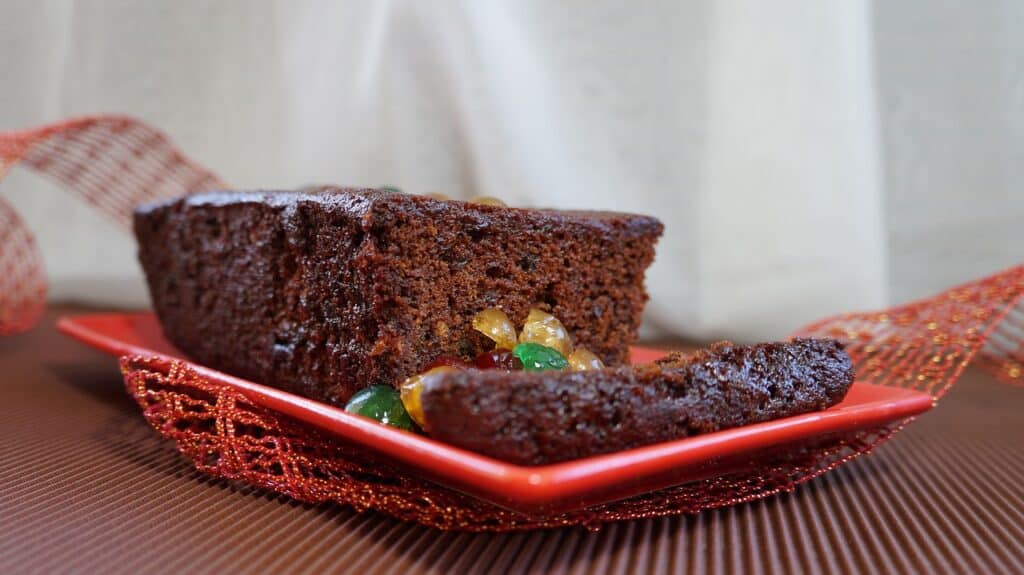 Mango Cake – La Fiesta's version of Mango Cake is made with mango puree with a delicious and moist cake that is layered with mango-flavored components. There is a buttercream on this cake, which, of course, has mango as its component. Finally, topped with – yes, mango. This is an exceptional cake that distinctively tastes like mango, and has a sweetness that never gets old.
Pinoy Street Foods
Street Foods are food or drinks served in public places or on streets. They can usually be seen in Filipino town events, and sold at extremely affordable prices. This is a representation of Filipino creativity and perseverance, as the people who sell these types of food are usually from urban areas, with low income. In the La Fiesta menu, they prepare it in unique ways, and could be served in extraordinary ways, they even have sauces that are great for all of these. 
Balut – Balut is a fertilized duck egg from an early-developed embryo. This is sold in the afternoon until morning and sold beside Penoy which is another version of the duck egg. They are delicious and served in the restaurant, once they are cracked, a delicious, warm soup-like juice oozes out for taste, and it adds to the flavor. Salt could be added to this to improve the taste.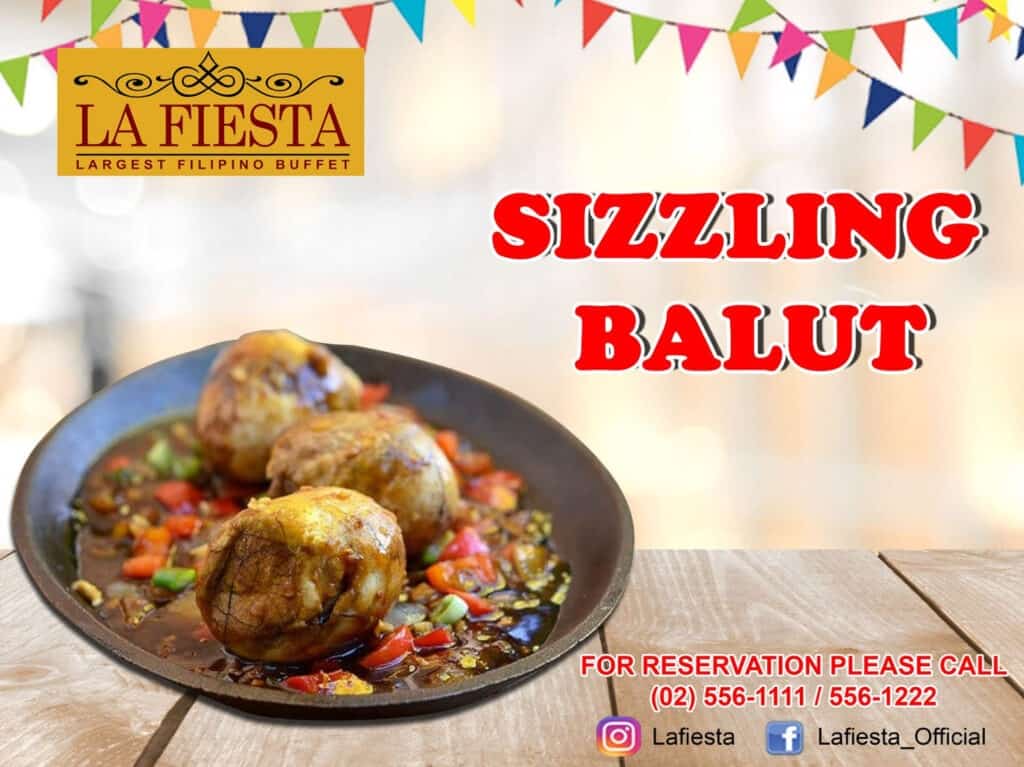 Squid Balls – Squid Balls are deep-fried in oil and are improved with sauces that are made by the vendors. They are usually sweet or spicy, and there is vinegar, too.
Kikiam – Similar to squid balls are Kikiams. They are commonly deep-fried and served in skewers to be dipped in the aforementioned sauce.
Kwek Kwek – Kwek-Kwek is known to be a favorite among students in the Philippines. This La Fiesta menu is similar to tempuras as the batter is involved and wraps around something inside, and that something, is hard-boiled eggs, quail, or chicken. The batter is then incorporated, and the dish is deep-fried until the exterior is cooked. 
Salted Peanuts – Salted Peanuts are known to be served at night, and sold in little bags for affordable prices. These are roasted peanuts that have salt incorporated in them before they are served.
BBQ Back Ribs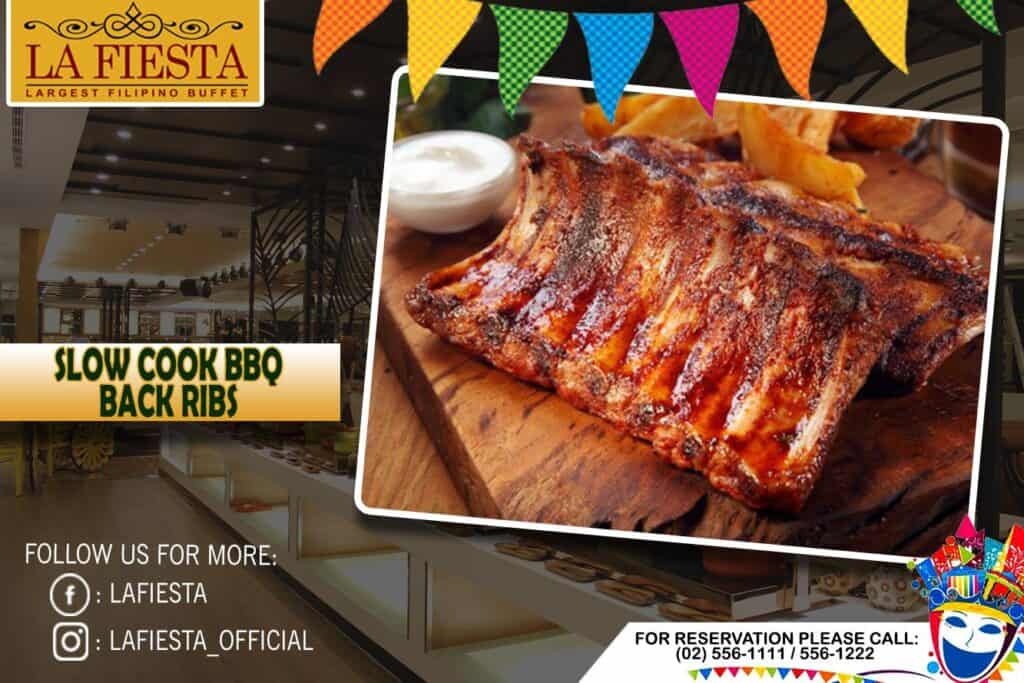 Barbecue Back Ribs are smoky, savory, and sticky, with hints of sweetness inside. These are seasoned with La Fiesta's spice rubs, and cooked until they reach the best level of tenderness, and the best level of juiciness. There is a smooth taste that comes with this and it makes it unique, and a crowd favorite.
Shawarma
La Fiesta Shawarma menu is a delicious one with uniquely flavored sauces inside that make it all the more interesting, and all the more delicious. Meats of your choosing are present in this shawarma, along with tomatoes and other veggies inside. What makes it more unique is that you could see the preparation of your shawarma to ensure its deliciousness, and possibly direct the amounts of certain components in the process.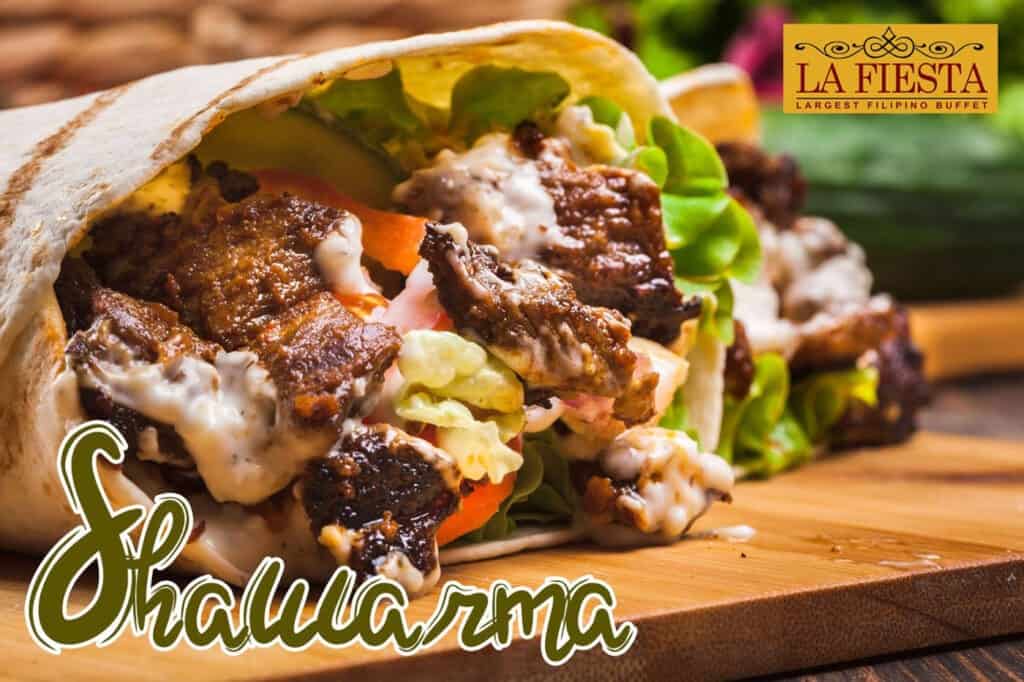 La Fiesta Promo Menu
Promos are offered for a better experience in La Fiesta. They include fewer prices, group promos, and more. One of them is the Birthday Promo, where the birthday celebrant can avail of this promo in their birth month, where they may eat for one in the buffet. They must be accompanied by a minimum of three adults who shall pay fully, and they must bring a valid I.D. to officiate the promo.
La Fiesta Menu Delivery
Deliveries are greatly beneficial to customers and visitors as they may get the taste of the food from the humble abodes of their homes, or wherever they are. Unfortunately, though, this hasn't been available for La Fiesta. It is not available, but their food and cuisine are more than welcome to serve you excellent food.
Talk to La Fiesta PH Staff
Wanting to visit La Fiesta but are quite unsure if they need reservations just to dine in? Or, are you planning to hold an event in their restaurant? Those questions will be answered if you message them through their social media page like Facebook. They have accommodating staff that will respond to your concerns. I suggest you follow their social media pages to get updated and to support La Fiesta. The links to the pages and contact details are provided below:
Facebook: https://www.facebook.com/profile.php?id=100057228889692
Instagram: https://www.instagram.com/lafiesta_official/
Contact Numbers: (02) 556 1111, (02) 8823-1621, and (+63) 917-842-7261
Conclusion
The La Fiesta menu provides excellent foods perfect for anyone looking to dine in and conduct gatherings, whether familial or friendship. This is a place where you can get out-of-the-world dishes with homemade food, food from other places, and even food from home. Some desserts may seem unfamiliar to some but are home to all. Located at Seaside Blvd Pasay City, Philippines is La Fiesta. "La Fiesta" means the party, and that is what this restaurant, this buffet, and this event have to offer. With its bright colors and brighter flavors, this place will indeed wow you to the fullest extent.