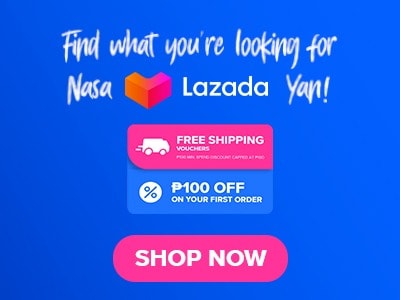 Coffee has been building its reputation for many years ago and the innovation that our local coffee makers here in the country are quite impressive. Guess what? Found a perfect place for you to enjoy delicious coffee. The Figaro menu has a lot to offer, they have classic blends, hot and cold coffee-based drinks, and even non-coffees based drinks they have for those non-coffees drinkers that still wanted to try their cafe. We have a lot of exploring to do with this one. Let's find out about their menu, their best sellers that we can try, and most especially their prices. Let's go!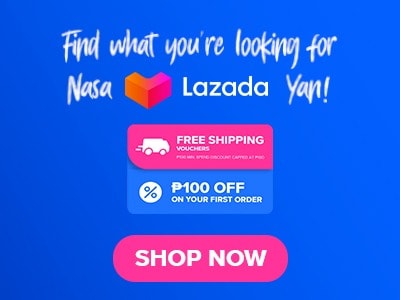 Menu Items
Prices (PHP)

Classic Hot Drinks (S/R/M)

Espresso
100/NA/120
Brewed coffee
95/110/125
Americano
110/120/130
Cappuccino
120/130/150
Cafe latte
120/130/140
Cafe mocha
135/145/155
Flat white
130/140/150
Hot tea
95/105/115
Hot chocolate
120/130/140

Classic Iced Drinks (R/M/L)

Iced coffee
110/125/140
Iced cappuccino
130/140/150
Iced mocha
145/155/165
Iced chocolate
130/140/150
House blend iced tea
100/120/140

Specialty Hot Drinks (S/R/M)

Salted caramel macchiato
140/150/160
White chocolate mocha
145/155/165
Butterscotch vanilla latte
145/155/165
Roasted hazelnut latte
140/150/160
Matcha green tea latte
145/155/165

Specialty Iced Drinks (R/M/L)

Iced salted caramel macchiato
150/160/170
Iced white chocolate mocha
155/165/175
Iced butterscotch vanilla latte
155/165/175
Iced roasted hazelnut latte
150/160/170
Iced matcha green tea latte
155/165/175

Milk tea and fruit tea (M,L)

Roasted milk tea w/salted cream cheese
120/140
Brown sugat tea latte
120/140
Tropical fruit tea
120/140

Frappe (coffee based) M/L

Coffee jelly
165/185
Roasted hazelnut
165/185
Dark mocha
165/185
Choco chips java
165/185
White chocolate mocha
170/185
Butterscotch vanilla
175/185

Frappe (non coffee) M/L

Caramel
165/185
Strawberry basil
165/185
Mango passion fruit sago
165/185
Ube macapuno sago
165/185
Dalandan
165/185
Triple chocolate cacao
165/185
Matcha green tea
170/185

Pasta

Pasta a la carlo
235
Gourmet Spanish chorizo pasta
285
Italian meatball bolognese
235
Chicken mushroom carbonara
235
Garden herb pesto
235

Salads

Greek roka salad
219
Asian chicken salad
219
Mecican taco salad
225
Chicken Caesar salad
225

Figaro a la carte

Chicken a la kiev + sides
270
Dory provencal + sides
270

French bakes

Ham & cheese
135
Chicken BBQ
135
garlic mushroom
135

Pizza

Five cheese and garlic
225
Mexicali
225
Classic pepperoni
219
Sweet Hawaiian holiday
225

All day breakfast

Magandang umaga platter
275
Gourmet Spanish chorizo cubana
275
French mushroom omelette
225
Pork Longganisa
210
Pinoy bangus
210
Continental breakfast
255

Executive lunch sets

Chicken BBQ skewers
249
Gourmet embutido
249
Lemon butter fish fillet
249
BBQ pork belly
249
Salisbury meatballs
249
Adobo flakes kare kare
269
Garlic tuna salpicao
249

Sandwiches

Chicken waldorf
225
Gourmet spanish chorizo burger
290
BLT croissant
225
BBQ pulled pork
280
Figaro club croissant
225
Figaro club focaccia
245
Grilled chicken pesto focaccia
225

Sandwich + salad combo

Sandwich + salad combo
195

Crepe roulades

Ham & Egg
135
Mushroom and cheese
135
Longganisa and egg
135

Desserts

Banana fritters a la mode
160
About Figaro
Figaro was founded in 1993, back in the days when cafes are not mushrooming in our country, unlike today. Some groups of coffee lovers dream to have a place where they can enjoy coffee and entertain their friends and associates, a place to relax while having a delicious cup of coffee and some pastries.
This dream was developed into a concept and then Figaro was born. Their name Figaro came from the opera Barber of Seville which has the song, Figaro. Since they wanted to come up with an Italian/European concept Figaro is the best name for it and it's not commonly used. Their first small cafe started in Glorietta, their first store was named The F store. Their outlet has all the equipment needed to create a freshly roasted coffee bean and the best coffee and tea that their customers can have since they are really meticulous when it comes to quantity.
Figaro is also the first to introduce flavored coffee beans here in the country. People loved their European concept and of course, their good coffee, and the rest is history. Nowadays they already have 90 outlets and still striving to give a good value for money for their customers thru their excellent service and products.
Figaro Menu Best Seller
We interviewed one of their crews to tell us their best-selling items so we know which one to order if ever we are going to visit their cafe.
Pasta ala Carlo – this pasta dish is literally the medley of sweet, spicy, and different flavors that you can get on pasta. The sauce is made with tomatoes and basil as their base ingredient, capers, tuna chunks, and black olives then tossed in olive oil and sprinkled with spices, This pasta dish is very tasty and has a lot of flavors that will burst in your mouth upon trying this one, actually, this is one of my favorites that started years ago. Really good pasta and the serving size is also great since it won't leave you unsatisfied.
Figaro Club Focaccia – This is the innovation of the sandwich as Figaro made it thrice the goodness of a normal sandwich. Figaro club focaccia is made with three layers of focaccia bread with grilled rosemary chicken, smoked ham, cheddar cheese, some greens, and tomatoes. This lovely sandwich is one of their top-selling food items since it is easy to eat and very delicious. This Figaro club focaccia is also affordable and also great for sharing as well.
White Chocolate Mocha – This cold drink is one of the menu best sellers of Figaro when it comes to cold coffee options. Made with white chocolate syrup and then combined into a mocha based drink. The sweetness for this one is just right not too sweet though you can always request their barista if you want a sweeter one. Delicious and refreshing, perfect for the hot weather here in our country.
Magandang Umaga Platter – this platter is made with a star breakfast combo. It has creamy scrambled eggs, bacon, Longganisa, smoked ham, sliced baguette, potato wedges, and some tomatoes and cucumber, so basically it has all your breakfast cravings. This heavy breakfast is actually quite good and really delicious, it has many fried dishes but surprisingly it's not oily.
Best All-Day Meals
We did our best to get every information needed and list down their best all-day meals. Here are the top 5 of their best all-day menu.
Continental Breakfast – This Figaro menu consists of crispy bacon strips, cooked corned beef, focaccia toast spread generously with strawberry jam, and sunny side-up egg for sides. This light meal is available every day and will only cost you 265php only. This goodness is truly delicious and very much popular among their customers already.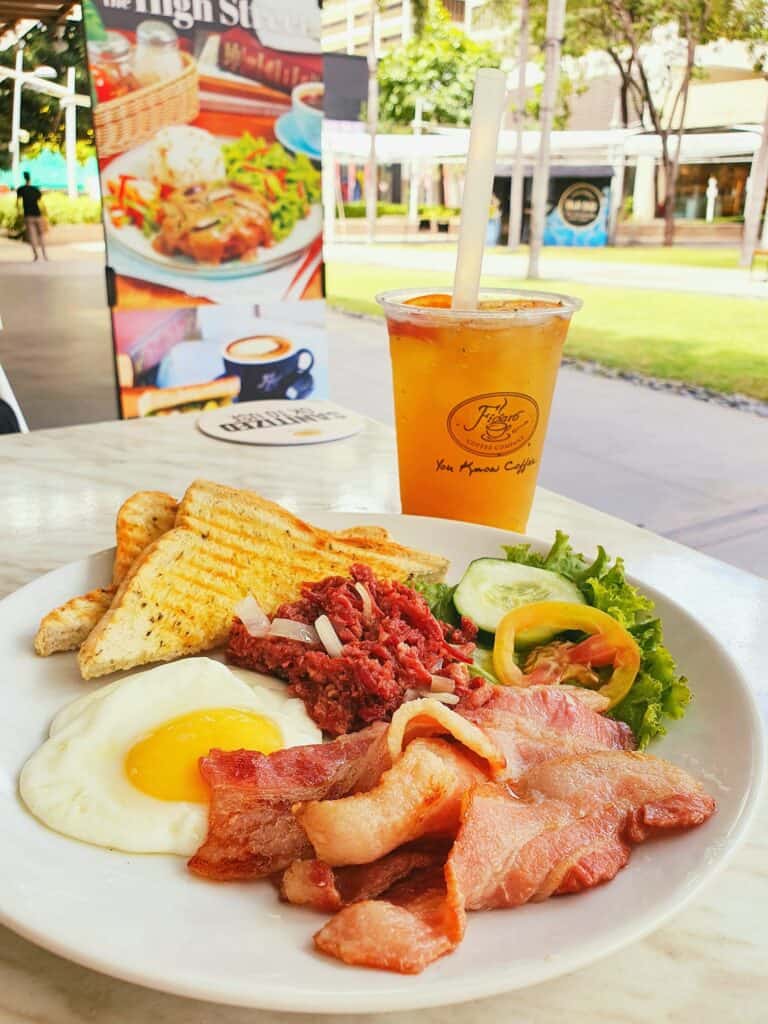 Crispy Liempo with Laing – Two of Filipino favorite dishes was on this plate, heavier so if you are looking for something to fill your hunger this is the right one to order. Laing is very creamy and the liempo is crispy and tasty, perfect for big customers with a big appetite.
Cheesy Beef Caldereta – Another Filipino favorite is on their best all-day menu. This one is made with juicy stewed beef with a lot of melted cheese. They serve this with rice and salad as sides.
Salisbury Steak – Made with pure ground beef patty with creamy mushroom sauce, they also serve this rice and salad as sides. Very tasty it's not surprising that this is one of the top 5 best all-day meals.
Pork Longganisa – A Filipino favorite especially for breakfast. Their Longganisa has this sweet and spicy taste that is perfect with cucumber and tomato salsa, their pork Longganisa is also homemade and served with rice and farm fresh sunny side up egg.
Figaro Pasta & Pizza Menu
Aside from all-day breakfast, sandwiches, and coffee drinks, Figaro also offers a menu of pasta and pizza. for pasta they have Arrabiata which is a red sauce pasta that they serve with a slice of bread, garden herb pesto which is made with basil, garlic, sundried tomatoes, almond nuts, and Parmesan cheese and this is really good.
Chicken mushroom carbonara this creamy and savory white sauce pasta has chunks of chicken some shitake mushrooms and cheese lastly there is Pasta a la Carlo which is Figaro's signature pasta and one of their best sellers. When it comes to pizza their customers have four flavors to choose from, they have five cheese and garlic which is made with 5 kinds of cheeses cream cheese, mozzarella, Parmesan, pizza cheese, and lastly sharp cheddar cheese.
They also have sweet Hawaiian holiday pizza which I can recommend for those who love pineapple on their pizza, Mexicali pizza, and lastly their version of classic pepperoni pizza.
Cold Beverages Drinks Menu
Figaro offers cold beverages and everything on their menu is delicious. They have iced cappuccino that I really love because it's very refreshing and delicious, their iced mocha that is really great with some cakes their iced chocolate, iced coffee, and lastly their iced tea. Though everything is really good there's nothing that can beat the classic so their iced coffee is remaining as their best-iced drink.
Figaro Menu Coffee
As other says nothing beats the classic and this drink doesn't need any introduction whatsoever, their cafe latte is their best coffee according to the customer that I interviewed at their restaurant, this simple but delicious coffee is just milk and not too strong, and the aroma of the coffee is so good and when it comes to the taste it's actually not too sweet, as for someone like me and the other drinkers they love sweet style coffee like caramel macchiato or butterscotch vanilla latte it just depends on the preference but overall the cafe latte wins.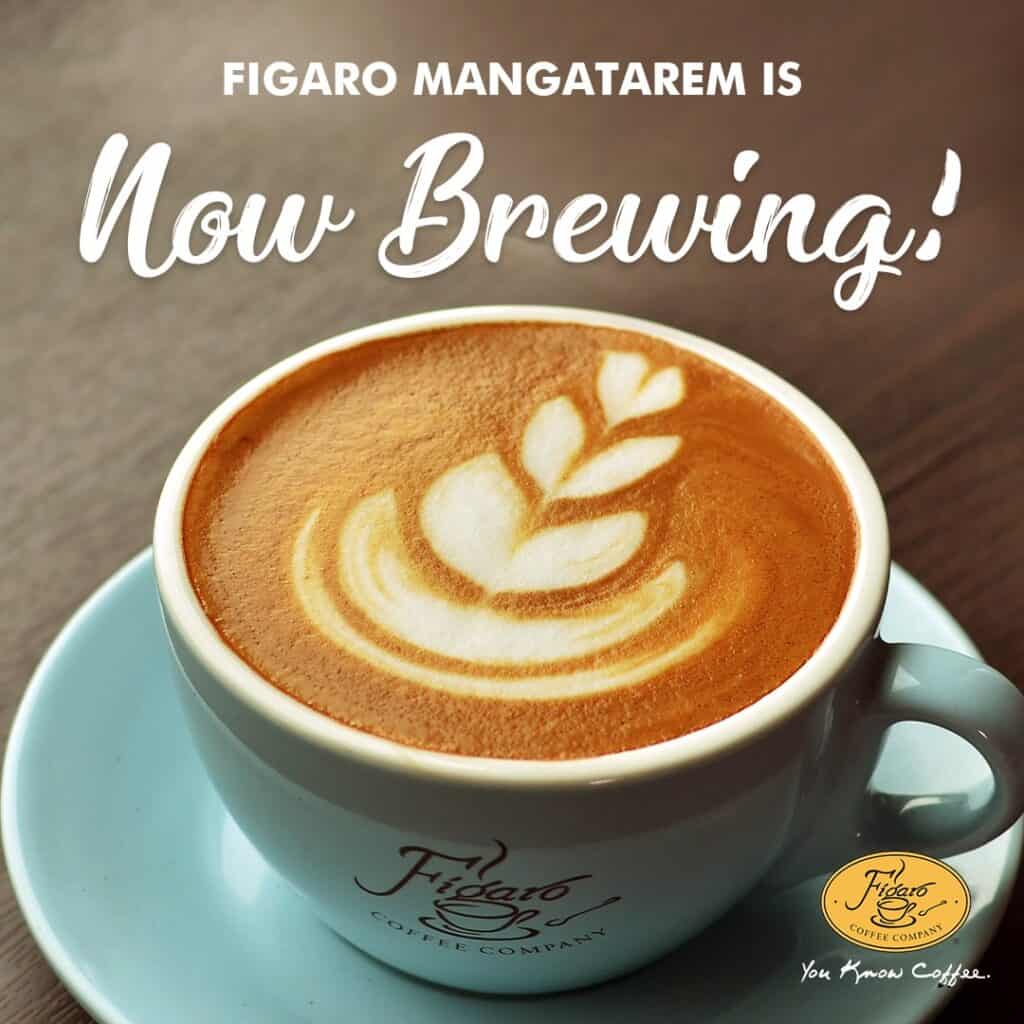 Cake
Figaro has some delicious cakes to offer that will cost you a very affordable price per slice. They have grand xocolat gateau which will cost you 125php only per slice, their red velvet cake which is actually my favorite and will cost you 119php per slice only, their mango cheesecake which is 135php per slice and lastly their Figaro carrot cake which will cost you 108php per slice. You can also buy whole cakes depending on the availability or you can order them directly to the store a day ahead for pick up.
Figaro Menu Delivery
Ordering your favorite Figaro food items is made easy just by going to their website at https://figarocoffee.com/ you can also look for the store locations near your area for a faster transaction. You can also place your order at www.thefigarogroup.ph or you may call them at 0916-730-7136. They accept payments thru bank transfers debit cards thru Paymongo, credit cards, cash im pick up, and cash on delivery.
FAQs
Is Figaro a Philippine coffee brand?
Yes, Figaro is a Philippine coffee brand and coffee house chain. They are also open to franchises. They also serve various countries like Qatar, Saudi Arabia, Papua New Guinea, and the Philippines.
Who's the entrepreneur behind Figaro?
Established in 1993 by college friends including Pacita Juan who is actually the CEO of Figaro.
How much is a Figaro franchise?
The franchise fee for Figaro coffee is 600,000 PHP and their franchise term is good for 8 years. For the investment capital, it would be around 3.3 – 7Mphp.
Social Media Pages
If you want to know the social media pages of Figaro, you can refer to the links below. We highly encourage you to start following them so you can always get news if they are posting something about their food menu, or the latest promos.
Facebook: https://www.facebook.com/figarocoffeecompany/
Instagram: https://www.instagram.com/figarocoffee/
Twitter: https://twitter.com/figarocoffeehq
YouTube: https://www.youtube.com/@figarocoffee1779
Conclusion
This coffee brand actually exceeded our expectations, the Figaro menu has everything that you would want if you're trying to relax and have alone time or you're with friends or family wanting to enjoy delicious coffee, cakes, pastries, and other delicious food products. The food that I had was delicious I've been going to their place for years and the quality of their products are still excellent. As for their staff, they are friendly, the place has a very relaxing atmosphere. We are really proud of supporting local products and Figaro is the best example that our own brand can be great.