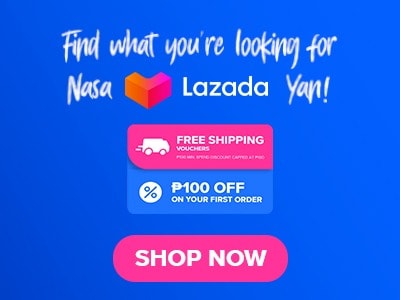 Banana Leaf menu offers cuisines from Southeast Asian countries like India, Indonesia, Malaysia, Singapore, Thailand, and Vietnam. It consists of roti and bread specialties, salads, soups, appetizers, meats, seafood, vegetables, rice, noodles, desserts, executive set meals, and drinks. The name and concept of this restaurant come from one of the Filipino traditional ways of eating on the leaf of a banana using bare hands. Banana leaf is provided so customers can eat their meals on them with their hands. 
Below, you'll find the updated list of Banana Leaf menu prices.
Menu Items
Price (PHP)

Roti and Bread Specialties

Roti Canai
88
Condensed Milk
30
Roti Canai Supreme
98
Curry Sauce
30
Murtabak
138

Salads

Pomelo Salad
238
Roast Chicken and Mango Salad
238
Thai Vermicelli Salad
238
Gado - Gado Salad Indonesian Style
238
Green Mango Salad
238

Soups

Malayan Seafood Laksa
328
Bah Kut The
298
Tom Yam Kung
328
Thai Coconut Seafood Soup
328

Appetizers

Chicken Satay
238
Deep Fried Pandan Chicken
238
Vegetable Samosas
198
Vietnamese Prawn Ball with Cheese
238
Crispy Spring Rolls Vermicelli Style
198
Deep Fried Curry Chicken Wings
198
Vietnamese Fresh Spring Rolls
198
Prawn and Pork Toast Thai Style
198

Meats

Malayan Chicken Curry with Potatoes
368
Half Hainanese Chicken
498
Hainanese Chicken - Set Meal
288
Nasi Lemak
288
Thai Green Curry Chicken with Eggplant and Sweet Basil
368
Chicken Rendang
368
Malayan Beef Curry with Potatoes
388
Beef Rendang
388
Thai Red Curry Pork with Pineapple
368
Barbecue Roasted Baby Back Ribs
588
Charcoal Grilled Sliced Pork Steak Thai Style
368
Wok Fried Black Curry Lamb
488

Seafoods

Stir Fried in Singaporean Chili Sauce
438
Stir Fried New Zealand Mussels in Singaporean Chili Sauce
438
Deep Fried Pomfret with Chili Sauce
588
Deep Fried Pomfret with Sambal Sauce Baked in Banana Leaf
588
Tilapia Fillet with Malayan Cream Sauce
438
Tilapia Fillet with Assam Sambal Sauce
438
Deep Fried King Fish with Mango Thai Style
438
Deep Fried King Fish Nyonya Style
438
Wok Fried Squid with Basil Leaves and Chili
368
Deep Fried Squid Flavored in Homemade Spicy Garlic
368
Charcoal Grilled Whole Squid Thai Style
588

Prawns

Stir Fried Prawns in Singaporean Chili Sauce
588
Stir Fried Oat Prawns in Singaporean Style
588
Stir Fried Prawns in Malayan Coconut Curry
568
Black Pepper Prawns
588
Dried Curry Penang Prawns
588

Vegetables

Stir Fried Chinese Kangkong with Sambal Sauce
268
Stir Fried Malaysian Noble Leaves with Garlic
268
Stir Fried Mixed Vegetables with Salted Fish Thai Style
268
Sweet Crispy Kangkong
268
Sambal Lady Finger
268
Deep Fried Basil Tofu
268

Rice

Nasi Goreng Nenas
268
Nasi Goreng
268
Penang Fried Rice with Salted Fish and Chicken
268
Thai Style Fried Rice with Shrimp Paste
268
Vietnamese Fried Rice
268
Coconut Seafood Rice
268
Steamed White Rice
50
Steamed Hainanese Rice
60

Noodles

Penang Char Kway Teow
268
Phad Thai - Banana Leaf Style
268
Phad Thai - Thai Style
268
Mee Goreng
268
Stir Fried Chinese Turnip Cake with Beansprout and Chives
268
Crispy Seafood Noodles
268
Stir Fried Roti Canai
268

Desserts

Sago Pudding in Thai Pandan Leaf
90
Pandanus Pancake Roll with Fresh Coconut
90
Sweet Sago Soup with Coconut Milk
90
Deep Fried Banana Fritter with Ice Cream
90
Sticky Rice with Mango
90

Drinks

Iced Lemon Grass with Honey
90
Iced Tea Tarik
90
Pandan Iced Tea
90
Thai Iced Tea
90
Iced Vietnamese Coffee
90
Hot Vietnamese Coffee
90
Soda in Can
80
Nestea Iced Tea
90
Bottled Water
60
Fresh Buko Juice
120
Seasonal Fruit Shake
150
San Miguel Pale Pilsen
100
San Miguel Light
100
San Miguel Premium Beer
150
Singha Beer
200
Tiger Beer
200

Executive Set Meal

Executive Set Meal (299 per set, Minimun of 3 sets)
299
About Banana Leaf
Banana Leaf is one of the first restaurants that bring the flavors of Southeast Asian cuisines to the Philippines. Since 2001, it keeps the quality and authenticity of foods that they offer to introduce the cuisines of various Southeast Asian countries to Filipinos. Asian chefs cook the dishes of this restaurant using the best ingredients that are imported from their respective countries to keep the original tastes of their cuisines.
Banana Leaf Menu Best Seller
These are the Asian dishes from the Banana Leaf menus that captured the interest and taste buds of their customers. 
Roti Canai – A Malaysian-inspired wheat bread that can be eaten with condensed milk or curry sauce. It is a dish that is always on the customer's list when they visit this restaurant. Its softness creates a melting sensation when you eat it. You can upgrade to Roti Canai Supreme which is made up of banana, garlic, spring onion, and chili if you're craving more.
Chicken Satay – This is an appetizer where chicken fillet is marinated in a mixture of herbs and spices. It is also grilled, sprinkled with honey, and comes with peanut sauce. It is a sweet and savory dish that will make you come back for more. Each order consists of four skewered chicken fillets which make this meal good for sharing.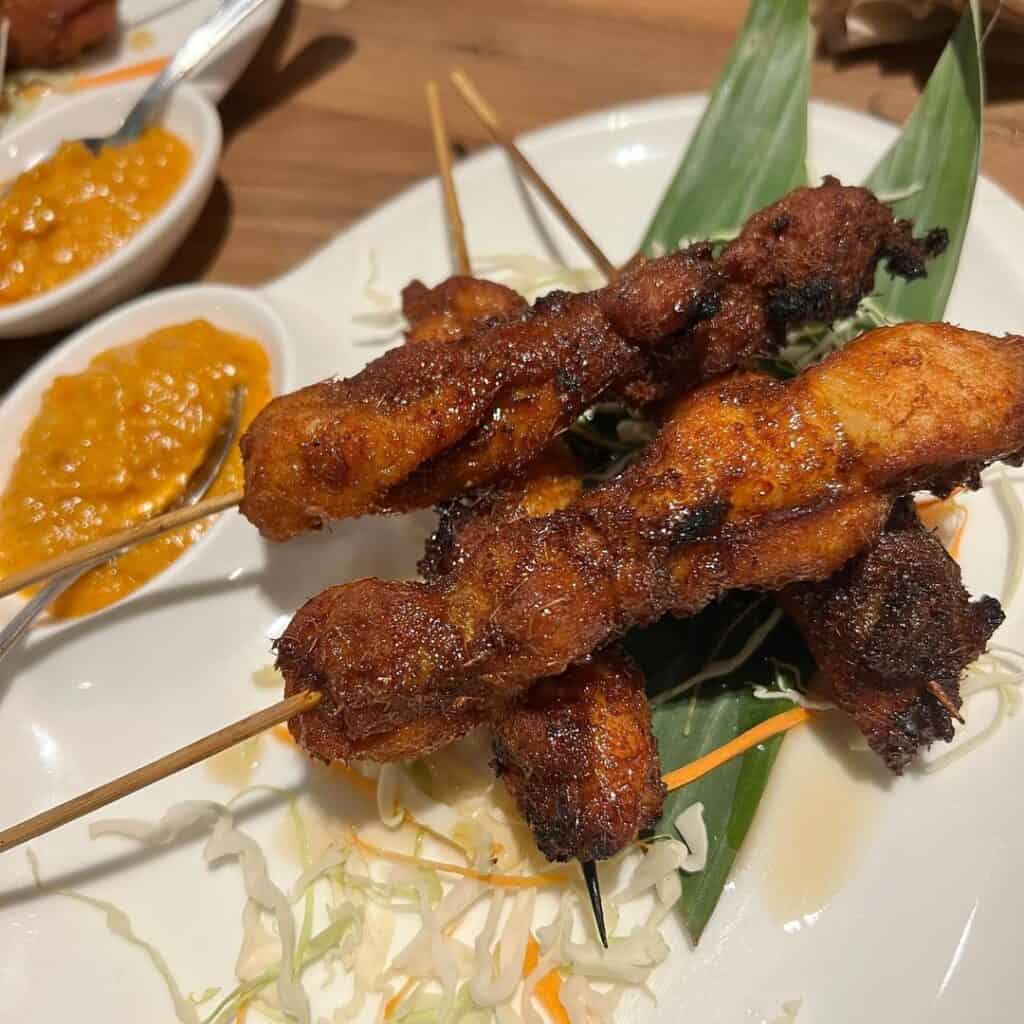 Phad Thai – Banana Leaf Style – A Thailand-inspired dish that has a delightful and authentic taste that will make you feel that you're in Thailand. It is made up of stir-fried Ho fan noodles with egg, carrot, fish cake, chives, tofu, cabbage, choypo, and bean sprout that are garnished with white sugar, dark soya, and oyster sauce and topped with ground peanut.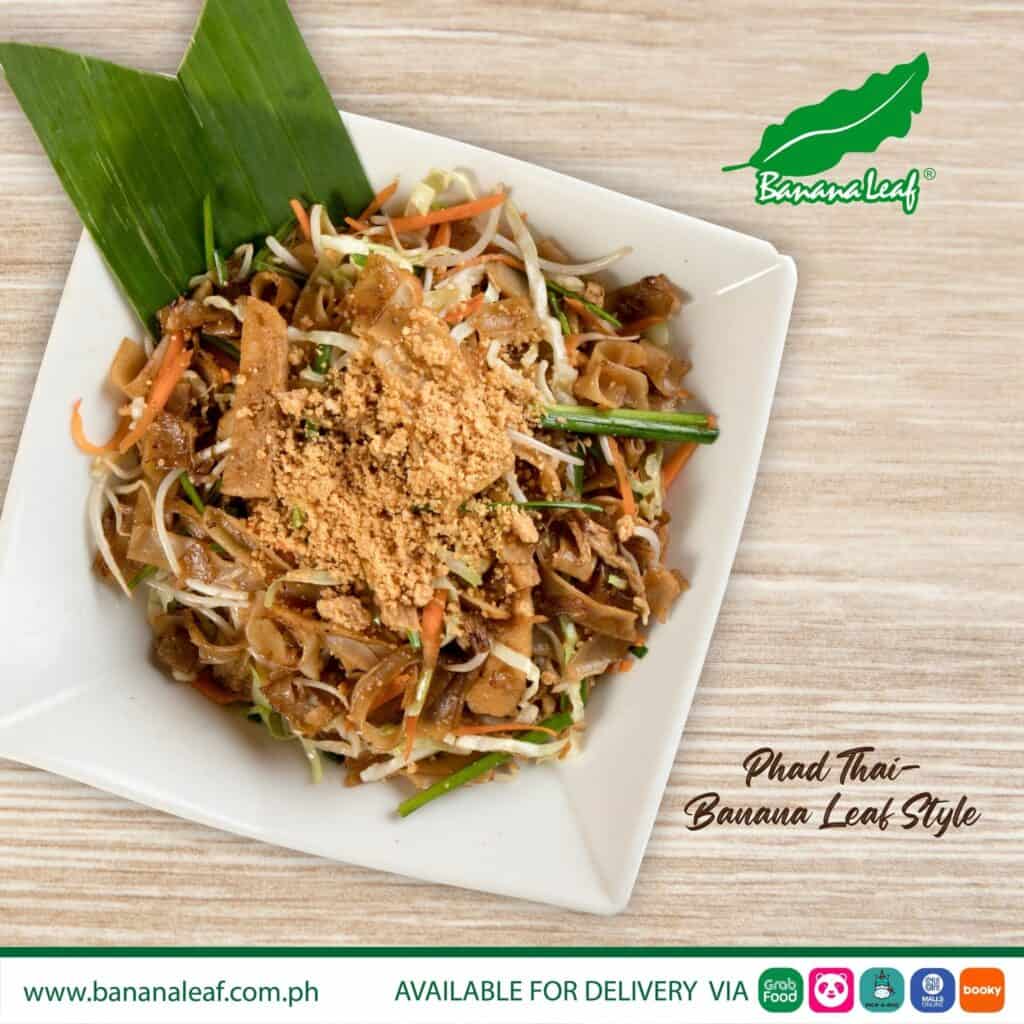 Nasi Goreng – This rice meal from Banana Leaf menu is made up of fried rice cooked with sambal, onion, egg, shrimp, and chicken and seasoned with dark soya. It is topped with egg and sprinkled with spring onion. 
Penang Char Kway Teow – A Malaysian-inspired noodle dish that consists of stir-fried Ho fan noodles with egg, chives, bean sprouts, fish cake, shrimp, dark soya, and sambal sauce. Banana leaf is placed on a serving plate that adds an aroma to this dish.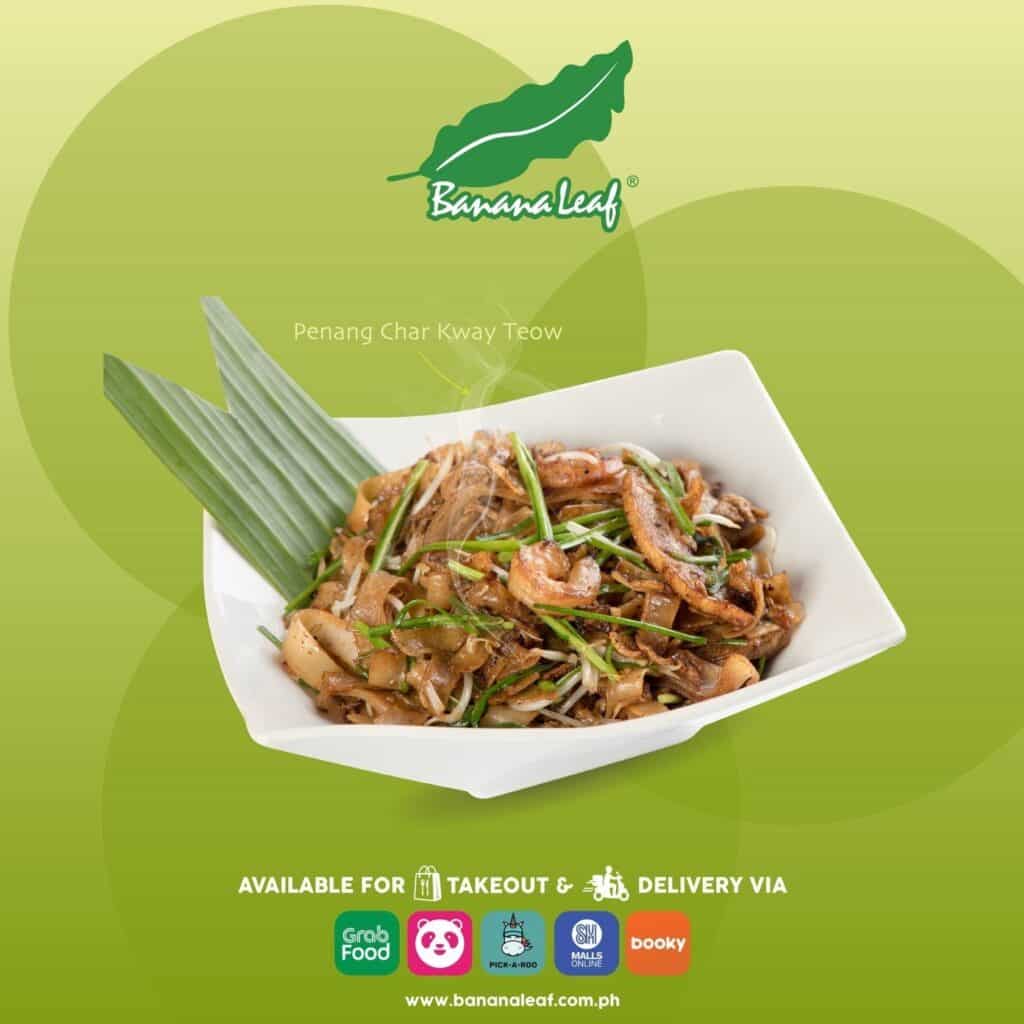 Seafoods
These dishes are perfect for those who want to explore various tastes of seafood inspired by different countries of Asia.
Stir-fried Clams in Singaporean Chili Sauce – This mouthwatering seafood dish is made up of clams cooked in Singaporean chili sauce.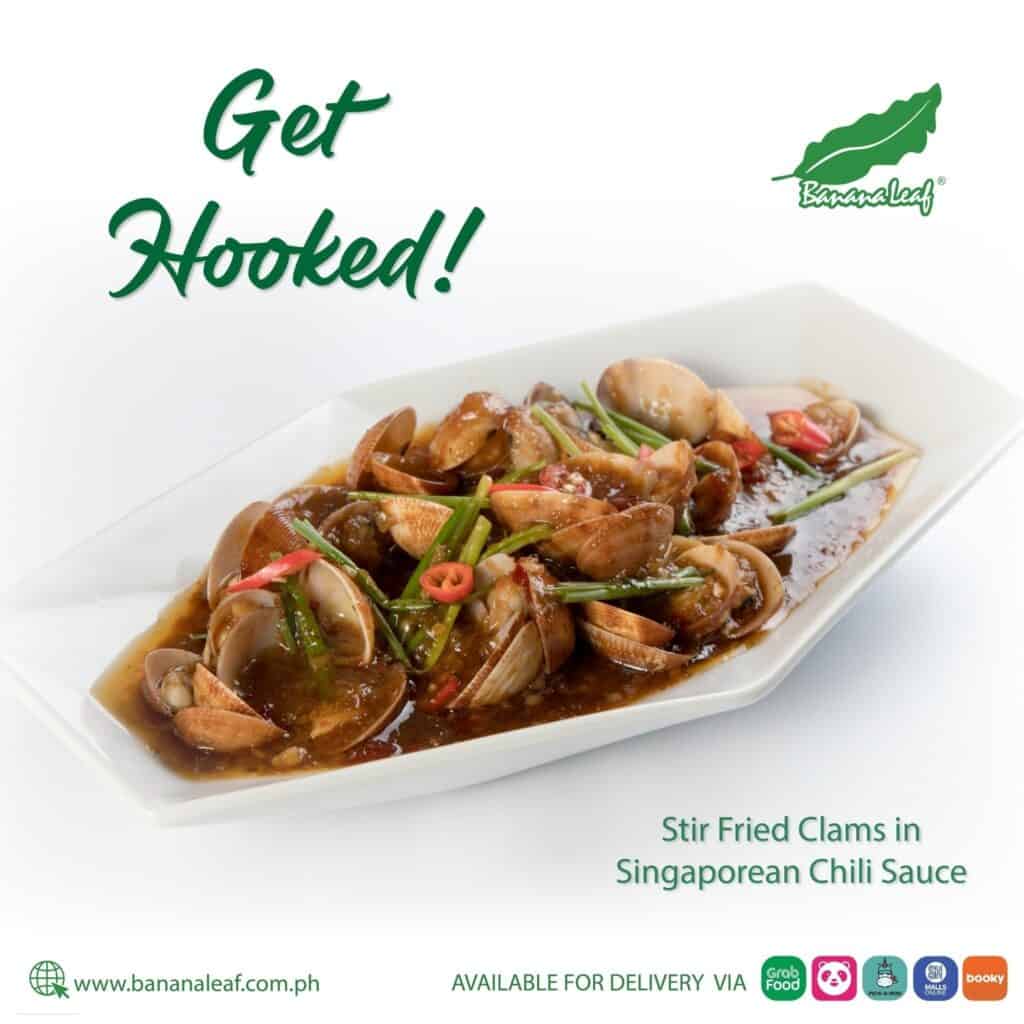 Deep-fried Pomfret with Chili Sauce – Pomfret is deep-fried and served with sauteed garlic coriander and sweet chili sauce. The spiciness and crunchiness of this dish are perfectly blended which makes it truly delectable.
Deep-fried Pomfret with Sambal Sauce Baked in Banana Leaf – Banana Leaf menu serves their pomfret fish coated in their special homemade sambal sauce. The fish is deep-fried until it has a crispy exterior and juicy interior. After that, it is wrapped in a banana leaf and steamed for added flavor.
Tilapia Fillet with Malayan Cream Sauce – Tilapia fillets are given an irresistible crunch with a deep-frying technique, before being elevated with a luxurious, homemade Malayan sauce. This velvety sauce is crafted with wholesome ingredients such as fresh milk and nourishing oatmeal. The final touch of colorful vegetable strips not only elevates the flavor but also presents a visually stunning dish.
Tilapia Fillet with Assam Sambal Sauce – Tilapia fillet is deep-fried and drizzled with the Assam sambal sauce of Malaysia. This sauce has less spicy, sweet, and sour flavors. It is one of the dishes that you shouldn't miss out on because it is rich in flavor and texture.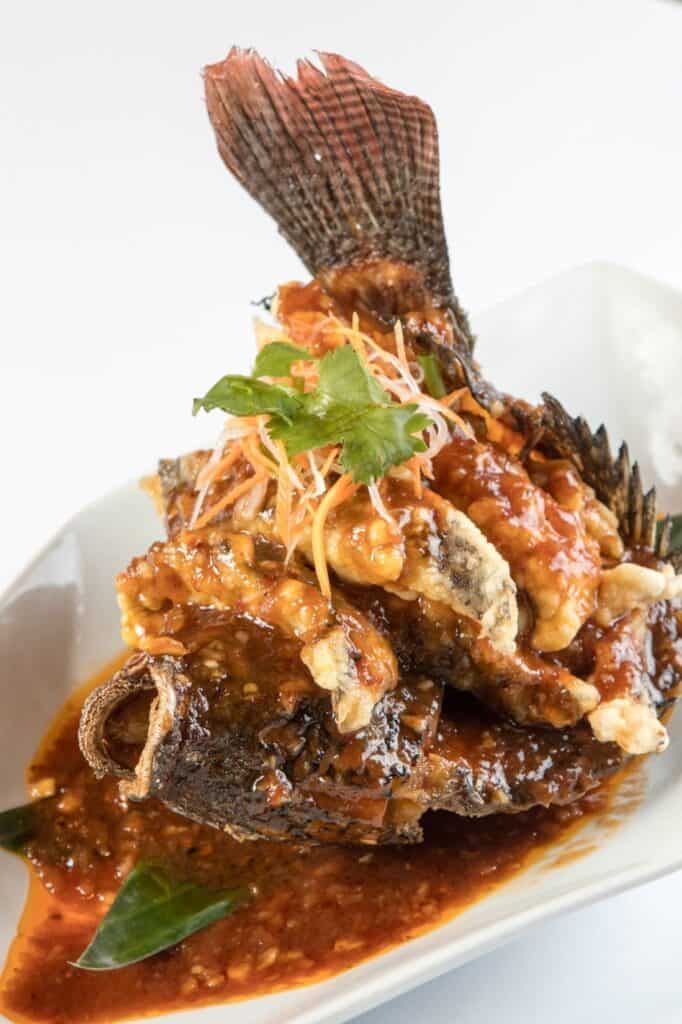 Appetizers
These appetizers will surely stimulate your appetite and make you anticipate the next set of meals to come.
Deep-fried Pandan Chicken – Boneless chicken is marinated in various spices and seasonings, wrapped in pandan leaf, and deep-fried. It comes with sweet chili sauce that enhances its taste. The pandan leaf gives this dish a fragrance smell and makes the chicken juicy and tasty. Its aroma, taste, texture, and presentation will make you anticipate this dish.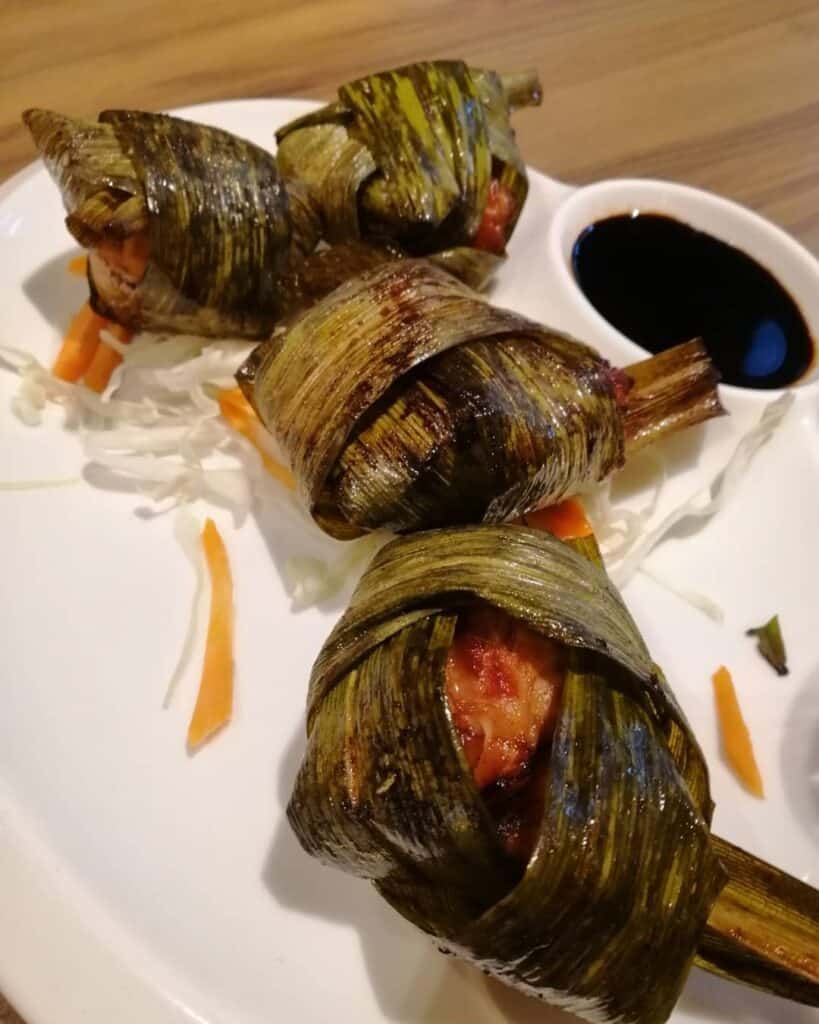 Deep-fried Curry Chicken Wings – Chicken wings are marinated in blended herbs, spices, and curry powder, deep-fried until thoroughly cooked, and served with sweet chili sauce.
Vegetable Samosas – These consist of corn, carrots, raisins, potatoes, and onions seasoned with curry powder and turmeric. It is wrapped in a wonton wrapper, deep-fried, and served with yogurt dressing.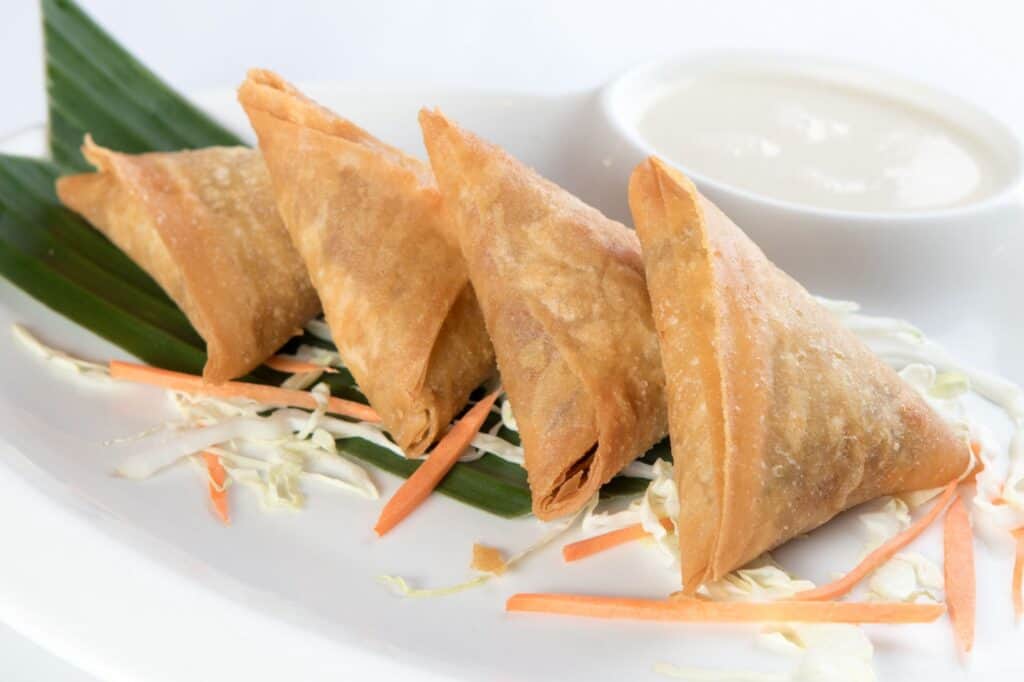 Meats
The meat menus of Banana leaf are indeed inspired by cuisines from different Asian countries such as Malaysia, Thailand, and Chinese. 
The dishes that are inspired by Malaysia are Malayan chicken curry with potatoes, Nasi Lemak, Malayan Beef Curry and Potatoes, Beef Rendang, and Chicken Rendang. The available dishes that are influenced by Thailand are Charcoal Grilled Sliced Pork Steak Thai Style with Pineapple, Thai Red Curry, and Thai Green Curry Chicken with Eggplant and Sweet Basil.
Hainanese Chicken is a Chinese-inspired dish available in half and set meals. Moreover, they also offer Barbecue Roasted Baby Back Ribs and Wok Fried Black Curry Lamb.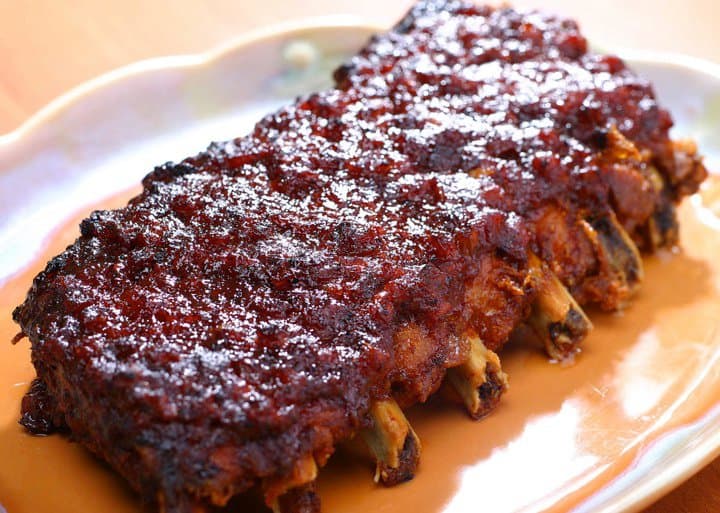 Bread Specialties
The Bread Specialties of Banana Leaf consist of Murtabak and Roti Canai which come with curry sauce or condensed milk and are sold separately.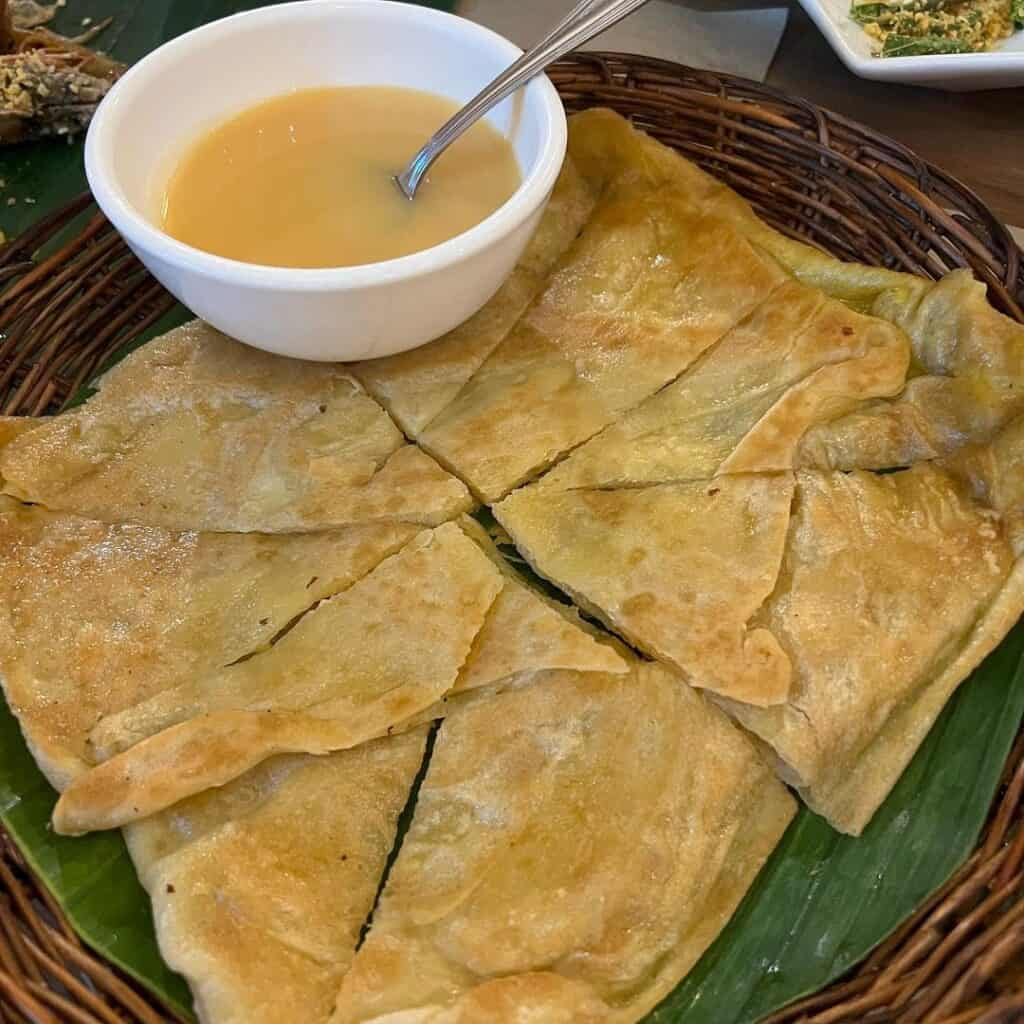 Roti Canai is one of the best-selling dishes which is made up of thin dough. Originally, this flatbread came from India after then found in other Asian countries. It is best to eat it with curry sauce or condensed milk to enhance its taste. The other bread specialty of Banana Leaf is Murtabak. It is a popular flatbread in Asian countries that can be eaten as a snack. 
Executive Set Meal
Executive Set Meal of Banana Leaf menu is good for 3 persons. Each meal served on one bento box consists of a main dish, rice/noodles, appetizers, and vegetables. These meals are only available for pick-up and deliveries.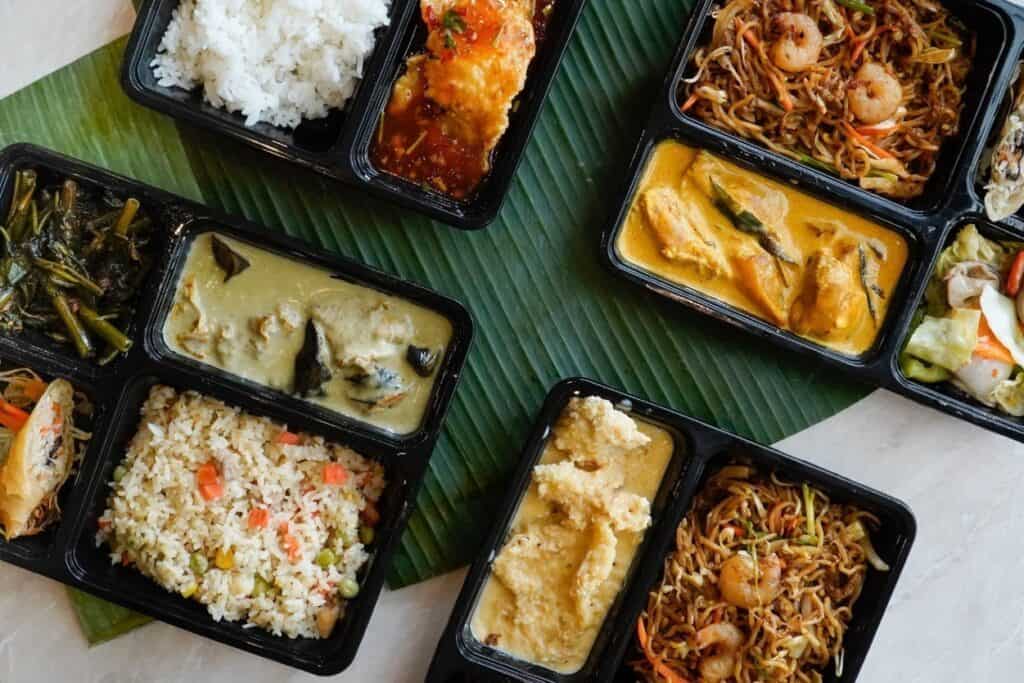 Malayan chicken curry with potatoes, Thai green curry chicken with eggplant and sweet basil, chicken rendang, deep-fried pandan chicken, deep-fried fish fillet with chili sauce, deep-fried fish fillet with Assam sambal sauce, and deep-fried fish fillet with Malayan cream sauce are the available main dish.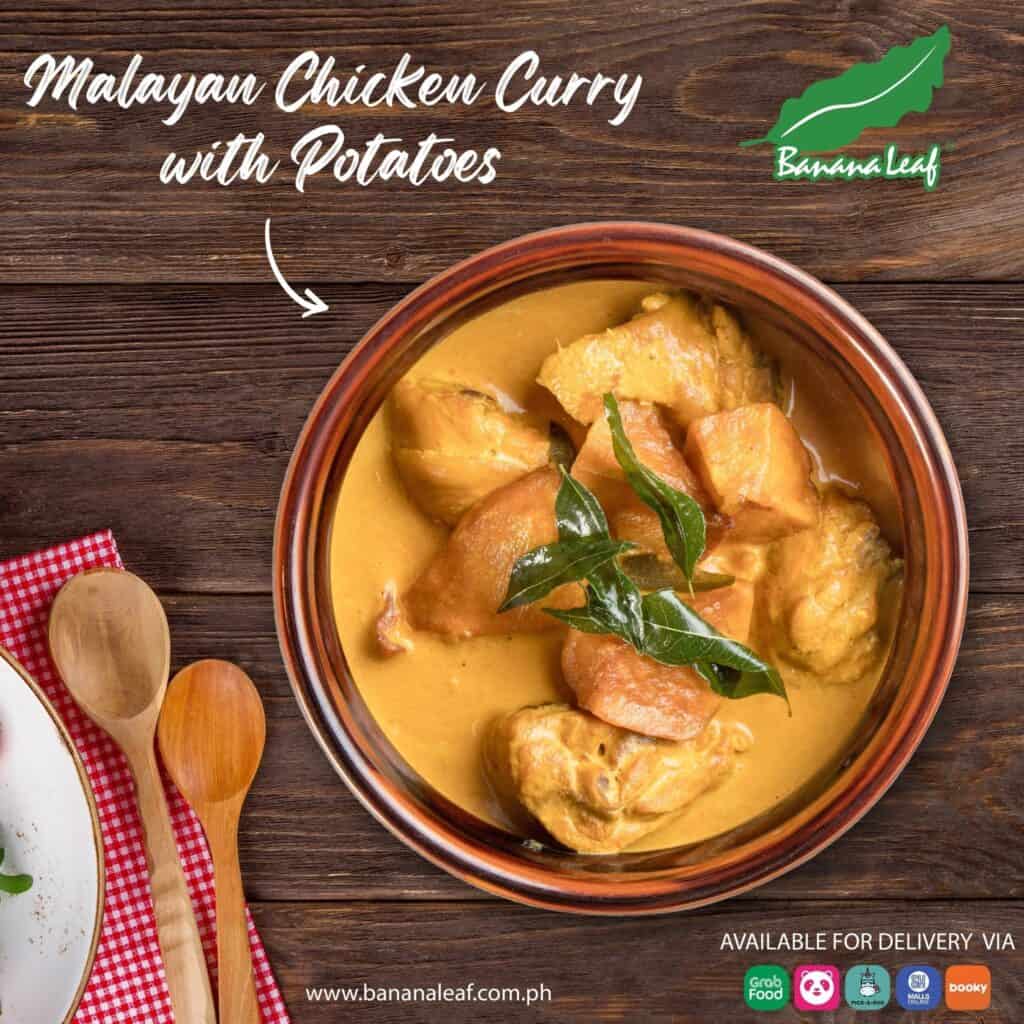 Rice/noodles selections consist of plain rice, Penang fried rice with salted fish and chicken, and mee goreng. Appetizers include vegetable samosas and crispy spring roll Vietnamese style. The available options for vegetable dishes are stir-fried Chinese kangkong with sambal sauce and stir-fried mixed vegetables with salted fish Thai style.
Banana Leaf Menu Delivery
Bring the flavors of Asian countries to your home or office through delivery. Banana Leaf menu delivery is available via GrabFood, Foodpanda, Pick-A-Roo, SM Malls Online, and Booky. To book a delivery, you may visit their official website. 
Social Media Pages
Stay updated with Banana Leaf PH through their social media accounts. They are actively posting about their announcements and promotions on different platforms of social media like Facebook, Instagram, and Twitter. Refer to the links below and you may like or follow their pages to support their social media pages.
Facebook: https://www.facebook.com/bananaleafph
Instagram: https://www.instagram.com/bananaleafph
Twitter: https://twitter.com/bananaleafph
Conclusion
The Banana Leaf menu will let you enjoy various flavors from various Asian countries. You don't have to travel around Asia to enjoy international dishes as you can have them through dine-in, pick-up, and delivery. It is a perfect place for those who want to try various Asian dishes and experience a delightful Asian dining experience. Its welcoming ambiance, authentic and freshly cooked meals, and quality service will make you come back for more.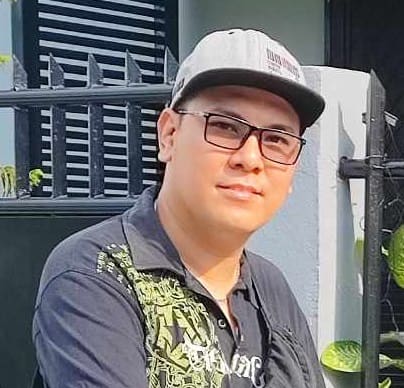 Hi! I'm Nivek Strife, the person who made MenuPH. I'm the one who added most of the popular menus you see on this website, and I really hope you enjoy them! Feel free to check them all out.
Growing up, I was surrounded by lots of tasty foods, like the classic Adobo and the sweet Leche Flan. That love for the many flavors of the Philippines is what got me excited about adding to MenuPH. When I learned how to make websites, I saw the need for a place to show off all the amazing Filipino dishes, and that's how MenuPH started.
MenuPH isn't just a website; it's like a fun journey into food. I've teamed up with famous chefs and found great places all over the Philippines to bring you a bunch of menus that show off the best of Filipino cuisine. Whether you're into the usual dishes or new twists, MenuPH is here to guide you through the rich world of Filipino flavors.
With MenuPH, my aim is to help local businesses, talk about good food choices, and make a group of friends who love food. No matter if you like fancy restaurants or street food, MenuPH has something for you. Come join me on this food adventure as we find great places, taste real flavors, and enjoy the unique food traditions that make the Philippines awesome.