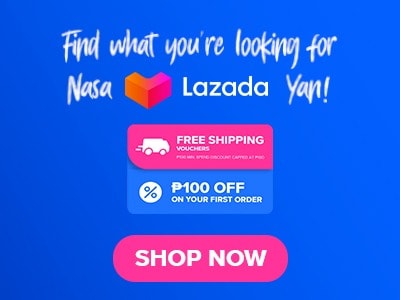 The Bulalo World menu offers a heartfelt taste of traditional Filipino-style dishes to foreigners and locals alike. They are best known for their different varieties of sizzling meals. Each of their meals is already proven to be one of the best when it comes to taste, affordability, and quality. It is because they use local ingredients and prioritize freshness over price. And with this, it is mostly guaranteed that the customer will have the best service there is.
Below, you'll find the updated list of Bulalo World menu prices.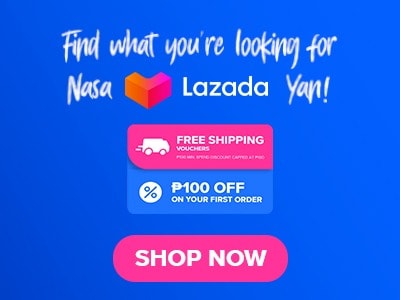 Menu Items
Price (PHP)

Sizzling Meals

Chicken Fillet in gravy
99
Salisbury Steak in gravy
99
Sweet and Sour Fish Fillet
109
Bulalo Noodles
79
Hot Bulalo Meal
179
Sinigang na hipon Meal
169
Beef Kare-Kare Meal
189
Boneless Crispy Pata Meal
179
Bulalo Sinigang Meal
189
Salmon sinigang sa Miso Meal
189
Beef in Mushroom Sauce
159

Desserts and Drinks

Choco Loco Halo Halo
65
Coffee Jelly
39
Coke
42
Sprite
42
Royal
42
Iced Tea
45

Extra

Rice
20
Add-on egg
20
About Bulalo World
Bulalo World is a Filipino-style restaurant located at the Isetann Mall in Quiapo, Manila. The place is very convenient for those who live in Metro Manila and surrounding areas. They are the first bulalo fast-casual restaurant chain in the Philippines. They currently have 34 branches that are spread all over Luzon. Bulalo World offers traditional Filipino-style dishes for both foreigners and locals at a very affordable price. And it is worth noting that while their dishes are budget-friendly, every single one of them is of the highest quality.
Bulalo World Menu Sizzling Meals
This is made up of Bulalo World's sizzling specialties. Experience the exquisite tastes of traditional Filipino meals.
Chicken Fillet In Gravy – This Bulalo World Chicken Fillet menu is a dish made from chicken and gravy that has moist pan-fried chicken breasts covered in a thick sauce. It may be created quickly and easily with components found in your pantry. Enjoy the creamy and juicy experience that the Bulalo World's Chicken Fillet in Gravy provides.
Salisbury Steak in Gravy – A traditional, reassuring dish, this Salisbury steak with mushroom gravy is cooked with seasoned beef patties and a simple homemade sauce. For a traditional, comforting supper, this Salisbury steak with mushroom gravy recipe uses seasoned beef patties and a simple homemade sauce.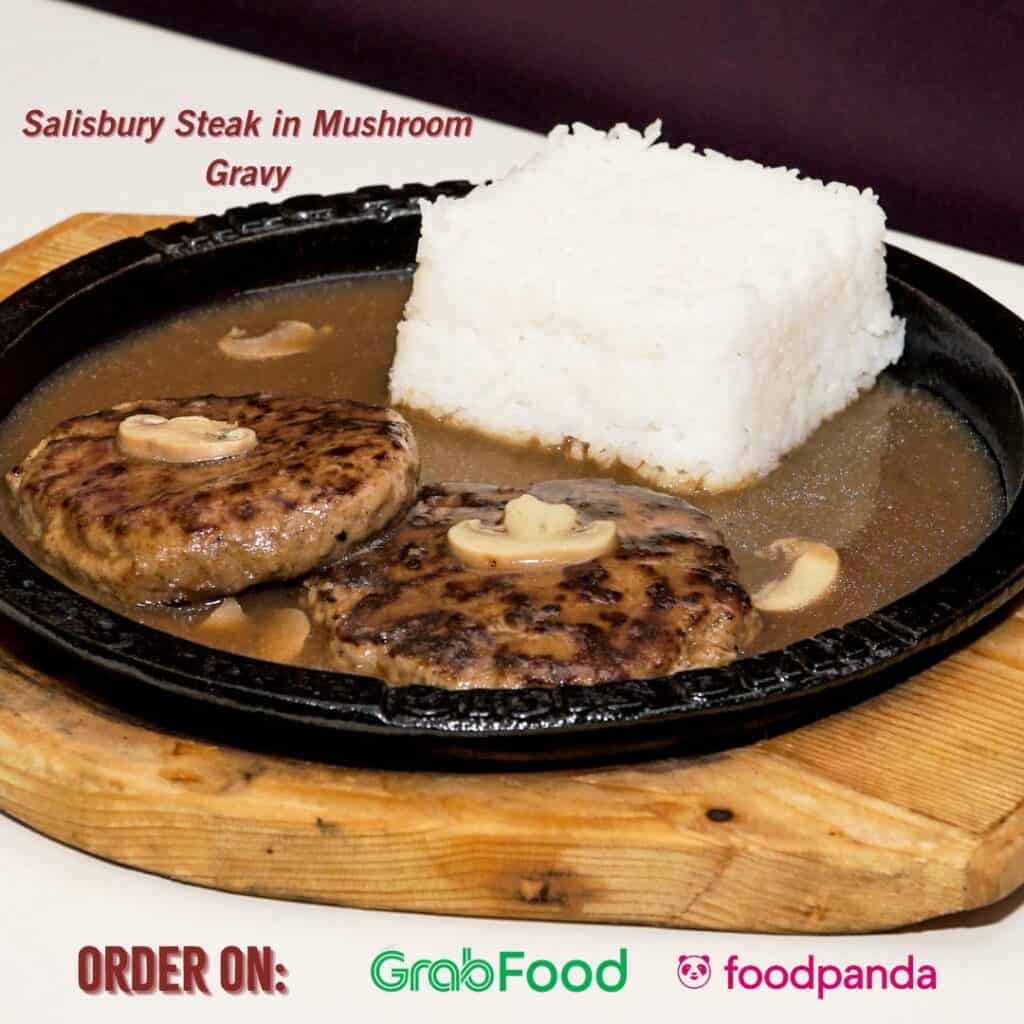 Sweet and Sour Fish Filet – For those who want to eat fish without the little fish bones, here is a wonderful sweet and sour fish filet. Fish filets are used in the Chinese sweet and sour fish recipe to provide a beautiful presentation while making the cooking process as simple as possible.
Bulalo Noodles
The ingredients for beef noodle soup include stewed or braised meat, beef broth, noodles, and veggies. In East and Southeast Asia, it can be found in a number of different forms.
Boneless Crispy Pata Meal
Traditional methods for preparing crispy pata include boiling, marinating, and deep frying. However, other restaurants have adopted baking, broiling, and off-the-bone methods for a more contemporary approach.
Desserts and Drinks
Bulalo World isn't only popular because of its Bulalo and other sizzling meals. They also serve luxurious and delicious desserts and drinks. Some people mainly visit them not because of the food but because of their delectable desserts. Additionally, another reason that makes their desserts popular is their availability and affordability. The desserts and drinks that they serve are choco loco halo-halo, coffee jelly, coke, sprite, royal, and iced tea.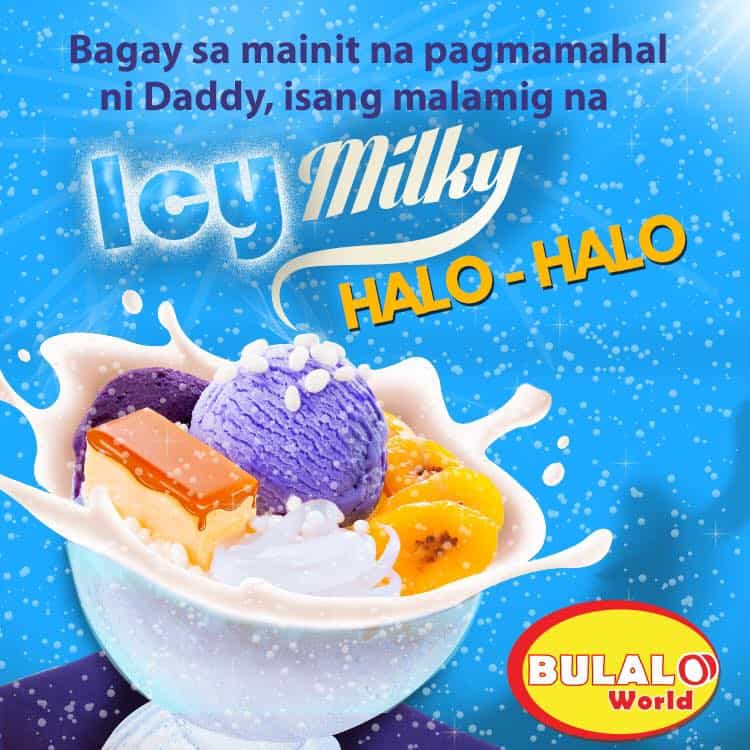 Hot Bulalo Meal
One of the staple dishes in the Philippines is Hot Bulalo, especially during the rainy season. This ox bone stew provides the warmth that you need on a rainy day. It also keeps you hydrated and full. The soup in this scrumptious meal could also function as an antidote when you are sick, as it can also help stave off flu and colds.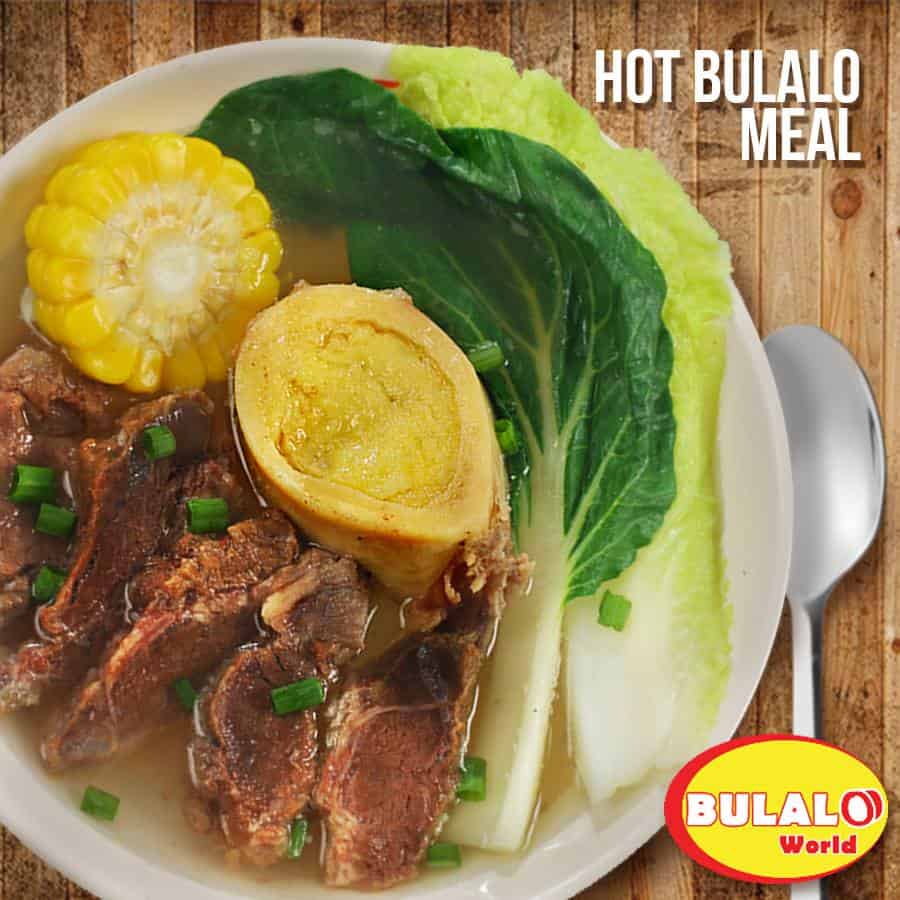 Bulalo World's Hot Bulalo meat will melt in your mouth because of the tenderness of the meat. It also has a hearty, and savory stock that is made from boiling beef shanks and bone marrow. This traditional Filipino-style beef stew is a year-round favorite dish and is definitely a must-have during the rainy season.
Beef Kare-Kare
The Philippines' popular beef and peanut stew, Kare-Kare, is made flavorful by their special sauteed shrimp paste, also known as bagoong. Green beans are also included in this dish, but you can also add pak choi or fried aubergines to make the stew more substantial. This rich, delicious sauce, which is made with peanuts, achuete, and toasted rice, is ready to simmer with delicate beef or oxtail for an unforgettable Beef Kare-Kare. Kare-Kare has a lot of protein and other nutrients that help your body repair and build bones and muscles, and it also helps create enzymes and hormones. Therefore, I highly recommend that you try this Bulala World menu.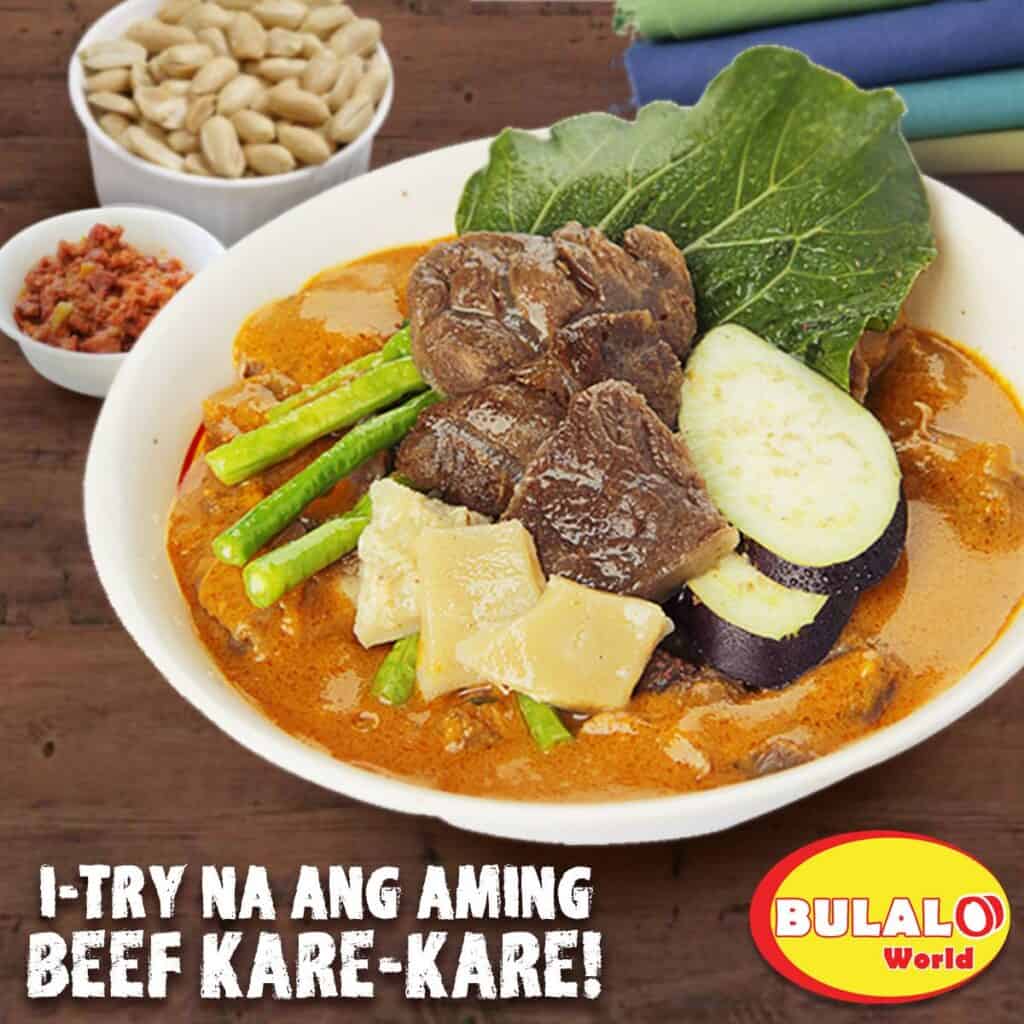 Bulalo World Menu Delivery
You can now enjoy your favorite Filipino sizzling meals without leaving the comfort of your own home. Bulalo World now provides menu delivery and services for all its customers. This is to provide a more convenient way to let their customers experience Bulalo World's tasty meals without even going out. To order, download the GrabFood or FoodPanda applications on your mobile devices and search for the Bulalo World store. Browse their menu and press the "Order" button after finding the meal that you are craving.
Talk to Bulalo World PH Staff
For more information or if you have any questions about Bulalo World's menu delivery or delivery process, you may visit their official social media pages and send them a message. Links are provided below so just click the link to redirect to their respective social media pages.

Facebook: https://facebook.com/officialbulaloworld/
Instagram: https://www.instagram.com/bulaloworldofficial/
Twitter: https://twitter.com/bulaloworld 
Conclusion
Bulalo World's menu highlights delectable and affordable Filipino dishes. Their most popular dish, which is the Bulalo meal, is just perfect! Each serving contains most of the ingredients that a Bulalo ought to have, in addition to the generous portions that each of their dishes has. The place itself is spacious, the interior is well-designed which can also be a good way to distract yourself and let the time pass waiting for orders to arrive. And lastly, their staff members are also worth mentioning. Bulalo World has a lot of staffers that can immediately cater to each of their diners' concerns. Overall, Bulalo World is a great place to enjoy traditional Filipino meals.