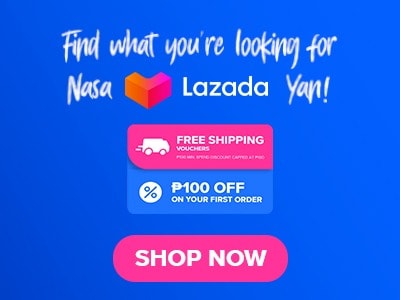 The Almon Marina menu consists of freshly made appetizers and salads, soups, pasta, sandwiches, house-grilled specialties, and desserts. Its dishes are inspired by different parts of the world. It has a wide selection of dishes so you will surely find the best
combination that will satisfy your cravings. Dishes are made fresh every day and made up of ingredients that blend perfectly to give you healthy and delicious foods.
Below, you'll find the updated list of Almon Marina menu prices.
Menu Items
Price (PHP)

Appetizer/Light Starter

Norwegian Smoked Salmon Plate
445
Smoked Tangigue Plate
360
Deli Platter
234
Swiss Cheese Plate
260
New Zealand Baked Mussels
260
Crepe Asparagus
75
Quiche Lorraine / Spinach Quiche
295
Liver Pate'
125

Salads & Soups

Reuben Salad
230
Chef's Salad
230
Chopped Salad With Peta Cheese
260
Chicken & Curry Salad
230
Crab Louis Salad
230
Caesar's Salad
260
Fruit & Walnut Salad
230
Soup of the Day
120
Salad Nicoise'
230

Gourmet Combinations

Sandwich, Soup & Drink
335
Sandwich, Salad, & Drink
420
Salad, Soup & Drink
407

Pastalicious Combination

6'' Farmers Ham & Cheese Sub With Pasta
260
Quarter Chicken, Pasta & Salad
335
Fish & Fries with Pasta
390
Garlic Sausage, Pasta, Salad & Garlic Bread
293
"Lite" Sandwich, Pasta & Salad
353
Double Pasta with 1 PC. Roast Chicken & Garlic Bread
308
Burger, Pasta & Fries
335

Pasta

Puttanesca (Single)
260
Puttanesca (To Share)
495
Carbonara (Single)
260
Carbonara (To Share)
490
Alfredo with Beef & Mushroom (Single)
270
Alfredo with Beef & Mushroom (To Share)
498
Pasta Ala Osso Buco (Single)
320
Pasta Ala Osso Buco (To Share)
595
Seafood & Zuchinni (Single)
270
Seafood & Zuchinni (To Share)
510
Bolognese (Single)
245
Bolognese (To Share)
460
Lasagna (Single)
240
Salmon Lasagna (Single)
275

All Beef Sandwiches

Sydney Special
275
Manhattan's Lunch
360
Air Dried Beef
360
Pastrami On Rye
280
Reuben Sandwich
370
California Roast Beef
385
Open Faced U.S. Black Angus
346

Chicken or Turkey Sandwiches

San Francisco Smoked Chicken
292
Open Faced Roast Turkey
425
New York New York
245
Classic Club
162
Smoked Turkey
435
Sour Cream & Chicken
170
Open Faced Roast Chicken
260
California Roast Turkey
440

Liver Pate'

French Choice
250

16'' Submarine Sandwich

Westphalian Submarine
380
Neptune Submarine
355

Pork or Ham Sandwiches

Boston Club
268
Maryland's Fresh Asparagus, Ham & Egg
315
Garlic Sausage Crunch
195
Petaluma Treat
245
Parma Ham
345
Nutty Ham Club
193
Club Breakfast
189
Swiss Raw Ham
346
Croque Monsieur
230
4th Street BLT
245

Sausage Sandwiches

German Sausage
320

Seafood Sandwiches

Michael Zuni's Tuna
299
Smoked Salmon
438
Pink Salmon
270
Almon Marina Special
245
Hot Crab
265
Smoked Tangigue Plate
399
Tuna Melt
184
Tuna Cheese & Pineaaple
178
Avocado Seafood
282
Swiss Cheese Sandwich
320
Bruschetta
205
Lausanne Grilled Sandwich
205

House Specialties

Bacalao Ala Vizcaina
385
Callos
320
Spanish Beef Stew
314

Grilled Specialties

Pork Rib
315
Pork Back Rib
315
Grilled Sausage
335
Stuffed Porkchop
295
Herbed Salisbury Steak
260

Seafood

Norwegian Salmon
395
Fish & Fries
280
Oriental Fish Fillet
225

Beef

Entrecote'
308
U.S. Beef Ribs (Boneless)
415
Fillet Mignon
580

Roast Chicken

Roast Chicken (with 1 siding)
258
Roast Chicken (with 2 siding)
285

Kebabs

Chicken Kebab
240
U.S. Beef Kebab
320
Seafood Kebab
265
Lamb Kebab
345
About Almon Marina
Almon Marina initially operated as a cold seafood and deli shop. In 1990, the management transformed it into a sandwich bar and deli restaurant. It has multiple branches in different parts of Metro Manila. Soups are freshly made every day, meals are inspired by Spanish-style cooking techniques, and sandwiches are prepared using Spanish-style cooking techniques.
Almon Marina Starters
The Almon Marina Starter menu is a great meal that will stimulate your appetite. This selection of light starters will make you enjoy the food to come.
Smoked Salmon Plate – Norwegian smoked salmon is served with capers, slices of onion, and dill sauce on a plate.
Deli Platter – This platter consists of assorted cold cuts, cebbolitas, Swiss cheese, and olives.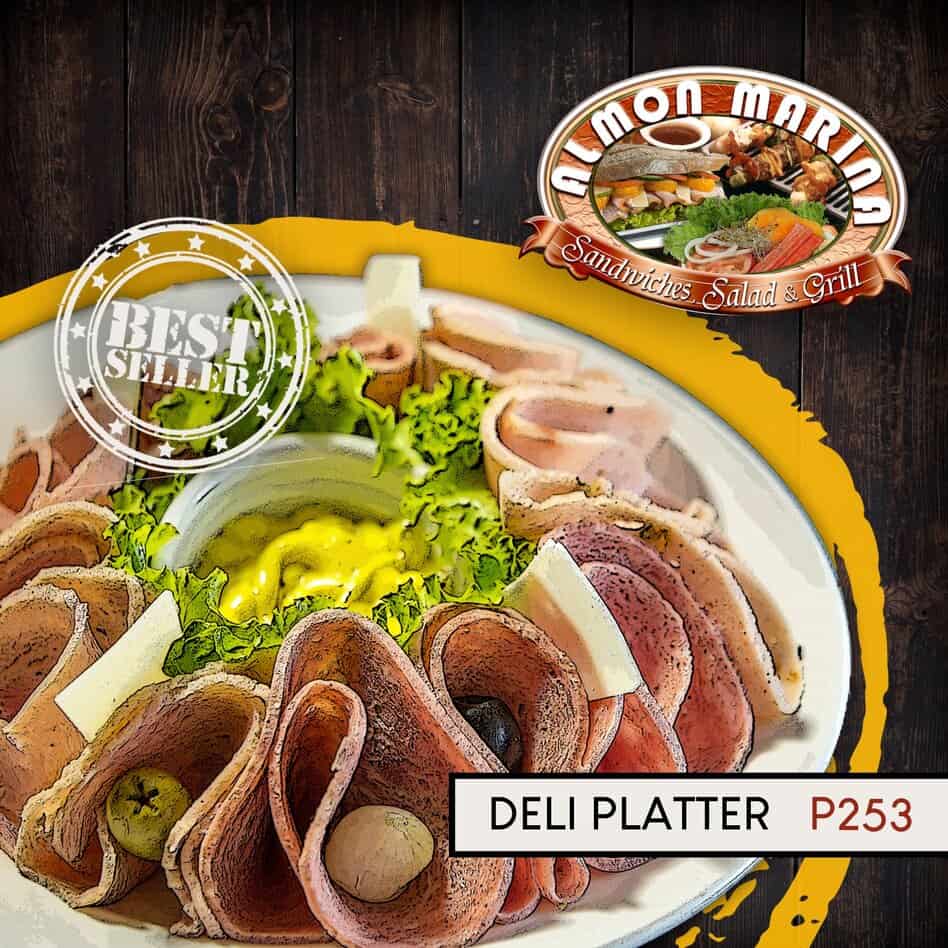 Crepe Asparagus – Slices of asparagus, pickles, and ham are stuffed in a folded crepe.
Quiche Lorraine / Spinach Quiche – It is served with bacon or spinach with cheese pie and onions.
Liver Pate' – This Almon Morina starter comes with goose and chicken liver with slices of French bread.
Gourmet Combination
Gourmet Combination is a menu of Almon Marina where you can combine two of your favorite combination between sandwiches, soup, and salad.
Sandwich, Soup & Drink – This gourmet combination consists of your preferred "lite" sandwich, soup of the day, & a glass of Citrus Iced Tea. Sandwich selections include the Sydney Special, some treats, Manhattan's Lunch, Almon Marina Special, New York, Boston Club, Pastrami on Rye, and Petaluma.
Sandwich, Salad & Drink – It comes with your choice of "lite" sandwich, Chef's salad, and a glass of Citrus Iced Tea.
Salad, Soup & Drink – Soup of the day, your choice of salad, and a glass of Citrus Iced Tea come together in this gourmet combination. You can choose from Chef's Salad, Reuben Salad, Salad Nicoise, Fruit & Walnut Salad, and Chicken & Curry Salad.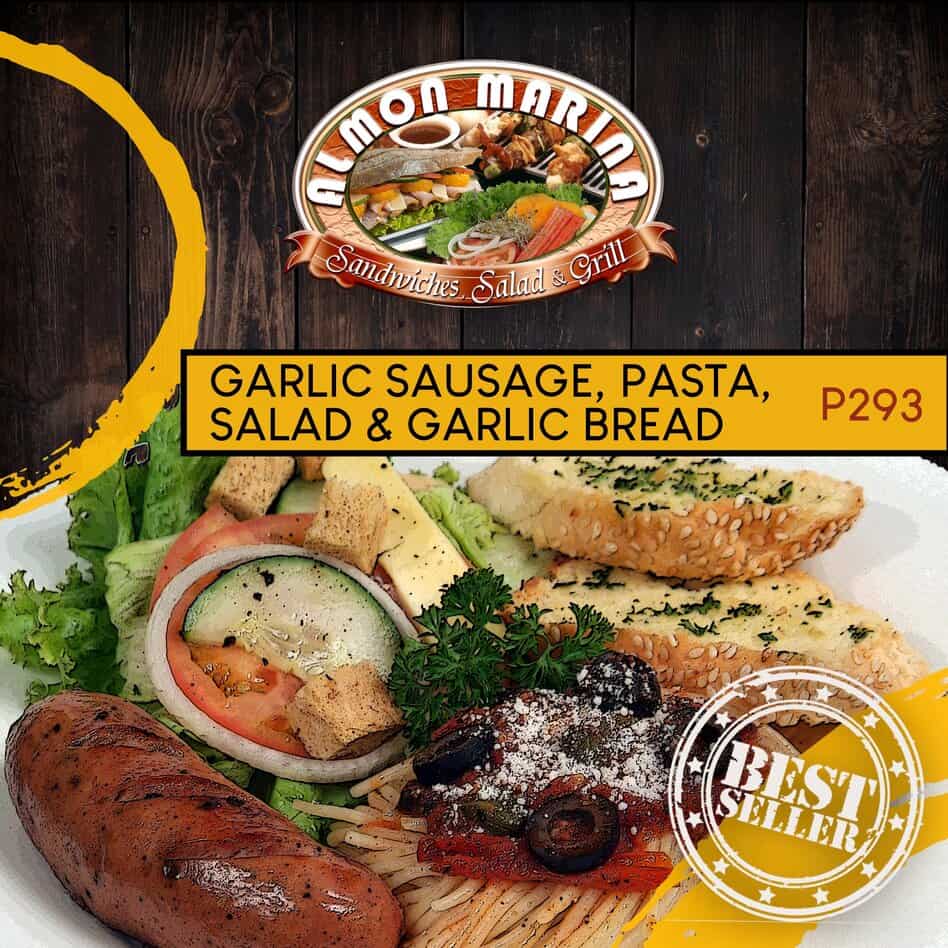 Salad & Soup
Almon Marina Salads are ideal for health-conscious customers. Thousand Island, Roquefort or Blue cheese, Vinaigrette, and Ranch are the available salad dressing that you can choose from. For health conscious people, you should order these Almon Marina menus.
Reuben Salad – It is composed of Swiss cheese, eggs, and slices of corned beef that are garnished with red cabbage.
Chef's Salad – Smoked ham and chicken slices, eggs, cucumbers, tomatoes, onions, turnips, and peppers come together in this dish.
Chopped Salad with Feta Cheese – Chopped vegetables and olives with almond slivers are served with Feta Cheese.
Chicken & Curry Salad – This salad consists of diced chicken, tomatoes, nuts, raisins, and slices of celery. It is served with its own curry dressing.
Crab Louis Salad – Crab sticks are served with fruit slices, eggs, olives, onions, tomatoes, and peppers.
Caesar's Salad – This salad includes crisp lettuce leaves, bacon bits, croutons with its own special dressing, and a dash of Parmesan.
Fruit & Walnut Salad – Slices of papaya fruit and crisp lettuce leaves are served with walnuts and prunes.
Salad Nicoise' – Boiled potato, string beans, eggs, tuna chunks, tomato, capers, and olives are part of this dish.
Soup of the day – This soup is freshly made every day with two choices to choose from.
Pasta
Almon Marina's pasta dishes are served with various ingredients such as beef, seafood, bacon slices, and ground meat. It is available in a "single" or "to share" order.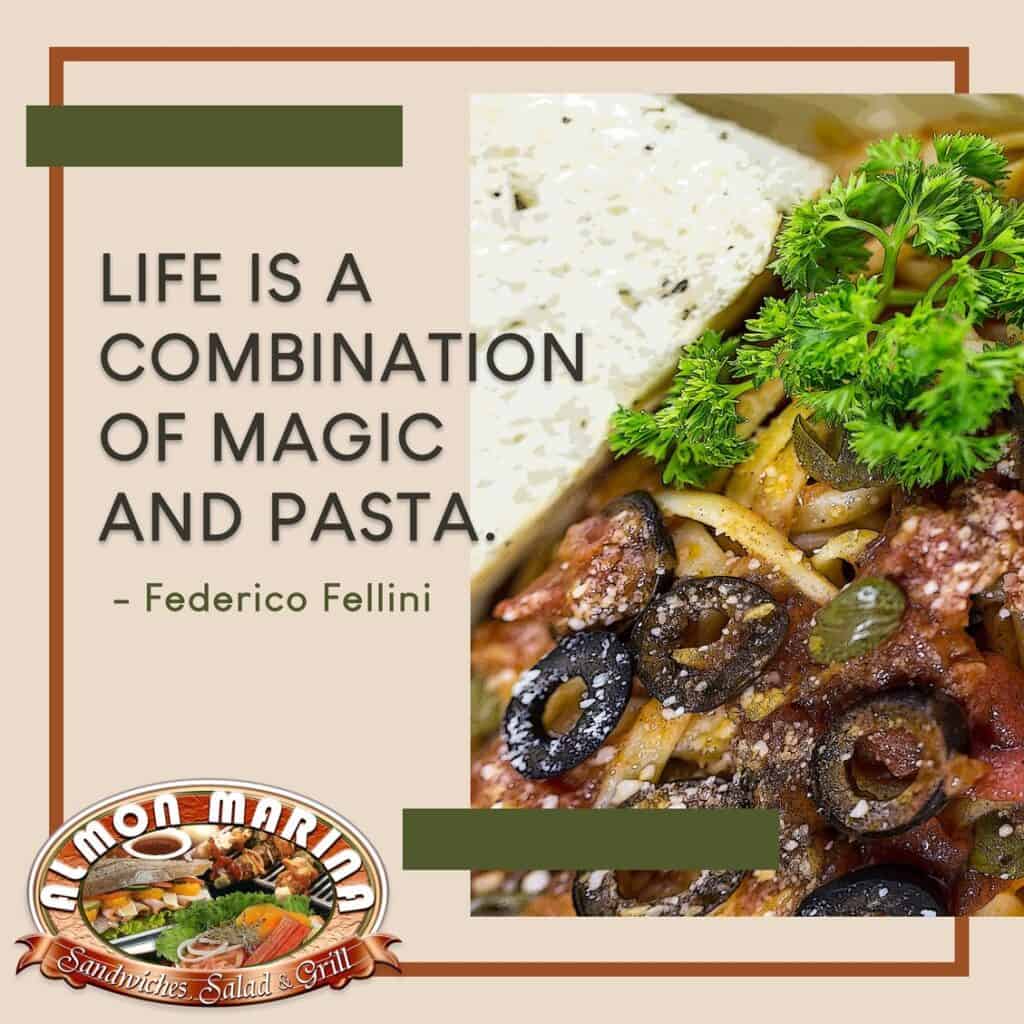 Puttanesca – Pasta is cooked with fresh tomatoes, capers, anchovies, and olives.
Carbonara – Carbonara pasta is sauteed with cream sauce, bacon bits, and Parmesan cheese.
Alfredo with Beef & Mushroom – Pasta is cooked with cream sauce, beef strips, and mushrooms.
Pasta Ala Osso Buco – U.S Beef slices are sauteed in olive oil and tomato sauce.
Seafood and Zucchini – This pasta is ideal for those who love seafood as it is cooked with shrimp and crabmeat in olive oil with pesto.
Lasagna – Ground meat stuffed in lasagna and baked with a lot of cheese.
Salmon Lasagna – Salmon chunks are stuffed in layered pasta and topped with cheese. It comes with mixed vegetables such as crisp lettuce leaves, tomatoes, and slices of cucumbers.
Beef Sandwiches
Beef sandwiches menu of Almon Marina are carefully made and garnished on crisp lettuce leaves and special dressing except for California Roast and Open-Faced U.S. Black Angus.
Sydney Special – It is a Sydney-inspired beef sandwich that consists of rare roast beef on rye with tomatoes, apple slices, horseradish, mustard, cheese, and onions.
Manhattan's Lunch – A Manhattan lunch-inspired sandwich where corned beef slices, cottage cheese, mustard, and tomatoes are stuffed in two slices of rye bread.
Air Dried Beef – Rye bread is filled with "Bresaola" slices from Italy that are garnished with onions and tomatoes.
Pastrami On Rye – Its fillings consist of peppered beef slices, spicy mustard, gherkins, onions, and tomatoes.
Reuben Sandwich – Sliced corned beef topped with mustard, sauerkraut, Swiss cheese, and mustard sandwiched between two slices of French bread.
California Roast Beef – Focaccia bread is filled with roasted beef slices that are topped with Swiss & mozzarella cheese, almond slivers, and fresh asparagus. It is served with fries and gravy on the side.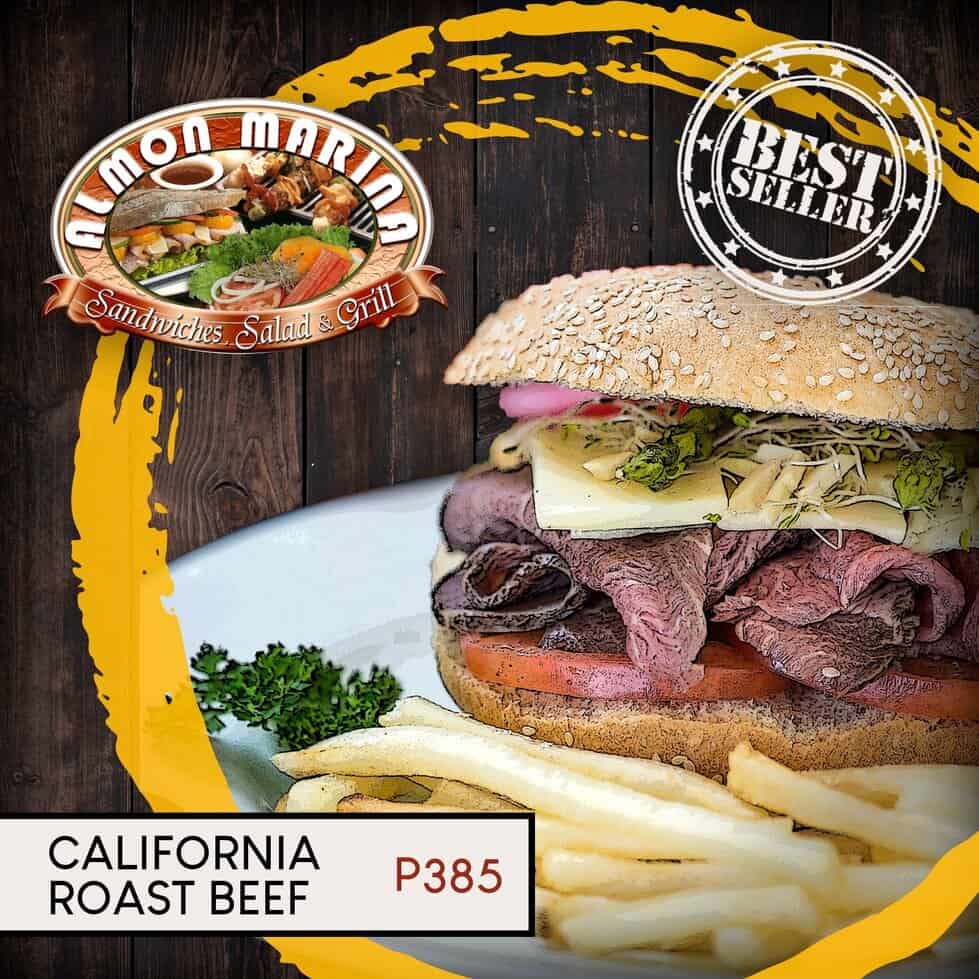 Open-Faced U.S. Black Angus – One slice of rye bread is topped with slices of Black Angus. It is served on a plate with mashed potato, herb vegetables, and gravy.
Seafood Sandwiches
It is a set of sandwiches that are filled with various seafood such as tuna, salmon, crab, shrimp, and tanigue. These sandwiches are perfect for those who love seafood.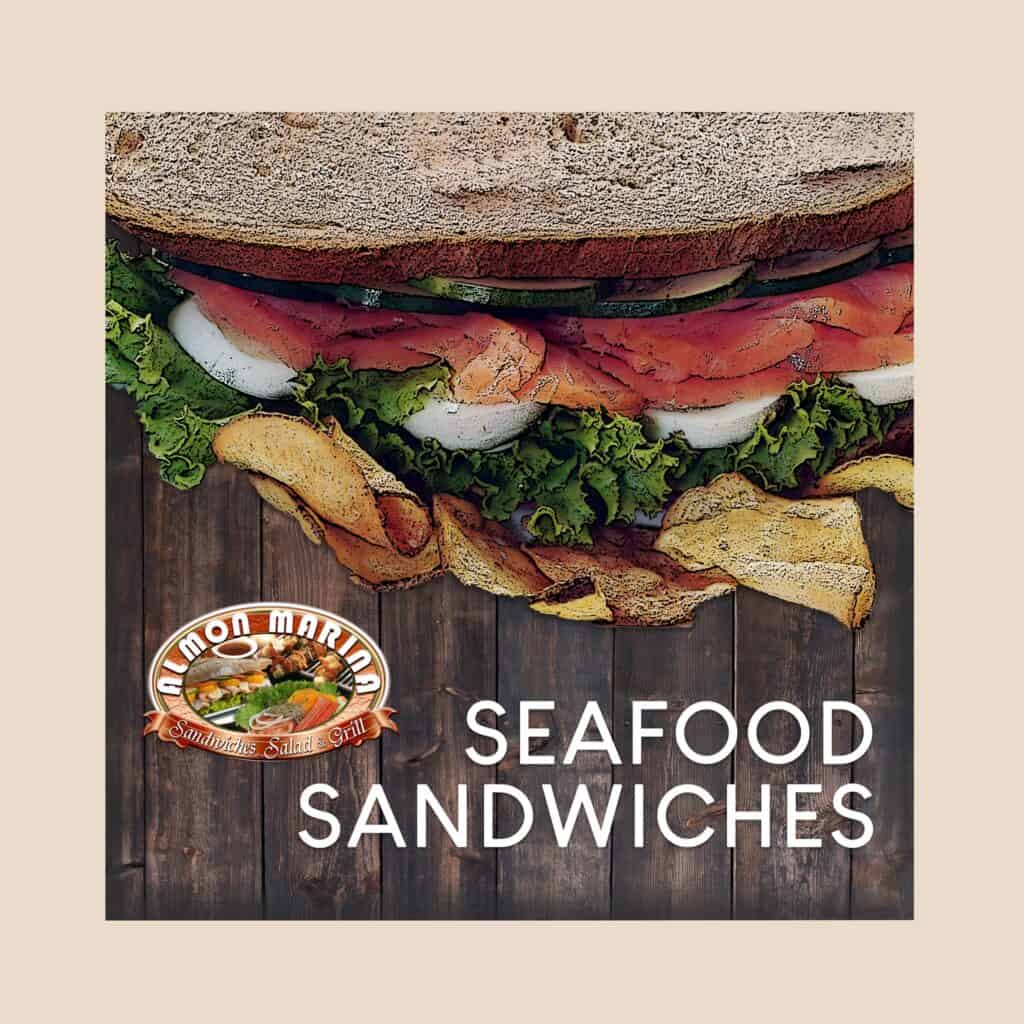 Michael Zuni's Tuna – Tuna chunks with aioli sauce, capers, olives, and Swiss cheese are stuffed in Ciabatta bread.
Smoked Salmon – Rye bread is filled with Norwegian smoked salmon with sliced eggs, dill sauce, and lots of cucumbers.
Pink Salmon – French bread is garnished with sliced eggs, gherkins, onions, and tomatoes.
Almon Marina Special – It is a special sandwich from the Almon Marina menu where tuna chunks with onion slices, sliced eggs, and tomatoes are stuffed between two slices of buttered French bread.
Hot Crab – Crab meat with hot sauce, cucumber slices, onions, and cheddar cheese is stuffed on rye bread.
Smoked Tangigue – Rye bread is stuffed with generous smoked tanigue slices, tomato slices, and onions.
Tuna Melt – Whole wheat bread is stuffed with various fillings such as tuna chunks, slices of apple, and walnuts that are topped with quick-melt cheese.
Tuna Cheese & Pineapple – It consists of tuna chunks, cottage cheese, and slices of pineapple on rye bread.
Avocado Seafood – The fillings of this sandwich consist of peeled shrimp that are mixed with various herbs and spices and topped with slices of avocado.
Almon Marina Menu Delivery
Enjoy Almon Marina dishes in your home with your family and friends through delivery. They deliver through online delivery platforms such as Food Panda and LalaFood. For quick deliveries, you can visit their website at almonmarina.com.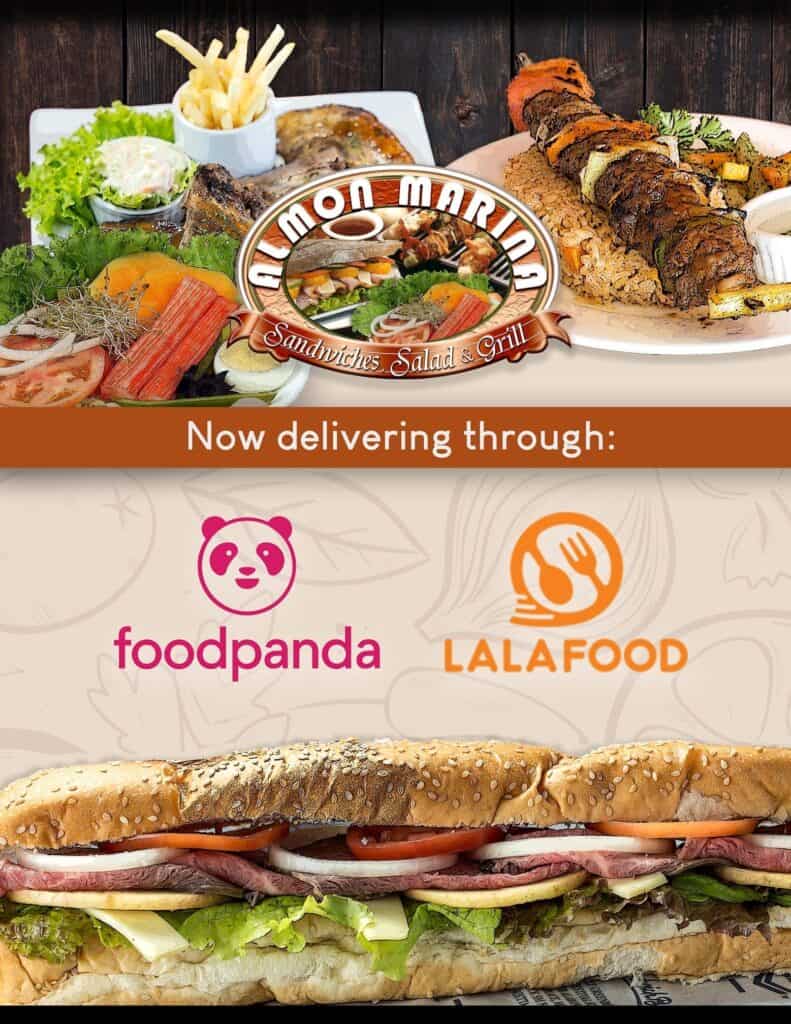 Talk to Almon Marina PH Team
Do you want to contact the team of Almon Marina Philippines so you can tell them your concerns? Well, you can reach them easily by checking their official social media pages. They are usually active and can respond to your queries within 24-48 hours. To contact them, find the send message button and start writing your concerns. While browsing their social media pages, I also encourage you to follow them. This way, you can get updated whenever they have something new. Now for the link, click any of the following:
Facebook: https://www.facebook.com/AlmonMarinaPH/
Instagram: https://www.instagram.com/AlmonMarinaPH/
Website: https://almonmarina.com/contact
Conclusion
The Almon Marina menu is a wide selection of dishes that are inspired by different parts of the world. It is a great place where you will enjoy good food that is perfect for any time of the day. Once you tried their menu, you will surely find your new favorite dish that will make you come back for more. It offers various food so you will always have something new to try that will make you look forward to your next visit.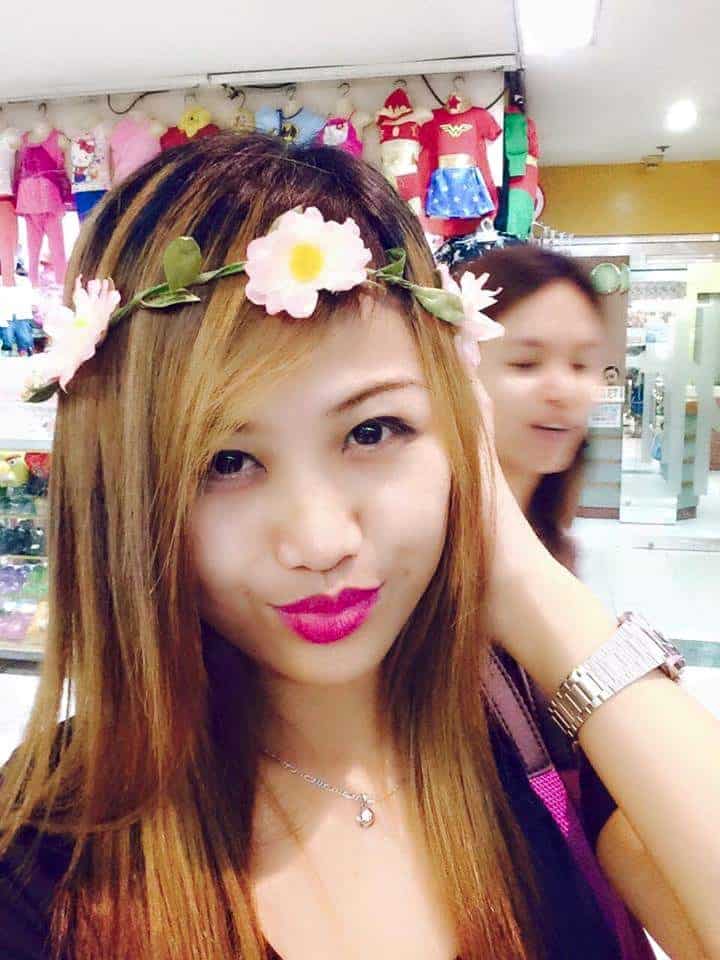 Hello! I'm Shaoyeu Cassandra, a mom who spends most of my time at home, and when I'm not busy, I enjoy writing blogs. I live in Cavite, and I really love talking about the menus of different restaurants.
So, I decided to share my thoughts on the menus of some fast-food places. I'm hoping my take on them can be like a helpful guide for you to decide what tasty treat to go for next. I hope you discover something you really enjoy! Thanks for stopping by!