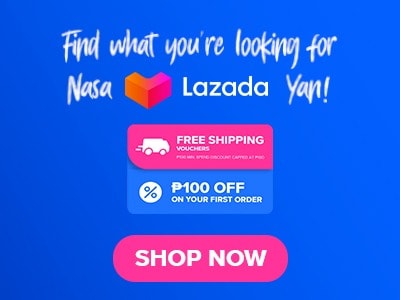 Milky Way's menu provides an international cuisine typical of hotel cafes but without the 5-star prices. Milky Way is renowned for its extensive menu of Filipino delicacies, which were created by the restaurant's founding chefs in the 1960s. The award-winning Milky Way Kare Kare, Tokwa't Baboy, Pancit Luglug, and Dinuguan at Puto are just a few of the favorites. In addition, Milky Way, Halo Halo, and Ice Cream are surely two of the many foods that you should not miss!
Menu Items
Price (PHP)

Best Seller

Sinigang
595
Adobong Pusit
495
Crispy Pata
1,795
Lechon Kawali
1,795
Beef Kaldereta
525

Halo Halo and Ice Cream

MilkyWay Sago't Gulaman
175
MilkyWay Halo Halo
225
MilkyWay Ube Ice Cream
595
MilkyWay Cheese Ice Cream
595
MilkyWay Avocado Ice Cream
595

Party Packages

MilkyWay Party Package 1
1895
MilkyWay Party Package 2
1750
MilkyWay Party Package 3
1800
MilkyWay Party Package 4
1600
MilkyWay Party Package 5
2400

Merienda Specialties

Fresh Lumpiang Ubod
150
Krupuk
395
Dinuguan at Puto
350
Pancit Luglug
275
Chicken Salad Sandwich
295

Menu Delivery

Chicken Arroz Caldo
295
Tokwa't Baboy
295
Fried Lumpiang Ubod
150
Kare Kare
695
Laing
325
About Milky Way
The Milky Way Cafe was a product of Cirkulo Restaurant's Chef J. Gamboa, and opened in December 2002. The cafe was designed to provide Filipinos with a dining and gathering space that incorporates elements from the Milky Way's 40-year history. Special homemade goods from the cafe's line of preserves and native delicacies are displayed on their shelves.
Milky Way Menu Best Seller
Adobo – Another classic Filipino dish from Milky Way menu. It is composed of pork slices cooked in soy sauce, vinegar, and sauteed garlic and onions. Milky Way offers its diners four varieties of adobo, pork ribs, talangka, pusit, and sugpo, providing them with a wide range of choices on the type of adobo they want to indulge in.
Sinigang – A classic Filipino sour soup that uses pork as its main ingredient! Milky Way offers five varieties of sinigang, boneless bangus, pork ribs, sugpo, salmon, and baka, providing diners with a wide range of choices on the type of sinigang they want to indulge in.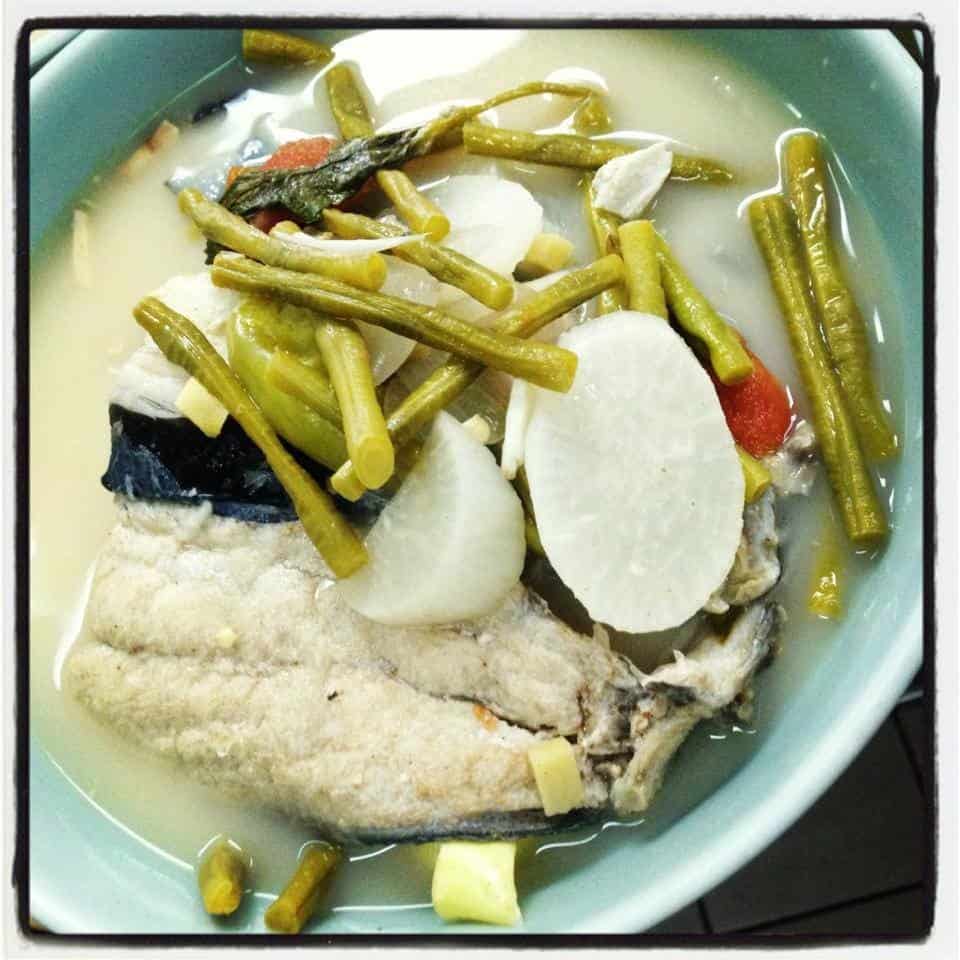 Lechon Kawali – Filipino cuisine of deep-fried, crispy pig belly. This dish is similar to crispy pata, the only difference is that it uses pork belly as its main ingredient. The method of how it is cooked is just the same as crispy pata. It is marinated and deep fried until it becomes crispy. Lechon kawali is also served after being chopped to pieces.
Crispy Pata – This is a very popular and common Filipino pork dish that can be eaten as a main dish or a pulutan. Crispy pata uses a whole pork leg as its main ingredient. Before being deep fried till crispy and golden, the pork leg is marinated.
Kaldereta – Personally, my all-time dish. Beef kaldereta is one of the staples in Filipino cuisine. It is a beef stew that is cooked in tomato sauce with vegetables such as potato or carrots and liver spread. The stew has a distinctive sweetness and savory taste. I highly recommended that you also try this menu from Milky Way.
Halo Halo and Ice Cream
Sago't Gulaman – A very common Filipino beverage that is made of gelatin, pearls, sugar, and water. The sago refers to the pearls, while the gulaman refers to the gelatin in it.
Halo-Halo- Probably the best halo-halo that you'll ever taste! This one starts with a purple scoop on top, followed by the super creamy ice cream that is also a product of the Milky Way. It is a treat for all people who have a sweet tooth. You should definitely try this Milky Way menu because it is really good, especially in summer.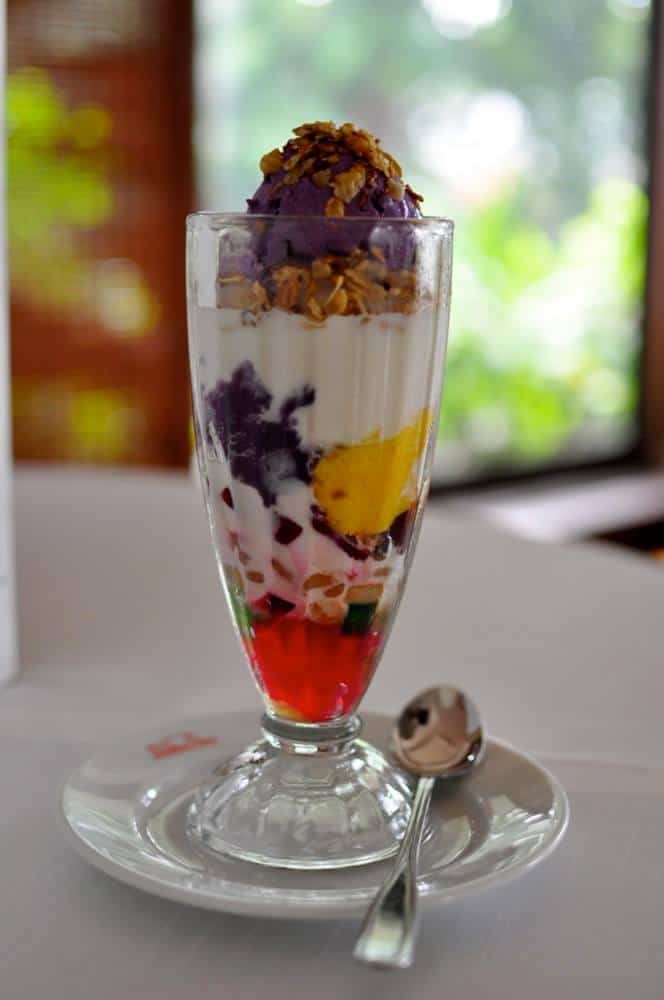 Ginumis – It is a shaved ice dessert made of gulaman, sago, pinipig, and sugar syrup, topped with fresh fruit, and is ideal for anyone who craves a little sweetness.
Ube Ice Cream – Ice cream with a unique ube flavor, handcrafted by Milky Way Cafe.
Avocado Cream – An ice cream product that was specially made by Milky Way Cafe and is avocado-flavored.
Milky Way Merienda Specialties Menu
Fresh Lumpiang Ubod – It is prepared by mincing carrots and the heart of the palm into thin strips. It is mixed with finely chopped onion, minced garlic, and a selection of other vegetables including potatoes, cabbage, green beans, and singkamas. It also has additional ingredients like shrimp, tofu, or meat, depending on the diner's preference.
Dinuguan at Puto – The majority of Filipinos think dinuguan and puto would make a wonderful dinner combination This is a reference to steamed rice cakes and hog blood stew,
Chicken Salad Sandwich – Similar to tuna or egg salad, chicken salad is made of cooked chicken meat, mayonnaise, and mustard.
Party Packages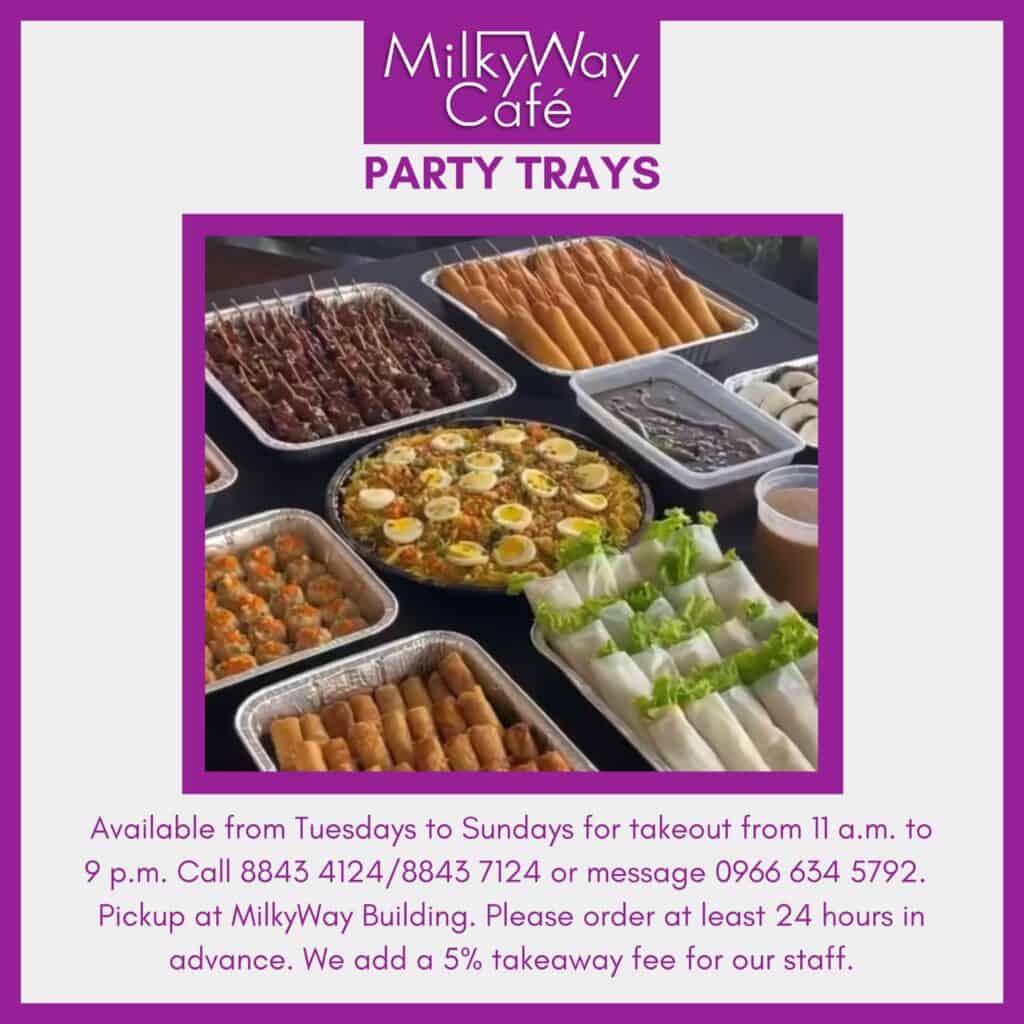 Party Package 1 – This Milky Way Party Package is composed of pancit sotanghon and a lumpia shanghai cake that can be served to an estimated 20 people.
Party Package 2 – It is composed of pancit sotanghon and miki guisado per foil pan that can be served to an estimated 20 people.
Party Package 3 – This package is composed of 40 pieces of steamed dumplings.
Party Package 4 – Another package from Milky Way is composed of 20 pieces of fresh lumpiang ubod with a garlic sauce.
Party Package 5 – It consists of Salad, Buko Pandan, Buko, Bacon, Potato, and Chicken Macaroni.
Milky Way Menu Delivery
Chicken Arroz Caldo – This dish is hearty and tasty Filipino rice and chicken soup, it is delicious any time of the day but is most frequently consumed as a snack.
Tokwa't Baboy – This menu is composed of boiled pork and fried tofu. This dish's liveliness is infused with soy sauce and vinegar sauce.
Kare Kare – Rich, thick peanut sauces are a common component in Filipino stews like kare kare. In the Philippines, it is a typical dish consumed on special occasions.
Social Media Pages
For questions and additional information, you can visit Milky Way's social media accounts or website. Like or follow them to stay up to date on their promotions and events. The links provided will redirect you to their respective social media pages.
Website: https://www.cafe.milkywayrestaurant.com/
Facebook Page: https://facebook.com/milkywaycafemakati
Twitter Account: https://twitter.com/ChefJGamboa
Instagram Account: https://www.instagram.com/milkywaycafe_makati
Conclusion
Milky Way Cafe's menu not only offers sweet desserts such as halo halo and ice cream, but also a wide variety of Filipino dishes that would make you nostalgic on your first bite. The classic Filipino dishes that they serve are very delicious and affordable. This is really a place where you would visit if you were craving tasty Filipino cuisine and sweet desserts.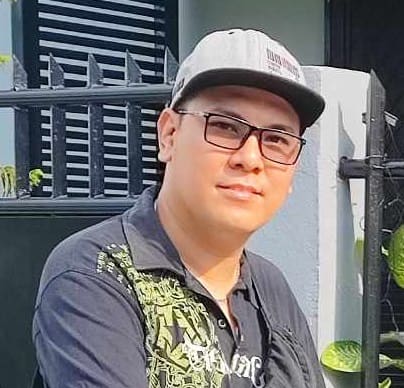 Hi! I'm Nivek Strife, the person who made MenuPH. I'm the one who added most of the popular menus you see on this website, and I really hope you enjoy them! Feel free to check them all out.
Growing up, I was surrounded by lots of tasty foods, like the classic Adobo and the sweet Leche Flan. That love for the many flavors of the Philippines is what got me excited about adding to MenuPH. When I learned how to make websites, I saw the need for a place to show off all the amazing Filipino dishes, and that's how MenuPH started.
MenuPH isn't just a website; it's like a fun journey into food. I've teamed up with famous chefs and found great places all over the Philippines to bring you a bunch of menus that show off the best of Filipino cuisine. Whether you're into the usual dishes or new twists, MenuPH is here to guide you through the rich world of Filipino flavors.
With MenuPH, my aim is to help local businesses, talk about good food choices, and make a group of friends who love food. No matter if you like fancy restaurants or street food, MenuPH has something for you. Come join me on this food adventure as we find great places, taste real flavors, and enjoy the unique food traditions that make the Philippines awesome.