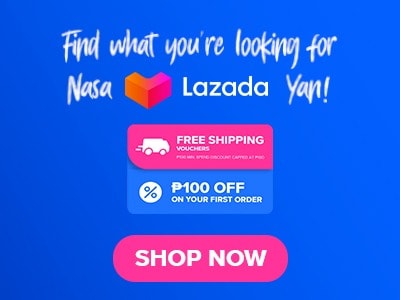 The Pho Hoa menu is a combination of Vietnam's well-known and healthy broth and the customer's preferred vegetables and herbs. Their ingredients are all freshly prepared and acquired locally. Pho Hoa is an expert in a range of rice dishes, vermicelli bowls, snacks, and even kid's meals in addition to their specialty, which is pho. Pho Hoa aims to serve scrumptious and genuine Vietnamese food. Their menu offers something for everyone, they even serve vegetarian dishes.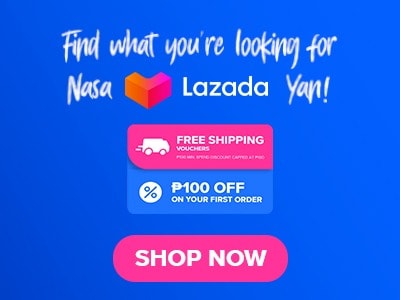 Menu Items
Price (PHP)

Best Sellers

Mi Xao Toi
250
Banh Mi
195
Bun Tom Thit Nuong
335
Pho Canh Chua Tom
360
Pho Chay
280
Pho Ga
295

Starters

Chien Trung Cuon
285
Mat ong Cang Ga
245
Thit Nong
180
Goi Cuon
175
Cha Gio Viet
175
Cho Gio Chien Voi Banh Xa Lach
255
Canh Ga Chien
195

Salads

Goa Ga
265
Goi tom Buoi
295
Goi Tom Xaoi
315

Rice Menu

Ga Nuong
295
Thit Kho
325
Chien Ga Ot Sung, Dau Phung
295
Com Ca Chien
305
Thit Nuong
355
Com Tom Rim
320
Com Thit Bo
305
Banh Mi Bo Kho
310
Con Ga Xao Nam
295
Thit Kuo Trung Dau Hung
305
Chay Dau Hu
285
Com Bo Xao
355
Com Suon Nuong
320

Delivery Menu

Brisket Pho
402
Chicken Pho
402
Fresh Rice Paper Rolls Shrimp
222
Brisket, Flank, Tendon and Meatballs Pho
468
Fried Rice Paper Rolls with Lettuce Wrap Pork
354
Fried Rice Paper Rolls Pork with Vermicelli
252

The Healthy Choice

Pho Bo Kho
295
For the Beginners Pho nam
295
The Adventurer's Choice Pho nam, Gan
300
Pho Chin Nam Gan Bo Vien
320
Pho Do Bien
350

Rice Plates

Com Tom Thit nuong
355
Com Tom Rim
320
Com Thit Bo
305
Bang Mi Bo Kho
310
Com Ga Nuong cha Gio
315
Com Thit Nuong cha Gio
315
Com Ga Xao Nam Bap Non
295
Thit Kuo Trung Dau hung
305
Chay Dau Hu
285
Com Bo Xao
355
Com suon Nuong
320

Ala Carte

Dau Dua Xao tom Tep
285
Thit Ga Bam Voi Bang Xa Lach Nam
315
Chien Dau Hu
285
Xao Chay
260
Tom Ot
350
Dau phu Gion
285
Chien Muc Ot
300
Ca Hap Vol Dau Vang
320

Noodles

Mi Xao Toi
250
Mi Xao don Thap cam
325
Tom Gia Ri Mu
335
About Pho Hoa
Pho Hoa is a Vietnamese noodle house whose passion is very simple, to make healthy Vietnamese foods that offer the same aroma and flavor as those of traditional pho. Pho Hoa revolutionized the way pho was made.
They were established more than 35 years ago and have a proven business model. Their goal is to serve quality, consistent, and healthy dishes.
Pho Hoa Menu Best Seller
Mi Xao Toi
This dish is Vietnamese garlic noodles. A buttery, umami-rich, and garlic enhanced flavor sauce that is poured over plump, chewy noodles can improve any dish that it is served with! It is one of the reasons why it is one of the all-time Pho Hoa menu bestsellers!
Bun Tom Thit Nuong
Rice noodles, grilled pork, and egg rolls are the main ingredients that are used in Bun Tom Thit Nuong. It is a light but flavorful Vietnamese dish that is garnished with a mixture of vegetables, crushed peanuts, and specially made fish sauce.
Pho Chay
It is a vegetarian version of Vietnamese pho. The homemade broth boasts its recognizable flavors, which are heavily blended with herbs and spices like star anise and cinnamon.
Pho Canh Chua Tom
In one bowl, the classic Vietnamese dish Pho Canh Chua Tom brilliantly captures the subtle harmony of sweet, sour, salty, and spicy flavors. This dish is best when it's cold outside, and it goes well with steamed rice for a heartier dinner.
Starters Menu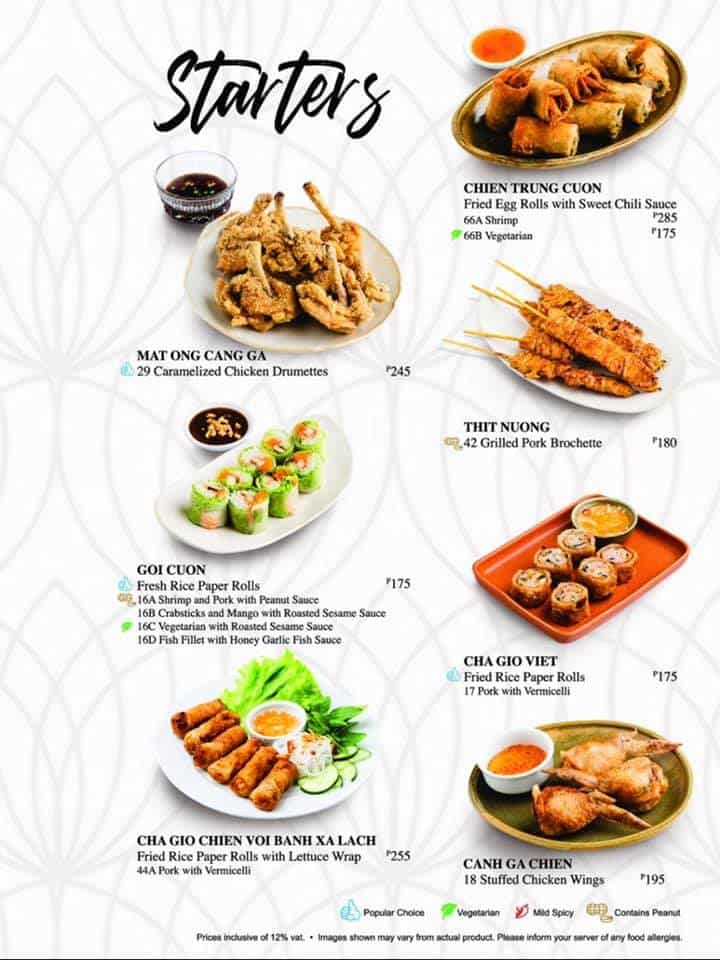 Chien Trung Cuon
Pho Hoa's own version of fried egg rolls that is a famous appetizer for many Chinese-American restaurants with their own spicy twist!
Mat Ong Cang Ga
Crispy fried chicken wings that are covered in sweet honey and tart tamarind sauce. It is a crunchy, salty, sweet, and a bit acidic snack that will tempt all taste buds. As for me, I love this Pho Hoa menu and recommend that you try it.
Thit Nong
The name literally means baked or barbecued meat. This dish is made with specially barbecued pork marinated in Pho Hoa's special marinade.
Goi Cuon
Is a typical Vietnamese spring roll recipe, combining delicate slices of pork and shrimp with fresh vegetables, herbs, fragrant hoisin, and peanut dipping sauce.
Cha Gio Viet
The filling for this dish is wrapped in transparent rice paper, which is then fried. Ground pork, veggies, wood ear mushrooms, and glass noodles are frequently included in the stuffing. They are frequently served with lettuce and herbs wrapped around them. This dish uses nuoc cham as a dipping sauce.
Salads Menu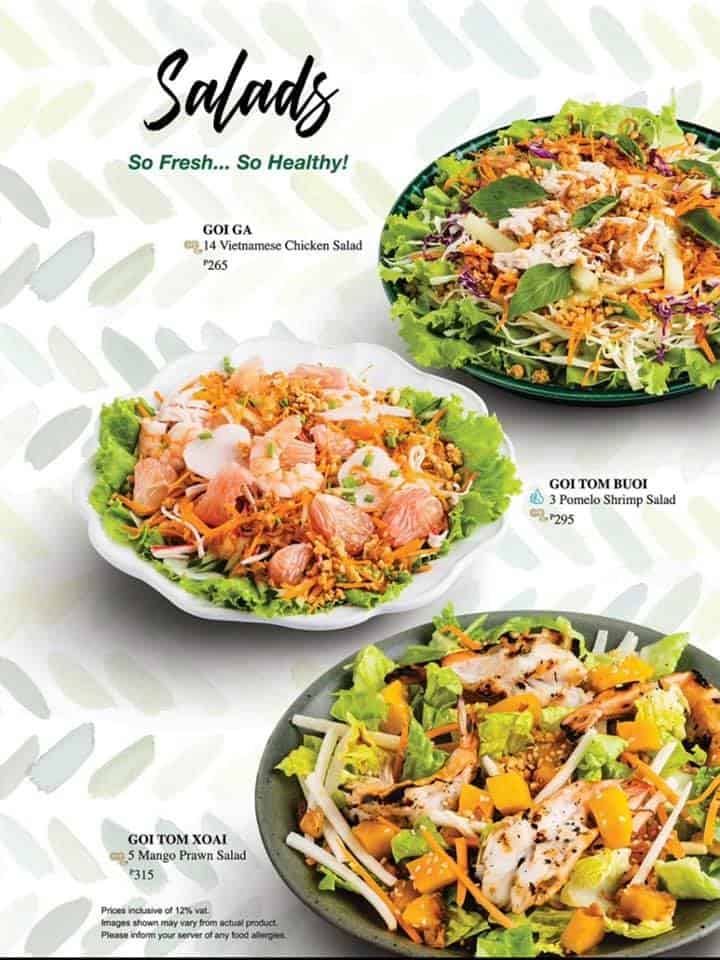 Goa Ga
It is one of the most well-known Vietnamese salads. A sweet and savory fish sauce dressing is blended with hand-shredded chicken, cabbage, carrots, onions, and Vietnamese coriander; it is then garnished with crispy roasted peanuts and fried shallots.
Goi Tom Buoi
Pomelo fleshes that have already been stripped of their skin and divided into distinct individual teardrop cells are the basis of this dish. Similar to other Vietnamese salads, the shrimp are boiled, deveined, and cut in half. Meanwhile, the herbs, which are cilantro, mint, coriander, and others, are finely chopped, and the pickled carrot is drained.
Goi Tom Xaoi
A zesty and sweet fish sauce dressing is poured over the tasty salad, which is composed of juicy shrimp, mangoes that are crisp and slightly acidic, fresh herbs, and hot jalapenos. You should give this dish a try if you enjoy the distinct flavor and texture that it brings.
Rice Menu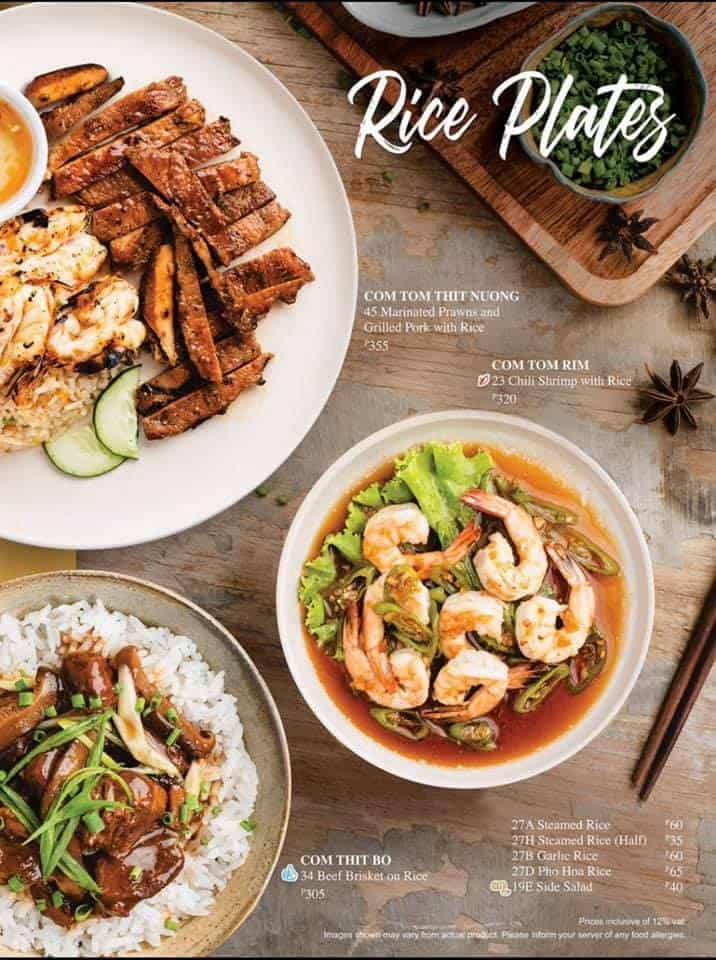 Ga Nuong
It is a Vietnamese dish for grilled chicken that has a smokey flavor. This chicken dish is flavored with Chinese five spices and is wonderfully paired with steamed rice and vegetables on the side.
Thit Kho
This Pho Hoa menu is an iconic Vietnamese dish that mostly uses simple ingredients. Eggs and thickly cut pork belly are simmered in coconut water until the meat is completely soft. As an added bonus, your rice will come with a glossy, caramel flavored sauce!
Com Ca Chien
This dish is made up of fish entirely! Com Ca Chien simply translates to "fried fish" in English. This dish turns crispy while the interior of the fish stays incredibly moist and soft.
Com Tom Rim
Vietnamese Caramelized shrimp that is shiny, fragrant, and crunchy are made through this dish. The prawns are cooked in Pho Hoa's special sauces after being marinated in them to achieve the ideal level of sweetness and savoriness.
Com Thit Bo
This excellent stir-fry dish that is very famous in Vietnam features meat and green beans. This simple dish is best served with warm, steamed rice.
Pho Hoa Menu Delivery
If you want to order your favorite menu from Pho Hoa even when you are at home, or just too busy and can't get outside, then you can start ordering your favorite online. To do this, you'll need to open the website of FoodPanda, LalaFood, or GrabFood. If you are confused about which one to order, you can use the following list as these are the most popular food menus from this fast food.
Brisket Pho
Tender beef in a flavorful, light broth in an instant pot. The ideal light lunch that this dish brings is perfect for the family!
Chicken Pho
The famous and much simpler version of the well-known beef pho dish. It refers to it as the Vietnamese equivalent of freshly made chicken noodle soup.
Fresh Rice Paper Rolls Shrimp
A delectable peanut dipping sauce is served with fresh shrimp spring rolls. Each roll is loaded with shrimp, herbs, and fresh veggies.
Social Media Pages
To know more about Pho Hoa's latest events and to avail of their promos and discounts, visit their official social media pages. Click the link and wait to be redirected.
Facebook: https://www.facebook.com/phohoainc
Instagram: https://www.instagram.com/ilovephohoa_ph/
Conclusion
Pho Hoa menu is famous for its authentic Vietnamese pho dishes. But not only do they serve pho, or Vietnamese noodles, but they also serve many different varieties of dishes like rice meals, appetizers, drinks, and even kid snacks. Pho Hoa is the best place to enjoy Vietnamese dishes in your own country. It is affordable, and the staff is trained to provide their customers with the best service that they deserve.