The Sizzling Plate menu is served on a hot plate. It is one of the restaurants that people visit because of its affordable and delicious sizzling dishes. The menu and its prices vary from each branch. Their regular outlets consist of Sizzling Specials, sizzling vegetables, beverages, desserts, and extras. While on most SM and Robinsons outlets consist of Sizzling Beef, Sizzling Pork, Sizzling Chicken, Sizzling Fish & Seafood, Sizzling Egg, Sizzling Desserts, Soup, Side Dishes, Add-Ons, and Beverages.
Menu Items
Price (PHP)

Sizzling Beef

Brazilian Ribeye (200 grams)
460
Brazilian Ribeye (250 grams)
540
Brazilian Tenderloin (200 grams)
635
Brazilian Tenderloin (250 grams)
775
Porterhouse Steak
350
T-bone Steak
350
Angus Beef Burger Steak
260
Braised Angus Beef Belly
375
Angus Beef Tapa
250
Beef Tenderloin Steak
335

Sizzling Pork

Barbecue Pork Liempo
225
Spiced Pineapple Porkchop
225
Crispy Pork Binagoongan
225
Pork Steak
220
Lechon Pork Sisig
220
Sizzling Lomi
115
Tocino Steak
220

Sizzling Chicken

Chicken Fillet Inasal
210
Peruvian Chicken
205

Sizzling Fish & Seafood

Squid Thermidor
365
Grilled Tuna Steak
250

Sizzling Egg

Steak Rice Omelette
150
Tapsilog
200

Sizzling Desserts

Mini Turon (5pcs)
75
Wicked Mini Oreo Cookies
60

Soup

Seafood Chowder
75

Side Dishes / Extras

Aglio Olio
50
Annato Garlic Fried Rice
45
Plain Rice
30

Add-Ons / Extras

Cajun White Wine Cream Sauce
25
Rum Hickory BBQ Sauce
25
White Wine Gravy
25
Mushroom Gravy
25
Extra Egg
25

Drinks

Coke (16oz)
54
Coke (22oz)
64
Coke Light (16oz)
54
Coke Light (22oz)
64
Sprite (16oz)
54
Sprite (22oz)
64
Sarsi (16oz)
54
Sarsi (22oz)
64
Real Leaf Iced Tea (16oz)
64
Real Leaf Iced Tea (22oz)
74
Coke in Can
55
Bottled Water
35
About Sizzling Plate
Sizzling plate opened its first stall in SM Makati in 1973. It gained popularity because sizzling dishes are still new during that time and they offered it at an affordable price. Today, it is one of the most popular restaurants that offer sizzling dishes and is considered the pioneer of sizzling platters in the country. It has multiple outlets in different SM Malls in Metro Manila and other provinces.
Sizzling Plate Menu Best Seller
Sizzling plate's beef bestsellers have only limited stock so you need to book early or call them for reservations.
Porterhouse Steak – It is one of the sizzling plate's bestseller beef dishes. This steak is smothered in Sizzling Plate's special sauce and is served with fried rice and mixed vegetables on a sizzling plate.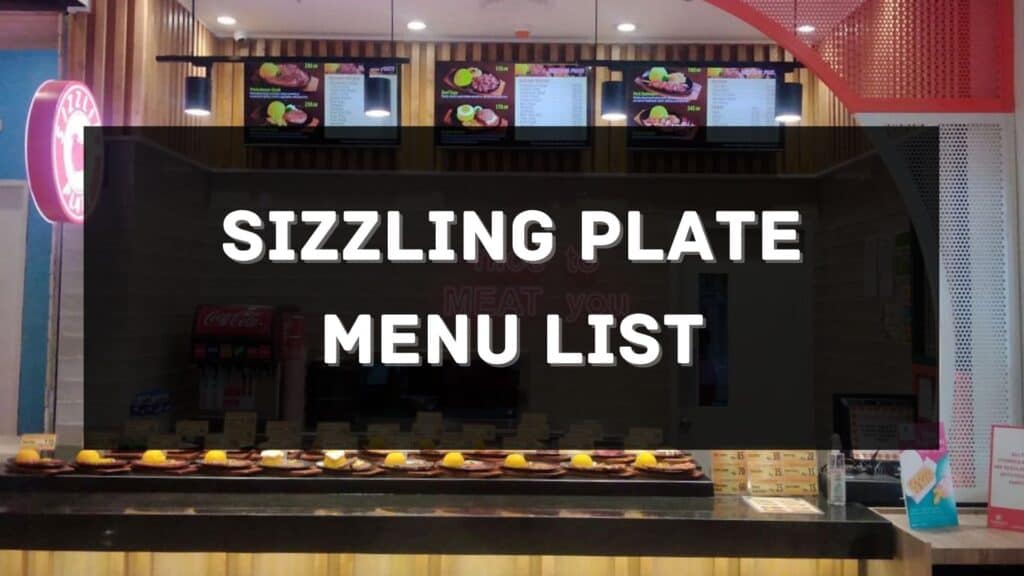 T-Bone Steak – The other beef bestseller dish is the T-Bone steak. Its tenderness and meaty flavor make it one of the restaurant's popular dishes. It comes with fried rice, mushroom sauce, and vegetables on a sizzling plate.
These beef dishes have limited stock so you need to visit the restaurant early, book ahead, or call them for reservations. If these bestsellers are not available and you're craving beef, the best alternative is striploin that are available in their regular outlets.
PorkPork Steak – This Sizzling Plate menu consists of 2 pieces of pork steaks, fried rice, and mixed vegetables and is served on a hot plate.
Porkchop – Aside from pork steak, this is the other pork dish that you can try. It is available in the restaurant's regular outlets.
Peruvian Chicken – Chicken is marinated and roasted until it becomes tender, flavorful, crispy, and juicy. A quarter portion of chicken is coated with Peruvian sauce and served with fried rice and mixed vegetables.
Sizzling Plate Beef Menu
Brazilian Ribeye – Its great marbling makes it tender, juicy, and savory taste. It is served with onions and corn on a sizzling plate.
Brazilian Tenderloin – This steak has less connected tissue which makes it tender and juicy. It comes with onions and corn on a sizzling plate.
Angus Beef Burger Steak – It has a great marbling that enhances its flavor and makes it juicy. The steak is covered in a special sauce and served with fried rice and mixed vegetables.
Braised Angus Beef Belly – Braising is a cooking technique that is used to make this dish tender and delicious. It is coated in a special sauce and comes with mixed vegetables and fried rice.
Angus Beef Tapa – It is a classic breakfast menu from Sizzling Plate that can be eaten at any time of the day. Beef is cut into thin and small pieces and marinated before it gets fried. Sizzling plate served with vegetables and fried rice.
Beef Tenderloin Steak – You'll enjoy tender meat without too much fat as it is cut from the cow's lean part. This dish is also known as fillet mignon and eye fillet. Fried rice, onions, and mixed vegetables come with this dish.
Sizzling Plate Pork Menu
Barbecue Pork Liempo – Pork belly is marinated and grilled until its delicious taste is achieved. This dish is served with mixed vegetables and fried rice on a sizzling plate.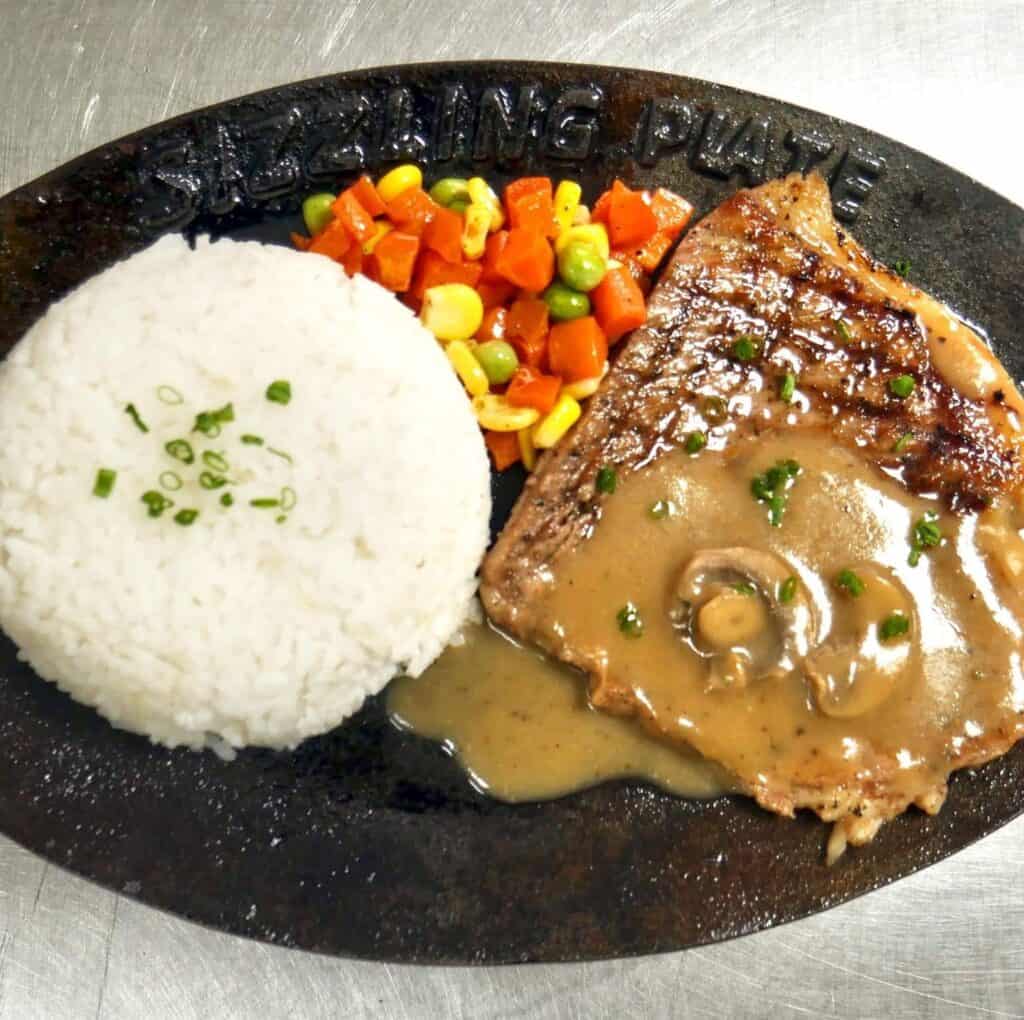 Spiced Pineapple Porkchop – A classic combination of pineapple and pork chop creates a sweet and sour, delicious, and savory taste. Pork chop is spiced with pineapple and Sizzling Plate's special sauce.
Crispy Pork Binagoongan – The pork belly is cut into small pieces and coated in bagoong sauce. Its crispiness and saltiness create a perfect blend that will make you crave more.
Lechon Pork Sisig – The crunchy, spicy, and savory flavors of this dish are perfectly blended. It must be eaten in moderation because of its high fat and cholesterol content which is not good for health.
Sizzling Lomi – It is a comfort food that is perfect for cold weather as it is served on a sizzling plate so the soup evaporates while it sizzles. It is topped with various vegetables and seasonings.
Chicken Menu
Chicken Fillet Inasal – Chicken fillet is made up of skinless and boneless chicken breast that is breaded and marinated in various spices and seasonings. It is served with fried rice and mixed vegetables on a sizzling plate.
Sizzling Plate Menu Delivery
Deliveries are made through third-party couriers such as Lalamove and Grab Food. Delivery fees are shouldered by the customers. In terms of booking, the staff of the restaurant is the ones who book, but you can also book it yourself. Just send them a message on their Facebook page to see the menu of the nearest branch to your area of residence. You can also call them to arrange your orders for delivery. An order form must be filled out first before you proceed to delivery.
Social Media Pages
Visit and follow the social media pages of Sizzling Plate to be updated on its new dishes, exclusive deals, events, and special treats for different occasions. Their Facebook page is the most updated social media account of Sizzling Plate. Their contact and basic information can be accessed on their Facebook account. They also have a TikTok account but there are no videos posted yet.
Facebook: https://www.facebook.com/SizzlingPlateSP/
Instagram: https://www.instagram.com/sizzlingplateph/
Tiktok: https://www.tiktok.com/@sizzlingplatesp
Conclusion
Sizzling plate menu and prices differ from each outlet so it is best to contact them through social media pages, landline or phone number, or email to know the available menu of the outlet near you. It is one of the restaurants where mall goers dine. The sizzling dishes of this restaurant are known for being meaty, tasty, and perfectly seasoned. Their dishes are budget-friendly so it is perfect for students. The exclusive promos for special events and occasions make it more fun and memorable.