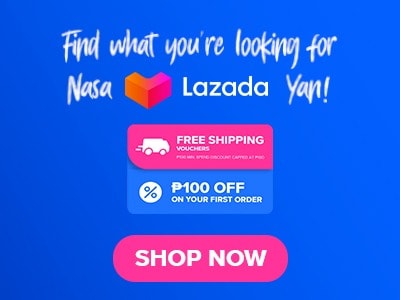 The Isaw Haus menu consists of grilled dishes, pancit, and other traditional Filipino cuisines. It offers rice meals, rice toppings, appetizers, short orders, soup, pulutan, beverages, and local beers. It also serves bundles and packages that are good for sharing and can be prepared for different occasions. The pancit that it serves is available in short order as well as small, medium, and large bilao servings. Aside from these delectable dishes, it has also an amazing and relaxing view that will make your dining experience pleasurable.
Below, you'll find the updated list of Isaw Haus menu prices.
Menu Items
Price (PHP)

Rice & Rice Toppings

Plain Rice (per cup)
35
Fried Rice (per cup)
45
Garlic Rice (per cup)
48
Bagoong Rice (good for 2-3 pax)
250
Yangchow Rice (good for 2-3 pax)
270
Chicken BBQ With Rice
250
Chicken Inasal With Rice
250
Pork BBQ With Rice
170
Liempo With Rice
270
Shanghai Budbod
170
Mixed Budbod
170
Pork Budbod
170
Adobo Rice
170
Beef w/ Ampalaya
170
Beef w/ Tokwa
170
Bistek Tagalog (pork)
170
Chopsuey Rice
170
Fish w/ Ampalaya
170
Fish w/ Tokwa
170
Sweet & Sour Fish
170
Lechon Rice
170
Sisig Rice
170
Tapsilog
170

Appetizer & Inihaw

Siomai (10 pcs)
115
French Fries (250g)
165
Dynamite (7 pcs)
230
Baked Scallops
250
Ensaladang Mangga
180
Isaw Manok
45
Bitukang Baboy
50
Isaw Baboy
50
Inihaw na Bulaklak
55
Tenga ng Baboy
50
Pork BBQ
55
Liempo on Stick
55
Chicken Tail
55
Chorizo De Cebu
55
Chicken BBQ
230
Chicken Inasal
230
Inihaw na Liempo
250
Inihaw na Tilapia
270
Pinaputok na Tilapia
300
Inihaw na Bangus
300
Inihaw na Pusit
370

On The Grill Bundle

On The Grill Set 1 (20 pcs. Pork BBQ)
1080
On The Grill Set 2 (20 pcs. Isaw Manok)
880
On The Grill Set 3 (10 pcs. Pork BBQ and 10 pcs. Isaw Manok)
980
On The Grill Set 4 (5 pcs. Pork BBQ, 5 pcs. Isaw Manok, 5 pcs. Tenga, and 5 pcs. Isaw Baboy)
980

Best Seller Fiesta Package

Fiesta A (Pancit Bihon, 15 pcs. Pork Shanghai, Fried Chicken)
695
Fiesta B (Pancit Canton, 15 pcs. Pork Shanghai, 12 pcs Pork BBQ)
760
Fiesta C (Pancit Bihon, 15 pcs. Pork Shanghai, 12 pcs Pork BBQ)
700
Fiesta C (Pancit Bihon-Canton, 15 pcs. Pork Shanghai, 12 pcs Pork BBQ)
775

Bilao Special

Boodle Feast Bilao (good for 5-6 pax)
745
Busugba Bilao (good for 5-6 pax)
785
Dessert (Halo-Halo Bingzu)
160

Pancit Short Order

Pancit Bihon
240
Pancit Canton
260
Pancit Bam (Bihon-Canton)
270
Miki-Bihon
230
Sotanghon
320
Chami
220
Lomi
250

Pancit Bilao

Pancit Bilao (Small) (8-10 pax)
582
Pancit Bilao (Medium) (13-15 pax)
682
Pancit Bilao (Large) (18-20 pax)
782
Pancit Canton (Small) (8-10 pax)
587
Pancit Canton (Medium) (13-15 pax)
687
Pancit Canton (Large) (18-20 pax)
787
Pancit Bam (Small) (8-10 pax)
600
Pancit Bam (Medium) (13-15 pax)
700
Pancit Bam (Large) (18-20 pax)
800
Miki-Bihon (Small) (8-10 pax)
537
Miki-Bihon (Medium) (13-15 pax)
637
Miki-Bihon (Large) (18-20 pax)
762
Sotanghon (Small) (8-10 pax)
660
Sotanghon (Medium) (13-15 pax)
760
Sotanghon (Large) (18-20 pax)
860
Chami (Small) (8-10 pax)
557
Chami (Medium) (13-15 pax)
637
Chami (Large) (18-20 pax)
737

Short Order Menu

Beef Brocolli
330
Beef w/ Ampalaya
330
Beef w/ Tokwa
330
Kare-Kare (beef/oxtripe)
480
Bistek Tagalog (pork)
280
Crispy Kare-Kare
380
Crispy Pata Medium
680
Crispy Pata Large
780
Lechon Kawali
360
Lumpiang Shanghai
320
Fish w/ Ampalaya
340
Fish w/ Tokwa
340
Sweet & Sour Fish
345
Fried Bangus
320
Fried Chicken
260
Chopsuey
330
Pinakbet w/ Liempo
330

Family Bundles

Family Bundle Set 1 (2 Bagoong Rice, Crispy Kare-Kare, Buffalo Wings, 7 pcs. Pork BBQ, Pancit Bihon SO, Chicken Inasal, 1 Btl Coke 1.5L)
2120
Family Bundle Set 2 (Bone Marrow (2 pcs.), Crispy Pata Medium, Fried Chicken, Pancit Canton SO, Yangchow Rice, Sisig SO, 1 Btl Coke 1.5L)
2050
Family Bundle Set 3 (Fried Chicken, Chicken Inasal, 8 pcs. Pork BBQ, Yangchow Rice, Bagoong Rice, Chopsuey SO, Crispy Kare-Kare, 1 Btl Coke 1.5L)
2225

Soup

Bulalo
480
Molo Soup
230
Sinigang na Baboy
350
Sinigang na Baka
420
Sinigang na Hipon
420
Sinigang na Salmon
400
Crab & Egg
220

Pulutan

Buffalo Wings (500g)
320
Calamares
300
Tonio's Greaseless Chicharon (50g)
100
Tonio's Greaseless Chicharon (100g)
150
Chicharon Bulaklak
270
Crispy Tenga
260
Crispy Tokwa
160
Fried Bituka
160
Pinabukang Tilapia
260
Pork Sisig
320
Tokwa't Baboy
180
Tokwa
120
Fried Isaw Manok
200
Kinilaw na Bangus
300
Bone Marrow
200
Dinakdakan
320

Beverages

House Blend Coffee
30
Bottled Water
30
Coke Regular (In Can)
55
Coke Zero (In Can)
55
Sprite (In Can)
55
Royal (In Can)
55
Pepsi Regular (In Can)
55
Rootbeer (In Can)
55
Mountain Dew (In Can)
55
ManGo Juice (In Can)
60
Four Season (In Can)
60
Pineapple Sweetened (In Can)
60
Pineapple Unsweetened (In Can)
60

Local Beers

San Mig Light Bottle
75
San Mig Light Bucket
400
San Mig Pilsen Bottle
70
San Mig Pilsen Bucket
390
San Miguel Apple Bottle
70
San Miguel Apple Bucket
390
Red Horse Bottle
70
Red Horse Bucket
400
About Isaw Haus
Isaw Haus is a Filipino restaurant in Taytay that specializes in grilled dishes such as Isaw and Barbecue. It has a relaxing atmosphere and delectable cuisines that makes diners feel relaxed and satisfied. This restaurant has an ideal location making it a good place where passersby can have a stopover. It has a stunning view of the Sierra Madre Mountains, Laguna de Bay, and the Pililla Windmills.
Isaw Haus Menu Best Seller
These are best sellers of Isaw Haus that are well-loved for their classic and authentic taste.
Isaw Manok – It is made with barbecued chicken intestines. This is one of the grilled dishes that is typically offered by street food vendors. The crowd loves this dish as it is affordable, has a unique taste, and goes well with beer. It comes with a special vinegar-based dipping sauce that enhances its flavor.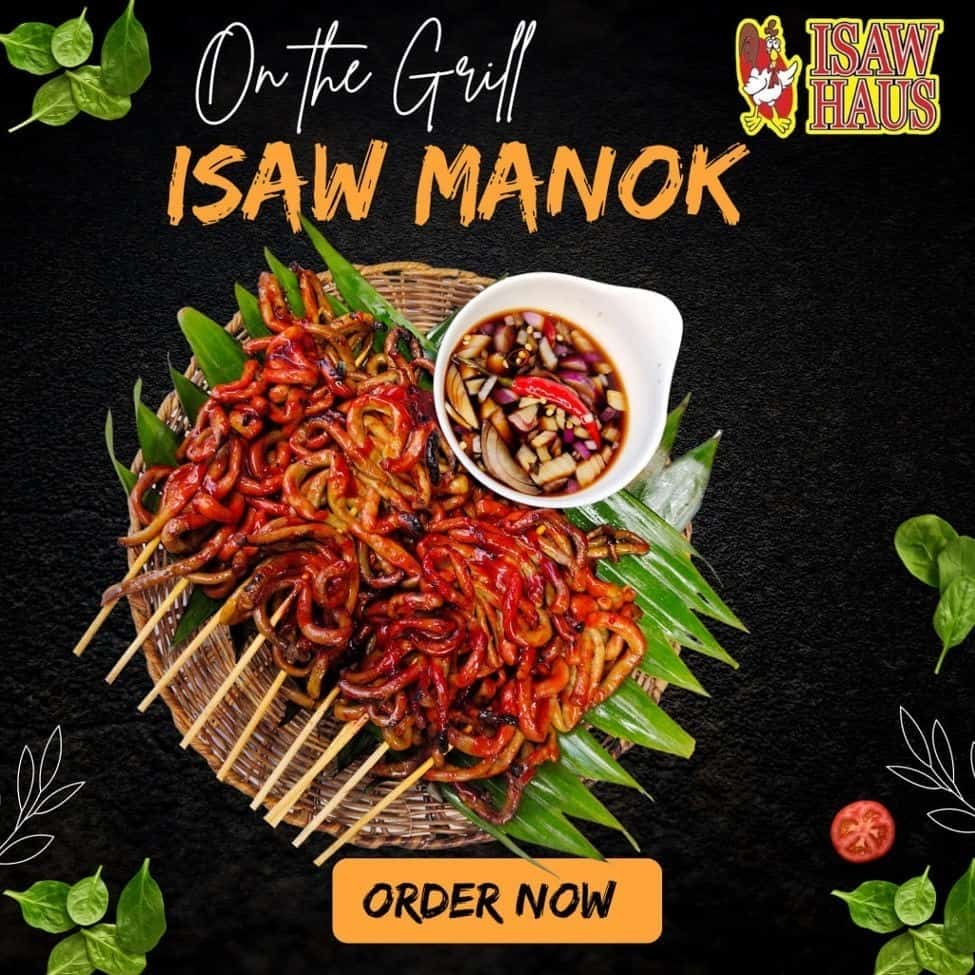 Isaw Baboy – The pork intestine is cleaned thoroughly and boiled until it becomes tender and flavorful. It is marinated in a special blend of seasonings and spices, skewered, and grilled to perfection. It is served with a dipping sauce made with vinegar, chili, and onions.
Pork BBQ – Thin slices of pork are marinated in a special blend of seasonings and spices, skewered, and grilled. Its sweet and nostalgic flavor as well as its tender and juicy texture always delight the crowd.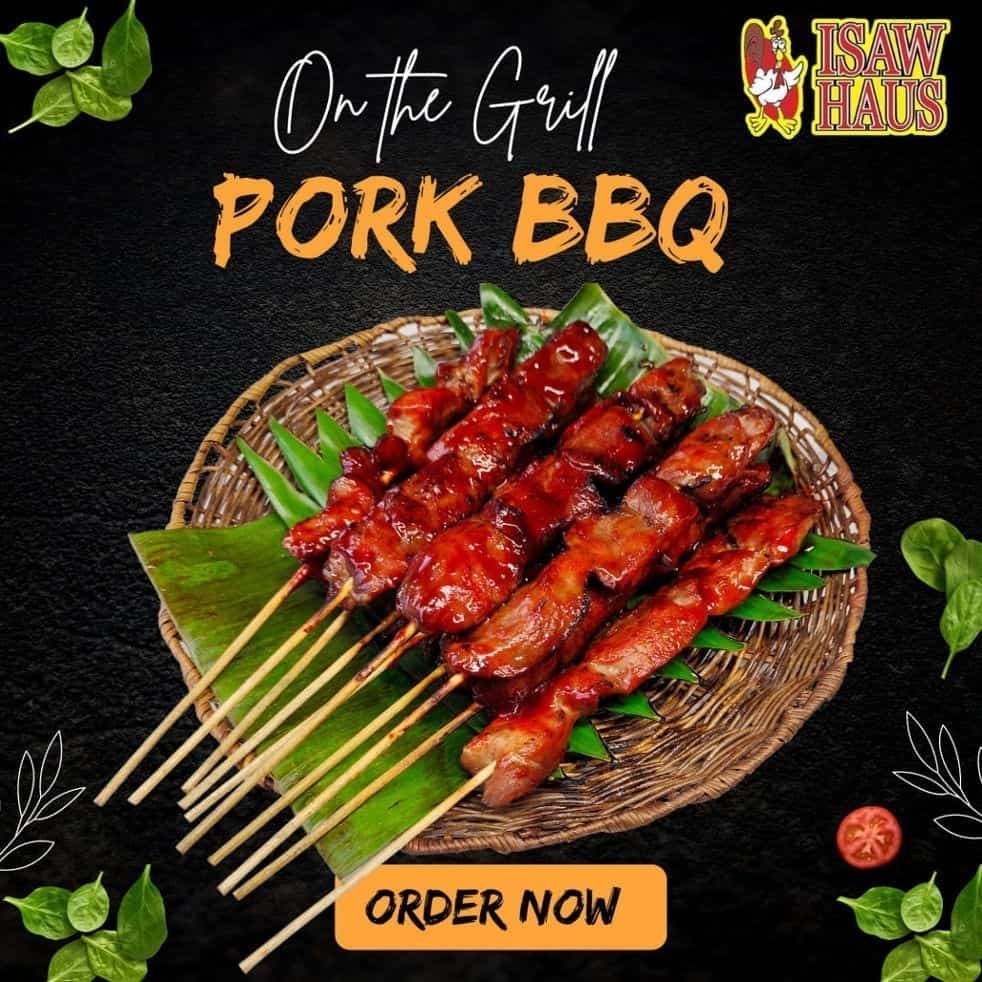 Inihaw na Liempo – A delectable cuisine made with marinated and grilled pork belly. It is a dish that is commonly prepared during Filipino celebrations. Its versatility makes it one of the favorite and famous dishes in the Philippines as its flavor and textures go well with most of the food and beverages.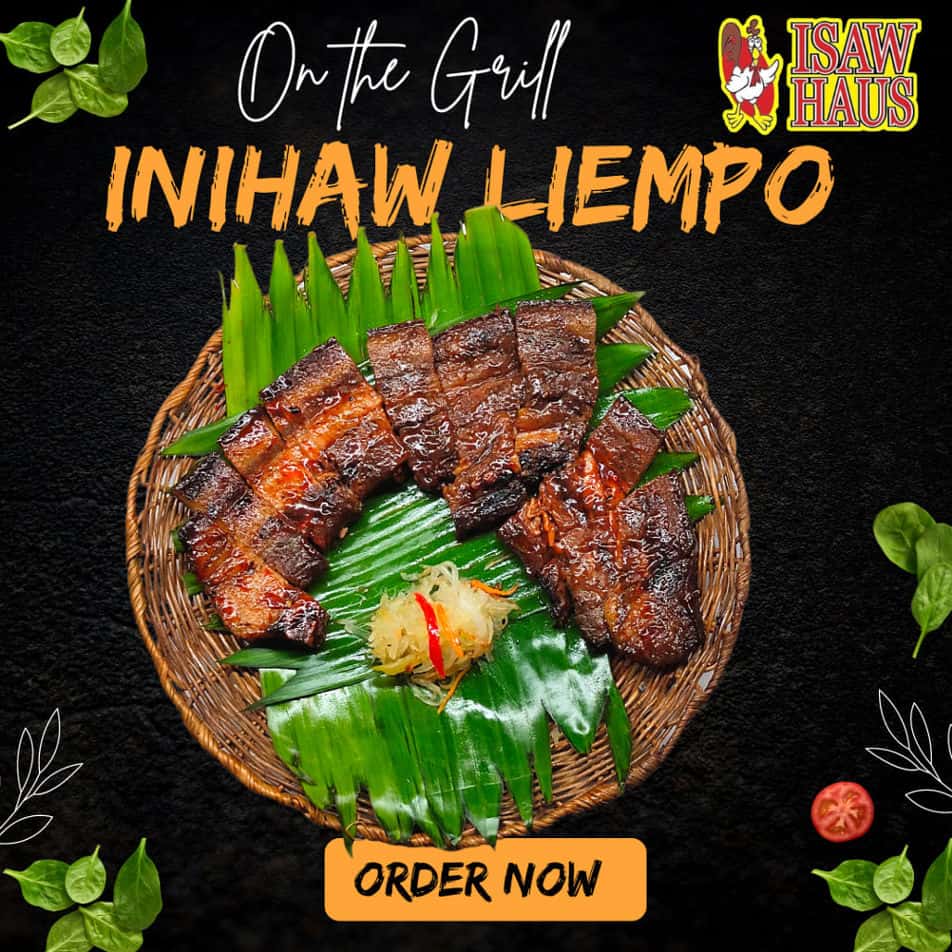 Pancit Miki-Bihon – It is a combination of egg and rice noodles stir-fried with meat and mixed vegetables. This is one of the variants of pancit guisado that are commonly prepared during birthday celebrations as it symbolizes long life.
Rice & Rice Toppings
These are some of the rice meals menu, rice with grilled dishes, and rice toppings served by Isaw Haus that will make your meals satisfying. 
Bagoong Rice – Rice is cooked with bagoong or shrimp paste and topped with grilled pork and minced tomatoes and onions. This dish is good for sharing as it is good for 2-3 people. It is one of the must-try rice variants as it has an appetizing aroma and a strong umami taste.
Yangchow Rice – This dish is made with rice that is stir-fried with eggs, meats, vegetables, and other special ingredients. It is packed with flavors and has a visually appealing presentation that makes it a delightful dish.
Chicken BBQ w/ Rice – Fried rice is served with flavorful and tender chicken barbeque and atchara. Its mouthwatering goodness stimulates the appetite of diners which makes it one of the most-sought dishes in this restaurant.
Sisig Rice – A delectable dish where plain rice is topped with flavorful sisig. It is an excellent dinner dish perfectly paired with beer. This Kapampangan-inspired cuisine is loved for its savory, creamy, and crispy features.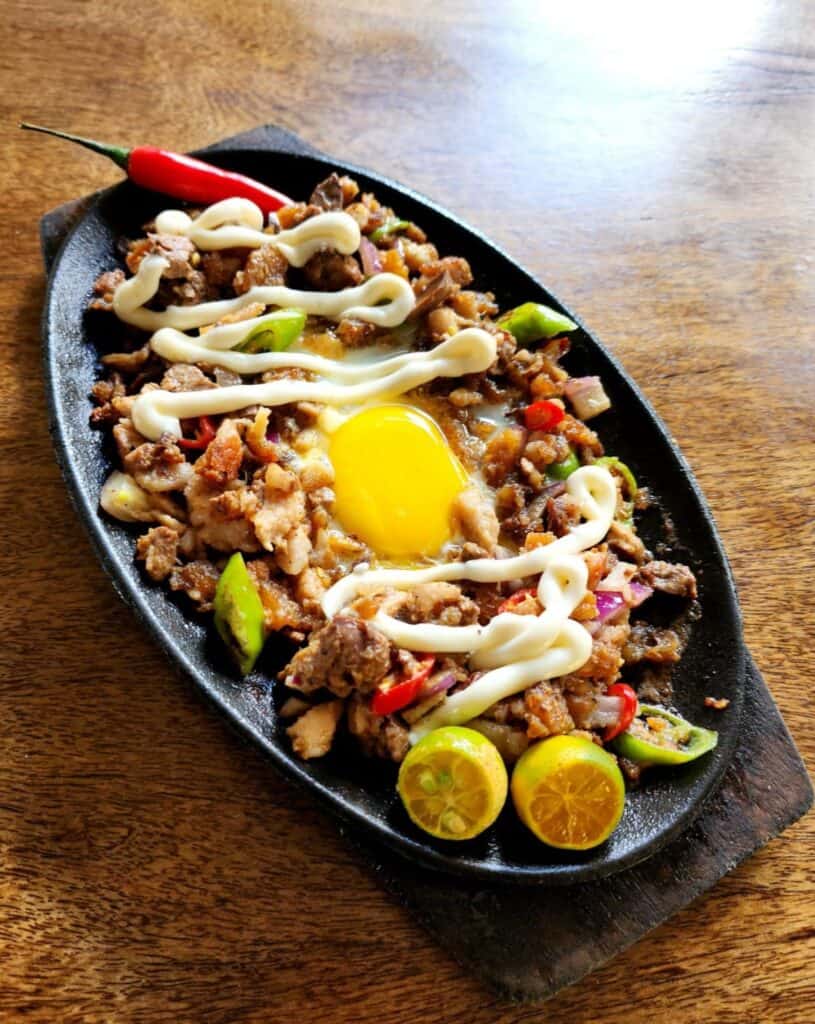 Beef w/ Ampalaya – This dish is made with plain rice topped with beef slices, ampalaya, and other vegetables. It is a great dish for health-conscious diners as it is packed with nutrients such as phosphorus, calcium, and iron.
Appetizer & Inihaw Menu
The appetizer and inihaw dishes of this restaurant consist of traditional Filipino favorites that have a unique aroma and flavor that satisfies the cravings.
Siomai – This Isaw Haus menu is a delicious appetizer where 10 pieces of siomai are served with calamansi and soy dipping sauce. It is a dish that can be enjoyed at any time of the day and paired with it other meals. 
Dynamite – It is a spicy and crunchy dish where long green chilis are wrapped in spring roll wrappers and deep-fried. This dynamite lumpia will delight chili lovers as provides a lot of health benefits such as improving digestion and boosting the immune system.
Inihaw na Bangus – Milkfish is filled with special ingredients and grilled expertly. It is served with soy sauce and chili. The fillings of this grilled milkfish make this flavorful and delightful.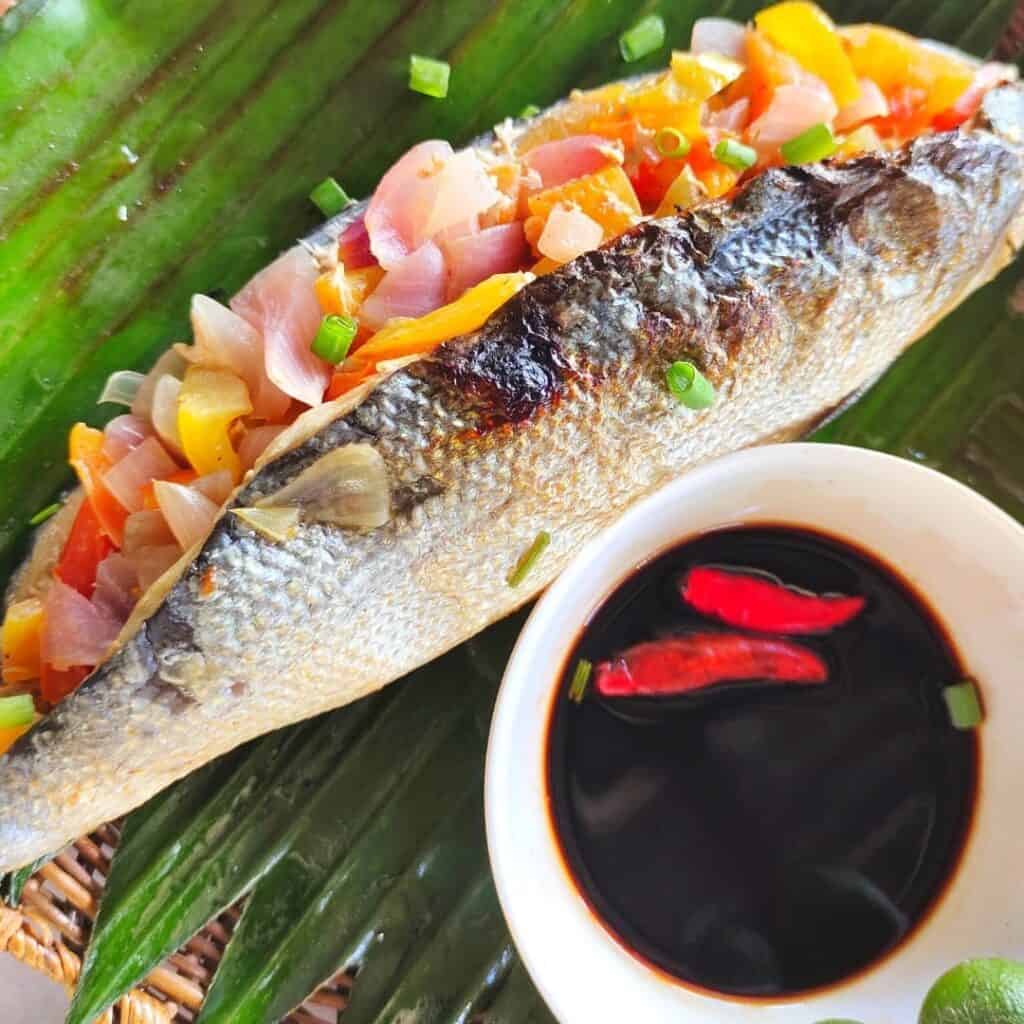 Inihaw na Bulaklak – This dish is made with marinated, skewered, and grilled putok batok chicharon bulaklak. Its flavor is enhanced by the special blend of soy-based dip that is served with it.
Pinaputok na Tilapia – Tilapia is stuffed with ginger, tomatoes, butter, and chopped onions wrapped in aluminum foil. This dish has a crispy texture and is packed with a delicious flavor that will satisfy your cravings.
On The Grill Bundle
The Isaw Haus menu offers four sets of on-the-grill bundles that are good for celebrations. Each bundle consists of 20 pieces of grill dishes. 
Set 1 consists of 20 pieces of Pork BBQ and Set 2 includes 20 pieces of Isaw Manok. Set 3 is composed of 10 pieces of Pork BBQ and Isaw Manok, and Set 4 is an ideal bundle for those who want assorted grilled dishes as it consists of 5 pieces of Isaw Manok, Pork BBQ, Tenga, and Isaw Baboy. These grill bundles will make your celebrations with your loved ones more fun and vibrant.
Best Seller Fiesta Packs
Isaw Haus offers four sets of Fiesta packages that are good for sharing of 5 to 6 people. Fiesta A consists of pancit bihon, 15 pieces of pork shanghai, and fried chicken. Fiesta B includes pancit canton, 15 pieces of pork shanghai, and 12 pieces of pork BBQ.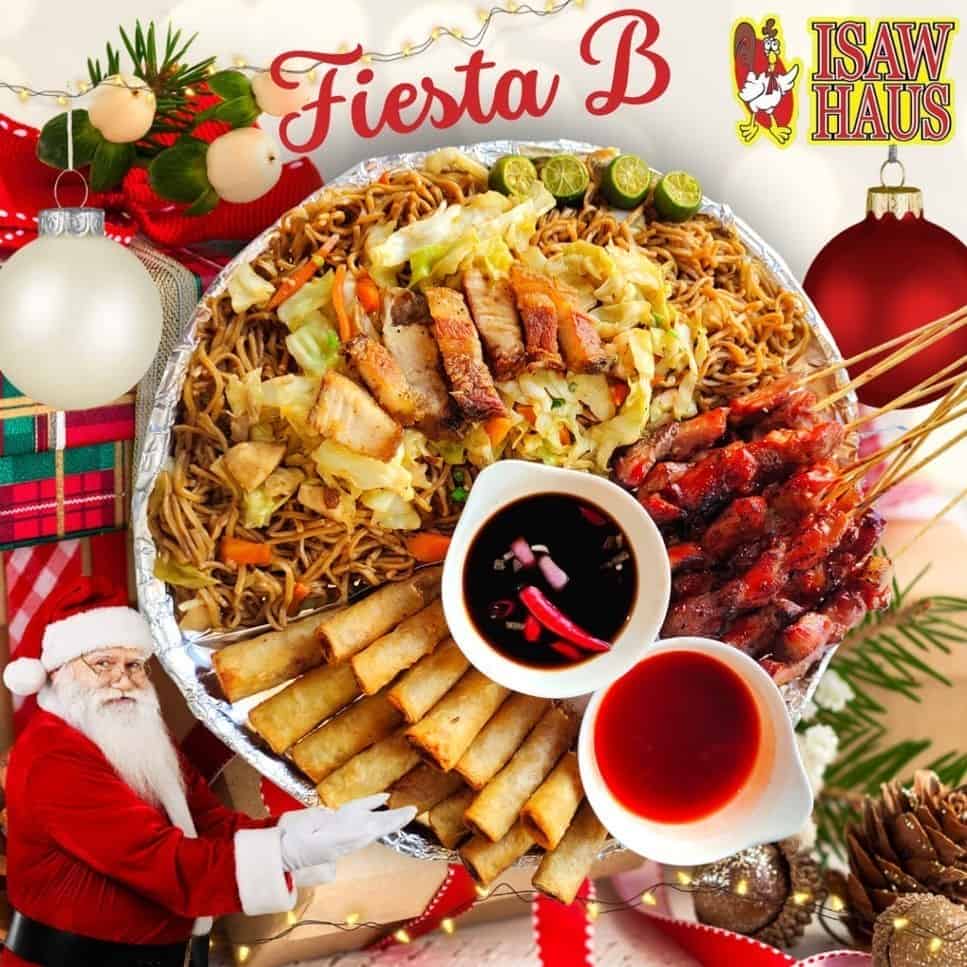 Fiesta C is composed of pancit bihon, 15 pieces of pork shanghai, and 12 pieces pork barbecue; and Fiesta D consists of pancit bihon-canton, 15 pieces pork shanghai, and 12 pieces pork barbecue. All these packages are served with two dipping sauces. These fiesta packs are ideal for different gatherings as they are affordable and consist of assorted delectable dishes that everyone in the group will love.
Isaw Haus Bilao Special Menu
These bilao special bundles consist of boodle feast bilao, busugba bilao, and dessert. The boodle feast bilao includes garlic rice with 5 dishes of your choice. The set meal options that it offers are pork adobo, beef w/ amapalaya, beef w/ tokwa, bistek tagalog, chopsuey, fish w/ ampalaya, fish w/ tokwa, lechon, sisig, bulgogi, tapa, dinakdakan, kare-kare, and sweet & sour fish. It is a good choice for those who want classic and delicious Filipino dishes.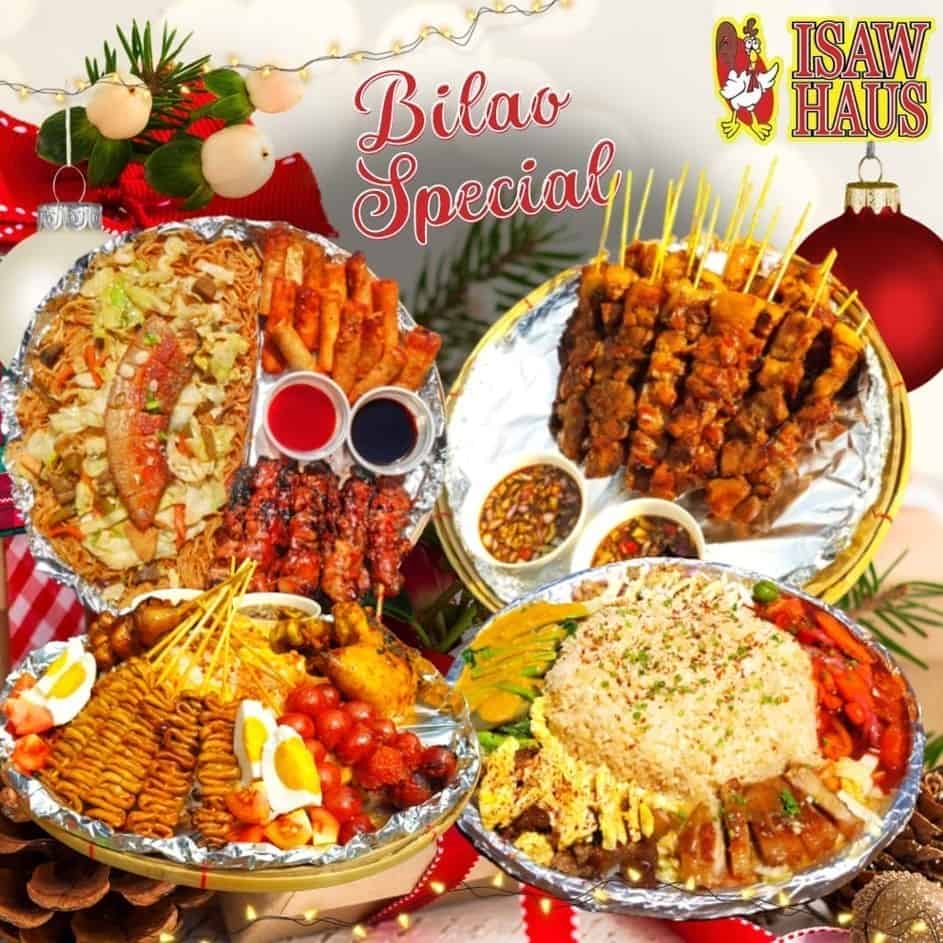 The busuga bilao is good for sharing bilao special as it consists of garlic rice, salted egg, and grilled dishes such as 6 pieces of isaw manok, 1 order of chicken inasal, 3 sticks of chorizo de Cebu, and 3 sticks of chicken tail. This is a great option for those who prefer traditional Filipino grilled dishes. It also offers a delectable halo-halo dessert that will complete your meal. 
Isaw Haus Menu Delivery 
Isaw Haus is a restaurant that serves yummy Filipino food. You can order their food easily from FoodPanda, GrabFood, or their website, https://isawhaus.tablevibe.co/.
Their food is perfect if you want something delicious and comforting. They have grilled meat and traditional Filipino food like adobo, sinigang, and kare-kare.
Ordering from their website is easy. You can browse their menu and order with just a few clicks. You can enjoy their food at home, which is really convenient.
So if you want to try their delicious Filipino food, order now!
Social Media Pages
Looking for the inside scoop on everything happening at Isaw Haus? Well, you're in luck because their social media accounts are the place to be! From scrumptious new dishes and exclusive sales to exciting grand openings, they're constantly posting updates you won't want to miss. And the best part? They're always on top of their game when it comes to keeping their followers informed. If you need more details, just send them a quick message and they'll be happy to assist you. Click the links below to get started.
Facebook: https://www.facebook.com/isawhausofficial
Instagram: https://www.instagram.com/isawhaustaytay
Twitter: https://twitter.com/isawhausqc
TikTok: https://www.tiktok.com/@isawhaus
Conclusion
The Isaw Haus menu is commendable for its delicious, juicy, and flavorful grilled dishes. The dishes that it offers are appetizing and reasonably priced. It is a place that will make you feel relaxed as it has great dishes that complement its stunning view. This is also a good spot if you want to hang out, chill, and unwind with your loved ones.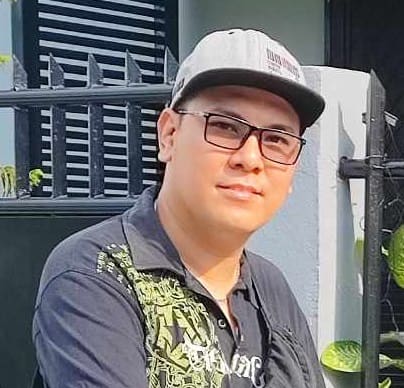 Hi! I'm Nivek Strife, the person who made MenuPH. I'm the one who added most of the popular menus you see on this website, and I really hope you enjoy them! Feel free to check them all out.
Growing up, I was surrounded by lots of tasty foods, like the classic Adobo and the sweet Leche Flan. That love for the many flavors of the Philippines is what got me excited about adding to MenuPH. When I learned how to make websites, I saw the need for a place to show off all the amazing Filipino dishes, and that's how MenuPH started.
MenuPH isn't just a website; it's like a fun journey into food. I've teamed up with famous chefs and found great places all over the Philippines to bring you a bunch of menus that show off the best of Filipino cuisine. Whether you're into the usual dishes or new twists, MenuPH is here to guide you through the rich world of Filipino flavors.
With MenuPH, my aim is to help local businesses, talk about good food choices, and make a group of friends who love food. No matter if you like fancy restaurants or street food, MenuPH has something for you. Come join me on this food adventure as we find great places, taste real flavors, and enjoy the unique food traditions that make the Philippines awesome.