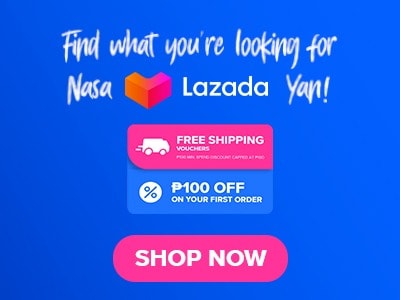 Most people that visit Baguio want relaxation and a little vacation over the weekend. There are lots of restaurants that offer the best foods and since you're a food explorer you're looking for a great place to go if you don't have an idea about where let me give you a great recommendation. Have you heard about Lemon and Olives? Or, have you somehow bumped into their location but don't have the time to come and try their food? No worries in this article we are going to talk about Lemon and Olives so you'll have the idea. The Lemon and Olives menu offers a variety of Greek dishes to choose from. We are going to take a look at their menu, prices, and something about them. Interested in our topic for today? If yes then without further ado lets begin.
Below, you'll find the updated list of Lemon and Olives menu prices.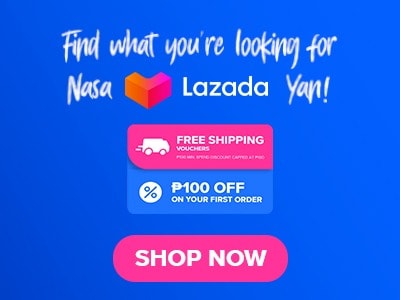 Menu Items
Price (PHP)

Starters

Saganaki
160
Traditional Greek Dips served with Homemade pita hummus
130
Tzatziki
120
Black and Green Olive Paste
140
Kolokithokeftedes
150
Green Village Sausage
180
Spicy Soutzouki Sausage
180
Poikilia
320
Grilled Octopus
230
Kontosouvli
210

Salad

Greek salad
160
Garden salad
140

Main course

Gyros (chicken/beef/pork/lamb)
100/120/110/140
Souvlaki Plate (chicken/beef/pork/lamb)
240/280/260/320
Lemon and Olive's Lamb Rack (good for 2)
990
Greek Kebab (pork/chicken)
300/260
Grilled Steak (porterhouse/Tbone/ribeye/wagyu)
380/380/380/780

Seafood

Grilled Prawns (good for 2)
830
Fish (tuna/lapulapu)
300/550
Grilled calamari
290

In the oven

Pastitsio
210
Moussaka
230
Stuffed Tomatoes and Peppers
205
Greek Style Spaghetti
260

Special orders

Beef Giouvetsi
2450
Lamb Giouvetsi
4180
Soutzoukakia
1950

Sides & Extras

Pita bread
20
Plain rice
30
Greek lemon pilaf
40
Garlic and chili sauce
20
Feta cheese
40
Tzatziki Sauce
25

New Dishes

Zucchini Chips
140
Briam
210
Gigantes Plaki
240
Tyropita (cheese pie)
55
Spanakopita (spinach pie)
220

Desserts

Classic baklava
160
Loukoumades
110
Greek yogurt
150
Baklava Cheesecake
160
About Lemon and Olives
Lemon and Olives Baguio is a place that offers authentic Greek dishes in the City of Pines that is absolutely worth every penny time and trying. They serve the most authentic Greek cuisine and the best that you can find in the country and I am not even exaggerating just stating the fact. This top restaurant serves the best lamb chops and other really great food items. This place also has a huge seating capacity for its customers. The restaurant has 2 operational floors so big events are nothing compared to their spacious place and I believe that you can actually rent their place for a private celebration which is a very great idea.
They also have a cabin-like atmosphere with a great view from their place making them a truly remarkable spot if you want dining while being close to nature. This popular Mediterranean restaurant is located at 17 Upper Gen Luna Rd. Baguio City offers a wide variety of dishes including falafel, shawarma, and many more. This place is a great option for lunch and dinner.
Lemon and Olives Menu Best Sellers
Here are some samples of Lemon and Olives best sellers.
The Greek Salad – Lemon and olives version of Greek salad offers fresh greens goodness with the best quality possible. It has crispness and sweet, salty flavors combined. Every ingredient is tossed into a lemon dressing. Creamy, delicious, and lemony that's what their Greek salad tastes like. I actually enjoyed their Greek salad though for me this one is kinda basic but a lot of customers love this one so I included this on their best-seller list. Must try if you're into salads.
Lamb Chops – The lamb chops of Lemon and Olives are the superstar of their menu. This is for me their best dish so far with everything that I tried in their restaurant. Though this one is not that affordable they usually serve this for sharing. Very reasonable price with the quality of the product. The charcoal grilled lamb chops are perfect and the meat is spiced generously just right to give it a very tasty flavor. This one is a must-try, something that you shouldn't miss. Great choice.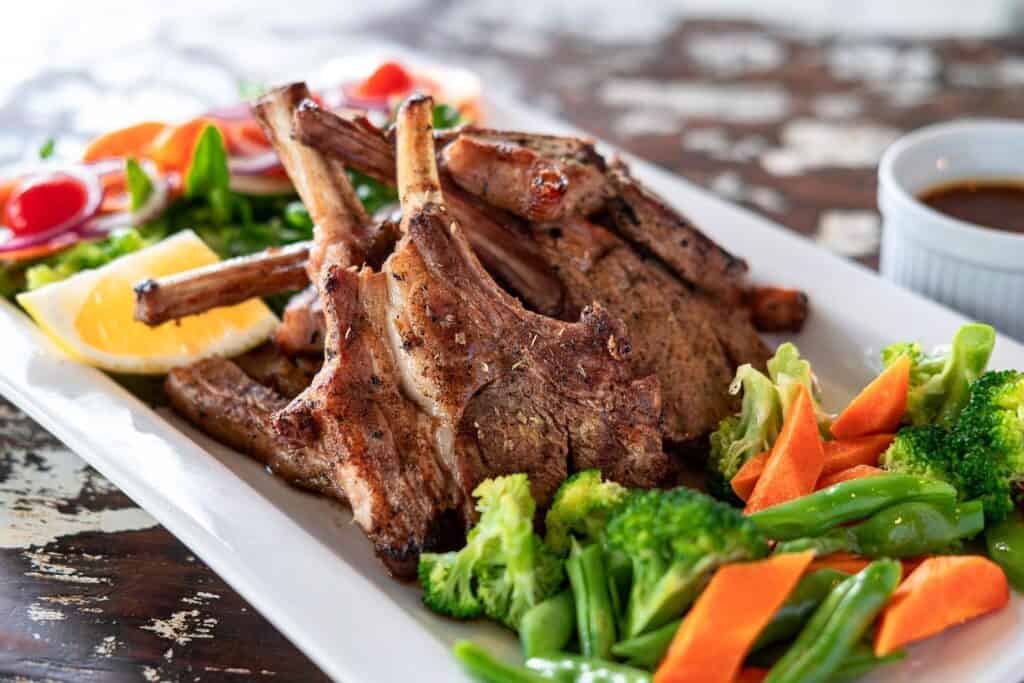 Beef Gyro – The beef gyro version of lemon and olives is also a great choice especially if you're looking for a good beef dish. This one is also affordable which made me happy. I am actually wowed by the experience and I like the pita bread that they used in making their beef gyro. Really good based on my experience and will reorder again the next time that I visit their restaurant. Also, a must-try for beef lovers or for those who love the Greek taste.
Baklava Cheesecake – Their version of baklava is sweeter than what I remember it should be but really good. I can recommend this one to everyone especially those who love sweets. The cheesecake is actually creamy with a strong savory goodness from the cheese. It has a flaky and a bit rough texture from its baklava base but overall a great experience. Highly recommended for those of you with a sweet tooth just like me.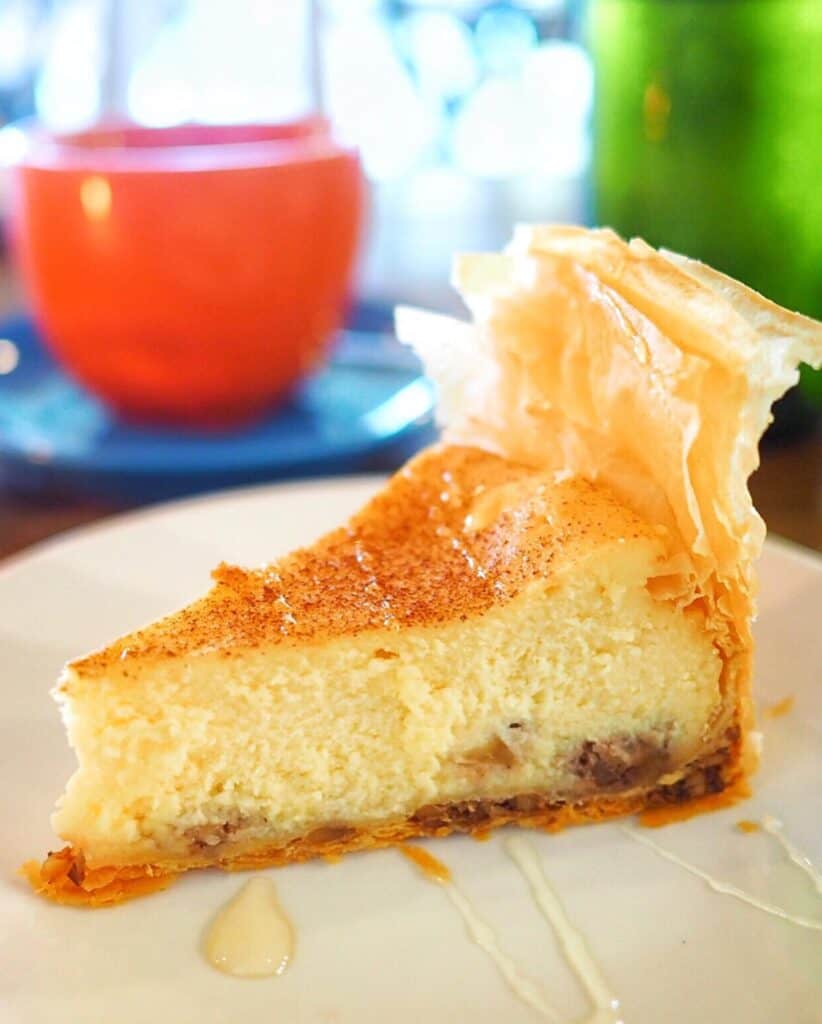 Frozen Yogurt Demeter – Their version of yogurt is smooth and velvety it also has the perfect blend of sourness and sweetness at the same time. The one that o got has baklava crumble on top and I'm not complaining. Great dessert and also a must-try.
Starters
On their starter menu, they have 10 different items to choose from. Saganaki is the first item on this menu, this one is a  pan-fried Greek cheese and this is also the signature appetizer of Lemon and Olives. They also have Traditional Greek Dips served with Homemade Pita Hummus this one is my favorite on their starter menu. Tzatziki this one is a yogurt dip this is also good.
They also have a black and green olive paste. Kolokithokeftedes can also be found on their starters menu this is crispy zucchini fritters with tzatziki sauce. Other items like green village sausage, Spicy Soutzouki Sausage, and Poikilia can also be found on this menu. They also have grilled octopus which is not rubbery and Kontosouvli which is a pork dish.
Salad
The salad menu of Lemon and Olives only has 2 choices it's either the Greek Salad which is made with lettuce, tomatoes, cucumber, bell pepper, and onion before being drizzled with Greek sauce, feta cheese, olives, and imported olive oil. The garden salad on the other hand is made with dill, argula, fresh onion, lettuce, and Parmesan cheese with balsamic vinegar and olive oil as dressings.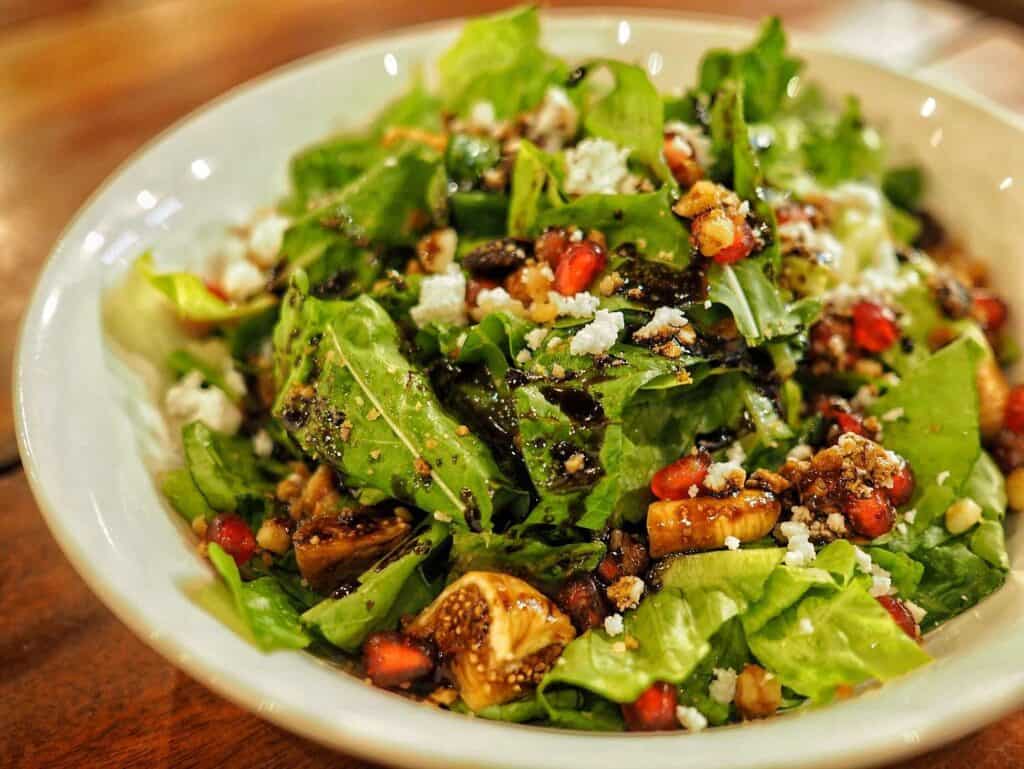 Lemon and Olives Menu Delivery
You can order food from them in a simple way. Just send them a message on Facebook or call them at 09178906573. If there's a delivery service near you, you can use that too for an easy way to get your food. It's like telling them what you want to eat, and they'll make sure you get it!
Social Media Pages
If you really enjoy their tasty food and want to know more about them, you can become their online friend by following them on Facebook or Instagram. They often share their menu, tell about fun events, and even give special discounts there. If you want to follow them, just click on the links below! It's like joining a cool club where they share all the cool stuff they're doing.
Facebook: https://www.facebook.com/LemonandOlivesPH/
Instagram: https://www.instagram.com/lemonandolivesph
FAQs
Are they halal-certified?
Lemon and Olives serve items or uses items that are not suitable for our Muslim friends therefore Lemon and Olives is not a halal-certified restaurant. 
Where are they located?
They are located in Baguio City. Number 26 Outlook Drive to be exact. You can also find them through Waze.
What time are they open at Lemon and Olives?
They are open daily from 11:00 in the morning until 10:00 in the evening.
What are the payment methods available in Lemon and Olives?
Lemon and Olives accept Cash and cards like American Express, Mastercard, and Visa.
What are the specialties of Lemon and Olives?
Lemon and Olives specialized in Coffee, Drinks, Lunch, and Dinner.
Conclusion
Lemon and Olives is truly a great restaurant that will give you an exceptional dining experience together with a wonderful atmosphere, great ambiance, and of course great customer service experience. The Lemon and Olives menu has a lot of delicious and great options for their customers that's why I highly recommended this place. Their service was fine but if you're planning on going during their peak hours it is expected that their service might be a little slower than usual. Amazing place very spacious and comfortable. A place where you can have a delicious meal while relaxing with their beautiful ambiance. Everything is great! I can tell that their chef is Greek that's why the food is really authentic and even their baker. A delightfully delicious restaurant where you can have the most authentic Greek food. Overall a great experience.