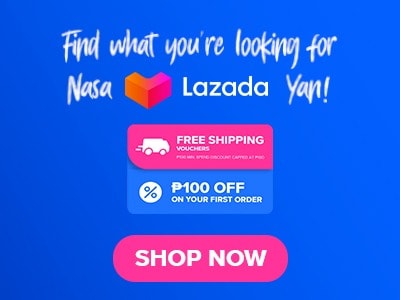 Goto dishes are the flagship products of the Goto King menu. Every bowl of these goto dishes is filled with goodness. It also offers other traditional Filipino cuisines such as Lugaw, Beef Tapa, Halo-Halo, Fried and Fresh Lumpia, Palabok, Dinuguan, and many more. The popularity of these dishes makes it one of the leading fast-food chains in the Philippines.
Below, you'll find the updated list of Goto King menu prices.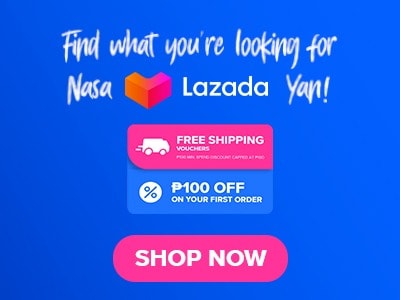 Menu Items
Price (PHP)

Goto Varieties

Goto Regular
70
Goto Special
90
Goto Supreme
95
Goto Tendon
180
Goto Pares
180
Goto Paksiw
180

Lugaw Varieties

Arroz Caldo Special
120
Lugaw Macao
120

All Day Meals

Beef Tapa
180
Daing na Bangus
180
Lucban Longanisa
180
Inihaw na Liempo
250

Other Merienda

Puto (2pcs)
25
Fried Lumpia
50
Okoy
50
Tokwa't Baboy
60
Fresh Lumpia
65
Palabok
75
Dinuguan with Puto
120
La Paz Batchoy Special
150

Desserts

Leche Flan (Slice)
50
Leche Flan (whole)
180
Halo-Halo Special
90

Drinks

Sago't Gulaman
45
Lemon Iced Tea
45

For Sharing

Pork BBQ
250
Pork Sisig
250
Dinuguan
250
Sinaing na Tulingan w/ Ginataang Kamias
250
Binagoongang Baboy
280
Kare-Kareng Baka
380
About Goto King
Teresa Dula Laurel founded this restaurant in 1984. Goto and Tokwa't Baboy are the first two products that she offered on a cart inside a food court of SM Cubao. These dishes have been loved by its customers, so they were given a regular outlet in Food Court and expand their products offering traditional Filipino cuisines. It opened its doors to franchising after ten years. 
Goto Varieties
These are the different varieties of delectable Goto dishes that can be eaten on their own as it is filled with goodness.
Goto Regular – It boasts an original taste that can whet your appetite. This delicious menu from Goto King is often enjoyed as a breakfast option or during chilly weather. Its savory and comforting flavor will surely leave you craving more.
Goto Special – This is the restaurant's signature goto dish made with hard-boiled eggs, ox tripe, chicharron, toasted garlic bits, and green onions. It is a perfect all-day breakfast meal that will boost your mood and energy. 
Goto Supreme – It is a delectable rice porridge topped with fried dumplings, tuyo, spring onions, chicharron, fried garlic, ox tripe, and squid balls. Its delectable and generous toppings make this dish supreme. 
Goto Tendon – You shouldn't miss trying out "Goto Tendon" from Goto King. This delicious dish has a distinct and exceptional flavor that can fulfill your desire to eat a goto. It is a savory meal that is a must-try for anyone and once you taste it, you'll surely want to have more.
Goto Pares – This goto pares is a hearty dish that is rich in meaty flavor. It is one of the dishes that you must try if you want to try a new variation of goto.
Goto Paksiw – The distinctive flavor of this goto paksiw will stimulate your appetite. It is an extraordinary goto that you should not miss out on when you visit this restaurant.
Goto King All Day Meals Menu
The all-day meals of Goto King consist of classic Filipino dishes that are served with rice, egg, and atchara.
Beef Tapa – This meal consists of tender beef slices that are cooked to perfection. It is also known as a variant of "tapsilog", a silog meal commonly eaten at breakfast.
Daing na Bangus – The sweet milky taste, crunchy texture, and nutrients of this dish make it one of the crowds' favorite dishes. It is a Filipino comfort food made with marinated and deep-fried milkfish served with garlic rice and mixed vegetables.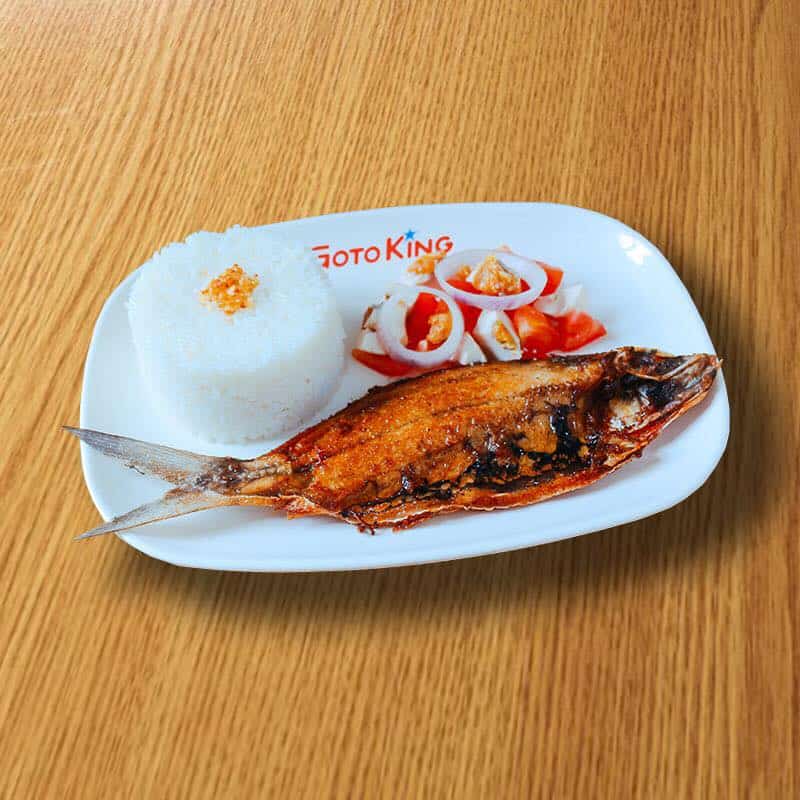 Lucban Longganisa – The longganisa that originated from Lucban, Quezon is what makes this meal special. This Filipino pork sausage is well-loved for its aroma and garlicky taste. Aside from being a viand, it is also a great ingredient that is added to various dishes.
Inihaw na Liempo – It is a popular Filipino dish made with marinated and grilled pork belly. This dish is characterized by its smoky and savory flavors.
Goto King Lugaw Varieties Menu
These lugaw varieties of Goto King are comforting dishes that can make you feel better and your day brighter.
Arroz Caldo Special – This special arroz caldo dish of Goto King is a popular comfort food that is rich in flavor. The ginger flavor of this broth, the succulent chicken, and its toppings make it a reliable soup that can wake up your senses.
Lugaw Macao – The name of this dish originates from the "lugaw", a Filipino term for rice porridge, and on chorizo macao, a special ingredient that makes it delightful. Squid balls, siomai, and century eggs are the toppings that complete this dish.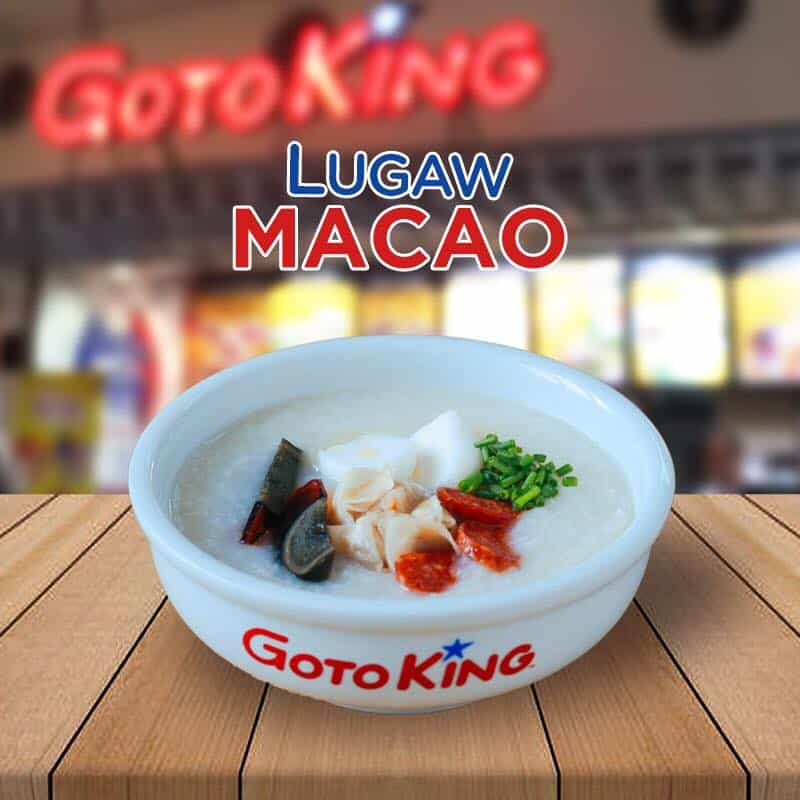 Merienda
These merienda dishes of Goto King consist of classic Filipino snacks that are typically eaten as a light snack in the afternoon.
Puto – It consists of two steamed rice cakes with cheese. This soft, fluffy, and cheesy snack is a popular Filipino delicacy that is loved for its unique flavor and texture. Also, this Goto King menu is always perfect to pair with any variety of their lugaw.
Fried Lumpia – Fried lumpia is a versatile dish as it can also be eaten as an appetizer or viand with rice. It is one of the most-sought dishes on different occasions. The crunchy wrapper filled with savory ingredients makes it a sensational dish. A special sauce of Goto King is served with it.
Okoy – The enticing presentation of this dish makes it enticing. This Filipino version of shrimp fitter is also a famous street food dish that catches the attention of passersby.
Tokwa't Baboy – This dish consists of deep-fried tofu and pork that can also be eaten as a main meal with rice. It is one of the all-time favorite dishes of Filipinos as it is rich in flavor.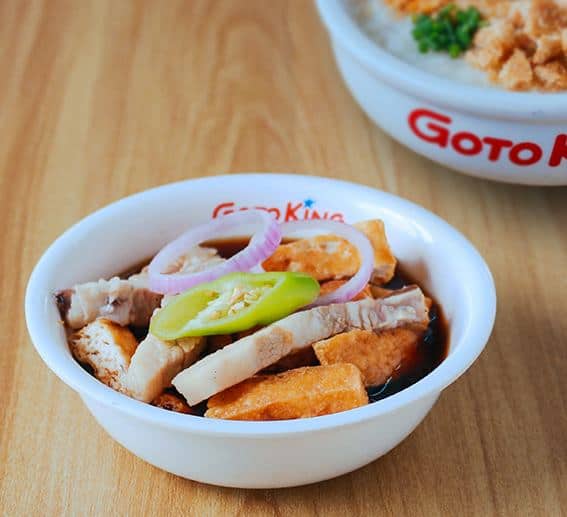 Palabok – It is one of the popular noodle dishes where noodles are topped with a special and flavorful sauce. The unique flavor of its sauce is the special feature that makes it unique.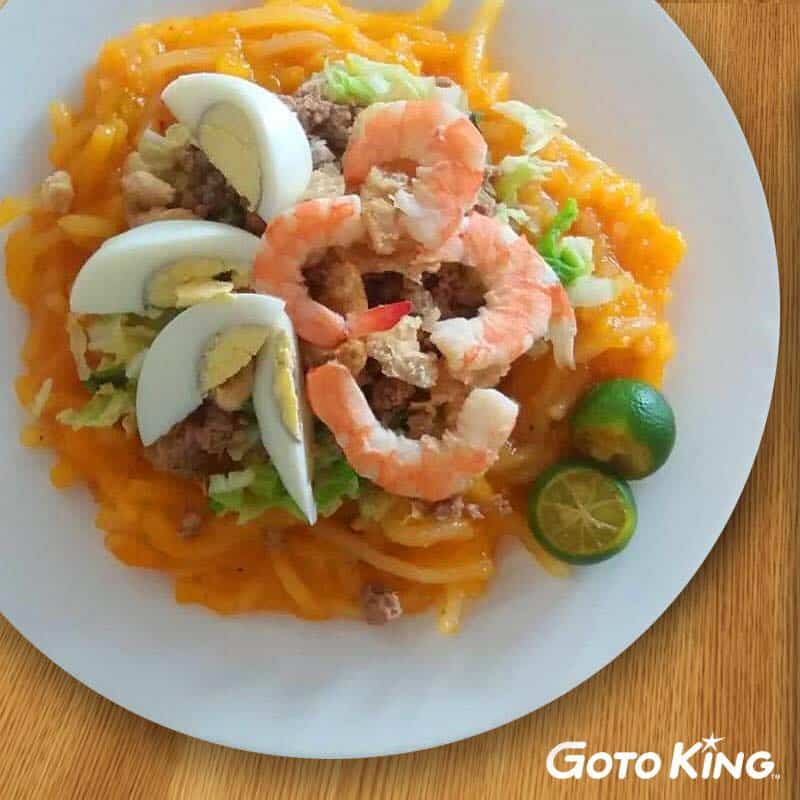 Dinuguan with Puto – Savor the delicious taste of this perfect duo. It is a traditional Filipino dish that consists of pork blood stew and steamed rice. Dipping puto in a hearty dinuguan creates a savory taste and distinctive texture.
La Paz Batchoy Special – A hearty noodle soup dish made up of thick noodles topped with lean pork, toasted garlic, chicharon, and liver strips.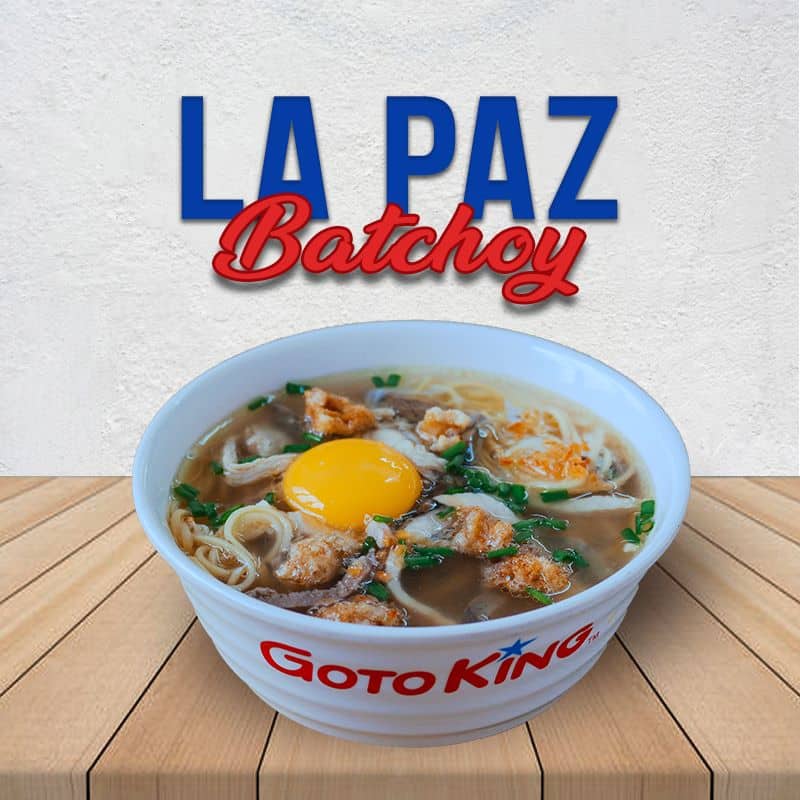 Desserts
The desserts menu that Goto King offers are Leche Flan and Halo-Halo Special. Leche Flan is a smooth and creamy dessert that is commonly prepared on different occasions. It is available in slice and whole servings. The whole serving is perfect for sharing so you can enjoy it with your loved ones as you celebrate a special event. Halo-Halo is popular refreshment during summer or in hot weather. The flavors and textures of its ingredients are blended perfectly creating a delectable dessert. These desserts are a perfect way to complete your meal and satisfy your cravings.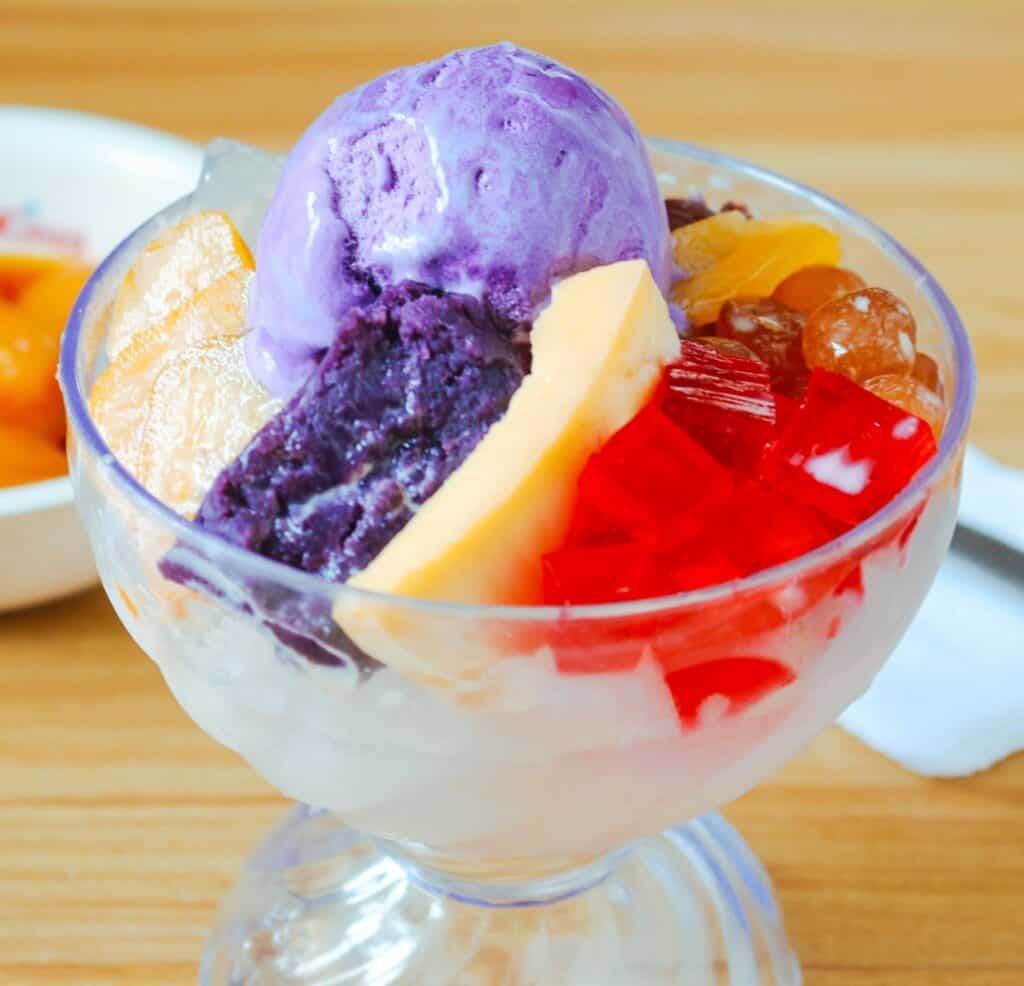 For Sharing
These meals are good for sharing and are only available for delivery. It consists of Pork BBQ, Pork Sisig, Dinuguan, Sinaing na Tulingan w/ Ginataang Kamatis, Sinigang na Salmon Belly, Binagoongang Baboy, and Kare-Kareng Baka. It is also a good option if you want to serve something classic yet unique dishes that will make your time with your family more fun and memorable. Aside from being great as a main dish, these cuisines are also great as an accompaniment to alcoholic drinks.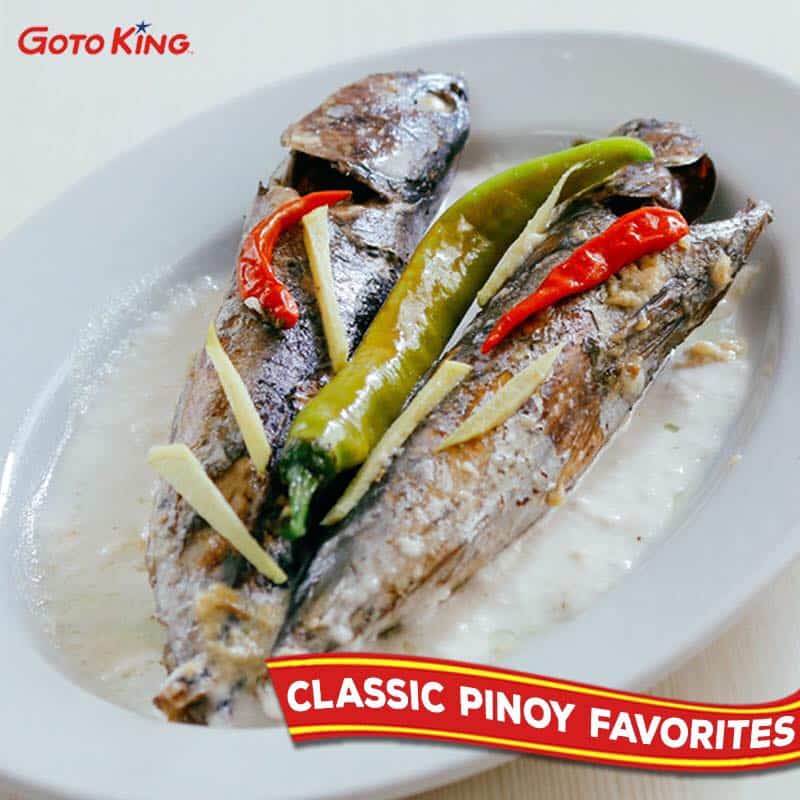 Goto King Menu Delivery
The menu of Goto King is available for delivery through GrabFood and FoodPanda. If you don't have an account on these delivery platforms, you can send them a message on their official Facebook account to order your favorite dishes.
Goto King Social Media Pages
Want to reach out to the Goto King team? It's a piece of cake! Their friendly crew is just a click away on their official social media pages. Whether you want to show your appreciation for their scrumptious cuisine or ask for their branches near you, they'd be thrilled to hear from you. Don't hesitate to follow the links below and start chatting with the Goto King team today!
Facebook: https://www.facebook.com/GotoKingPH
Instagram: https://www.instagram.com/gotokingph/
Conclusion
The Goto King menu is a perfect place for those who love to try different variations of goto and other classic Filipino dishes. These cuisines are served hot to make them more delicious and comforting. Since 1984, it is committed to serving classic dishes with a twist to provide a unique dining experience. This restaurant always impresses its customers with affordable and truly delectable dishes.