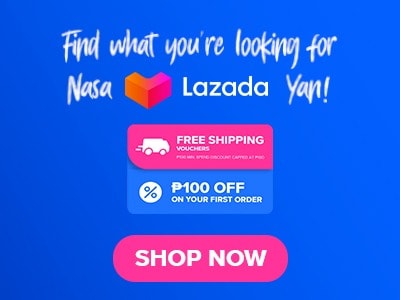 The Earth Kitchen menu consists of healthy dishes made from fresh and naturally-grown crops and vegetables. It offers soup, appetizers, salad, pasta, mains, desserts, and drinks. These items on their menu are expertly prepared to highlight the products of the restaurant's partner communities in the Philippines. The ingredients of their dishes are all organic as they are free of any chemicals and synthetic flavorings. Some of their dishes are seasonal as not all ingredients are available all year round.
Below, you'll find the updated list of Earth Kitchen menu prices.
Menu Items
Price (PHP)

Soup

Curried Squash
185
Fresh Mushroom
195
Smoked Tomato
210

Appetizer

Mushroom Spring Rolls
300
Shrimp Spring Rolls
310
Root Vegetable Chips
200
Fonduta
340
Ceviche
495
Chicken Liver Pate
365
Moules Marinere
420
Beef Bulgogi Soft Tacos
220
Fish & Roasted Sesame Soft Tacos
210
Fried Chicken
310
Sweet Potato Empanada
230
Grilled Vegetable Tartine
310
Smoked Fish Tartine
325

Salad

Watermelon & Rocket
310
Foraged
310
Grilled Vegetable
300
Pomelo Shrimp
375
Grain
375
Crispy Catfish
410
Smoked Duck Breast
475

Pasta

Spaghetti Pomodoro
220
Roasted Vegetable
310
Spaghetti Meatballs
330
Carbonara
350
Mushroom Ravioli
420
Earth Kitchen Ravioli
420
Tahong
450
5-Garlic
320
Watercress Arugula
390
Uni
450
Crab
460
Squid Ink & Aligue
475
Shrimp Arugula
490

Mains

Beef Kebab
420
Chicken Kebab
390
Garden Flatbread
375
Crispy Seafood Pancake
420
Vietnamese-Style Pork
410
Hainan-Style Chicken
370
Grilled Organic Chicken
495
Braised Bacon
550
Tuna Poke Adlai Bowl
595
Grilled Organic Pork Chop
370

Desserts

Goat's Cheese Ice Cream
275
Tablea Ice Cream
200
Pastillas Ice Cream
100
Tablea Chocolate Cake
150
Ube Velvet Cake
170

Drinks

Got Heart Mix 1
180
Got Heart Mix 2
180
Mango Yoghurt Shake
110
Calamansi Juice
90
Lick Iced Tea
120
Fresh Guyabano Shake
270
Fresh Ripe Mango Juice
260
Fresh Dalandan Juice
250

Coffee

Coffee Espresso (Single)
70
Coffee Espresso (Double)
90
Americano
100
Cappucino
120
Café Latte
120
Malunggay Latte
100

Hot Chocolate

Tablea, Muscovado
115
Tablea, Muscovado, Milk, Egg Yolk, Cream
115
Tablea, Muscovado, Milk, Peanut Butter, Egg Yolk, Cream
125

Tea

Teacup
60
Teapot
110
Lemongrass Pandan Tea
250
About Earth Kitchen
Earth Kitchen is a farm-to-table restaurant located in Quezon City that provides healthy, local, sustainable, and mouth-watering dishes. The dishes that it offers are made up of organic ingredients sourced directly from indigenous communities and local farmers. They aim to serve healthy and delicious dishes while supporting the livelihood of farmers and fishermen in the Philippines.
Earth Kitchen Menu Best Seller
These are the crowd's favorite dishes offered from the Earth Kitchen menu that are healthy, delicious, and satisfying. 
Mushroom Spring Rolls – It is a vegetarian appetizer made with herbs & greens, peanuts, and shiitake. Lime Hoisin Sauce comes with this dish.
Watermelon & Rocket – A vegetarian salad that consists of lettuce, arugula, pili nuts, Balsamic Vinaigrette, and homemade kesong puti.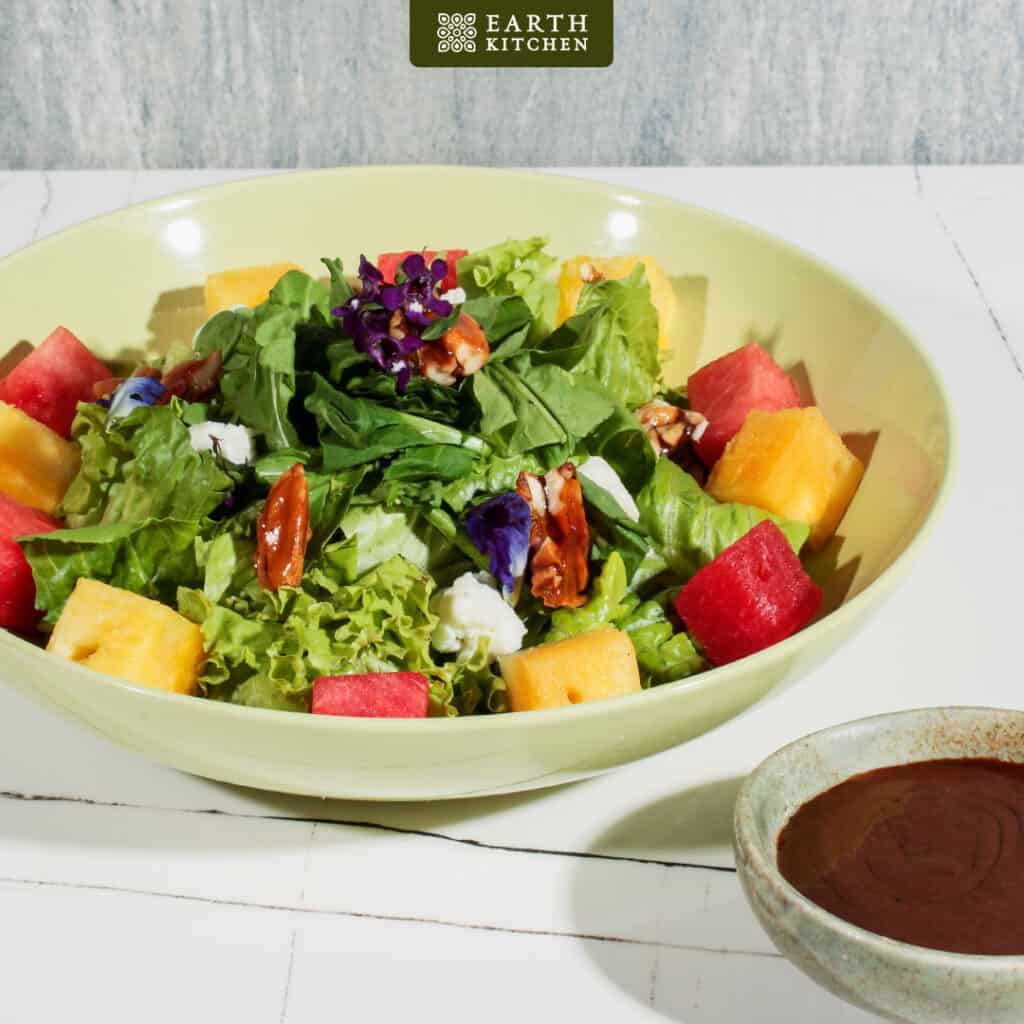 Earth Kitchen Ravioli – This is a special vegetarian pasta menu of Earth Kitchen that includes kesong puti, camote tops, tomato sauce, pili nuts, basil, and parmesan. 
Beef Kebab – Beef Kebab is a main dish made with Boneless Beef Ribs, Tzatziki, and Grilled Vegetables. Ifugao rice pilaf, flour tortilla, or mixed greens are the options served with this dish.
Hainan-Style Chicken – A main dish that consists of Hainan-style rice, poached chicken breast, cilantro, cucumber, ginger scallion, and chili sauce.
Appetizer
The appetizers of Earth Kitchen are good for sharing so you can enjoy them with your family and friends.
Root Vegetable Chips – A healthy dish consisting of various fried root vegetables, garlic yogurt, and fried herbs.
Fonduta – Assorted homemade pieces of bread are served with a 3-cheese & sweet potato top dip. The texture of the bread complements well with the flavor of its dipping sauce.
Fish & Roasted Sesame Soft Tacos – It is a delicious taco made with mahi-mahi fillet, salad greens, cucumber, and seaweed dressed with roasted sesame.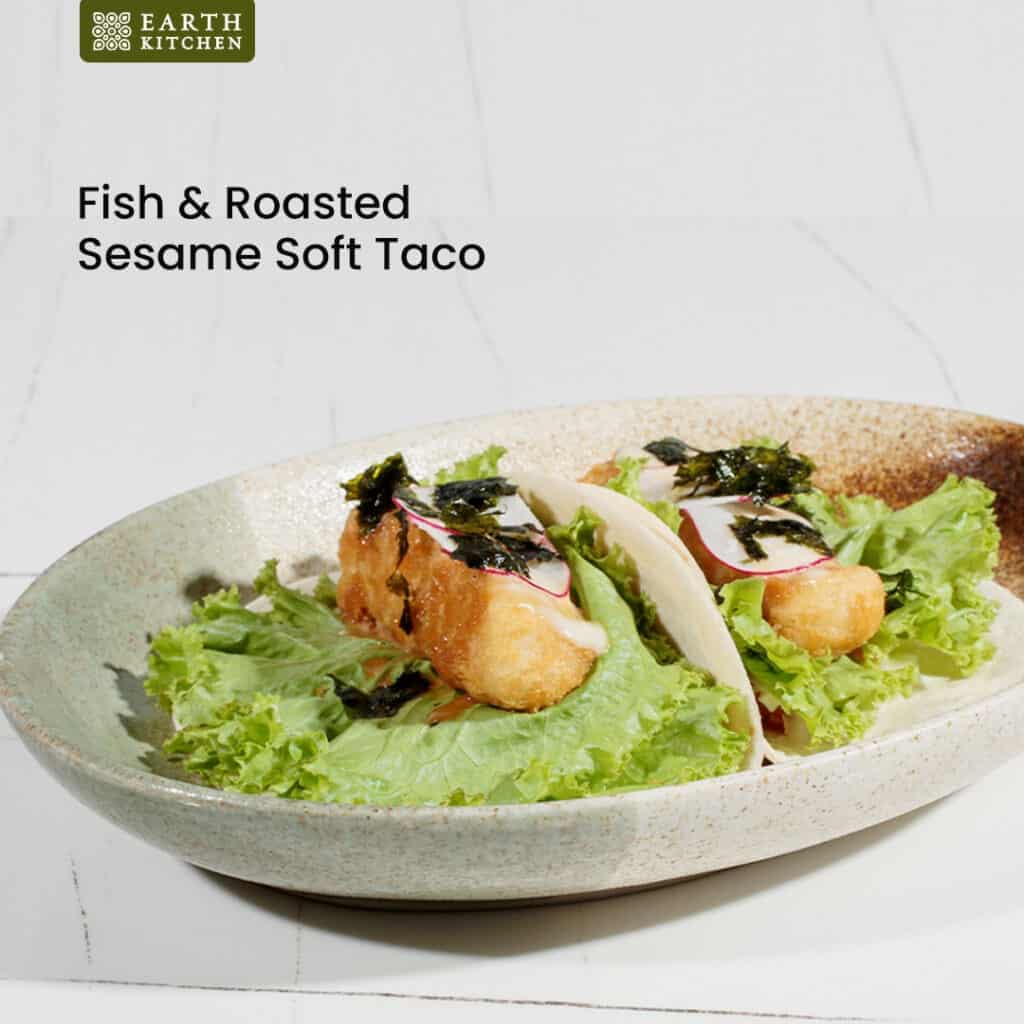 Sweet Potato Empanada – This Earth Kitchen menu is a delightful appetizer made with a sweet potato-stuffed tortilla, garlic aioli, mixed greens, and cilantro dressing. 
Grilled Vegetable Tartine – Grilled vegetables, carabao milk ricotta, and homemade sun-dried tomato puree are laid on a piece of homemade multigrain bread.
Salad
Salads are ideal dishes for those who follow healthy eating habit as it consists of fresh and healthy ingredients.
Foraged – This salad consists of pickled shallots, sweet potato, cashews, a mix of young shoots, grilled leeks, and goat cheese dressing.
Grilled Vegetable – It is a salad that is ideal for vegetarians as it is made with bell pepper, zucchini, carrots, eggplants, herbs and greens, pickled mushrooms, kesong puti, and Balsamic Vinaigrette.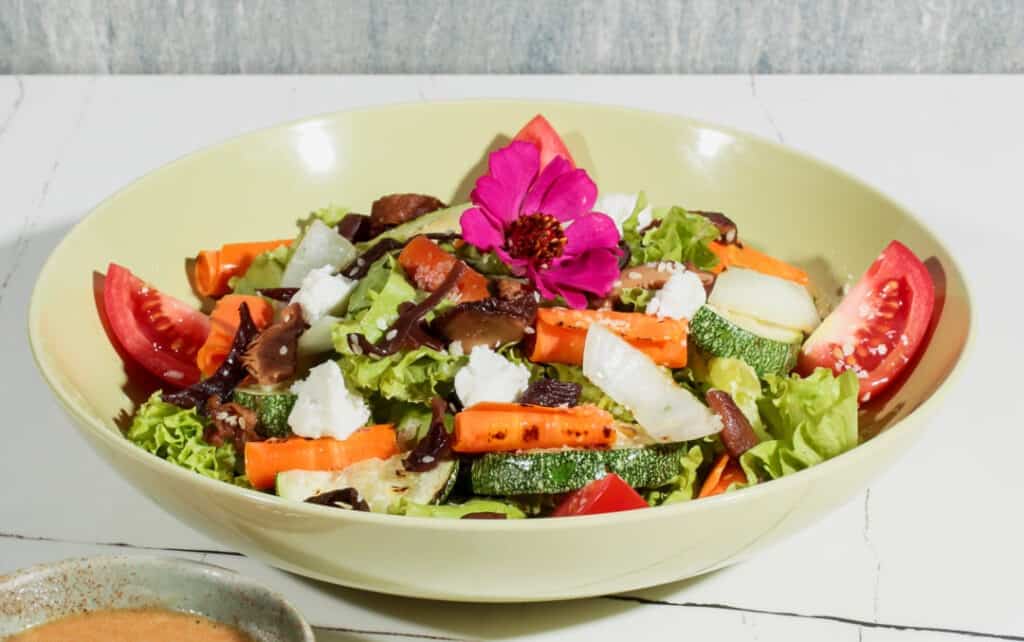 Pomelo Shrimp – A salad dish great for health-conscious customers that contain pomelo, shrimp cracker, green papaya, cucumber, mint, peanuts, nuoc cham, crispy shallots, cilantro, and carrots.
Grain – This menu from Earth Kitchen is perfect for those who are following a healthy diet as it is made with Adlai, white quinoa, garbanzos, dried mango, hibiscus, herbs, and candied cashew. 
Smoked Duck Breast – House-cured and smoked duck breast with lettuce, candied cashew, tomato, and mango-smoked vinaigrette comes together in this dish.
Soup
The comforting soups that Earth Kitchen offers are Smoked Tomato, Curried Squash, and Fresh mushrooms. Smoked tomato is made with cream, gremolata, and smoked tomatoes served with a slice of garlic bread.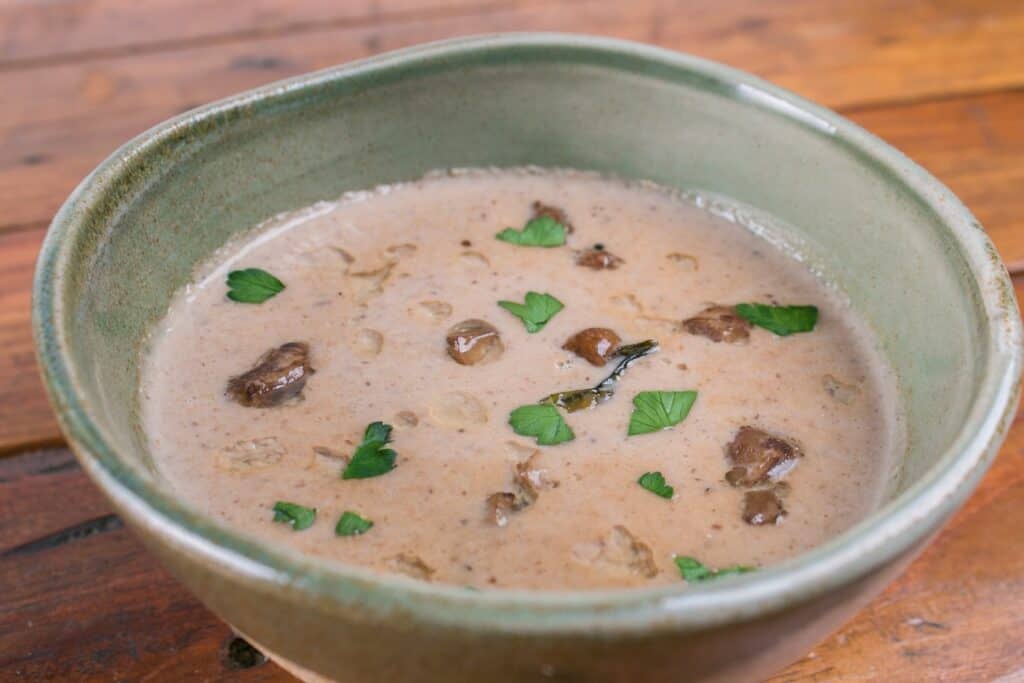 Fresh mushroom soup consists of four kinds of mushrooms such as shiitake, button, milky, and abalone. Curried squash soup includes pumpkin, mint, and homemade yogurt. Garlic bread can be added to these soups for an additional price.
Pasta
Satisfy your cravings and start a healthy eating lifestyle with its unique and delectable pasta menu that Earth Kitchen offers. 
Roasted Vegetable – A vegetarian pasta made with roasted vegetables such as carrots, zucchini, bell pepper, tomato, eggplant, and parmesan.
Mushroom Ravioli – Three kinds of mushrooms such as shiitake, button, and milky are cooked with kesong puti, pili nuts, and light cream sauce.
5-Garlic – It is made with garlic 5 ways, white wine sauce, and homemade carabao milk ricotta.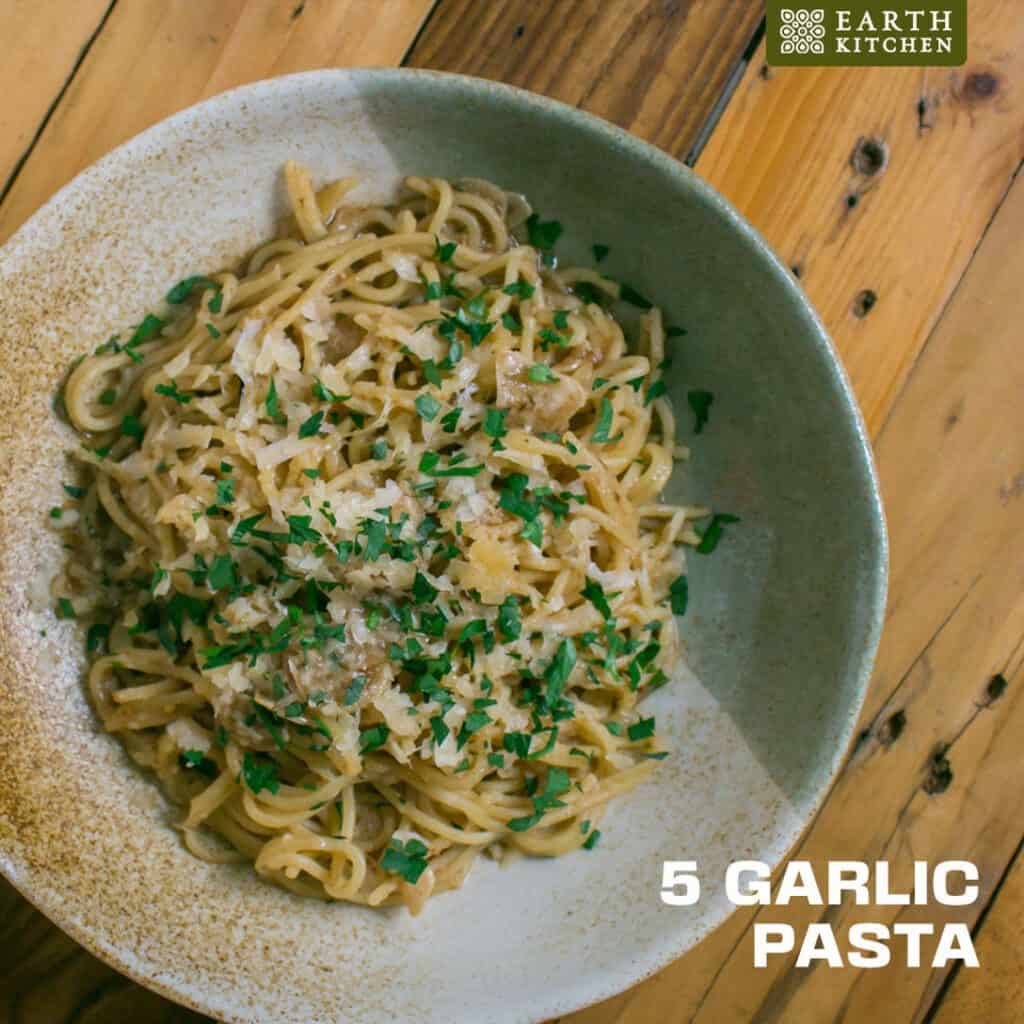 Watercress Arugula – Watercress, arugula, homemade carabao milk ricotta, tomatoes, and white wine sauce come together in this delectable and vegetarian pasta dish.
Shrimp Arugula – This dish consists of shrimp, arugula, chili, sun-dried tomatoes, and white wine sauce.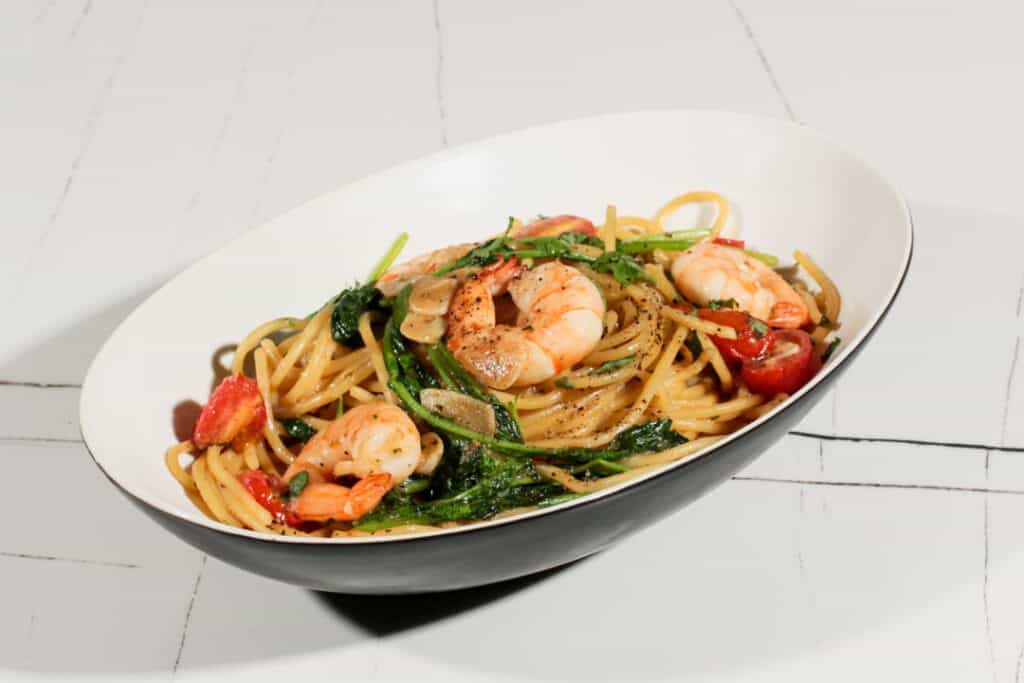 Mains
The main dishes of Earth Kitchen consist of meals that are rich in nutrients and packed with flavors.
Chicken Kebab – It is one of the crowd's favorite menu from the Earth Kitchen. It consists of chicken, grilled vegetables, and tzatziki. Mixed greens, flour tortilla, or Ifugao rice pilaf are the choices of side dishes that you can pair with this dish. 
Garden Flatbread – A vegetarian dish made with mixed salad, grilled vegetables, and mushroom puree.
Vietnamese-Style Pork – This is a popular Asian dish inspired by Vietnam. It is a dish that always pleases the crowd as the pork has a tender and juicy taste. Pickled carrots & radishes, cilantro, mint, crispy shallots, peanuts, morning glory stem lime vinaigrette, and shrimp crackers are also served together with this dish.
Grilled Organic Chicken – The half-organic chicken is grilled until it becomes tender. It is served with green salsa, a puree of carrots, a salad of watercress and pickled shallots, and a vinaigrette flavored with lime.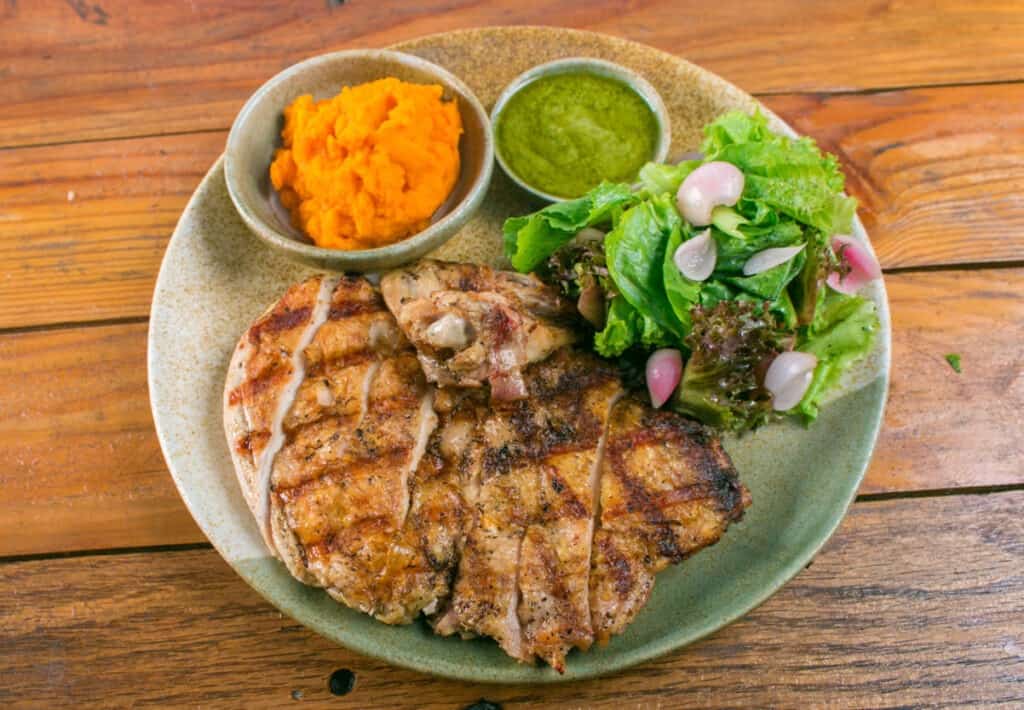 Tuna Poke Adlai Bowl – Fresh yellowfin tuna, pili nuts, mixed seaweeds, and Adlai are mixed in a bowl. It is dressed in soy ginger and drizzled with sesame seeds. Its visual presentation is enhanced by fried banana chips that are cut into flower shapes.
Earth Kitchen Menu Delivery
Earth Kitchen offers a diverse range of dining options, catering to customers who prefer to dine in, pick up, or have their food delivered. Whether you're in the mood for a night out or a cozy meal at home, Earth Kitchen has got you covered. Their restaurant is open daily from 11:00 AM to 9:00 PM, ensuring that you can enjoy their delicious farm-to-table cuisine at any time that suits your schedule. And for those who prefer to order delivery, Earth Kitchen has made it easy by partnering with Grabfood and FoodPanda, making it possible to have your favorite dishes delivered straight to your doorstep.
Talk to Eath Kitchen PH Staff
To get more information about the restaurant, products, and services, you may send them a message through their social media pages or email. They have staff that will cater to your inquiries and they are active in posting their updates. To redirect to their pages, click the links below:
Facebook: https://www.facebook.com/EarthKitchenPH
Instagram: https://www.instagram.com/earthkitchenph/
Email: [email protected]
Website: https://earthkitchen.ph/contact-us/
Conclusion
Healthy, local, and sustainable are the words that best describe the Earth Kitchen menu. Organic dishes are the specialties of this restaurant as they aim to support those who work in the agricultural and fisheries sector in the Philippines. Ordering dishes here at Earth Kitchen creates a good impact as you will be able to support local farmers, fishermen, and indigenous communities in a simple way. This is an ideal restaurant where you can start a healthy way of living.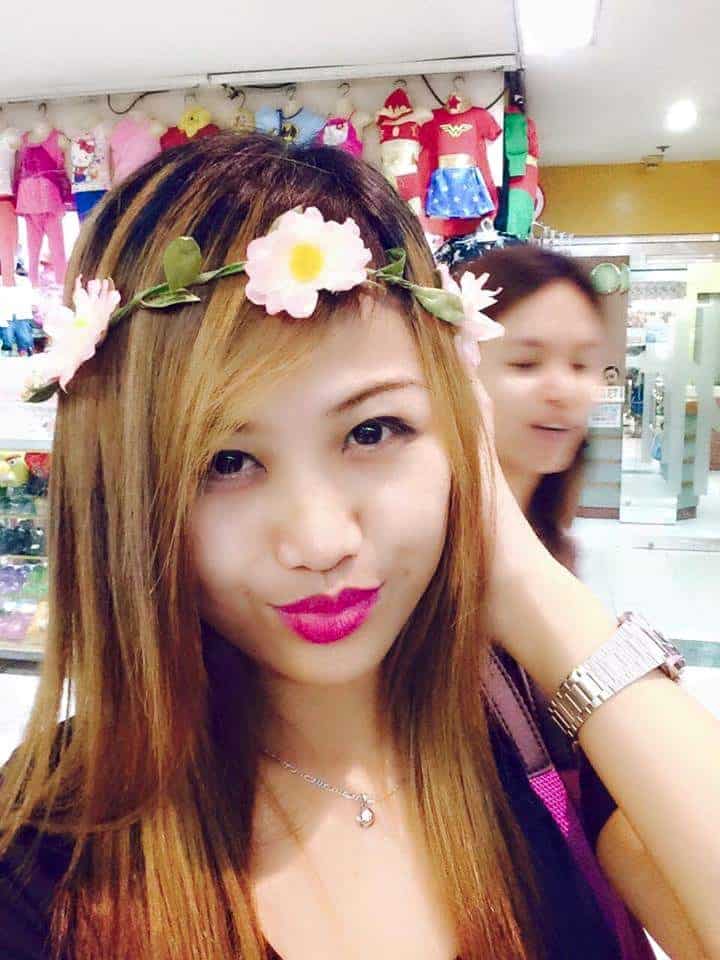 Hello! I'm Shaoyeu Cassandra, a mom who spends most of my time at home, and when I'm not busy, I enjoy writing blogs. I live in Cavite, and I really love talking about the menus of different restaurants.
So, I decided to share my thoughts on the menus of some fast-food places. I'm hoping my take on them can be like a helpful guide for you to decide what tasty treat to go for next. I hope you discover something you really enjoy! Thanks for stopping by!