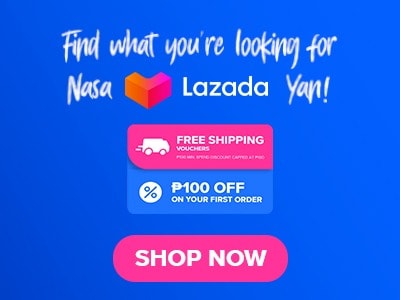 Sugarhouse menu will provide you with the sweetest flavor that you will absolutely love and that will surely make you go back. Their menu not only has sweets but also has a balance of different varieties of dishes and delicacies that people of all ages can share. The list goes from cakes and pastries to desserts, pasta, rice meals, and even the popular delivery menus.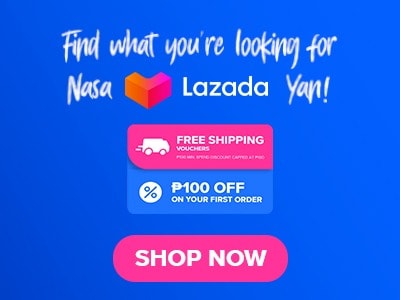 Menu Items
Price (PHP)

Soups

Roasted Pumpkin and Garlic
110
Chicken and Corn Chowder
110
Molo Soup
110

Salads

Sugarhouse Chopped Salad
250
Taco Salad
210
Caesar's Salad
225
Grilled Chicken Caesar's
275

Sandwiches

Sugarhouse Club
250
Sliders
210
Monte Cristo
225

Pasta

Puttanesca
250
Beef Lasagna
250
Fettucine Carbonara
210
Baked Macaroni
230
Callos
330
Pastel De Lengua
280
Baked Porkl Spareribs
295
Beef Ribs in Beer
350
Beef Salpicado
450
Fish fillet en Papilotte
230
Fish with Wasabi Cream Sauce
230

All-Day Breakfast

Two eggs with bacon
195
Longanisa
195
Prok tocino
250
Chicken Tocino
275

Breads and Pastries

Ensaimada
45
Cinnamon Roll
40
Choco Hazelnut Roll
48
Banana Bread
60
Pund Cake
90
Carrot Cake
70
Chicken Empanada
35
Spinach Empanada
40

Cookies

Chocolate chip
60
Double Chocolate chip
60
Oatmeal Raisin
70
Marble
60
Trailmix
65
Red Velvet
65

Pastries

Cream Puffs
150
Profiteroles
200
Combi Pack
170
Sylvannas
140
Yema Balls
130
Fudge Raisin Bars
120
Food for the Gods
220
Caramel Candy
120
Fruit Cake Niblets
160
Caramel Popcorn
50

Savory Jars

Bacalao Filiino in Olive oil
240
Spicy Tuyo
240
Green Papaya Atchara
140
Spicy Tinapa
240
Gourmet Tuyo
250
Tawilis wiht Olive oil
240

Sugarfree Corner

Marjo Tome
1,200
Mango Forte
355
French Apple pie
1,250
New York cheesecake
1,200

Cakes and Pastries

French Apple Pie
1,595
Blueberry cheesecake
1,300
New York cheesecake
1,300
Marjo Tome
1,350
Turtle Pie
1,300
Cashew Toffee
925
Dulce de Leche
1,100
Chocolate Truffle
940
Coffee Sans Heat
800
Honey cake
825
Black Magic
880
Chocolate Bliss
550
Midnight
760
Canonigo
550
About Sugarhouse
An elegant food park for all of those sweet tooth people located on the lower ground floor, Power Plant Mall, Rockwell, Makati City. Sugarhouse has been synonymous with excellent quality food, both sweet and savory, for almost 40 years. They are committed to excellence and aim to make every meal brighter and celebrate extra special with their delicious offerings.
Sugarhouse is best known for its cakes and pies, but they are also popular for its line of bread, pastries, soups, salads, pasta, rice meals, and even take-out trays that customers will surely love!
Sugarhouse Menu Best Seller
Monte Cristo
A menu made more special by Sugarhouse. A whole new taste of the popular fried ham and cheese sandwich. Made with whole wheat bread that is served with garlic aioli.
Beef Lasagna
One of the family's favorites is a layer of meaty sauce topped with sweet and buttery cheese.
Sugarhouse Chopped Salad
This salad is a specialty of Sugarhouse. It is made with greens that are topped with honey ham, chicken breast, hard boiled eggs, fresh mango, tomatoes, and almond slices.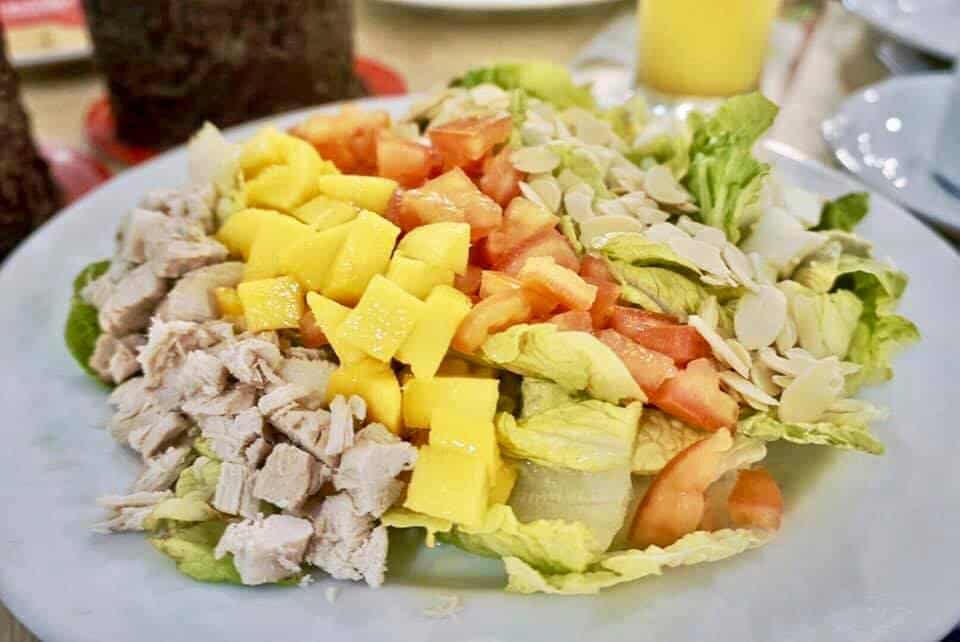 Chicken Salpicado
A Filipino stir-fry dish that is made of chicken breasts with a salpicado sauce. The dish is then slathered with classic buttery salpicado sauce and garlic bits.
Beef Salpicado
It is a dish that uses sirloin and tenderloin cubes as the base and is dipped in salpicado sauce. This dish is served with garlic fried rice, tomato salsa, and a side salad.
Sugarhouse Cakes and Pastries Menu
Cream Puffs
A classic French dessert that was given a twist to be more like a Filipino dish. This dessert is made of a delicate dough that is filled with whipped cream.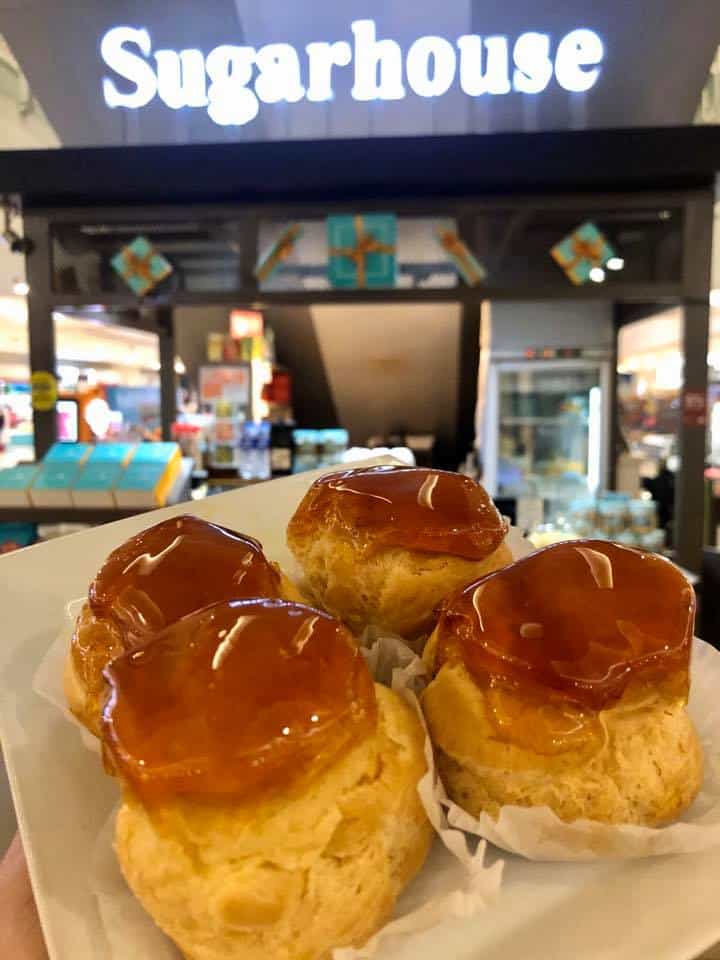 Sylvannas
One of the many classic Filipino desserts. Sylvannas is a Filipino frozen cookie that has layers of buttercream that are sandwiched between two wafers that are coated with cookie crumbs.
Yema Balls
A classic Filipino sweet is the Yema Ball. It is a sweet custard that is made with egg yolk, milk, and sugar. If you want a classic Sugarhouse menu, this one is recommended.
Fruit Cake Niblets
Highly popular among kids, Fruit Cake Niblets is a loaf cake that is made of dried fruits, nuts, and other spices.
Caramel Popcorn
A popcorn that has been coated with a sugar solution that is around 1 mm thick and produces a caramel candy flavor in your popcorn.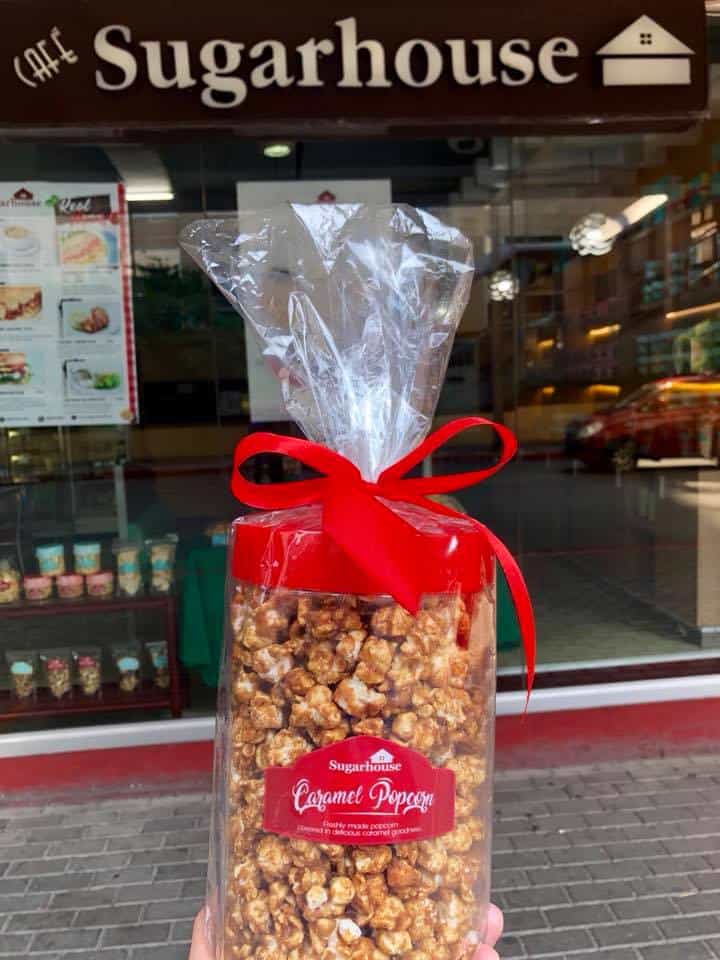 Desserts
Cashew Toffee
This dessert has a unique blend of chocolate and toffee flavors that is heightened by the contrasting sensations of creamy chocolate mousse and crunchy toffee bits.
Chocolate Truffle
A cake that is loaded with chocolate and is made more enticing by the faint but very distinctive taste of coffee. If you love chocolates, you should try this menu from Sugarhouse.
Concorde
Is a French classic that is the perfect companion for crisp meringue, velvety mousse, and vanilla chiffon.
French Apple Pie
One of the best apple pies ever. The French apple pie is topped with cheese and served with whipped cream that the kids will absolutely love!
Midnight
This provides a strikingly rich flavor of Bordeaux in this moist chocolate cake that also has fudgy chocolate icing. The chocolatey flavor of this dessert will make you come back for more. Midnight is best served warm.
Pasta
Fettuccine Carbonara
A fettuccine that is tossed in a rich and creamy sauce and is generously topped with bacon bits and completed by a dash or two of Parmesan cheese.
Puttanesca
Spaghetti has olives and tomatoes, and it is topped with a finely spiced sauce that is also completed by a dash of Parmesan cheese.
Spaghetti with Meatballs
Pasta, tomato sauce, and meatballs make up the staples of this Italian cuisine. Sugarhouse tops its own spaghetti with its own flavorful sauce recipe.
Baked Macaroni
Macaroni is baked with a combination of meat, tomatoes, cream sauce, and tons of cheese.
Sugarhouse Rice Meals
You might get surprised that this cafe not only offers sweets but rice meals as well! Curious to know which one you should try? We definitely suggest that you try the following.
Baked Pork Spareribs
A Sugarhouse Special! Baked pork spare ribs are marinated overnight in a tomato sauce, then slowly baked until the ribs become tender. This is served with steamed rice and a salad on the side.
Fish Fillet en Papillote
This dish is a White Cobbler fillet that is delicately baked in a pouch with butter. Fish Fillet en Papillote is best served with steamed rice and a salad on the side.
Pastel de Lengua
An ox tongue that is slowly cooked in a specially made creamy mushroom sauce and then baked with a pastry crust. This dish is best served with steamed rice and a salad on the side.
Callos
Spanish-style stew that features savory ox tripe paired with spicy chorizo and garbanzos. Served with steamed rice.
Beef Ribs in beer
A tender and flavorful beef that was simmered in beer to make the stew very tender. This dish is served with steamed rice and a salad on the side.
Sugarhouse Menu Delivery
If you are craving something sweet but you are too busy to get out, or you are simply doing a lot of tasks or work, then you can start ordering online. Lucky for us, the Sugarhouse supports FoodPanda and GrabFood. And thus, you can order online using the app or website of Grab and FoodPanda. Usually, you can pick any of the menu from the Sugarhouse but if you want to know which are the most popular, here they are:
Honey Cake
Is a layer cake that is very popular in many countries. Sugarhouse has made this recipe more special by adding condensed milk aside from honey.
Turtle Pie
Based on old candy, turtle pie has all the necessary flavors like chocolate, caramel, and pecans. It is a typical dessert that is made from a chocolate crust and a creamy cheese filling.
Ensaimada
A Filipino classic that originated in Spain. It is a very common cuisine that is made with strong flour, sugar, water, and eggs.
Social Media Pages
Want to get the latest updates on Sugarhouse? You can simply start subscribing on their Facebook, Instagram, or Twitter. We also recommend you check their website from time to time so you won't miss any important news about them.
Facebook: https://www.facebook.com/sugarhouse.cafe/
Instagram: https://www.instagram.com/sugarhouseph/
Twitter: https://twitter.com/sugarhouseph
Conclusion
Every menu that Sugarhouse serves is bound to be of the highest quality. And for a place that has sugar in its name, Sugarhouse's menu has a good diversity of meals. They offer not only sweet menus but also breakfast menus. There are many must-try meals, and going to the place a single time is surely not enough.