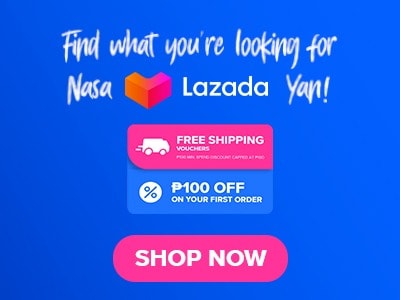 One of the Philippines' most innovative food firms is Zagu. In order to meet consumers' demands for premium beverages, Zagu menu offers freshly made-to-order preparation, gaining their trust as their drinks are manufactured in front of their eyes. Leading provider of pearl shakes in the Philippines, Zagu is seeking aspiring businesspeople to join its thriving enterprise. The Pearl Shake was launched to the Philippine market by Zagu. The distinctiveness of the beverage and the range of tastes it delivers increase its attraction to consumers and maintain their attention.
Below, you'll find the updated list of Zagu menu prices.
Menu Items
Price (PHP)

Coffee and Tea Blends

Pearl Milk Tea Regular
96
Pearl Milk Tea Grande
134
Caffe Latte Regular
96
Caffe Latte Grande
134
Hazelnut Cappuccino Regular
96
Hazelnut Cappuccino Grande
134

Fruit Selection

Strawberry Regular
96
Melon Regular
96
Watermelon Regular
96
Philippine Mango Regular
141
Four Seasons Regular
135
Strawberry Grande
134
Melon Grande
134
Watermelon Grande
134
Philippine Mango Grande
202
Four Seasons Grande
192

Chocolate Indulgence

Black Forest Regular
96
Cookies and Cream Regular
96
Chocolate Regular Regular
96
Black Forest Grande
134
Cookies and Cream Grande
134
Chocolate Regular Grande
134

Filipino Favorites

Buko Pandan Regular
96
Ube Regular
96
Quezo Royale Regular
96
Taro Regular
96
Fruit Salad Regular
112
Halo-halo Regular
111
Zagu't Gulaman Regular
102
Buko Pandan Grande
134
Ube Grande
134
Quezo Royale Grande
134
Taro Grande
134
Fruit Salad Grande
148
Halo-halo Grande
144
Zagu't Gulaman Grande
120
About Zagu
Zagu did not have a typical beginning or innovation. Before it was launched on the market in the summer of April 1999, Zagu completed a number of experiments and product samplings, much like any other food franchising firm. Zagu has succeeded in having more than a hundred pearl shake stands across the nation as of this writing. It began as a straightforward kiosk and grew into the current network of approximately 300 stores around the country. With its modest beginnings and current success, ZAGU has demonstrated that it is not a trend that will soon fade away.
In fact, 85% of its existing stores have remained in their current locations for longer than three years. Foods from ZAGU may be found at grocery stores, malls, and roadside stands. Our skilled management team and motivated staff members, who prioritize the needs of the client and strive for excellence in all they do, are the driving force behind the success of every ZAGU location. They strive to offer the most cutting-edge, premium-quality, and affordably priced goods in the beverage sector.
Zagu Menu Best Seller
Ube – This beverage will make you long for ube halaya, the rich, purple yam dessert from your own country. The ube that Filipinos are accustomed to, however, has a twist in Zagu's rendition. This shake is really great because it also contains coconut.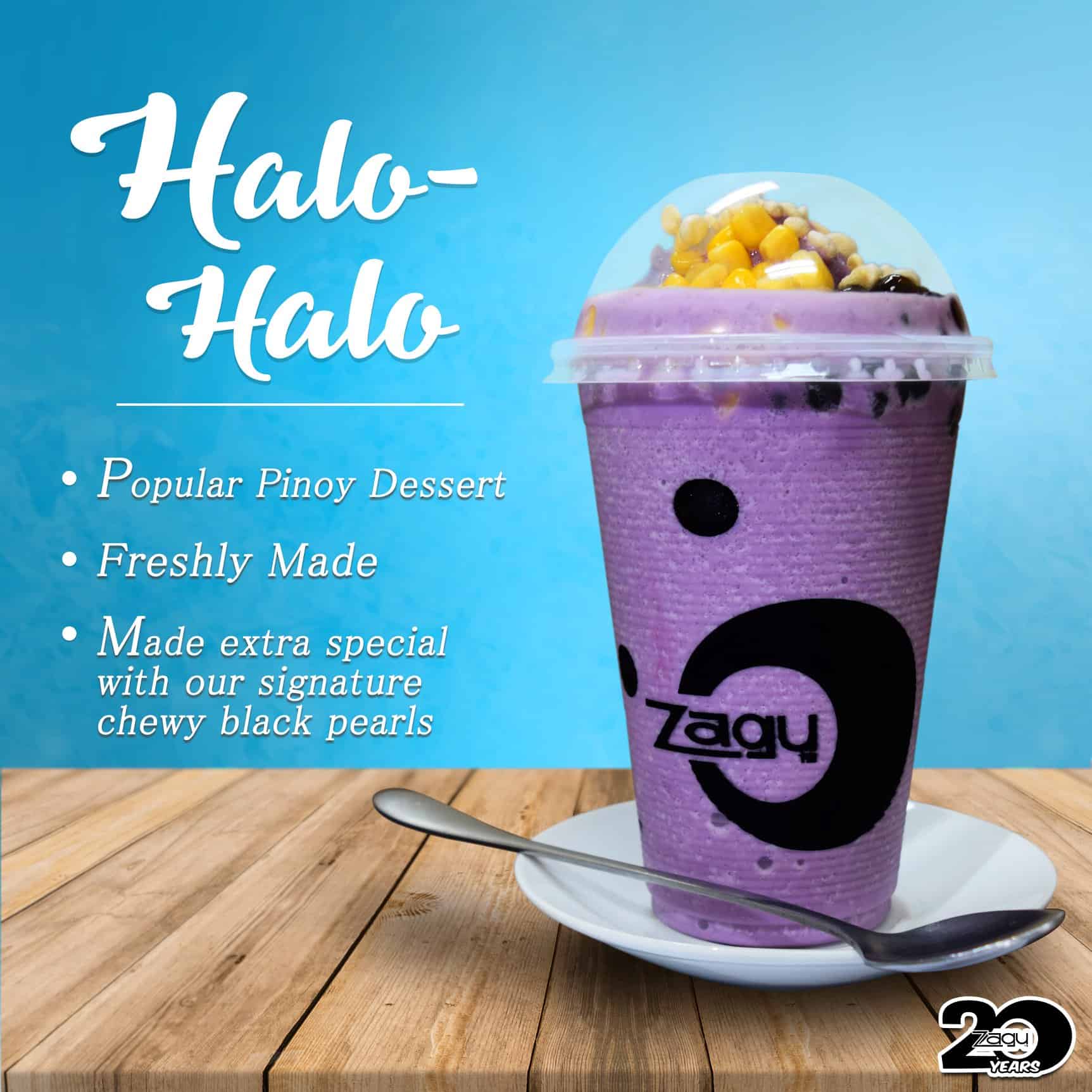 Halo-Halo – This flavor most closely resembles authentic Filipino cuisine, in my opinion. Every island in the nation has a different variation of the dessert. However, Zagu maintains its traditional flavor by using a variety of ingredients to satiate your thirst. The halo-halo shake made by Zagu is a substantial beverage with a creamy texture. Despite its layers being colored like gummy bears, this delicious delight does not taste like candy and is neither too sweet nor sickeningly sweet. It has fewer milk and natural sugar replacements, which results in a considerable reduction in calories compared to classic ice cream. Additionally, it has a blend of natural and organic components.
Quezo Royale – When you try Zagu's Quezo Royale flavor, you won't regret your decision. It is inexpensive and combines the richness of melted cheese with the sweetness and silky smoothness of ice cream.
Zagu Menu Buko Pandan Flavor
Young coconut milk with screw-pine and pandan combined together and served with tapioca pearls. A Filipinoized version of the fruit salad is called buko pandan. Bohol Island in the Eastern Visayas is where the recipe's origins lie. No particular flavor distinguishes pandan. Its green hue and grassy, nutty flavor are what most people use it for.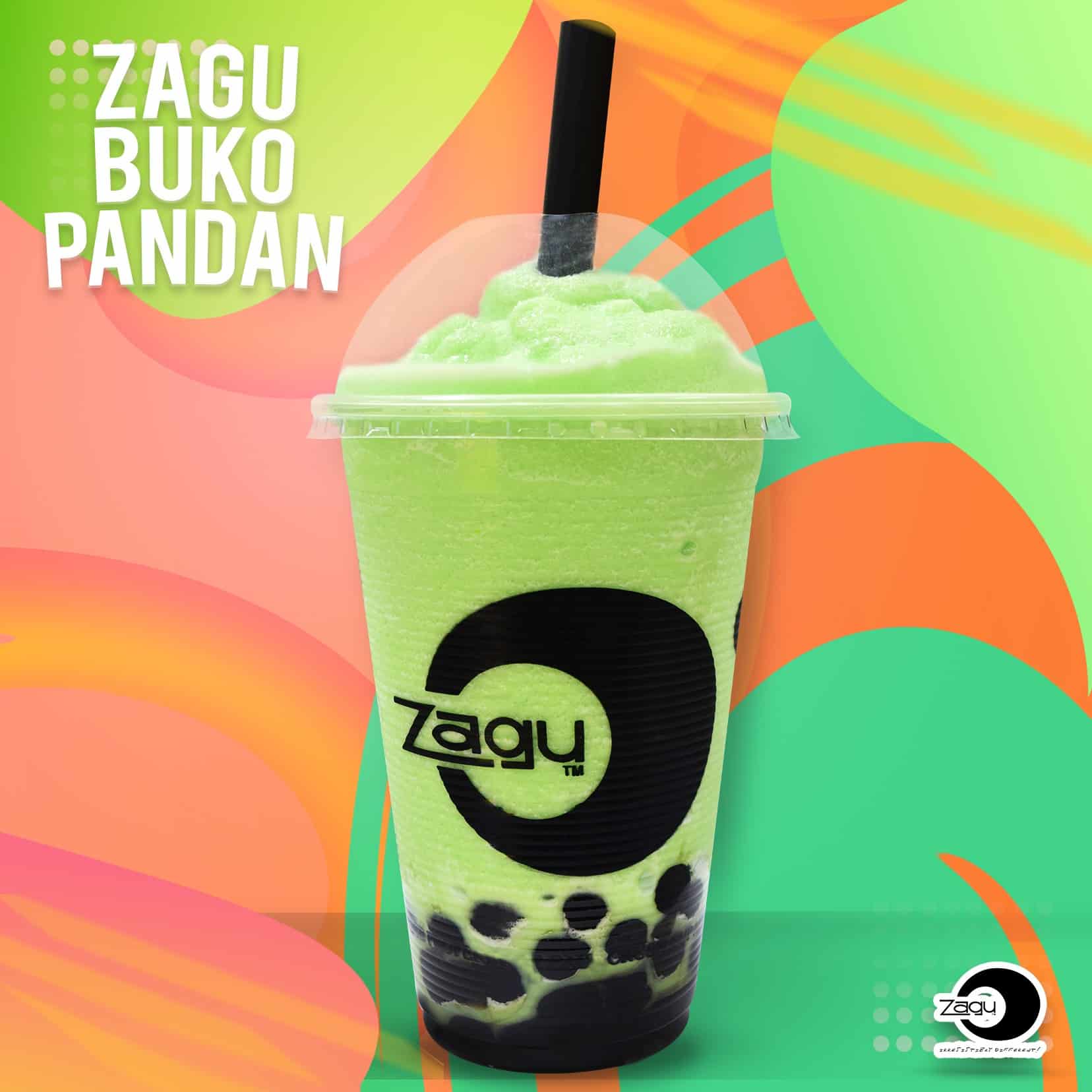 It is imposing in a positive manner. To extract their amazing scent, you must bruise the skin and boil them. It features a firm, brown outer shell and a green outer husk that is covered with a pleasant, transparent liquid and jelly meat. Before it reaches full maturity, it is harvested.
Zagu Menu Taro Flavor
A nutritious and cooling smoothie garnished with chewy black pearls and overflowing with deep taro flavor. The flavor of taro root is really subtle and almost nutty. It's sometimes referred to be a sweeter substitute for potatoes. Taro tastes much like sweet potatoes after being cooked. Taro is quite adaptable and readily takes on new flavors. A tropical plant called Colocasia esculenta is cultivated largely for its edible corms, a root vegetable well known as taro among other names. It is one of the numerous plant species in the family Araceae that are used for food and is the most popularly cultivated species.
Zagu Chocolate Flavor
Enjoy the rich chocolate flavor of our characteristic chewy black pearls and chocolate malt crumbs in our choco-dinosaur treat. Choline, a vitamin crucial for proper neuron function, is a component of chocolate pearl drinks. You utilize it to create the chemical acetylcholine, which helps in brain communication and contributes to muscular control.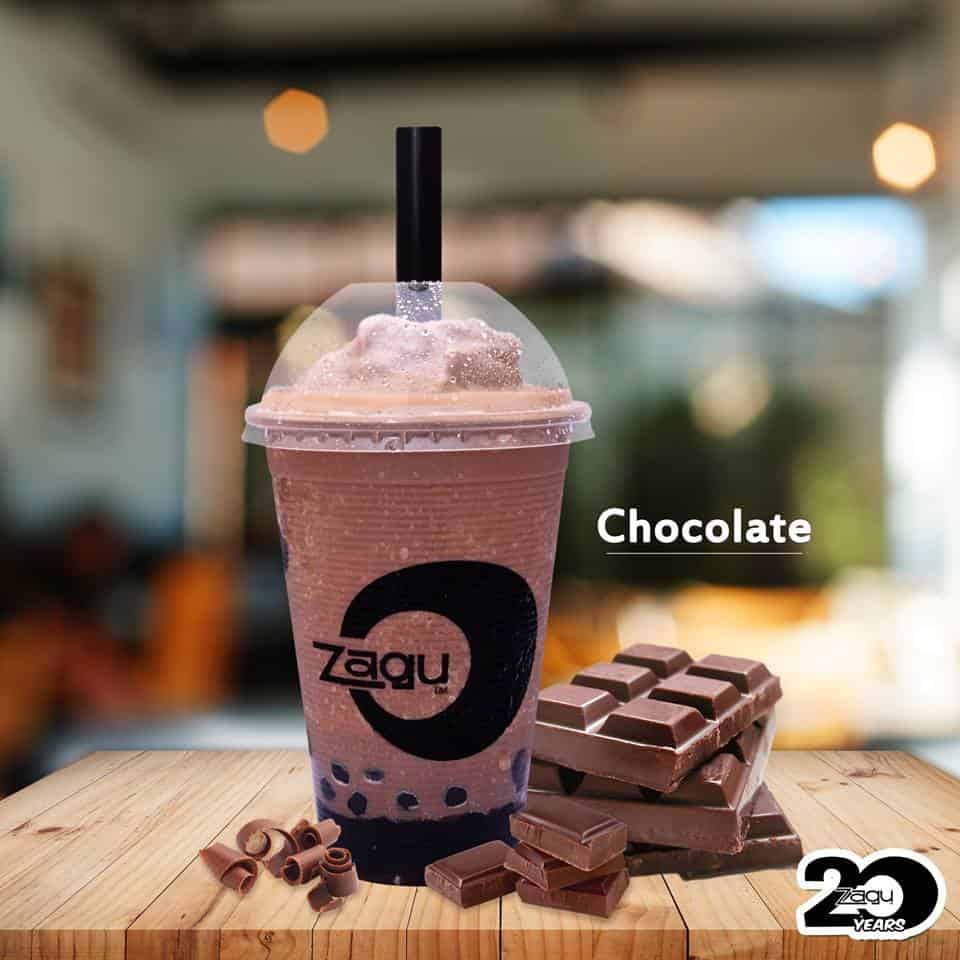 Additionally, choline aids in the maintenance of healthy cell membranes and metabolism. On the other hand, chocolate increases the bar. Some people are enhanced by its rich flavor, while others find it a touch too overpowering. a chocolate treat that combines a sweet and creamy flavor and is served with tapioca pearls.
Social Media Pages
Do you want to see the latest updates and promos on the Zagu menu? In that case, we highly encourage you to subscribe to their social media pages.
Facebook: https://www.facebook.com/zagupearlshakes/
Instagram: https://www.instagram.com/zagupearlshakes/
Twitter: https://twitter.com/zagupearlshakes/
FAQs
What is ZAGU?
One of the Philippines' most innovative food firms is ZAGU. to fulfill the needs of the clients. ZAGU provides fresh made-to-order preparation of high-quality beverages, earning consumers' trust as their drinks are created in front of their eyes.
Is ZAGU a Filipino brand?
A young, entrepreneurial woman from Vancouver, Canada, who graduated from the University of British Columbia with a degree in food science founded ZAGU. But one of the Philippines' top Pearl Shakes producers is Zagu Foods Corporation.
Is ZAGU a milk tea?
Zagu is different from milk tea in many ways. Although Zagu is not milk tea, the store still offers milk tea on its menu to cope with the trend in the market.
Who owns ZAGU Philippines?
Owned by Genevieve Lim Santos is Zagu. Over 500 locations exist across the country.
Conclusion
Depending on the taste you choose, Zagu menu gives your daily intake of calcium in addition to quenching your thirst. This drink has a highly flavorful combination that helps you savor every zip, which is what makes it amazing. The Pearl Drink is made available in the Philippine market by Zagu. The distinctiveness of the beverage and the range of tastes it offers to extend its attraction to consumers and maintain their attention. The Zagu franchise is dedicated to giving its franchise family the ideal, specially tailored support and marketing mix.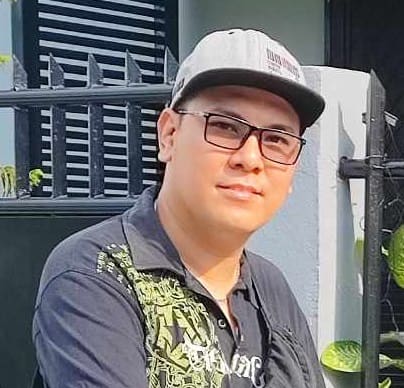 Hi! I'm Nivek Strife, the person who made MenuPH. I'm the one who added most of the popular menus you see on this website, and I really hope you enjoy them! Feel free to check them all out.
Growing up, I was surrounded by lots of tasty foods, like the classic Adobo and the sweet Leche Flan. That love for the many flavors of the Philippines is what got me excited about adding to MenuPH. When I learned how to make websites, I saw the need for a place to show off all the amazing Filipino dishes, and that's how MenuPH started.
MenuPH isn't just a website; it's like a fun journey into food. I've teamed up with famous chefs and found great places all over the Philippines to bring you a bunch of menus that show off the best of Filipino cuisine. Whether you're into the usual dishes or new twists, MenuPH is here to guide you through the rich world of Filipino flavors.
With MenuPH, my aim is to help local businesses, talk about good food choices, and make a group of friends who love food. No matter if you like fancy restaurants or street food, MenuPH has something for you. Come join me on this food adventure as we find great places, taste real flavors, and enjoy the unique food traditions that make the Philippines awesome.