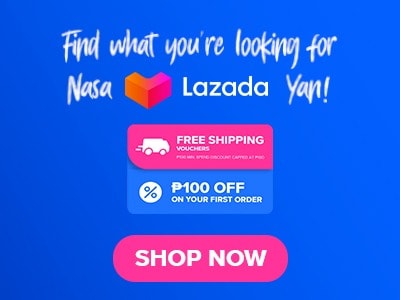 Are you craving Filipino foods but don't know where to get the most affordable set of meals that you crave? Are you tired of the typical fast-food chains and wanted to try something different for a change? Casual dining? Problem solved! Look no more since I found a fast food restaurant that can satisfy your Filipino food cravings. They offer great selections of Filipino favorite dishes and also their foods are really delicious, for their price no worries since their restaurant is very affordable and you can easily find them. Now Let me introduce you to Kuya J. A restaurant that serves Filipino foods and delicacies with great value for your money. Now, in this post, we are going to show you the Kuya J menu, the best seller, and many more.
Below, you'll find the updated list of Kuya J menu prices.
Menu Items
Price (PHP)

Appetizers

Kuya J grilled scallops
249
Chorizo dinamitas
240
Lumpia prito
189

Kuya J Menu Favorites

Beef Caldereta
459
Kuya J crispy Pata Family
815
Chopsuey (chicken)
247
Kuya J Kare-Kare
589
Chicken sisig with egg
275
Beef ribs with mushroom gravy
448
Grilled scallops
274
Beef tadyang sinigang
463
Kuya J halo halo espesyal
130
Kuya J Ube halo halo espesyal
130

Salads

Chopsuey
220
Pinakbet
195
Kuya J Lumpia presko
109
Relyenong talong
145

Salo Salo

Bida bundle A (1 lumpia prito, 1 danggit rice, 1 pancit canton, 2 leche flan and 2 iced tea)
649
Bida bundle B (1 relyenong talong, 1 chicken halang halang, 2 plain rice, 2 leche flan, 2 iced tea)
599
Bida bundle C (1 chicken sisig, 1 beef tadyang sinigang, 2 plain, rice, 2 leche flan and 2 iced tea)
699
Crispy Pata (Crispy Pata regular, chicken sisig, grilled scallops, pancit canton, relyenong talong, plain rice 4)
1200
Kare Kare (Kare-Kare, pansit canton, fried chicken half, plain rice 4)
910
Pochero Bulalo (pochero bulalo tagalog, chicken sisig, crispy, bangus ala pobre, plain rice 4)
895

Soups

Sinigang na bangus
290
Sinigang na baboy
315
Beef tadyang sinigang
429
Pochero bulala tagalog
410
Kuya J bulalo
425

Vegetables

Chopsuey (chicken)
247
Pinakbet
227
Relyenong talong
167
Sizzling Tofu
232

Beef, Chicken and Seafoods

Lechon Baka Salo
1199
Lechon Baka Solo (comes with kamote fries)
449
Beef Caldereta
399
Chicken sisig
245
Chicken halang halang
285
Crispy bangus ala pobre
310
Kuya J Kare-Kare
455
Kuya J fried chicken half
280
Kuya J fried chicken whole
499
Kuya J roast chicken quarter
190
Kuya J roast chicken half
260
Kuya J roast chicken whole
490
Beef pares with garlic
170
Grilled tuna belly
360

Soups

Beef tadyang sinigang
463
Kuya J bulalo
513
Pochero bulalo tagalog
470
Sinigang na baboy
377
Sinigang na bangus
334

Noodles & Rice

Sotanghon guisado
195
Pancit canton
195
Danggit rice
209
Palabok solo
105
Garlic rice cup
48
Garlic rice platter
145
Plain rice
45
Plain rice platter
125

Desserts

Kuya J halo halo espesyal
112
Kuya J Ube halo halo espesyal
112
Kuya J saba halo halo espesyal
112
Kuya J mango pandan
95
Leche Flan
75
Ginataang bilo bilo
110

Drinks

Coke
66
Mango sago
75
Sago't Gulaman
75
Buko Pandan
75
Kuya J house blend iced tea
85
Iced tea
67
Iced tea pitcher
170
Fresh calamansi juice
79
Fresh buko juice
85
Pineapple juice
85
Cucumber juice
89
Brewed coffee
70
Kuya J fruit shake special
110
Ripe mango shake
95
Cucumber shake
95
Buko shake
95
Watermelon shake
95
San miguel light beer
75
San miguel pale pilsen beer
75
About Kuya J
Kuya J is a casual dining restaurant that offers Filipino foods. They opened their doors to customers in January of 2013 in Cebu. The original owner of this casual dining restaurant is a man named Jay that already living in Canada. They serve Filipino favorites that are in heart of every Filipino, great taste, affordable prices, and excellent customer service is their key to success.
Over the next two years, this restaurant continues to grow they only started as an eatery and now they are one of the fastest-growing restaurants in the Philippines that is known nationwide. Jericho Rosales a Filipino actor became their main endorser and that really helps to promote their business.
Lowel Yu and Winglip Chan took over the restaurant, Lu the current chair's goal is to have many branches nationwide. Currently, Kuya J has already over one hundred branches nationwide and counting with 700 employees overall.
Want to try something else? Why not see Jerry's Bar and Restaurant instead?
Kuya J Menu Best Seller
Here is the list of the Kuya J delicious foods menu that you can enjoy. These are their best seller's menus. This list may serve as a guide for you if you are new to their menu.
Chorizo Dinamitas – The dynamite chili is one of the Filipino favorite food to snack on. Their version of dynamite chili is packed with cheese and Cebu chorizo in jalapeño wrapped. A little hot but every bite will give you a blast of flavors.
Kuya J Crispy Pata – This Kuya J menu is an all time Filipino favorite with putok batok image. You'll never go wrong with their crispy Pata, tender and crispy at the same time. This is one of their must-try, just eat moderately for people with high blood pressure.
Kuya J Kare-Kare – One of the most renowned Filipino foods all over the country and even outside. Their version is outstanding to be fair. Made with Kuya J peanut sauce you'll surely be back for more. Powerful Comfort food for Filipinos.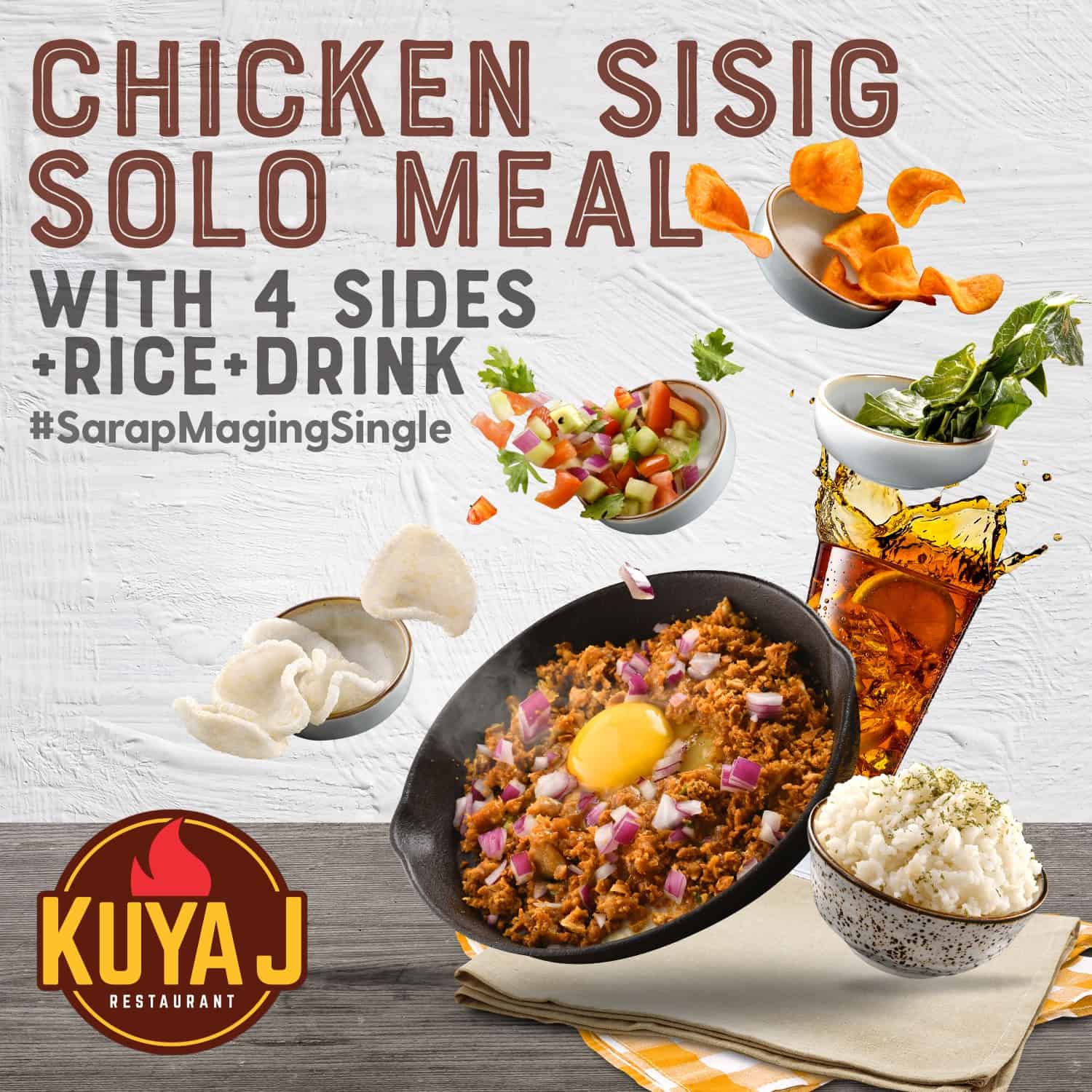 Sizzling Sisig with Egg – One of the most popular Filipino dish. Who still doesn't know this sisig? Perfectly enjoy during family eat-outs or small gatherings and even perfect for drinking sessions with your best of friends. Kuya J version sisig is definitely flavored in a sizzling plate.
Lechon belly – Mostly served on important occasions in the country, their Lechon belly will surely remind you of fiesta and Noche Buena shared with family and friends. Their version is actually one of the best, juicy and tender with crispy skin who wouldn't want that right? Just eat moderately for those who have high blood pressure.
Kuya J Halo-Halo special – One of the most famous desserts that can be found in the country. Of course, they have their version of it. After eating a lot reward yourself with their special halo-halo. What made their halo-halo special is the ice as it is made from a different kind of ice. It's creamier and delicious in every bite. This is a must-try and one of my favorites in their restaurant.
Kuya J Salo Salo Delight:
Here is the list of their Salo Salo delights that you can enjoy with family and friends at a very affordable price.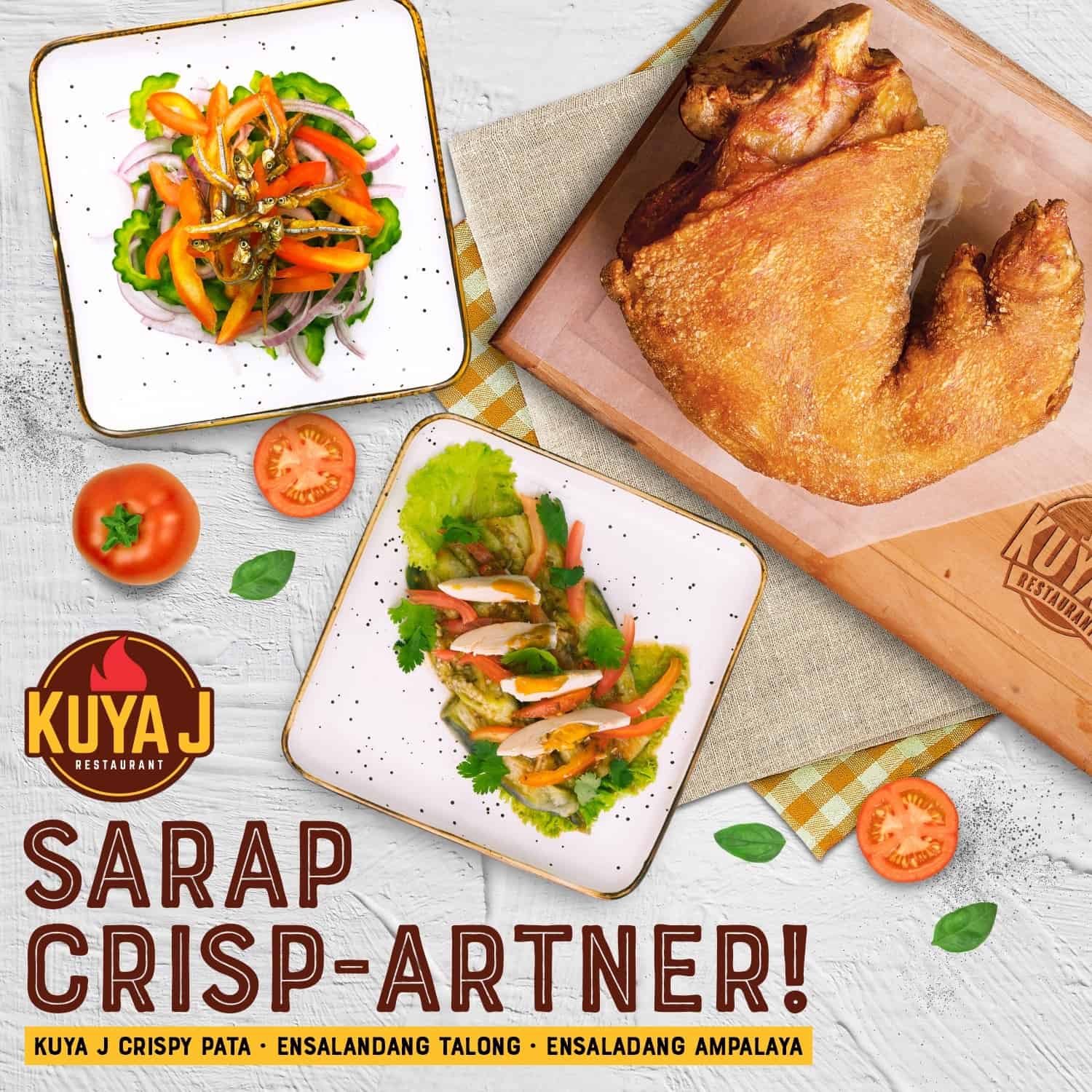 Salo Salo 1
Bicol express
Beef Tadyang (sinigang)
Kuya J Roast Chicken
Grilled Scallops
Rice (4 cups)
Iced Tea Pitcher
Salo Salo 2
Beef Kaldereta
Kuya J Roast Chicken
Sinigang (Baboy)
Talong Relleno
Rice (4 cups)
Iced Tea Pitcher
Salo Salo 3
Pancit Malabon
Kuya J Crispy Pata (Regular)
Pinakbet
Halang Halang Chicken
Rice (4 cups)
Iced Tea Pitcher
Salo Salo 4
Chopsuey
Kuya J Crispy Pata (Regular)
Lumpia Prito
Beef Kaldereta
Rice (4 cups)
Iced Tea Pitcher
Kuya J Halo Halo Duo Espesyal
Kuya J halo-halo is a fusion of a classic Filipino halo-halo combined with their version of it. And the crowd favorite ube halo-halo special, an exciting treat to quench your thirst every summer and even on rainy days for some. What made their halo-halo special is the ice that they use on it. It is made with milk and purple ice made with ube.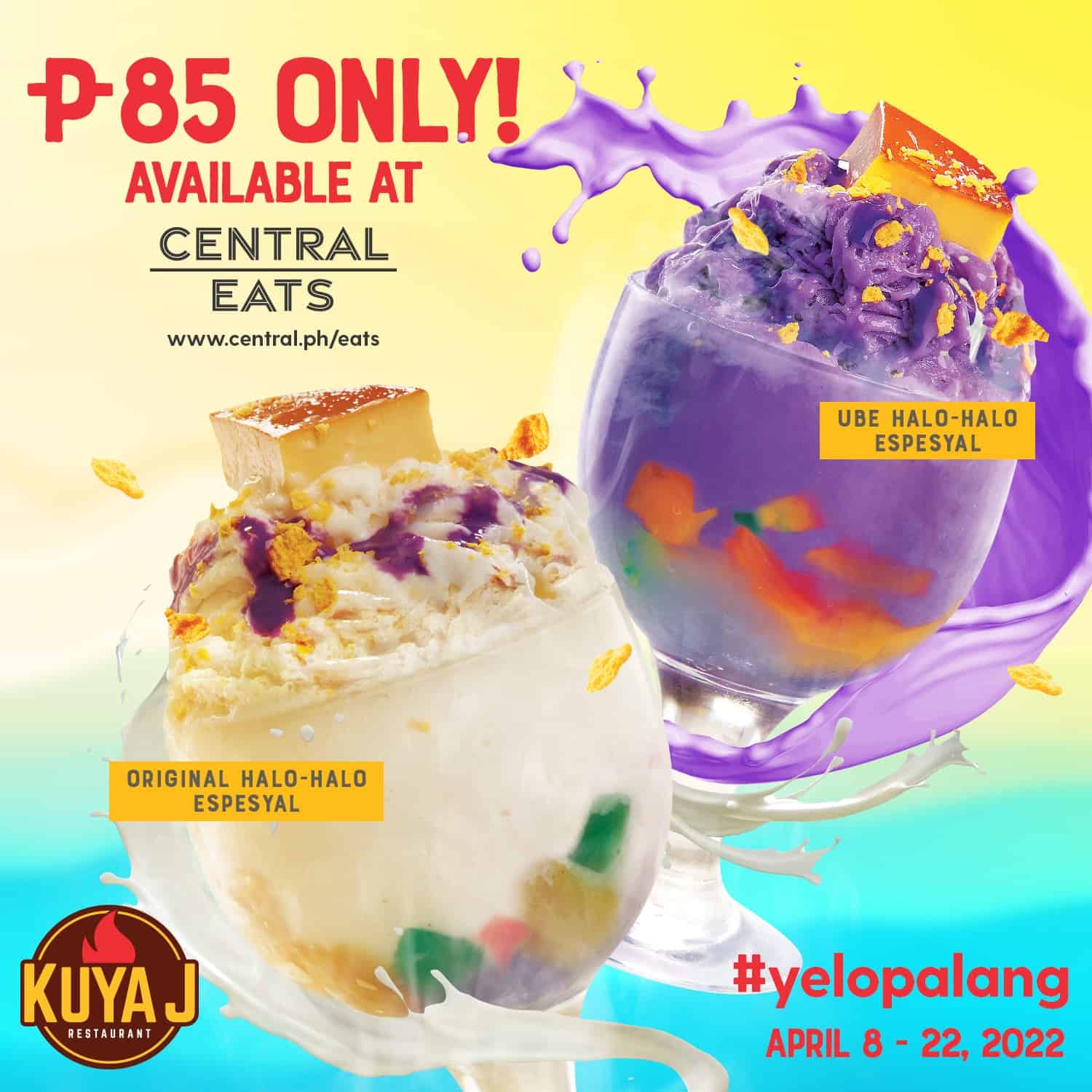 Smoothly shaved iced mixed with different ingredients like macapuno, caramelized bananas, nata de coco, langka, and ube jam. Topped with sliced Leche flan and sprinkled with cornflakes and ube cream. They have other variants as well like saba halo-halo special.
Kuya J Delivery Menu
If you are craving your Kuya J favorite menu but you can't go outside because of your busy schedule or you are just avoiding traffic and long queues you can now order with their delivery service. All you have to do is to go to their website at https://www.kuyaj.ph/whats-new/delivery-promo/ or you may call their hotline number at #80-000 you can also use third-party delivery services like Food Panda and Grab Foods. Take note that their delivery options are only available depending upon your location.
Social Media Pages
Got any questions and queries, or do you simply want to browse their page to get the latest news? In that case, you can find them on the following pages:
Facebook: https://facebook.com/KuyaJResto
Instagram: https://www.instagram.com/kuyajresto
Twitter: https://twitter.com/kuyajresto
Conclusion
This restaurant is one of the best places to go if you are into Filipino food. The Kuya J menu is really affordable and the food is all delicious. Perfect for eat-outs with family and friends. Their restaurant is clean the service was great. Highly recommended for people who love to explore and try different foods. Overall you will get a great experience when eating from the Kuya J.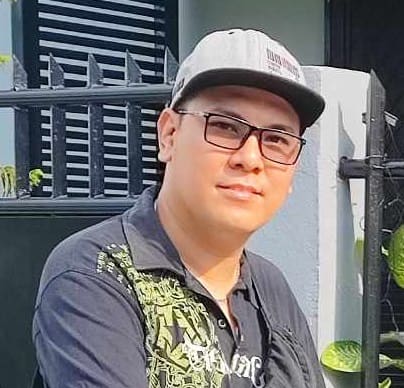 Hi! I'm Nivek Strife, the person who made MenuPH. I'm the one who added most of the popular menus you see on this website, and I really hope you enjoy them! Feel free to check them all out.
Growing up, I was surrounded by lots of tasty foods, like the classic Adobo and the sweet Leche Flan. That love for the many flavors of the Philippines is what got me excited about adding to MenuPH. When I learned how to make websites, I saw the need for a place to show off all the amazing Filipino dishes, and that's how MenuPH started.
MenuPH isn't just a website; it's like a fun journey into food. I've teamed up with famous chefs and found great places all over the Philippines to bring you a bunch of menus that show off the best of Filipino cuisine. Whether you're into the usual dishes or new twists, MenuPH is here to guide you through the rich world of Filipino flavors.
With MenuPH, my aim is to help local businesses, talk about good food choices, and make a group of friends who love food. No matter if you like fancy restaurants or street food, MenuPH has something for you. Come join me on this food adventure as we find great places, taste real flavors, and enjoy the unique food traditions that make the Philippines awesome.