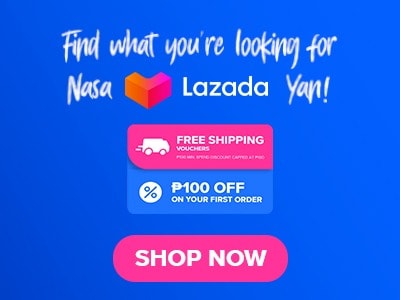 The Locavore menu is a Filipino restaurant and bar that takes pride in serving food made primarily from organic products sourced from the country's own farms. The restaurant's name refers to someone who, whenever feasible, consumes foods produced locally. Therefore, locavore eateries are establishments that are mostly stocked with producers from the area in which they are headquartered. The seasons and new arrivals influence their meals. Most frequently, the producer will send the goods directly to the eatery.
Anyone who consumes food that is farmed or produced nearby, or within a specific distance, such as 50, 100, or 150 miles, is known as a locavore. The locavore movement urges people to buy their food from farmers' markets or even cultivate their own because it believes that fresh, locally produced food is better for them and tastes better. Local cuisine is defined as food that is produced nearby to the point of consumption and frequently comes with a social structure and supply chain that differs from the large-scale retail system.
Below, you'll find the updated list of Locavore menu prices.
Menu Items
Price (PHP)

Ensalada

Pakwan
320
Pinya
275
Ensalada ni Andres
320

Pampagana

Salted Egg Gabi Chips
350
Gabi Chops
145
Singkamas, Mangga at Bagoong
175
Street Food Platter
190
Lumpia
275
Fresh River Shrimp
220
Kalibo Oyster
220
Tuna
320
Tanigue
320
Lapu-lapu
220
Kinilaw Platter
370
Oxtail Sisig
350
Kare Kare Wings
275
Baked Scallops
525
Pulitang Lamang Dagat
295
Oyster Mangga
255
Bacon BBQ Skewers
520

Best Seller

Gising Gising
275
Mac's Boneless Fried Chicken
270
Sugpo Con Mayonesa
980
Boneless Lechon Belly
650
Sizzling Sinigang
550

Pinoy Brunch

Champorado ni Speedy
190
Duck Lugaw
320
TBPL
270
Poqui-poqui
270
Kabute
270
Talaba
320
Alimasag
370

Mga Ulam

Garlic Butter Sugpo
850
Gising Gising
275
Sinugbang Bangus
395
Diniguang Lechon
550
Tinola Chicken
350
Green Curry Bicol Express
480
Kanto BBQ Rib Fingers
550
Garlic Baby Squid
450
Corned Bistek
550
Kimchinigang
550
Pho Lalo
670
Mac's Boneless Fried Chicken
270
Ginataang Kalabasa
420
Sugpo Con Mayonesa
980

Beers

San Miguel Light
90
San Miguel Pale
90
San Miguel Premium
110
San Miguel C. Negra
110
Brew Kettle
90
Sierra Madre
230
Fish Rider
230
Pivo Praha -Classic
160
Pivo Praha - Dark
160
Kalinga Kolsh
160
Tuff Tuko
180
Tarsier
180
Exit Wounds
205
Andy Cola
120

Signature Cocktails

Rosa
180
Perlas
180
Sexy Sili
180
Diwata Alab
180
Juan Bulag
180
Dalanjuan
180
Clamanjito
180
Mnago Mojito
180
Watermelon Mojito
180
7shot in 7seconds
1220
About Locavore
Their goal was to rework traditional staples to appeal to a wider, more varied palate while preserving the spirit of home-cooked Filipino cuisine. Due to Chef Mikel Zaguirre's training in French cuisine and his passion for using local, fresh ingredients, Locavore is renowned for giving traditional Filipino meals a distinctive touch. The eatery, which debuted in hamlet Kapitolyo in Pasig City in 2014, is renowned for its contemporary interpretation of Filipino cuisine.
In addition to its sustainable dining philosophy, the locavore is renowned for its selection of regional goods like craft breweries and its use of food from nearby farmers. The new branch clearly has a fresh appearance. With cozy couches, private dining rooms with wallpaper, and furnishings constructed of natural materials, it provides a cozier vibe. The other Locavore locations have a more industrial vibe. The Locavore DNA requires a full bar, which is still present on the new branch. The traditional menu is still available, however, there are four additional meals that are only available at the new branch. According to the restaurant's executive chef Mikel Kel Zaguirre, he based the new dishes on the area's history.
Locavore Menu Best Seller
Boneless Lechon Belly – It is prepared in the Cebu-Lechon style and served with pickled red onion and cucumber, Pinakurat vinegar, and bagoong dipping sauce.
Mac's Boneless Fried Chicken – One of the restaurant specialties is glazed boneless fried chicken. It had the soy-garlic zing we frequently yearn for. It's ideal for folks with a sweet tooth because the sauce is obviously sweet and contains both soy and garlic.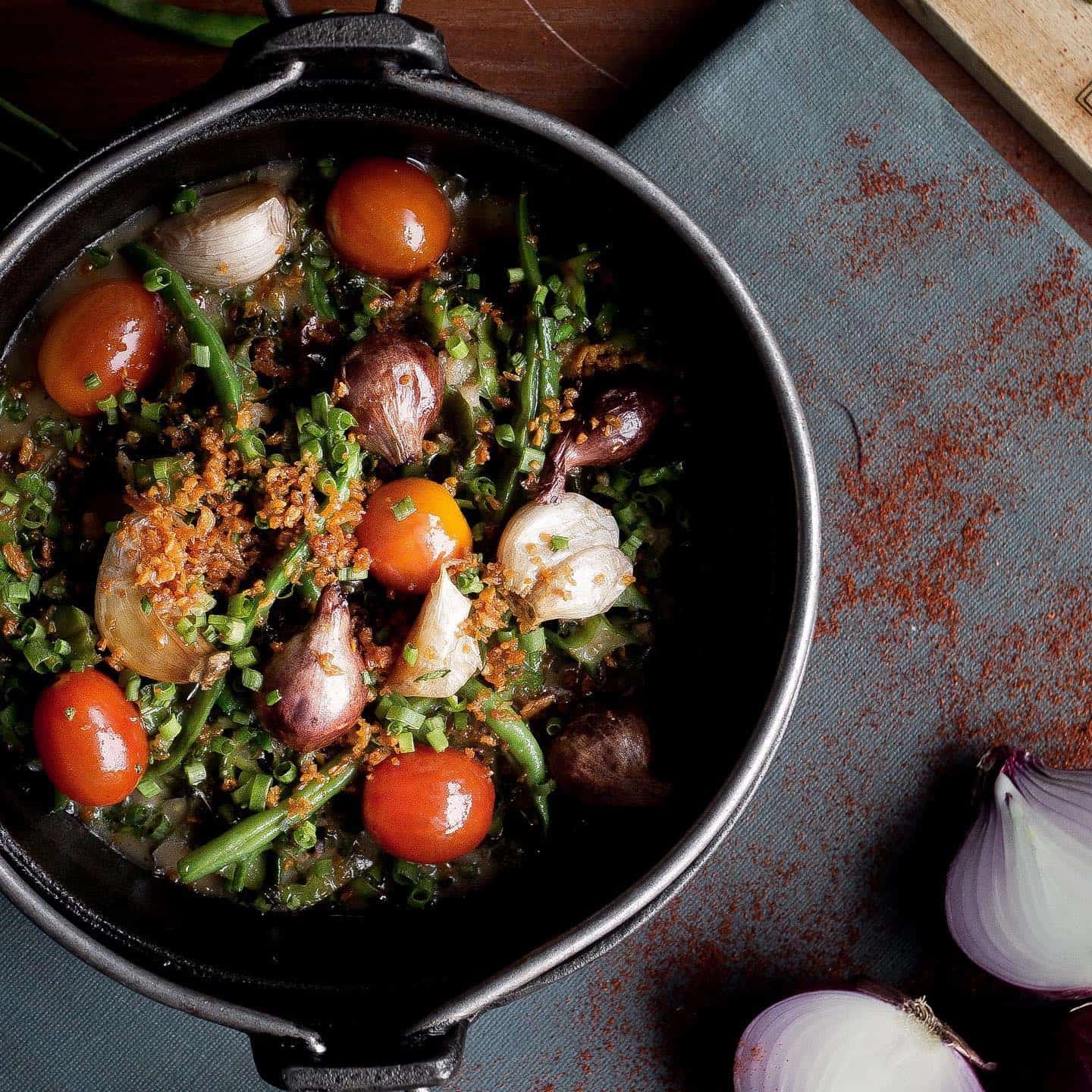 Gising Gising – Each bite is bursting with gata flavor with just a tinge of spice, which works nicely with the overall mild sweetness.
Kare Kare Wings – Deep-fried kare kare-glazed chicken wings served with green mango and crunchy singkamas as well as two dips (buttermilk ranch and bagoong). Irene likes kare kare, but it's typically made with beef, so she doesn't eat much. However, this meal offers the best of all worlds because it coats her favorite chicken wings. This meal, which has nutty and creamy flavors, can be served as an appetizer or as a main dish with rice.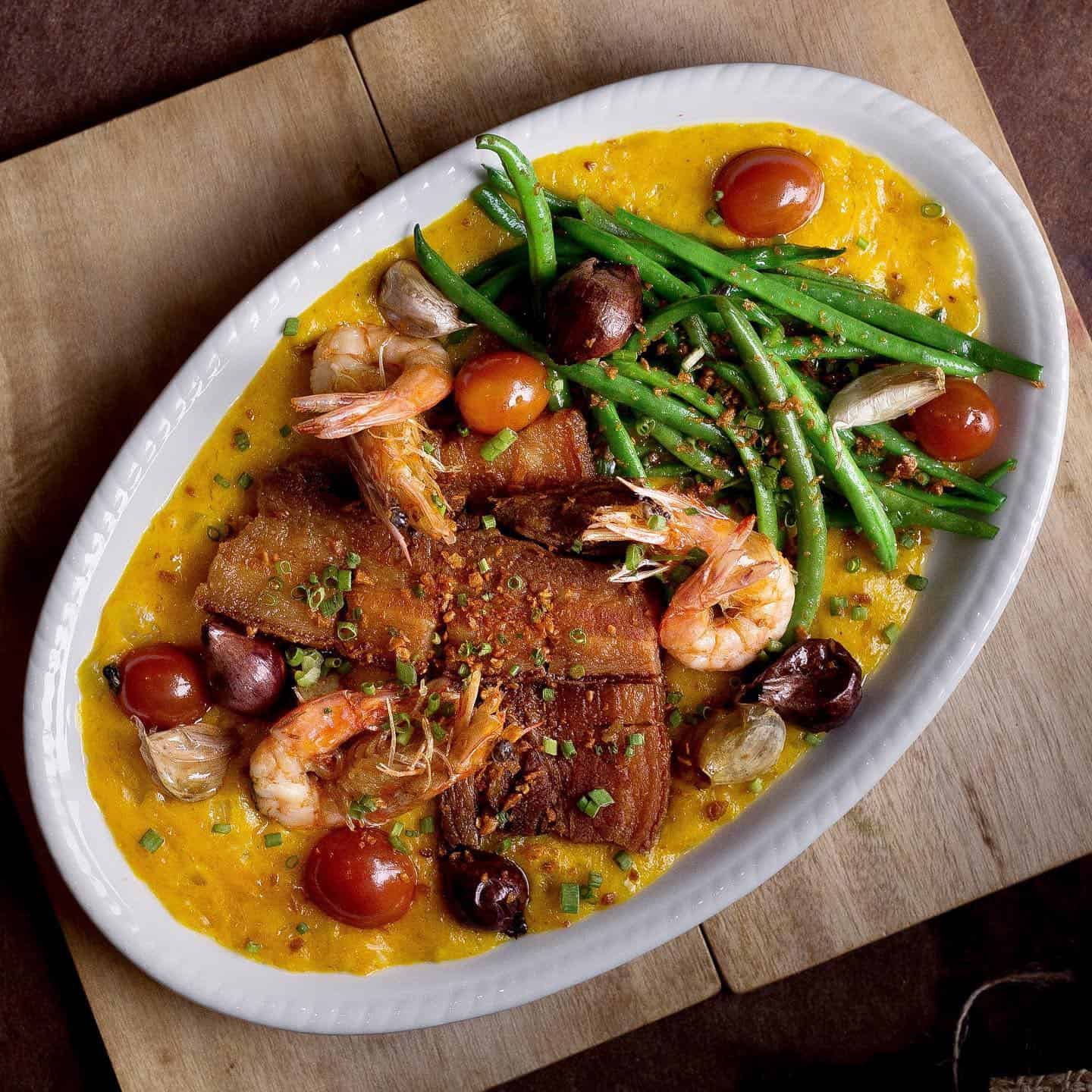 Ginataang Kalabasa – The kalabasa/squash was pureed but had already been cooked, making it tasty. It was topped with a variety of vegetables, two pieces of fried pork chop (liempo), and deveined shrimp. This dish at Locavore offers the best value because it has copious portions of veggies, beef, and seafood. It is a fantastic idea to order fried brown rice because this forces you to consume way too much rice.
Locavore Sizzling Sinigang Menu
The lunches at Locavore typically revolve around this dish, which consists of beef short ribs with sauteed French beans in a sampaloc sauce with garlic confit. It features a viscous soup that enables the meat and vegetables to be gripped by the sharp, sour goodness. You might need to take smaller amounts more frequently to moderate the powerful experience. French beans, Sampaloc gravy, and confit garlic are served with beef short ribs. Never eat this dish without rice to help the flavors blend together because it is a taste explosion. Strong flavors that are almost salty still manage to come through even with rice.
Locavore Sugpo con Mayonesa Menu
Due to the sauce's substantial content of crab fat, butter, and garlic, it can be served as a meal on its own with just a generous serving of rice. It is a very rich and delicious dish, therefore the next best thing is to duplicate it with the intention of producing something that is at least as good as the original recipe.
Locavore Beer Menu
Brew Kettle – Brew Kettle is naturally hazy and flavorful with orange spice that will transport you to Belgian taverns in the fourteenth century. Citrusy, a little light, and with bitter aftertastes, the flavor is.
Pivo Praha – Most individuals who brew tmavé pivo use pilsner as their base malt, which often makes up around 50% of the total. While some people make it quite sweet, I find that it tastes best when it is only mildly sweet and has a lovely, very faint caramel flavor.
Tuff Tuko – A contemporary take on the traditional American pale ale style is Tuff Tuko Pale Ale. The CCB Pale Ale delivers the right amount of punch to the drinker thanks to its robust bitterness, citrus and pine hops, and crystal malt.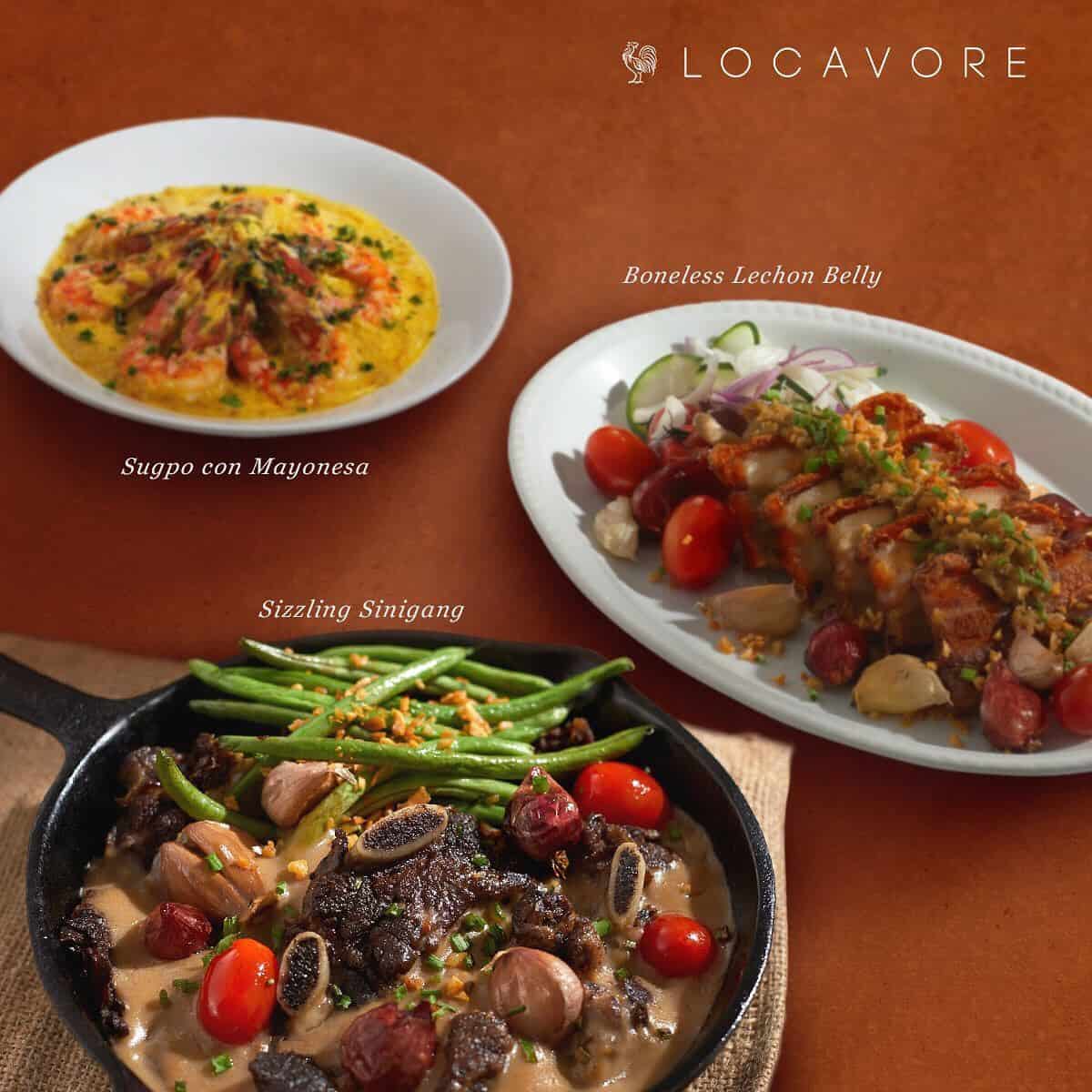 Locavore Menu Delivery
To taste the menu of this delicious Filipino restaurant, you need not go to the physical store especially when it is inconvenient for you. You can order via:
Phone number: 09178470807
GrabFood
Lalamove
Angkas Pabili
Social Media Pages
For more details about the latest news, promos, or foods, you can visit their Social Media account below :
Facebook: https://facebook.com/locavore.ph/
Instagram: https://www.instagram.com/locavore.ph/
Conclusion
There are Filipino dishes on the Locavore menu that are unavailable at home or elsewhere. Look no further than Locavore to sate your appetite, whether it be for something completely different or the chance to rediscover an old passion. As word of this innovative, aspirational approach to Filipino cuisine spread around the city, Locavore built a second location in Bonifacio Global City to meet demand. The opening of Locavore's second location exposed the eatery to a larger, newer market and demonstrated the great appeal of Filipino food to a larger, more international palate. True to its moniker, one of Locavore's most distinguishing characteristics is its commitment to using only fresh, locally grown, and raised products in its cooking. Their dedication to providing clients with organic goods extends to the relationships they maintain with nearby farmers and growers. This guarantees that every mouthful of each dish tantalizes the senses with a flavor that is not only bold but also organic and sustainable.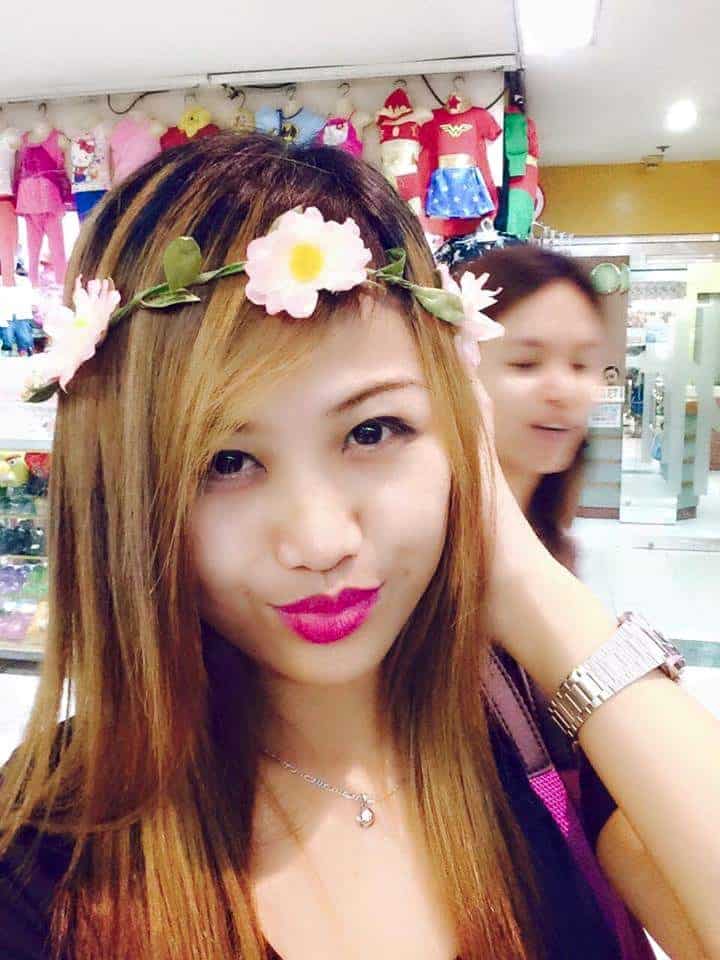 Hello! I'm Shaoyeu Cassandra, a mom who spends most of my time at home, and when I'm not busy, I enjoy writing blogs. I live in Cavite, and I really love talking about the menus of different restaurants.
So, I decided to share my thoughts on the menus of some fast-food places. I'm hoping my take on them can be like a helpful guide for you to decide what tasty treat to go for next. I hope you discover something you really enjoy! Thanks for stopping by!