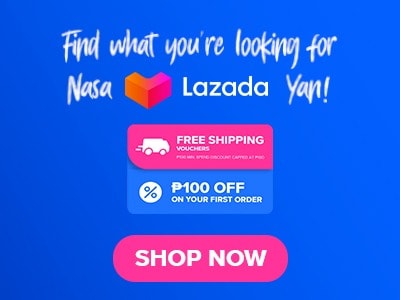 One of the most popular street dishes here in our country is Pares, it could be beef, pork, or even chicken. This dish can easily be found on street vendors or small carenderia's but I found a place that serves delicious pares and other dishes. The Pares Retiro menu has a lot of yummy goodness to offer to its customers. This establishment is a great place to go if you are in need of pares or just craving it. Let's take a look at their menu prices and best dishes. Let's get to know Pares Retiro a little bit more and let's see if after this article maybe you will consider trying their restaurant for their pares. That's too much of an introduction already, let's not delay things here so let's start!
Below, you'll find the updated list of Pares Retiro menu prices.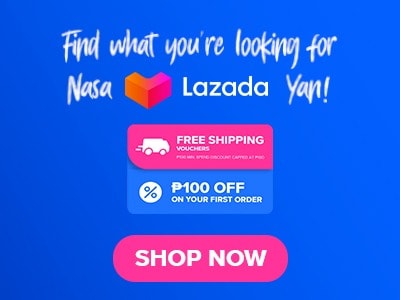 Menu Items
Price (PHP)

Pares

Classic pares
170
Pares tendon
180

Toppings

Salted egg pares rice
123
Pares lotong rice
92
Bistek retiro
170
Garlic butter chix
135
Chicken a la pares
135

Rice meals

Porkchop
144
lechon kawali
155
Sisig w/rice
155

Meryenda

Miki bihon
519
Turon de leche
89
Pares siomai
60

Hugotsilog

Tapsilog
160
Tocilog
140
Busogsilog
205
Longsilog
130
Bangsilog
140

Ala Carte

Camto soup
130
Sizzling sisig
200
Sizzling tendon
175
Sizzling tofu
113
Tokwat baboy
130
About Pares Retiro
Pares Retiro started serving their best-tasting pares way back in 1989. Their signature product is their special and delicious beef pares partnered with beef soup and fried rice, Because of our mixed cultures during colonial times Filipino cuisine has developed a lot of flavors from western and Asian tastes. Pares Retiro's pares has a lot of flavors and it will surely satisfy your tastebuds. Pares Retiro always tries to improve everything for the sake of the quality of its products.
Aside from pares, Pares Retiro also serves other Filipino delicious dishes like Siomai, Siopao, Silog dishes, Merienda, and other rice meals. They also serve a la carte meals that are truly delicious and satisfying. As of today they already have a lot of different branches mainly found in Luzon and the Greater Manila Area. This very convenient food establishment grows not just because of the taste of its pares but also the number of its products and the great service that they offer to its customers.
Pares Retiro Menu Best Seller
We researched and interviewed some of their crews to know their best-selling items. These best-sellers are quite popular among their customers. Here is the list. 
Classic Pares
Their classic pares menu from Pares Retiro is made with high quantities and imported beef with a slightly thick and a bit sweet sauce. Their classic pares is seasoned very well. Their classic pares are perfectly paired with their fried rice.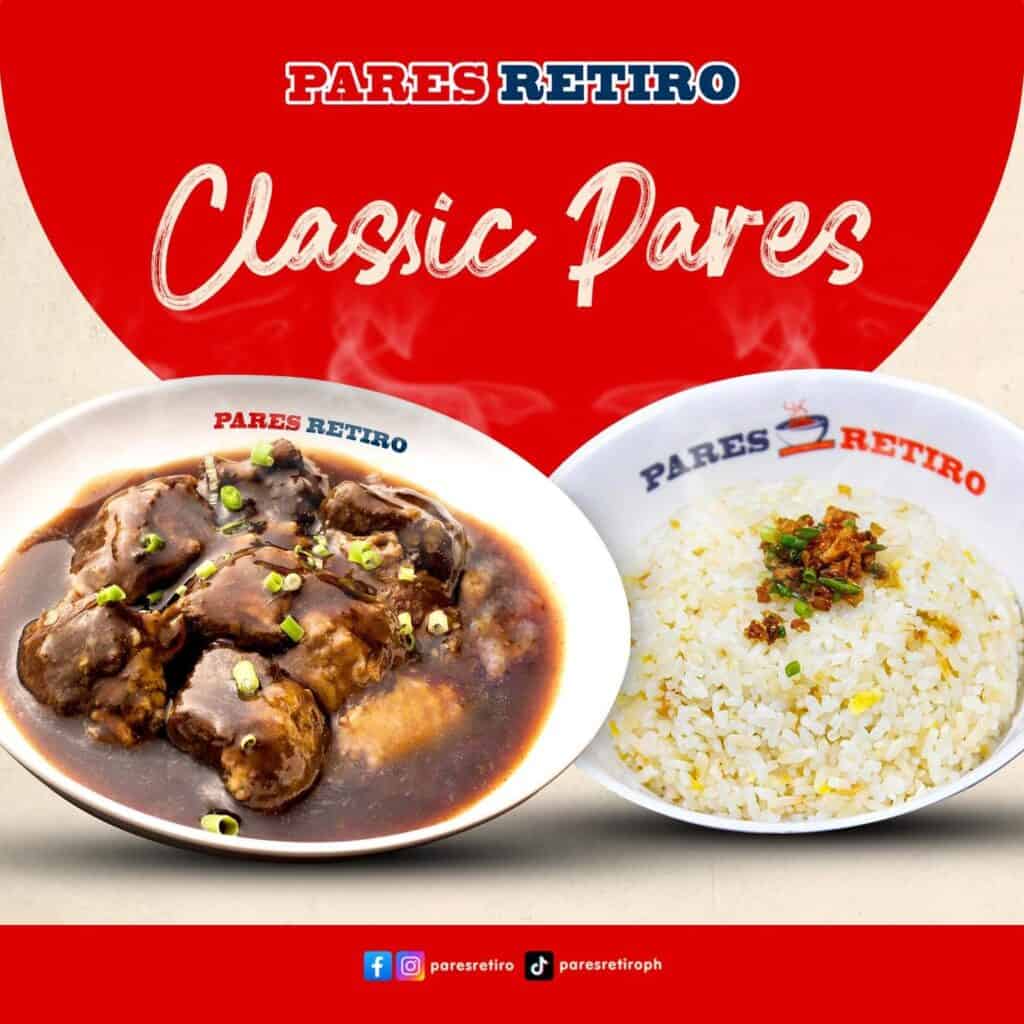 The taste is really good it has all the right ingredients and seasonings and that is the reason why their pares is delicious. Meat is really tender and not hard to eat. Though they highly recommend fried rice for their pares I like it with noodles, and to be honest, their classic pares is my personal favorite among all of their food items.
Sizzling Sisig
Who wouldn't like the sisig? Sisig is already known among locals and foreigners. The Pares Retiro sizzling sisig menu is really good. Made with pork face cooked until tender and then fried to achieve the right crispiness that is perfect for sisig. Seasoned very well with lots of onions, this simple yet satisfying dish is one of their best sellers since this is a great appetizer but also great with rice. Their sizzling sisig is one of the best-tasting dishes on their menu.
Tokwa't Baboy
I know everyone loves the Tokwa't Baboy, especially with some beers or any alcohol and this dish is already quite popular in our country. Pares Retiro's tokwa't baboy version has a lot of different flavors that are really good.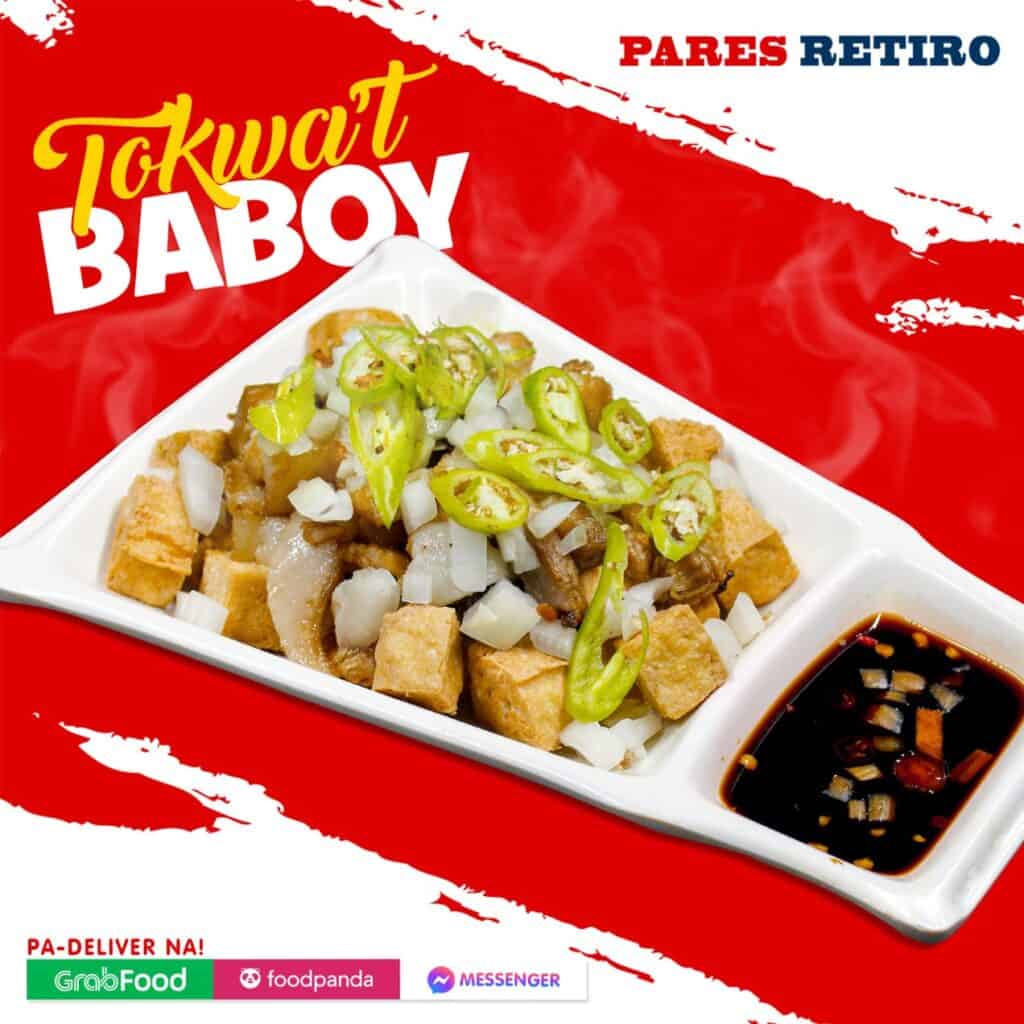 If I am going to describe the taste of this Pares Retiro menu, it is like bursting with different flavors in every bite. The pork's meat is tender the tokwa or tofu is cooked just right and the combination of the condiments for the sauce is delicious. I highly recommend this one and this is my second favorite on their food menu. 
Pares Tendon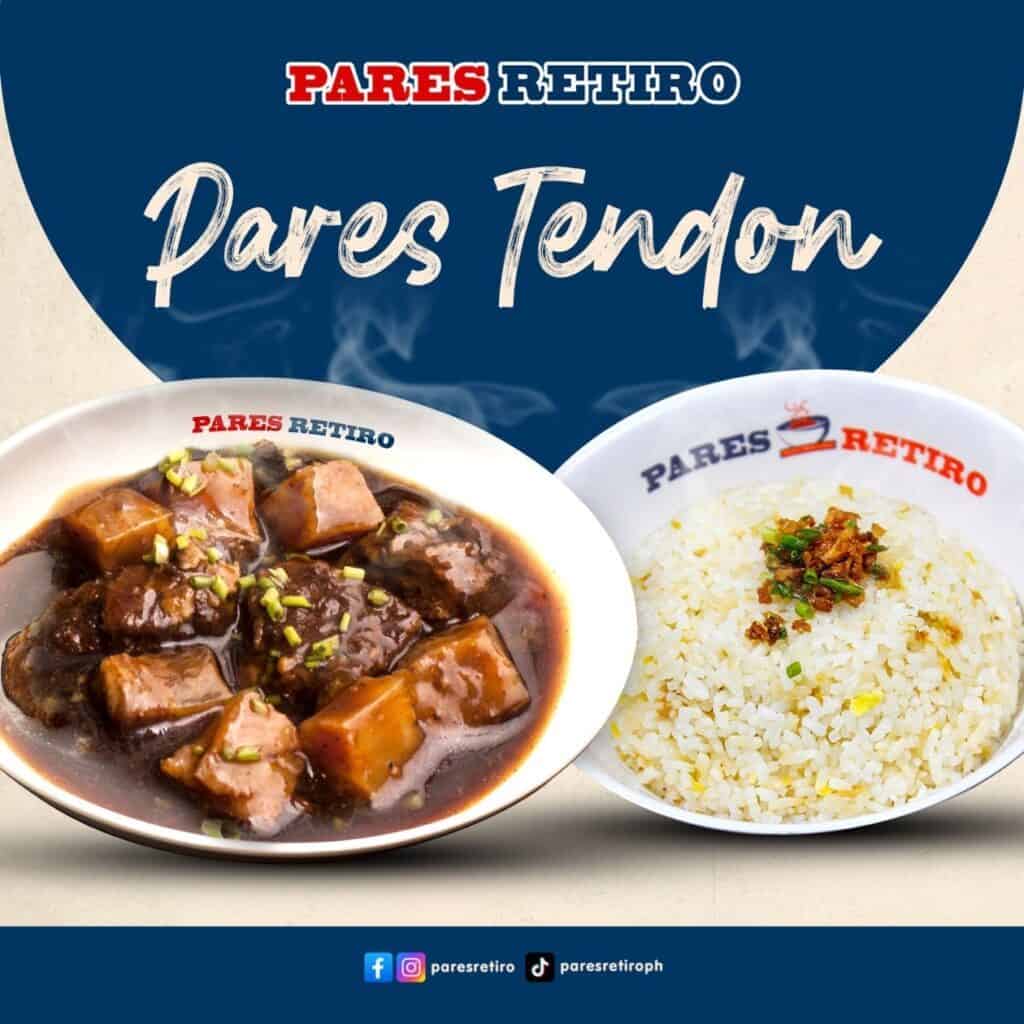 This is made with the ingredients just like the classic pares but combined with an imported tendon from the US. Their pares tendon unlike the classic pares has that chewy texture but is still soft so if you do not want the softness of the meat on their classic pares coz you find it boring to eat then maybe you should try their pares tendon. The taste is delicious I am not exaggerating things here but their pares tendon is something that you will crave after tasting it for the first time. It is also great with garlic rice or just by itself.
Pares Retiro Hugotsilog
Silog is quite popular in our country it is actually sinangag or fried rice partnered with egg and other dishes. In Pares Retiro, they have a menu called Hugot Silog. On their hugot silog menu, they have 9 silog dishes to choose from. They have Bangsilog which is fried bangus, sinangag, and itlog. Bisteksilog is made with bistek, a Filipino dish that is made with meat with soy sauce and calamansi, sinangag and itlog. Lechonsilog consists of lechon, sinangag and egg.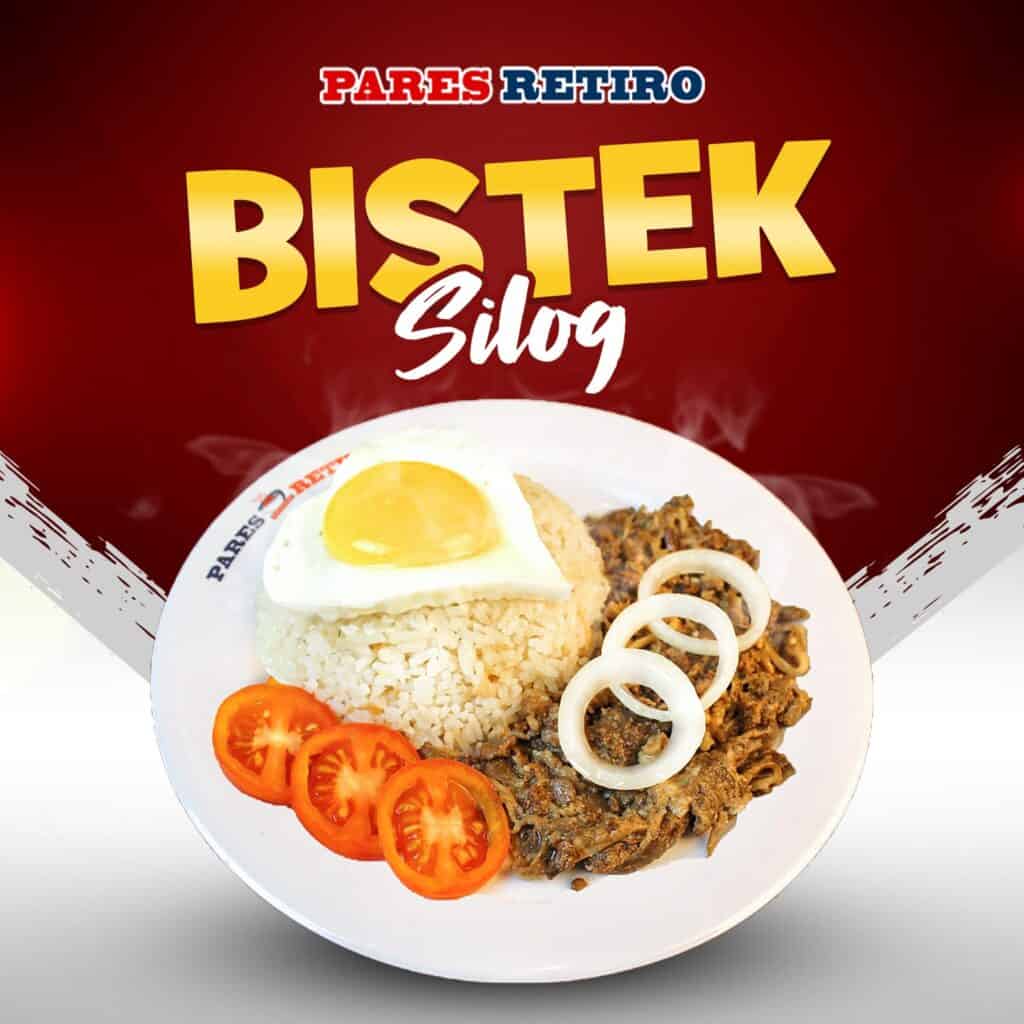 Longsilog which means Longganisa, sinangag and egg. Porkchop Silog that is a combination of porkchop, sinangag, and egg. Sisig Silog that is made with the very famous sisig, sinangag, and egg. Tapsilog is actually the most popular among all the silog out there and made with tapa sinangag and egg. And lastly, Tocilog which means tocino sinangag and egg.
Pares Retiro Rice Meals
Pares Retiro also offers a rice meal menu. They have Porkchop which is a deep-fried pork liempo seasoned really well. Their porkchop will cost you 144 PHP only. Lechon Kawali is actually quite popular here in our country. This is made with pork meat with some fats deep fried until the skin is golden and crispy and will cost you 155 PHP only. And lastly, their Sisig with rice for only 155 PHP. All items on their rice meals are delicious and affordable. 
Pares Retiro Menu Delivery
A lot of Pares Retiro branches offer delivery. Here is the list of Pares Retiro branches that you can contact for your online orders:
Pares Retiro Quezon City Metro Manila – 09325022034 / 0279506375
Pares Retiro Cainta Rizal – 09178018216
Pares Retiro Urdaneta Pangasinan – 09068854356
Pares Retiro Regalado Quezon City – 0285518838
Pares Retiro SJDM – 09171663023
If you are not near the list of their branches that offer delivery no worries since you can also use your favorite delivery services like GrabFood and FoodPanda.
Social Media Pages
If you want to be updated on Pares Retiro's new items and promotions all you have to do is to like or follow their social media pages.
Facebook: https://www.facebook.com/paresretiro/
Instagram: https://www.instagram.com/paresretiro/
Twitter: https://twitter.com/paresretiro
TikTok: https://www.tiktok.com/@paresretiroph
Conclusion
One of the best places to get delicious pares in the market. Pares Retiro's menu is packed with delicious local dishes and not just delicious but affordable. Their place is clean and comfortable which I like the most, aside from their crew and nice and very friendly. The food is awesome, they only prove to us that you don't have to spend too much if you want to eat deliciously. I highly recommend Pares Retiro for foodies just like me and for those who love to try delicious pares at a very friendly price.