Whenever we hear the name Jollibee, especially for Filipinos the first thing that we remember is their chicken joy, their spaghetti, and hamburger right? Wherever you are, Jollibee will be in the heart of every Filipino as this fast food chain really capture the taste of our nation, they actually beat Mcdonald's here in the Philippines by the way. In fact, this fast food chain is the most popular brand of fast food all over the Philippines, and nowadays they are already expanding and already have branches outside of the country. In this article, we are going to know this fast food chain even more. Let's get to know some facts about them, how they start, the Jollibee menu or if they have something new to offer. Let us start.
Below, you'll find the updated list of Jollibee menu prices.
Menu Items
Price (PHP)

Burgers

Yum burger value meal Y1
86
Yum burger cheese value meal Y2
96
Bacon cheese yumburger meal Y3
110
Yumburger cheese deluxe meal Y4
120
Bacon deluxe cheese yumburger meal Y5
130
Amazing aloha yumburger value meal Y6
135
Yum burger champ value meal Y7
195
Bacon champ value meal Y8
230
Amazing aloha champ value meal Y9
245

Rice Meals

1 pc burger steak with drink B1
65
2 pc burger steak with drink B2
90
1 pc burger steak with 3 pc shanghai with drink B3
109
1 pc burger steak with price and drink B4
79
Ultimate burger steak w/egg meal and drink
190
Ultimate burger steak meal and drink
175
Burger steak family pan 6 pcs B7
255
Burger steak family pan 8 pcs B8
339

Jolly Hotdog

Jolly hotdog cheesy classic with drink H1
80
Jolly hotdog cheesy classic with fries and drink H2
120
Jolly hotdog cheesy classic with fries and float H3
125

Jolly Spaghetti

Jolly spaghetti with drink S1
65
Jolly spaghetti with fries and drink S2
95
Jolly spaghetti with yumburger and drink S3
95
Jolly spaghetti with cheesy yumburger and drink S4
110
Jolly spaghetti with burger steak and drink S5
99

Chickenjoy

1 pc chickenjoy with rice and drink C1
95
1 pc chickenjoy with double rice and drink C2
99
1 pc chickenjoy with jolly spaghetti and drink C3
125
1 pc chickenjoy with palabok and drink C4
175
2 pc chickenjoy with rice and drink C5
170
1 pc chickenjoy with rice fries and drink C6
105

Chickenjoy Bucket

6 pc chickenjoy bucket
399
8 pc chickenjoy bucket
499

Sides and Soup

Jolly crispy fries regular
42
Jolly crispy fries large
60
Jolly crispy fries jumbo
75
1 pc original tuna pie with fries and drink
89
1 pc peach mango pie solo
30
1 pc buko pie solo
30
1 pc ube macapuno pie solo
30

Jollibee Kiddie Meal

Yumburger with regular pineapple juice and toy
110
Jolly spaghetti with regular pineapple juice and toy
116
1 pc chickenjoy with regular pineapple juice and toy
157
Burger steak with regular pineapple juice and toy
116

Breakfast Menu

2 pc pancake with drink
83
Hotdog with garlic rice fried egg and drink
109
Breakfast burger steak with garlic rice fried egg and drink
109
Beef tapa with garlic rice fried egg and drink
142
Corned beef with garlic rice fried egg and drink
142
Longganisa with garlic rice fried egg and drink
142
Bacon egg and cheese pancake sandwich with drink
88
Egg and cheese pancake sandwich with drink
77
Egg and cheese sandwich with drink
72

Desserts and Floats

Chocolate and sundae twirl
30
Coke sarsi or royal float
37
Vanilla cone twirl
10
Chocolate cone twirl
15
Mini sundae twirl
26
About Jollibee
Jollibee is a multinational fast-food chain that offers easy-to-eat meals at affordable prices. In 1975 Tony Tan Caktiong together with his family opens an ice cream parlor (magnolia ice cream parlor) in Cubao Quezon City. Their outlet started to offer sandwiches and hot meals upon request of their customers, eventually, their food items became more popular than their ice cream so they decided to just convert the ice cream parlor into a fast food restaurant in 1978, then the Filipino favorite Jollibee was born.
Their first franchised store opened in Santa Cruz manila year 1979. Jollibee experienced rapid growth they actually withstand Mcdonald's by focusing on a specific Filipino market and taste. The first Jollibee franchise that opened outside the Philippines is in Taiwan, it opens in 1986 but is currently closed now.
Jollibee continues to expand and its franchise follows its popularity here in the Philippines and outside of the country since we all know that Filipinos are almost everywhere. See the Jollibee Singapore menu if you want to verify and see it for yourself. Currently, their headquarters is in the Jollibee plaza building, Emerald Avenue Ortigas Center Pasig. They already have 1520 store locations in and outside the country and have 16,690 employees.
What's so Special About Jollibee?
Jollibee's main feature is focusing on their local customers, they make sure to cater to the Filipino taste, like providing banana ketchup spaghetti with hotdogs which we all know the Filipino traditional way, and garlic rice "sinangag" for their breakfast meal. I think they capture the tastebuds of Filipinos simply by providing Food with Filipino taste.
Jollibee Menu Breakfast
Here is the latest and updated Jollibee menu list for breakfast.
Egg & Cheese Sandwich – Fried egg and cheese sandwich between two fresh and soft buns.
Bacon, Egg & Cheese Sandwich – It has a fried egg, cheese, and crispy bacon sandwich between two buns.
Egg & cheese pancake sandwich – Fried egg and cheese sandwich between two pancakes.
Bacon Egg & Cheese Pancake Sandwich – This menu has a fried egg, cheese, and crispy bacon sandwich between two pancakes.
Breakfast Chicken Joy – This Jollibee menu is one of the most popular food choices of Filipinos that work in the morning. It comes with garlic fried rice, egg, and their popular chicken joy.
Longganisa – Comes with garlic fried rice, egg, and 2 pieces of Longganisa.
Breakfast Burger Steak – It comes with 100% pure beef patty and mushroom gravy sauce plus garlic fried rice and egg.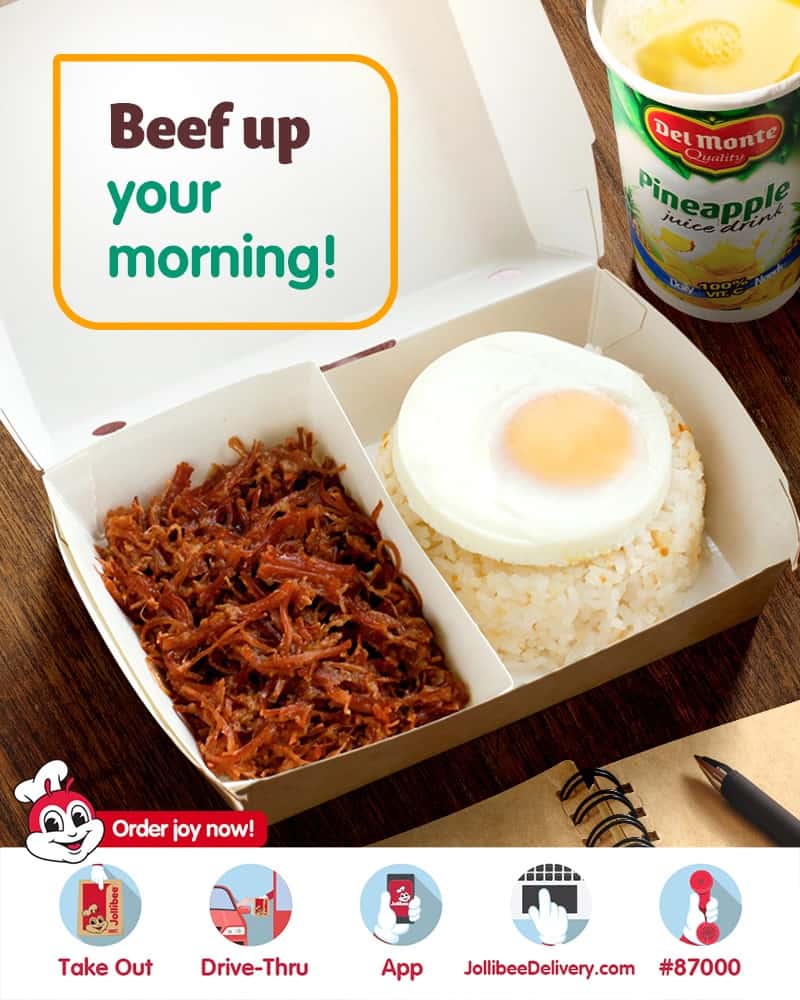 Beef Tapa – Tender and savory beef tapa plus garlic fried rice and egg.
Corned Beef – Juicy corned beef served with garlic fried rice and egg.
Breakfast Shanghai – 3 pieces of Jollibee shanghai with sweet and sour sauce served with garlic fried rice and egg.
Breakfast Hotdog – Meaty hotdog plus garlic fried rice and egg.
2pc of Pancakes – 2 pieces of moist pancakes served with maple syrup and butter.
Want to try an alternative to Jollibee foods? How about its biggest competitor? Check out the McDo from this article.
Jollibee Kiddie Meal Menu
Playtime was made more exciting with the Jollibee kiddie meal. Now your kids can enjoy their meal with exciting toys. Choose from yum burger kiddie meal, burger steak kiddie meal, jolly spaghetti kiddie meal, and chicken joy kiddie meal. You can get this kiddie meal through dine-in and online orders.
Jollibee Kiddie Party Package
Since kids love Jollibee they also have a party package to offer for your child's upcoming birthday. Here is the Jollibee menu package for their kiddie party. Note: there is a 1500 party fee (loot bags not included)
Inclusions:
30 name tags
15 party hats
15 assorted game prizes
15 invitation cards
15 tray liners
30 balloons
1 message board for guest birthday greetings
Jollibee mascot appearance
Event hosting
Use of the sound system
You can also choose your package menu for your party. The minimum order is 5000php
Package A: 161php/head
Sundae
Jolly Spaghetti
Regular Soft Drinks
Regular Fries
Package B: 210php/head
1-pc chicken joy w/ Jolly Spaghetti
Sundae
Regular Fries
Regular Soft Drink
Package C: 206php/head
Sundae
Cheesy Yumburger
Reg fries
Jolly Spaghetti
Regular Soft Drinks
Package D: 236php/head
1-pc chicken joy w/ rice
Sundae
Regular soft drink
Jolly Spaghetti
Regular Fries
You can also order your own cake but it must be red ribbon only. You also have to deposit a minimum of 3000php upon reservation. The party duration will last for 3 hours.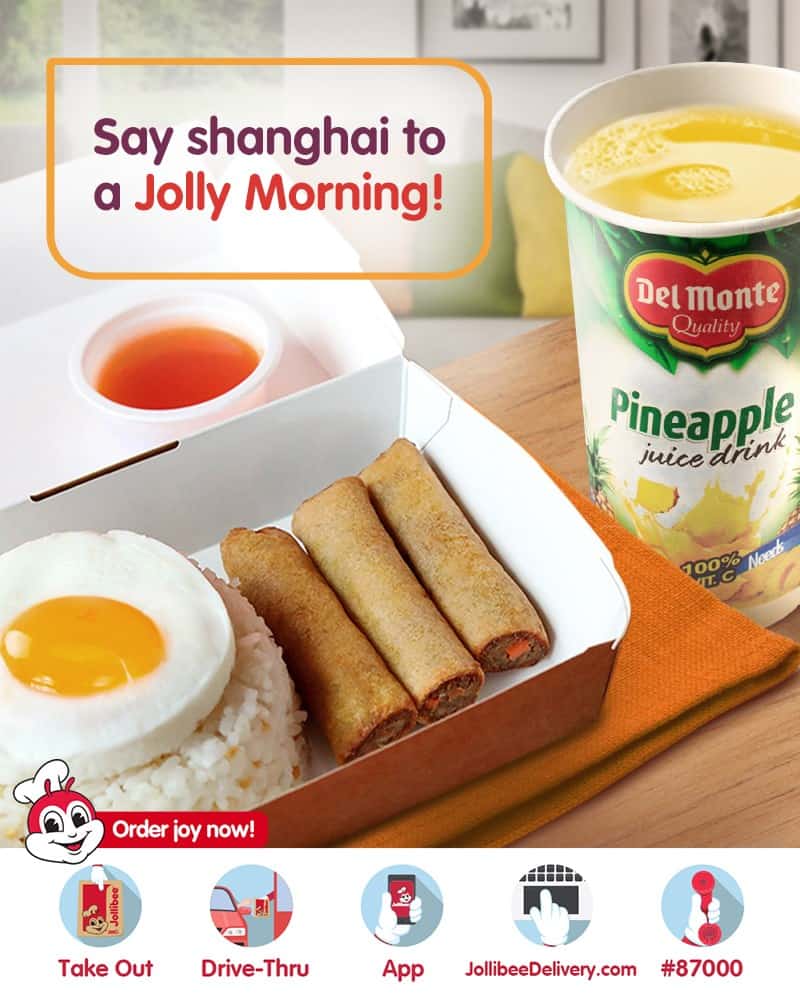 Jollibee Latest Promo
Since Jollibee is generous they offer different promos for you to save more and have more of your favorites, however, their promotions tend to change from time to time. To be updated on their latest promotions I highly suggest you visit and like their social media accounts.
Jollibee International Menu
The menu is slightly different, like in Vietnam, for example, they have meals that are not available in the Philippines and vice versa, same with other countries like UAE. In the United States, the service is actually heavy unlike in the Philippines. Different locations same goodness.
Jollibee Menu Delivery
Jollibee offers delivery they actually have a delivery menu. On their website, you can choose from their best sellers, new products, family meals, breakfast joys, breakfast, chicken joy, burgers, jolly spaghetti, burger steak, super meals, chicken sandwich, jolly hotdog and pies, palabok, fries and sides, desserts, beverages, and jolly kiddie meal.
Literally, it's like the complete menu in their shop. All you have to do is to go to their website at https://www.jollibeedelivery.com/ to order.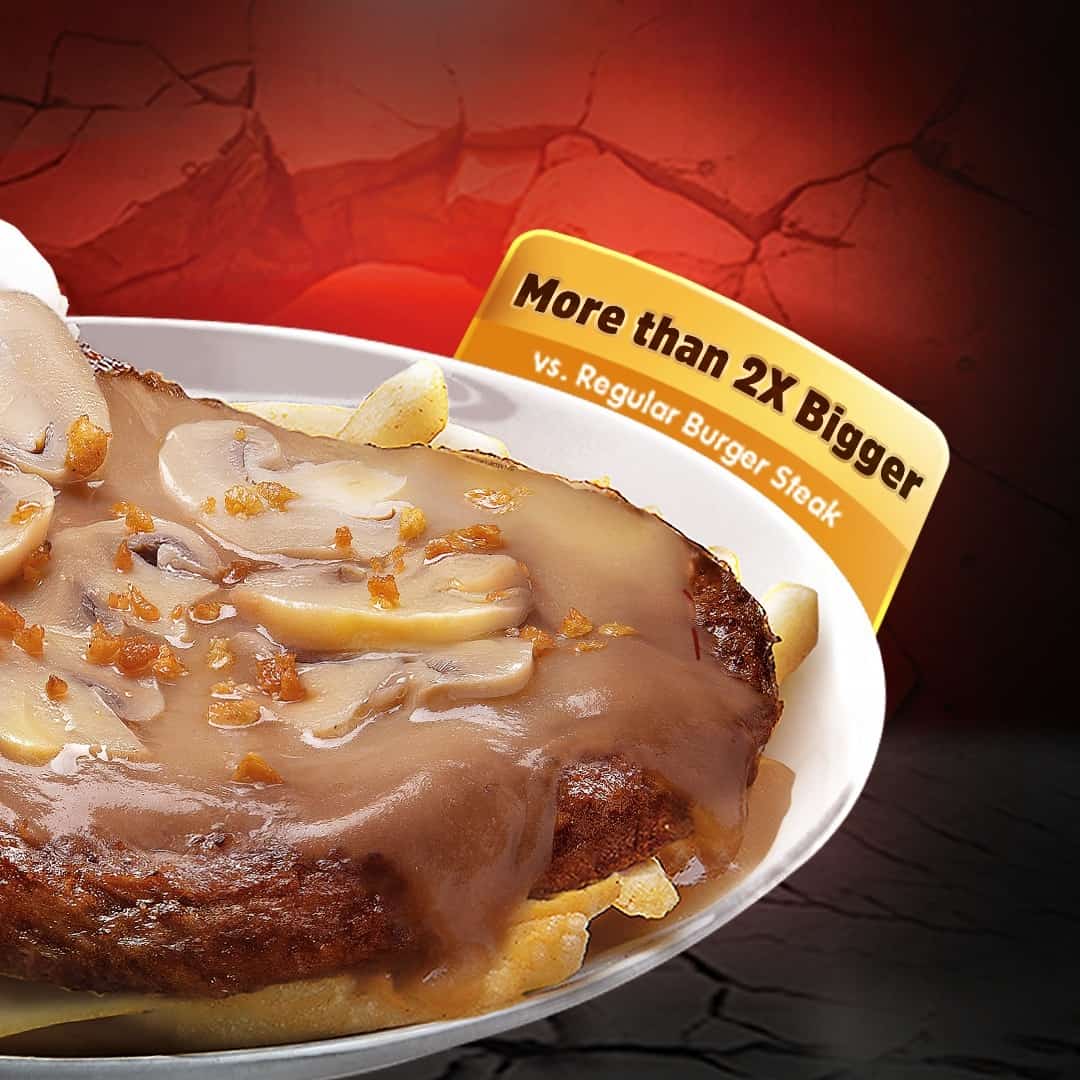 How to Reach Jollibee Social Media?
If you are planning on reaching out to their staff for questions, or suggestions, you can contact them via their social media accounts below:
Facebook: https://facebook.com/JollibeePhilippines/
YouTube: https://www.youtube.com/c/JollibeeStudios
Instagram: https://www.instagram.com/jollibee/
Twitter: https://twitter.com/Jollibee
Conclusion
As a citizen living in the Philippines, this is a fast food chain that every Pinoy should be proud of, this fast food restaurant really captures the taste buds and heart of every Filipino kid or adult. International social media like YouTube and Facebook also help them to be well-known internationally. After working and trying to improve their product for years their effort has already paid off. This is the only fast food chain that the Filipino people will never forget wherever their location is. As a former OFW myself, we always crave Jollibee so whenever we have the time and we are going on vacation to our motherland we always make sure to bring Jollibee back to any country that we are going. This fast-food restaurant is an institution already. The foods that they offer are delicious and very affordable compared to other fast food brands. Thumbs up for representing the Philippine flag.