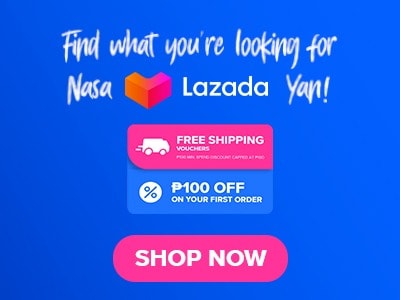 Buddy's restaurant in the Philippines has a diverse menu that includes both traditional Filipino dishes and some international options. Buddy's menu, in general, offers a good mix of traditional Filipino favorites and innovative dishes. The restaurant also caters to diners with a variety of dietary preferences, including vegetarian and seafood dishes. Buddy's also serves a selection of desserts. Overall, Buddy's restaurant has something for everyone, and it is popular among locals and tourists alike.
Below, you'll find the updated list of Buddy's menu prices.
Menu Items
Price (PHP)

Sizzlers and Steaks with Rice

Sisig w Egg Pork/Pusit
173
Sizzling w Egg Bangus/Ampalaya
218
Sizzlig Steak
225
Sizzling Steak
265
Sizzling Mixed Seafood and Vegetables
265
Sizzling Ampalaya con Carne
243

All Day Breakfast

Longsilog Lucban
187
Grilled Longsilog
187
Tapsilog
187
Daing na Bangus
225
Cooked Lucbhan Longganisa
270
Frozen Lucban Longganisa
220

Lunch and Dinner

Crispy Buntot ng Tanigue
495
Crispy Pata
625
Dinuguan
170
Embotido
250
Fried Pork Chop
255
Fried Chicken w Rice
230
Fried Chicken w Crispy Noodles
545
Hardinera
245
Karekare Beef
515
Lechon Kawali w Rice
255
Lumpiang Shanghai w Rice
185
Paksiw na Lechon w Rice
205

BBQ and Grills w Rice

Baby Back Ribs
258
Chicken BBQ
248
Pork BBQ
258
Pork BBQ Jr
188
Pork BBQ Jr 1 stick w/o rice
69
Pork BBQ Jr 1 dozen w/o rice
798
Pork Chop BBQ
188
Pork Chop Ihaw
235

Buddy Pizza

Buddy Pizza Regular
150
Buddy Pizza Supreme
165
Classic Supreme
165
Vegetarian Supreme
165
Bacon and Pepperoni Supreme
165
Buddy Pizza Super Supreme
183
Classic Super Supreme
183
Longganing Lucban and Kesong Puti Super Supreme
203

Combo Meals

COMBO 1
230
COMBO 2
220

Vegetables

Chopsuey
228
Fried Lumpia
145
Fresh Lumpia
123

Soup

Beef Bulalo
320
Pork Molo
218
Sinigang sa Miso
298
Sinigang na Salmon
398

Pasta and Noodles

Pancit Lucban
273
Pancit Lucban chicken w pesto sauce
283
Pancit Lucban Seafood w pesto sauce
320
Miki Bihon
273
Bihon
283
Canton
318
Sotanghon
318
Sotanghon con Canton
318
Chami
293
Lomi
240

Fiesta n a Box

A
1475
B
1725
C
1925
D
1575

Buddy's Bundles

A
975
B
1085
C
695
D
1265

Fiesta Salo Salo

A
1848
B
2218
C
2398
D
1898

Family Feast

Small Bilao Palabok
865
Lumpiang Shanghai
615
Pork BBQ Jr
1140
Lucban Longganisa
735
Small Bilao Pancit Lucban
755
Pork BBQ
1140
Chicken BBQ
875
Fried Lumpiang Gulay
615
Small Bilao Spaghetti
695
About Buddy's
Buddy's is a popular Filipino restaurant chain that began as a small eatery in Lucena City, Quezon Province, Philippines. Mr. Buddy Trinidad founded it in 1985, and it has since expanded to several locations throughout the Philippines, including Manila and Batangas. Buddy's is well-liked by both locals and tourists due to its reasonable prices, generous serving sizes, and flavorful dishes. During peak hours, the restaurant has a casual, family-friendly atmosphere and is frequently packed with diners.
Buddy's Menu Best Seller
Buddy's best-sellers foods are well-loved by customers for their classic Filipino flavors, quality ingredients, and delicious taste. Here are the most frequently ordered menus from their restaurant.
Crispy Pata – Crispy Pata is a deep-fried crispy pork leg that is tender and juicy on the inside. It's a well-liked dish in the Philippines, and Buddy's rendition is renowned for its tasty meat and crispy texture.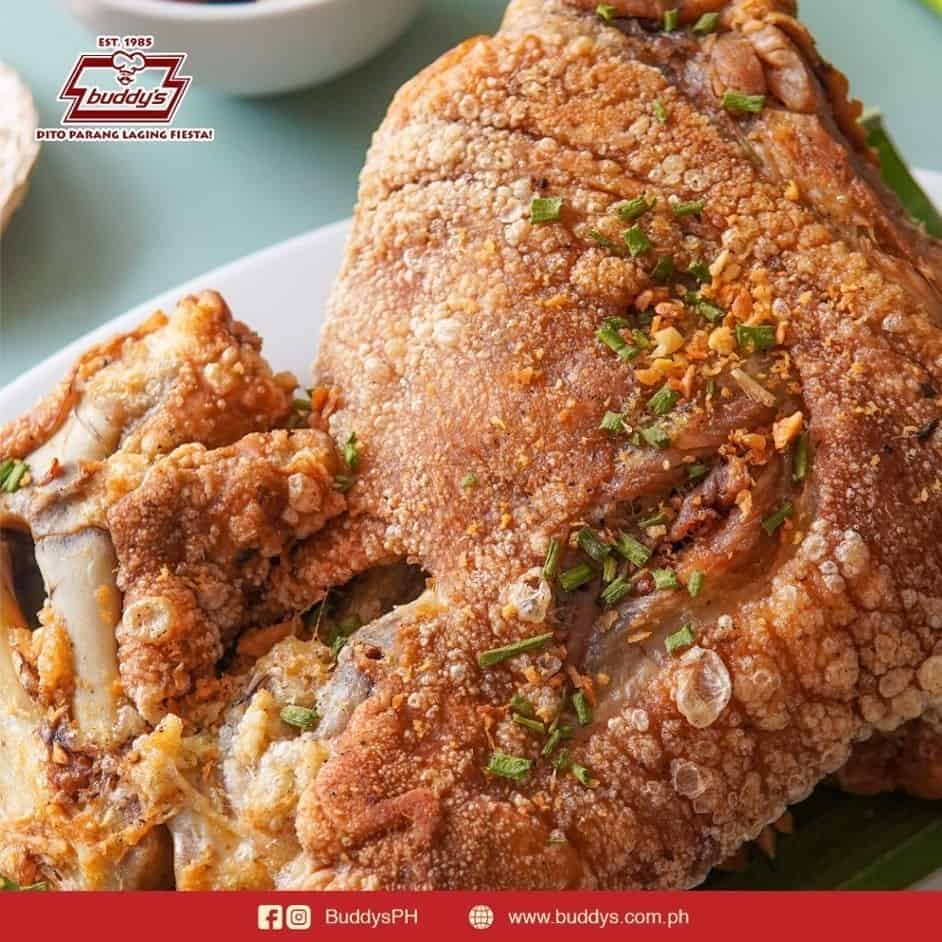 Fried Chicken – Another popular dish at Buddy's is fried chicken, which has a crispy and flavorful batter that encases the juicy and tender chicken meat. It is a classic Filipino dish that can be served at any given time.
Paksiw na Lechon – Paksiw na Lechon is a dish made with leftover roasted pork, vinegar, garlic, and different spices, which results in a tangy and flavorful dish that goes really well with steamed rice. I highly recommend this delicious and tasty Buddy's menu.
Pork BBQ – It is a grilled pork dish that has been marinated in a sweet and savory sauce before grilling it to perfection. Buddy's has elevated classic Filipino street food to a restaurant-quality dish.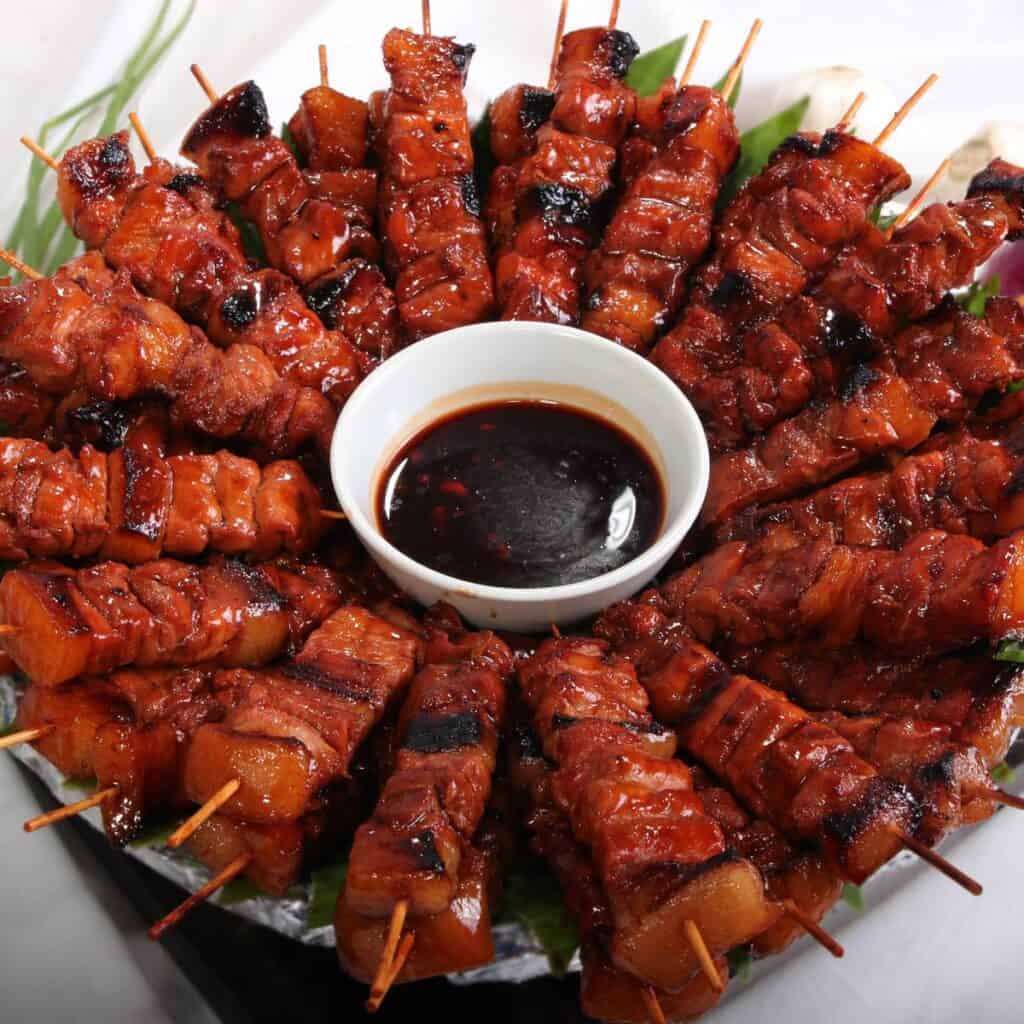 Fried Vegetable Lumpia – A spring roll made Filipino style that is stuffed with veggies that is ideal for diners who want to include some healthy dishes in their meal.
Buddy's Sizzlers and Steaks Menu
Sizzlers and Steaks with Rice menu are sizzling hot dishes with various meat and seafood options served on a sizzling plate with a side of rice.
Sisig w Egg and Pork or Pusit – Sisig is a popular Filipino dish that consists of chopped pig's head and liver on a sizzling plate with an egg on top. Buddy's restaurant serves this dish in two variations, with either pork or squid (pusit) as the main protein. The sisig is flavorful and well-seasoned, and the crispy bits of meat and cartilage adds a nice texture. The egg adds a nice richness to the dish and works well with the savory flavors.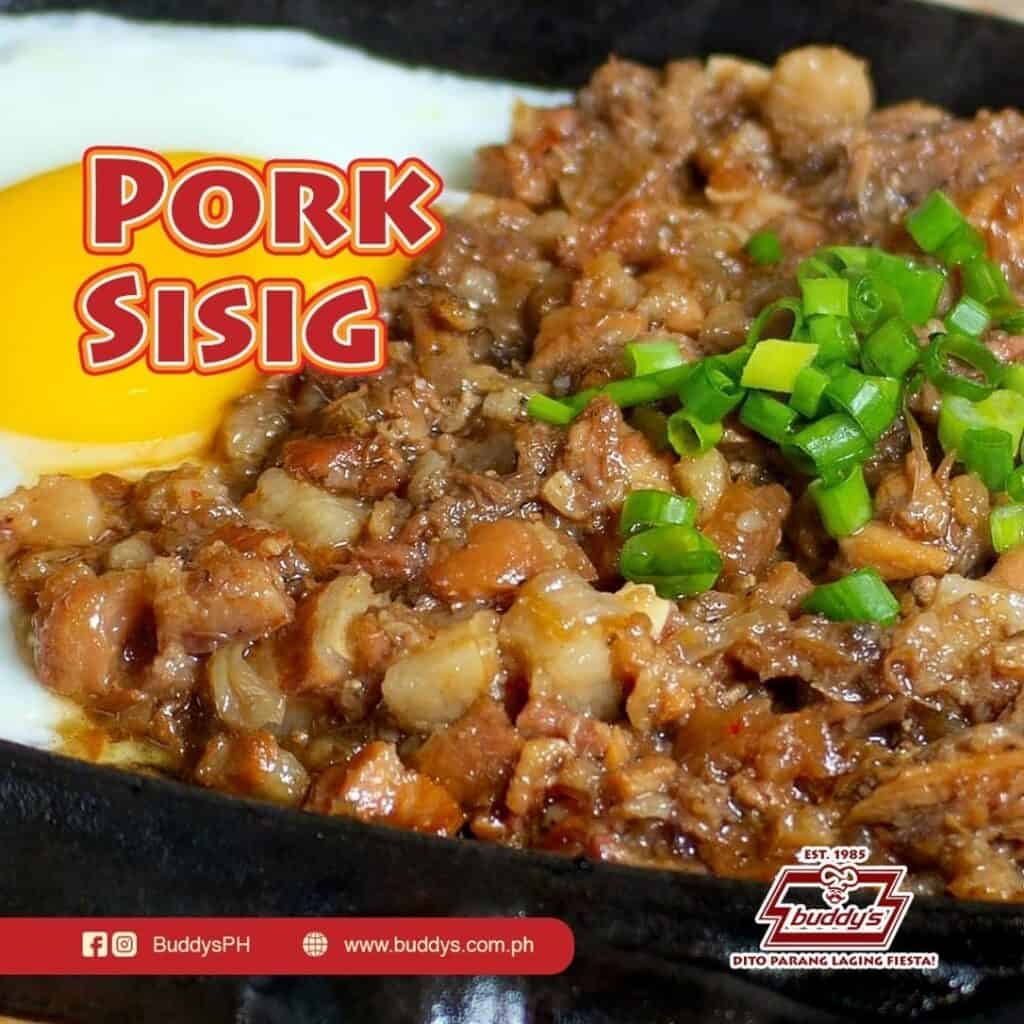 Sizzling Mixed Seafood and Vegetables – This dish combines seafood and vegetables, such as shrimp, squid, and mixed vegetables, and is served on a sizzling plate with rice. The vegetables have a pleasant and crispy texture, and the fish is tasty and fresh. The seasoning is well-balanced and works well with the seafood and vegetables.
Sizzling with Egg and Bangus or Ampalaya – This dish includes a choice of two main proteins: Bangus (milkfish) or ampalaya (bitter melon). The protein of choice is stir-fried with vegetables and served on a sizzling plate, topped with an egg and rice on the side. The dish has a nice flavor, and the egg adds a nice richness to it. The sizzling plate keeps the dish warm while also adding a nice sizzle and aroma.
Buddy's All Day Breakfast Menu
This menu is made up of different varieties of Filipino breakfast dishes that Buddy's restaurant offers.
Longsilog Lucban – This dish consists of grilled Lucban longganisa sausage served with garlic rice and a fried egg. The slightly sweet and garlicky flavor of the sausage complements the savory rice and egg.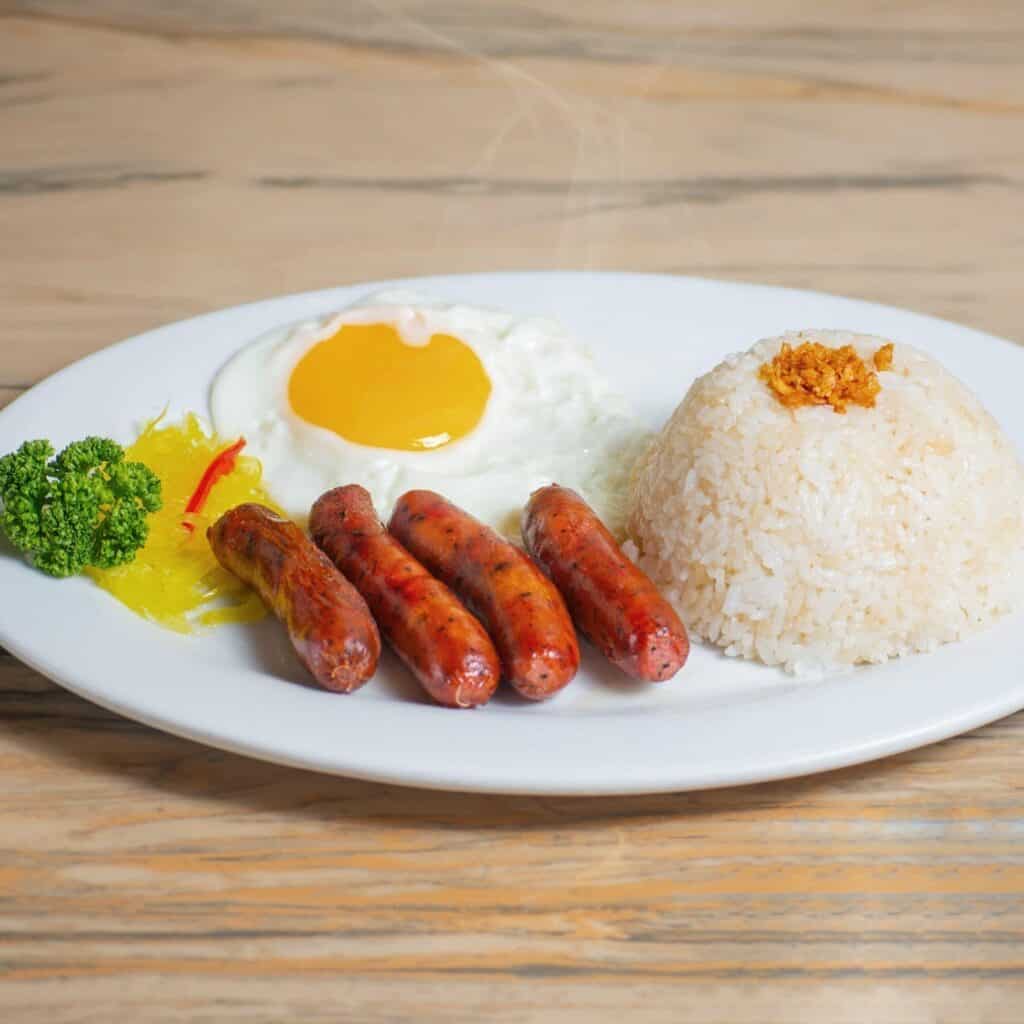 Grilled Longsilog – It is a grilled version of the Lucban longganisa served with the same garlic rice and fried egg accompaniments. The grilling imparts a smoky, slightly charred flavor to the sausage, which enhances its flavor.
Tapsilog – Tapsilog is a traditional Filipino breakfast dish that consists of thinly sliced beef known as tapa served with garlic rice and a fried egg. The beef is typically marinated in a combination of soy sauce, calamansi juice, garlic, and sugar to create a sweet and savory flavor.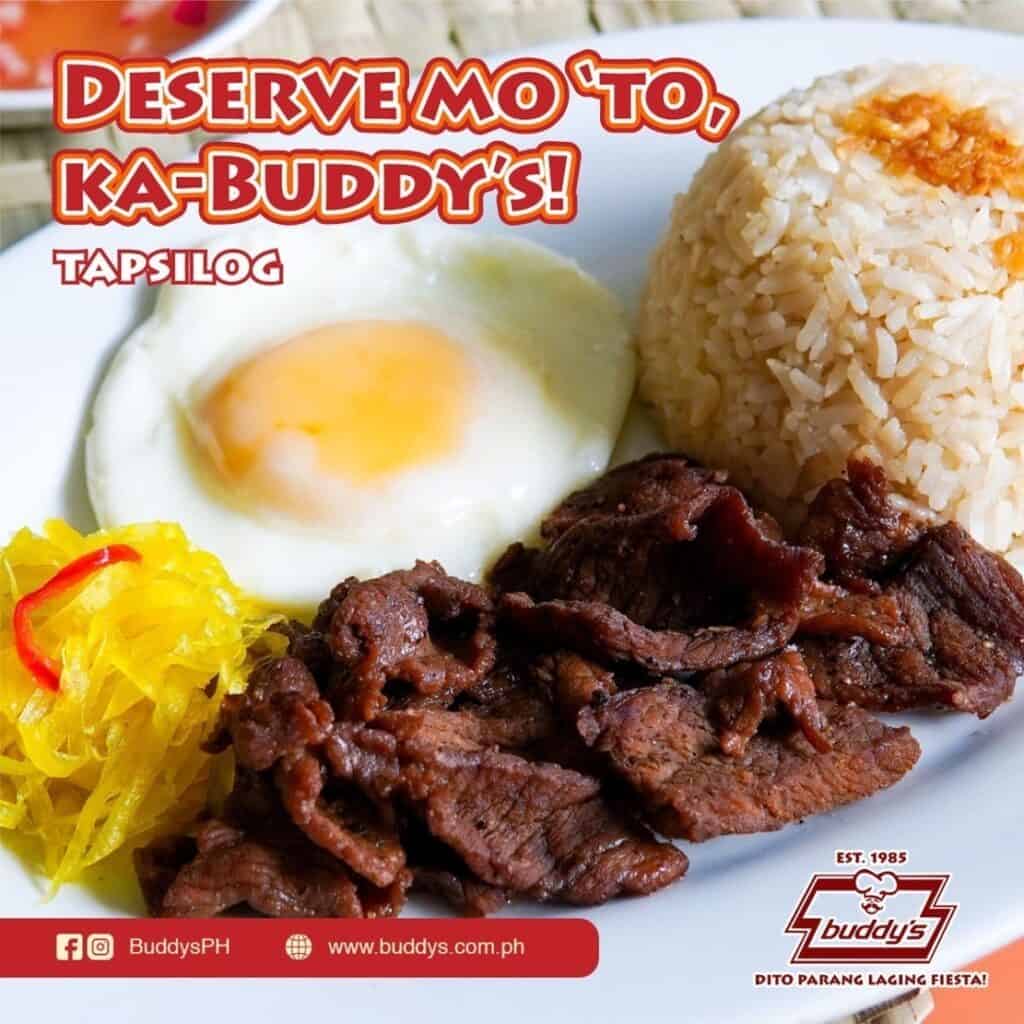 Lunch and Dinner
Buddy's Lunch and Dinner menu features a wide range of dishes that highlight the rich and delectable flavors of Filipino cuisine.
Fried Pork Chop – Buddy's Fried Pork Chop is a crispy and juicy meal that is good for lunch or dinner. The porkchop is covered in a delicious batter and then deep fried till it is golden brown. It is then served with rice and dipping sauce that greatly enhances its flavor.
Kare-Kare Beef – This is a traditional Filipino dish with a rich and savory flavor. It is served with bagoong and rice on the side. This is a substantial and hearty supper because of the tender meat and vegetables that are added to this dish.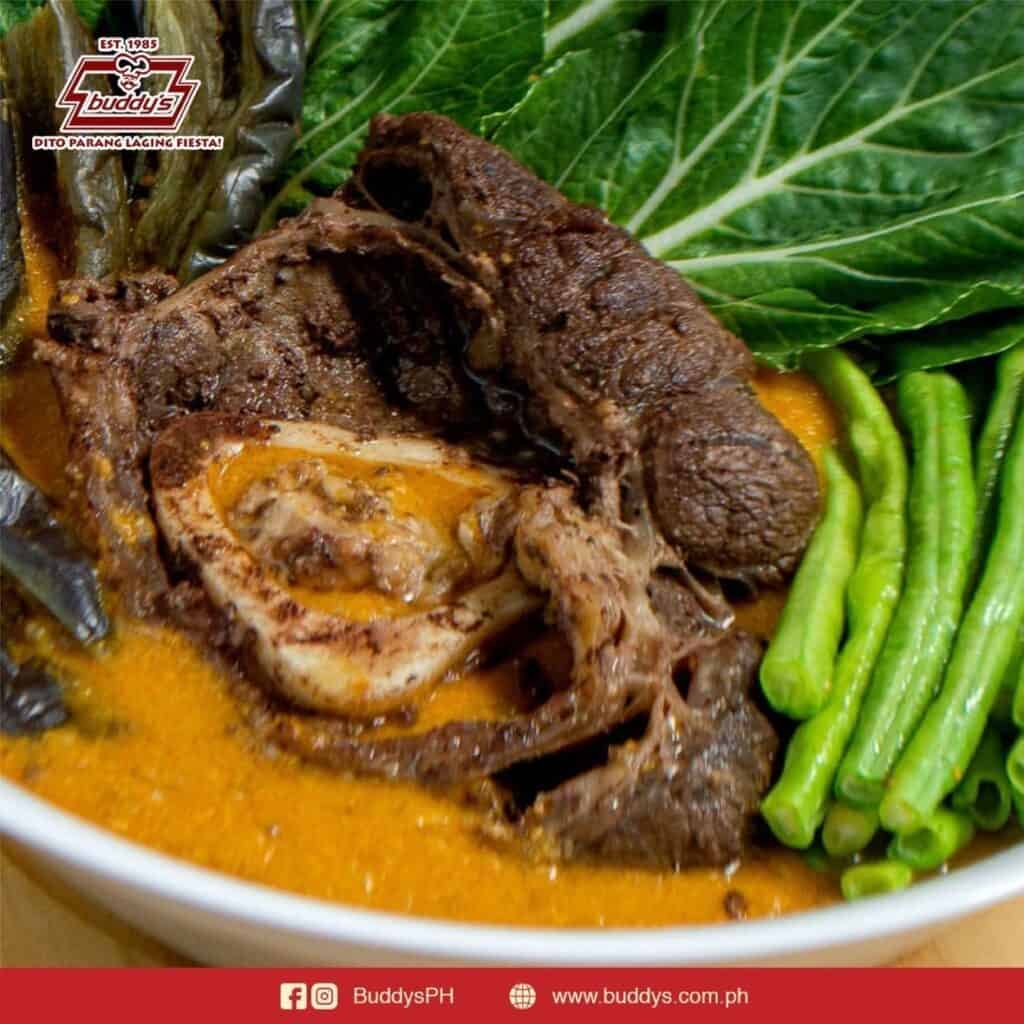 Lumpiang Shanghai – Buddy's Lumpiang Shanghai is a traditional Filipino dish that works well as an appetizer or side dish. This dish is deep-fried until golden brown and served with a sweet and tangy dipping sauce. The filling is flavorful, and the crunch from the fried wrapper gives the dish a nice texture.
Pizza Menu
Buddy's Pizza menu in the Philippines offers a variety of delicious and satisfying pizza options that are an excellent choice for those looking for a quick and tasty meal. Each of them is very affordable and well worth the money you spend on them.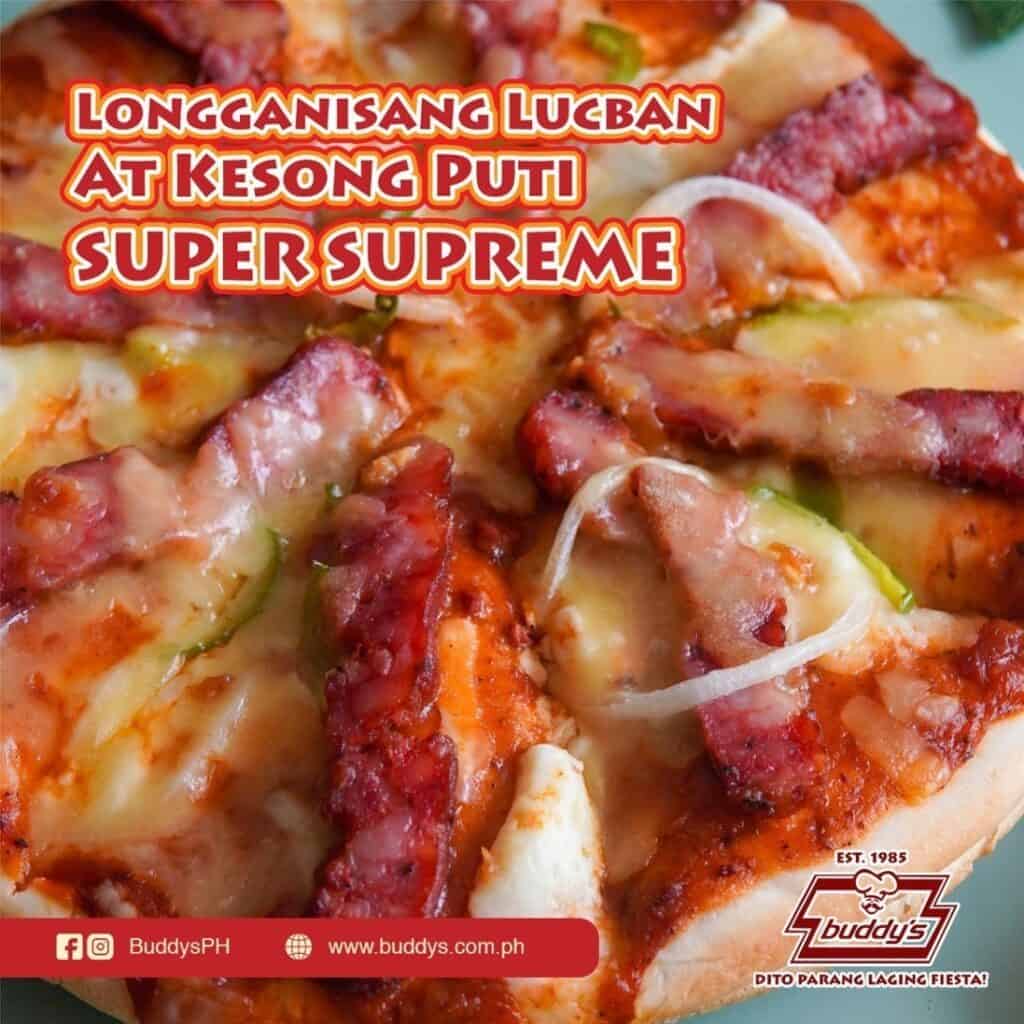 Bilao Feast and Fiesta Packages
Buddy's Philippines Bilao Feast and Fiesta Packages are ideal for entertaining family and friends. The variety of dishes included in the Bilao Feast makes it an excellent value, while the Fiesta Bilao Package and Fiesta Platter are suitable for those seeking a simpler option. It is a great option for gatherings and celebrations because the food is generally tasty an
Buddy's Menu Delivery
Ordering your favorite Filipino meals and dishes is made easier by the use of mobile applications. You can now order your favorite Buddy's foods and beverages through the GrabFood and FoodPanda applications. Just download one of the applications mentioned and search for Buddy's online store to browse their menu and order.
Social Media Pages
If you're interested in staying updated on Buddy's newest events and taking advantage of their discounts and promos, you can check out their official social media pages! Just click the link and you'll be redirected there in no time.
Facebook: https://www.facebook.com/BuddysPH
Instagram: https://www.instagram.com/buddysph
Website: https://www.buddys.com.ph/
Conclusion
Buddy's menu provides a satisfying dining experience with delicious Filipino dishes, pizza, and fiesta packages that are reasonably priced, and their servings are generous, making it an excellent choice for those looking for affordable dining options. The restaurant has a casual and cozy atmosphere as well as friendly service, making it an excellent choice for a casual and simple meal with family and friends.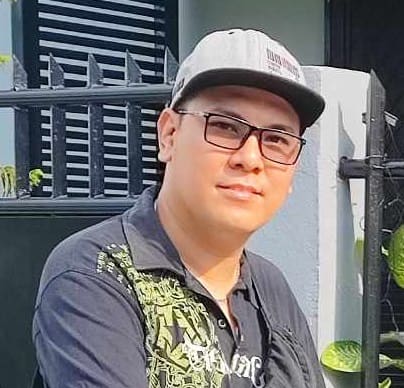 Hi! I'm Nivek Strife, the person who made MenuPH. I'm the one who added most of the popular menus you see on this website, and I really hope you enjoy them! Feel free to check them all out.
Growing up, I was surrounded by lots of tasty foods, like the classic Adobo and the sweet Leche Flan. That love for the many flavors of the Philippines is what got me excited about adding to MenuPH. When I learned how to make websites, I saw the need for a place to show off all the amazing Filipino dishes, and that's how MenuPH started.
MenuPH isn't just a website; it's like a fun journey into food. I've teamed up with famous chefs and found great places all over the Philippines to bring you a bunch of menus that show off the best of Filipino cuisine. Whether you're into the usual dishes or new twists, MenuPH is here to guide you through the rich world of Filipino flavors.
With MenuPH, my aim is to help local businesses, talk about good food choices, and make a group of friends who love food. No matter if you like fancy restaurants or street food, MenuPH has something for you. Come join me on this food adventure as we find great places, taste real flavors, and enjoy the unique food traditions that make the Philippines awesome.