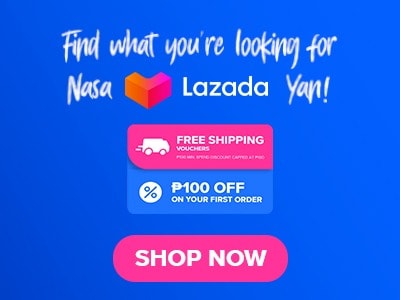 Sinangag Express menu highlights traditional Filipino "silog meals". Sinangag and fried egg are paired with well-loved cuisines like bangus, chicken, porkchop, liempo, and many more. It provides authentic dishes such as Longganisa from Quezon and Bagnet from Ilocos. It also offers "extra ulam", and side orders for those who have a big appetite. Desserts such as yema, pastillas, and soya are also provided to make meals more satisfying. These dishes are made with fresh and authentic ingredients. The beverages that it offers consist of iced tea, soft drinks, and brewed coffee.
Below, you'll find the updated list of Sinangag Express menu prices.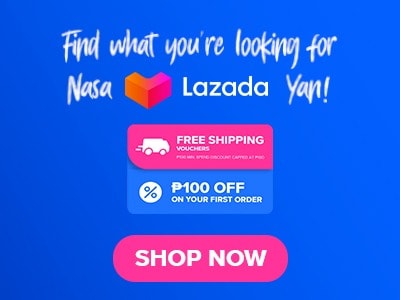 Menu Items
Price (PHP)

All Time Favorite Meals

Tapsilog
120
Tocilog
120
Hotsilog
110
Chosilog
110
Liemsilog
120
Bangsilog
120
Adsilog
110
Porkchopsilog
110
BBQ Porksilog
110
Sisig
120
Special Pares
135
Chicksilog
155
Lucban Solo
160
Vigan Solo
160
Ilocos Bagnet Meal
155
Spamsilog
155
Cornedbeefsilog
155

Extra Ulam

Extra Bagnet
120
Extra Lucban
120
Extra Vigan
120
Extra Chicken
120
Extra Spam
120
Extra Corned Beef
120
Extra Atsara
17
Extra Hotdog
75
Extra Adobo
75
Extra Chorizo
75
Extra Tapa
75
Extra Tocino
85
Extra Liempo
85
Extra Bangus
85
Extra BBQ Pork
75
Extra Sisig
75

Dessert

Chilled Taho
10
Brownies
15
Yema
10
Pastillas
10
Sabanana Chips (Big)
75
Sabanana Chips (Small)
30
Soya
30
Crinckles
175
Mais Con Yelo
99

Side Orders

Tokwa
48
Tokwa't Baboy
60
Egg
25
Plain Rice
22
Fried Rice
28

Drinks

Special Iced Tea
40
Nestea Iced Tea
35
C2 Apple
35
C2 Lemon
35
Coke Regular
55
Coke Light
55
Coke Zero
55
Mirinda
55
Pepsi
55
Mountain Dew
55
Mug
55
Sprite
55
Royal
55
Sarsi
55
Bottled Water
30
Brewed Coffee
50
About Sinangag Express
The BF Sinangag Express Corporation was founded by Raymond Andrew Tongson, Joey Del Rosario, and three other partners. It opened on May 11, 2004, in Paranaque, to serve diners of all ages traditional, authentic, and delicious Filipino meals. Rice is the staple food of Filipinos, so they created their own tapsilog recipe, and soon comes other classic Filipino meals.
Sinangag Express Menu All Time Favorites
The All-Time Favorite Meals of Sinangag Express consist of popular and traditional Filipino "silog meals".
Bangsilog – It is a classic breakfast meal that consists of Bangus (milkfish), Sinangag, (fried rice), and Itlog (egg).
Chicksilog – Chicksilog is a short term for chicken, sinangag, and itlog. This is a delectable dish that kids will surely love. The crunchy skin and tender meat of chicken complement well with rice and a sunny-side-up egg.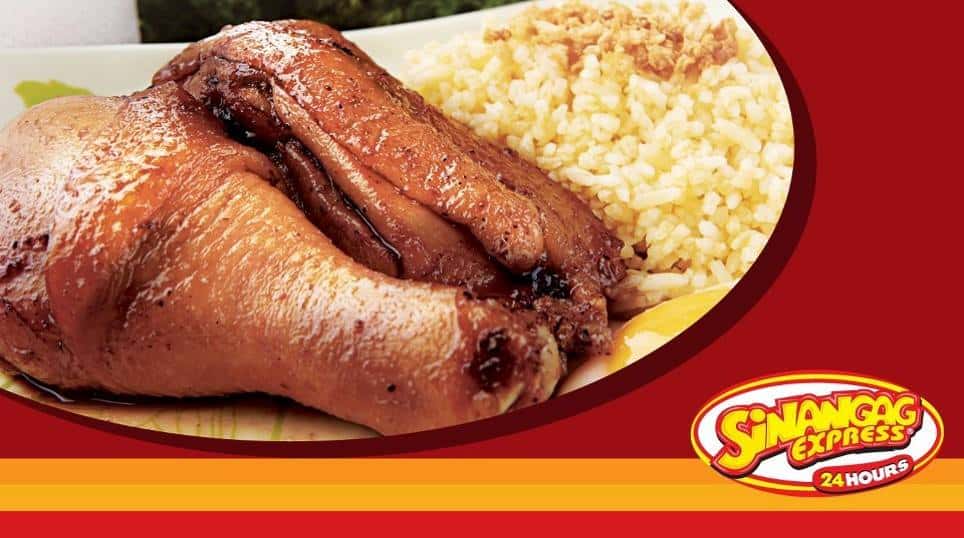 Lucbansilog (Solo) – This Sinangag Express menu features savory and authentic longganisa that originates in Lucban, Quezon. The paprika, oregano, and its other special ingredients make its taste distinctive. 
Corn Beef Silog – Fresh corned beef is sauteed with onions making it aromatic and appetizing. It is served with fried rice and egg.
Tapsilog – It is the most classic and famous silog meal that consists of thinly sliced and marinated meat, fried rice, and egg. This is the first meal that was offered by Sinangag Express to its customers. It is made with the restaurant's special recipe which makes its flavor distinctive.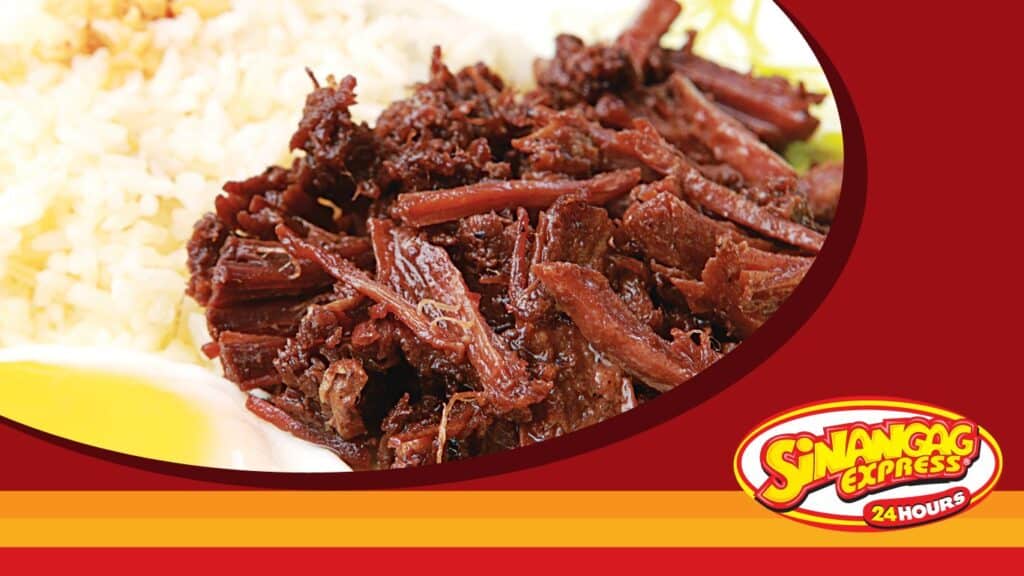 Liemsilog – The pork belly is grilled and cut into small pieces to make it more convenient to eat. This grilled pork belly is locally known as liempo and is served with fried egg and rice.
Ilocos Bagnet Meal – Savor the delicious taste of bagnet that originates from Ilocos. It comes with fried rice and atchara.
Spamsilog – This meal includes slices of spam luncheon meat, fried rice, and egg. Spam luncheon meat is one of the favorite viands of Filipinos because of its salty and delectable taste.
Tocilog – Tender slices of cured meat are served with a sunny-side-up egg and fried rice. Atsara can also be added to this dish to make it more delightful.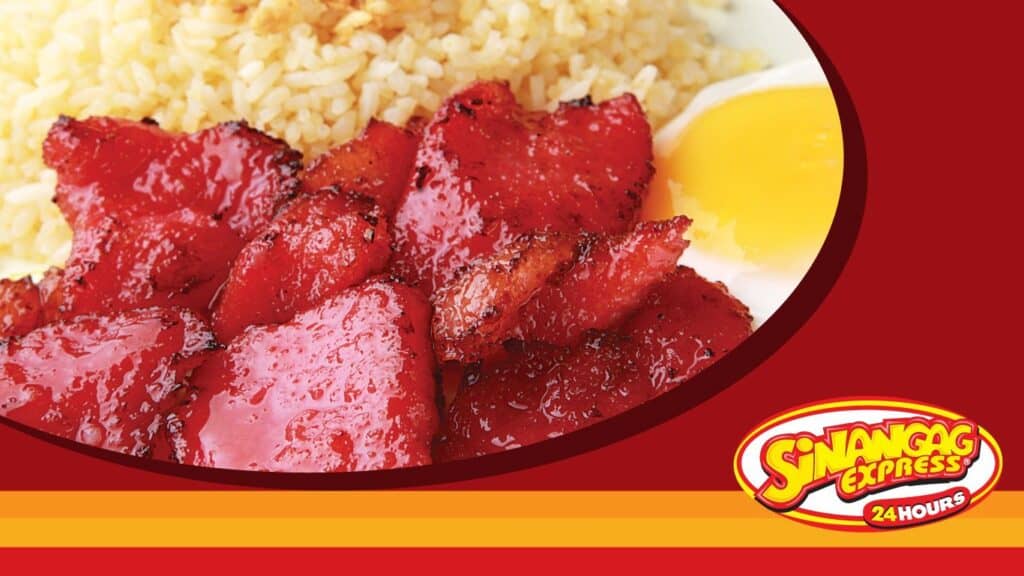 Side Orders
These are the side orders of Sinangag Express that you can add to your favorite meal to make your dining experience more satisfying.
Tokwa – This menu of Sinangag Express is a tofu dish that is locally known as tokwa. Aside from its delicious taste, it also provides a lot of health benefits. The flavor and texture of this dish match perfectly with other dishes making it a versatile food.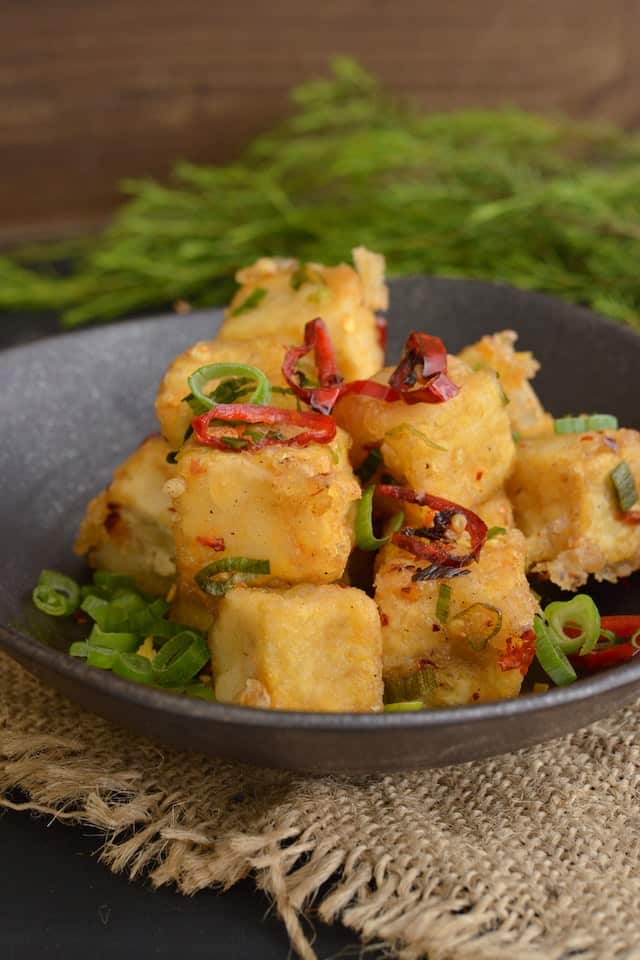 Tokwa't Baboy – A classic Filipino appetizer made with fried tofu and pork. The combination of these two dishes always delights the taste buds of the crowd, making it one of the most-sought dishes in this restaurant.
Egg – A fried egg is one of the components that complete a breakfast meal but can also be eaten at any time of the day. The robust flavor of sunny-side-up eggs enhances the taste of the dishes that are paired with it.
Plain Rice – This is an ideal choice for those who prefer plain rice over fried rice.
Fried Rice – Rice is stir-fried with other ingredients to make it savory and delicious. It can be paired with egg and tokwa't baboy.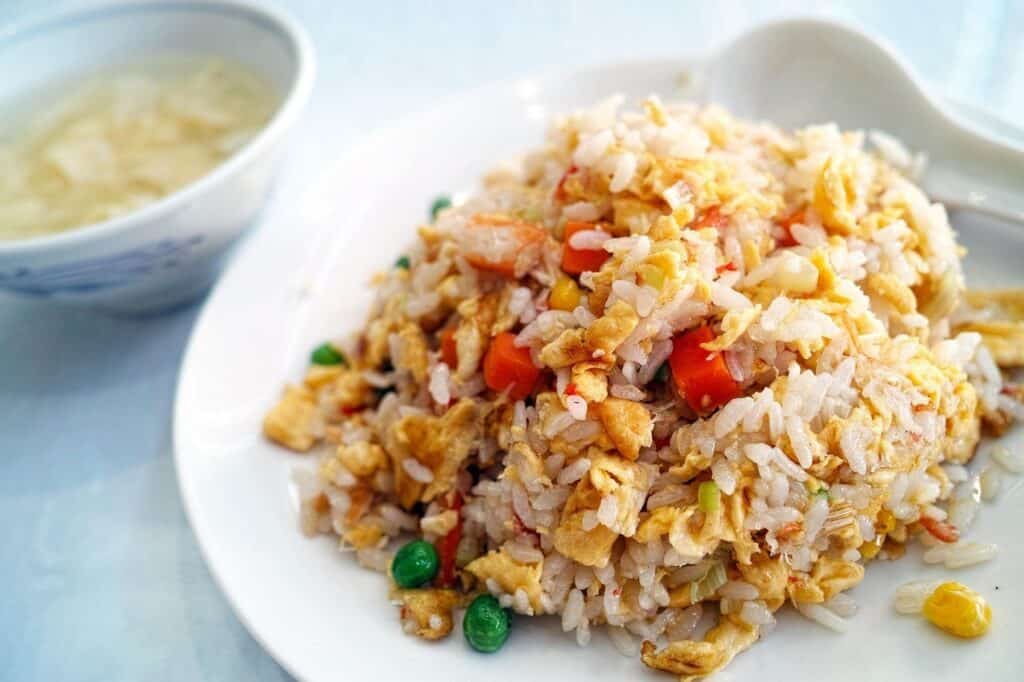 Desserts
These are the desserts menu of Sinangag Express that will complete your meal and boost your appetite. 
Chilled Taho – It is different from the typical taho sold on the streets as it has a refreshing twist. The smooth texture and delicious flavor of this dish make it unique.
Brownies – Brownies are one of the classic and all-time favorite snacks that are loved for their soft, chewy, and gooey texture and rich chocolate flavor.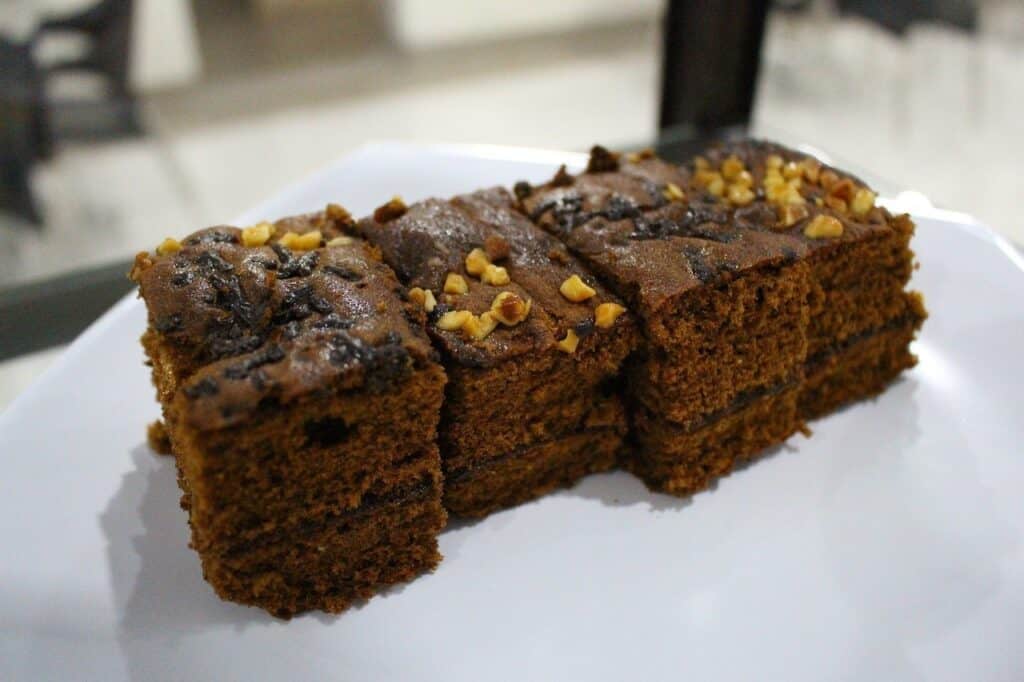 Sabanana Chips – This dessert is made up of deep-fried banana slices. "Saba" is the kind of banana that was used in creating this crispy, chewy, and delicious dessert. Every bite of these banana chips produces a satisfying crunch and will delight your taste buds which will make you crave more.
Crinkles – These irresistible crinkles are popular desserts or snacks that can be consumed at any time of the day. It is a fudge-like cookie made with unsweetened cocoa powder, vegetable oil, and other special ingredients. Its confectioners' sugar coating makes this dish extra delightful.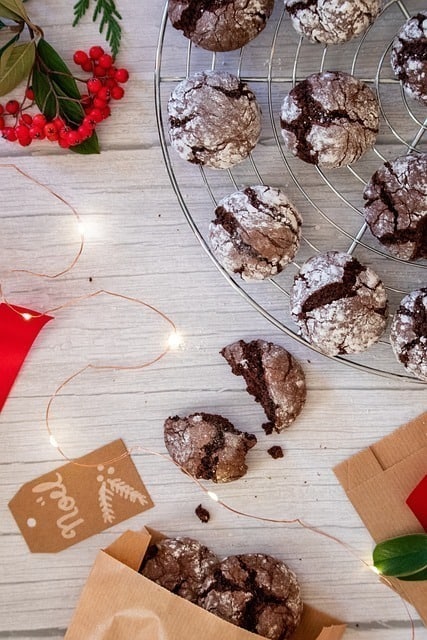 Mais Con Yelo – A refreshing and sweet dessert made with crushed ice, milk, and corn. This is a perfect afternoon dessert, especially during hot weather.
Drinks
The drinks that Sinangag Express offers are Iced Tea, Soft Drinks, Bottled Water, and Brewed Coffee. It provides Special, Nestea, C2 Apple, and C2 Lemon for those who love tea. Coke, Mirinda, Pepsi, Mountain Dew, Sprite, Royal, and Sarsi are the soft drinks that you can pair with your meal. There is also bottled water for those who are not fans of soft drinks and iced teas. For coffee lovers, it provides a brewed coffee that is best consumed in the morning with your favorite silog meal to wake up your senses.
Sinangag Express Menu Delivery
Enjoy your favorite meals from Sinangag Express in the comfort of your home through delivery. You can place your orders through the app or website of GrabFood. With this app, you can safely and easily order with just a few taps.
Sinangag Express Social Media Pages
Experience the flavors of the Philippines at Sinangag Express restaurant. Follow their social media pages to stay updated on their latest menu items, promotions, and events. By liking and following their pages, you'll never miss out on the chance to indulge in their delicious Filipino dishes. So why wait? Follow Sinangag Express today and enjoy the taste of the Philippines at your fingertips!
Facebook: https://www.facebook.com/BFSinangagExpress
Instagram: https://www.instagram.com/sinangag_express/
Twitter: https://twitter.com/sinangagexpress
Website: https://sinangagexpress.com/contact-us
Conclusion
Sinangag Express menu is available for dine-in around the clock so you can enjoy your favorite meals at any time of the day. It is an ideal place for those who love silog meals as it offers a wide array of sinangag and egg choices paired with traditional Filipino breakfast viands. The cuisines that it offers are budget-friendly and ideal for people from different walks of life.