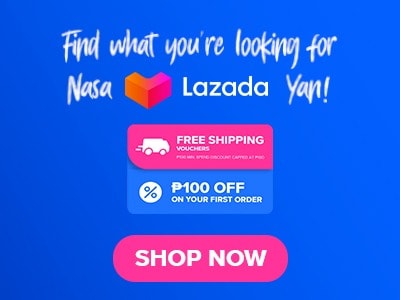 The Crepe Central menu consists of classic crepes with a modern twist. It also offers salad, pasta, burger, all-day breakfast, appetizers, and desserts. The beverages that you can pair with these delicious foods are coffee, iced coffee, ice blended, homemade soda, soda, fresh juice, cocktails, beers, and wines. These eye-catching, mouthwatering, and picture-perfect foods and drinks will give you a one-of-a-kind dining experience. It also provides different event venues that are suited for any kind of event.
Below, you'll find the updated list of Crepe Central menu prices.
Menu Items
Price (PHP)

House Specialty

Mosman
385
Bellevue
305
Balmain
380
Albury
350
La-Perouse
345
Kensngton
300
Pyrmont
365
Sans-Souci
275
Brighton Le-Sands
280
Thornleigh
385
Macquarie
385
Archer
365
Beverly
385
Calvert
365

Crepe Add Ons

Buckwheat Crepe
30
Sauce or Syrup
30
Hungarian Sausage (6 pcs)
75
Veal Bratwurst (6 pcs)
75
Patty Regular (Meat)
75
Cherry Tomato (3 pcs)
30
Onion Mushroom
30
Asparagus
30
Mozarella Cheese
50
Cheddar
50
Gruyere
50
Burger Cheese Slice (1 pc)
50

Dessert

Blairmont
380
Cremorne
160
Flemington
345
Alexandria
330
Glen Alpine
365
Rozelle
315
Canterbury
315
Normandy
185
Darlinghurst
315
Paddington
225
Mon Cheri
365
Sunbury
330
Fried Ice Cream
315
Penshurst
150
Holsworthy
255
Newington
320
Annandale
225

Crepe Add Ons

Buckwheat Crepe
30
Sauce or Syrup
30
Whip Cream
50
ICE Cream (1 Scoop)
95
Mango
75
Strawberry Preserve
75
Bluberry Preserve
75
Banana
75
Apple
75

Salad

Chicken & Apple Salad
350
Mango & Papaya Salad
350
Bacon Salad
350

Pasta

Italian Pasta & Meatballs
378
Organic Egg Carbonara
378
Pesto Pasta & Grilled Lemon Chicken
378
Seafood Aglio Olio
486

Burger

Monsieur Burger
395

All Day Breakfast

Salmon Eggs Benedict
420
Fried Beef Steak
305
Chorizo Hash
305
Tocino Steak
305

Appetizers

French Fries
280
Butter Garlic Prawns
500
Spicy Gambas
550
Crepe Nachos Chicken Salt
160
Crispy Crepe Cheddar
225
Crispy Crepe Ranch
225
Crisp Crepe Nachos
225

Coffee

Americano (8 oz)
130
Americano (12 oz)
150
Café Au Lait (8 oz)
150
Café Au Lait (12 oz)
170
Latte (8 oz)
150
Latte (12 oz)
170
Cappuccino (8 oz)
145
Cappuccino (12 oz)
165
Mocha (8 oz)
160
Mocha (12 oz)
180
Spanish Latte (8 oz)
150
Spanish Latte (12 oz)
170
White Mocha (8 oz)
150
White Mocha (12 oz)
170
Caramel Macchiato (8 oz)
150
Caramel Macchiato (12 oz)
180
Expresso (Single Shot)
155
Expresso (Double Shot)
165

Other Drinks

Hot Choco (8 oz)
130
Hot Choco (12 oz)
150
Chamomile Hot Tea
130
Peppermint Hot Tea
130
English Breakfast Hot Tea
130

Iced Coffee

Iced Americano
165
Iced Café Au Lait
185
Iced Latte
185
Iced Cappucino
190
Iced Mocha
185
Iced Spanish Latte
185
Iced White Mocha
185
Iced Caramel Macchiato
185

Ice Blended

Iced Blended Mocha
195
Iced Blended Caramel
195
Iced Blended White Mocha
195
Iced Blended Chocolate Chips
195
Iced Blended Cookies & Cream (Coffee Based)
195
Iced Blended Vanilla
195
Iced Blended Strawberry
195
Iced Blended Chocolate
195
Iced Blended Matcha Green Tea
195

Homemade Soda

Blood Orange Soda (Glass)
145
Blood Orange Soda (Carafe)
395
Blue Raspberry Soda (Glass)
145
Blue Raspberry Soda (Carafe)
395
Passion Fruit Soda (Glass)
145
Passion Fruit Soda (Carafe)
395
Ginger Lemongrass Soda (Glass)
145
Ginger Lemongrass Soda (Carafe)
395
Strawberry Soda (Glass)
145
Strawberry Soda (Carafe)
395

Soda

Coke
125
Royal
125
Sprite
125

French Juice

Fresh Orange Juice
195
Fresh Lemonade
195
Fresh Apple Juice
195
House Blended Iced Tea
195

Cocktails

Californication
225
Cosmopolitan
225
Margarita
225
Frozen Margarita
245
Gin & Tonic
185
Jack Coke
210
Long Island Iced Tea
335
Martini
285
Mojito
225
Sangria
295
Screwdriver
245
Tequila Sunrise
205

Beer

San Miguel Pale Pilsen
125
San Miguel Light
125

Wine

Red Wine (Glass)
295
Red Wine (Wine)
1400
White Wine (Glass)
295
White Wine (Wine)
1400

Crepe Central Cocktails

Black Hole
285
Strawberry Daiquiri
215
Maleficent
225
Lady Kiss
245
Blue Beach
245
Tequilada
245
Kaldi
225
La Trope
245
Le Roux
205
Purle Eyes
245
About Crepe Central
Crepe Central specializes in serving classic, unique, and delicious crepes. It opened last May 2022 at the heart of Quezon City. This restaurant has a cozy and relaxing ambiance that makes people feel comfortable. It also holds different special events to make holidays more fun and memorable. There are live performances from different bands at night making your dinner exciting.
Crepe Central Menu Best Seller
Crepes are the best sellers and most-sought dish in this restaurant. The classic and innovative taste of these crepes makes people come back for more.
Mosman – A crepe made up of buckwheat crepe and topped with Hungarian sausage, egg, and asparagus. This is a satisfying meal for those who want a light, satisfying, and flavorful dish.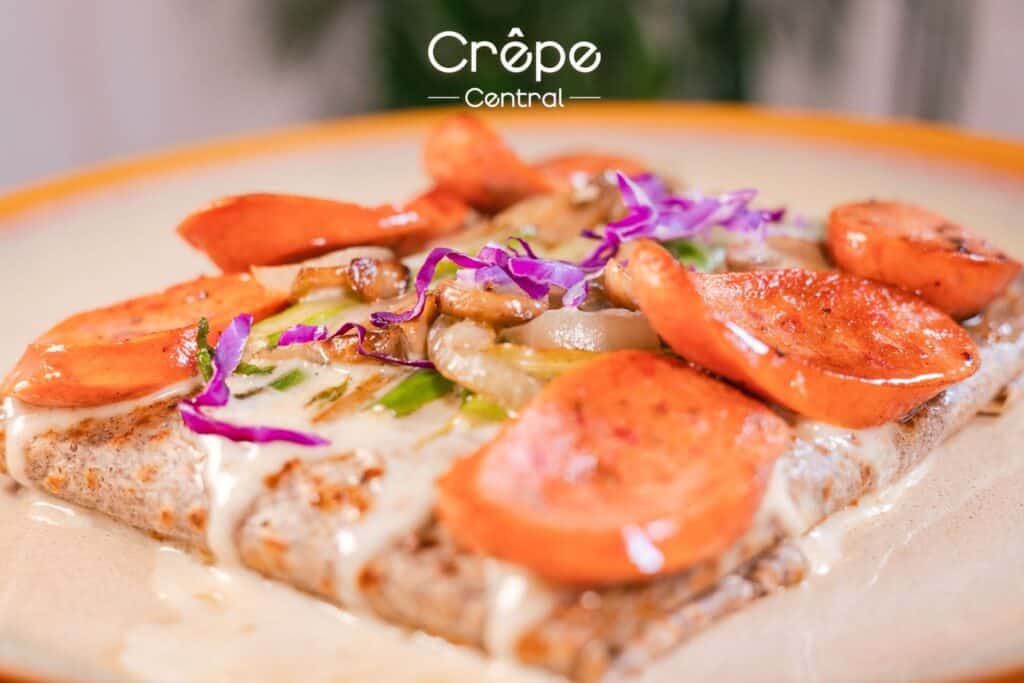 Balmain – It is a delicious main dish that is perfect for any kind of event as it is made with crab meat, shrimp, and spinach topped on a buckwheat crepe.
Macquarie – This enticing and gluten-free crepe is made with buckwheat crepe topped with cheese and Hungarian sausage. A side salad also comes with this dish.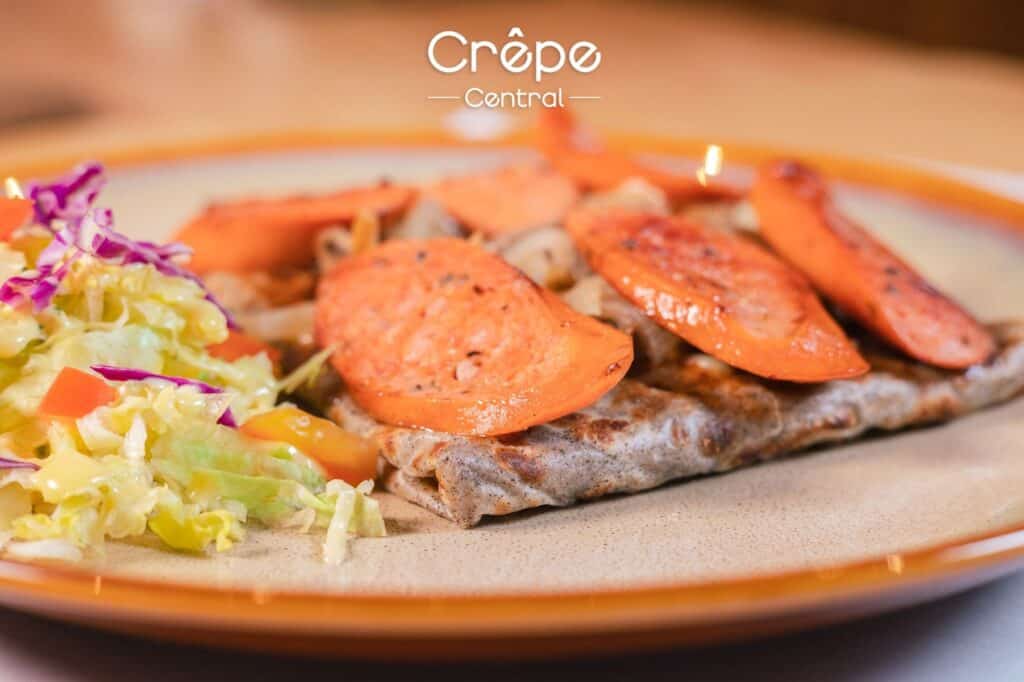 Blairmont – It is a dessert crepe topped with banana, ice cream, Nutella, and Liquor Flambee. The flavors of these satisfying toppings complement well together making it perfect for a snack.
Cremorne – A classic snack that is simple, light, and sweet as it is made with crepe, sugar, butter, and lemon.
House Specialty Menu
These are the specialty dishes of Crepe Central which are known for their unique and delicious taste.
Sans Souci – If you're looking for a unique crepe, you might want to try one made with buckwheat, chili garlic oil, ham, and cheese. It's a specialty dish that's sure to be tasty!
Bellevue – This menu from Crepe Central is a visually appealing and surprisingly good crepe that will satisfy your cravings as it is made with Buckwheat crepe topped with Bacon strips, cheese, and egg.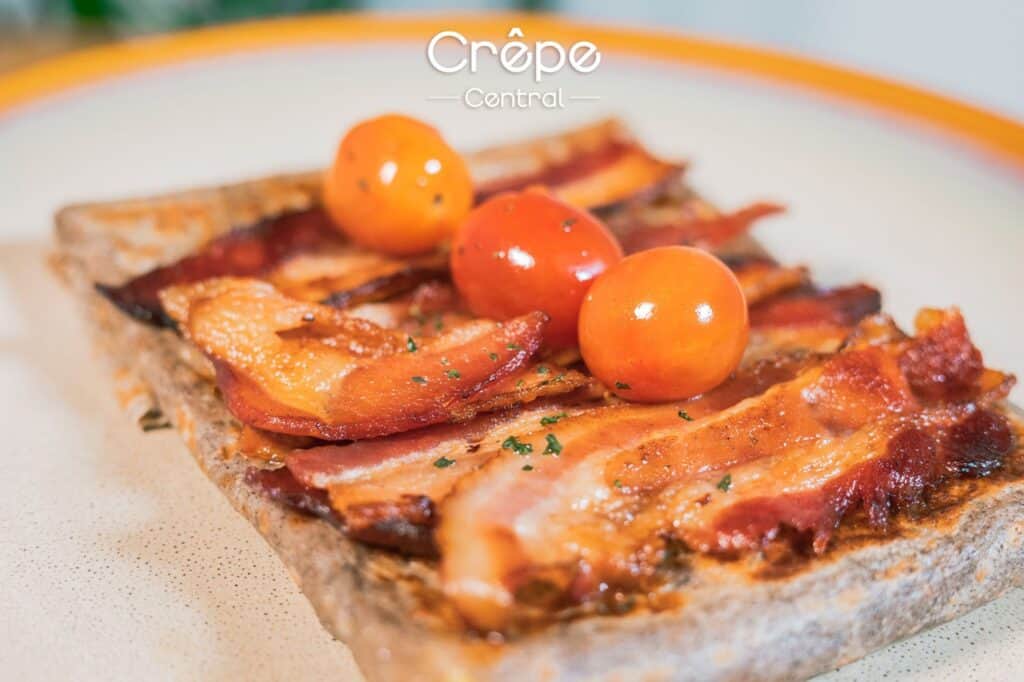 Pyrmont – Treat yourself to this Pyrmont, a vegetarian and delectable crepe that is made from buckwheat crepe topped with cheese, asparagus, and spinach.
Brighton – Le – Sands – This menu features a layer of cheese sauce on top of buckwheat bread, with chicken breast and asparagus placed on top. It's a delicious combination of flavors that's definitely worth a try!
Kensington – It is made with a buckwheat crepe and is filled with delicious ingredients such as cheese, ham, and egg. Give it a try and enjoy the flavors!
La-Perouse – What makes this dish really special is the way it brings together a variety of flavors and textures. The crepe, cheese, veggies, and homemade burger patty from this Crepe Central menu are all combine to create a delicious and satisfying meal that's sure to please.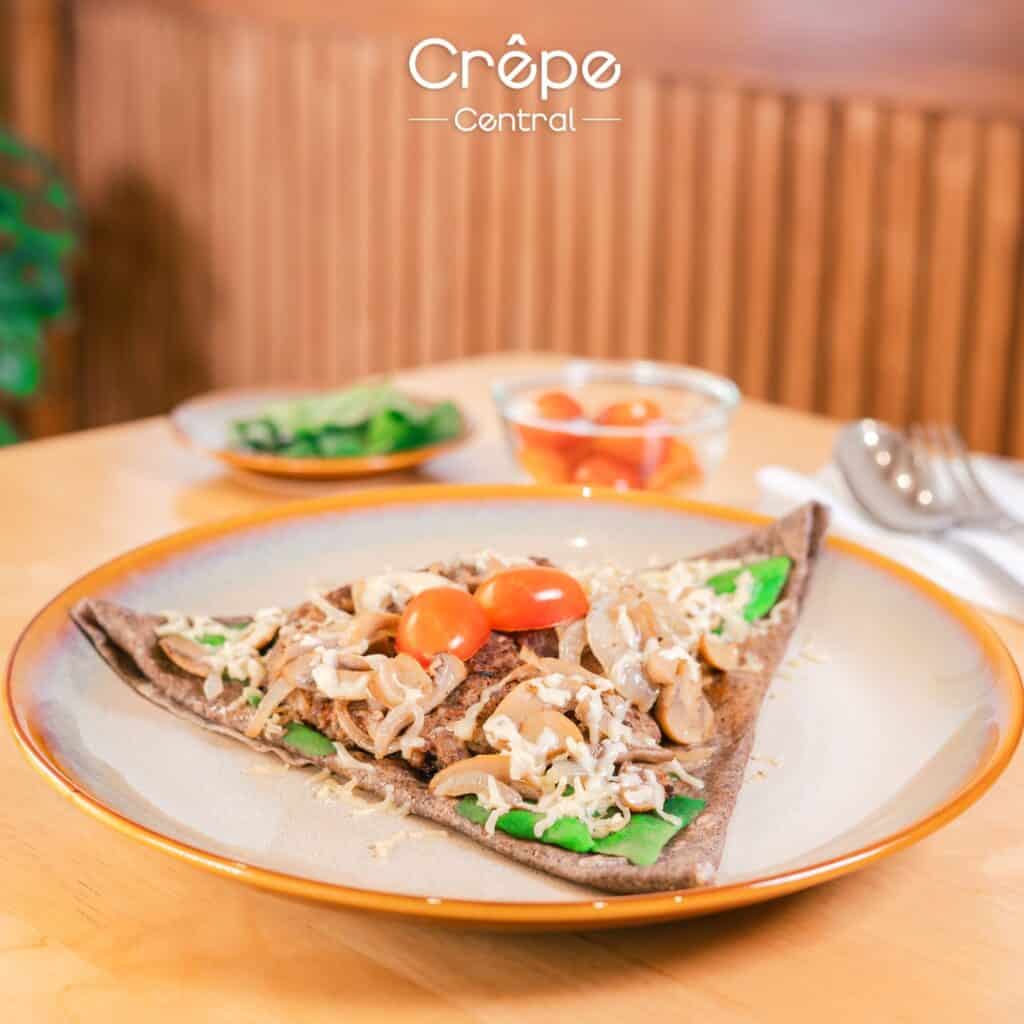 Albury – This meal may be simple, but it's definitely satisfying. It consists of a buckwheat crepe filled with flavorful chorizo and cheese. Give it a try and savor the delicious combination of ingredients!
Thornleigh – This Thornleigh crepe is a unique crepe that will delight your taste buds. It is made with buckwheat crepe, veal sausage, chili garlic oil, and mushroom. The savory veal sausage is the special topping that sets this dish apart from others.
Archer – It features a buckwheat crepe topped with savory ingredients such as mushrooms, cheese, and veal sausage. The flavors come together in a delicious way, making this menu from Crepe Central both satisfying and enjoyable.
Beverly – This crepe is a perfect entrée that will fill your day with goodness. It is made with bacon strips, egg, cheese, and a side salad.
Dessert Crepe
These irresistible dessert crepes are packed with flavors making them a perfect snack that can boost your mood.
Flemington – A dessert crepe that is packed with flavors as it is made up of delicious toppings and fillings such as crunchy banana chips, Nutella, and mango.
Alexandria – This crepe is topped with mango and Nutella. It is also garnished with chocolate syrup that enhances its appearance.
Glen Alpine – The colors of its toppings are well-combined making it a pleasurable dish. It is topped with mango, banana, ice cream, and special cream sauce.
Normandy – A highly recommended and must-try menu from Crepe Central that is filled with goodness. The perfect blend of crepe, banana, and sweetened milk makes this dish truly delectable.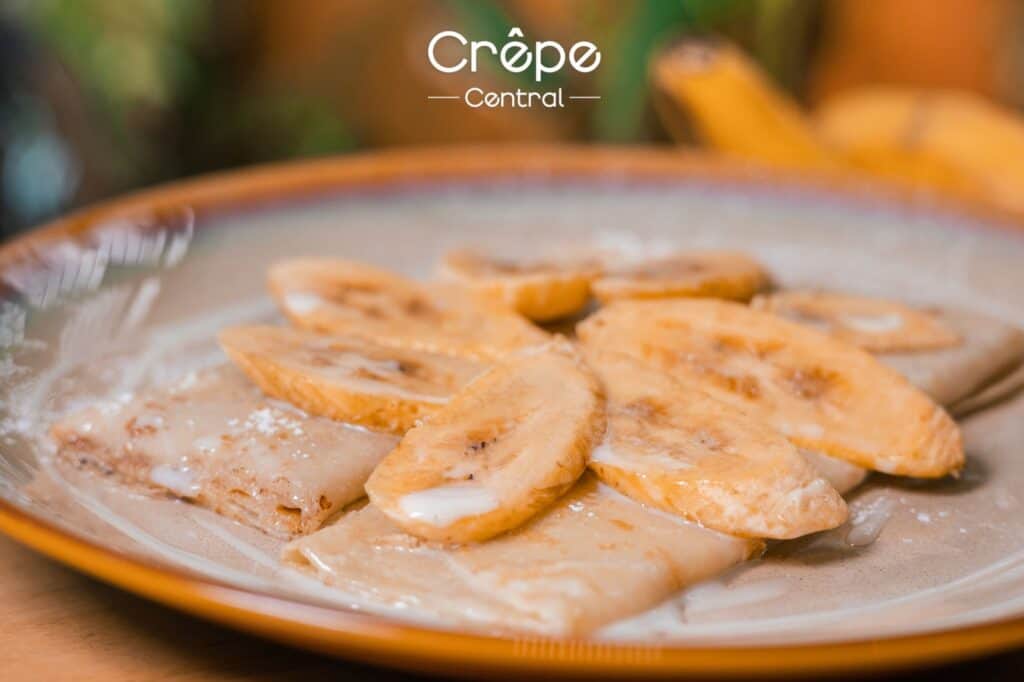 Canterbury – The Canterbury crepe is a dessert that's sure to satisfy anyone with a sweet tooth. It's topped with a scoop of ice cream, a special cream sauce, and juicy blueberries.
Paddington – This crepe is filled with fresh apples and then topped with a mixture of crushed graham crackers and slices of dried apple. The combination of soft crepe, tender apples, and crunchy toppings creates a satisfying flavor.
Fried Ice Cream – This delicious and extraordinary crepe is filled with fried vanilla ice cream, topped with shredded coconut and slices of strawberry, and garnished with caramel sauce.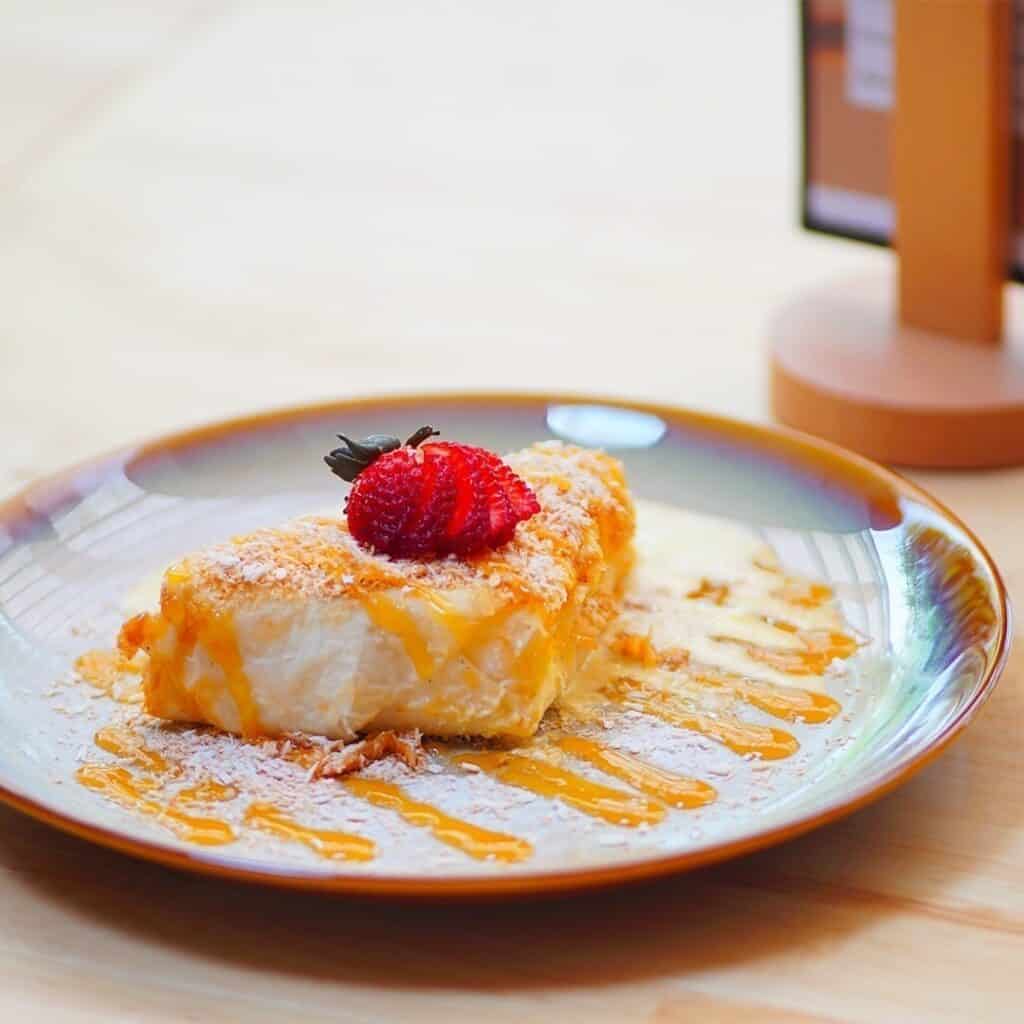 Salad
These healthy and great-tasting salad dishes come with a choice of dressings such as Creamy Mustard, Thousand Island, or Vinaigrette.
Chicken & Apple – A special Crepe Central menu that is made with sweet and fresh apples, savory chicken strips, and crunchy mixed greens. The flavor and texture of this salad are simply unbeatable. 
Mango & Papaya – Experience eating a nutritious and delicious dish without feeling guilty with this Mango and Papaya salad. The color and taste of mixed greens, mango balls, papaya balls, and shrimp make it enticing and delicious.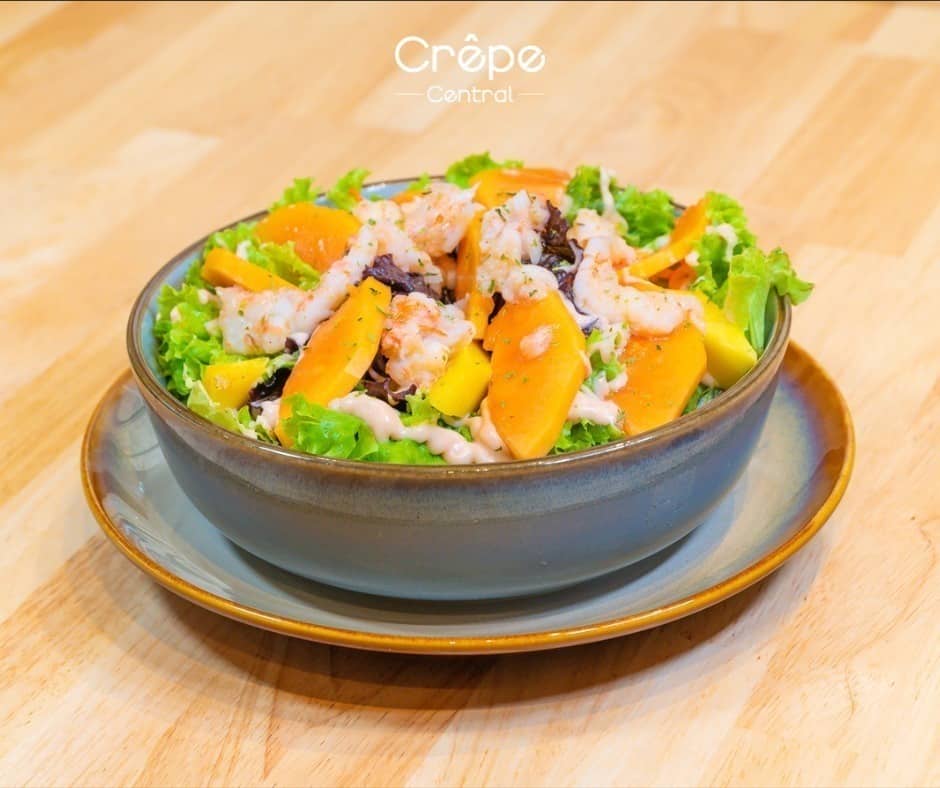 Bacon Salad – This healthy salad consists of lollo rosso lettuce, toasted almonds, cherry tomato, grapes, bacon strips, and a choice of dressing.
All-Day Breakfast
The all-day breakfast meals that Crepe Central offers are Salmon Eggs Benedict, which includes smoked salmon, avocado, poached egg, holland sauce, and capers; Fried Beef Steak, which is made with beef sirloin steak in white gravy, scrambled eggs, rice, and side salad; Chorizo Hash, which is made of chorizo, scrambled eggs, baby potato, micro arugula, and rice; and Tocino Steak, which consists of pork belly, scrambled eggs, cherry tomatoes, micro green, Hollandaise, and rice.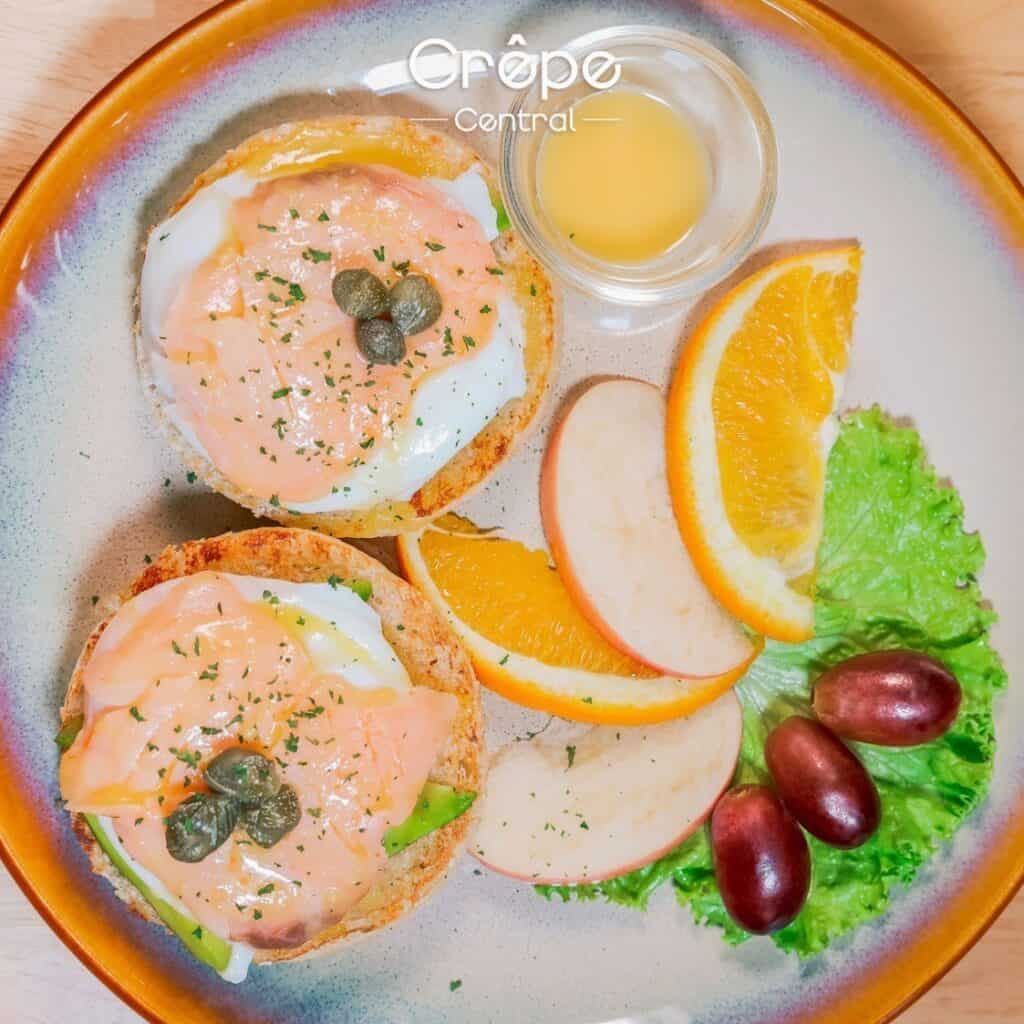 These breakfast dishes will power up your day as each plate includes delicious and savory food items. With these meals, you can enjoy your favorite breakfast at any time of the day.
Crepe Central Menu Delivery
The menu of crepe central is available on the app and website of FoodPanda. If you don't have an account or if FoodPanda is not available in your location, you can call them at 0968-034-6369 to arrange your orders.
Talk to Crepe Central PH Staff
If you have any inquiries or suggestions for the Crepe Central staff, you can easily communicate with them through their social media channels. By doing so, you can stay updated on the latest news, promotions, and events that they offer. To get started, simply click on the links provided below, which will redirect you to their official social media accounts or website.
Facebook: https://www.facebook.com/crepecentral.ph
Instagram: https://www.instagram.com/crepecentral.ph
TikTok: https://www.tiktok.com/@crepecentral.ph
Website: https://www.crepecentral.ph/
Conclusion
The Crepe Central menu is famous for its delicious and satisfying crepes. Its scrumptious food and beverages as well as its aesthetic ambiance make this restaurant a great place to chill with your loved ones. Most of its customers are looking forward to their next visit to try the other dishes that it offers. Customers also commend the friendly and accommodating service of the staff as they make their dining experience more enjoyable.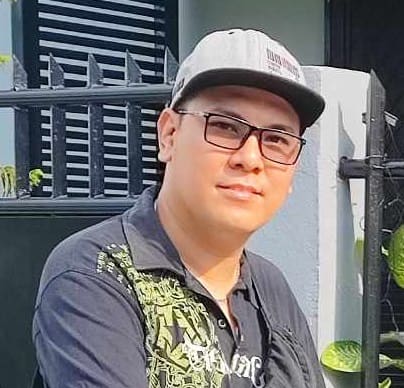 Hi! I'm Nivek Strife, the person who made MenuPH. I'm the one who added most of the popular menus you see on this website, and I really hope you enjoy them! Feel free to check them all out.
Growing up, I was surrounded by lots of tasty foods, like the classic Adobo and the sweet Leche Flan. That love for the many flavors of the Philippines is what got me excited about adding to MenuPH. When I learned how to make websites, I saw the need for a place to show off all the amazing Filipino dishes, and that's how MenuPH started.
MenuPH isn't just a website; it's like a fun journey into food. I've teamed up with famous chefs and found great places all over the Philippines to bring you a bunch of menus that show off the best of Filipino cuisine. Whether you're into the usual dishes or new twists, MenuPH is here to guide you through the rich world of Filipino flavors.
With MenuPH, my aim is to help local businesses, talk about good food choices, and make a group of friends who love food. No matter if you like fancy restaurants or street food, MenuPH has something for you. Come join me on this food adventure as we find great places, taste real flavors, and enjoy the unique food traditions that make the Philippines awesome.