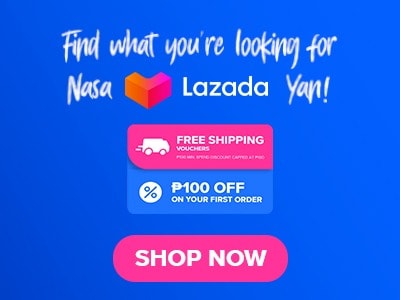 The Tapa King menu is pretty well known for its signature tapa dish, which can also be said to have already become an everyday staple in the selected areas where they are located. Their dishes bring Tapa King's homestyle goodness to every location they visit, not just in the Philippines, but all over the world!
Menu Items
Price (PHP)

Best Seller

Classic tapa King
199
Chicken Tapa
189
Beef Sinigang
255

Favorites

Tapa Queen
199
Tapa Prince
199
Tapa Flakes
199
Tapa Adobo Classic
199

Breakfast Meal

Tapa't Lumpia
175
Tapa't Danggit
175
Tapa't Longganisa
175
Tapa't Siomai
175
Kiddie Meal
Pinoy Spaghetti
129
Tapa Nuggets
115
Kid's Choice Meal
185

Tapa King Menu Promo

Royal Meal A
220
Royal Meal B
240
Royal Meal C
220

Tapa King menu delivery

Tapa King Desal
139
Tapa Flakes Desal
139
Chocolate Cake
95
Tapalabok
335
Frozen Tapa
339

Royal Meals

Royal Meal A
220
Royal Meal B
240
Royal Meal C
220

Good morning Plates

Boneless Bangus
209
Bangus tinapa
209
Bistek
175
Aguila Corned Beef
175
Danggit
159
Longganisa
159
Chicken Poppers
159
Chicken Tocino
159

Sizzling Plates

Sizzling Tapa King
209
Sizzling Beef Sisig
189
Sizzling Beef Sisig Platter
269

Good Morning Bowls

Good Morning Bowls 1
175
Good Morning Bowls 2
175
Good Morning Bowls 3
175
Good Morning Bowls 4
175
Fried Beef Lumpia Rice Bowl
140
Fried Beef Siomai Rice Bowl
140

Homestyle Classics

Beef Nilaga
249
Beef sinigang
249
Beef Kare-kare
275
Pinakbet
85
Garlic Kangkong
65
Fried Tokwa
75
Extra Danggit
99
Extra Beef Lumpia
95

Kid's Choice

Kids Choice Meal
185
Pinoy Spaghetti
129
Tapa Nuggets
115

Break Bites

Champorado
70
Pinoy Beef Mami
120
Tapa Canton
120
Tapalabok
120
Tapa Lugaw
70

King Desals

Tapa King Desal
139
Tapa Flakes Desal
139
Corned Beef Desal
139
Chicken Tapa Desal
139

Desserts

Chocolate Cake Whole
925
Chocolate cake Slice
95
Classic Taho
65
Chocolate Taho
65
Leche Flan
65
About Tapa King
Tapa King's goal is very simple, to carve out an area where meat lovers will be able to enjoy their classic homestyle favorites even when they are on the go. They are one of many fast Filipino tapas restaurants that still follow the traditional Pinoy tapas cooking style. Through their restaurants, they want to introduce their customers to authentic Filipino-style dishes.
Tapa King Menu Best Seller
Classic Tapa King – Similar to beef jerky, beef tapa is dried and cured beef. In order to preserve the meat, this is done by curing the meat with salt and letting it dry outside. Tapa King's special tapa is cooked traditionally, and seasoned with spices that can bring out the natural flavor of the beef.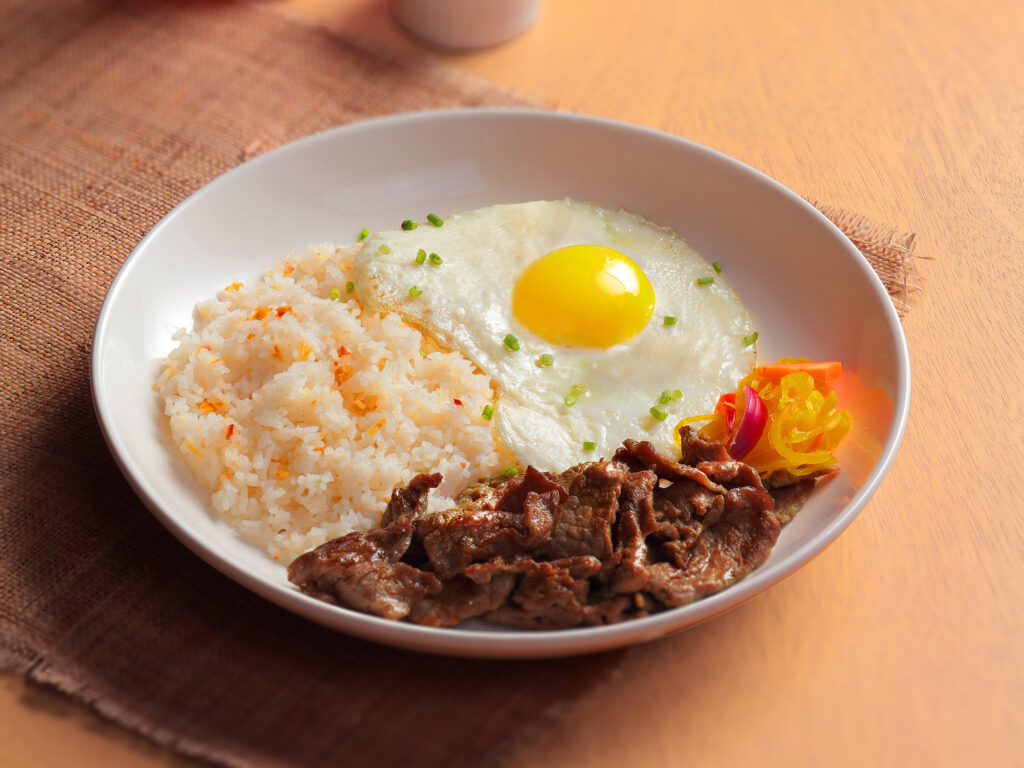 Chicken Tapa – This Tapa King menu uses fresh garlic, lemon juice, and soy sauce to marinate this tasty chicken menu. This dish is served with an egg and garlic fried rice that would make a wonderful meal for Tapa King's beloved customers.
Beef Sinigang – It is one of the many soup dishes that Tapa King offers. Beef cuts and vegetables mixed in a savory and sour tamarind soup for a pippin hot meal that the customer would love!
Tapa King Menu Favorites
Spicy and Sweet Tapa Queen – This dish is more or less similar to the classic tapa king, the only difference is that the spicy and sweet tapa queen was made for all the customers who would like to have their tapa extra spicy or sweet.
Sweet and Savory Tapa Prince – For all the customers who would like to have a sweet and savory twist to their classic tapa king, they can order this dish instead. This dish's highlight is the sweetness that it brings to the customer's food buds.
Crispy Shredded Tapa Flake – Customers order the crispy shredded tapa flakes as one of their favorite dishes! This dish is a regular tapa, which is shredded to pieces and fried to have a crispy texture that the customers will absolutely love!
Tapa Adobo Classic – It is a classic menu from Tapa King and tender beef tapa that was simmered and marinated in a specially made adobo sauce. It is savory and delicious!
Breakfast Menu
Tapa't Lumpia Rice Bowl – A perfect breakfast meal for all meat lovers! This breakfast meal is composed of tapa, lumpia Shanghai, fried egg, and garlic rice that will undoubtedly make you full!
Tapa't Danggit Rice Bowl – This breakfast meal is best for those who want to add a little bit of seafood twist to their breakfast. This breakfast meal is composed of tapa, fried danggit, fried egg, and garlic rice that will keep you energized the whole day!
Tapa't Longganisa Rice Bowl – The typical Filipino breakfast meal, composed of longganisa, fried egg, garlic rice, and the restaurant's special, tapa!
Tapa't Siomai Rice Bowl – You can also opt for a breakfast meal that is composed of tapa, fried siomai, fried egg, and garlic rice!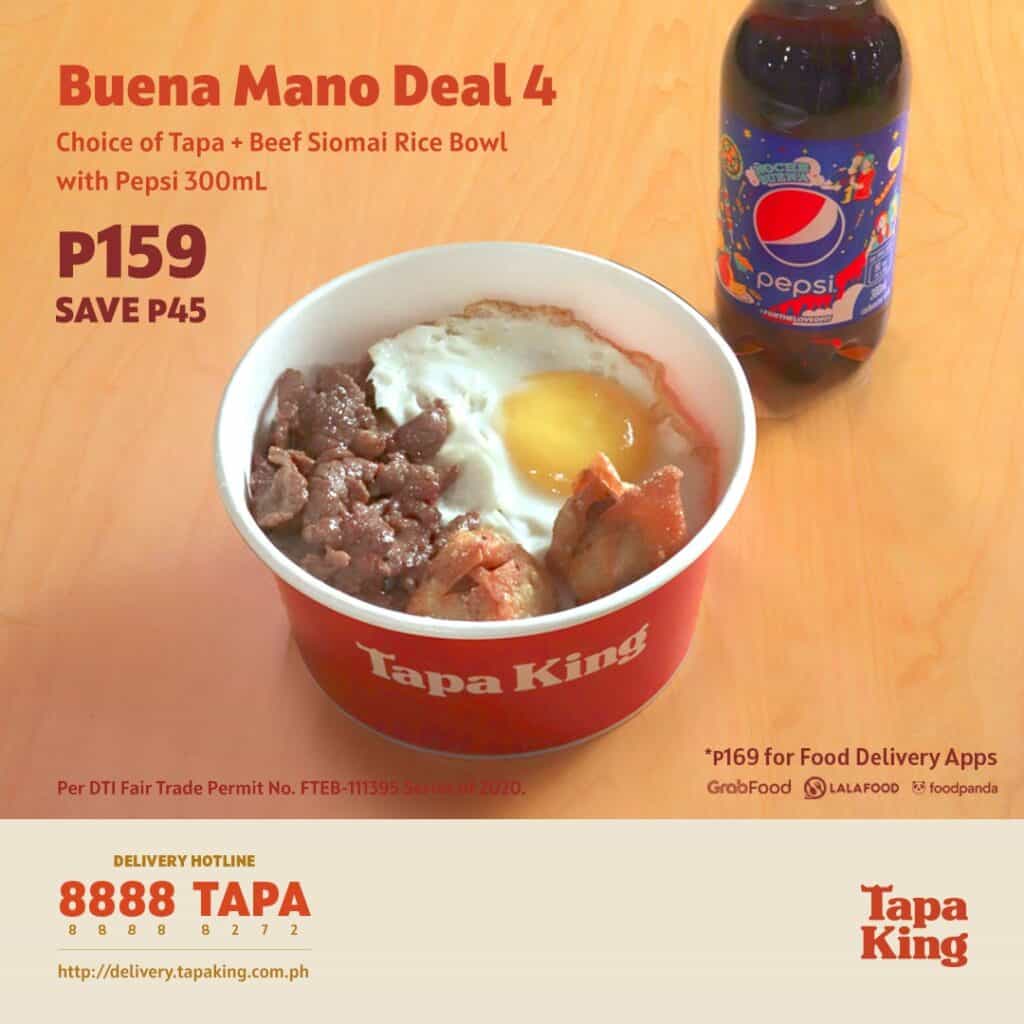 Kiddie Meal
Pinoy Spaghetti – Kids would love to have a taste of this Filipino-style spaghetti pasta with meaty tomato sauce and cheddar cheese on top! Let your kids enjoy their meals with this delicious dish.
Tapa Nuggets – Tapa King's tapa nuggets are bursting with tradition as they are cooked with a recipe that has been handed down from generation to generation. This traditionally cooked beef tapa is deep-fried and mixed into your kids' favorite snack! It also comes with a BBQ sauce dip.
Kid's Choice Meal – If your kids can't choose between the two delicious kid's meals, let them enjoy both the Pinoy-style spaghetti and tapa nuggets from the Tapa King menu! It is also served with steamed rice and a BBQ sauce dip.
Promos
Royal Meal A – It consists of Tapa King's classic tapa, fried danggit, and a tocino. This meal is paired with garlic rice and a fried egg.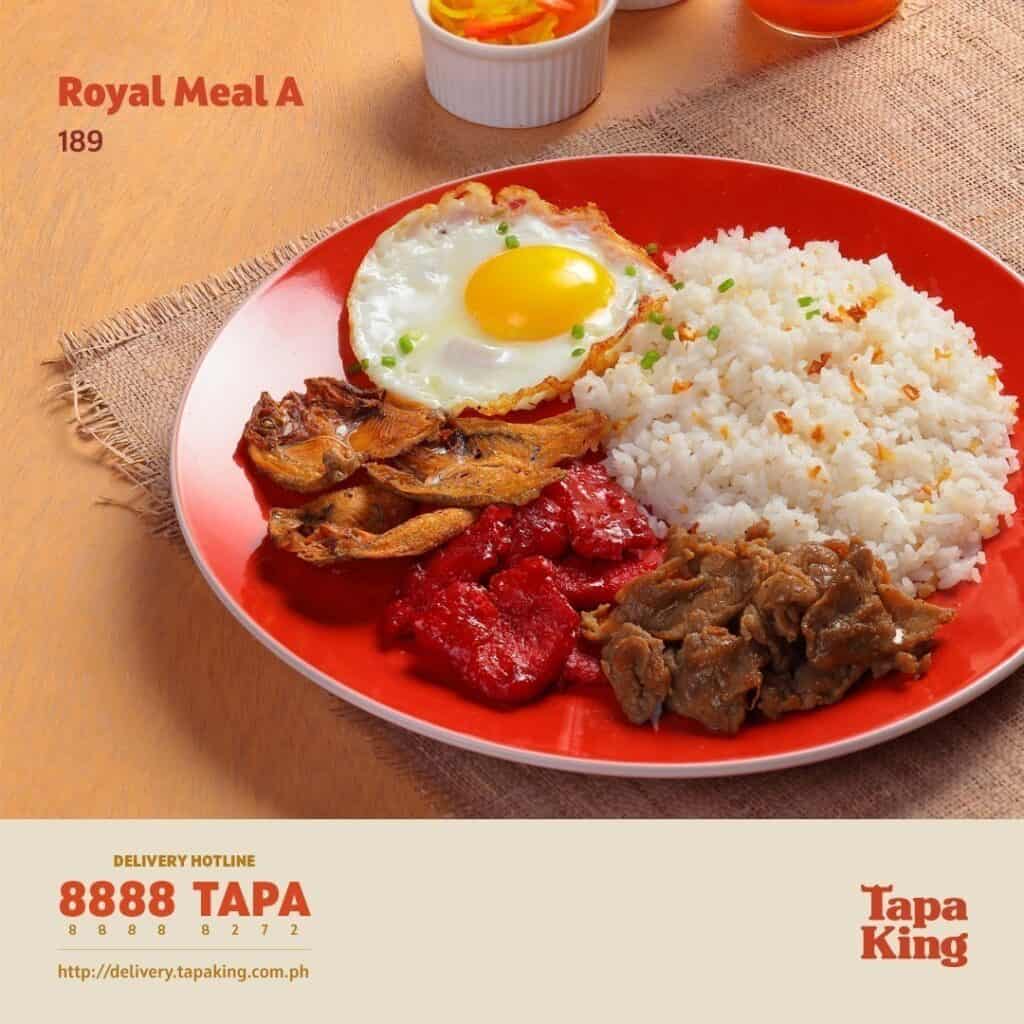 Royal Meal B – This menu is made up of Tapa King's classic tapa, fried boneless bangus, and a longganisa. It is paired with garlic rice and a fried egg.
Royal Meal C – This meal is made up of Tapa King's classic tapa, fried danggit, and a lumpia. This meal is paired with garlic rice and a fried egg.
Tapa King Menu Delivery
Are you busy and don't have any time to go out and fall in line to get your desired Tapa King menu? In that case, you can start ordering online. Worry not cause you can easily order from this eatery using popular apps like GrabFood, LalaFood, or FoodPanda. If you don't know what to order, then these menus might help you to choose:
Tapa King Desal – Filipino's favorite bread, is stuffed with Tapa King's classic beef tapa. You will feel the tenderness of signature style tapa slices in every bite of this soft pandesal. This also comes with a cold drink.
Tapa Flakes Desal – A favorite bread of Filipinos, the pandesal, is stuffed with airy and crispy tapa flakes. A tasty sandwich that could make for a great light snack! This item also comes with a cold drink.
Chocolate Cake – Customers can now dig into Tapa King's moist chocolate fudge cake that is filled with caramel and covered in chocolate bits for its finishing touches!
Tapalabok – Another well-liked and well-known noodle dish among Filipinos is the pancit palabok! Tapa King's pancit palabok is made of rice noodles with a rich orange-yellow sauce and topped with their classic tapa!
Frozen Tapa – Tapa King's classic tapa is now available as a frozen good! Customers can now eat their favorite tapa anytime they want with the Tapa King's frozen tapa.
Social Media Pages
Facebook Page: https://facebook.com/TapaKingPH/
Instagram Account: https://www.instagram.com/tapakingph/
Twitter Account: https://twitter.com/tapakingph
Website: https://www.tapaking.com.ph/
Conclusion
The dishes on Tapa King's menu aren't limited to tapa! They also serve different varieties of dishes like soups, seafood, vegetables, and snacks. However, it is the tapas dishes that they really are known for. Tapa King is where you want to go if you want to experience tasty Filipino dishes.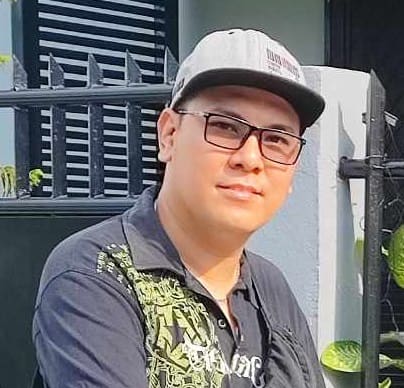 Hi! I'm Nivek Strife, the person who made MenuPH. I'm the one who added most of the popular menus you see on this website, and I really hope you enjoy them! Feel free to check them all out.
Growing up, I was surrounded by lots of tasty foods, like the classic Adobo and the sweet Leche Flan. That love for the many flavors of the Philippines is what got me excited about adding to MenuPH. When I learned how to make websites, I saw the need for a place to show off all the amazing Filipino dishes, and that's how MenuPH started.
MenuPH isn't just a website; it's like a fun journey into food. I've teamed up with famous chefs and found great places all over the Philippines to bring you a bunch of menus that show off the best of Filipino cuisine. Whether you're into the usual dishes or new twists, MenuPH is here to guide you through the rich world of Filipino flavors.
With MenuPH, my aim is to help local businesses, talk about good food choices, and make a group of friends who love food. No matter if you like fancy restaurants or street food, MenuPH has something for you. Come join me on this food adventure as we find great places, taste real flavors, and enjoy the unique food traditions that make the Philippines awesome.