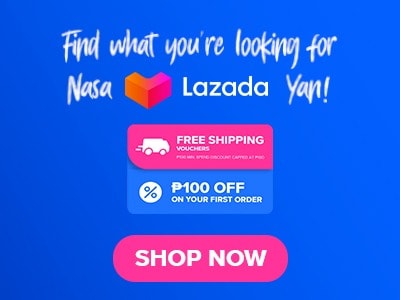 There are a lot of Japanese restaurants mushrooming in our country nowadays but a lot of people are hesitant to try them because they are considering the price. What if I told you that I found a place where you could get the cheapest and best Japanese food? Sounds interesting right? Have you heard about katsu house? Katsu House menu has a lot of Japanese cuisine-inspired dishes, their items are delicious and at the same time affordable. Stay with me in this article and together we are going to get to know katsu house even more, what food items are they serving, their prices per item, and everything that you need to know. Im already excited about this one so ill stop this long introduction and let's start! 
Menu Items
Price (PHP)

Best seller

Vegan gyoza
138
Tempura style onion rings
127
Vegan mushroom miso
76
Teriyaki burger
186
Katsu burger
164
Chicken nori burger
164
Wagyu KY
176
Japanese sausage KY
30

Must try

Vegetarian 4 cheese tamago
522
B4 beef gyudon bento
467
B3 vegan katsu bento
358
Appetizer platter
285
Vegan tantanmen
248
Miso ramen
248
Gyudon
197
Soboro don
197
XXX chocolate chia pudding
193
Katsudon
175
Vegan gyoza
138
Appetizer platter
285
Ebi kani popcorn
248
Sugar free peach mango
87
Imo taro crispy mochi balls
76

Japanese love box

KH Vegan love box
1350
KH Classic love box
1350
KH Lowcarb love box
1250

Starters

Chizu katsu
219
Karaage
165
Vegan gyoza
138
Pork & chives gyoza
138
Tofu nori bites
127
Appetizer platter
285
Ebi kani popcorn
248
Japanese fries
127
Tempura style onion rings
127

Soups and Salad

Kani salad
175
Chuka wakame
83
Vegan mushroom miso soup
76
Classic miso soup
65
Summer salad
248

Maki Rolls

Cream cheese ebi maki rolls
303
Ebi furai maki rolls
274
Breakfast spam maki rolls
209
Spicy cucumber cream cheese maki rolls
208
Teriyaki maki rolls
204
Spicy shitake katsu maki rolls
204
Katsu maki rolls
182
California maki rolls
182
Dynamite maki rolls
182
Wake maki rolls
193

Sushi

Ebi furai sushi rolls
171
Teriyaki sushi rolls
149
Tamago sushi rolls
132
Katsu sushi rolls
132
Spam sushi rolls
132
Kani sushi rolls
132
Cucumber sushi rolls
109
Wakame sushi rolls
143

Baked

Dynamite chizu kani-tamago
550
Chizu kani-tamago
523
Vegetarian chizu dynamite
523
Vegetarian 4 cheese tamago
522
Vegan dynamite
468

Noodles

Togarashi chizu Ramen
259
Vegan tantanmen
248
Vegan tonkatsu ramen
248
Yakisoba katsu special
248
Katsu curry ramen
248
Teriyaki ramen
248
Katsu curry udon
219
Yakisoba
175

Donburi

Saikoro wagyu don
281
Gyudon
197
Saboro don
197
Chicken nori duo don
197
Katsu and hip don
186
Teriyaki don
186
Katsu curry don
186
Katsudon
175
Hamburg curry don
175
Seafood special don
275
Breakfast sausage teriyaki don
218
Vegan nuggets don
193

Sandwich

Teriyaki burger
186
Katsu burger
164
Chicken nori burger
164
Kani pita pockets
186
Teriyaki pita pockets
186
Katsu pita pockets
164
Japanese quesadilla
94

Kushi (Skewers)

Wagyu KY
176
Ebi katsu KK
99
Shiitake katsu KK
75
Shiitake KY
75
Tofu nori katsu KK
65
SSF butabara KY
65
Ton katsu KK
65
Tori katsu KK
60
Sweet potato katsu KK
50
Butabara KY
50
Tofuyaki KY
40
Chicken nori KY
40
Chicken skin KY
40
KH eggplant katsu KK
40
Kani katsu KK
35
Vegan sausage KY
85
Brats KY
85
SFF yakitori KY
60
Vegan chik'un skin KY
35

Healthy Desserts

XXX chocolate chia pudding
193
Genki dark cocoa cake
138
Genki cocoa berry cake
138
Matchaberry chia pudding
193
Coconut mango chia pudding
193
Imo taro crispy mochi balls
76

Sushi Samplers

Vegan sushi platter 30pcs
633
Katsu house sushi platter 30pcs
633
Katsu house maki platter 30pcs
633
Classic maki sampler 20pcs
413
Vegan maki sampler 20pcs
413
Classic sushi sampler 14pcs
329
Vegan sushi sampler 14pcs
329

Bento Boxes

B4 beef gyudon bento
467
B1 chicken teriyaki bento
358
B2 katsu bento
358
B3 vegan katsu bento
358

Barkada Sets

BM2 vegan kushi set
1485
BM1 kushi (skewers) set
1375
BM3 ramen set
1099

Beverage

KK luscious lychee kombucha 350ml
215
KK pink guava kombucha 350ml
215
KK sublime strawberry kombucha 350ml
215
KK ginger glow kombucha 350ml
182
KK wondermelon kombucha 350ml
182
KK captivating cranapple kombucha 350ml
182
Magners original irish cider - apple 330ml
170
Suntory 196C whole grapefruit 350ml
170
Kirin chardon spark 350ml
170
Kirin grape 350ml
170
Magners pearl cider 330ml
165
Matcha espresso latte - hot coffee
127
Mocha iced coffee
110
Iced cafe latte
105
Mocha hot coffee
105
Milo dinosaur iced
105
Cafe latte hot coffee
99
Americano (black coffee) - iced coffee
94
Matcha latte hot coffee
88
Americano (black coffee) - hot coffee
88
Espresso shot hot coffee
88
Sugar free strawberry kiwi
87
Sugar free raspberry lemonade
87
Sugar free peach mango
87
Mango juice
83
Strawberry fruit tea
87
Mango
83
Lychee
72
Coke zero 500ml
72
Peach
72
Wintermelon
72
Green apple fruit tea
72
Blueberry
72
Matcha hot coffee
72
Coke regular 500ml
60
Light water 1.2L
60
Black tea iced coffee
60
Lotte peach can 240ml
45
Black tea hot
44
Cucumbers lemonade
44
Lightwater 650ml
43
About Katsu House
Katsu House is a small casual dining small restaurant that offers a variety of Japanese foods like Totijatsu, Tonkatsu, Torikatsu, Chicken Teriyaki, and other delicious Japanese foods. Their goal is to infuse and introduce Japanese flavors into a familiar dish. And of course, satisfy the cravings of their customers.
Everybody is welcome in their shop. Katsu house Japanese fusion restaurant is located inside a subdivision. But despite their location, they got regular customers most of those from different parts of their location and neighboring cities. Ms. Laura is the owner and founder of Katsu house.
She is a seasoned entrepreneur that concentrates on food-related business. You'll get the chance of tasting their delicious Japanese food at an affordable price, though it's not that authentic they only use high-quality ingredients from japan. Their location is in Antipolo Rizal at Beverly hills drive to be exact and opens from 11 am until 9 pm. 
Katsu House Menu Best Seller
Here is the list of katsu house best-selling items that we gather upon research. These items are must-try and already popular among their customers. 
Vegan Gyoza – This classic appetizer is a Katsu House take on a vegan dish. This includes 4 steamed or fried gyoza. You can actually choose from 4 of their great flavors like classic shiitake, you can have this steamed or fried. Shiitake kimchi and sweet potato curry which is fried only and roasted eggplant miso that you can enjoy steamed or fried as well. It also comes with kewpie mayonnaise for dipping sauce. 
Teriyaki Burger – The teriyaki burger of katsu house is made with your choice of teriyaki which are tori, shiitake, and vegan hamburgers. They assemble it on a but with caramelized onions, cucumber, coleslaw, and teriyaki sauce where you can choose the regular or the spicy one. This delicious burger is one of their best-selling items and is surely good.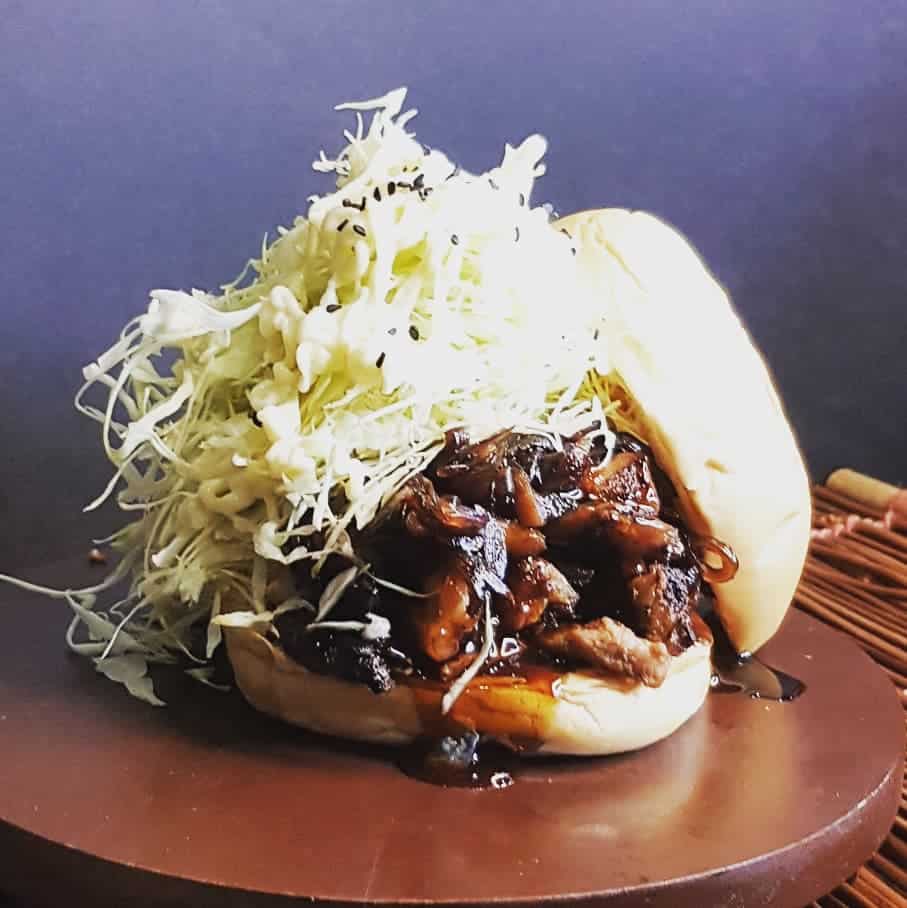 Vegan Mushroom Miso Soup – This delicious soup menu from Katsu House is made with shiitake and kombu-based soup with leeks, wakame, shiitake mushrooms, and soft tofu on the center top. This good soup is perfect with any fried item on their menu. 
Katsu Burger – Katsu burger of katsu house is made with your choice of katsu which are ton or pork, tori or chicken, tofu, shiitake, and ebi which is shrimp. Assembled in a bun with white coleslaw, onion wasabi mayo, and katsu sauce. This amazingly delicious burger is affordable and delicious at the same time just like their teriyaki burger.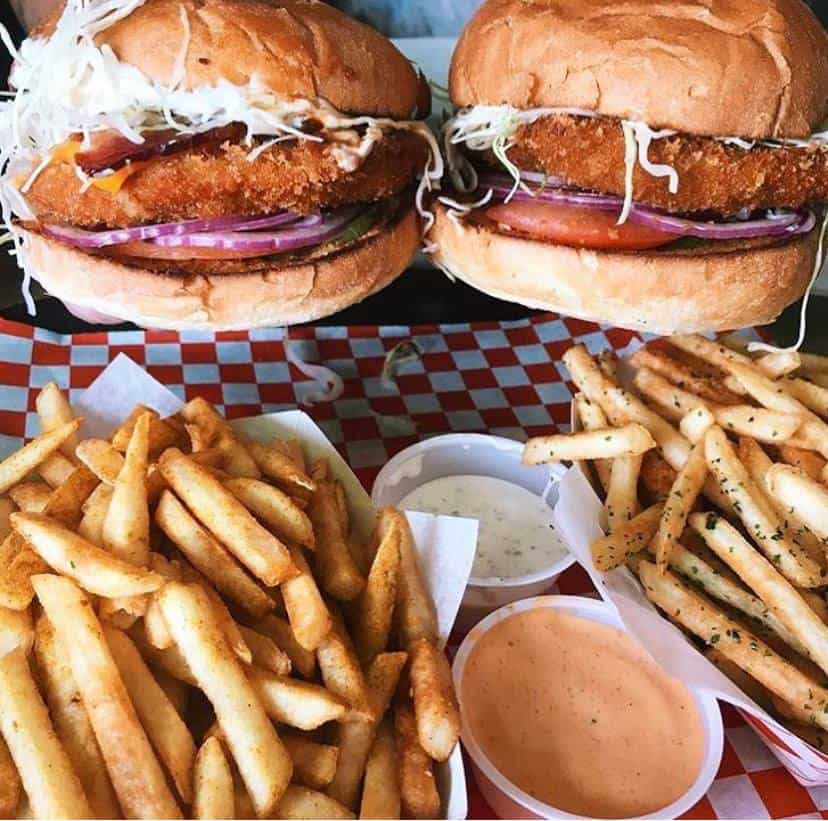 Chicken Nori Burger – Katsu house chicken nori burger is also one of their Best selling items. Their chicken nori burger is made with a grilled chicken patty and you can customize it like single, double, or triple, with white onion, coleslaw, roasted nori, teriyaki sauce regular or spicy assemble in a bun. 
Starters
Katsu house starters have 9 menus to choose from. First on the list is their chizu katsu which is a deep-fried mozzarella cheese coated in breading. They serve it with honey mustard sauce as well.
Next is their karaage, which is actually fried boneless chicken served with wasabi mayo and coleslaw. Another item is their vegan gyoza which is also included in our list of best sellers. Next is their pork chives and gyoza, this is their version of pork and chives gyoza.
Tofu Nori Bites are another option on their starter's menu, this is deep-fried tofu coated in nori. Next is their appetizer platter this one has all the favorites on their appetizer list.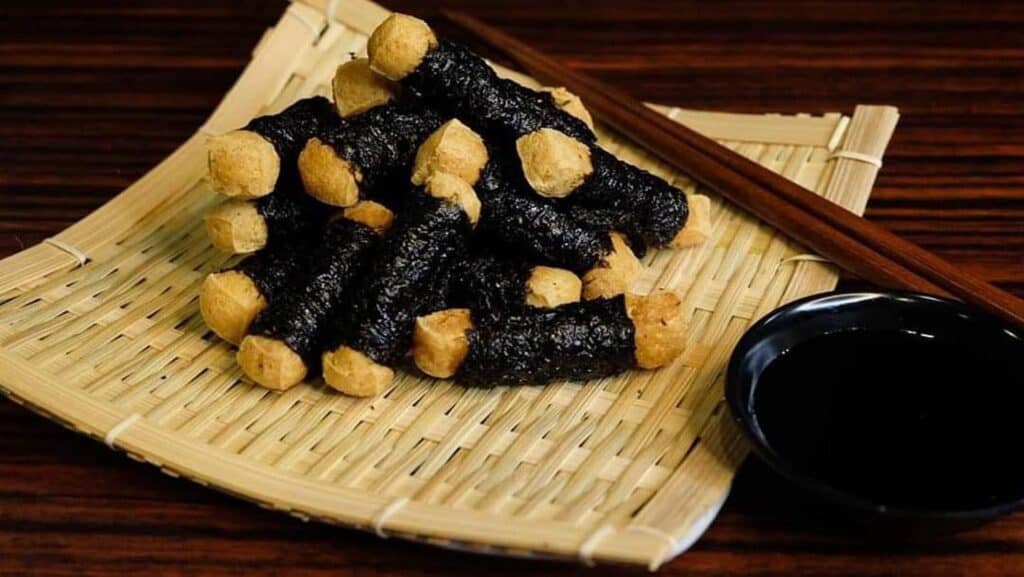 Ebi kani popcorn is next on our list, this is deep-fried shrimp and Kani serve with your choice of sauce. Japanese fries are also included on their starter menu. last but not least is their tempura-style onion rings, this has a unique twist that the usual onion ring and serve with katsu sauce. 
Soups & Salads
The Katsu House boasts an extensive selection of refreshing salads and comforting soups on their menu, catering to a variety of tastes and dietary preferences. Some of their delicious salad offerings include the Kani Salad, featuring crab meat, and the vibrant Summer Salad, brimming with seasonal produce. Additionally, they offer the Chuka Wakame, a delightful seaweed salad that showcases the best of Japanese flavors.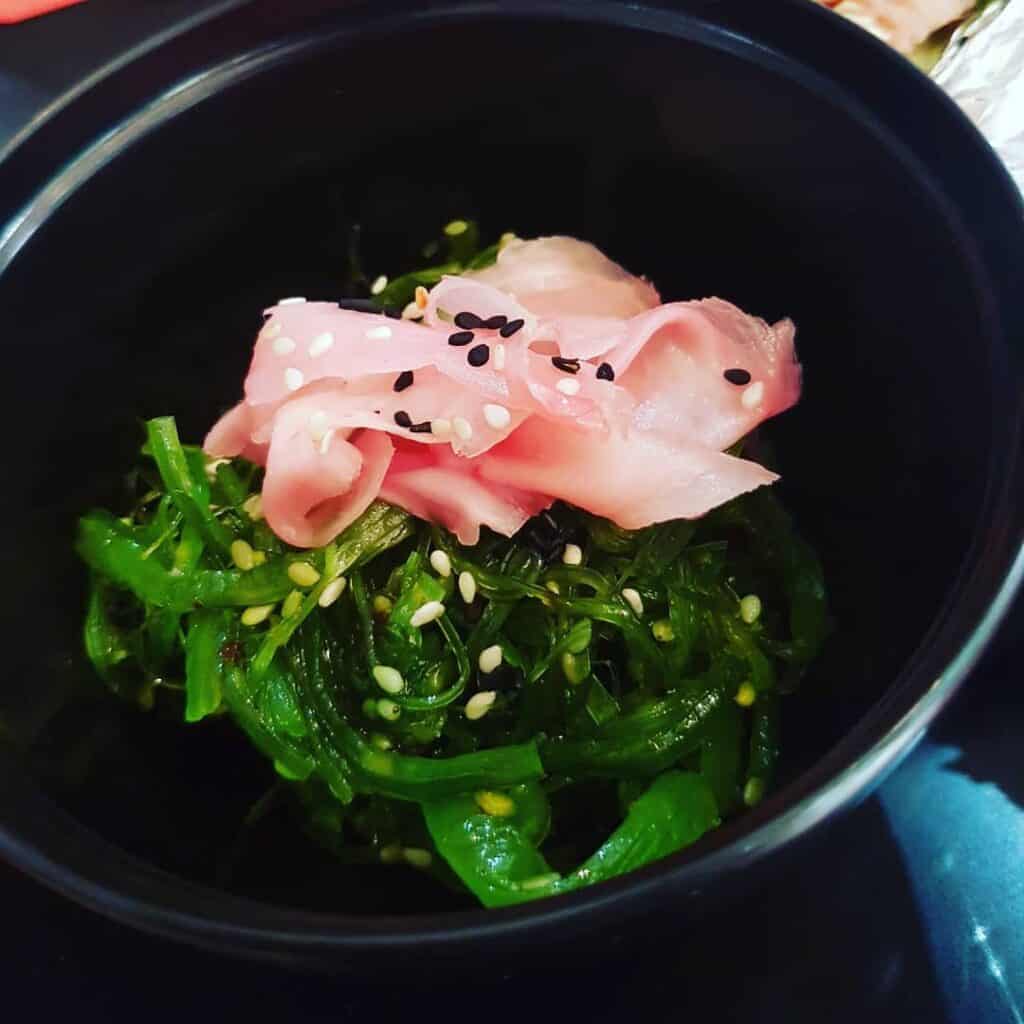 For soup lovers, Katsu House has you covered with both traditional and vegan options. Warm your soul with their Classic Miso Soup, an iconic Japanese staple, or opt for the Vegan Mushroom Miso Soup, a flavorful and hearty choice that caters to plant-based diets. At Katsu House, there's truly something for everyone to enjoy.
Japanese Love Box
The Japanese love box is a bento box first option is their KH vegan love box. The Bento box includes gyoza, a sushi tray, brewed fruit tea, and rio and bento box. Next is their KH classic love box which includes a bento box, 4pcs pork and cheese gyoza, chahan, sushi tray, and brewed fruit tea and Rio. Last but not least is their KH low-carb love box which has a bento box, genki dark choco, cream cheese ebi, and sugar-free brewed fruit tea and shochu. 
Sushi
Katsu House is a Japanese restaurant and it won't be completed without sushi menu. First is their ebi furai sushi rolls this is 12 pcs shrimp rolls drizzled with wasabi mayo. Next is their teriyaki sushi rolls which are 12 pcs teriyaki rolls drizzled with teriyaki sauce and wasabi mayo. Tamago sushi rolls are 12pcs Japanese omelets drizzled with wasabi mayo.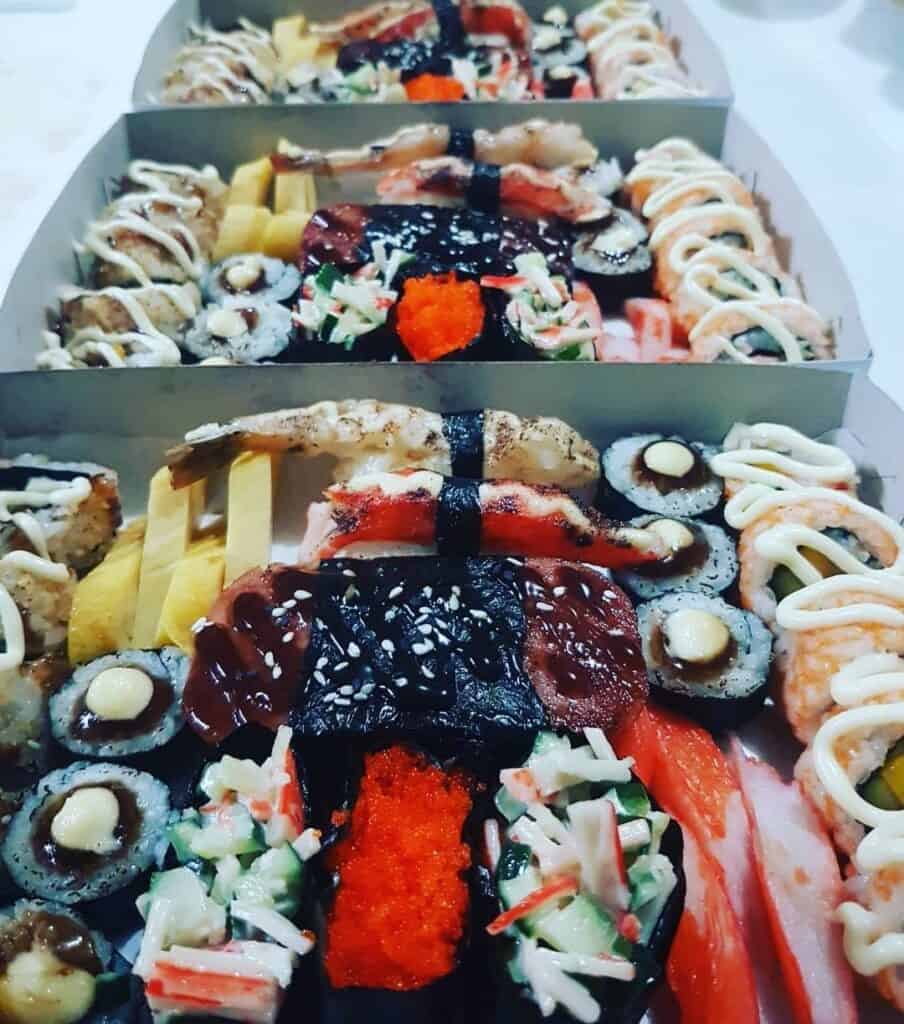 Next on their options is katsu sushi rolls, these 12pcs katsu sushi rolls are drizzled with wasabi mayo and katsu sauce. Spam sushi rolls are a great option if you love spam, this 12-pcs roll is drizzled with teriyaki sauce and wasabi mayo. Next on their sushi list is kani sushi rolls, this is made with crabmeat in a roll drizzled with wasabi mayo.
Another one is their cucumber sushi rolls, this cucumber sushi roll is drizzled with wasabi mayo as well. Last but not least is their wakame sushi rolls, wakame sushi rolls are 12pcs seasoned seaweed sushi rolls served with wasabi mayo. 
Katsu House Menu Delivery
Craving the delectable dishes from Katsu House? Great news! Ordering your favorite Japanese foods online has never been simpler. Katsu House offers a user-friendly online platform where you can effortlessly browse and select your preferred meals. To indulge in these culinary delights, simply visit their delivery page at https://www.katsuhouse.beepit.com/ and start exploring their delicious menus.
Social Media Pages
To stay informed and never miss a beat from their latest updates, be sure to subscribe to their social media accounts. By doing so, you'll receive timely notifications about new posts, and perhaps even exclusive promotions that could provide you with valuable savings. Check out the links below for their official social media profiles, and join the community to stay in the loop:
Facebook: https://www.facebook.com/katsuhouseph/
Instagram: https://www.instagram.com/katsuhouseph/
Twitter: https://twitter.com/katsuhouse
Conclusion
Great place to go if you love Japanese-inspired dishes. Good food and service as well. Katsu House menu has loads of choices from ramen, nigiri, sushi, rice meals, skewers, desserts, and so on. Surely a nice place to go to any time. Their price is very reasonable actually affordable and their place is really clean cozy and customer friendly. Their staff is approachable and professional but friendly. I highly recommend this place if you want to enjoy delicious Japanese inspired dishes without spending too much.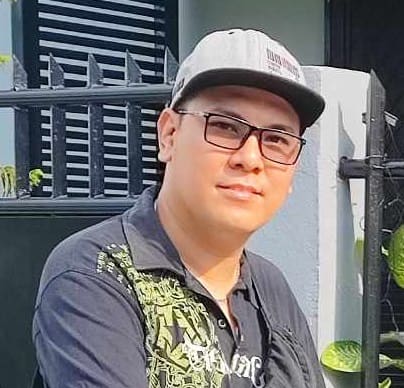 Hi! I'm Nivek Strife, the person who made MenuPH. I'm the one who added most of the popular menus you see on this website, and I really hope you enjoy them! Feel free to check them all out.
Growing up, I was surrounded by lots of tasty foods, like the classic Adobo and the sweet Leche Flan. That love for the many flavors of the Philippines is what got me excited about adding to MenuPH. When I learned how to make websites, I saw the need for a place to show off all the amazing Filipino dishes, and that's how MenuPH started.
MenuPH isn't just a website; it's like a fun journey into food. I've teamed up with famous chefs and found great places all over the Philippines to bring you a bunch of menus that show off the best of Filipino cuisine. Whether you're into the usual dishes or new twists, MenuPH is here to guide you through the rich world of Filipino flavors.
With MenuPH, my aim is to help local businesses, talk about good food choices, and make a group of friends who love food. No matter if you like fancy restaurants or street food, MenuPH has something for you. Come join me on this food adventure as we find great places, taste real flavors, and enjoy the unique food traditions that make the Philippines awesome.