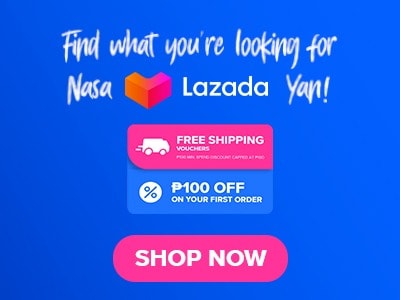 Pizza has become quite famous over time not only in other places but in our country as well. Pizza is one of the favorites among all fast food restaurants in the Philippines. Found a place where you can have all of the best pizza that you are craving and what's great about their pizza is it is cooked in a brick oven. Gino's Brick Oven Pizza menu has a lot of flavors to offer. They have the most delicious flavor of pizza that is available in the market these days. Ever heard of this restaurant? If not then maybe you should read this article to know more about them, their food items, and prices. Let's go!
Below, you'll find the updated list of Gino's Brick Oven Pizza menu prices.
Menu Items
Price (PHP)

Cheese

Cheese burata
285
Truffle burata
405
Mozzarella
285
Extra bread
30

Salad

Burata caprese
470
House salad
225
House salad with burata
500
Summer salad
305
Summer salad with burata
580
Buffalo mozzarella with fig marmalade
485
Strawberry tracciatella
470
Ricotta with fried bread
355
Angelizzas
190

Pizza

Margherita with fresh mozzarella
520
Marinara pizza (no cheese)
305
Margherita pizza
360
Fresh mushroom and truffle burata pizza
455
Four cheese
420
Five cheese pizza
455
Salami pizza
460
Meat pizza
585
Sausage pizza
395
Prosciutto pizza
510
Panna sausage pizza
395
Panna picante pizza
440
Buffalo chicken pizza
470
Bianca verse
410
Rosa bianca pizza
465
Salami bianca pizza
460
Bacon spinach pizza
485
Smoked beef spinach pizza
485
Bacon gouda pizza
445
Mushroom pizza
435
Pesto mushroom pizza
435
Pesto salami pizza
450
Pesto bacon and mushroom pizza
450
SMEGG pizza
530
Bomb pizza
465
Breakfast pizza
580

Pasta

Spaghetti with meatballs
350
Tomato basil pasta
245
Arrabbiata with sausage pasta
340
Bolognese pasta
250
Aglio olio pasta
465
Stuffed chicken pasta
465
Cacio e pepe pasta
260
Butter parmigiano pasta
275
Cherry tomato pasta
320
Mushroom parmigiano pasta
345
Bacon parmigiano pasta
340
Salted egg pasta
275
Carbonara pasta
270
Lemon mushroom pasta
380
Bacon sausage pasta
280
Arrabbiata pasta
255
Pesto pasta
290

Spicy honey

Original spicy honey
460
Extra spicy honey
485

Desserts

Crack pie slice
100
Crack pie whole
790
Chocolate pie slice
120
Chocolate pie whole
940

Extras

Kesong puti
70
Blue cheese
45
Parmigiano reggiano
75
Pecorino Romano
75
Gouda
75
Garlic mushrooms
85
Cherry tomatoes
100
Egg
45
Sausage
100
Bacon
140
Salami milano
150
Salami piccante
150
Anchovies
80
Prosciutto
150

Specialty coffee and drinks

Espresso
115
Americano
130
Machiato
145
Piccolo latte
150
Gibraltar
150
Cafe latte
160
Bottled water
40
Hot chocolate
145
Soft drinks
70
About Gino's Brick Oven Pizza
Gino's Brick Oven Pizza is owned by Filipino entrepreneurs Jutes and Cello Tempo. They named their restaurant after their son. Their pizza is Neopolitan style pizza which is why their pizza is cooked in a brick oven, an old-fashioned way to cook a pizza. Their restaurant was founded in 2012. Nowadays finding a good pizza is really hard but Gino's brick pizza can be considered one of the best contenders for the best pizza that is available in the market. The goal of this pizza store is to provide fresh and delicious Neopolitan pizza that is baked individually in a brick oven, it has a great result since it is made in a brick oven, their pizza has that crispy and chewy texture. Their pizza is also affordable compared with those pizzas that you can order in a fast food place and is definitely delicious.
Gino's Brick Oven Pizza Menu Best Seller
We gather some information from their crews and on the internet to know their best sellers. Here is the list of their best-selling items.
Bianca Verde – This Gino's Brick Oven Pizza menu is one of their best sellers. Their Bianca Verde is made with kesong puti, garlic, basil, arugula, parmesan, ricotta, and olive oil. The arugula and the basil on Bianca Verde made this pizza very aromatic it will stimulate your appetite and try this pizza immediately. It has a thick crust as well but is easy to enjoy. One thing that is also unique about this pizza is it has no sauce but even though it is not made like the other pizza it is very delicious.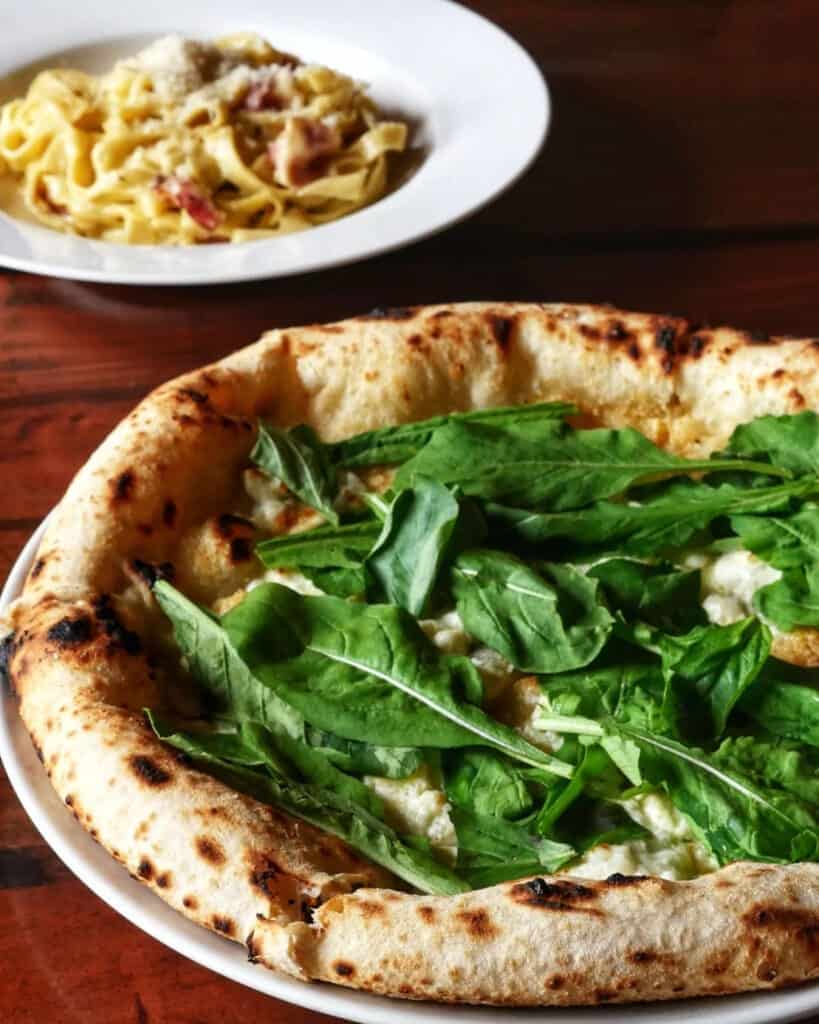 Nuttela Soup – Aside from pizzas they also have other items just like their Nutella soup. So if you're not into pizza or you're looking for a dessert then this menu is the perfect choice for you. It is made with a bowl-shaped crust with warm Nutella sprinkled with hazelnuts. It has a soft crust just perfect to pinch and dip into their delicious soup. The combination of all the ingredients is lovely and heavenly good. Just a friendly reminder don't go without trying their Nutella soup, it is so good.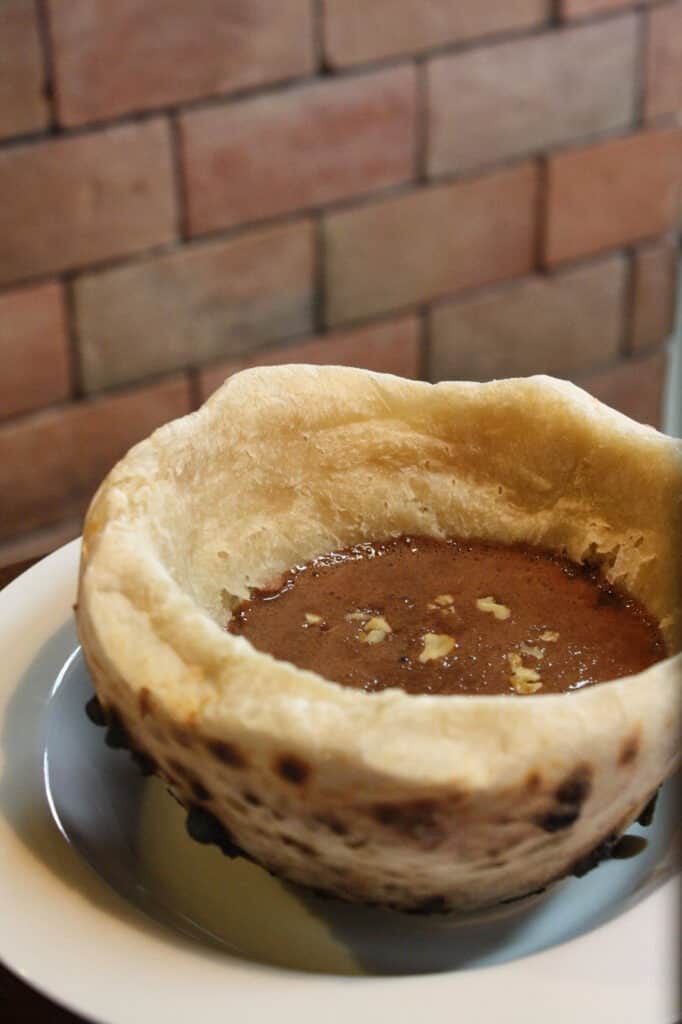 Burrata – This Gino's Brick Oven Pizza menu is soft but not soggy and is made with mozzarella cheese on the outer layer of their burrata, by the way, it also has kesong puti. This is really good with any kind of pizza or pasta and is also best with a drizzle of olive oil. Their burrata is perfect and truly a crowd favorite. 
SMEGG – Gino's Brick Oven Pizza's SMEGG also made it to their best-seller items. These pizza toppings are cream, egg, gouda, mushrooms, and homemade sausages. It has smoky toppings and a very good crust, every bite is really lovely, no wonder that this is included on their best sellers.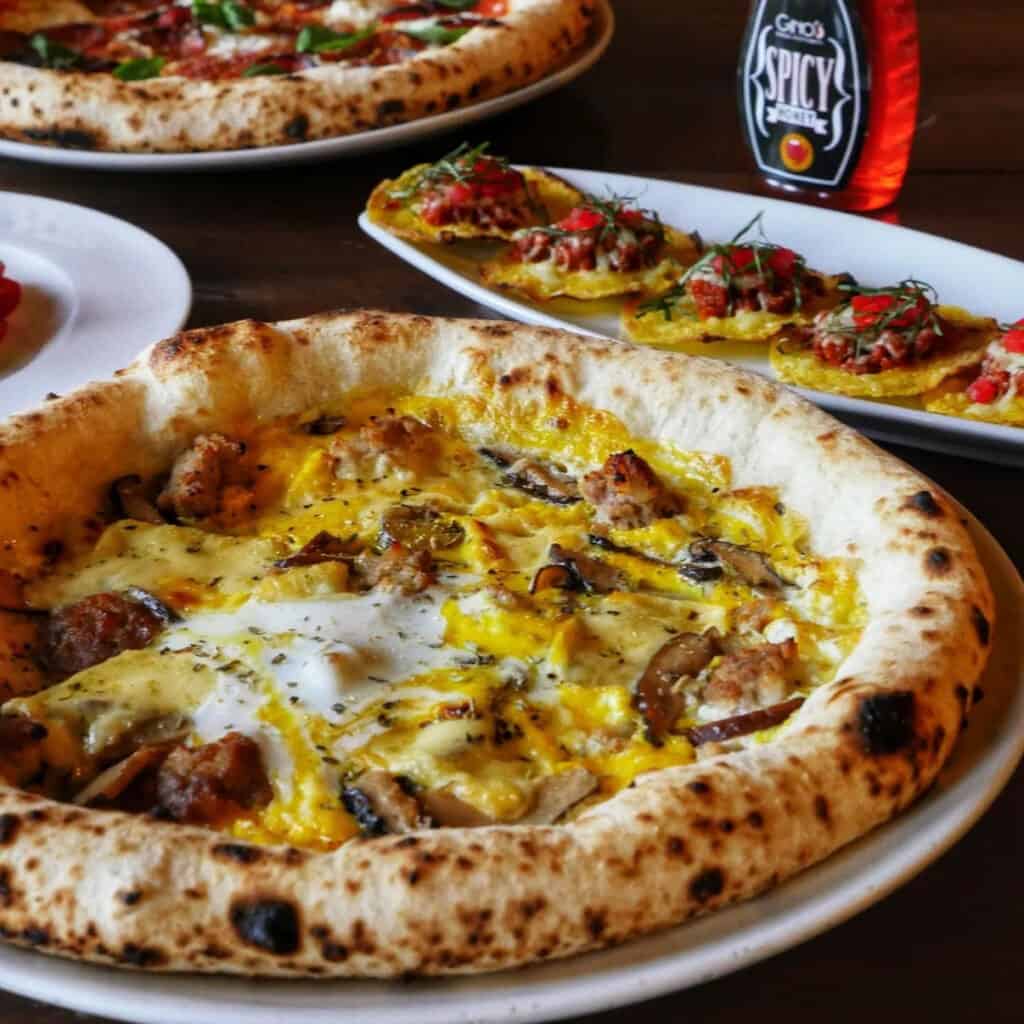 Salted Egg Pasta – it is unusual but Gino Brick oven pizza also serves salted egg pasta. This one is made with fettuccine, salted egg yolk, cream, bacon, and parmigiano reggiano. It's actually my first time trying this kind of pasta but I'm sure ill order this next time that I visit their restaurant because it is really good.
Pizza
When it comes to pizza Gino's brick oven pizza offers a variety of flavors on their pizza menu. From a classic Margherita with fresh mozzarella, marinara pizza, four cheese, salami, meat pizza, sausage pizza, and prosciutto pizza; to their newest flavors like pesto mushroom pizza, SMEGG pizza, and bomb pizza. Aside from those flavors that I mentioned, they have more. Every pizza flavor of Gino's brick oven pizza is deliciously made and really enjoyable. Whether you like meat or cheese or even vegetarian pizza they have it.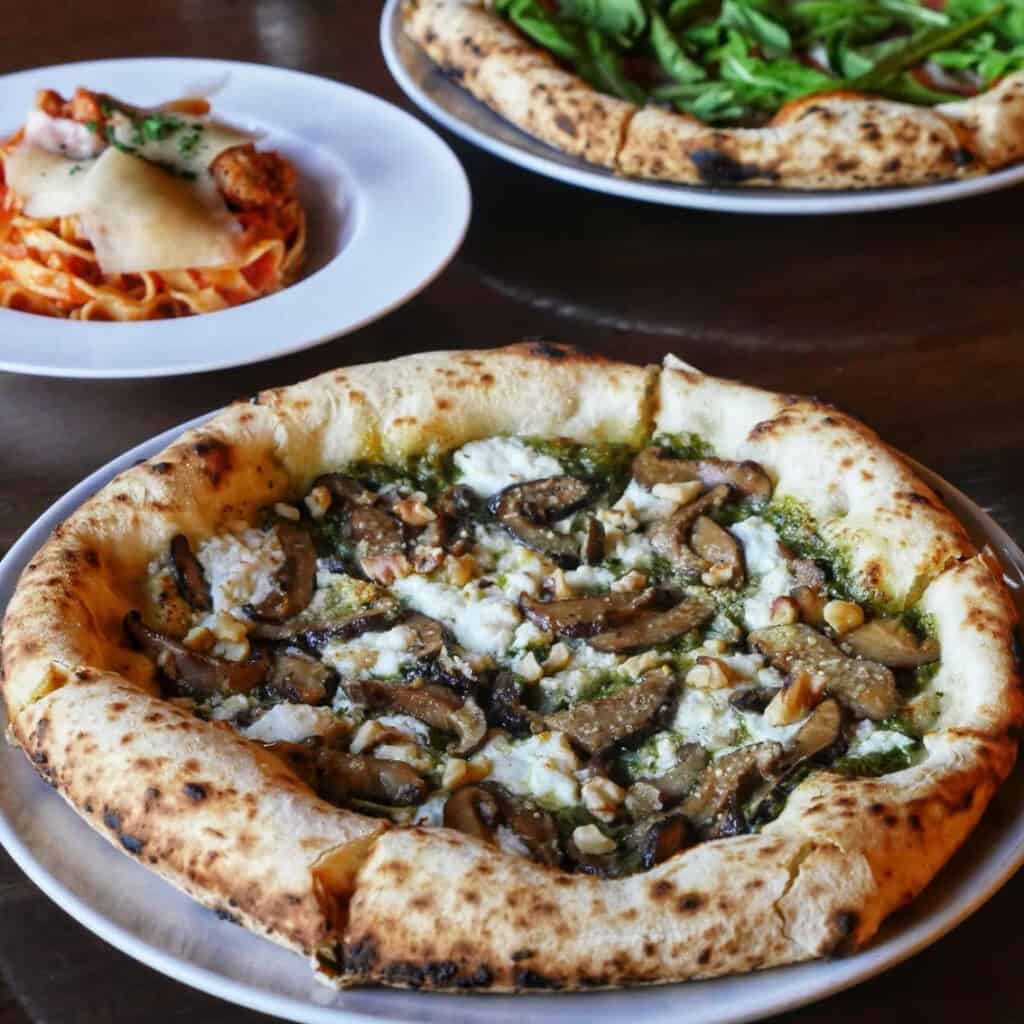 Cheese
The Gino's Brick Oven Pizza has 4 cheese menu options. First, is their Burrata which is made with a lot of cheese. Second, is their Truffle Burrata also has a lot of cheese and really good. The third one is their Mozzarella obviously which is made of cheese. And lastly, their Extra Bread is also made with cheesy ingredients.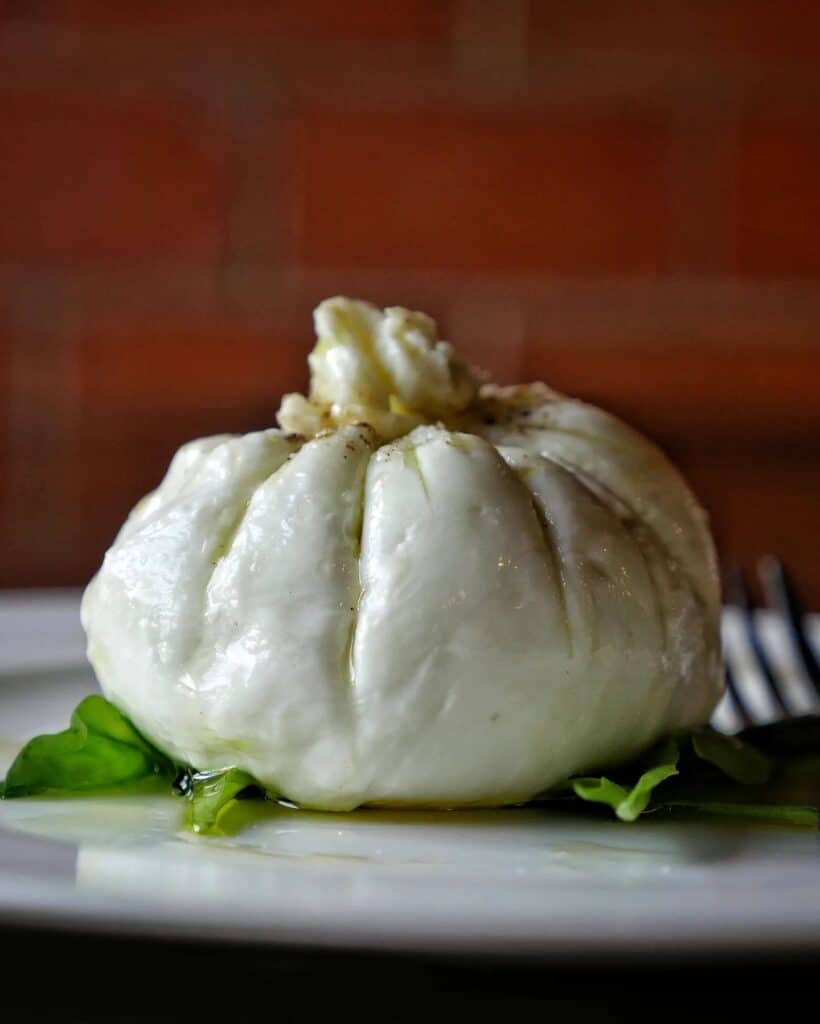 Salad
Gino's brick oven pizza also serves salads, they have 9 salads to choose from, they have burrata caprese, house salad, house salad with burrata, summer salad which is my favorite, summer salad with burrata, buffalo mozzarella with fig marmalade, strawberry stracciatella, ricotta with fried bread, and angelizzas. All of their salads are healthy and delicious.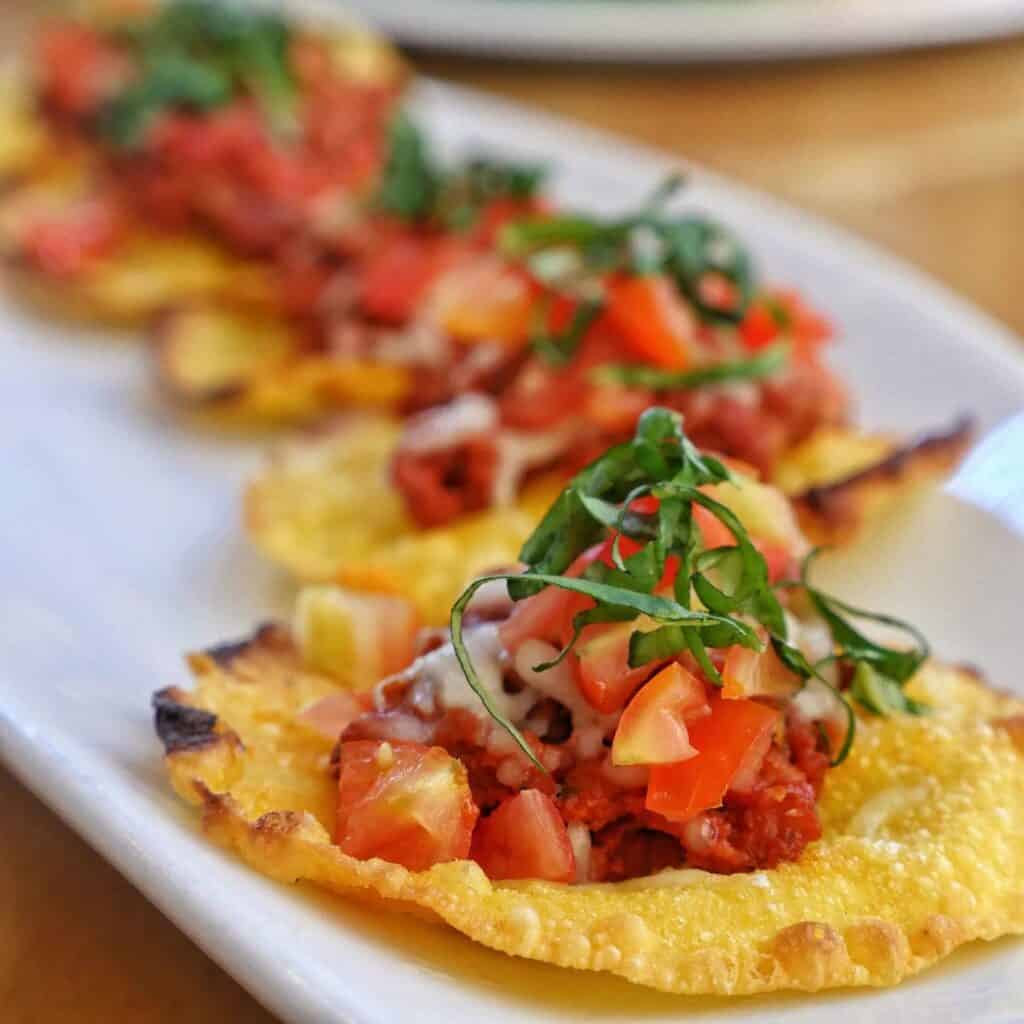 Gino's Brick Oven Pizza Menu Delivery
If you want to order your favorites in their restaurant, no worries since you can call them for your delivery order. Here are the phone numbers of their branches.
Social Media Pages
Get to know more about them by searching them through social media channels. They are actively posting about the latest trends in their restaurant. If you want to look more into it, I highly recommend you follow them through their pages and website in a way to support them. The links are provided below to get you redirected to their pages.
Facebook: https://www.facebook.com/Ginosbrickovenpizza
Instagram: https://www.instagram.com/ginosbrickovenpizza
Website: https://ginosbrickovenpizza.com.ph/order
Conclusion
This is one of the best places to get the best pizza in the metro. Gino's Brick Oven Pizza menu has a lot to offer especially when it comes to pizza. Their place is also customer friendly clean and very accommodating. Their service crews are polite and also friendly and the great thing is their service is fast. One of the best places to go if you are craving pizza or pasta. I can assure you guys that this place has delicious items and for sure you'll come back after the first time trying their place so for every foodie out there go ahead and try it.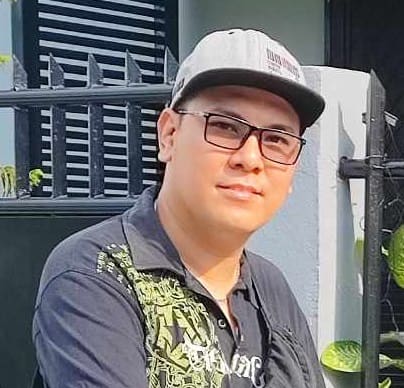 Hi! I'm Nivek Strife, the person who made MenuPH. I'm the one who added most of the popular menus you see on this website, and I really hope you enjoy them! Feel free to check them all out.
Growing up, I was surrounded by lots of tasty foods, like the classic Adobo and the sweet Leche Flan. That love for the many flavors of the Philippines is what got me excited about adding to MenuPH. When I learned how to make websites, I saw the need for a place to show off all the amazing Filipino dishes, and that's how MenuPH started.
MenuPH isn't just a website; it's like a fun journey into food. I've teamed up with famous chefs and found great places all over the Philippines to bring you a bunch of menus that show off the best of Filipino cuisine. Whether you're into the usual dishes or new twists, MenuPH is here to guide you through the rich world of Filipino flavors.
With MenuPH, my aim is to help local businesses, talk about good food choices, and make a group of friends who love food. No matter if you like fancy restaurants or street food, MenuPH has something for you. Come join me on this food adventure as we find great places, taste real flavors, and enjoy the unique food traditions that make the Philippines awesome.