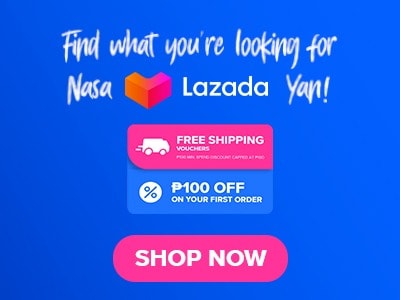 Chocolate is one of the most popular desserts whether you're young or young at heart, but have you heard about a restaurant that offers delicious foods with tablea or cacao touch? Interesting right? Found a place that does exactly what I described. Have you heard about the menu of Tsokolateria? If not, then maybe you should check this article to find out more about this interesting restaurant. Let's get to know them more, their food and price. Without further ado let's start!
Below, you'll find the updated list of Tsokolateria menu prices.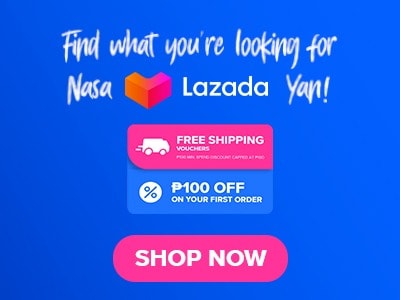 Menu Items
Price (PHP)

Appetizer

Longganisa fundido
365
Pugon baked brie with adobo flakes
420
Native chili tsoko con carne
320
Sizzling molten quezo with garlic cacao
260
Homemade crispy bacon tsoko
360

Soup and salad

Wild mushroom soup
220
Pinoy Caprese
275
Quezong puti cream soup
220
Tsokolateria salad
270

Bruschetta pandesal

Adobo flakes
250
Homemade spicy sardines
210
Oh my gulay
200
Bacon belly
295
Pinoy Caprese
280
Croque- pande - madame
295
Calamares
275
Panini platter
840
Strawberry panini
280

Pasta locale

Malunggay pesto creme and tsoko garlic
280
Spicy tuyo with butter cacao
295
Longganisa pasta with tablea nibs
345
Truffle carbonara with white choco shavings
390

All time favorites

Bacon lechon kawali cebu style
320
Adobo overload
340
Humba tocino with cacao paste
340
Salpcao tapa
350
Local artisanal sausages
320
Smoked bangus, dangit, chicharon and garlic cacao
295

Native Risotto

Black risotto and a dash of tablea powder
380
Aligue risotto with tsoko shavings
330
Mushroom risotto with tsoko vinaigrette
330

Pancake soufflé

Bibingka at itlog na maalat condesada
295
Fruit medley
295
Ube at macapuno
325
Calamansi
250
Tablea
275
Yeam
230

Churos waffle

Original
290
Strawberries overload
340
Banana, peanut butter, casuy and chocnut
295
Salad greens, adobo flakes and eggs
320
House bacon belly, arugula and eggs
280
Tablea waffle
170

Tsokolate sweetness

Tablea champorado
220
Homemade Ensaymada
350
Pinoy tsokolate ah fondue
300

Tsoko bat list

Peanut butter batirol martini
260
Tsokolatera sake martini
270
Sake with lime and cacao nibs
280
Tsoko sili martini
250

Our tablea house blend

Tsokolate ah
195
Tsokolate eh
195
Tsoko-nut
220
Tsokolate ah! At lechon chicharon dish
280
Tsoko mallow
250
Sili labuyo tsoko blend
160
Frozen - hot tsoko
240
Tsoko - barako
180
Tostadong yema
240
Dulce de leche
260

Our coffe blend

Espresso
170
Baguio brew tsoko barakko
140
Mocha
180

Bar list

Homemade iced tea
95
Soda in can
60
Mineral water
55
About Tsokolateria
Tsokolateria was founded by Happy Ongpauco Tiu which is also a big part of Happy Concept Groups. She is also behind the restaurants like Boutique Bed and breakfast and Pamana restaurant; I am surprised that she came from the family that brought us Barrio Fiesta. This Tsokolateria restaurant is one of the most well-known places in Tagaytay due to its delicious foods with a hint of chocolate. At first, hearing their restaurant's name I thought that they are a type of restaurant that serves various desserts made with chocolate but I was wrong. Tsokolateria is located in an upland place with Taal view, aside from their Tagaytay location they also have one in Baguio. They have al fresco dining area which is a great way to experience great food and good scenery as well but in the evening their place turns into a romantic place that you will surely appreciate. 
Tsokolateria Menu Best Seller
We gather all of our researched information to give you the list of Tsokolateria menu best sellers. Those on the list are top-selling items that are quite popular among their customers. 
Tsoko Mallows – Tsokolateria's tsoko mallows is basically a hot chocolate drink that is topped with marshmallows, it blends with the hot chocolate because it melts but it only adds great flavor to the hot drink. You can have this for 220 PHP only. This one is perfect for the cold weather of their location and best enjoy with any pastries that are also available in their store.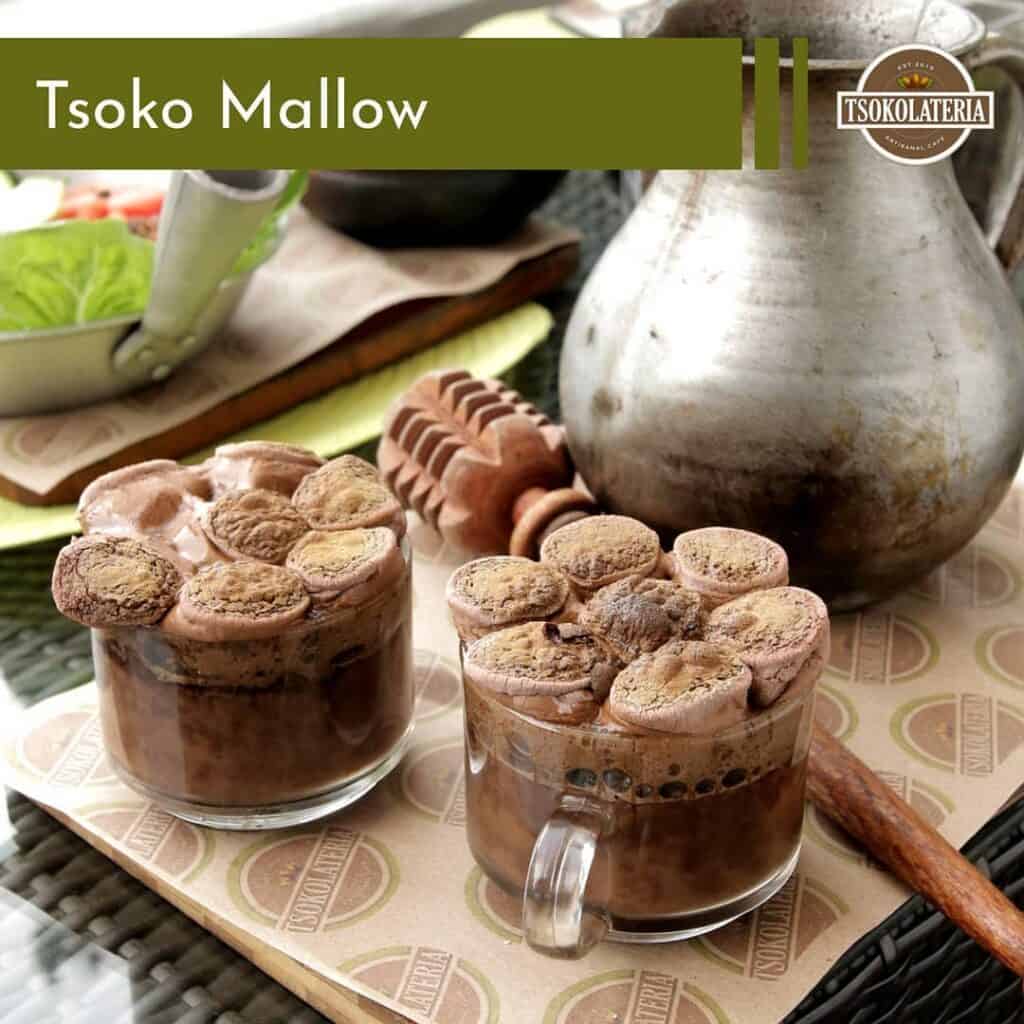 Pugon Baked Bree with Adobo Flakes – Their Pugon baked bree is made with soft and delicious baked bree topped with jam which I think is guava and some adobo flakes that are crispy and delicious as well. You can get their pugon baked bree for only 280 PHP. You can also partner this one with hot drinks like hot chocolate. The slight saltiness from the adobo flakes and the sweetness of the hot choco really goes well.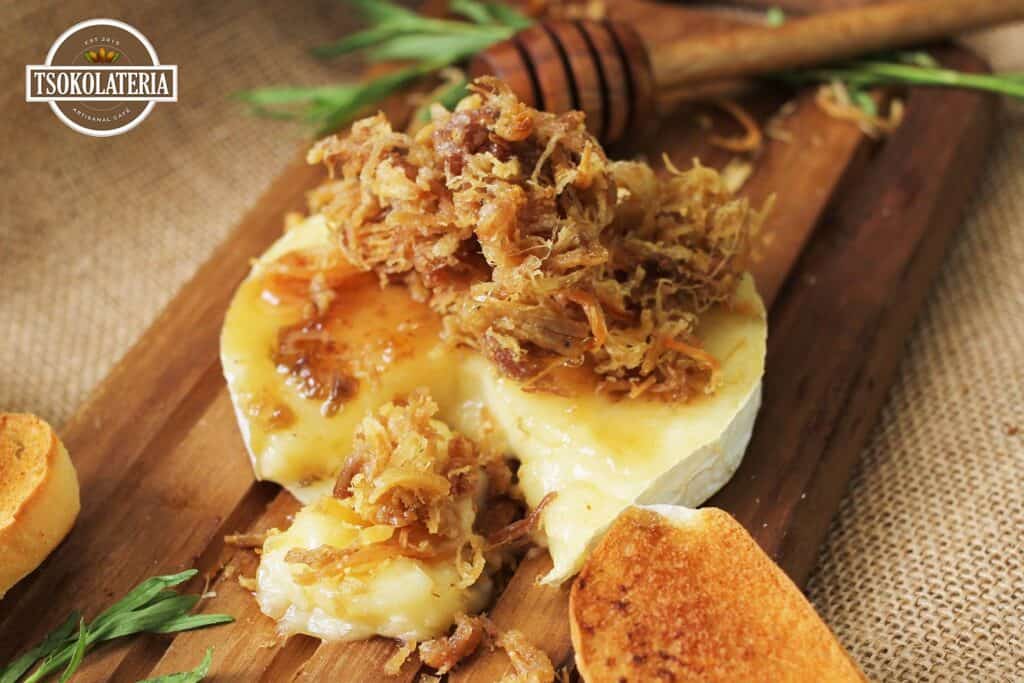 Longganisa Fundido – The Longganisa fundido of Tsokolateria is made with Baguio's Longganisang hubad, cacao bits, tomatoes, caramelized onions, and melted local cheese. The Longganisa and melted cheese combination is heavenly good. I like this and I can recommend that you try this with toasted bread for a better experience. This one is also relatively cheap; you can have this for only 280 PHP only. 
Native Chili Tsoko con Carne – The native chili con carne of Tsokolateria is made with chili con carne with a twist because it is infused with tsokolate. Sounds sweet right but it's not. They also put green chilies the ones that are used for sinigang, aglio olio then served with fresh kamote and potato fries from Baguio. Actually, this is the first time that I ever tried a dish like this and it's amazing, it is delicious to be fair. Maybe you should try this one yourself to understand what I'm talking about. You can have this for only 280 PHP. 
Sizzling Molten Quezo with Garlic Cacao – Tsokolateria's sizzling molten quezo with garlic cacao is made with kesong puti, a Filipino cheese that is so creamy and not too salty. This Tsokolateria menu also has camembert, quezo de bola, the ones that are anywhere during holidays, fresh salsa, some dashes of olive oil, and garlic cacao. You can have this for 290 PHP only and they also serve this with native tsoko honey and their version of pandesal. This one is good I swear.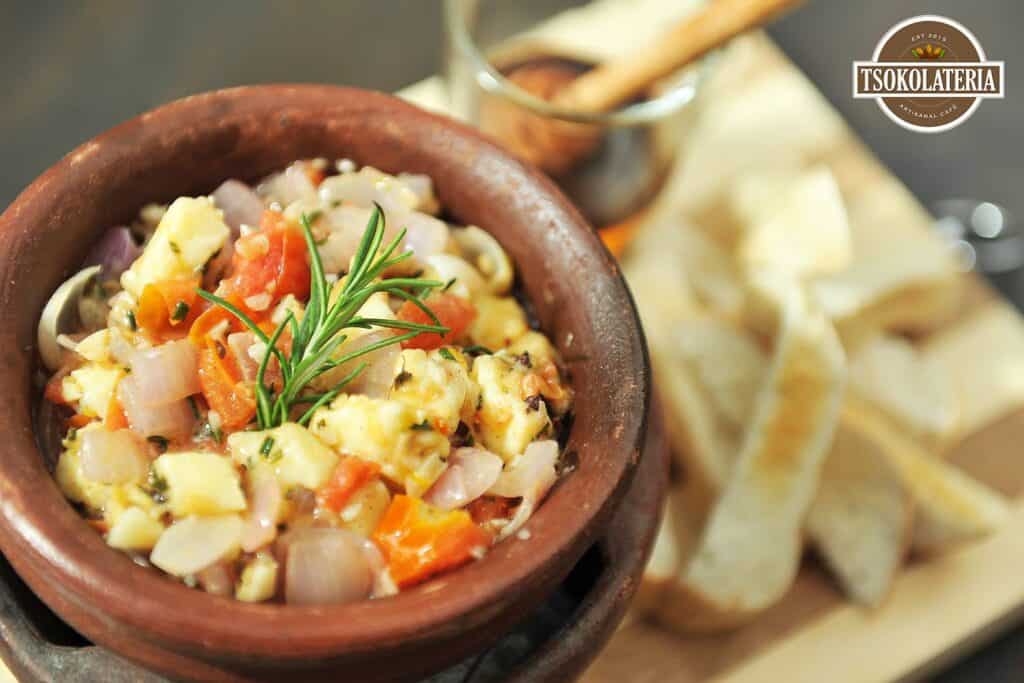 Tsokolateria Menu Appetizer
The Tsokolateria appetizer has 5 selections. The first one is their Longganisa fundido which is also included in their bestsellers. The Pugon baked bree which I highly recommend with hot chocolate. Their Native chili tsoko con carne that really goes well with kamote fries; their Sizzling molten quezo with garlic cacao that I highly recommend for cheese lovers. And, lastly, their homemade crispy bacon tsoko is made with crispy bacon and then dipped into chocolate syrup. 
Bruschetta Pandesal
Their menu of bruschetta pandesal has 9 options. Included on the list are Adobo flakes which we all know that this one is adobo infused, homemade spicy sardines, oh my gulay for veggie lovers to try, bacon belly my favorite among their bruschetta pandesal variety, pinoy caprese a must try, croque-pande-madame which is pandesal with bacon and melted cheeses. Calamares I haven't tried this one but they say it's a good, panini platter that is good for sharing and a strawberry panini that you should order if you're going with kids. 
Tsokolateria Native Risotto Menu
Tsokolateria's native risotto menu has 3 delicious options. The first one is their black risotto and a dash of tablea powder, this one's color is black because of the squid's ink this risotto is colored a bit black they also put coconut cream and tablea powder to add flavor. Next is their aligue risotto with tsoko shavings this one is made with garlic, aligue, coconut cream, white tsoko shavings, and lemon. Another dish on their native risotto menu, is their mushroom risotto with tsoko vinaigrette. This one is made with cream, mushrooms, tsoko vinaigrette, quezong puti and quezo de bola, this cheesy risotto is recommended for cheese lovers as well.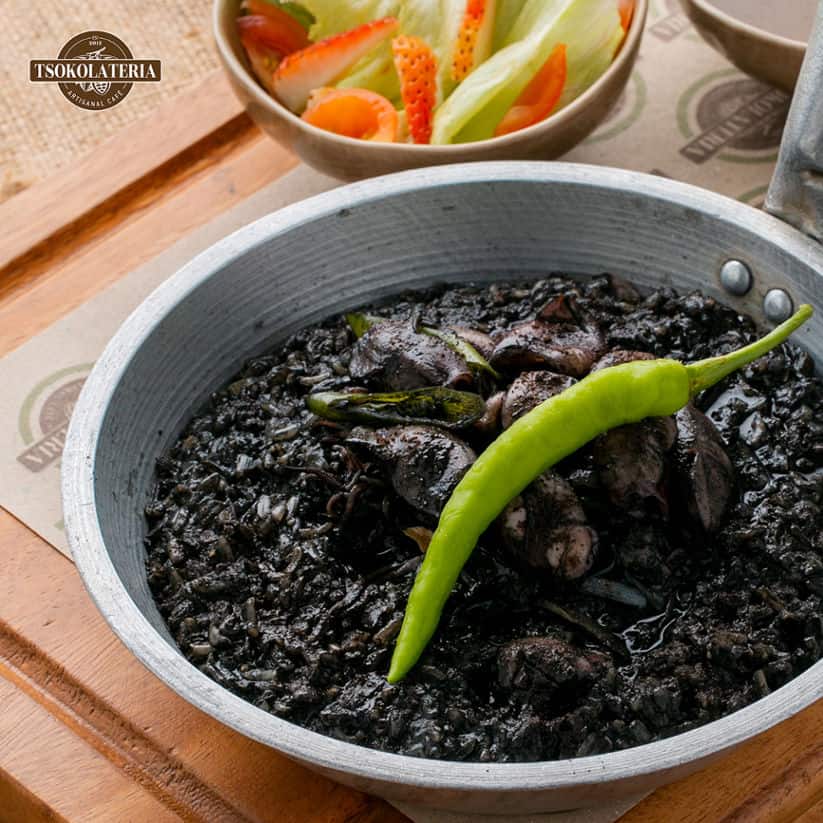 Pancake Souffle
The Tsokolateria have 6 options on their pancake souffle menu; the first one is their Bibingka at itlog na maalat condensada, if you're into sweets. Next is the Fruit medley which is made with fruits that are available in the market. They also have Ube macapuno, Calamansi, table, and Yema if you want to explore other flavors.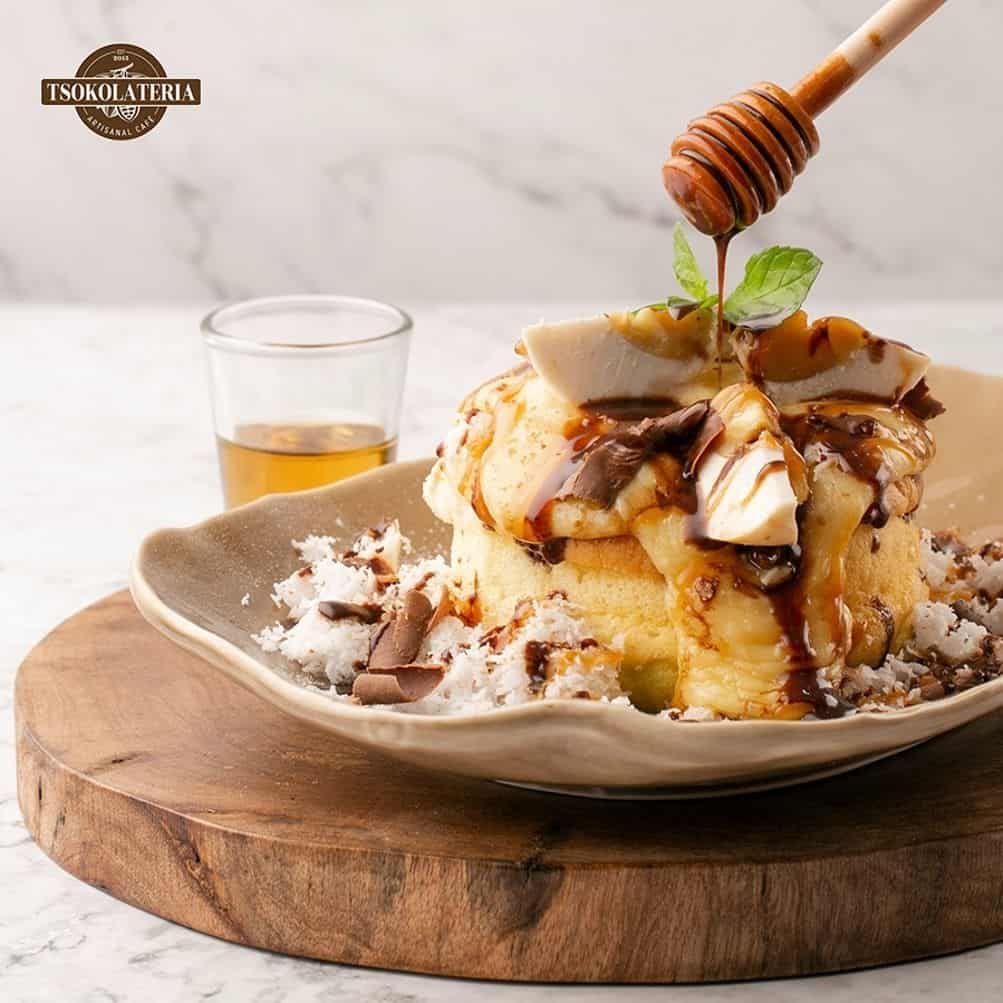 Tsokolate Sweetness
Tsokolate sweetness menu of Tsokolateria is for the sweet tooth, they have 3 options to choose from. The first one is Tablea champorado which is cooked in an old-fashioned way; this is actually mountain rice and tablea extracted from cacao fruits. They also serve this with chicharon, adobo flakes, or fish chips. Next is their homemade ensaymada, on their homemade ensaymada they have 3 flavors to choose from which are tsoko nut, banana con choco and quezo de bola and tsokolate jam. Last but not least is their pinoy tsokolate ah fondue and it also has varieties like churos bites, tablea mallows, fruits in season, and crispy choco balls. 
Tsoko Bar List
On their tsoko bar list, you'll get to enjoy alcoholic drinks with a twist of chocolate. They have 4 drinks to choose from and those peanut butter batirol martini, tsokolateria sake martini, sake with lime and cacao nibs, and lastly their tsoko sili martini if you are adventurous. 
Tsokolateria Menu Delivery
If you want to order your favorite Tsokolateria food items you may call 09273236513 if you are located around the Tagaytay area, but if you're in Manila great news since they have a branch in BGC so you can order thru your favorite courier like food panda and others courier offering same services. If you're in Baguio you can also order just like if you're in Manila for a faster transaction. Please just take note that the availability of the products depends upon your location. 
Talk to Tsokolateria PH Staff
Craving a sweet escape? Tsokolateria is the perfect destination for chocolate lovers! Whether you want to make a reservation or check out their menu, simply message them on their social media pages and their friendly staff will assist you. Don't forget to follow and like their pages to stay updated on their latest offerings, events, and promotions. Support this amazing restaurant by sharing your dining experiences and inviting your friends and family to visit. Indulge in the heavenly taste of their chocolate creations and connect with their online community now!
Facebook: https://www.facebook.com/tsokolateria
Instagram: https://www.instagram.com/tsokolateria/
Website: https://happyconceptgroup.com/index.html
Conclusion
A great place to go if you're a chocolate lover and want to try different dishes made with cacao. This very innovative restaurant is truly amazing not just with food but also in service. It's a cozy place, very relaxing and clean, I like their place to be fair, it's comfortable and customer friendly. The crew, staff, and everyone in their restaurant is polite, friendly, fast, and easy to talk to. I highly recommend that you guys should try their hot drinks its awesome I swear. Foodies try it for yourself, it's worth it.