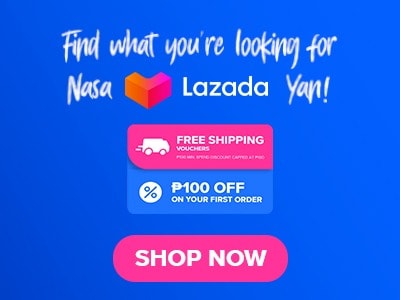 Tired of the typical fast food and other restaurant and still looking for a place where you can enjoy food that is a bit different than usual? Have you found yourself craving a steak and doesn't know where to get the best-tasting western-style steak? Look no more I got you. I found a perfect place for you. They serve American cuisine just perfect for someone who's craving steak and other yummy goodness. Have you ever heard of Outback Steakhouse? If not and you're looking for a special place to go with your family please have time to read this article because this might be interesting for you. Let us talk about the foods of the Outback Steakhouse menu and what they offer, their best-tasting steaks, and a little bit more about them. Let's start discussing it without any further.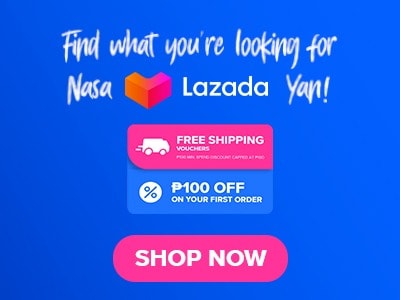 Menu Items
Price (PHP)

Kids Menu

Kids chicken finggers
259
Kids fish and chips
259
Kids fettuccine
259
Kids burger
259

Burgers and handhelds

Spicy crispy chicken sandwich
425
Fish tacos
379
Aussie chicken tacos
399
Steak tacos
529
Outback burger
499
Bacon cheeseburger
549
Typhoon burger
589

Specialty cuts and combos

Black pepper steak bites
749
Beef tip with mushroom
749
Toowoomba topped sirloin
1249
Bacon wrapped fillet
1349
Black peppercorn crusted ribeye
1749

Ribs and chops

Grilled pork chops
699
Baby back ribs
1349
Baby back ribs and alice spring chicken
999
Baby back ribs and sirloin
1549

Add ons

Peppercorn sauce
49
Grilled onion
99
Toowoomba shrimp
279
Shrimp scampi
279
Grilled shrimp
279

Signature steak

Outback special
1199
New york strip
1499
Victoria's fillet
1499
Ribeye
1749
Seasoned and seared prime rib
1999

Pasta

Seafood pasta
549
No bales pasta
569
Steak pasta
529
Toowoomba pasta
549

Chicken and seafoods

Chicken on the barbie
499
Alice spring chicken
629
Fish and chips
449
Grilled fish marsala
399
Scampi topped grilled fish
549
Grilled salmon
849

Salad and soup

Aussie chicken cobb salad
529
Crispy parmesan shrimp salad
589
Signature soup
199
Signature side salad
249

Aussie-tizzers

Typhoon bloom
399
Crispy fried calamari
379
Spinach artichoke dip
399
Crispy volcano shrimp
399
Aussie cheese fries
499
BBQ pulled pork fries
529
Kookaburra wings
549
Alice spring chicken quesadilla
529
Appetizer platter
649

Desserts

Creme brûlée
199
Sugar free espresso panna cotta
199
Cheesecake
299
Chocolate thunder from down under
349

Beverages

Flavored iced tea
149
Smoothies
169
Milkshake
169
Cherry limeade
169
Coco berry smoothie
169
Sparkling citrus cooler
169
Flavored lemonades
189
Barrier reef punch
189
San Miguel light
119
San Miguel pale pilsen
119
San Miguel super dry
149
San Miguel cerveza negra
149
San Miguel premium all malt
149
Heineken
149
Asahi
169
Tiger
119
Budwiser
199
Becks
199
Corona
209
Stella artois
199

Specialty cocktails

Classic steakhouse martini
229
Apple martini
259
Classic mojito
259
Strawberry mojito
299
Strawberry basil lemonade
279
New south wales sangria
279
Gold coast rita
269
Top shelf margarita
329
The wallaby darned
279
Long island iced tea
279
About Outback Steakhouse
This casual dining restaurant is an Australian-themed restaurant serving American cuisine. They are currently based in Tampa Florida. Founded by Bob Basham, Chris Sullivan, Tim Gannon, and Trudy Cooper in 1988. Canadian Outback Steakhouse restaurants began in 1996 in places in Ontario however in March 2009 Canadian Outback Steakhouse closed their location in Ontario a province of Canada but in June after three short months, they opened a new branch of their restaurant located in Niagra Falls, Ontario.
In 2011 they opened branches in the United Kingdom, their signature Outback food item is the blooming onion and it is really delicious, especially their sauce which is a combination of mayonnaise and horseradish sauce. Nowadays they already have 1319 locations nationwide and serve various countries like Malaysia, Brasil, Chile, the Philippines, the united states, Australia, Canada, South Korea, and others countries.
Outback Steakhouse Menu Best Seller
Here is the list of Outback Steakhouse menu best items that you should try.
Blooming Onion – This is actually their signature item. And this is the top item on their favorite list when it comes to appetizers. Made with large onion dipped into a special batter fried until golden and then covered with spices like paprika, garlic powder, and other special spices. It also comes with a special sauce that is made with mayonnaise, ketchup, and other seasonings. A great way to start a fantastic dining experience. Also great with beer if you're going to get this for takeaway.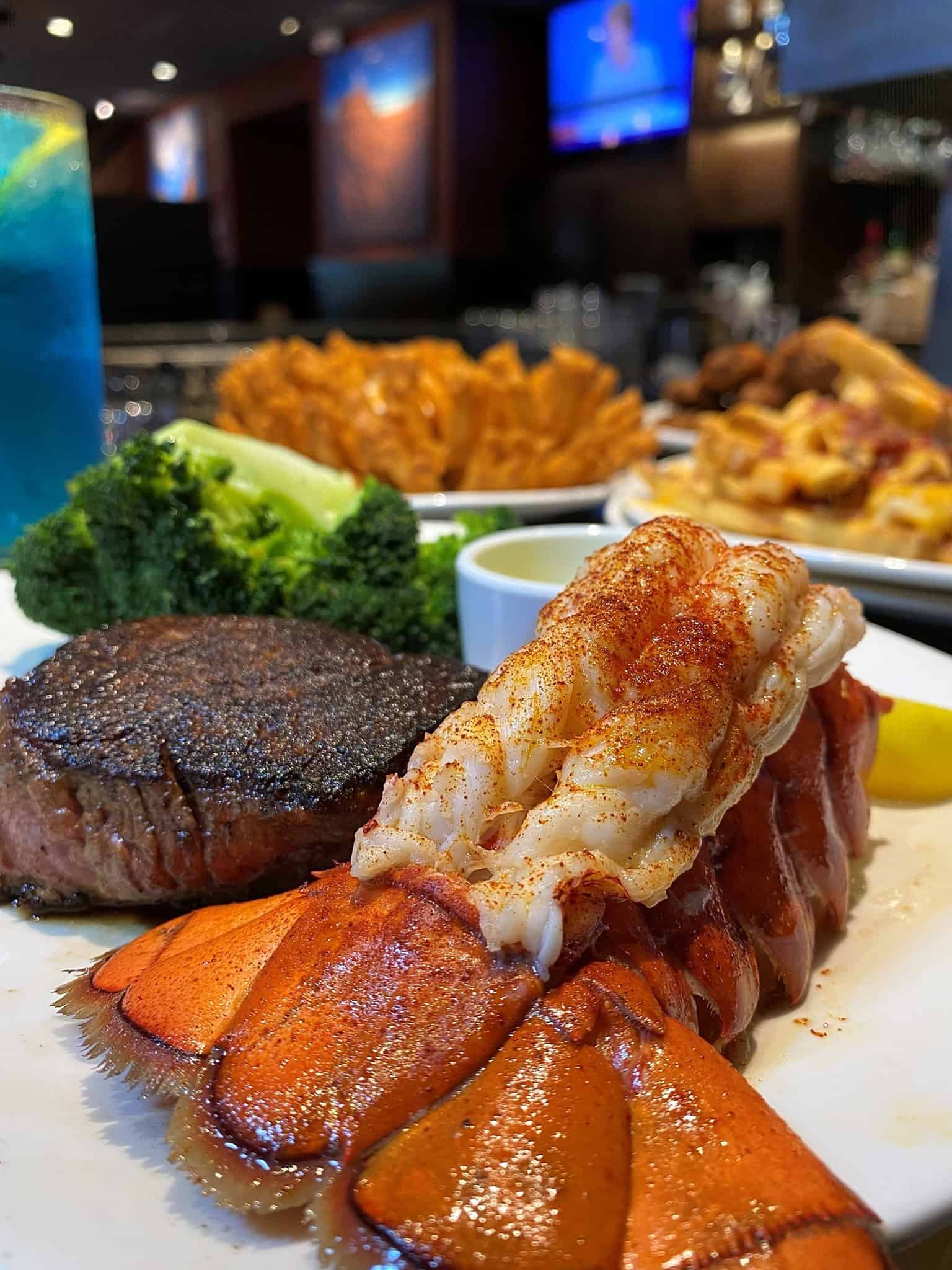 Victoria's filet with Lobster Tails – Talking about two in one, you'll get to enjoy a delicious slice of beef at the same time a lobster tail. Isn't that amazing? Also comes with two sides, you'll get to choose from baked potato with butter, sour cream, cheese, bacon, or chives. Other option for sides includes caesar salad, seasoned rice, Mac & cheese, Aussie fries, or baked potato soup. You can also pair it with your favorite drinks like lemonade or iced tea. This Outback Steakhouse menu is a must-try for those who can't decide whether they like beef or seafood.
Chocolate Thunder from Down Under – Here comes the dessert that will surely satisfy the sweet tooth in you. Made with a brownie with pecan then topped with vanilla ice cream and whipped cream, then finally designed with chocolate shavings and chocolate sauce. A marvelous way to enjoy a dessert after the main course. Forget about diet for this dessert enjoy it while we still can, we only live once right?
Grilled Chicken on the Barbie – This Outback Steakhouse menu is actually a chicken breast seasoned and grilled. Served with mashed potatoes and special sauce. But you can choose steamed vegetables instead if you don't want mashed potatoes. Actually one of the most healthy meals on their menu so for those who are counting calories, this is the best choice for you.
Seared Peppered Ahi – Ahi tuna is a great alternative if you prefer fish instead of beef or seafood. It is seared on the outside and raw on the inside, seasoned with garlic powder and pepper, and served with wasabi, ginger soy sauce, and green onions. Perfect for someone who's looking for a lighter meal. If you're interested in trying raw fish in Outback Steakhouse this is the perfect choice for you.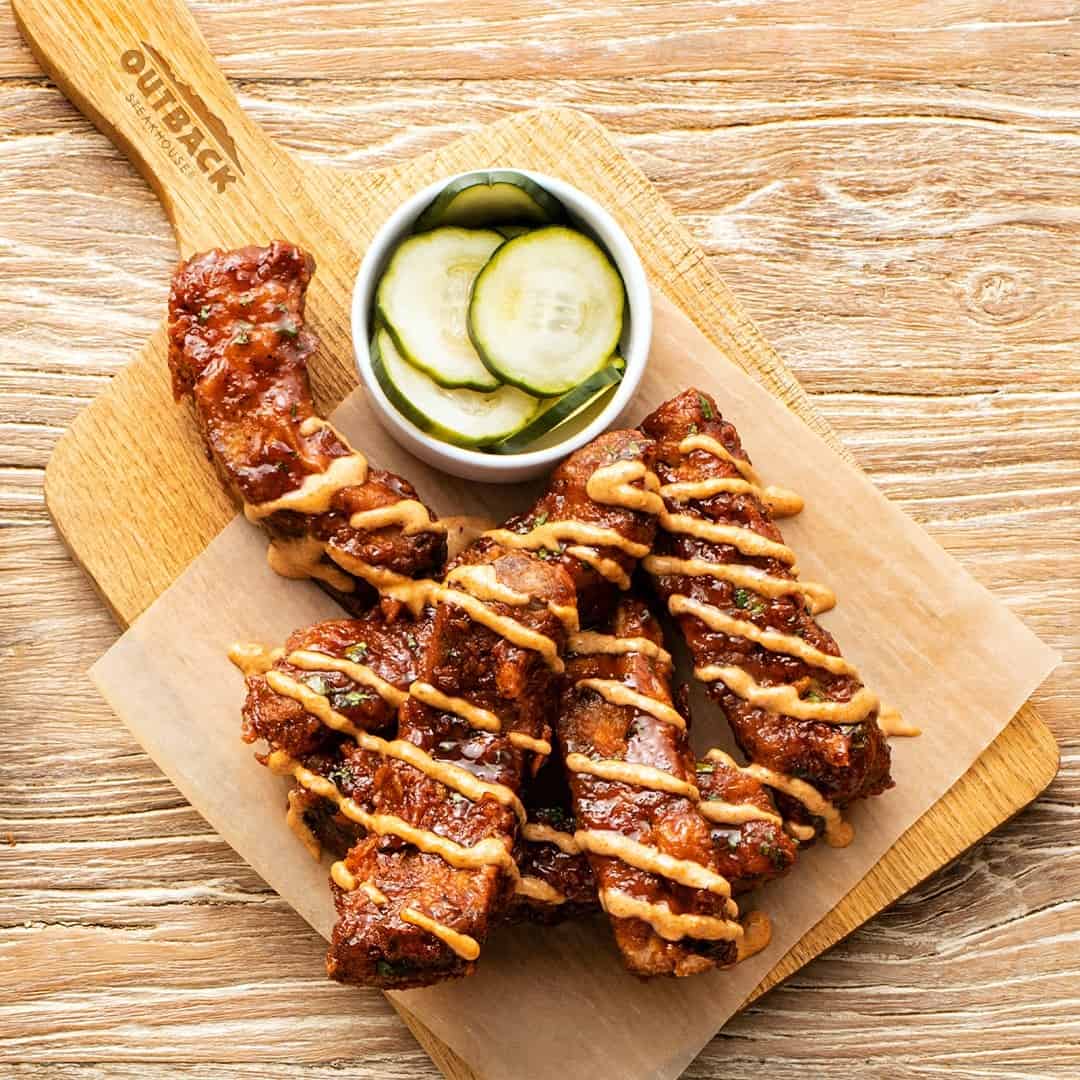 Baby Back Ribs – Smoked beef brushed with barbecue sauce. This tasty portion of meat will become your favorite once you tasted it. Sauce made with seasonings that enhances the flavor of their baby back ribs. Comes with sides where you can choose from seasoned rice or a house salad. And by the way, you can choose from 11 different dressings to enjoy with the house salad. This one is actually my favorite, meat is really tender you can cut it without using a knife, and the flavor is really good.
Blue Cheese Pecan Chopped Salad – Want some healthy salad? Then order their blue cheese pecan chopped salad. Made with blue cheese bits, red cabbage, shredded carrots, cinnamon pecans, green onions, and blue cheese vinaigrette. This healthy salad is so refreshing and made with the freshest ingredients. Trying to lose some weight? This is highly recommended for you.
Outback Steakhouse Philippines Promo
Of course, Outback Steakhouse offers different promos depending on the location and occasion. To be updated on their latest promotions you should follow their social media accounts.
Outback Steakhouse Menu Delivery
Upon checking on the internet unfortunately Outback Steakhouse doesn't have their own website yet when dealing with their online orders however their craving customers can try other third-party delivery services like Food Panda, Uber eats, Grab foods and other third party delivery services that they can find in the market these days.
Social Media Pages
Are you wondering how you can get the latest Outback Steakhouse menu, price, and promo? In that case, you need to subscribe to their social media pages. In this way, you don't have to worry about missing menu updates at this restaurant. You'll find the official social media pages below.
Facebook: https://www.facebook.com/OutbackSteakhousePH/
Instagram: https://www.instagram.com/outbackph/
Twitter: https://twitter.com/gooutbackph/
FAQs
What is cheaper Texas Roadhouse or Outback?
If you are going to compare Texas Roadhouse and Outback Steakhouse regarding the price we can say Outback Steakhouse is a bit more pricey than Texas Roadhouse however people have different tastes right? So even though Outback Steakhouse is a bit more pricey people tend to disregard the price since the foods are awesome.
Is Outback steakhouse meat halal?
Yes, they have a lot to offer our Muslim brothers and sisters. So nothing to worry they have a lot to offer. They actually serve halal lamb.
Are Outback Steakhouse ribs pork or beef?
The answer is beef. Their beef grilled until tender is one of the most popular items on their menu.
Conclusion
Great place to dine in with family and friends. There will never be a much more satisfying experience than coming to this restaurant. The foods on the Outback Steakhouse menu are amazing and the restaurant itself is well-maintained. Crews are respectful. A bit pricey but worth it. Highly recommended for people who love American cuisine and for those who are looking for some delicious steak.