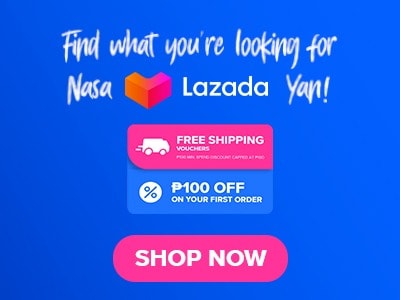 Chinese deli chain Eng Bee Tin is headquartered in Binondo, Manila, Philippines. The hopia is one of the many diverse Chinese dishes available on the Eng Bee Tin menu. They are renowned for a variety of delights. Experience a crucial aspect of Filipino culture by immersing yourself in the country's distinct native food. Filipinos like their greatest cuisine paired with the finest rice. That well-cooked fundamental meal is necessary for a delicious dish and viand to be complete. Chinese people not only like to eat but also think that eating well may improve relationships and foster closer family ties.
Below, you'll find the updated list of Eng Bee Tin menu prices.
Menu Items
Price (PHP)

All Time Favorites

Fortune Cake
65
Fortune Cookies
100
Frozen Mantou
120
Frozen Patatim
650
Premium Cheese Tikoy
298
Premium Cheese Tikoy
298
Radish Cake Big
270
Radish Cake Small
220
Tikoy Brown Medium
195
Tikoy Brown Small
140
Tikoy Pandan Medium
225
Tikoy Pandan Small
170
Tikoy Roll Pandan
50
Tikoy Roll Peanut
50
Tikoy Roll Plain
50
Tikoy Roll Sesame
50
Tikoy Roll Ube
50
Tioy Sweet Corn Medium
225
Tikoy Ube Small
170
Tikoy White Small
140

MochiBalls & Tikoy Rolls

Mochiballs Banana
55
Mochiballs Honey
55
Mochiballs Mocha
55
Mochiballs Ube
55
Tikoy Roll Pandan
50
Tikoy Roll Peanut
50
Tikoy Roll Plain
50
Tikoy Roll Sesame
50
Tikoy Roll Ube
50

World Class Premium Tikoy

Premium Cheese Tikoy
298
Premium Cheese Tikoy
298
Tikoy Brown Medium
195
Tikoy Brown Small
140
Tikoy Pandan Medium
225
Tikoy Pandan Small
170
Tikoy Sweet Corn Medium
225
Tikoy Sweet Corn Small
170
Tikoy Ube Medium
225
Tikoy Ube Small
170
Tikoy White Medium
195
Tikoy White Small
140

Premium Hopia

Brownie Hopia (12pcs)
270
Eng Bee Tin Hopia Dozen Bundle
650
Hopia Buko Custard
68
Hopia Buko Pandan
54
Hopia Custard Classic
60
Hopia Custard Ube
60
Hopia Durian
68
Hopia Kundol
52
Hopia Mochipia Ube Macapuno
58
Hopia Mongo
50
Hopia Mongo Lite
60
Hopia Mongo Supreme
60
Hopia Pineapple
46
Hopia Red Mongo
56
Hopia Ube
56

Mooncakes

4 in 1 Mooncake Silver Set
620
4 in 1 Chocolate Lava Mooncake
840
Eng Bee Tin Premium XO Floss Mooncake
900
2 in 1 Mooncake Philippine Pride
405
2 in 1 Mooncake Pinoy Flavors
375
Choco Banana Lava Mooncake
220
Eng Bee Tin Premium XO Floss Mooncake
250
Mixed Nuts Mooncake
210
Mooncake Mini
135
Pandan Mooncake
205
Premium Durian Mooncake
225
Premium Mango Jam Mooncake
225
Snow Rose White Lotus Mooncake
225
Triple Chocolate Lava Mooncake
235
Ube Mooncake
210
White Empress Mooncake
225
White Empress Premium Mooncake
225
White Lotus Mooncake
210
White Mongo Mooncake
180
About Eng Bee Tin
Mr. Chua Chiu Hong founded Eng Bee Tin in 1912 at a little shop in the center of Ongpin, Manila. The shop gained notoriety for its authentic Chinese fare, which included glutinous balls, hopia, and tikoy. Eng Bee Tin was alone among a sea of firms that were quite similar in the 1970s. Its popularity started to decline, and it became more difficult to sell its goods in a cutthroat market. The downturn continued for more than ten years with little sign of ending. The stall's hopia was not well-liked because it was always the same. Creditors, suppliers, and friends were avoiding doing business with the company because it seemed hopeless. The company needed a miracle to make it through the 1980s.
It arrived in the shape of Mr. Gerry Chua. At the time, Gerry was just 21 years old and was expected to take over the company as the oldest sibling of the current generation of Chua siblings. He merely had the honest desire to support his father by turning around the family business. Gerry felt the urge to cool off with a little ice cream after a quiet day of business on what would normally be a routine day. He went to the grocery store and asked the salesperson what ice cream flavor was the most popular there. The response was Ube.
Eng Bee Tin Menu Best Seller
There are many best sellers in Eng Bee Tin. Some of them are mentioned in the different sections of this article. Those that were not singled out are mentioned here: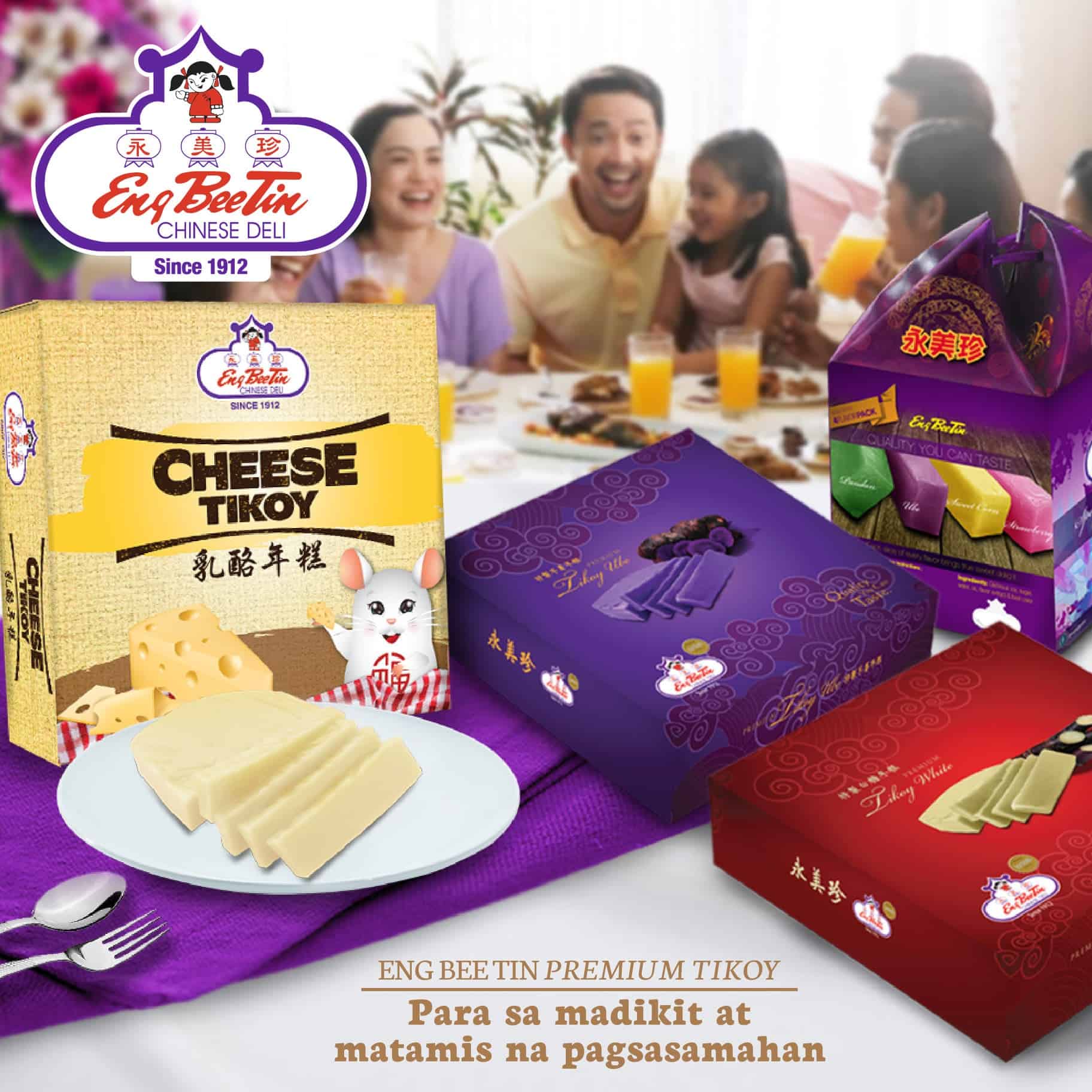 Premium Chinese Tikoy – This Eng Bee Tin menu is a traditional dessert served at Chinese New Year, and there are many different tikoy brands to select from. There are some tikoy brands that are available virtually anywhere, while there are other tikoy brands that are less well-known and need special effort to obtain a box. Unexpectedly, brown tikoy's flavor is not too sweet. This pales in contrast to sweet tikoy, which is obviously a good thing if you're used to it. It is just sweet enough to keep you from reaching for a bottle of water, but not too sweet that you won't want more. Its ability to remain soft even after the temperature of the fried tikoy has cooled down is a major bonus.
Fortune Cake – The cake is steam-baked, and when done correctly, the top should split open into a grin, albeit it isn't a true smile because it should break into four portions. Gao, which is Chinese for cake, The name of the cake, Fa, which means leavened, describes it. But fa also refers to prosperity, which is how the prosperity cake got its name and why it's eaten to bring luck at Chinese New Year.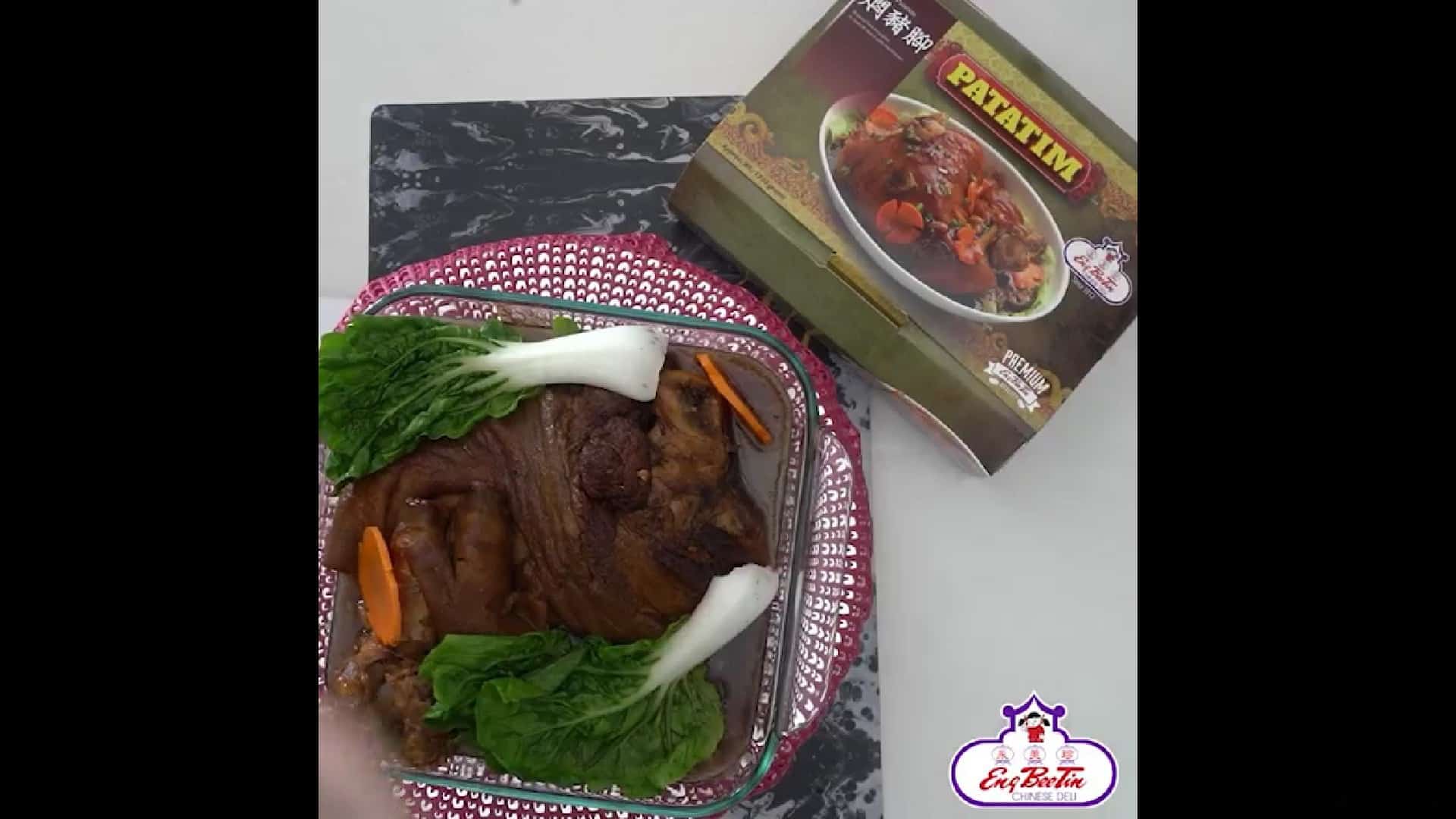 Frozen Patatim – Is a delectable pork stew with bok cabbage and mushrooms. It has a light, sweet sauce and is best when cooked until extremely soft. Is a tasty and unique variety of pork stew that you may serve at special events or huge parties. Anyone who takes a mouthful of this tempting pata will be intrigued by its savory flavor, which also has hints of sweetness.
Eng Bee Tin Hopia Buko Pandan
Hopia is a Mooncake – Like flaky pastry that is usually filled with mung beans. Traditional Filipino favorites are combined in this Buko Pandan Hopia by Eng Bee Tin to create a delectable delicacy. Hopia is a well-known dessert from Indonesia and the Philippines that is filled with beans and resembles a moon cake. It was first made by Fujianese immigrants in the cities of both countries around the beginning of the 20th century. It is a popular present for families, friends, and loved ones and is widely accessible and reasonably priced. Pandan leaves have a mild scent and a naturally sweet flavor. It has a powerful flavor that has been compared to grassy vanilla with a hint of coconut.
Eng Bee Tin Mooncake
They offer a wide range of mooncakes, and this menu item is what people usually look for. Here are some of them:
Choco Banana Lava – Even while Eng Bee Tin first gained notoriety for its ube hopia, the business has continued to reimagine hopia by offering a number of diverse flavors. However, the Choco Banana Lava hopia is a must-try for chocolate fans. This flavor appeals to both adults and kids because it mixes the delightful richness of chocolate with the sweetness of banana.
Ube Mooncake – Try this Eng Bee Tin menu; the premium Ube-Cheese mooncake if you enjoy the earthy, sweet ube, and salty cheese mix. This mooncake is circular and features an elaborate lotus and Chinese character pattern on top. Inside, there is a thick layer of purple yam and cheese.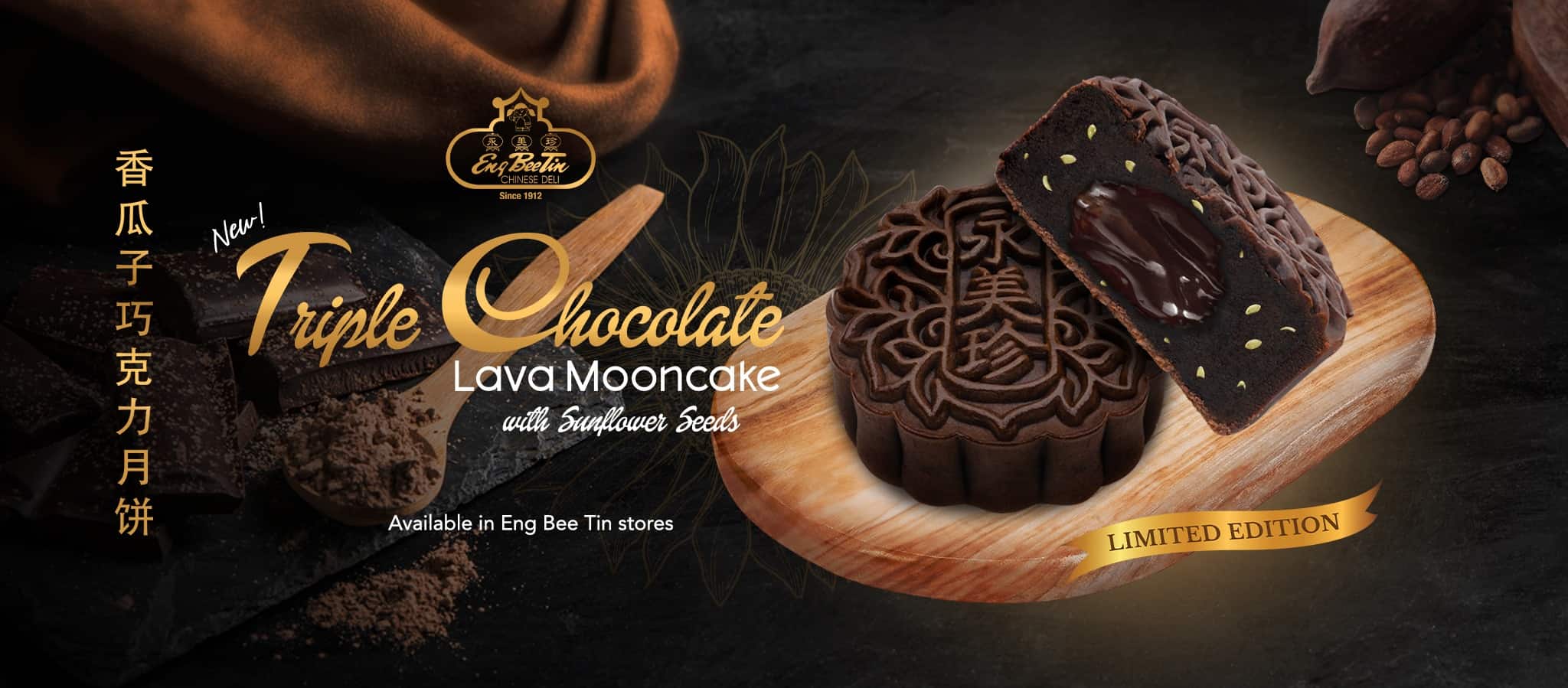 Chocolate Mooncake – Once you bite into the soft, chewy snow skin exterior that envelops the filling within, molten chocolate threatens to pour out of the mooncake, giving it a sweet, syrupy, creamy, and lusciously rich flavor. The majority of mooncakes have a thick, soft pastry crust that surrounds a sweet, dense interior. Some mooncakes may also have one or more entire salted egg yolks in the middle of the cake to represent the full moon. Mooncakes are occasionally served fried or steamed as well.
Asado Roll
Asado Buns are sweet buns with a filling that is flavorful, sweet, and meaty. In certain nations, barbeque is also known as asado. Asado Buns are claimed to have Char Siu filling as they are Chinese in origin. Due to the use of red food coloring or beet juice, certain fillings are red, especially in restaurants. This simple one-pot recipe is an asado roll in the Chinese style, which is produced by braising pork shoulder until it is fork-tender in a sweet-savory sauce. The term Philippine asado relates to two distinct Filipino recipes using braised beef.
Eng Bee Tin Menu Delivery
The Eng Bee Tin menu is so active with its menu delivery. Unlike any other simple store here in the Philippines, their delivery service surely is one of the most advanced here in the country. They do not sell food that is to be cooked rather they make food that is to be eaten at snacks or any time of the day you want. To order via delivery you could always shop through GrabFood, Foodpanda, Shopee, Lazada, and even at their website ubedelivery.com.
Talk to Eng Bee Tin Philippines Staff
Got any questions? You can tell them right away by sending them a message via Facebook, Instagram, or Twitter. You can also send your concerns from their website here.
Facebook: https://www.facebook.com/iloveengbeetin/
Instagram: https://www.instagram.com/iloveengbeetin/
Twitter: https://twitter.com/iloveengbeetin/
Conclusion
With the company's completely automated hopia production procedures, high sanitary quality control requirements, passing the finished product through metal detectors, and packing it in a hygienic pillow pack, one is guaranteed good food that is both delicious and safe. The Eng Bee Tin menu has been in the same location for more than 90 years because it has never wanted to stray from its beginnings. It stands out as a prominent landmark in Ongpin and is brightly lighted as evidence of its thriving business. It makes an effort to blend in with the neighborhood, as shown by the purple fire trucks it has given to the neighborhood volunteer fire brigade.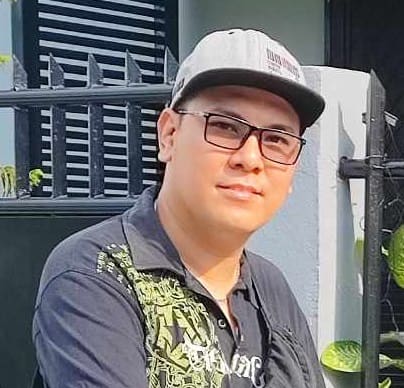 Hi! I'm Nivek Strife, the person who made MenuPH. I'm the one who added most of the popular menus you see on this website, and I really hope you enjoy them! Feel free to check them all out.
Growing up, I was surrounded by lots of tasty foods, like the classic Adobo and the sweet Leche Flan. That love for the many flavors of the Philippines is what got me excited about adding to MenuPH. When I learned how to make websites, I saw the need for a place to show off all the amazing Filipino dishes, and that's how MenuPH started.
MenuPH isn't just a website; it's like a fun journey into food. I've teamed up with famous chefs and found great places all over the Philippines to bring you a bunch of menus that show off the best of Filipino cuisine. Whether you're into the usual dishes or new twists, MenuPH is here to guide you through the rich world of Filipino flavors.
With MenuPH, my aim is to help local businesses, talk about good food choices, and make a group of friends who love food. No matter if you like fancy restaurants or street food, MenuPH has something for you. Come join me on this food adventure as we find great places, taste real flavors, and enjoy the unique food traditions that make the Philippines awesome.