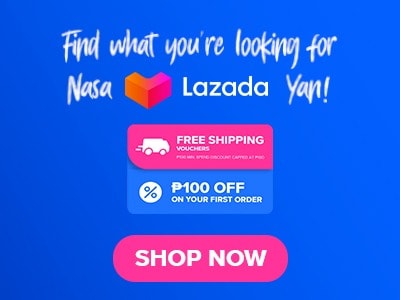 The L'entrecote Manila menu is the simplest and cheapest way to experience Europe. They serve the best authentic French cuisine for Filipinos to experience European culture through dining. They take pride in their special steak drenched in their special sauce and their other dishes with Swiss and French influences that would surely make their diners' palates elated! They also serve Certified Angus Tomahawk Steak, which is large enough to satisfy people with large appetites. The quality of all their dishes is unquestionably superior to that of other restaurants.
Below, you'll find the updated list of L'entrecote Manila menu prices.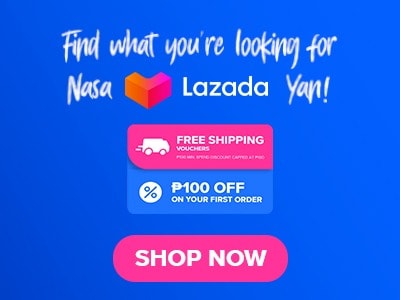 Menu
Price (PHP)

Appetizers

Saumon Fume Pissaladiere
335
Geneva Pissaladiere
345
Tuna Carpaccio
495
Cheesy Triangles
345
Deep Fried Brie
415
Beef Pepito
465
Spicy Hungarian Sausage
335
Truffle Fries
335
Wood Board
495
Salmon Tartar
395
Sausage and Cheese
435
Tasty Hot Octopus
495
Baled Escargots
395
Fresh Oysters

Soup

Tomato Cream Soup
365
Lobster Bisque
465

Salads

The Big Aldez Nicoise
395
Walnut and Apple Salad
395
Classic Caesar Salad
385
Pentrecoste's House Salad
335

Foie Gras Specials

Foie Gras Mushroom Soup
335
Pan-fried Foie Gras
945
Foie Gras Carbonara
990

Cheese Fondue

The Original Swiss Chees Fondue
1200

Fish Mains

St. Tropez Spaghetti #3
615
Grilled Marinated Salmon
695
Lemon Sole Fillets
795
Moules-Fries Provengale Style
665
Moules-Fries Spicy with Almond Picada
625
Vegi-cheese Adlai Risotto
980

Meat Mains

Lamb Merguez Sausages
685
Lamb Shank
895
Esguerra Kurbuta Pork Chop
1290
Strgonaoff Spaghetti #3
795
Bavarian Sausage Platter
1850

L'entrecote's Signature dish

The L'ENTRECOTE Steak
2000
L'ENTRECOTE "Double"
1167
Chicke-Ria Pentrecote
695
La Crochette Flambee
295
Live Atlantic Lobster

Meat Galore

21 oz U.S CAB Tomahawk Rib steak
2545
12 oz US CAB Sirloin Steak
10oz Pork Rib Eye Steak
1 Lamb Shank
Pentrecote US Beef Burger
About L'entrecote Manila
L'entrecote Manila is a French restaurant located at Burgos Circle, Fort Bonifacio, Philippines. The idea for L'entrecote originated in Geneva, at a popular eatery known for serving only one dish. In 2010, L'entrecote was adopted and introduced to Manila. Since then, we have been well-known for both their "L'entrecote Menu" as well as the additional options that we have introduced as they have expanded. They aim to provide food that makes the customers feel good, made with the best and freshest ingredients, in a relaxed setting.
L'entrecote Manila Menu Best Seller
These dishes are what every customer looks for whenever they dine at L'entrecote. You won't see a table in their restaurant without a single one of these dishes.
The L'entrecote Steak – This dish uses a traditional entrecote of boneless meat that is taken from the rib area of a pork rib. Depending on your location, this part is more commonly known as rib, rib eye, Scotch fillet, club, or Demonico.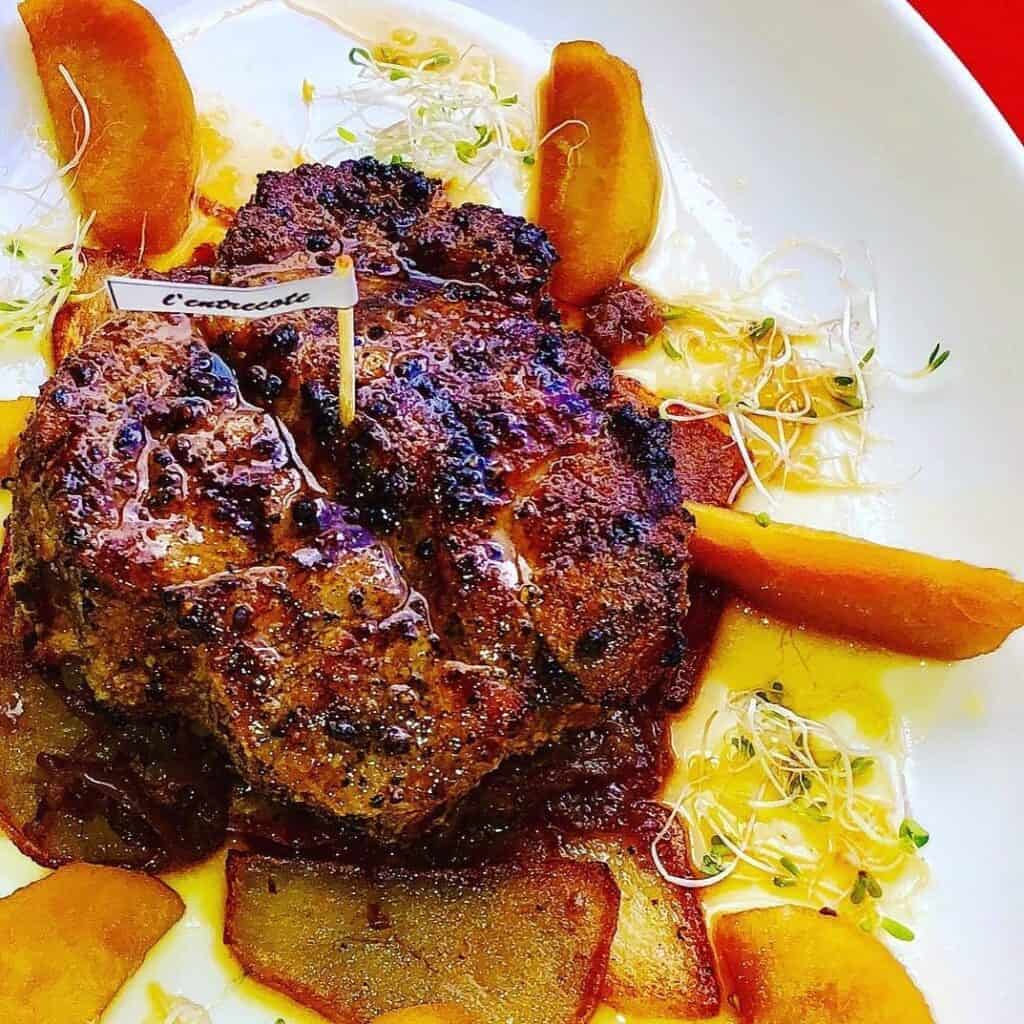 Lamb Shank – The lower portion of the cow's leg, just below the knee, is where the main ingredient of this dish comes from. The shanks are French trimmed, which involves removing a tiny amount of meat off the bone to improve the beef shank's appearance.
Tuna Carpaccio – Carpaccio refers to thinly sliced raw meat or fish, in L'entrecote Manila's case, they use fish that is offered as an appetizer. Tuna Carpaccio is a simple yet exquisite way to start dinner thanks to the smoothness of the olive oil, the soft cut of meat, the saline, and the brilliant splash of lemon.
L'entrecote Appetizers
This menu is composed of foods that the customers can eat to enhance their appetite while waiting for their main course to arrive.
Geneva Pissaladiere – The L'entrecote menu is a very special dish with a flavor to die for. This is why Geneva Pissaladiere remained one of the most popular among customers who enjoy salty tastes in their food. It is named after the pissala flavoring, which is produced with pureed anchovies blended with olive oil and crushed bay, clove, pepper, and thyme.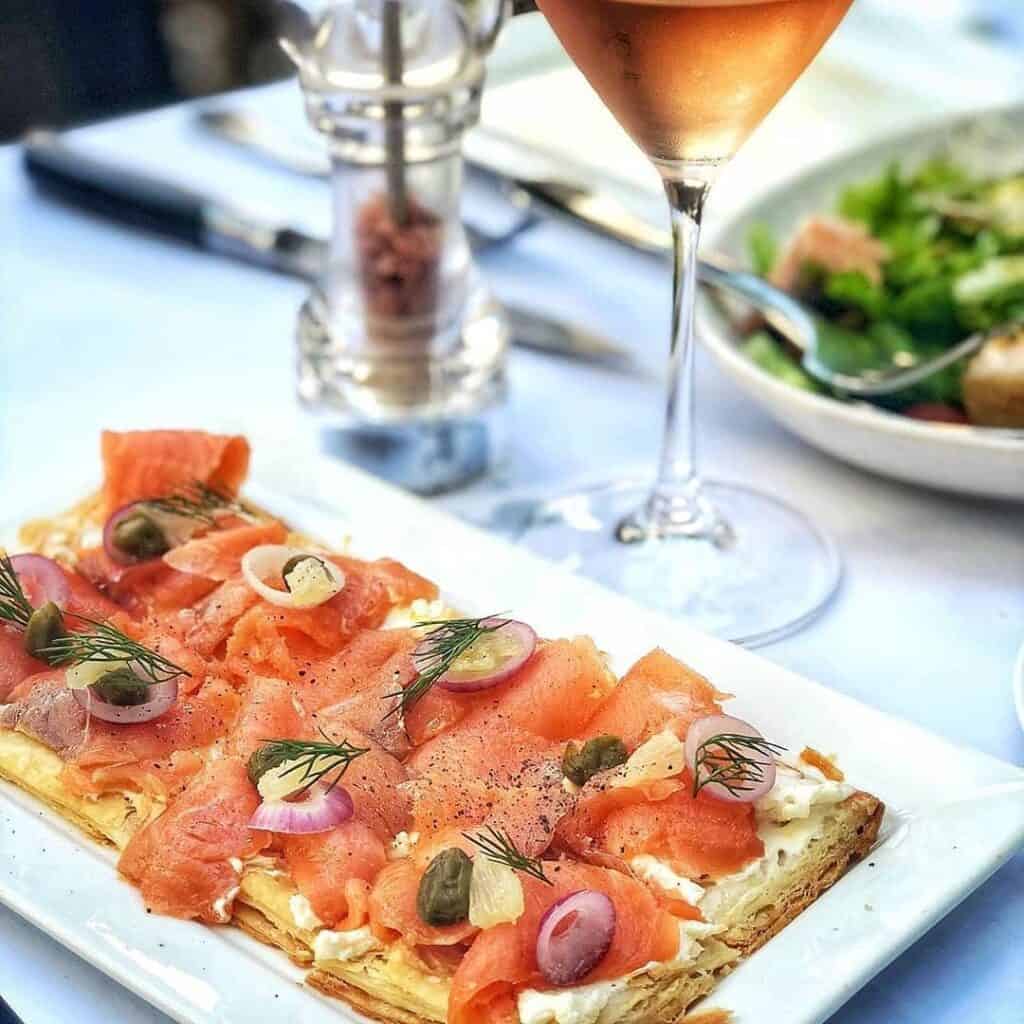 Truffle Fries – This dish of truffle fries is really something spectacular. With the ideal amount of earthy taste, L'entrecote's truffle fries are wonderfully flavored and very popular with every customer. This dish is a wonderful appetizer that would help you get ready for your main course.
Salmon Tartar – This dish uses fresh, raw fish, and seasonings are used to produce it. It is frequently consumed as an appetizer spread on crackers or bread. Salmon Tartar is very tasty and perfectly safe to eat when prepared correctly with the right mix of ingredients.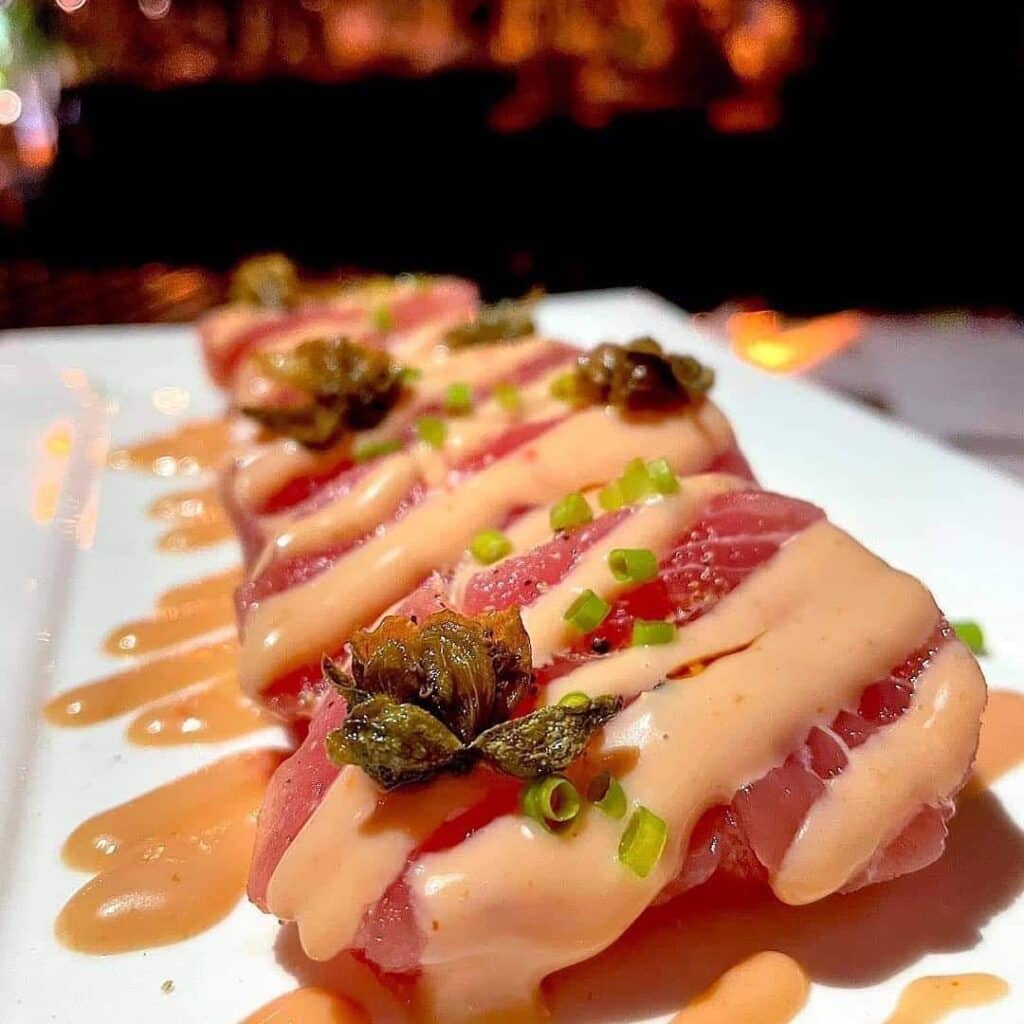 Salads
These are composed of different varieties of greens mixed with other vegetables. These dishes are delicious and beneficial to the health of the diners.
Pentrecoste's House Salad – L'entrecote Manila's salad uses cucumbers, tomatoes, croutons, cheese, and crisp lettuce as its main ingredients. The lettuce is combined with half of the croutons, cheese, tomatoes, and other ingredients in a sizable serving bowl.
The Big Aldez Nicoise – The term Nicioise means "of Nice" in a French city somewhere on the Mediterranean coast. The term is most recognized as the name of the salad that was linked to Nice, France, where it is believed to have originated.
Walnut and Apple Salad – This gorgeous green salad menu from L'entrecote is vibrant and complex with layers of crunch, and is ideal for a plain old meal. Walnut and apple salad is anything but forgettable, and it is the perfect complement to your main course to quickly feel balanced and full.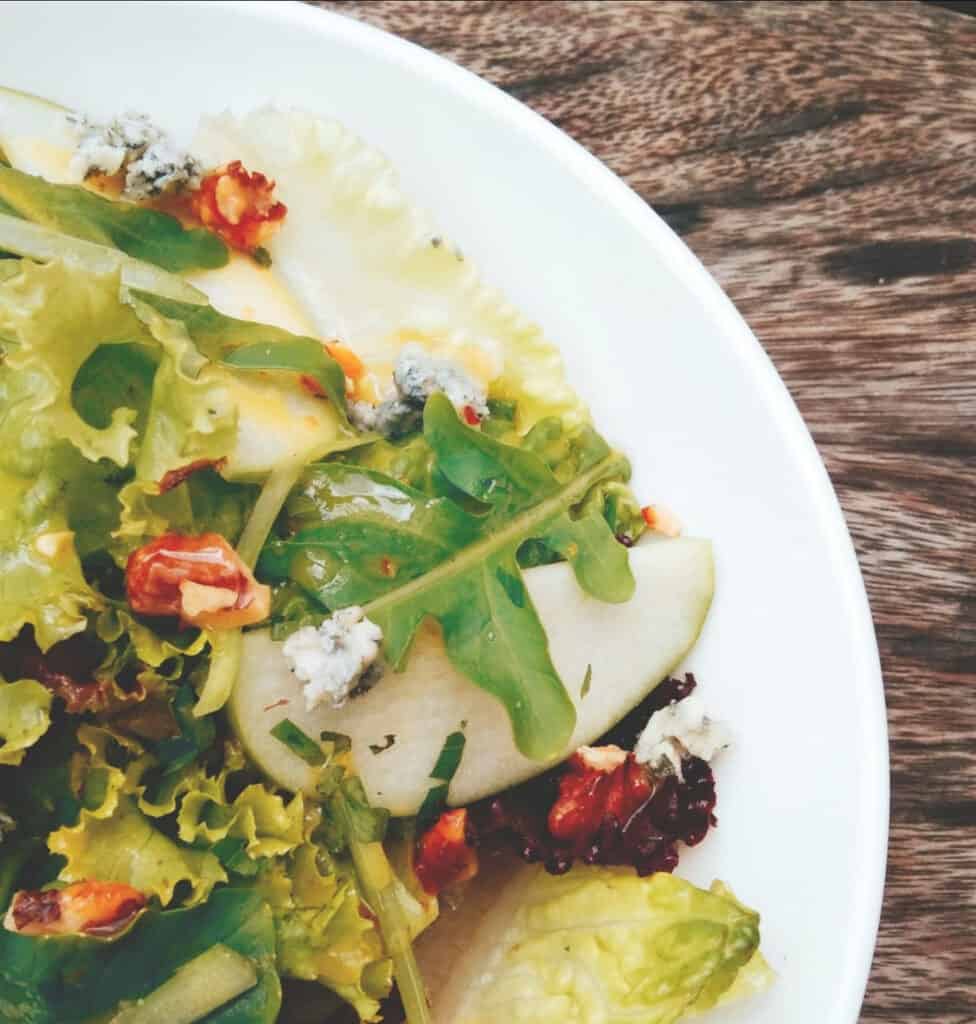 Meat Mains
This menu is specially made for L'entrecote's customers who love meat! The dishes that are part of this menu use pork or beef meat as their main ingredients. While some restaurants ask for too much for their meat meals, their meat is reasonably priced and incredibly delicious!
Fish Mains
These are specially created for customers who don't like pork or beef meat. It consists of dishes that use fish as one of the primary ingredients. However, this menu's dishes are not limited only to fish; Moules and other seafood dishes can also be ordered.
Meat Galore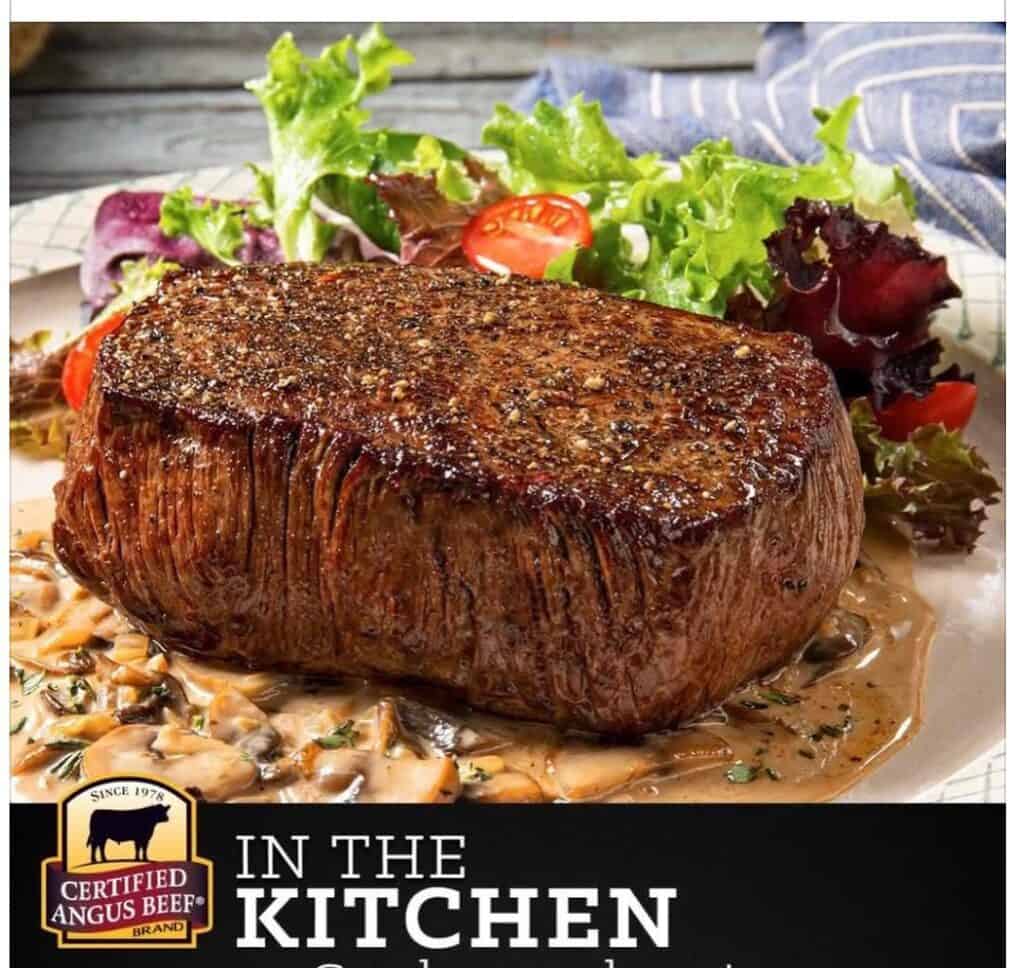 Customers can now order steaks that use imported ingredients like US CAB Tomahawk Rib Steak and US CAB Sirloin Steak. These are perfect for meat lovers who can't live without meat dishes in their meals. Each of them has the perfect juiciness and tenderness that would make anyone drool.
L'entrecote Signature Menu
This menu is composed of L'entrecote Manila dishes that can be considered their specialties. These dishes were made by L'entrecote from the ground up, from the ingredients used to the way they are cooked. A truly delectable and luxurious dishes that you must not miss if you are dining at L'entrecote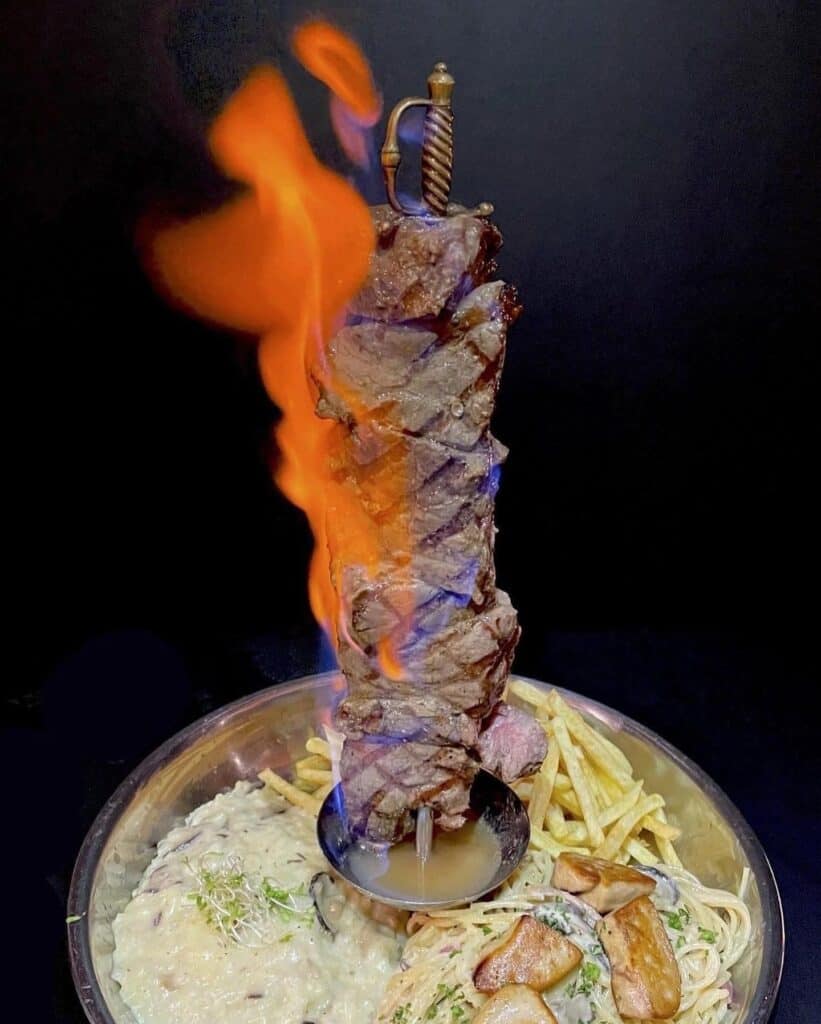 L'entrecote Manila Menu Delivery
Enjoy your favorite French dishes in the comfort of your home by ordering from the L'entrecote dishes through FoodPanda or GrabFood applications. For more information about L'entrecote's menu delivery, you can visit their website or ask questions by sending them a message through their social media pages.
Facebook: https://www.facebook.com/lentrecotebistroMNL
Instagram: https://www.instagram.com/lentrecotemnl/
Twitter: https://twitter.com/lentrecote_mnl
Website: https://lentrecotemanila.com/
Conclusion
L'entrecote Manila is a good French restaurant that provides a delicious French cuisine menus for Filipinos that they would undoubtedly like, such as appetizers, salads, and their own signature dishes. Their staff is well trained and is very attentive to their customers' needs. The place is great because of its well-decorated interior. Most importantly, their food is not only excellent but also reasonably priced. You should visit L'entrecote if you want to have a taste of authentic French cuisine.