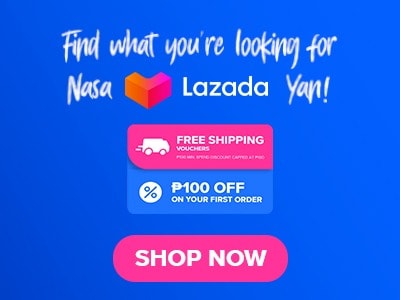 The Cafe Guilt menu comprises Filipino comfort foods. They serve guilt-free comfort food cravings for all their customers. Their menu features Italian and Filipino delicacies that are familiar to Filipino palates. Cafe Guilt ensures that each of its dishes has the highest quality by procuring fresh and good quality ingredients.
Below, you'll find the updated list of Cafe Guilt menu prices.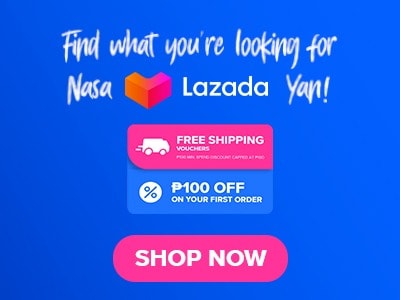 Menu Items
Price (PHP)

Paecezza

Truffle Mushroom Pizza
445
No Meat Lovers
350
Spinach Feta
350
Mrs. Margherita
300
Quatro Formaggio
445
Seafood Pizza
425
Smoked Salmon Pizza
450
Anchovies Pizza
350
Sunny Bacon Pesto Pizza
350
All meat Pizza
428
Pepperoni Pizza
350

Pasta + Grains

Meatballs Spaghetti
350
Puttanesca
258
Anchovies Aglio Olio
298
Creamy Seafood Tuscan
350
Truffle Pasta
350
Sundried Marinara
320
Tuna Pasta
298
Bolognese
300
Fusili Vodka
280
Classic Carbonara
298
Shrimp Chorizo
345
Salted Egg Pasta
298
Pesto Pasta
258

Full Guilt Breakfast

Anchovies in Olive Oil
285
Fried Milkfish
320
Filipino Sausage
290
Chicken Pork Adobo
320
Beef Bisket
398
Conching's Famous Meatloaf
300

Seafood

Cheesy Baked Salmon
478
Seared Salmon with Mushroom Adlai Risotto
650
Steamed or Grilled Pomfret
508
Steamed or Grilled Grouper
598
Mackerel Ceviche
358
Grilled Mackerel
398
Marinated Grilled Tuna Steak
378
Deep Fried Pomfret in red curry
598
Seafood Red Curry
498
Salted Egg Shrimp
398
Seafood Paella
450

Soups + Salads

Pumpkin Soup
150
Mushroom Soup
180
Spinach Soup
150
Bakso Meat Soup
265
Spaghetti Seafood Soup
358
Mediterranean Salad
350
Avo Smoked Salmon Salad
420

Starters

Guilt Nachos
388
Guacamole and Chips
298
Sweet Potato Fries
195
Truffle Fries
225
Chili Cheese Fries
258
Baby Squid in Olive Oil
378
Everlasting Spread
395
Deep Fried Baby Squid
358
Classic Buffalo Wings
350

Guilt-free All Day Breakfast

Mushies Toast
295
Smoked Salmon Toast
295
Avo Toast
250
Nutty Toast
195
Glutten-free Pancakes
350
Egg and Mushroom Wrap
295
Power Greek Bowl
300
Oats Porridge
258

Mains

Javanese Beef Ribs
458
Swedish Meatballs
388
Lengua Estofado
388
American Baby Back Ribs
458
Angus Beef Belly
428
T-bone Steak
498
Filet Mignon
598
Rib Eye Beef Salpicao
458
Organic Roasted Chicken
498
Cordon Bleu
395
Grilled Honey Mustard Organic Porkchop
450
Conching's Baked Meatloaf
395
About Cafe Guilt
Cafe Guilt is a Filipino Italian restaurant located in Paligsahan, Quezon City. This cafe serves its regular customers their favorite comfort foods. They aim to serve dishes that are the best in terms of quality and taste. Cafe Guilt makes some Italian cuisine and puts its own Filipino twist on it to make its food a very familiar one for Filipinos.
Cafe Guilt Menu Peacezzza
These are the foods that made Cafe Guilt what it is. These are the most ordered menu by every customer that visits Cafe Guilt, which makes them popular.
Truffle Mushroom Pizza – Cafe Guilt's Truffle Mushroom Pizza is made of mushrooms, and cheese, and topped off with truffle oil that permeates through the entire pie. This pizza has a rich, earthy, and somewhat nutty flavor. Some guests love this pizza for its slight sweetness. To go into detail, white truffles have an earthy flavor that blends really well with other toppings such as cheese.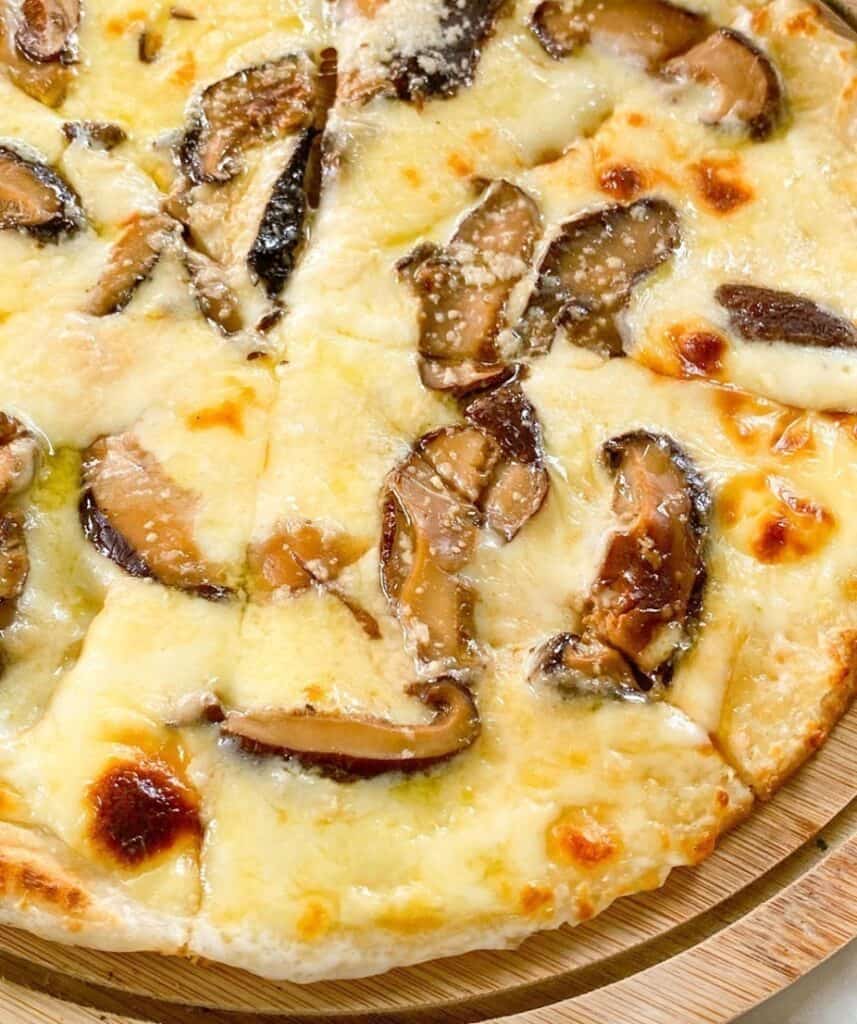 No Meat Lovers – This is a pizza for vegetarians. No Meat Lovers is a great veggie pizza that combines all the elements that vegetarians enjoy to complete the ultimate veggie pizza. Even meat lovers won't be able to believe that this pizza has no meat after having a taste of it. This pizza has vegetarian bolognese, vegetarian sausage, and other delicious toppings!
Seafood Pizza – This pizza had specially made by Cafe Guilt for all seafood lovers. Seafood pizza is a unique recipe that is special for other Cafe Guilt customers. The crispy crust topped with prawns, scallops, squid, creamy cheese, onions, and capers blends perfectly to create the most delightful flavor in your mouth. This pizza is perfect for breakfast, lunch, dinner, and even as a snack.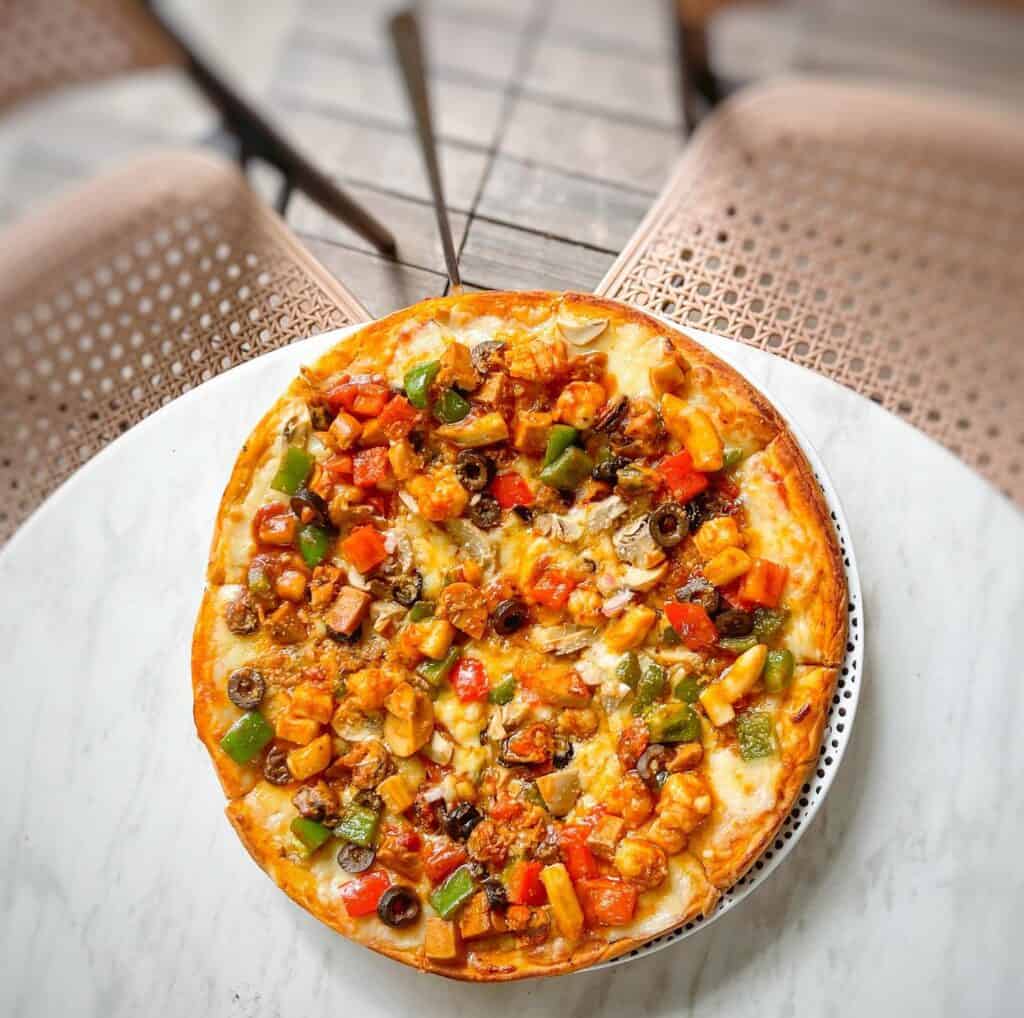 All Meat Pizza – Cafe Guilt's All Meat Pizza has always stood out because of the unique quality that sets it apart from other all-meat pizzas. It contains bacon, pepperoni, beef, bell peppers, mozzarella, and Parmesan cheese.
Pepperoni Pizza – A mixture of cured beef and pork that has been seasoned with paprika and chili powder is used to top this pizza. Pepperoni pizza has a slightly salty, spicy, and tangy flavor because it is cured with salt and other spices. One justification for slicing this pizza so thinly is its texture, which is very chewy and elastic.
Pasta + Grains
These are the traditional varieties of pasta, both white and whole grain. It is very popular with Cafe Guilt's regular customers.
Puttanesca – This type of pasta originated in Italy in the middle of the 20th century. Cafe Guilt makes this menu consisting of vermicelli, tomatoes, fusilli, olives, basil, and capers. The anchovies and olives in puttanesca sauce give it a salty flavor, and the tomatoes and oil give it a sweet taste. Puttanesca has a unique alternative to conventional pizzas because it uses tomato sauce and has an unrivaled flavor that can't easily be topped.
Truffle Pasta – This pasta is grated into warm butter with a little bit of garlic, salt, and pepper to create a decadent meal that is truffle pasta. Rather than their taste, their scent is what gives them much of their flavor, which is strong, pungent, musty, and woody.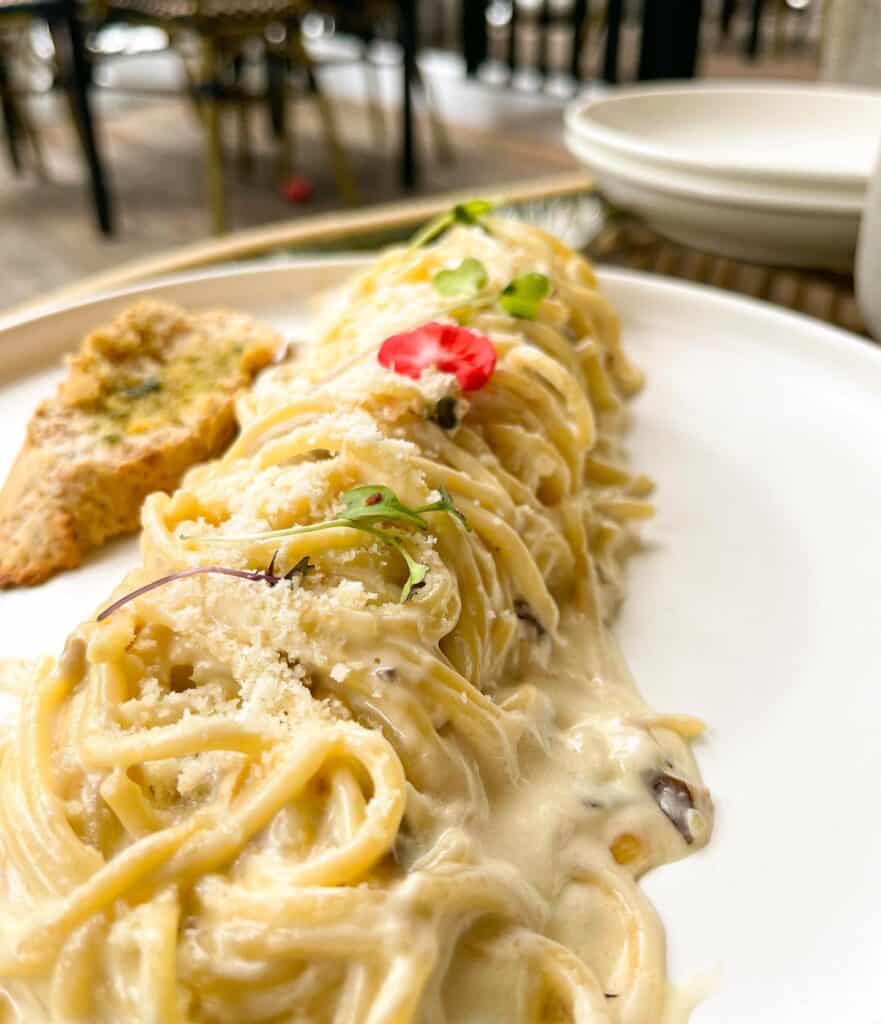 Bolognese – This Italian pasta is mixed with an Italian sauce that is typically made with ground pork. The sauce originated from the Italian region of Bologna, and the pasta that uses this sauce is named Bolognese.
Starters
These are small quantities of food that customers can order as their first course while waiting for the main course. The foods that are part of this menu are one of the best ways to enjoy yourself while waiting for your dinner to arrive. Some of these dishes are nachos, guacamole, chips, potato fries, baby squid, and buffalo wings.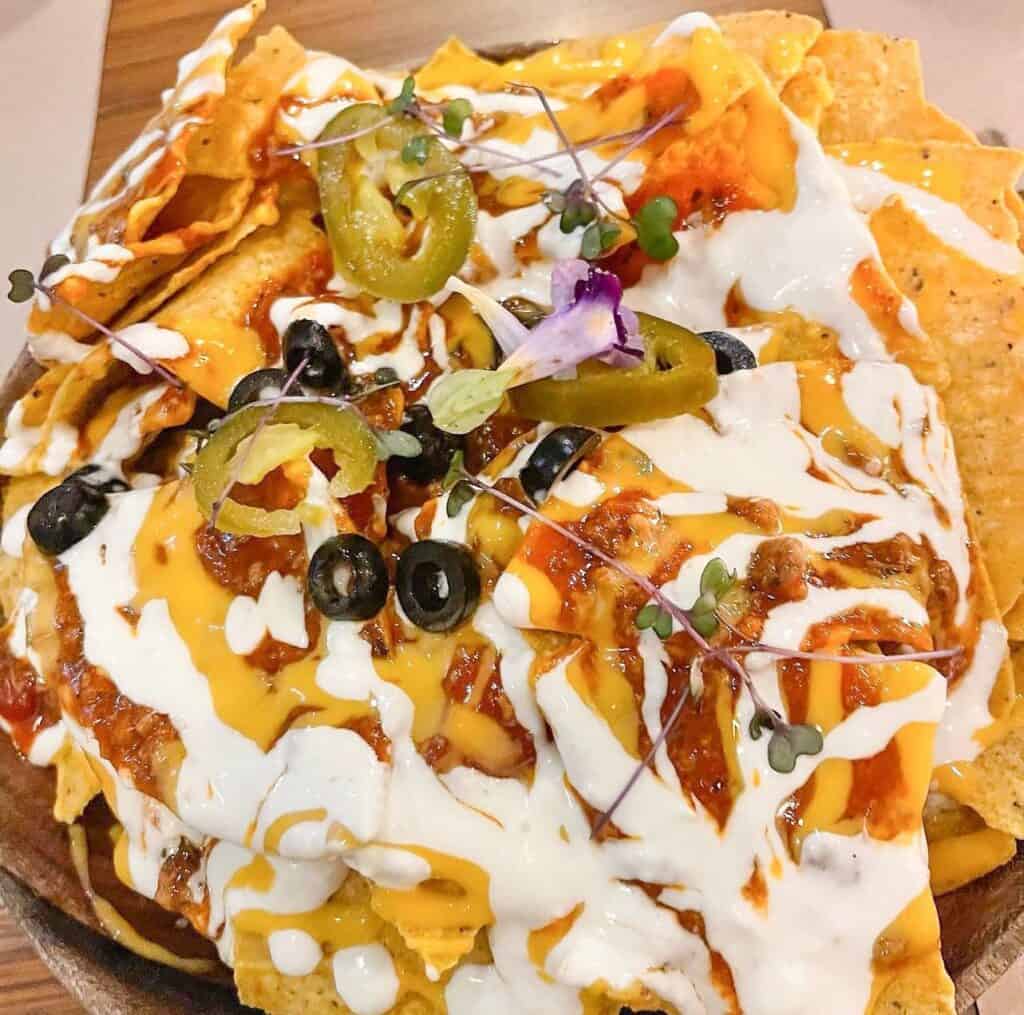 Full of Guilt Breakfast
This menu from Cafe Guilt is a collection of breakfast dishes that they serve. Every dish ordered also comes with garlic rice, free-range scrambled or sunny-side-up eggs depending on the customer's choice, and brewed coffee or orange juice depending on the customer's choice. Customers can also opt to pay an additional fee for extra Adlai rice. This breakfast menu is not only delicious and filling but also very affordable.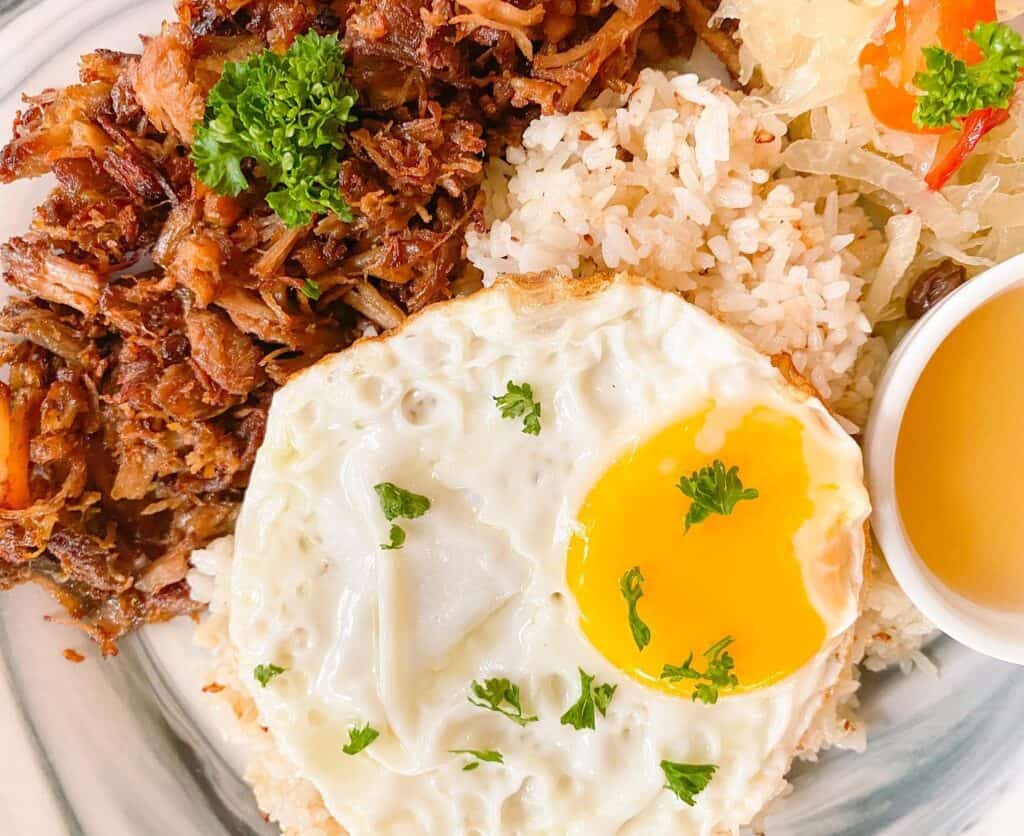 Seafood
Cafe Guilt's seafood menu has different varieties of seafood dishes. The foods that comprise this menu are distinct food dishes that use fish, shellfish, or seaweed as their primary ingredients. They created it for those who do not want or are not fond of meat dishes. Each one of them makes Cafe Guilt's specialty and is very popular with diners for its delicious taste and reasonable price.
Soups + Salad
This menu consists of soups and salads that will complete the customer's Cafe Guilt dining experience. They serve a wide variety of soups, from pumpkin salad to spaghetti seafood soup. However, they only serve two kinds of salads; Mediterranean Salad and Avo Smoked Salmon Salad. These are a must whenever you visit Cafe Guilt because your dining experience wouldn't be complete if you deprive yourself of a chance to taste them. Their soup's broth is hearty, and their salads are very affordable.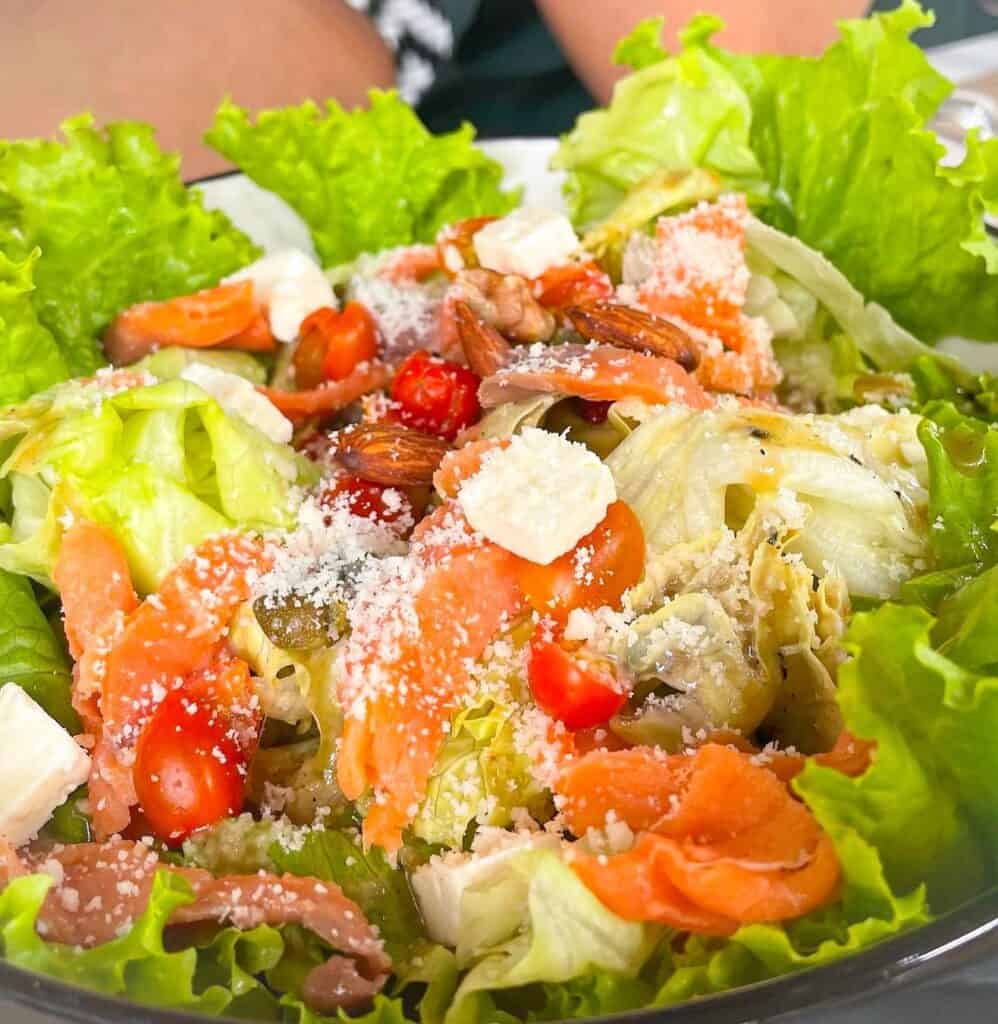 Cafe Guilt Menu Delivery
Cafe Guilt now offers delivery services for their food. The easiest way to order is by downloading the FoodPanda or GrabFood applications on your mobile devices and searching for their online store. The ordering process doesn't take long and is pretty straightforward.
Social Media Pages
However, if you have any questions or need help with your order, you can send Cafe Guilt a message on one of their social media pages, whose links are provided below. Just click the link to redirect to their social media accounts.
Facebook: https://www.facebook.com/cafeguilt/
Instagram: https://www.instagram.com/cafeguilt/
Conclusion
Every dish that is part of Cafe Guilt's menu is delectable and affordable. The cafe has a great ambiance and is one of the best places to have your social media-worthy pictures taken. The place is pretty hype and Instagram-worthy. Cafe Guilt is a great place to spend a chill night with friends or family. Their customer service is a top-notch, accommodating staff, and your food is served really quickly. It's definitely one of your best options if you're looking for a place to dine and unwind.