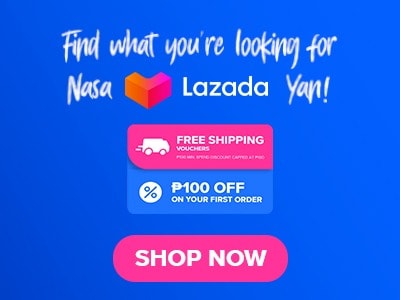 Lots'A Pizza's features Filipino-style pizza that we Filipinos would love! They serve many varieties of pizza, from the most classic Hawaiian pizza to a "4 in 1" pizza that has four different kinds of pizza in one. Lots'A Pizza menu is not only limited to pizza; they also serve pasta and other extras, which Filipinos also love. Once you had a taste of this menu, you would surely be coming back for more!
Menu Items
Price (PHP)

Best Seller

Pepperoni N' Mushroom
185
Pure Beef Special
185
Hawaiian Delight
185
Great Mahattan
275

Premium

Premium Beef Supreme
344
Hawaiian Exteme
344
Mahattan Deluxe
344

Classics

Garden Harvest
165
Roast Beef N' Cheese
165
BDouble wHammy
165
Bacon Blaze
165

Pasta

Spaghetti
49
Carbonara
59
Baked Mac
59

Delviery Menu

Hawaiian Delight Large
305
Great Manhattan Large
375
Pure Beef Special Large
305
4 in 1 Best Seller
460
About Lots'A Pizza
Lots'A Pizza provides total satisfaction to its customers with its food menu. They aim to become the best quick-serving and takeout Filipino style pizza chain in the Philippines.
Lots'A Pizza already has many branches that were set up nationwide so that Filipinos from all over the country will be able to have a taste of the best and tastiest pizza!
Lots'A Pizza Menu Best Seller
Pepperoni N' Mushroom – Over the past ten years, pepperoni, a spicy Italian-American variation of dry sausage typically produced from cured pork and poultry, has gained popularity in the Philippines. One of the best-selling pizza menu that Lots'A Pizza offers is their Pepperoni N' Mushroom. This pizza has pepperoni and mushrooms on top that add a meaty taste and chewy texture, making it much more satisfying! This pizza is best consumed while it's still hot.
Pure Beef Special – With its delicious combination of 100% pure beef pellets, mushrooms, and green bell peppers, Pure Beef Pizza has become one of the most popular varieties of Lots'A Pizza. This pizza redefines "value for money" pizza by perfectly matching your budget. It has more beef toppings and vegetables paired with more pizza cheese, a unique pizza sauce, and the original crust.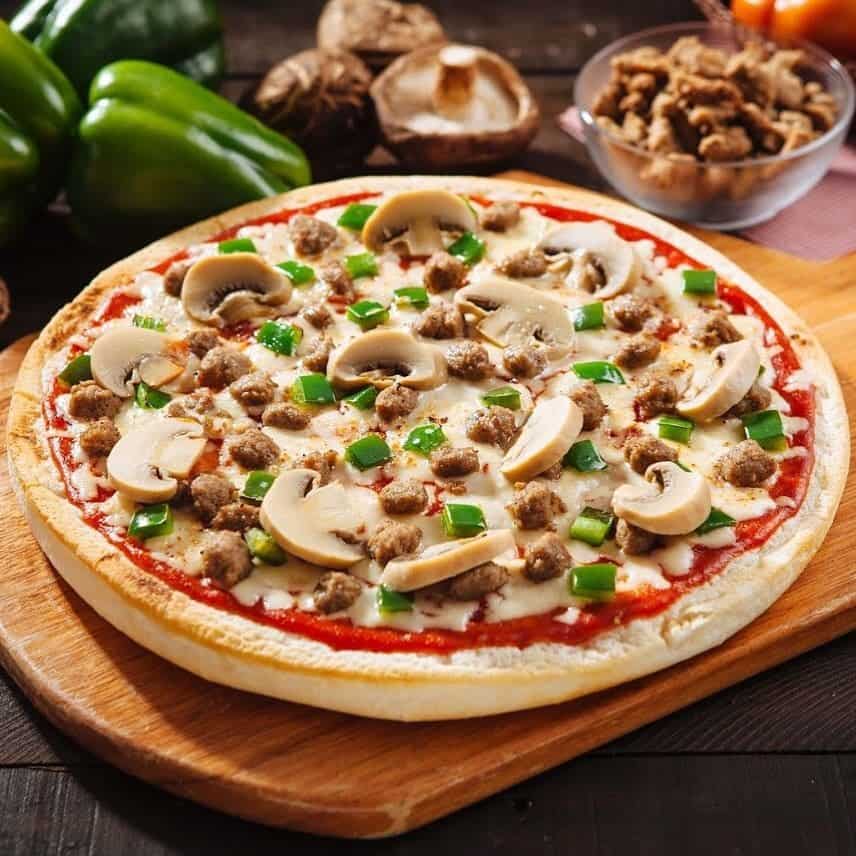 Hawaiian Delight – Cheese, cooked ham, pineapple, and Hawaiian Delight Pizza sauce are all components of traditional Hawaiian pizza. This popular pizza dish starts with the pizza crust from Lots'A Pizza and is finished with a crispy bacon topping. It is certainly wonderful and is sweet, cheesy, salty, and creamy! On top of their classic dough, there is shredded ham, pineapple, pizza cheese, and Lots'A Pizza sauce.
Great Manhattan – This great pizza is topped with Lots'A Pizza special sauce, mozzarella, pepperoni, Italian sausage, red onions, green peppers, and fresh mushrooms. Customers would enjoy this great delicacy at a very affordable price!
Lots'A Pizza Premium
Premium Beef Supreme – This pizza is fully loaded with bacon, pepperoni slices, red and green bell peppers, red onions, black olives, mozzarella, Parmesan cheese, and basil. Premium Beef Supreme has a strong nostalgic appeal to customers thanks to the traditional toppings of olives and peppers.
Hawaiian Extreme – A classic variety of Lots'A Pizza menu that is made premium and now has even more toppings like cheese and pineapples. And with Lots'A Pizza's special sauce, provides a sweet, cheesy, and tropical flavor that will surely make every customer want more.
Manhattan Deluxe – Overloads of goodies on top of Lots'A Pizza's premium crust in their Manhattan Deluxe. For a much more meaty flavor in each bite, this pizza is topped with pepperoni, sausages, mushrooms, green peppers, onions, and black olives.
Lots'A Pizza Classics
Garden Harvest – It is a pizza that is topped with ingredients that can be found in any average person's garden. It is a very healthy pizza that is topped with red and green bell peppers, mushrooms, onions, and pineapples.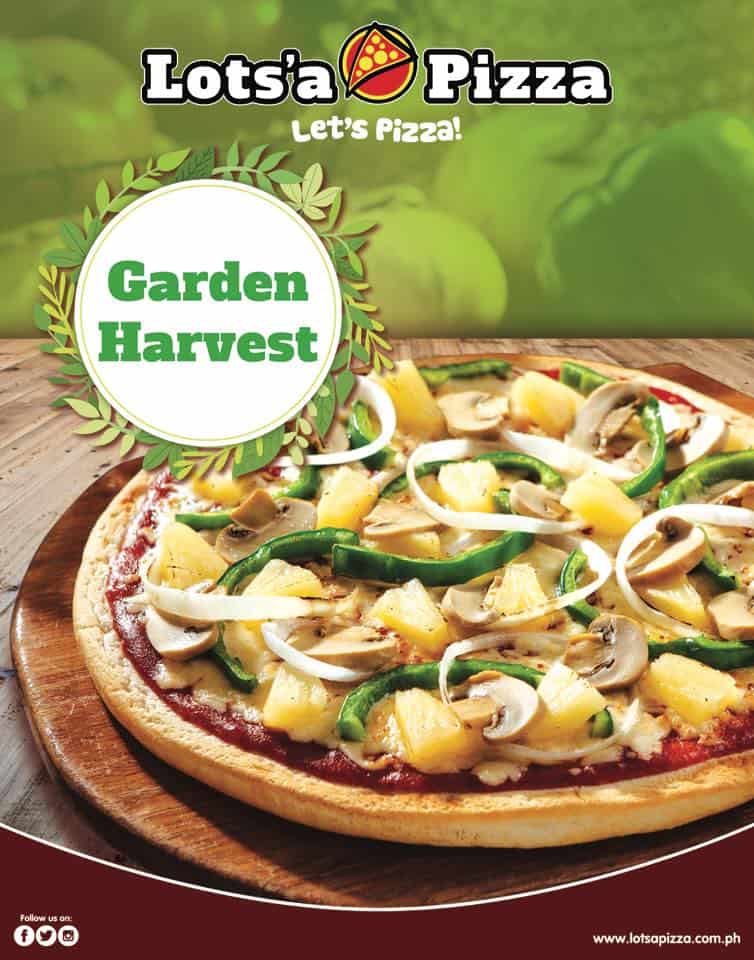 Roast Beef N' Cheese – This Lots'A Pizza menu is topped and overloaded with roasted beef and lots of cheese! This is a meaty pizza that is very delicious and will surely make you full.
Double wHAMmy – Literally topped with double the amount of ham and cheese! This pizza is heaven for those Ham and Cheese Pizza lovers out there!
Bacon Blaze – This variety of pizza has cheese, Lots'A Pizza sauce, smoked bacon, and pineapple chunks, all of which are placed on top of their signature par baked crust.
Lots'A Pizza Pasta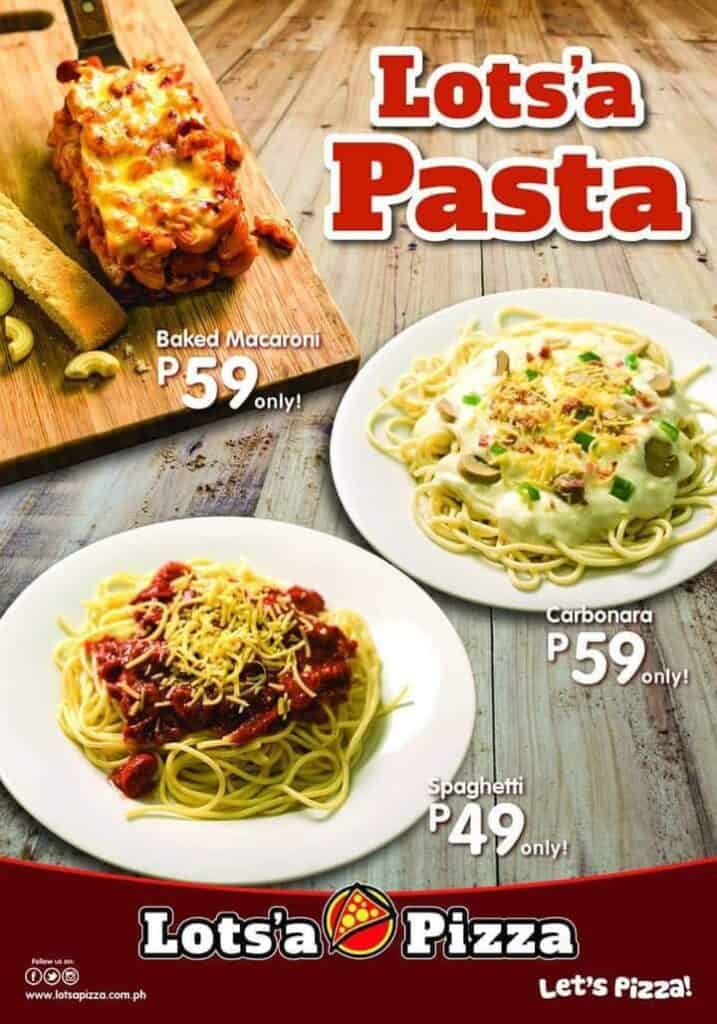 Spaghetti – The Filipino version of the Italian dish spaghetti. This spaghetti dish calls for the use of banana ketchup, hotdogs, and sugar. It is a well-known long, thin, cylindrical tube that is loved by many Filipino children and will undoubtedly make them savor every inch of the strands and the sauce's juice since the spaghetti is just thick enough to stand out from the hearty family meat sauce recipe while being thin enough to be served with it.
Carbonara – Spaghetti that is seasoned with black pepper, pecorino Romano, and beaten eggs is all that is needed to make a carbonara, one of the most popular dishes in Roman cuisine. This Filipino-style carbonara dish is a hit. It is a tasty dish that you can cook for various occasions because it is rich, creamy, and mouthwatering.
Baked Mac – This Baked Mac is a meatier, slightly sweeter version of Filipino pasta's signature, but it also has the hint of sweetness that Filipino pasta has. It is the ideal dish for a get together, picnics, and potlucks due to its affordable price.
Lots'A Pizza Menu Delivery
If you want to deliver your favorite Lots'A Pizza menu from your home, you can start ordering online. You have to open GrabFoods, Lalafood, or FoodPanda and search for it. Keep in mind that the availability will depend on your location. If you are confused about what to order from them, we'll give you an idea, you can try these menus:
Great Manhattan Large – It is one of the best sellers at Lots'A Pizza and is included in their delivery menu. This pizza is made meatier and larger for the customers to enjoy!
4-in-1 Best Seller – This pizza is one of the delivery menu's best sellers. This pizza is composed of 4 types of pizza in one pizza!
Social Media Pages
For further questions, you can go to the Lots'A Pizza website or social media page. You can also like and follow Lots'A Pizza on social media to stay up to date on their promotions and events. Click on these links to be redirected to their respective social media sites.
Official website: https://lotsapizza.com.ph/
Official Facebook Page: https://facebook.com/lotsapizzaofficial/
Official Twitter Account: https://twitter.com/lotsapizza
Official Instagram Account: https://www.instagram.com/lotsapizzaofficial/
Conclusion
Lots'A Pizza's menu offers a variety of pizzas that were changed to adapt to the taste of Filipinos. They serve pizza that exactly suits the taste buds of their customers, who are mostly Filipino. Aside from their pizza's delicious taste, their pizzas are also very affordable, making them popular among the masses.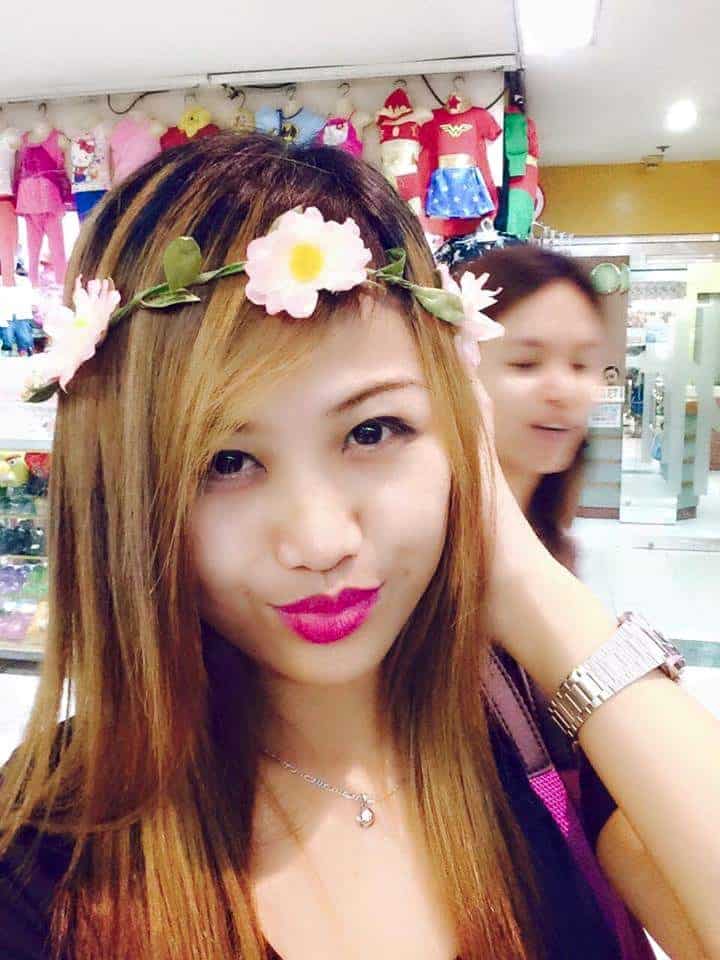 Hello! I'm Shaoyeu Cassandra, a mom who spends most of my time at home, and when I'm not busy, I enjoy writing blogs. I live in Cavite, and I really love talking about the menus of different restaurants.
So, I decided to share my thoughts on the menus of some fast-food places. I'm hoping my take on them can be like a helpful guide for you to decide what tasty treat to go for next. I hope you discover something you really enjoy! Thanks for stopping by!