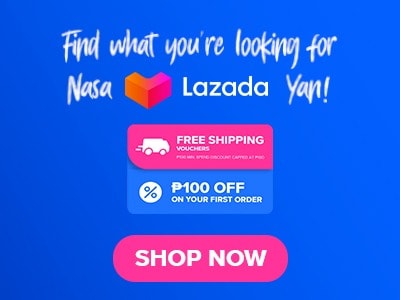 RUE Bourbon Menu offers a variety of food, drinks, and party packages that are perfect for any event. It consists of squad deals, party packages, beers, cocktails and drinks, liquors, appetizers, pizza, pasta, entrees, house specials, and platters. It is available for dine-in, customer pickup, and restaurant delivery. Its caramel-flavored beer is the star of its menu.
Menu Items
Price (PHP)

Squad Deals

Squad Deal A
1399
Squad Deal B
2399

Party Packages

Package A
4999
Package B
7999
Package C
9999

Draft Beer

Pint 480 ml
179
Big Ass Beer (1 Liter)
269
Barrel
789

Flavored Beer

Pint 480 ml
259
Big Ass (1 Liter)
349
Barrel
829

Imported Beer

Hoegaarden
199
Stella Artois
199
Corona
199

Local Beer

San Miguel Light
99
San Miguel Pale Pilsen
99
Red Horse
99
Cervesa Negra
149
San Miguel Premium
149
San Miguel Super Dry
149

Classic Cocktails

Swingin' Margarita (Glass)
249
Swingin' Margarita (Pitcher)
699
Mojito Minx (Glass)
249
Mojito Minx (Pitcher)
699
Parrot Kiss (Glass)
249
Parrot Kiss (Pitcher)
699
Gemini Buzz (Glass)
249
Gemini Buzz (Pitcher)
699
Southern Potion (Glass)
249
Southern Potion (Pitcher)
699
Sweet Talker (Glass)
249
Sweet Talker (Pitcher)
699
Koibito Kamikaze (Glass)
249
Koibito Kamikaze (Pitcher)
699
Fizzy Badger (Glass)
249
Fizzy Badger (Pitcher)
699
Tastes Like Bad Decisions (Glass)
249
Tastes Like Bad Decisions (Pitcher)
699
Penthouse Chiller (Glass)
249
Penthouse Chiller (Pitcher)
699
Just Call Me Negroni
349
21st Century
349
Manhattan Man
349
Cheeky Martini
349
Dirty Spritz
349
The Godfather
349

Shooters

Gunpowder
219
Release the Kraken
209
Lick Shot
229
Absinthe Minded
249
Happy Shot
199
Howling Wolf
229
Flaming Lamborghini
269
Hand Grenade
219

Smoothies & Juice

Strawberry Smoothie
199
Yema Smoothie
199
Natural Detox
149
Golden Banana Orange (with Alcohol)
249

Non-alcoholic

Iced Tea
65
Coke (Regular, Light, or Zero)
75
Sprite
75
Ginger Ale
95
Tonic Water
89
Soda Water
89
Bottled Water
69
Coffee Espresso
99
Coffee Oro
99

Energy Drink

Red Bull
179
Red Bull Sugar Free
179

Whiskey

Jameson Irish Whiskey (Shot)
179
Jameson Irish Whiskey (Bottle)
2499
Glenlivet 12yo (Shot)
279
Glenlivet 12yo (Bottle)
4599
Chivas Regal 12yo (Shot)
219
Chivas Regal 12yo (Bottle)
3799
Chivas Regal Mizunara (Shot)
249
Chivas Regal Mizunara (Bottle)
4499
Glenmorangie 10yo (Shot)
279
Glenmorangie 10yo (Bottle)
4599
Ardberg 10yo (Shot)
329
Ardberg 10yo (Bottle)
5999
Benchmark Old No. 8 (Shot)
179
Benchmark Old No. 8 (Bottle)
2199
Buffalo Trace (Shot)
199
Buffalo Trace (Bottle)
2999
Jack Daniel's Old No. 7 (Shot)
199
Jack Daniel's Old No. 7 (Bottle)
2999
Jack Daniel's Tennessee Honey (Shot)
199
Jack Daniel's Tennessee Honey (Bottle)
2699
Gentleman Jack (Shot)
279
Gentleman Jack (Bottle)
4599
Maker's Mark (Shot)
179
Maker's Mark (Bottle)
2299
Singleton of Glen 12yo (Shot)
279
Singleton of Glen 12yo (Bottle)
4599
Glenfiddich 12yo (Shot)
279
Glenfiddich 12yo (Bottle)
4599
Macallan 12yo (Shot)
399
Macallan 12yo (Bottle)
8499

Cognac

Hennessy V.S. (Shot)
199
Hennessy V.S. (Bottle)
2899
Henessy V.S.O.P. (Shot)
249
Henessy V.S.O.P. (Bottle)
4499
H By Hine (Shot)
299
H By Hine (Bottle)
4999

Tequila

Olmeca (Shot)
179
Olmeca (Bottle)
2199
Jose Cuervo (Shot)
179
Jose Cuervo (Bottle)
2499
Tequilla Rose (Shot)
179
Tequilla Rose (Bottle)
2799
Patron Silver (Shot)
349
Patron Silver (Bottle)
4499
Patron Reposado (Shot)
379
Patron Reposado (Bottle)
4999
Patron Anejo (Shot)
399
Patron Anejo (Bottle)
5499

Gin

Beefeater (Shot)
179
Beefeater (Bottle)
2199
The Botanist Islay (Shot)
299
The Botanist Islay (Bottle)
5499
Hendricks (Shot)
219
Hendricks (Bottle)
3999
Tanqueray (Shot)
179
Tanqueray (Bottle)
2499
Tanqueray No. 10 (Shot)
219
Tanqueray No. 10 (Bottle)
3999
Bombay Sapphire (Shot)
179
Bombay Sapphire (Bottle)
2499
Nordes (Shot)
349
Nordes (Bottle)
4999
Gin Mare (Shot)
299
Gin Mare (Bottle)
5499
Suntory Roku (Shot)
249
Suntory Roku (Bottle)
3499
Bathtub Gin (Shot)
249
Bathtub Gin (Bottle)
4499
Four Pillars (Shot)
299
Four Pillars (Bottle)
4999
Martin Miller's (Shot)
249
Martin Miller's (Bottle)
3999

Vodka

Absolut Kurant (Shot)
179
Absolut Kurant (Bottle)
2199
Absolut Blue (Shot)
179
Absolut Blue (Bottle)
2199
Belvedere (Shot)
249
Belvedere (Bottle)
4499
Skyy (Shot)
199
Skyy (Bottle)
1999
Grey Goose (Shot)
249
Grey Goose (Bottle)
4499

Rum

Don Papa (Shot)
249
Don Papa (Bottle)
3499
Havana (Shot)
199
Havana (Bottle)
2199

Liquor

Jägemeister (Shot)
179
Jägemeister (Bottle)
2199
Baileys Original Irish Crème (Shot)
199
Baileys Original Irish Crème (Bottle)
2799
Absinthe La Fée (Shot)
219
Absinthe La Fée (Bottle)
2999

Wine

Merlot (Shot)
299
Merlot (Bottle)
1299
Shiraz (Shot)
299
Shiraz (Bottle)
1299
Chardonnay (Shot)
299
Chardonnay (Bottle)
1299
Cabernet Sauvignon (Shot)
299
Cabernet Sauvignon (Bottle)
1299
Moscato (Shot)
299
Moscato (Bottle)
1299

Appetizers

Baked Oysters
599
Sisig Nachos
429
Mardi Gras Nachos
429
Chicken Skin Nachos Overload
449
Umami Fried Chicken Skin
249
Spicy Chicken Popcorn
299
Sisig Chicharon Bulaklak
399
Cajun Chicharon Bulaklak
259
Pampanga's Pride Pork Sisig
329
Gigantic Chicharone
349
Nashville Chicken Tenders
349
Potato Fries (Solo)
199
Potato Fries (Sharing)
349
Potato Salted Egg (Solo)
199
Potato Salted Egg (Sharing)
349
Shrimp and Sausage Diablo
399
Pimp my Fries
349
Rue's Signature Wings
399
Italian Calamari and Fries
369
Crispy Bagnet with Fried Bean Curd
399
Mozzarella Nuggets
399
Beer Battered Onion Rings
299

Pizza

All Meat (Regular)
599
All Meat (Buy 1 Take 1)
899
TrufFle Mushroom (Regular)
599
Truffle Mushroom (Buy 1 Take 1)
899
Spicy Red Sisig (Regular)
599
Spicy Red Sisig (Buy 1 Take 1)
899
Spicy White Sisig (Regular)
599
Spicy White Sisig (Buy 1 Take 1)
899
Beef Birria (Regular)
599
Beef Birria (Buy 1 Take 1)
899
Five Cheese on Red (Regular)
599
Five Cheese on Red (Buy 1 Take 1)
899
Five Cheese on White (Regular)
599
Five Cheese on White (Buy 1 Take 1)
899

Pasta

Truffle with Mushroom
349
Shrimp Newburg
379
Pesto Cream with Smoked Bacon
379
Pork Sisig Aglio Olio
349

Entrees

English Fish and Chips
349
Mexican Beef Birria
399
4Hr. Braised Short Ribs & Mash
849
The Submarine (Good for Sharing)
849
Hungarian Bangers (1 Piece Sausage)
299
Hungarian Bangers (2 Piece Sausage)
499
Beef Tapa Rice Bowl
299
Kapampangan's Sisig Rice Bowl
299
Juicy Ribs Rice Bowl
299

House Specials

4 Hour Roast Beef (Single)
499
4 Hour Roast Beef (Double)
849
Juicy Ribs (Single)
449
Juicy Ribs (Double)
799
Southern Fried Chicken (Single)
349
Southern Fried Chicken (Double)
699

Platters

Wild Wings Platter
999
Soul Food Platter
1499
Cardiac Wheel
899
Triple Bypass
599
About RUE Bourbon
RUE Bourbon is a bar and restaurant that was founded in 2009. The concept of the restaurant is inspired by the well-known Mardi Grass Festival on Bourbon Street, New Orleans.
From its humble beginnings, it has now six branches located at the heart of Metro Manila. It is dedicated to providing its customers with a unique experience. Caramel beer is the game-changer and the foundation of its success.
RUE Bourbon Menu Best Seller
Caramel Flavored Beer – The tagline of Rue Bourbon is "The House of Caramel Beer" because it is the foundation of their success. It is available in pints (480ml), big ass beer )1 liter), and barrel.
Swingin' Margarita – This iconic margarita is one of the most-sought classic cocktails in this restaurant.
Mojito Minx – It is a tangy, sweet, and bubbly drink that will bring you to your ideal tropical beach destination.
Parrot Kiss – A classic sangria that has a fruity taste.
Baked Oysters – This RUE Bourbon menu uses Aklan's finest oysters as its main ingredient. You can choose from classic Rockefeller, creamy pesto & bacon, and tempura oyster with Wasabi Mayo.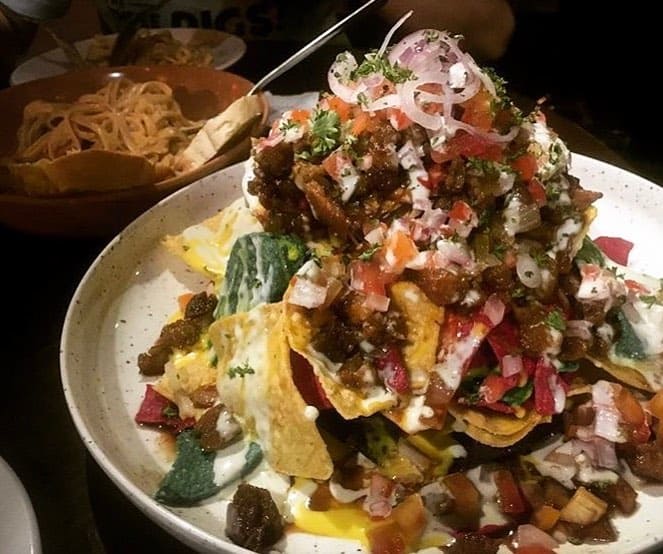 Sisig Nachos – Rue's signature grilled pork sisig makes it a bestseller. It is topped with their homemade cheese sauce, blue cheese, dressing, and romesco verde.
Spicy Chicken Popcorn – Chicken popcorn is deep fried and tossed in their Thai basil mix and is served with REU's chili gastrique.
Crispy Bagnet with Fried Bean Curd – This appetizer is made up of double-fried Korean tofu and crispy pork neck and served with Vietnamese vinegar.
Entrees Menu
English Fish and Chips – Striped catfish is marinated and coated with pale lager batter and 11 various spices. It is served with a side of Idaho French fries, cilantro vinegar, homemade tartar sauce, and coleslaw.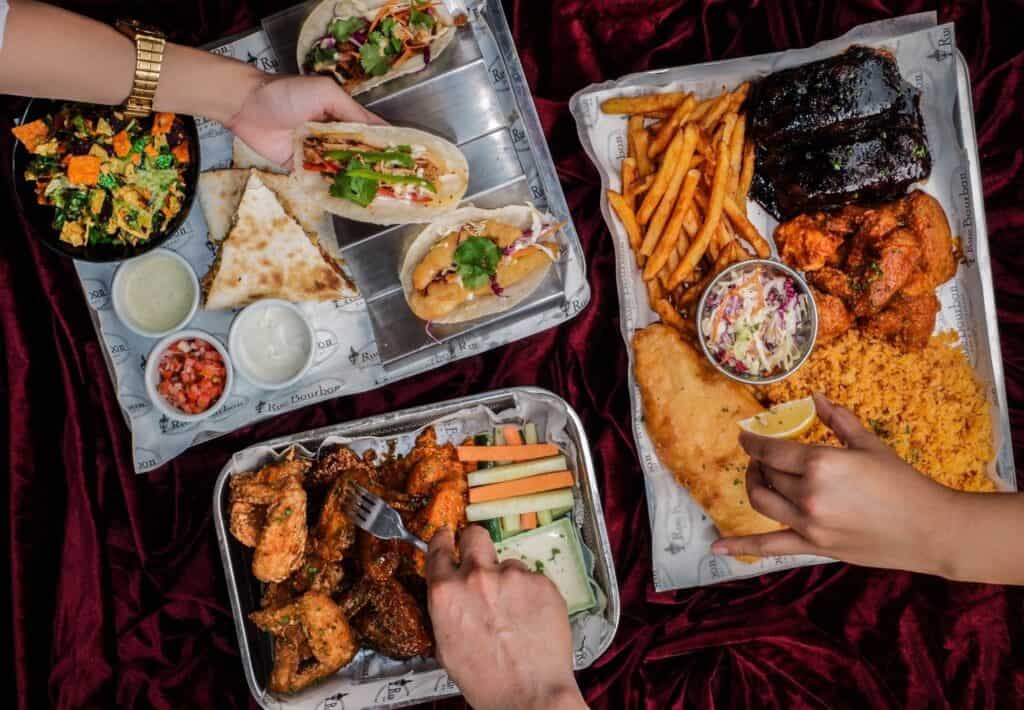 Beef Tapa Rice Bowl – Beef sirloin is cured and cooked slowly on a bed of sprinkled onion rice or garlic rice. It comes with cilantro vinegar, sunny-side-up egg, and pickled papaya.
Kapampangan's Sisig Rice Bowl – Pork sisig is cooked twice and mixed up with RUE's ponzu olio. Sunny side-up egg, cilantro vinegar, and pickled papaya are added to this entrée.
Pizza Menu
All Meat Pizza – It is a combination of overloaded with Applewood Bacon, Hungarian sausage, and sauteed garlic con Carne.
Five Cheese on White – One of Manila's most underrated pizzas, this Rue Bourbon Neapolitan-inspired pizza menu, is topped with a Quattro Formaggio blend that is cooked to perfection.
Pasta Menu
Truffle with Mushroom – Wild shitake mushrooms and fettucine, Iberian wild truffle cream sauce, and homemade lardon bacon essence are combined to create this delectable pasta.
Shrimp Newburg – Rock shrimp is perfectly sauteed and tossed on a creamy parmesan bechamel sauce.
House Specials
Juicy Ribs – Pork ribs are slowly cooked to achieve a juicy taste. It is topped with Rue's classic hickory barbecue sauce or spicy poblano/ancho hickory barbecue sauce and served with corn riblets, French beans, and classic coleslaw. You can choose from parsley rice, mashed potato, or java rice.
Platters
Cardiac Wheel – Buffalo tenders, calamari, fish fingers, and Idaho fries are included in this platter. The dips that come with it are blue cheese, curry catsup, cheese, garlic mayo, spicy mayo, and tartare.
Triple Bypass – Crispy chicken skin, pork, and chicken chitterlings are included in this triple bypass platter and are served with Rue's Vietnamese dressing.
RUE Bourbon Best Entrees Menu
Mexican Beef Birria – It is a classic beef dish from Jalisco made up of beef shank that is slowly cooked and mixed up with peppers, red onions, and Oaxaca cheese. It comes with beef consommé, tomato salsa, blue cheese dressing, romesco verde, and tomato salsa.
4Hr. Braised Short Ribs & Mash – This must-try entrée is made up of slow-cooked short ribs and comes with corn riblets, French beans, mashed potatoes, and de bouf consommé.
The Submarine – This entrée is good for sharing. Slowly cooked short ribs, cucumber, and pickled sweet onions are stuffed in Rue's sweet milk bread.
Hungarian Bangers – Hungarian sausages, corn, French beans, mashed potato, and curry ketchup come together in this delectable entrée. You can choose from 1 piece or 2 pieces of sausage.
Juicy Ribs Rice Bowl – In this entrée, pork ribs are cooked slowly and topped with the restaurant's spicy poblano/ancho hickory or classic hickory barbecue sauce. It is served with spring onion rice, sunny side-up egg, and garlic.
RUE Bourbon Burgers
Pound for Pound Burger – It is a three-blend house burger that is grilled according to your preference.
Hornets Chicken Burger – Chicken fillet is fried to crispy perfection and mixed with special blends created by REU Bourbon. Rojo Aioli and cheese sauce are spread over it.
RUE Bourbon Pizza
Spicy Red Sisig – It is one of Rue's Neapolitan-inspired pizzas that is covered with in-house Marinara sauce, fontina, mozzarella cheese, and twice-cooked Pampanga sisig.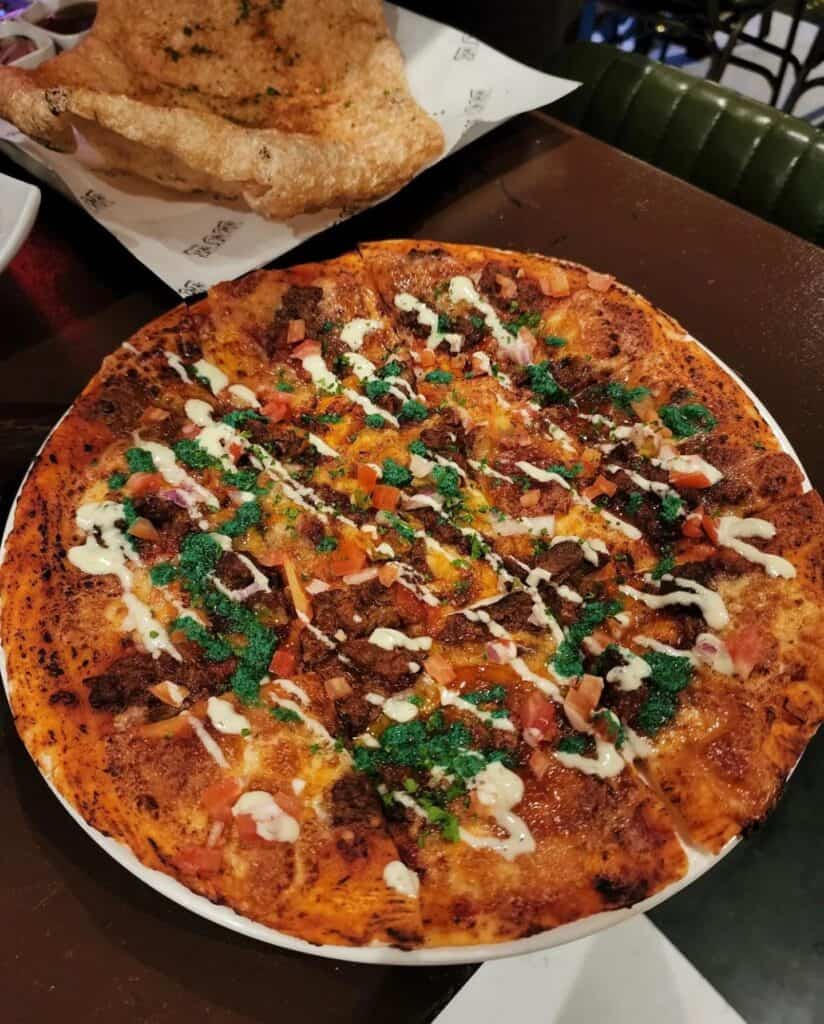 Beef Birria – Romesco verde, slowly cooked babacoa, fontina. Mozzarella cheese is spread over the dough. It comes with REU's consommé sauce that enhances its taste.
Five Cheese on Red – This delectable pizza is inspired by Neapolitan and topped with REU's homemade Marinara sauce with Quattro Formaggio.
RUE Bourbon Corporate Packages
Party Packages of Rue's Bourbon are only available for dine-in. Here are the packages that they offer.
Package A
Price: Php 4,999 (No. of Pax. 8 – 10 people)
Package Inclusions:
1 Pizza
1 Mardi Grass Nachos
1 Triple Bypass
1 Aglio Olio Pasta Platter (Exclusive for packages)
1 Juicy Rib Feast (Exclusive for packages)
1 Pitcher (Alcoholic or Non-Alcoholic)
2 Flavored Beer Barrels
Package B
Price: Php 7,999 (No. of Pax. 13 -15 people)
Package Inclusions:
1 Wings Platter
1 Triple Bypass
1 Aglio Pasta Platter (Exclusive for packages)
1 Juicy Rib Feast (Exclusive for packages)
2 Pizzas
2 Mardi Grass Nachos
2 Flavored Beer Barrels
2 Pitchers of Cocktail (Alcoholic or Non-Alcoholic)
Package C
Price: Php 9,999 (No. of Pax. 20 people)
Package Inclusions:
1 Sharing Trufle Fries
1 Aglio Olio Pasta Platter (Exclusive for packages)
1 Juicy Rib Feast (Exclusive for packages)
2 Mardi Gras Nachos
2 Triple Bypass
3 Flavored Beer Barrels
3 Pitchers of Cocktail (Alcoholic or Non-Alcoholic)
4 Pizzas
RUE Bourbon Menu Delivery
The delivery of the RUE Bourbon menu is available through their Facebook messenger and pick-up via couriers such as Lalamove and Grabfood. You need to provide details such as the date, time of delivery, name, number, address, and orders for deliveries. The menus that are available for delivery are appetizers, entrees, pasta, pizzas, house specials, cocktails, beers, and platters. The prices of their menus for delivery cost higher than dine-in.
Social Media Links
RUE Bourbon menus, events, announcements, and schedules are posted on their social media accounts. Facebook is their most active social media platform. Their social media managers are very responsive to messages. The best time to get a prompt response from their Facebook messenger is 10:00 AM to 5:00 PM.
Facebook: https://www.facebook.com/RueBourbonMNL/
Instagram: https://www.instagram.com/rue_manila/
Conclusion
RUE Bourbon menu will give you a feast like royalty. Their best-sellers and must-try dishes can be viewed on the menu posted on their Facebook page. This is a perfect place where you can treat yourself or celebrate together with your family, friends, and colleagues. In this restaurant, you'll surely enjoy luxury and delectable foods, create wonderful memories, and have a good time with your loved ones.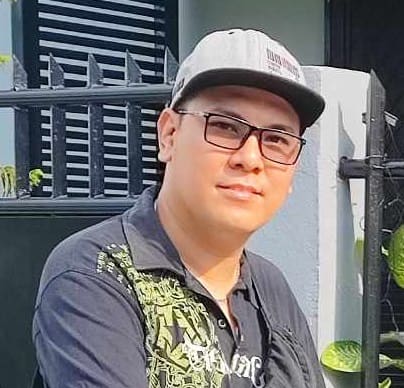 Hi! I'm Nivek Strife, the person who made MenuPH. I'm the one who added most of the popular menus you see on this website, and I really hope you enjoy them! Feel free to check them all out.
Growing up, I was surrounded by lots of tasty foods, like the classic Adobo and the sweet Leche Flan. That love for the many flavors of the Philippines is what got me excited about adding to MenuPH. When I learned how to make websites, I saw the need for a place to show off all the amazing Filipino dishes, and that's how MenuPH started.
MenuPH isn't just a website; it's like a fun journey into food. I've teamed up with famous chefs and found great places all over the Philippines to bring you a bunch of menus that show off the best of Filipino cuisine. Whether you're into the usual dishes or new twists, MenuPH is here to guide you through the rich world of Filipino flavors.
With MenuPH, my aim is to help local businesses, talk about good food choices, and make a group of friends who love food. No matter if you like fancy restaurants or street food, MenuPH has something for you. Come join me on this food adventure as we find great places, taste real flavors, and enjoy the unique food traditions that make the Philippines awesome.