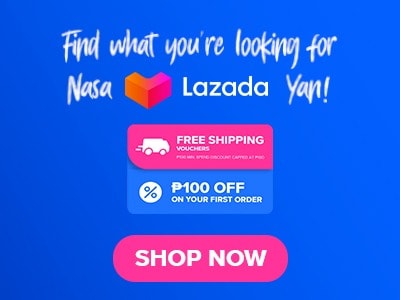 Are you looking for an Italian restaurant to bring your family and friends to? No worries I got you, they have some of the best pasta and pizzas that you can find in the market. Matter of fact they are actually one of the best Italian restaurants that you can find in the country these days. Ever heard about Italianni's? If not may I have your precious time? Let's get to know the Italianni's menu offers, prices, and a little bit about them. I'm actually excited about this since they are one of my best restaurants to go to whenever my Italian cravings kick in. Let's see if after this article you'll consider trying their food. Don't want to be biased here but I can assure you that the food is really delicious. Let's start people.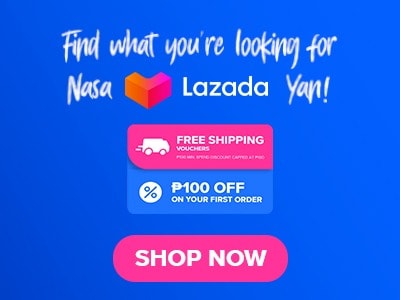 Menu Items
Price (PHP)

Antipasto

Eggplant parmigiana
495
Italian truffle fries
445
Italianni's frutti
525
Spinach and artichoke formaggio
445
Mussels lombardi
375
Toasted ravioli cheese
450
Fried calamari
485
Chicken wings
495

Insalate

Four Seasons
695
Insalata rucola
525
Caesar salad
485
Sicilian salad
595
Italianni's salad
795

Zuppe

Minestrone soup
220

Pastas

Angel hair Mediterraneo
365
Spaghetti vongole
375
Frutti di mare
455
Shrimp and basil aglio olio
375
Penne arabiata
365
Carbonara classico
445
Seafood cioppino
445

Hand crafted pizza

Truffle and mushroom pizza
695
Margherita
645
Classico
675
Pepperoni
675
Shrimp mushroom and anchovie
750
Garlic and cheese
595
Quatro staggioni
795
Quatro carne
765
Quatro formaggi
695
Tropicale
675

Pizza Grande 17inches

Quatro staggioni grande
1395
Pizza due
1250

Dela cucina frutti di mare

Parmesan crusted fish fillet
595
Seafood rice
650
Seafood stew
795
Salmon oreganato
650

Dela cucina carnes

Chicken milanese
645
Chicken Italianni's
795
Chicken parmigiana
445
Chicken cacciatore
795
Herb roasted chicken
745
Herb roasted chicken platter
1495
Grilled pork chop au poivre
565
Crispy pork ribs
745
Baby back ribs
995

Bistecca

USDA Ribeye 12oz
1895

Risotto

Mushroom risotto
545
Seafood risotto
695

Dolce

Panna cotta
335
Salted caramel chocolate cake
285
Tartufo
480
New york cheesecake
485
White chocolate coconut cheesecake
285

Bambino

Create your own pizza
255
Kids spaghetti
280
Pasta and chicken fingers
396
Chicken fingers
280

Beverages

Freshly squeezed lemonada
175
Peach mango lemonade
175
Orange lemonade
175
Four Seasons mango
175
Ripe mango
185
Watermelon
185
Coke regular/light/zero
125
Royal/sprite
125
Bottomless ice tea/dalandan
150
Sola iced tea
95
Wilkins bottled water
95
San benedetto water
275
Americano
110
Espresso
110
Decaf
110
Cappuccino
145
Cafe latte
145
Cafe mocha
145
Hot chocolate
145
About Italianni's
This restaurant is originally a concept that is started by Carlson Restaurants which is actually the parent company of TGI Fridays an American cuisine restaurant that is popular with its steaks and burgers. Italianni's restaurant is a place where you can enjoy Italian food with family and friends without breaking the bank. Carlson restaurant sells its US locations and the Russel family purchased the original location in 2002.
Sticking to the concept and adding a personal touch, Russel's is the one that grew Italianni's into what it is today. Joyce Russel the proprietor said that when their family brought Italianni's in 2002 her oldest son named Brett set a complete and unique dining experience that the customers will enjoy and will definitely make them come back not as just customers but as friends. Providing a homey atmosphere for the guest.
Italianni's Best Menu Seller
Here are some of the best food items that you can find on their menu.
Chicken Picatta – Spaghetti pasta with marinara sauce served with generous chicken breast fillet, brown sauce, and porcini mushrooms and seared with basil. Delicious? Yes, it is! This special dish is actually one of my favorites on their menu.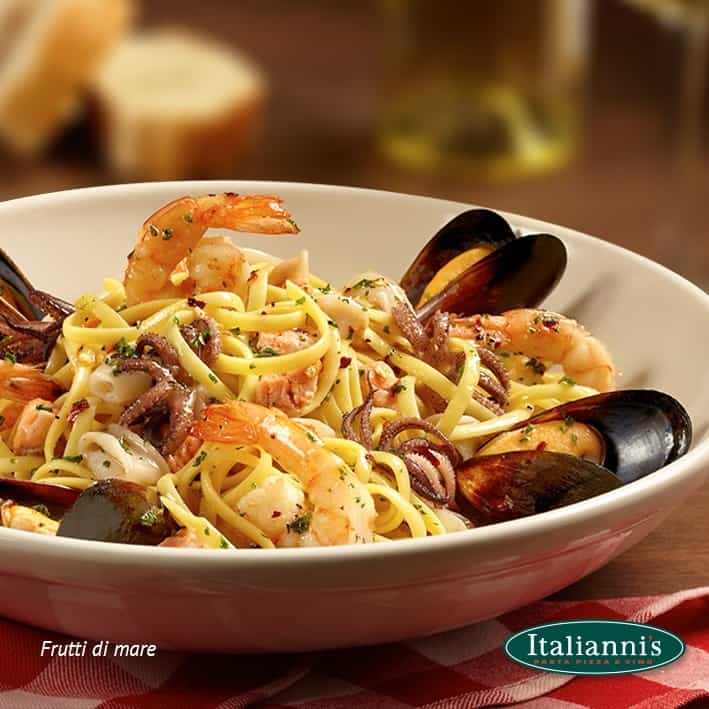 Frutti di Mare – Shrimp, mussels, clams, and scallops served with fettuccine pasta in creamy white sauce. This delicious dish is really good. Highly recommended for seafood lovers that want to try pasta with their favorites. So creamy you'll surely have some more.
Eggplant Parmigiana – Flavorful and cheesy. This Italianni's menu is deep-fried eggplant covered with tomato and cream sauce and topped with yummy mozzarella cheese. A simple yet satisfying dish to try on their menu. I love how cheesy and flavorful this dish is, try it, and surely it will be your new favorite.
Tomato and Truffle Gorgonzola Mushroom Bruschetta – Made with traditional Italian crostini bread topped with fresh tomato, mushroom, truffle, and some splash of truffle balsamic to add more flavor. It may look small but filling because of those loaded toppings.
Shrimp Pomelo Salad – Mixed greens tossed in their delicious honey vinaigrette dressing. It also has fresh pomelo chunks, black olives, marinated cherry tomatoes, grilled shrimp, and cheese. So delicious and filling. Recommended for those who are counting calories but still want to enjoy food.
Italianni's Pizza Menu
Italianni's serves hand-crafted pizzas and the great thing here is you'll get to choose whether you like the classic dough or thin crust. Here is the list of their pizzas that you should try.
Truffle and Mushroom Pizza – Pizza made with truffle cream and shitake mushrooms topped with three kinds of cheese. Parmesan, mozzarella, and gouda.
Classico – Made with mushrooms, peppers, and Italian sausage topped with mozzarella, and Parmesan cheese. A classic way to enjoy pizza in the most delicious way.
Pepperoni – Also a classic pizza, made with pepperoni, white onion, mozzarella, and arugula.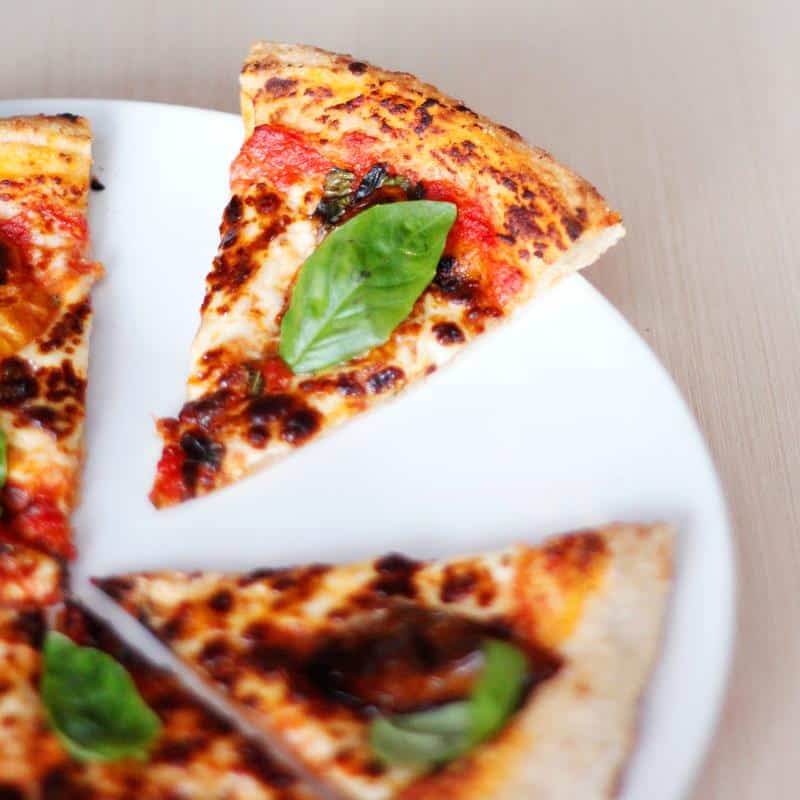 Photo Credit: Italianni's Philippines FB Page
Margherita – Asiago, provolone, Parmesan, mozzarella, basil, and tomatoes in tomato all in one delicious treat.
Shrimp Mushroom and Anchovies – Made with shrimp, some shitake mushrooms, provolone, anchovies, and mozzarella. Yummy right? Trust me on this. It is really delicious.
Garlic and Cheese – Provolone, mozzarella, and fresh garlic. A very simple pizza that you'll surely love especially if you love the garlicky taste of your food.
Quattro Stagioni – This Italianni's menu pizza is for those who can't decide what flavor to order. It had four flavors for you to enjoy. Those are mushrooms and artichoke, pepperoni, shrimp and black olives, and all cheese.
Quatro Carne – Four flavors of pizza just like the Quatro Stagioni but all four flavors are meaty. Italian sausage, bacon, pepperoni, and parma ham mozzarella. Recommended for meat lovers.
Quatro Formaggi – Made with Parmesan asiago cream, smoked gouda, gorgonzola, cheese, teleggio and mozzarella cheese.
Tropicale – Made with pine ham, bacon, some pineapples, and cheese. Just like Hawaiian pizza. Recommended for those who love some sweet taste on their pizza.
Social Media Pages
If you want to follow the Italianni's and always get the latest menu, prices, and promo, then you should start following them. In this way, you won't miss any important news about them whenever they posted something. To start following them, open the links below:
Facebook: https://www.facebook.com/italiannisph/
Instagram: https://www.instagram.com/italiannisph/
Twitter: https://twitter.com/italiannisph
Italianni's Menu Delivery
If you happen to crave your Italianni's favorite dishes no worries because you can go to their website at https://www.italiannis.com.ph/ where you can order thru third-party delivery services listed on their website like food panda, grab foods, bistro delivers and pick a roo. Please take note that delivery and other services are maybe unavailable depending on your location and product availability.
FAQs
Who owns Italianni's Philippines?
Jean-paul Manuud is the owner of Italianni's here in the Philippines.
Is Italianni's International?
Yes. It is an international brand of a restaurant in fact its headquarters is in Miami Florida United States.
Is there Italianni's promo?
Yes, they have a lot of promotions. Just like their 50% off every Saturday if you are using a Citi credit card. They also have 30% off with promo codes. To know about their latest promotions you should like and follow their social media accounts to be updated.
Conclusion
One of the best Italian restaurants that I tried and one of my favorite places to go whenever I'm craving some Italian pasta and other Italian food. The place is homey with a customer-friendly ambiance where you will definitely feel welcome every time you visit their store. The place is also well-maintained and the crews are amazing. A lovely place to dine in with your friends and family with reasonable prices on their food without compromising the quality. The food is really delicious. Highly recommended for people who love to try Italian food and for those who are looking for a cozy place to go with their loved ones.