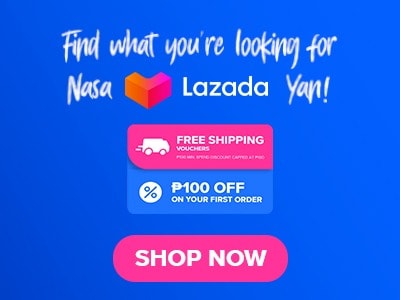 The Cafe France menu features amazing, savory food with a French influence that is both fresh and delicious. Everything on their vast menu is prepared by their talented team of culinary masters using only the best ingredients. Every delectable taste is a testament to how much they focus on having excellent ingredients and their enthusiasm for creating and serving extraordinary food. In addition to satisfying diners' appetites for delicious meals, they also want them to have a relaxed experience.
Below, you'll find the updated list of Cafe France menu prices.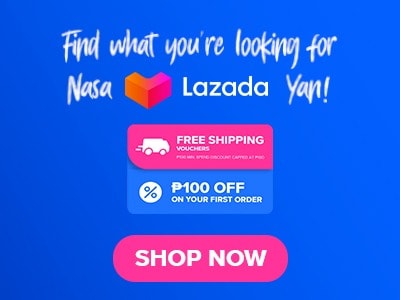 Menu Items
Price (PHP)

Breakfast

Ham and Egg
289
Crispy Bacon and Egg
299
Frankfurter and Egg
299
Breakfast Deluxe
379

Menu Sandwiches

Grilled Ham and Cheese
109
Egg Salad
119
Tuna Oion
139
Chunky Chicken
149
Crabstick Celery
169
French Dip Roast Beef
219
Chrispy shrimp
239
Farmer's Hamn Brie and Raspberry
259
Smoked Norwegian Salmon
275
Spanish Sardine
109
CF Primiere
119
California Chicken
129
Seafood Deluxe
139
Roast Beef
139

Create Your Own Meal

Choose your Salad
299
Choose your Pasta
299
Choose your Sandwich
299

Party Trays

Package A
3500
Package B
3700
Package C
3700
Package D
3800
Package E
4200
Package F
4900
Package G
5450

Omelette

Ham and Cheese
219
Healthy Spinach and Mushroom
219
Country Garden
239
Smoked Norwegian Salmon
299

Soup

Pumpkin
95
Creamy Mushroom
99
Seafood Linguine
139

Salad

Salad Chicken Salad
10
Fruits and Nuts
10
Oriental Shrimp
10
Potato and Bacon
75
Shrimp and Ham Macaroni
75

Pasta/h2>

Salmon Pasta
169
Cheesy Beef Lasagna
199
Creamy Truffle Carbonara
209
Shrimp Pesto
229
Aglio Shrimp Pasta
239
Seafood Marinara
249

Rice Meal Trays

Parmesan Baked Fish
850
Roast chicken
1050
Hickoyry Chops
1650
Beefy Mushroom
1580
Clubhosue Trays
California Chicken
660
Seafood Deluxe
710
CF Primiere
610
Roast Beef
710

Salad Trays

Potato and Bacon Salad
390
Chicken and Ham Macaroni Salad
390

Pasta Trays

Aglio Shrimp Pasta
1059
Salmon Pasta
760
Seafood Marinara
1110
Shrimp Pesto
970
Creamy Truffle Carbonara
990
Cheesy Beef Lasagna
940
About Cafe France
Located in Alabang Town Center, Alabang, Muntinlupa City in Manila, Cafe France is not only easy to find but is also very convenient for those who live in Manila and its surrounding areas. Cafe France aims for guests to be able to refresh their spirits while enjoying the freshly served dishes. And they also try to reinvent the idea of the cafe to make it a place for friendships and families.
Cafe France Menu Breakfast
Start your day with a French-style breakfast in Cafe France! There is nothing better than waking up to Cafe France's breakfast menu to start your day and replenish your energy.
Ham and Egg – This menu from Cafe France combines different ways of preparing its two primary ingredients which are ham and egg. It is a main component of an old-fashioned American breakfast that has long been adapted to many countries, just like France.
Crispy Bacon and Egg – Eggs or bacon or bacon or eggs? Whatever the case, it is unquestionably the meal you desire on those leisurely mornings when you have time to unwind at the kitchen table while sipping a few cups of coffee.
Frankfurter and Egg -The dish is made by slicing hot dogs in half but leaving both of its sides uncut and whisking eggs inside until the hotdog is filled.
Breakfast Deluxe – Hotcakes, scrambled eggs, sausage patties, hash browns, and biscuits make up Cafe France's breakfast menu. It is served during breakfast hours.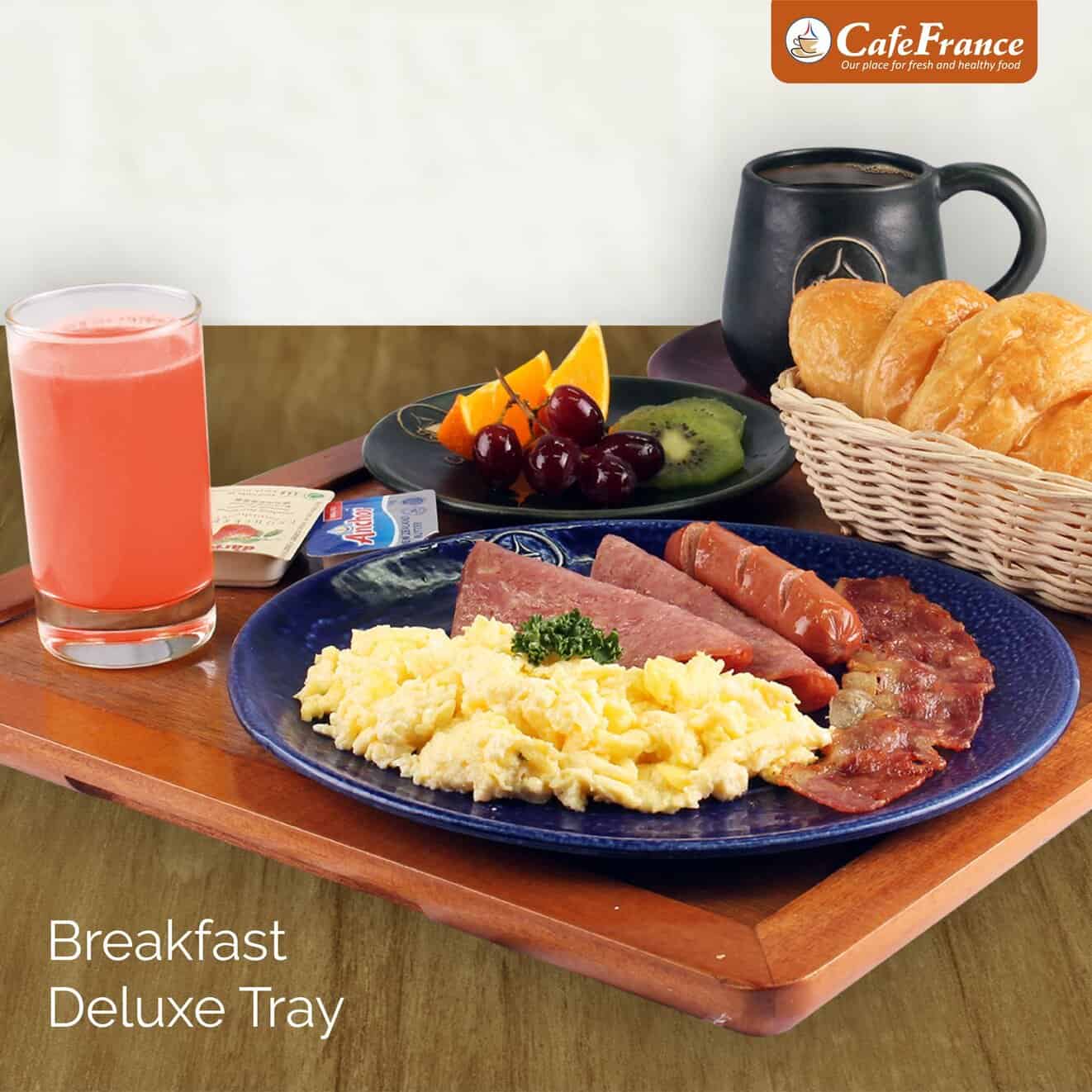 Sandwiches
As they say, "If you go to France, leaving without eating sandwiches is the same as not being there at all." after all, in France, the universal combination of bread and filling takes on a very unique twist.
French Dip Roast Beef – The simplest dinner or party food is french dip roast sandwiches with spices, which are unbelievably delicious!
Crispy Shrimp – On a French baguette, there are many fried, seasoned prawns that are piled high.
Farmer's Ham, Brie, and Raspberry – Sandwich made with brie cheese, cooked ham, and raspberry jam that is both savory and delicious.
Smoked Norwegian Salmon – This Cafe France menu is extremely aromatic and decadently smooth. It is smoked using centuries-old Norwegian processes to produce a flavor that is heady with fine wood smoke.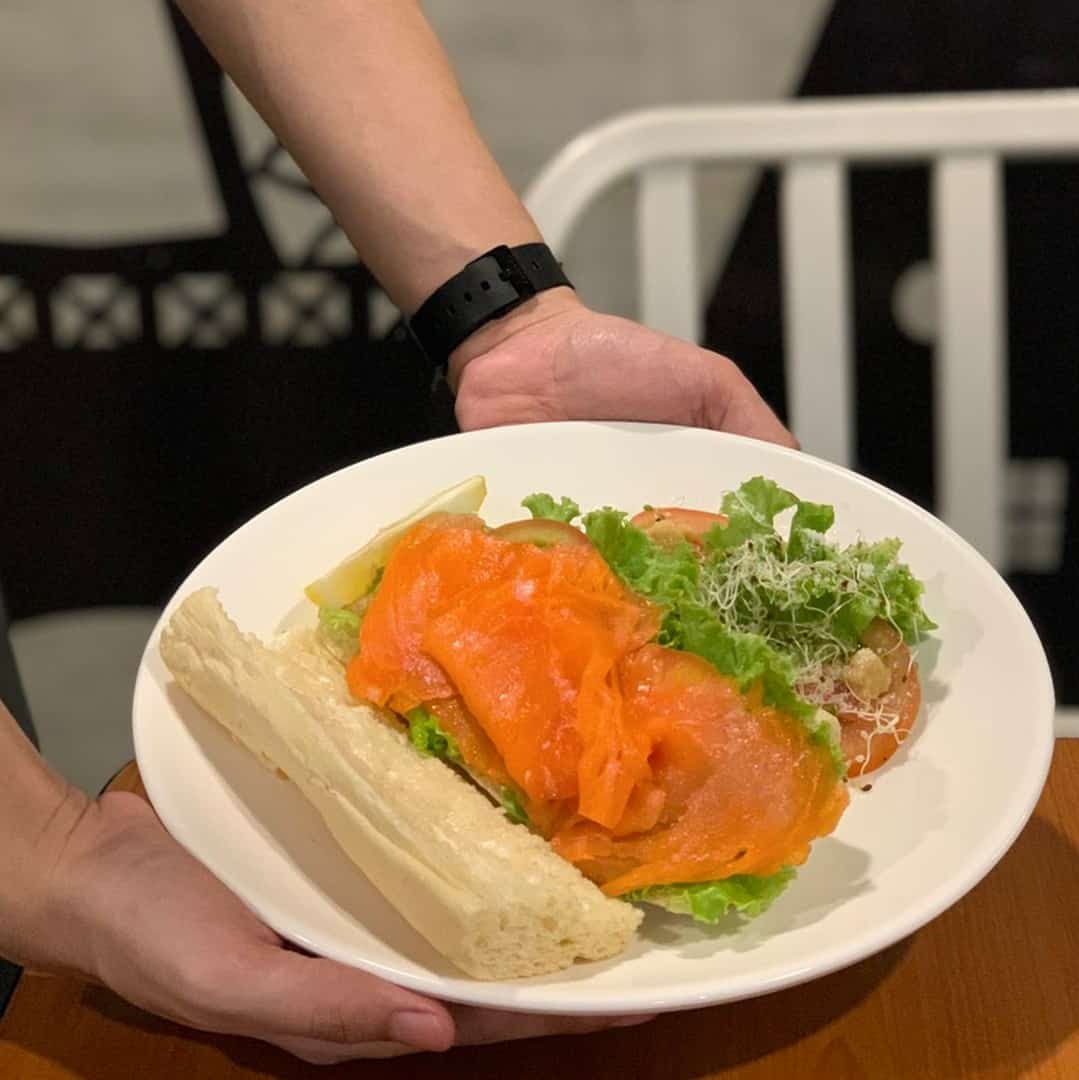 Create Your Own Meal
Cafe France also provides their diners the experience and joy of combining their own meal! They can combine whatever they want on the salad, pasta, and sandwich menus.
Choose your Salad – In the salad menu, diners can choose between grilled chicken salad, fruit, and nuts salad, and oriental shrimp salad.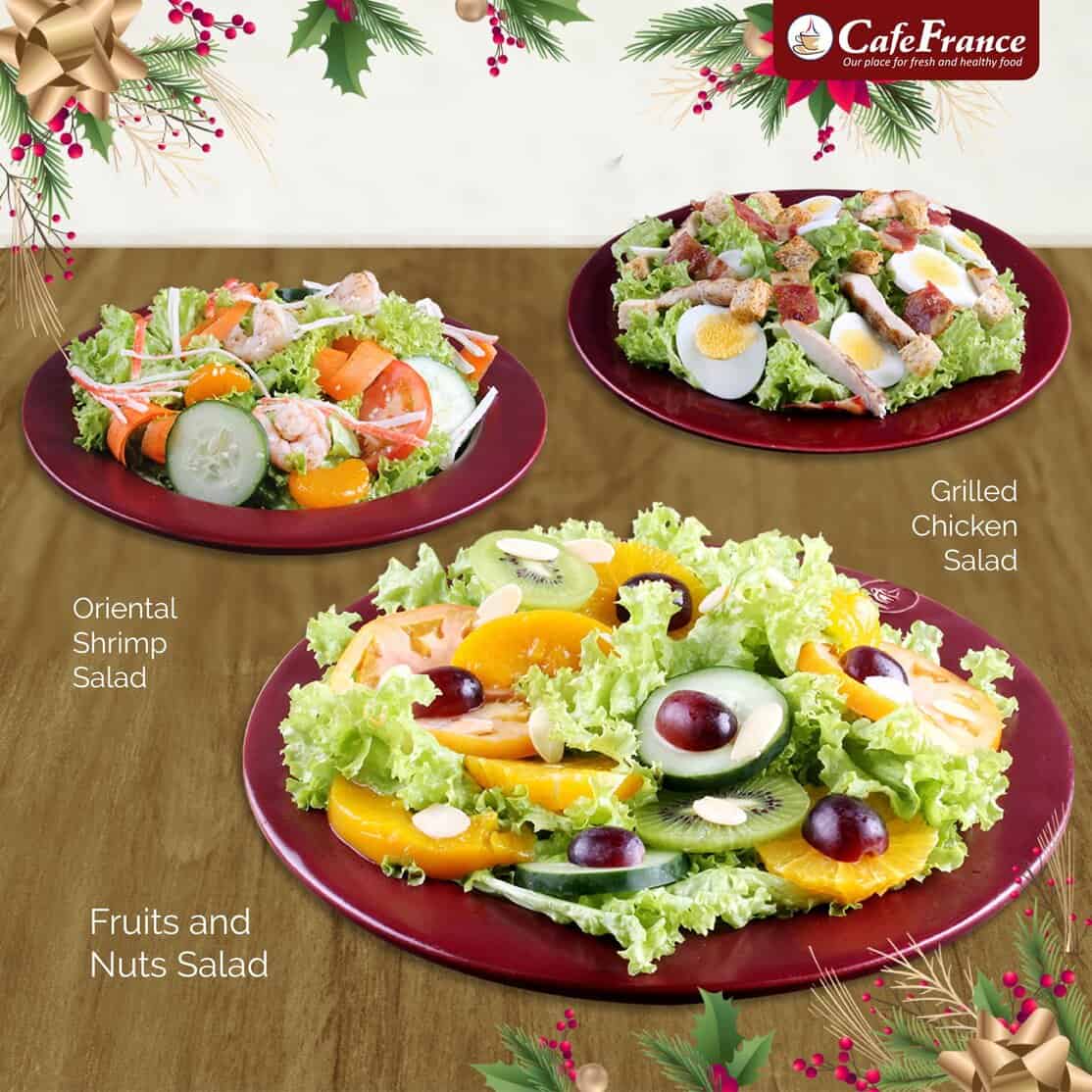 Choose your Pasta – In the pasta menu, diners can choose between salmon pasta, shrimp pesto, aglio olio shrimp pasta, and seafood marina.
Choose your Sandwich – In the sandwich menu, diners can choose between grilled ham and cheese, egg salad, tuna onion, chunky chicken delight, and more!
Party Trays Menu
Dining with friends or family? Cafe France also offers party tray menus that are very affordable.
Package A – This party tray consists of a salmon pasta tray, a creamy truffle carbonara tray, a CF Premiere clubhouse tray, a California chicken clubhouse tray, a red velvet bites party tray, and two bottles of large Pepsi.
Package B – This Cafe France menu consists of a parmesan baked fish tray, a beefy mushroom tray, a potato and bacon salad tray, a chicken and ham macaroni tray, a rice tray, a premium tart party tray, and two bottles of large Pepsi.
Package C – It is a party tray consisting of an Aglio E Olio shrimp pasta tray, a cheesy beef lasagna tray, a roast beef clubhouse tray, a creamy puff party tray, and two bottles of Pepsi.
Package D – It consists of a roast chicken tray, a beefy mushroom tray, a potato and bacon salad tray, a chicken and ham macaroni tray, a rice tray, a mini fruit tart party tray, and two bottles of Pepsi.
Package E – This party tray consists of a roast chicken tray, a hickory chops tray, a potato, and bacon salad tray, a chicken and ham macaroni tray, a rice tray, red velvet bites party tray and two bottles of Pepsi.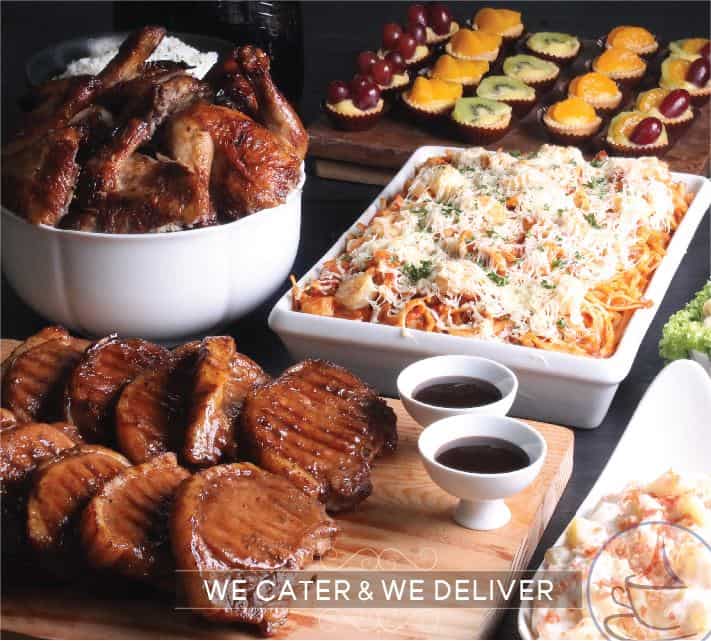 Cafe France Menu Delivery
Too busy or lazy to go outside? Don't fret, as Cafe France now offers menu deliveries.
Salmon Pasta – A straightforward yet spectacular recipe for a romantic evening is this creamy salmon pasta. Pasta with salmon, spinach, capers, and a creamy wine sauce.
Cheesy Beef Lasagna -Exceptionally tasty lasagna recipe is made with lean ground beef, French sausage, and Cheese.
Creamy Truffle Carbonara – A true winner is this creamy tagliatelle pasta that has been coming with bacon, mushroom, and a tiny bit of truffle oil.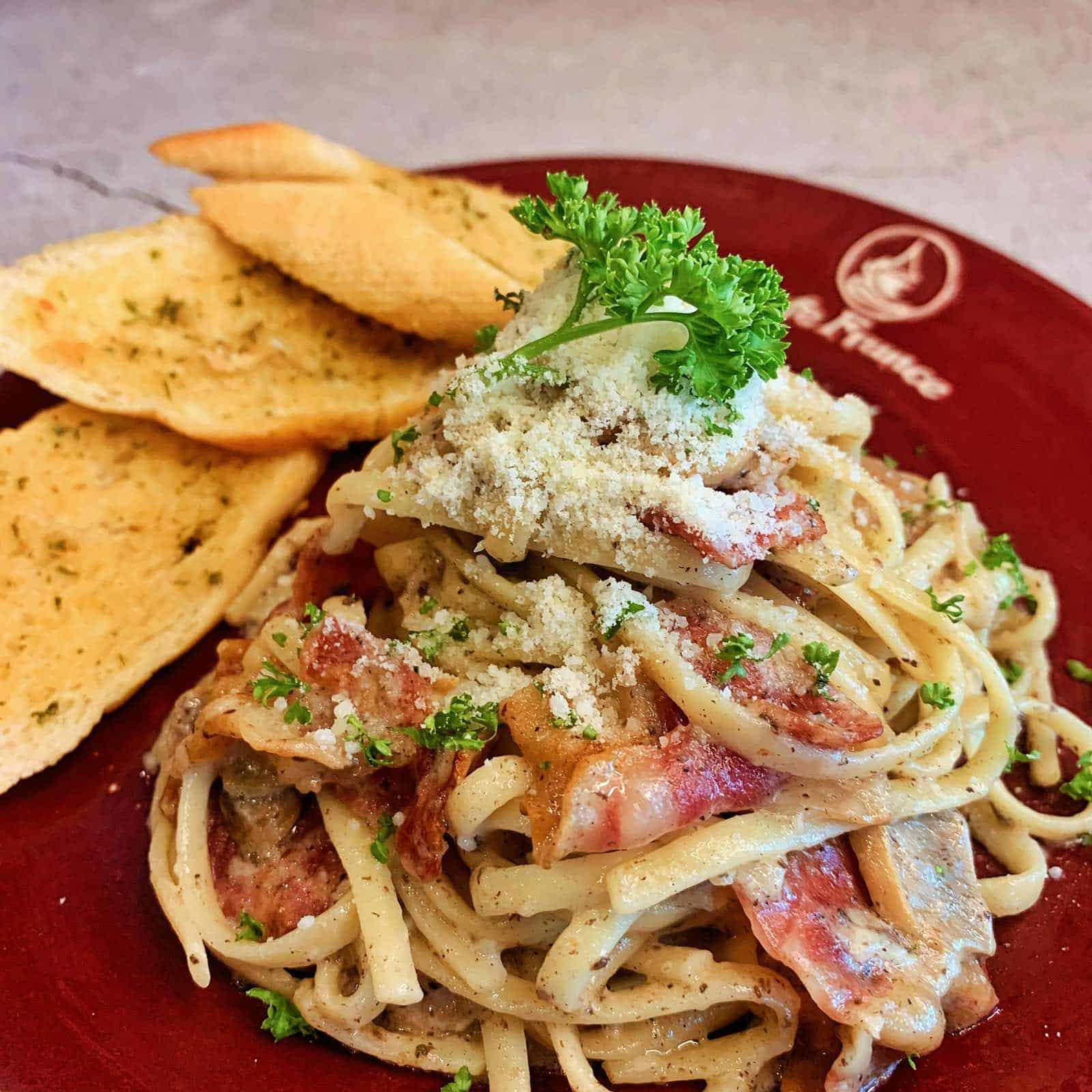 Shrimp Pesto – One of the diners' favorite evening dinners is this creamy pesto shrimp pasta. The delicious green sauce is known as pesto. It has a flavor best described as vibrant and strong.
Aglio Shrimp Pasta – The reason for this dish's incredible flavor and healthfulness lies in the few, yet potent and healthy ingredients.
Social Media Pages
Have you thought about contacting the team at Cafe France? You can easily do that by sending them a message on their official social media pages. They are active and usually respond within an hour. We also highly encourage you guys to follow or subscribe to them so you can see their latest posts.
Facebook: https://www.facebook.com/CafeFrance
Instagram: https://www.instagram.com/cafefranceph
Twitter: https://twitter.com/cafefranceph
Conclusion
It is undoubtedly one of the best French styled-cafes in the Philippines. The place has a great ambiance, and the soft music in the background adds to the soothing vibe. The Cafe France menu offers a variety of delicious and affordable meals. The staff are very accommodating and keep the place nice and quiet. Cafe France is the ideal setting for catching up with old friends or making new ones. You will be surprised after just a few dinings to discover how regularly you are returning! That's just how good Cafe France is!