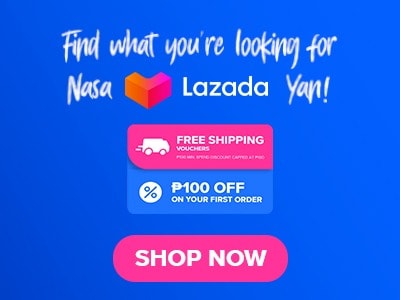 The Kitaro Sushi menu provides high quality and tasty Japanese dishes for their customers. They are known for their party trays of sushi and sashimi, which are very convenient for Filipinos, who are known to have a big family, although they also serve solo diners with very high quality Japanese dishes at a very affordable price.
Below, you'll find the updated list of Kitaro Sushi menu prices.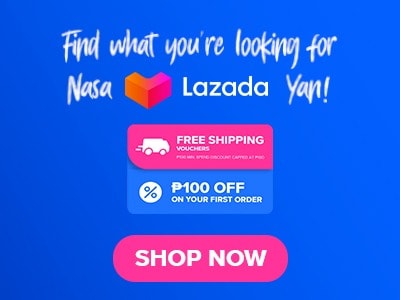 Menu Items
Price (PHP)

Sushi and Sashimi

Assorted Regular Mix
289
Assorted Special Mix
389
Tamago
129
Kani
199
Maguro
279
Ebi
229
Salmon
229

Specialty Rolls

Salmon Kawa
179
California Maki
229
Spicy Tuna Maki
229
Kitaro Maki
279
Ebi Tempura Maki
289
Tiger Maki
289

Donburi

Mixed Tempura
239
Beef Yakiniku
289
Katsudon
289
Gyudon
309
Katsu Curry
329
Salmon Teriyaki
379

Obento

Sakana Furai
269
Mixed Tempura
279
Tonkatsu
309
Beef yakiniku
309
Chicken Terriyaki
329
Seafood Tempura
349
Seafood Teppanyaki
349

Noodles

Yakludon
219
Yakisoba
229
Ramen
259
Sukiyaki
289
Gyoza Ramen
299
Miso Ramen
299
Ajitama Ramen
299

Appetizers

Gyoza
169
Tori Udon Salad
229
Kani Salad
229
Kitaro Special Salad
279
About Kitaro Sushi
Kitaro Sushi is a Japanese restaurant that is located in Salcedo Village, Makati City. They offer their customers, who are mainly Filipinos, great Japanese food right at their fingertips. Kitaro Sushi aims to further introduce Japanese cuisine to Filipinos and remind them how delicious and tasty Japanese dishes are! Kitaro Sushi aims to be the place for you whenever you want to eat classic Japanese dishes that are very affordable.
Kitaro Sushi Menu Best Seller
Knowing that Filipinos typically have a large number of people in their families, Kitaro Sushi serves a party platter that is enough for you and your family members to dig in!
SAMURAI Party Starter – A typical sushi platter for a party that includes, California maki, Tekka maki, Tamago maki, Tekka maki, Kani sushi, Salmon sushi, Maguro Sushi, Unagi sushi, and Ebi sushi.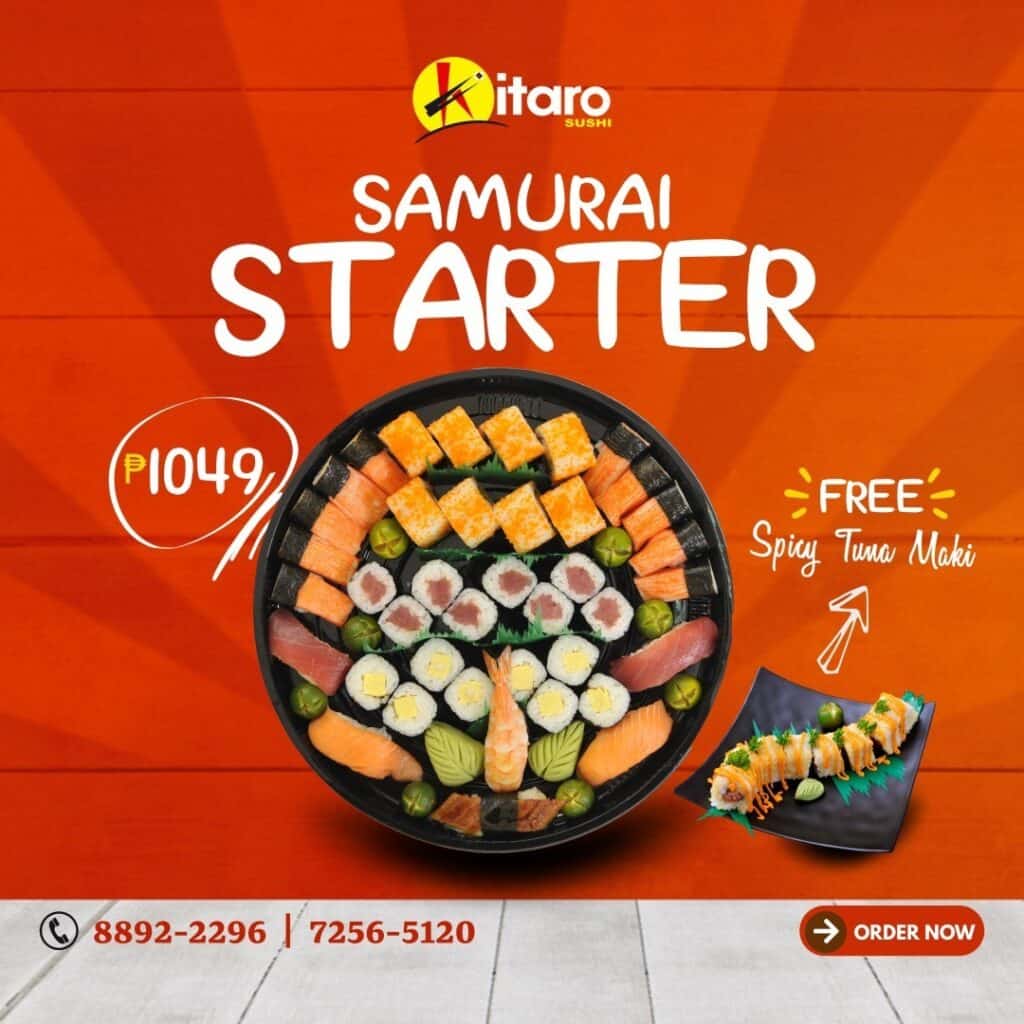 Mini Party Tray – Have a few of your friends over? Then this party platter from the Kitaro Sushi menu is for you! California maki, Futo maki, Maguro sushi, Kani sushi, Tamago sushi, and Ebi sushi are all included on this straightforward mini party platter.
California Maki Party Starter – If you and your friends only prefer California Maki, this party platter is for you! You can start your gathering with a party platter of ALL California Maki and eat until you're full!
SHOGUN Party Starter – A party starter designed for Shogun, who is a military leader in Japan. California maki, Kani sushi, Tamago sashimi, Tuna sashimi, Salmon sushi, Maguro sushi, Unagi sushi, and Ebi sushi are all included in this luxurious party platter.
Sushi and Sashimi Menu
Your Japanese restaurant experience won't be complete without Japan's staple dishes like sushi and sashimi. Kitaro Sushi menu offers both of these dishes for almost the exact same price.
Tamago – This menu consists of sushi rice that has been wrapped in a strip of nori seaweed and topped with a sliced cooked egg. Even though this sweet sushi is supposedly a favorite among individuals who don't like raw fish, practically everyone enjoys it!
Maguro – Maguro is a variety of tuna that is frequently offered to Japanese diners. It is a relatively lean source of protein and is more commonly referred to as bluefin tuna. Sushi and sashimi are made with this tuna.
Salmon – This type of sushi is frequently consumed in the "nigiri" style, which involves topping a ball of vinegared sushi rice with a piece of salmon. It is frequently eaten with soy sauce, wasabi, salt, and a little bit of lemon.
Assorted Regular Mix – This item is an assorted mix of tamago, ebi, tuna, and kani that can both be made into sushi or sashimi.
Assorted Special Mix – This item is an assorted mix of salmon, tuna, unagi, ebi, and gunkan that can both be made into sushi or sashimi.
Specialty Rolls
Kitaro Sushi has also made specialty rolls for its diners. In Japan, these are known as maki, which consists of sushi rice and fish that are wrapped in seaweed, also known as nori.
Salmon Kawa – Kitaro Sushi brings a fresh way to enjoy salmon skin, all natural and without additives. This dish is composed of salmon skin, cucumber, sesame seeds, and a teriyaki sauce.
California Maki – This dish uses snow crab legs as its base, with an addition of fruits and vegetables. The nori in this dish is placed within the sushi since it was also made to be eaten inside out; its outer layer is made up of sesame seeds.
Spicy Tuna Maki – Three components make up this Kitaro Sushi menu. Nori, sashimi-grade tuna, and sushi rice are rolled to make this tasty tuna roll!
Ebi Tempura Maki – A shrimp tempura roll that is often made with fried shrimp, pieces of cucumber and avocado, seasoned sushi rice, and nori.
Donburi
What is a Japanese restaurant if they do not serve a rice bowl dish, or what is also known as "donburi"? Donburi is a Japanese dish that consists of fish, meat, veggies, or other things that are cooked together and eaten over rice in Japanese cuisine. Meals called donburi are typically served in giant rice bowls of the same name.
The Kitaro Sushi Donburi menu consists of Mixed Tempura, Beef Yakiniku, Katsudon, Gyudon, Katsu Curry, and Salmon Teriyaki.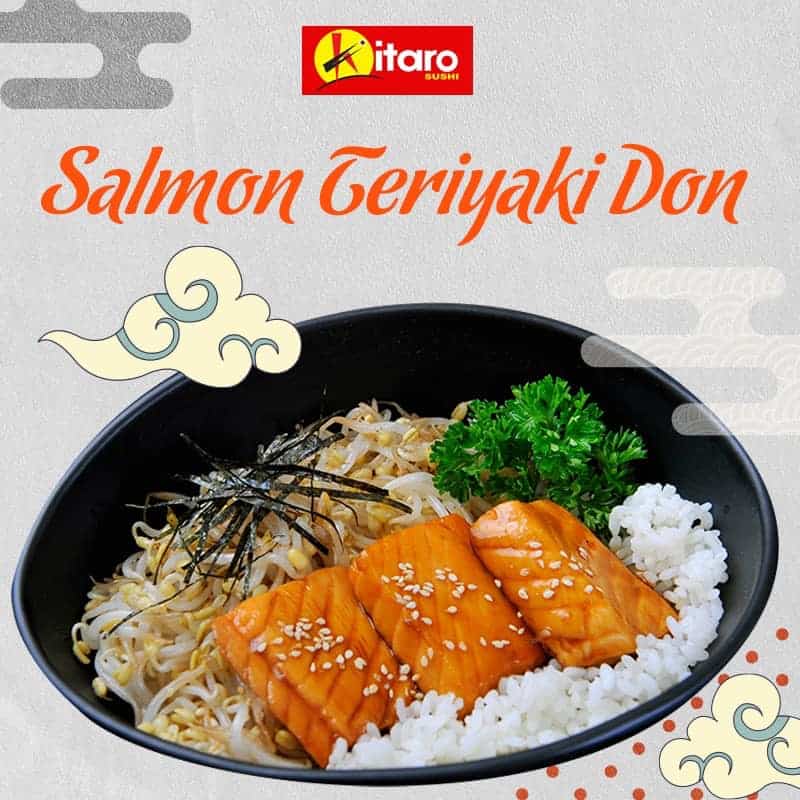 Obento
A restaurant wouldn't be called a Japanese restaurant if they weren't selling obentos. Obentos are a type of boxed lunch in Japan that is more than simply a quick meal on the go; it is also a piece of art and a channel of communication between the maker and the recipient. Although the traditional obento was a straightforward dry rice meal, it has gradually evolved into a lovely and time consuming craft.
Kitaro Sushi offers different varieties of obento that even non-Japanese will surely get fond of! Their menu consists of Sakana Furai, Mixed Tempura, Tonkatsu, Beef Yakiniku, Chicken Teriyaki, Seafood Tempura, and Seafood Teppanyaki obentos.
Kitaro Sushi Menu Delivery
Kitaro Sushi also delivers selected items on its menu. To order, contact 8892-2296 for the Makati branch or 7256-5120 for the Quezon City branch. You can also download the FoodPanda or GrabFood apps and order through the application. The social media platforms of Kitaro Sushi can also provide you with information about your order and how to place one; links are provided below.
Facebook: https://facebook.com/kitaroph
Instagram: https://www.instagram.com/kitarosushi_ph/
Conclusion
Kitaro Sushi provides very affordable and tasty Japanese dishes for Filipinos. Although the restaurant has "sushi" in its name, that doesn't mean that they only serve sushi, it is just to emphasize the kind of restaurant that they are. Their menu has a wide variety of Japanese dishes, from sushi to sashimi, teriyaki, donburi, and obento, and they even have their own special maki rolls. A fan of Japanese cuisine and culture? Then Kitaro Sushi is a must-visit place for you!