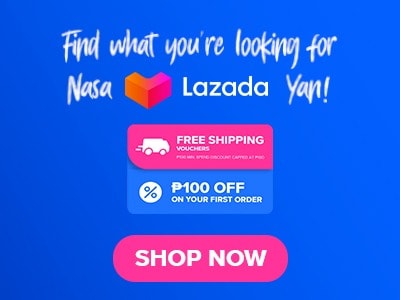 Are you looking for a great buffet but don't know where to go? If you're in the Makati area this is a must-try buffet since the quality of their products is exceptional. Have you heard about Cafe 1228? If not and you're looking for an amazing buffet restaurant then this is the right article for you. Cafe 1228 menu offers a variety of delicious choices from salad stations to desserts and fruit stations. The quality of the products that they offer is just great and the value of your money is considered. Interested in this one? interested in Cafe 1228? Let's go and get to know them more. Let's not delay things here and here we go.
Below, you'll find the updated list of Cafe 1228 menu prices.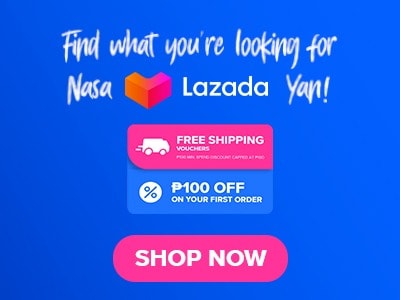 Menu Items
Price (PHP)

Breakfast Types

Continental Breakfast
850
American Breakfast
1050
Filipino Breakfast
1050
Healthy Breakfast
850

Breakfast Specialties

Baked Waffles, Berry Compote, Maple Syrup
415
Pancakes, Fresh Banana, Maple Syrup, Whipped Cream
385
French Toast, Apple And Cinnamon Compote
395

Egg Dishes

Two Eggs Any Style With Hash Brown Potatoes, Crispy Bacon, Pork Sausage And Tomatoes
645
Three Egg Omelette With Choice Of Ham, Mushroom, Tomato Cheese, Asparagus, Smoked Salmon, Hash Brown Potatoes, Grilled Tomato
645
Egg White, Asparagus And Mushroom Omelette, Garden Salad
645
Bacon, Egg, And Cheese Panini
495
Two Eggs Any Style With Choice Of Corned Beef, Tapa Pork Tocino Or Daing Na Bangus With Garlic Rice And Atchara
645

Yogurt Cereal / Fresh Fruit

Choice Of Cereal: Corn Flakes, Rice Krispies, Coco Pops, Bran Flakes, Fruit Mussel, Skimmed Or Whole Milk Or Yoghurt
355
Homemade Bircher Muesli
375
Plain Youghurt With Mango, Banana Or Mxed Berries
305
Assorted Seasonal Cut Fruits
385

Morning Bakeries

Oven-Fresh Bakeries, Danish Pastry, Pain Au Chocolat, Muffins Croissant, Ensaymada Soft Roll, Butter Jam, Honey And Marmalade
395

Fruit/Vegetable Juices

Orange, Apple, Watermelon, Pineapple
305
Vitamin Booster, Beetroot, Carrot And Celery
415
Health Tonic Apple, Melon And Mint
415
Rejuvenator Calamansi, Ginger And Honey
415

Coffee/Tea/Hot Choco

Freshly Brewed Coffee, Cappuccino, Cafe Latte, Espresso Or Decaffeinated
190
Darjeeling, English Breakfast, French Earl Grey, Lemon Bush, Moroccan Mint, Sencha Green Tea
210
Hot Chocolate
230

Appetizers

In House Smoked Salmon
645
Selection Of Cold And Hot Mezze
625
Camaroon Reposado
675
Ensaladang Talong Na May Kamatis At Bagoong Alamang
475
Caesar Salad
535
Greek Salad
535

Soups

Sinigang Sugpo
315
Yellow Lentil Soup
315
Fennel Cream Soup
345

Sandwiches And Burgers

Adobo Pandesal
595
Blt
545
Club Sandwich
615
Caesar Wrap
565
Grilled Strip Loin Steak, Sandwich 50z
695
Us Prime Smoked Beef Burger 80z
675

Pasta And Pizza

Spaghetti, Penne, Fusilli Or Fettuccine
625
Baked Lasagne Bolognese
645
Tomato And Mozzarella Pizza
535

Steaks, Chops, Grill

Us Black Angus Strip Sirloin, 80z
1350
Us Black Angus Tenderloin, 80z
1550
Australian Lamb Rack
1250
Norwegian Salmon Steak
1150
Black Tiger Prawns
1350
Assorted Mixed Grill, Shish Kebab, Shish Taouk, Lamb Chop, Steamed Rice
1050

Potatoes And Vegetables

French Fries
215
Potato Wedges
215
Mashed Potato
225
Assorted Grilled Vegetables
325
Creamy Spinach
325
Steamed Or Garlic Rice
195

Filipino, Asian

Beefsteak Tagalog
695
Chicker Or Pork Adobo
675
Pancit Canton
625
Guinataang Hipon
845
Chicken Teriyaki
645
Wonton Noodle Soup
595

Vegetarian Selection

Lumpia
545
Pancit Gulay
575
Baked Cannelloni
625
Vegetable Goulash
595

Desserts

Mascarpone Creme Brulee, Mixberry Sauce
415
Mango Cheesecake
415
Halo Halo
395
Warm Apple Strudel, Vanilla Ice Cream
425
Coconut Pandan Cake, Sweet Sesame Sauce
395
Assorted Seasonal Cut Fruits
385
Assorted Cheeses
585
Three Scoops Of Your Favorite Ice Cream And Sorbet
365

For Our Young Guests

Light Creamy Tomato Soup, Basil And Parmesan Croutons
195
Spaghetti Pasta, Tomato Sauce Or Bolognese Or Butter, Parmesan Cheese
285
Beef Or Pork, Hotdog, Soft Bun, French Fries
255
White Or Whole Meal, Toasted Bread, Cheese, Ham, French Fries
275
Chicken Nuggets, French Fries, Tartar Sauce
275
Warm Chocolate Brownie, Vanilla Ice Cream, Chocolate Sauce
295
Vanilla, Chocolate Or Strawberry Milkshake
260
Two Scoops Of Your Favorite Ice Cream
245

Freshly Squeezed Juices

Orange, Apple,Watermelon, Pineapple, Carrot
305
About Cafe 1228
Cafe 1228 is located in New World Makati Hotel, this establishment is an all-you-can-eat buffet restaurant. This place features 5 cooking stations with Asian, Western, and Filipino cuisine. The place isn't that big compared with other popular buffet restaurants but they are on high-end Market so it's fine. The seats inside are comfortable as well as the ambience of their restaurant. The staff gives great customer service and if we're talking about their food they serve a decent choice of dishes to try. Cafe 1228 not only serves lunch but also dinner, with different kinds of cuisine offered and a healthier way to prepare their food. They are open daily for breakfast, lunch, and dinner on weekdays and weekends at their respective time.
Cafe 1228 Stations
Here are the stations that you can find inside Cafe 1228.
Salad Station
Cafe 1228's salad station offers a menu that consists of salad condiments and fresh greens but aside from the basic salad condiments and fresh greens they also serve kinilaw or ceviche a local favorite. I'm a little hesitant at first about the Kinilaw since I haven't eaten it for a long time but it made me happy to taste it again. Delicious in many ways. When it comes to their greens it is very fresh and they have a lot of salad condiments to choose from and having salad wouldn't be boring anymore.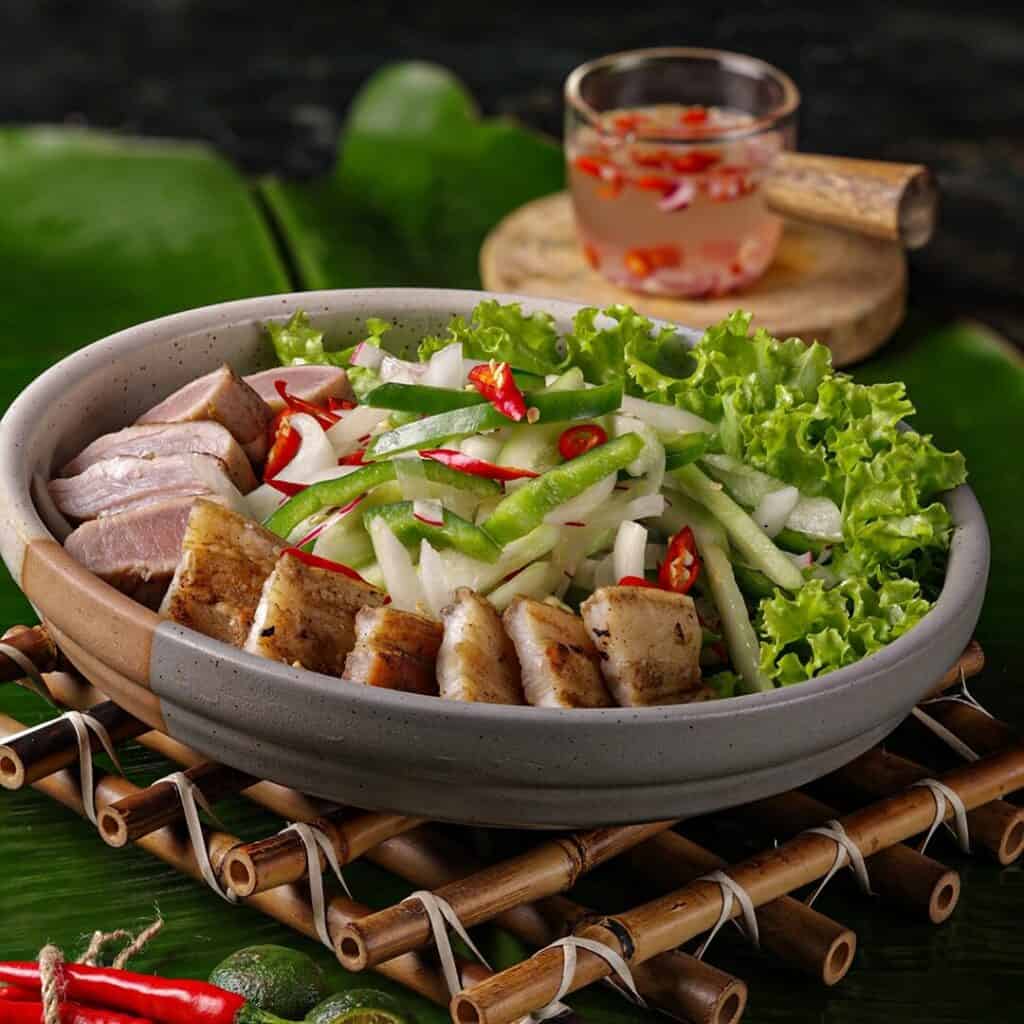 Meat Section with Live Cooking Station
Cafe 1228's meat section has large displays of different meat dishes like beef pork and lamb. The beef and pork roast with apple sauce is amazingly good and delicious it is perfectly cooked, to be honest, and it is one of my favorites menu from Cafe 1228. It is really good that I have to come back to the station for another slice. It has a live cooking area where they cook their pre-marinated meats.
In their meat section, they also have a great selection of sauces that is really good with any of the grilled meats that they serve. They also have a carving station where you can actually enjoy sausages or steak and other meats. I tried their steak and it was fine. The sausages are good as well.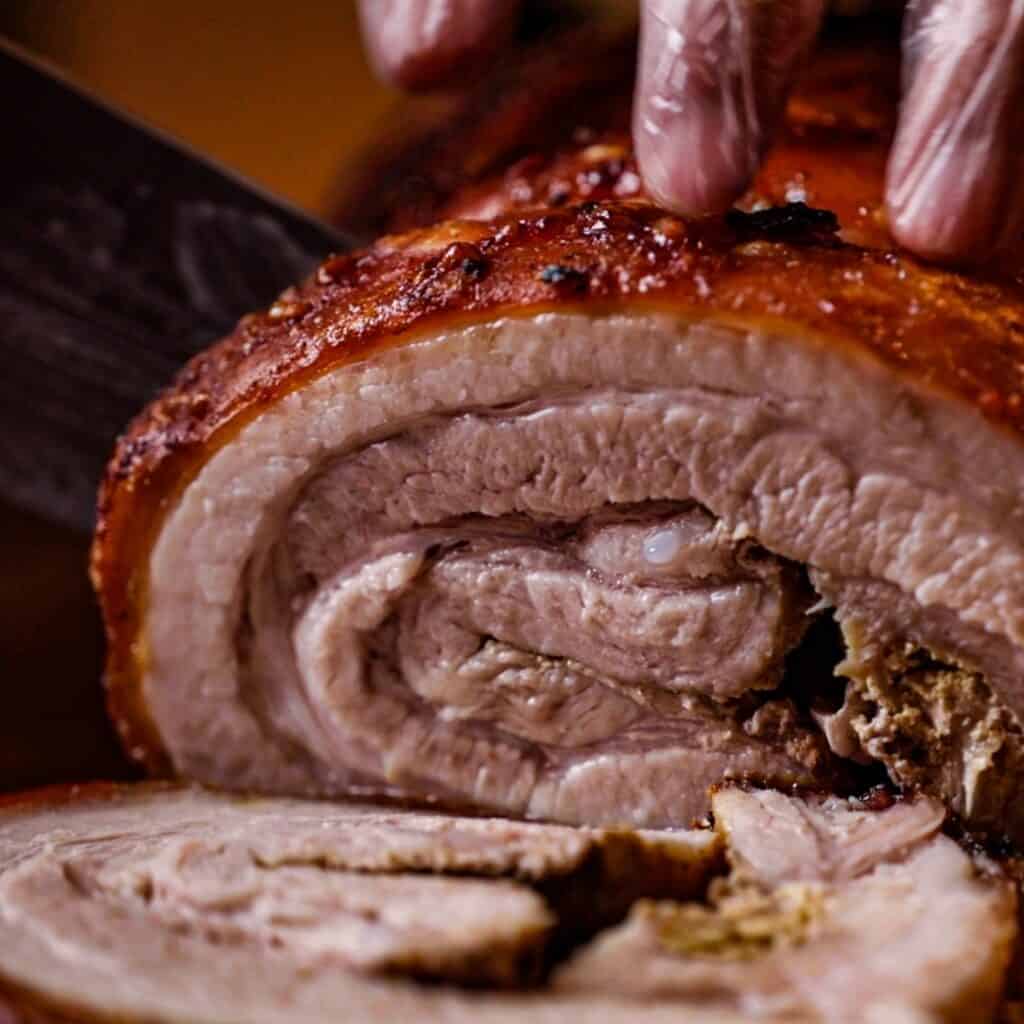 Pizza and Pasta Station
This station is obviously for Italian food lovers. Cafe 1228's Pizza and pasta station offers a wide variety of authentic pasta and pizza menu that will surely satisfy your Italian food cravings. You can order your own pizza and they will cook it for you and even the pasta's you can actually upgrade or customize your pasta based on your liking. The pizza and pasta station is a great stop and we really enjoy it but not too much since I am really enjoying myself in the meat section. 
Seafood Station
Cafe 1228's seafood station is heaven for all those seafood lovers because of the delightful and impressive seafood that they offer. Just like the meat station, you can also order your seafood and they will cook it according to your liking and instructions. They have garlic butter shrimp and crabs in this station and those are what I truly enjoy. You can also order your fresh crabs, mussels, clams, or shrimp to be grilled or if you want healthier steamed. The seafood station is one of their best station and a lot of customers are getting their hands on their seafood, had a great experience with their seafood station so I highly recommend this one not unless you're allergic to seafood.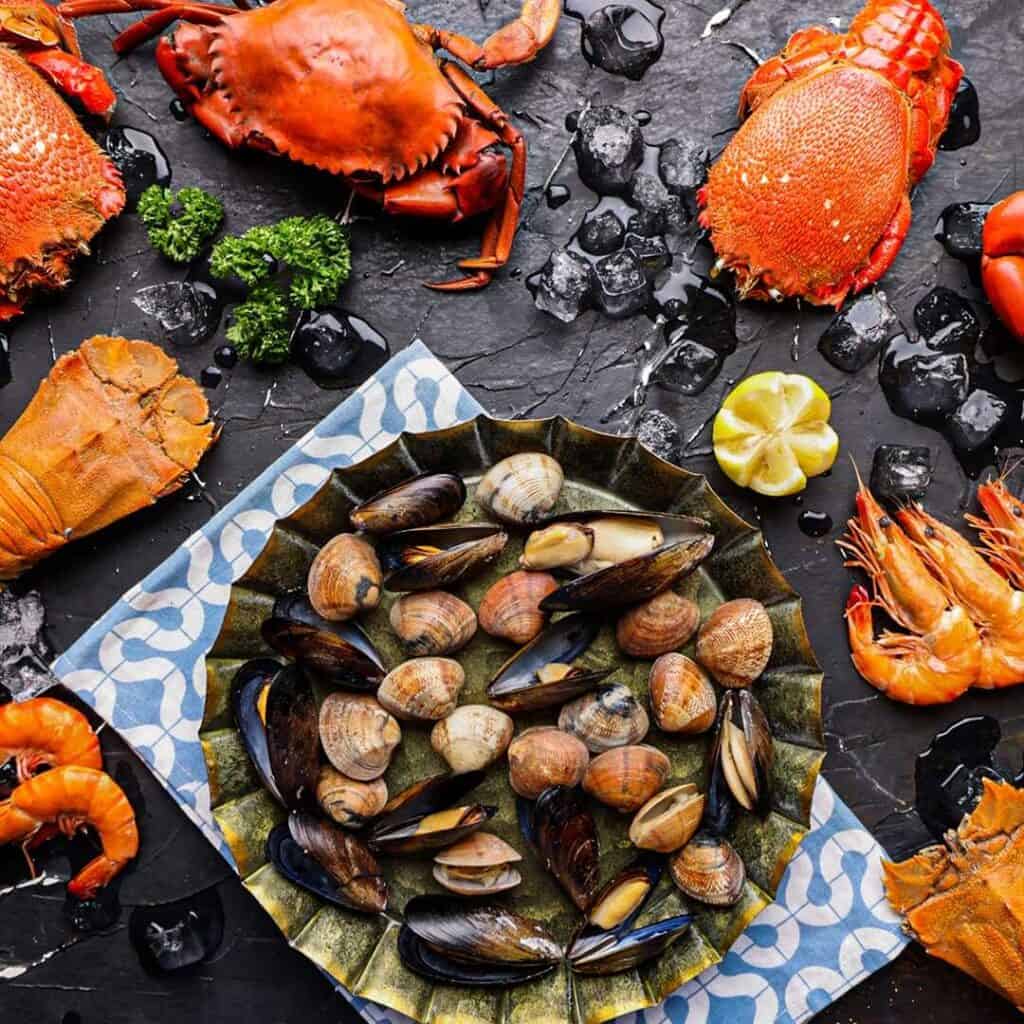 Chinese and Japanese Cuisine
Cafe 1228's Chinese and Japanese cuisine is my favorite station since I can create my own noodle soup in this station all I have to do is to instruct the chefs at the station and I can enjoy my noodle. They also have assorted dumplings that are already cooked and fresh. They also have Ramen available in this station and just like the noodles you can also customize your ramen depending upon your liking.
Sashimi, sushi, and maki are also available at this station, and just looking at their Japanese treats made you drool so I ended up stuffing a lot inside my tummy. There is a chef on standby to give fresh slices of salmon and tuna sashimi. I am actually impressed with the sashimi so I keep on coming back.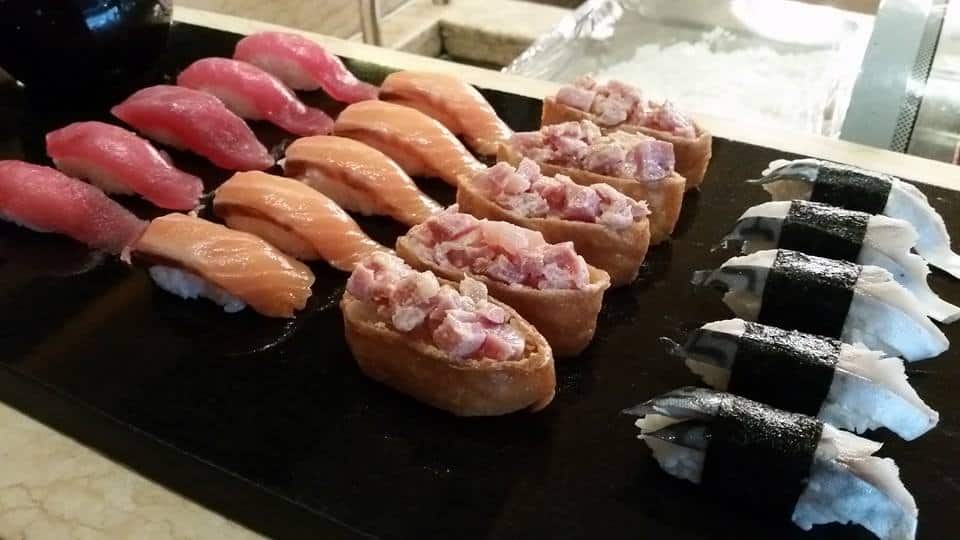 Filipino Station
I don't have to introduce this station since we all know this already. The Cafe 1228 Filipino station offers a lot of Filipino menu and I am surprised that they have sisig and crispy pata so I munch on them and it's hella good. I craved so much of this kind of food and I am really satisfied with everything that I ate. They also have Filipino sweet delicacies to offer just as maja blanca, buko pie, suman, sapin sapin, puto, and many more they also have suman with special latik to offer and that is so good. I honestly tried every Filipino dessert and it's so good. 
The Desserts and Fruits Bar
The Cafe 1228 dessert bar menu offers a huge selection of desserts from cakes and many more. They have a dessert section where you can find mini cakes and sweets to satisfy your sweet cravings. The halo and ice cream are the best for me and the presentation of their cakes is fantastic. Their desserts based on my experience are better than those offered in other buffets.

Cafe 1228 Social Media Pages
Elevate your dining experience to new heights at Cafe 1228! Join them on a journey through flavors by connecting with their social media pages. Follow, like, and embark on a journey that will ignite your passion for great food and even greater moments
Facebook: https://www.facebook.com/NewWorldMakatiHotel/
Email: [email protected]
FAQs
How much is the lunch buffet at Cafe 1228?
Lunch buffet at Cafe 1228 from 11:30 AM to 02:30 PM starts at PHP 3,200 for weekdays and 12:00 PM to 02:30 PM for PHP 3,600 on weekends and holidays.
What does Cafe 1228 serve?
Cafe 1228 serves Breakfast lunch and dinner.
Where is Cafe 1228 located?
Cafe 1228 is located in the New world makati hotel.
Conclusion
Cafe 1228 is actually okay. They offer decent food and yummy desserts they also have a lot of items to choose from so I can actually recommend them. Cafe 1228 menu has everything that you wanted and for sure they will satisfy your cravings. Their venue isn't that grand but it is really comfortable and dinners can go around without any hassle. The cafe has a homey atmosphere and their service personnel are really nice and polite. Overall, it is a nice dining experience and highly recommended.