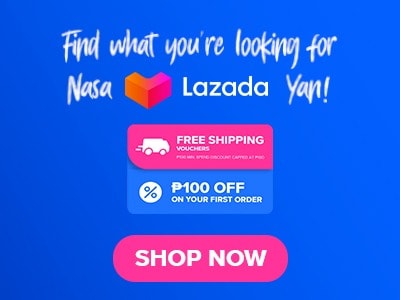 The Baliwag Grill and Restaurant menu consists of traditional Filipino cuisines. It offers appetizers, grilled, sizzlers, meat, vegetables, seafood, kambing delicacies, merienda, soup, desserts, and beverages. There are also pansit sa bilao and con lechon that are available in small, medium, and large sizes. It provides dine-in, pick-up, and delivery services to make it more convenient for diners to enjoy their favorite food.
Below, you'll find the updated list of Baliwag Grill and Restaurant menu prices.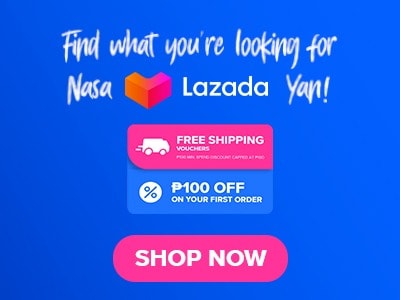 Menu Items
Price (PHP)

Baliwag Greats

Lechon Manok
355
Liempo
295
Crispy Bagnet
430
Crispy Pata
650
Crispy Ulo
760
Pork BBQ
135
Pork Sisig
255

Appetizers

Baked Mussels
170
Calamares
230
Cheese Sticks
170
Chicharon Special
40
Chicharon Laman
110
Chicharon Bulaklak
240
Chicken Lollipop
210
Crispy Hipon
220
Crispy Kangkong
125
Crispy Onion Rings
150
Crispy Tenga
230
Cucumber Salad
130
Ensaladang Manga
150
French Fries
130
Garlic Peanuts
100
Kilawing Tanigue
265
Lumpiang Shanghai
180
Mangga't Bagoong
150
Tokwa't Baboy
200
Sinuglaw
510
Sizzling Hotdog
175

Grilled

Boneless Bangus
200
Hito w/ Buro
220
Inihaw Festival
705
Inihaw na Tilapia
170
Stuffed Lumot
330
Tuna Belly
330
Inihaw na Pusit
290
Stuffed Bangus
250

Sizzlers

Bangus ala Pobre
265
Bangus Sisig
240
Beef ala Pobre
340
Sizzling Bangus Belly
285
Chicken Sisig
255
Gambas
335
Garlic Mushroom
190
Sizzling Guising-Guising
250
Kangkong
125
Pusit ala Pobre
345
Sizzling Pusit
345
Sisig Sampler
345
Tanigue Steak
290
Tokwa
170
Tuna Sisig
315

Beef

Beef Caldereta
345
Beef w/ Mushroom
345
Bistek Tagalog
340
Bulalo Steak
350
Kare-Kare
435
Kare-Kare Laman
450
Salpicao
340

Pork

Bicol Express
295
Binangoongan Baboy
290
Dinakdakan
240
Dinuguan
220
Lechon Kawali
265
Paksiw na Lechon
280
Roast Pork w/ Mushroom
280
Crispy Bagnet w/ Mushroom
280

Chicken

Buttered Chicken (Half)
295
Buttered Chicken (whole)
495
Chicken BBQ
170
Fried Chicken (half)
260
Fried Chicken (whole)
435
Sizzling Baliwag Fried Chicken
270
Spicy Buffalo Wings
240

Vegetables

Chopsuey
205
Ensaladang Talong
125
Guising-Guising
220
Kangkong w/ Bagoong
125
Pinakbet
190
Stir Fried Vegetables
160
Tortang Talong
145
Vegetables Kare-Kare
250
Laing con Hipon
350
Laing con Crispy Bagnet
380

Exotic Kambing Delicacies

Adobong Kambing
360
Kalderetang Kambing
360
Kinilaw na Kambing
240
Papaitang Kambing
240

Seafoods

Adobong Hito
220
Adobong Hito sa Gata
245
Crispy Hito w/ Buro
220
Halabos na Hipon
235
Nilasing na Hipon
220
Paksiw na Bangus Belly
285
Pinaputok na Tilapia
225
Prawns in Coconut Milk
310
Prawns in Garlic
290
Rellenong Bangus
315
Steamed Tilapia w/ Garlic Sauce
195

Soup

Batchoy Pinoy
250
Bulalo
345
Cream of Corn
165
Cream of Mushroom
165
Hototal
240
Nilagang Baka
350
Seafood Chowder
190
Sinampulakang Manok
265
Sinigang na Baboy
315
Sinigang na Bangus Belly
310
Sinigang na Baka
355
Sinigang na Buntot ng Tuna
270
Sinigang na Hipon
310
Sinigang na Tanigue
295
Sinigang na Maya-Maya
390
Sinigang na Salmon Belly
300
Sinigang na Crispy Bagnet
380
Tinolang Manok
265

Rice Meals

Caldereta w/ Plain Rice
195
Chicken BBQ w/ Java Rice
190
Dinuguan w/ Plain Rice
175
Fried Chicken w/ Plain Rice
175
Fried Tilapia w/ Plain Rice
190
Kare-Kare w/ Plain Rice
225
Pork BBQ w/ Java Rice
165

Merienda

Bihon Guisado
180
Chicken Arroz Caldo
120
Chicken Mami
135
Goto
120
Lomi
155
Lumpiang Sariwa
145
Miki Bihon
190
Palabok
160
Pancit Canton
180
Pancit Con Lechon
200
Bihon Con Lechon
200
Miki Bihon Con Lechon
210
Sotanghon Con Lechon
205
Sotanghon Guisado
185
Spaghetti Carbonara
160
Spaghetti w/ Meat Sauce
160
Clubhouse Sandwich
180

Rice & Extras

Kimchi
85
Atsara (solo)
28
Buro
28
Baliwag Rice (3-4 pax)
165
Steamed Rice
28
Garlic Rice
35
Java Rice
40
Shanghai Rice
150
Special Bagoong (bottled)
95
Special Atsara (bottled)
62
Kamatis w/ Bagoong
60

Desserts

Banana Split
190
Buko Pandan
50
Fresh Banana
25
Fresh Mango
100
Fresh Pineapple
50
Fresh Watermelon
50
Fruit Salad
50
Halo-Halo Regular
100
Ice Cream (2 scoops)
55
Leche Flan
50
Mais Con Yelo
60
Saba Con Yelo
50
Turon w/ Ice Cream
95
Additional Turon
30

Shakes

Carrot Shake
90
Four Season
110
Fruit Shakes (Green Mango, Melon, Ripe Mango, Watermelon)
100

Juices & Others

Black Gulaman
65
Coffee
50
Calamansi Juice
70
Fresh Bulalo
70
Guyabano Juice
70
Hot Choco
65
Hot Tea
50
Iced Tea
45
Iced Tea Bottomless
80
Iced Tea by the Pitcher
180
Mango Juice
70
Orange Juice
70
Pineapple Juice
65
Sago't Gulaman Pitcher
180
Mineral Water
35
Pepsi Products (in Can)
60
1.5L Softdrinks
175

Beer

Red Horse
70
San Mig Light
60
San Mig Apple
70
SMB Pale Pilsen
60

Pansit sa Bilao

Spaghetti w/ Meat Sauce (Small)
445
Spaghetti w/ Meat Sauce (Medium)
685
Spaghetti w/ Meat Sauce (Large)
995
Spaghetti Carbonara (Small)
445
Spaghetti Carbonara (Medium)
685
Spaghetti Carbonara (Large)
995
Bihon (Small)
390
Bihon (Medium)
610
Bihon (Large)
810
Palabok (Small)
445
Palabok (Medium)
685
Palabok (Large)
995
Canton (Small)
425
Canton (Medium)
620
Canton (Large)
895
Sotanghon (Small)
400
Sotanghon (Medium)
690
Sotanghon (Large)
995
Miki Bihon (Small)
390
Miki Bihon (Medium)
620
Miki Bihon (Large)
910

Con Lechon

Bihon (Small)
430
Bihon (Medium)
690
Bihon (Large)
920
Miki Bihon (Small)
430
Miki Bihon (Medium)
700
Miki Bihon (Large)
1020
Canton (Small)
465
Canton (Medium)
700
Canton (Large)
1005
Sotanghon (Small)
440
Sotanghon (Medium)
735
Sotanghon (Large)
1040
About Baliwag Grill and Restaurant
Baliwag Lechon Manok is founded by Dwight and Dolores Salcedo. The Lechon Manok craze on November 1985 inspired them to build a kiosk. Its name originates from Baliwag, a city in the province of Bulacan where Dolores grew up. They opened Baliwag Grill and Restaurant as part of its expansion to offer more dishes and cater to more customers. Today, it is one of the iconic restaurants known for offering lots of traditional Filipino cuisines.
Baliwag Grill and Restaurant Menu Best Seller
These are the best sellers of Baliwag Grill and Restaurant that are known for their distinctive flavor and texture.
Lechon Manok – It is a specialty dish of this restaurant that started it all. Chicken is marinated in the restaurant's special marinade and roasted until it becomes crispy and juicy.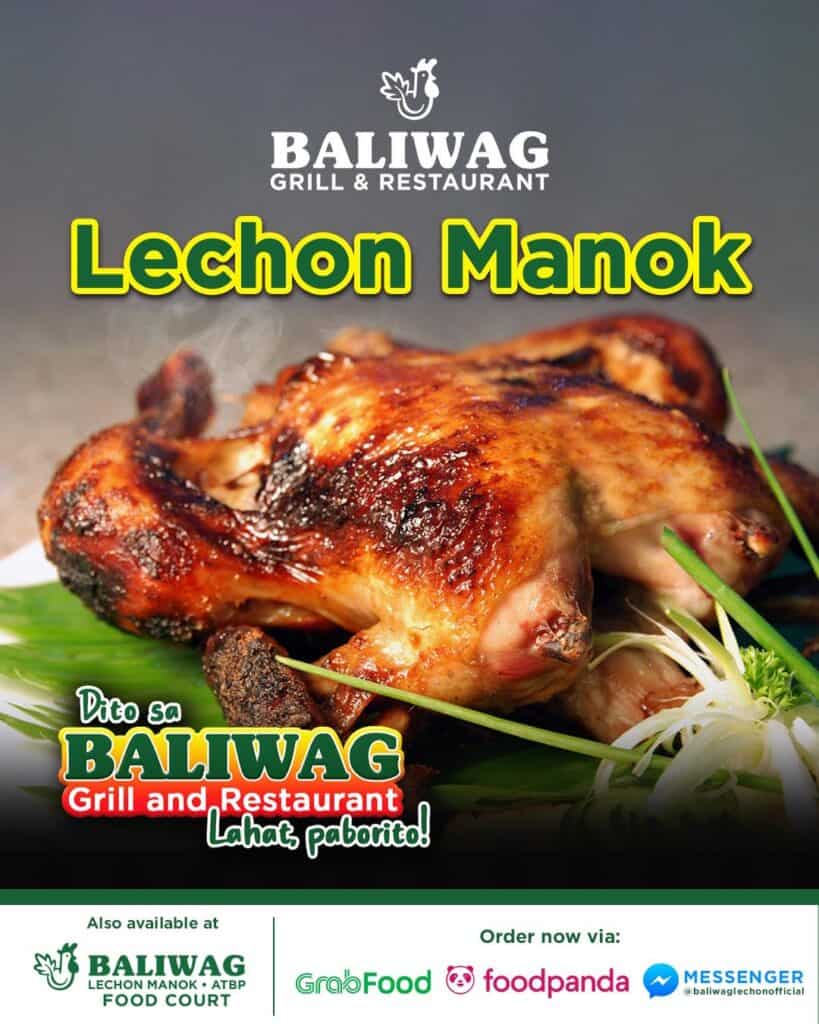 Liempo – The delicious taste of this liempo never fails to delight the crowd. his is made with a well-seasoned pork belly that is grilled to perfection.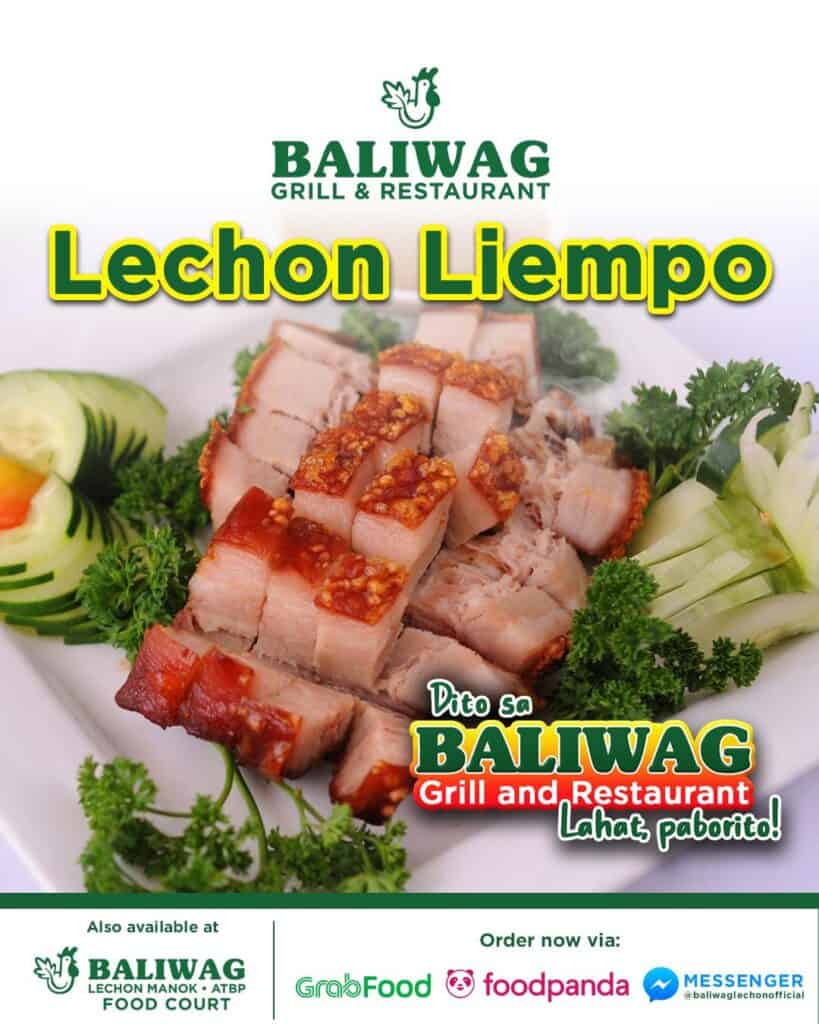 Boneless Bangus – Bangus is one of the dishes that is well-loved by Filipinos as it has a delectable taste and provides a lot of health benefits. Its boneless feature makes it more convenient to eat.
Buttered Chicken – This delectable menu of Baliwag Grill and Restaurant features crispy, deep-fried chicken enveloped in a rich, velvety butter sauce. Available in both half and whole portions, it caters to a variety of appetites and preferences.
Chicken BBQ – Tender chicken is expertly marinated in a distinctive barbecue sauce, then skillfully grilled to achieve the perfect balance of flavor and succulence. 
Rice Meals
These rice meals consist of traditional Filipino dishes paired with plain or java rice and served with Iced Tea.
Caldereta w/ Plain Rice – A Filipino dish that is famous for its rich and thick stew. The tender meat, tomato-based stew, fresh vegetables, and other ingredients go well together making it a delectable dish.
Fried Chicken w/ Plain Rice – Fried Chicken is one of the most-loved viands of people from different walks of life. Chicken is coated with special breading and deep-fried until it achieves its golden-brown color, crispy skin, tender meat, and juicy taste. Spaghetti with meat sauce is the perfect merienda dish that goes well with it.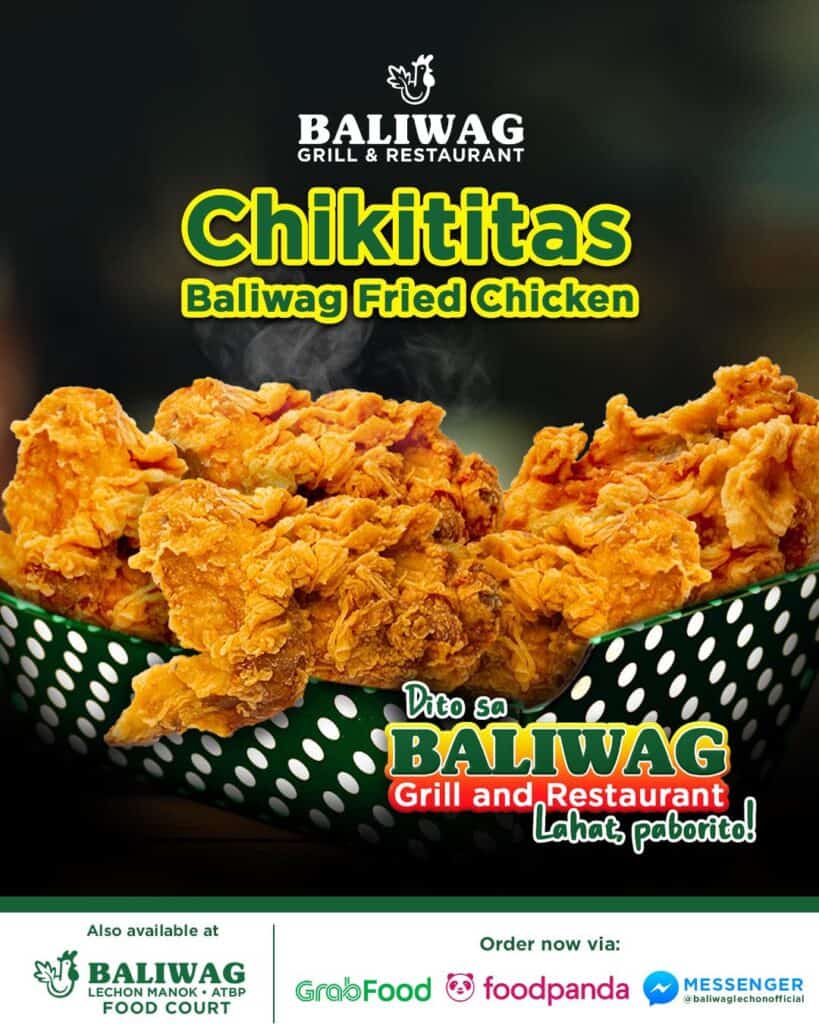 Fried Tilapia w/ Plain Rice – A simple yet flavorful and aromatic dish made with fried tilapia and served with rice. It can also be paired with atsara as the crunchiness and saltiness of tilapia match perfectly with it.
Kare-Kare w/ Plain Rice – The Baliwag special bagoong is the ingredient that makes this dish flavorful. This hearty dish is made with tender tripe and fresh vegetables. It is also a famous dish served on special occasions as it always delights the crowd. Anyone seeking a Filipino classic food menu from Baliwag Grill and Restaurant should try this one. Also, I personally love their Kare-Kare.
Pork BBQ w/ Java Rice – This dish consists of marinated pork barbecue and java rice. It is one of the classic favorite dishes of Baliwag diners. The flavorful java rice matches well with the pork barbecue.
Baliwag Greats
Baliwag greats consist of the restaurant's specialty dishes that are known for their unique and delicious taste.
Crispy Bagnet – Its satisfying crackling sound in every bite, juicy texture, and enticing flavor make it one of the favorite Filipino dishes. This is one of the restaurant's popular dishes that is made with deep-fried crispy pork belly.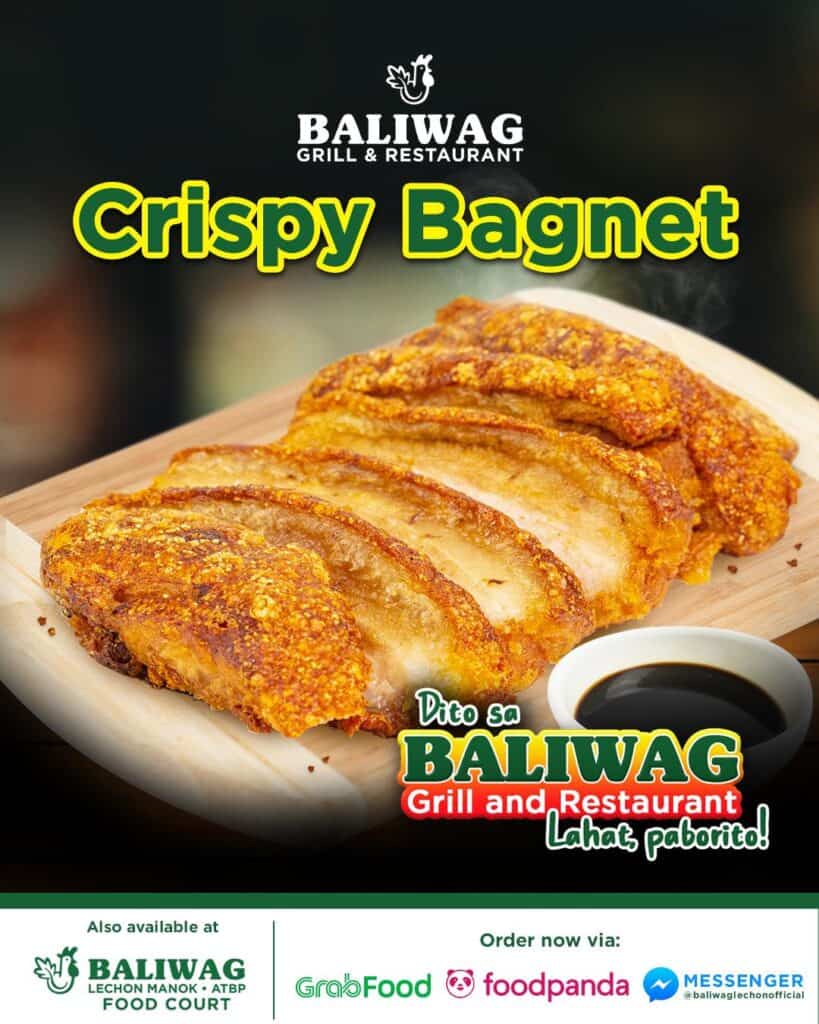 Crispy Pata – The crispy skin of this dish creates a crunchy sound that makes it more satisfying to eat. It is made with deep-fried pork knuckles and served with the restaurant's special sauce.
Crispy Ulo – Indulge in a truly unique culinary experience with this dish crafted from succulent pork head, traditionally savored alongside your favorite alcoholic beverages. This distinctive creation offers a memorable taste sensation that elevates any social gathering.
Pork BBQ – Savor the irresistible flavors of tender pork slices, expertly marinated in a mouthwatering, homemade barbecue sauce. Each piece is skillfully skewered and grilled to perfection, delivering an unforgettable taste sensation that will leave you craving more. This exquisite menu captures the essence of culinary mastery and is a true testament to the art of grilling.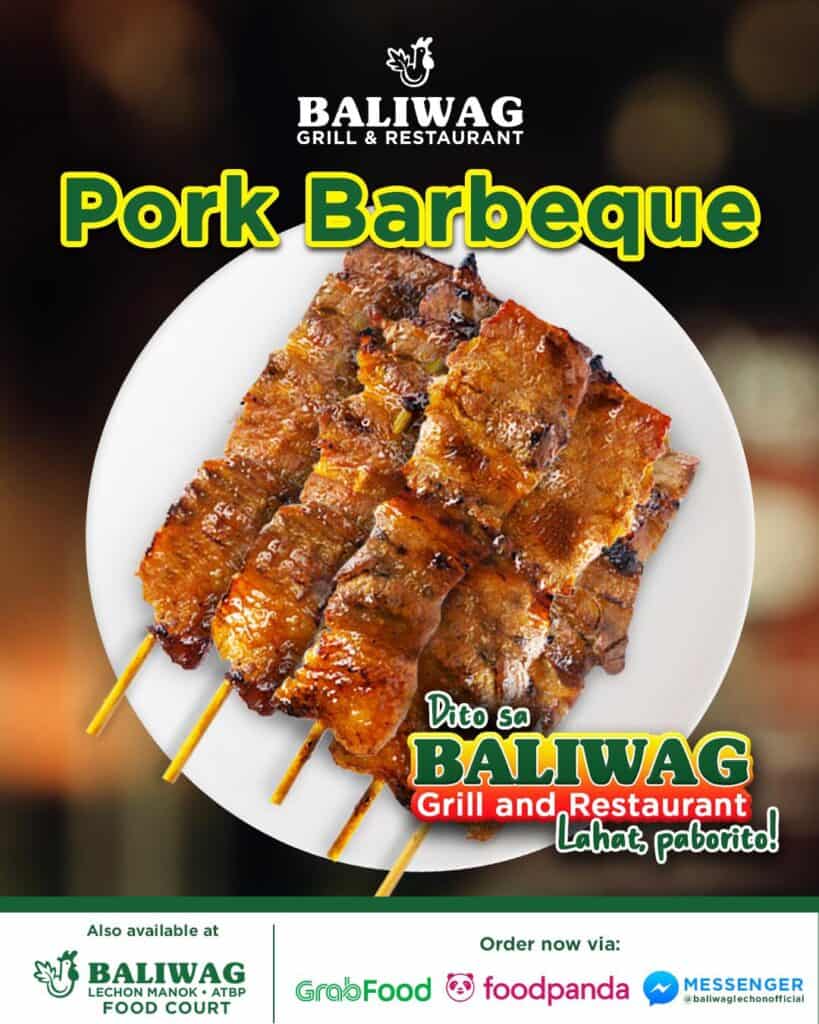 Pork Sisig – It is made with chopped pig parts cooked with other special ingredients, topped with delicious gravy, and served on a sizzling plate. Its aroma, sizzling sound, crispy texture, and delicious taste make it surprisingly good.
Soup Menu
Baliwag Grill and Restaurant offer different kinds of traditional Filipino soups menu such as Batchoy Pinoy, Bulalo, Cream of Corn, Cream of Mushroom, Hototal, Nilagang Baka, Seafood Chowder, Sinampalukang Manok, and Tinolang Manok. 
It also provides sinigang dishes such as baboy, bangus belly, baka, buntot ng tuna, hipon, tanigue, maya-maya, ulo ng maya-maya, salmon belly, and crispy bagnet. These comforting sinigang soups are loved for their tangy and savory flavor.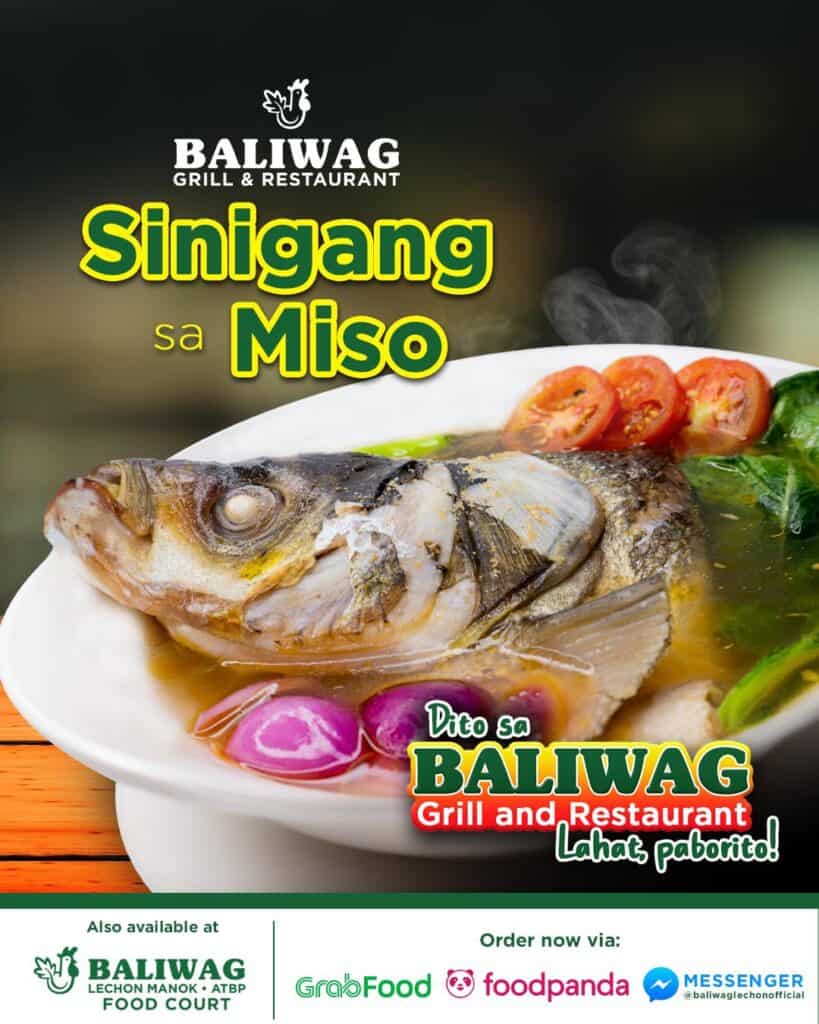 These soups are well-known as they are commonly prepared at home. Steamed rice is typically paired with them making meals more satisfying. These soups are great for sharing so you can enjoy them with your loved ones.
Exotic Kambing Delicacies
Baliwag Grill and Restaurant is one of the rare places that offers Kambing or goat delicacies. It provides Adobong Kambing, Kalderetang Kambing, Kinilaw na Kambing, and Papaitang Kambing. These delicacies are considered as exotic because they are not usually seen in restaurants. Kambing dishes are known for their gamey smell that makes them distinctive. These dishes are worth trying if you want to try something exotic and delicious.
Sizzlers
The sizzlers that this restaurant offers consist of seafood, meat, and vegetable dishes. Some of the sizzlers that it provides are kangkong, bangus cuisines, sisig, gambas, and garlic mushrooms. These satisfying dishes engage multiple senses as it has a sizzling sound, appetizing presentation, and enticing aroma.
Baliwag Grill and Restaurant Menu Delivery
The menu of Baliwag Grill and Restaurant is available on GrabFood and FoodPanda. You can also send them a message on their official Facebook account if you don't have an account on these delivery platforms.
Social Media Pages
If you want to stay in the loop on their latest menu offerings, discounts, or promotions, make sure to follow or like their social media pages and check out their website. I've provided the links for you below so you can easily access them. Happy browsing!
Facebook: https://www.facebook.com/baliwaggrillandrestaurant
Instagram: https://www.instagram.com/baliwag_lechon/
Twitter: https://twitter.com/baliwag_lechon
Website: https://www.baliwaglechonmanok.com/contact
Conclusion
The Baliwag Grill and Restaurant menu offers a wide selection of local cuisines that makes people come back for more. It is a perfect place where you can find your favorite food and try exciting dishes. The best dishes that you should not miss out on when you visit this restaurant are lechon manok, liempo, and sinigang. Some of its branches also offer lutong pinoy which consists of ready-to-heat meals such as Beef Kaldereta, Laing, and Lengua.